This Sugar Cookie Cracker Toffee is a fun and festive holiday treat complete with mini frosted sugar cookies and sprinkles.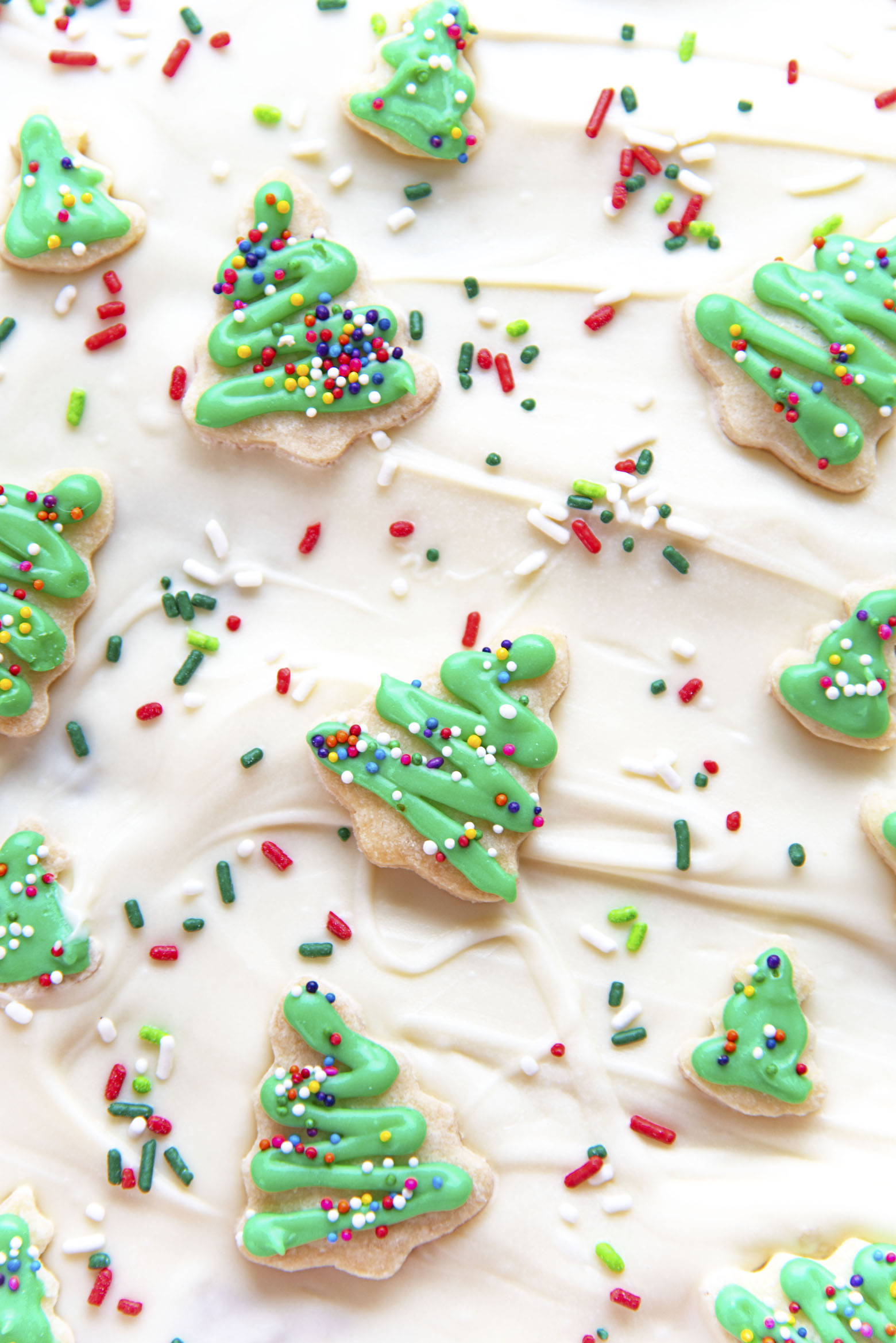 It's no secret that I love sugar cookies.
I also love cracker toffee.
So this Sugar Cookie Cracker Toffee just might be the most perfect food in my eyes.
Butter and brown sugar all boiled together and poured over buttery crackers.
And then topped with white chocolate and sprinkles.
With lots of little sugar cookies all over it.
Perfect.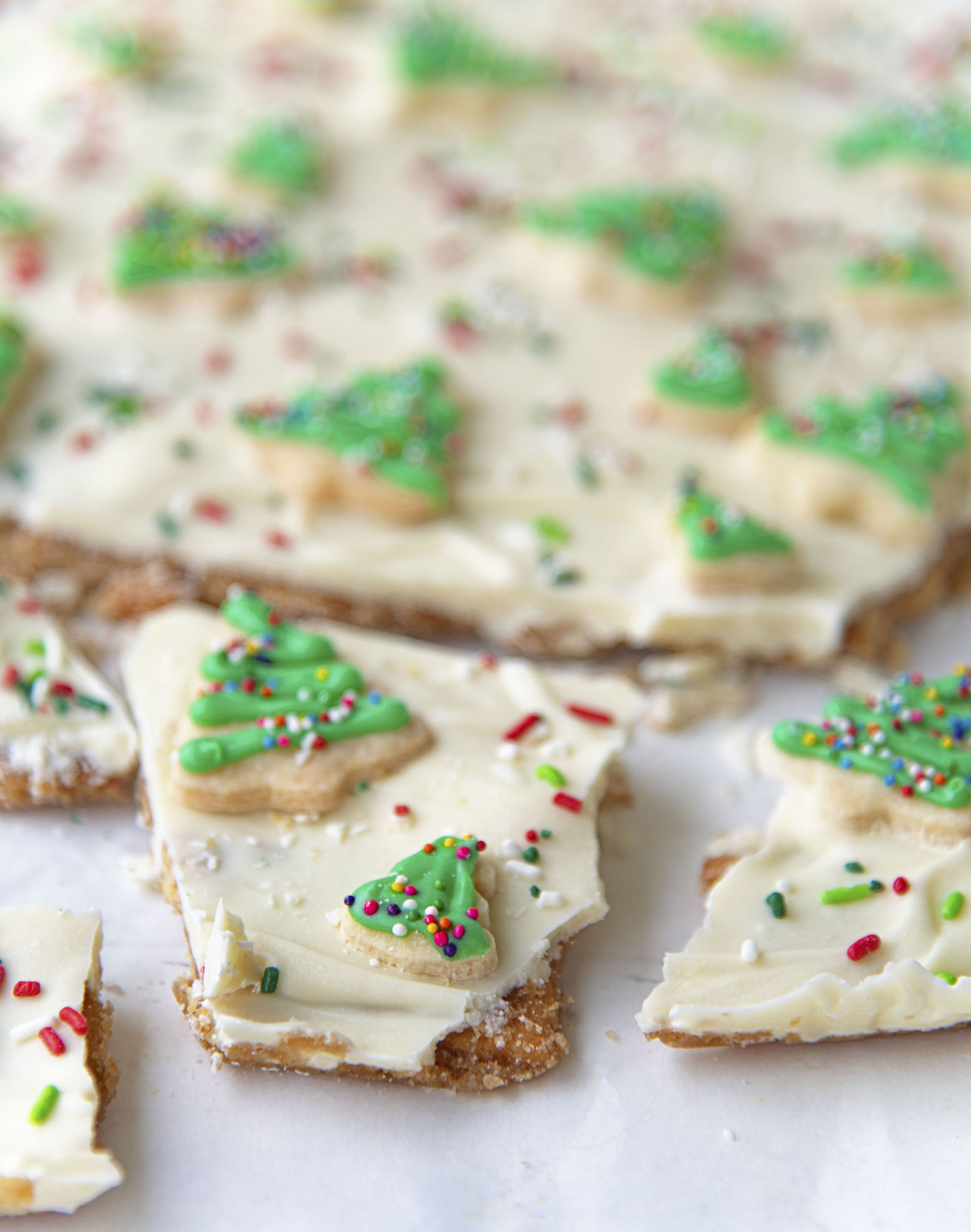 Normally cracker toffee is easy.
This one not so much.
The actual toffee is super easy.
But it is the mini cookies that are a pain in the butt.
Things always seem like a good idea until I have to sit there for forever piping frosting onto tiny little cookies. 🙂
At holiday time I like making mini cookies.
Both shortbread and gingerbread. Because they can be used to make a dessert or drink extra special.
But up until this point I had never frosted them.
I knew 10 cookies in that this was a bad idea. 😛
But I would totally do it all over again.
Because this cracker toffee turned out soooo cute.
I mean, look at it, it's festive AF.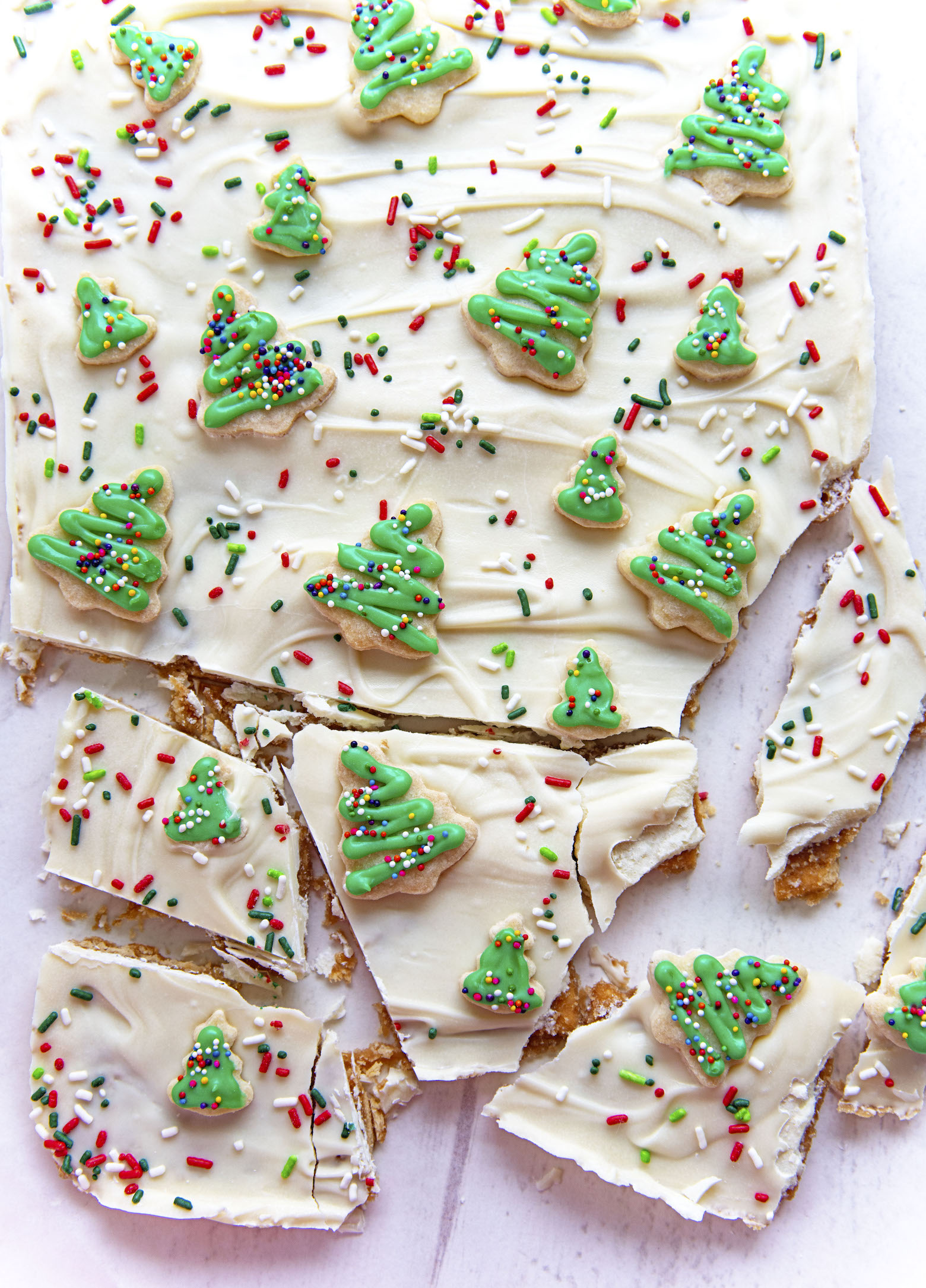 If you are short on time and don't want to frost tons of mini sugar cookies feel free to use store bought.
You probably can't find them as small as I made mine but you are breaking the toffee up anyway so the cookies will break eventually. 🙂
If you do want to make your own and want the super tiny cookies you will need to get these cookie cutters.
I used the 1.2 inch and 1.6 inch cookie cutters.
I frosted them with royal icing and then threw on some sprinkles to look like Christmas ornaments.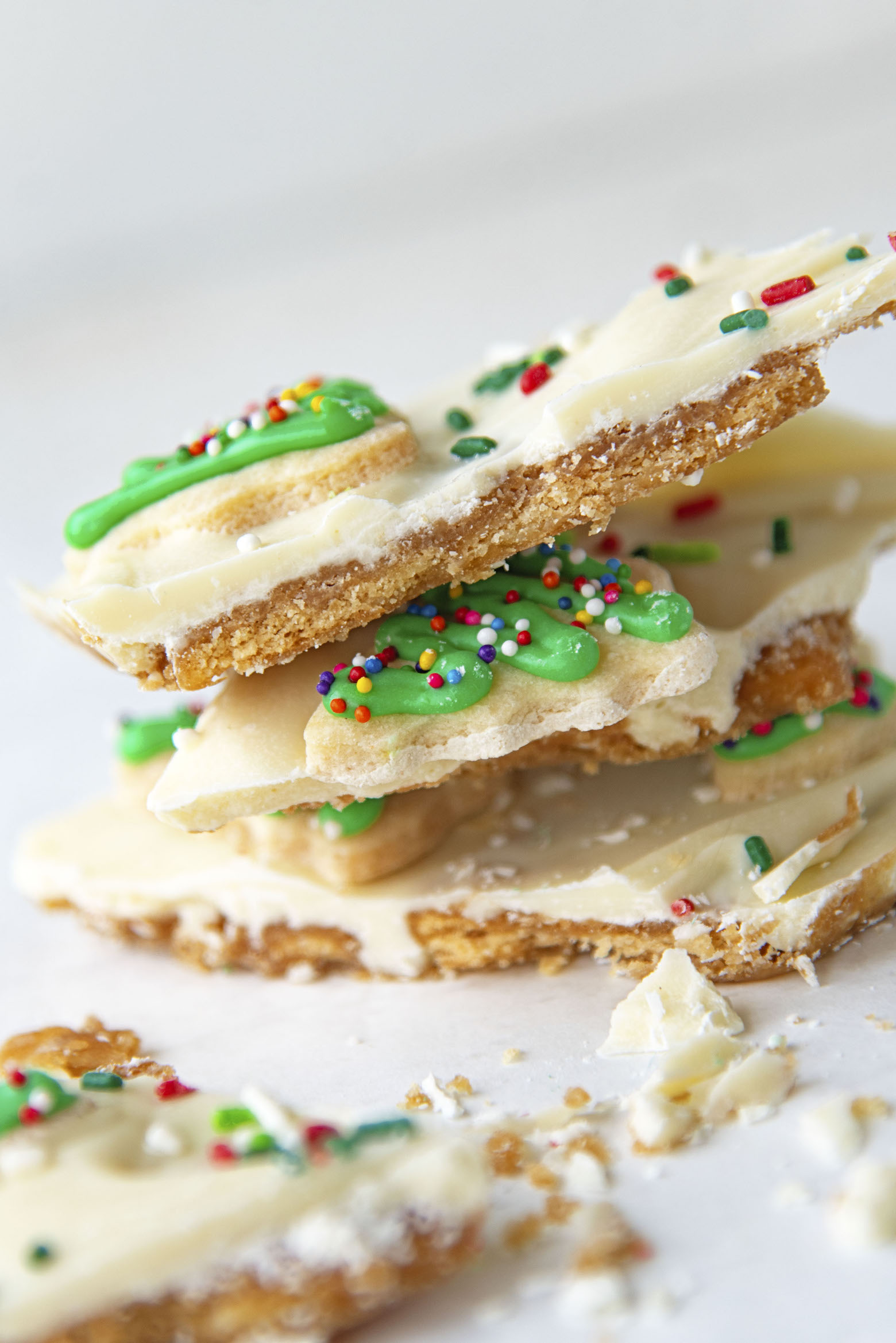 In the brown sugar mix I add a Butter Vanilla Bakery Extract.
It's similar to the Buttery Sweet Dough Emulsion that I use often to get the sugar cookie flavor.
You can use either.
People always ask if it is necessary.
Yes.
It is if you want more of that sugar cookie flavor.
Otherwise you can use just vanilla.
It will look the same but not taste exactly the same.
So I guess it depends on your flavor palette.
I will say if you are worried about buying it because you will only use it once, I get it.
But there are a ton of recipes on this blog that use these flavorings.
So it's not a one and done kind of thing.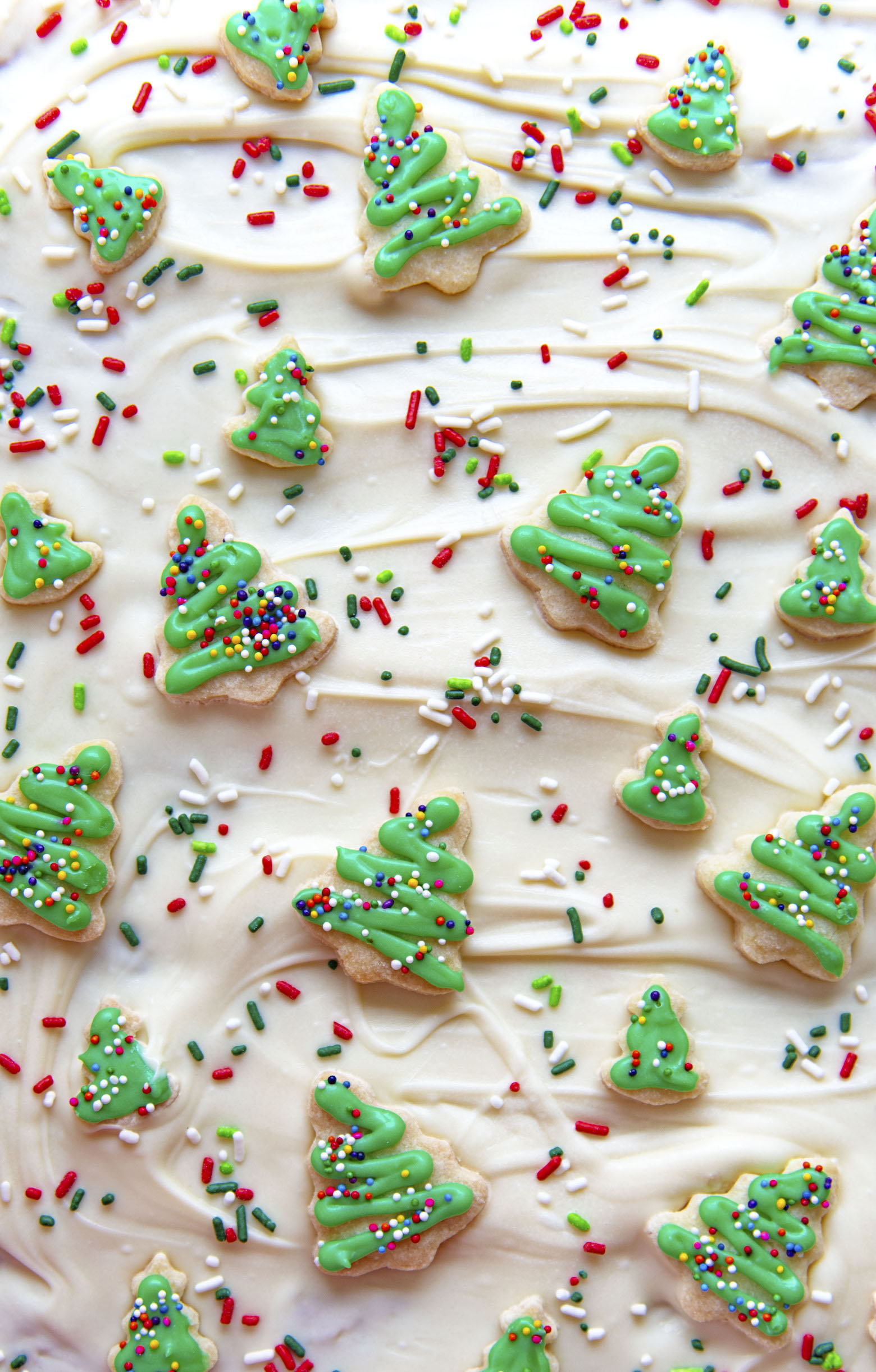 This Sugar Cookie Cracker Toffee is perfect to give in a gift basket.
Fun to make with the kids.
I'm pretty sure Santa would be super happy with you if you left this out for him to nibble on.
And we all want to get on Santa's good side. 😀
P.S. It's a great day to buy my cookbook Holy Sweet!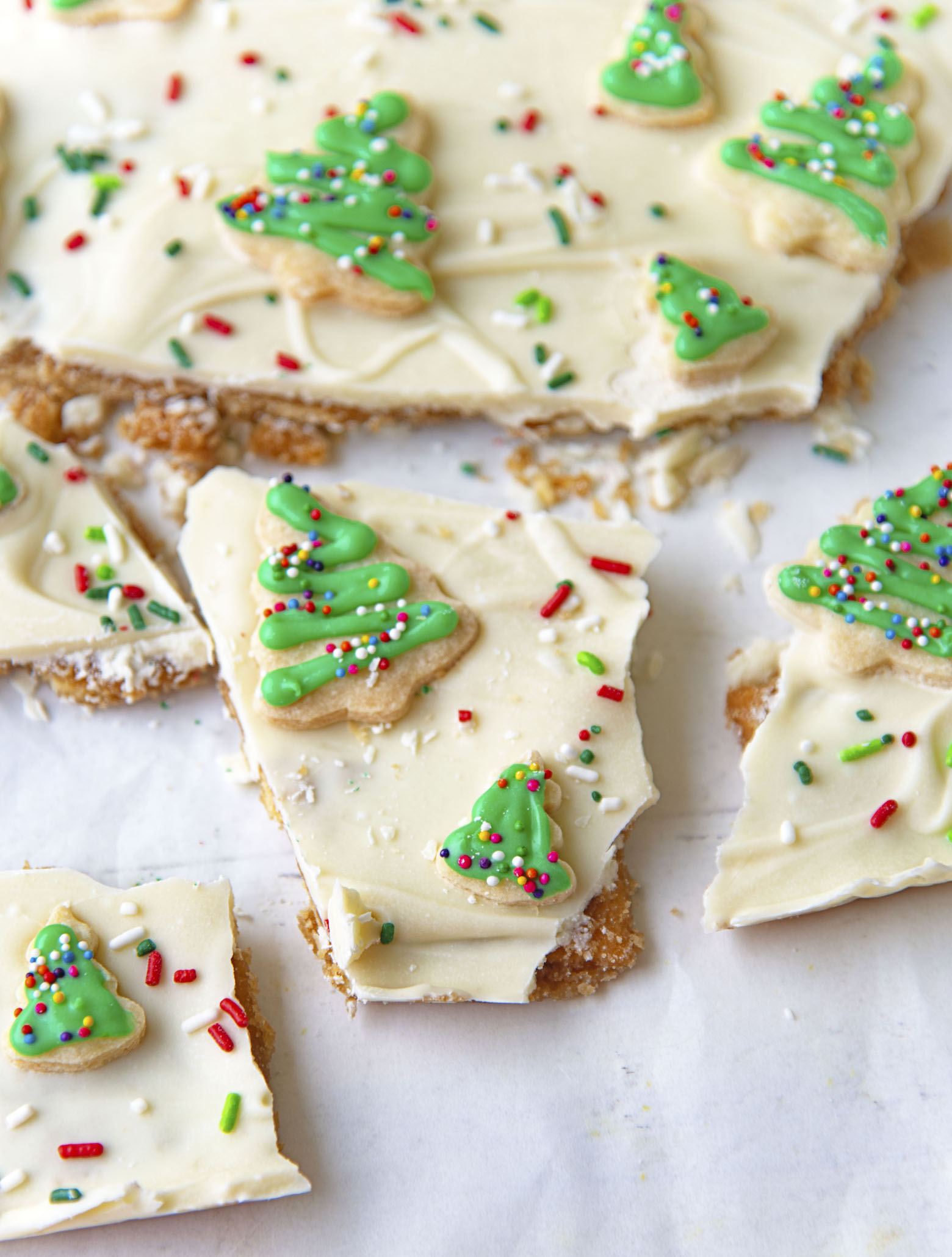 Want More Sugar Cookie Ideas?
Festive Sugar Cookie Cheesecake Cheeseball
Sprinkle Sugar Cookie Cheesecake Bars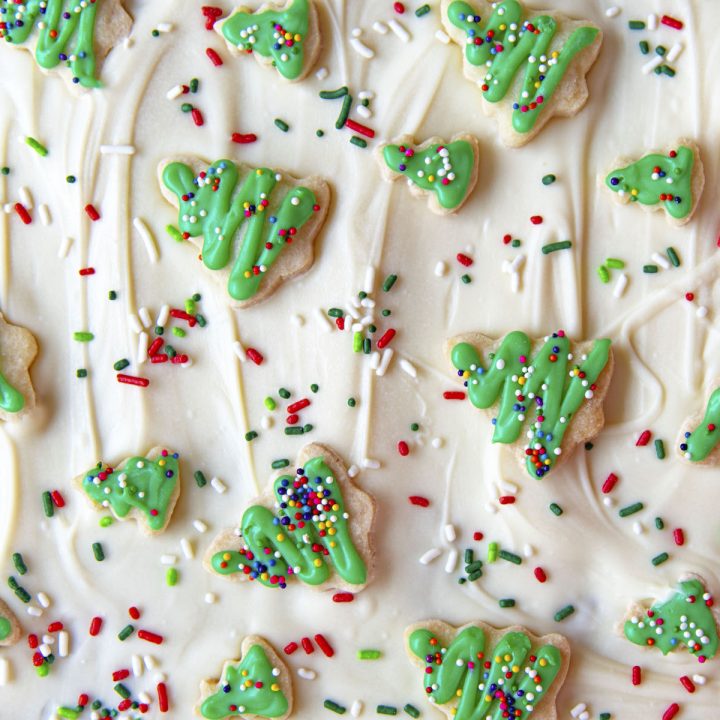 Sugar Cookie Cracker Toffee
Ingredients
For the Cracker Toffee:
1 cup salted butter
1 cup brown sugar
Club House Crackers (enough crackers to make a layer on a cookie sheet about 1 1/2 sleeves)
For the Topping:
12 oz. white chocolate chips
1 TBSP vegetable oil
sprinkles for garnish
mini sugar cookies for garnish
Instructions
Bring the butter and brown sugar to a boil in a saucepan and simmer it for about 5 minutes.
Put a layer of crackers on the cookie sheet, close together.
Remove brown sugar mixture form the heat and add in the extract. Mix until combined.
Pour the brown sugar mixture over the crackers and bake for about 6-10 minutes (I do the 10) at 350F.
Take the cracker toffee out of the oven and set on a wire rack to cool while you heat up the white chocolate.
Using either a double boiler or the microwave combine the white chocolate and vegetable oil until smooth. If using the microwave start off with one minute. Then mix. Then do 30 second intervals. Mixing after each interval.
Spread the white chocolate across the cooled cracker toffee so that you get a thin layer of white chocolate evenly dispersed.
Top the white chocolate with sprinkles and mini sugar cookies.