This Peppermint Red Velvet Loaf Cake has peppermint crunch and mini chocolate chips all glazed in a peppermint icing. Made mini for sharing.
I'm not sure when exactly I decided that red velvet and peppermint go together.
But I'm glad I did.
Because ever since then we have had some sort of the combo for Christmas every year.
I even have a Peppermint Bark Red Velvet Cake in my cookbook, Holy Sweet!
My blogging friend Megan over at Country Cleaver made it on her blog when she was featuring my book.
She did an amazing job and I introduced her to Swiss Meringue Buttercream which she had never made before that cake.
And I've made it the last two years at Christmas time.
But this year I seem to have about 80 thousand things on my plate (maybe an exaggeration) and so I'm all about simple.
And loaf cakes are simple.
So I made Peppermint Red Velvet Loaf Cake.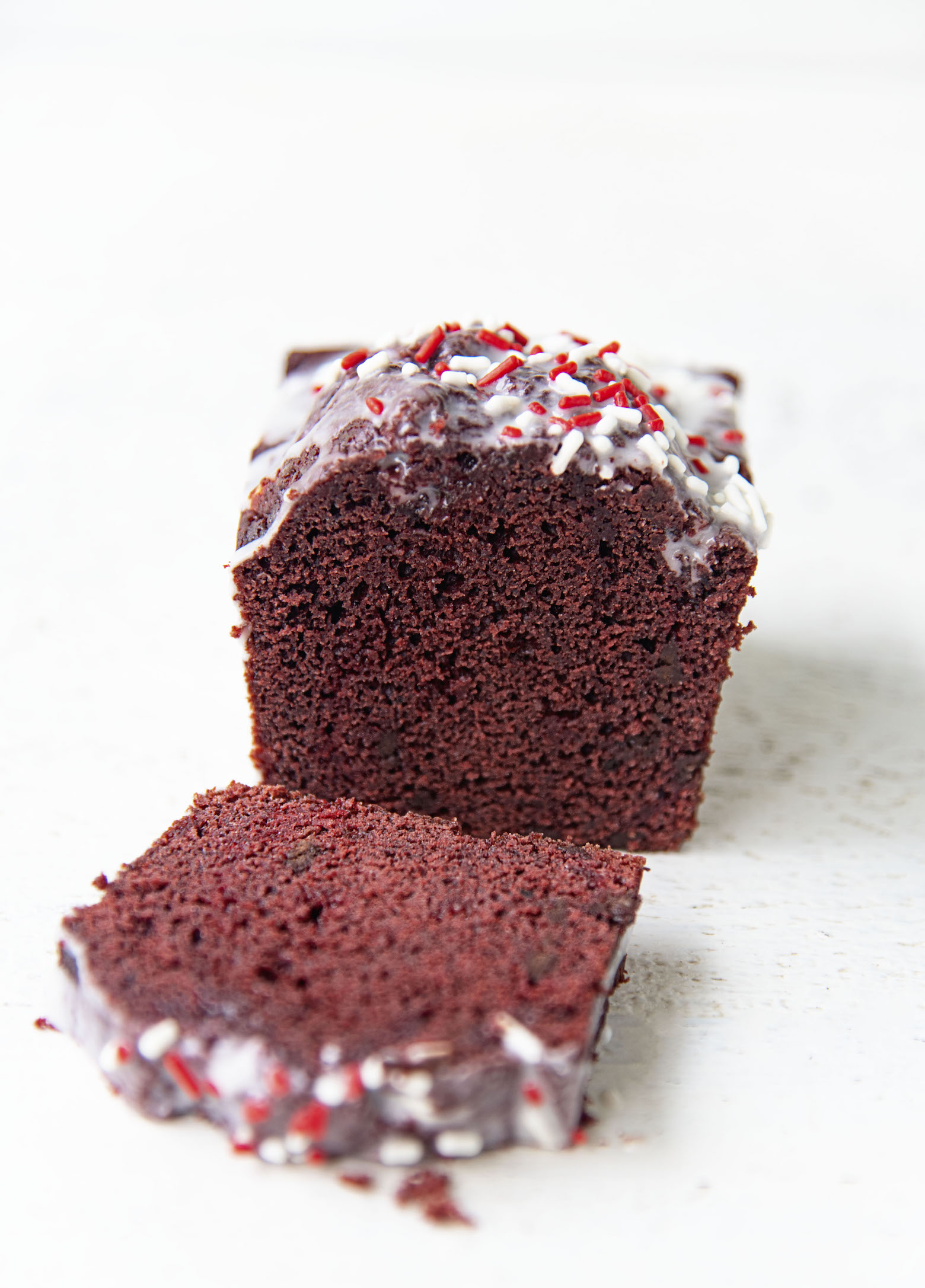 I'm so glad I did.
These were easy to make and quite yummy.
Plus, since they are mini loaves they are great for giving away.
And I know you will ask…can I make this as one loaf?
Yes, you most likely can.
You would need to adjust the baking time.
Since I have only made these as mini loaves I do not have a time to tell you.
The mini loaves take 35-40 minutes so my guess would be about an hour.
But not totally sure on that.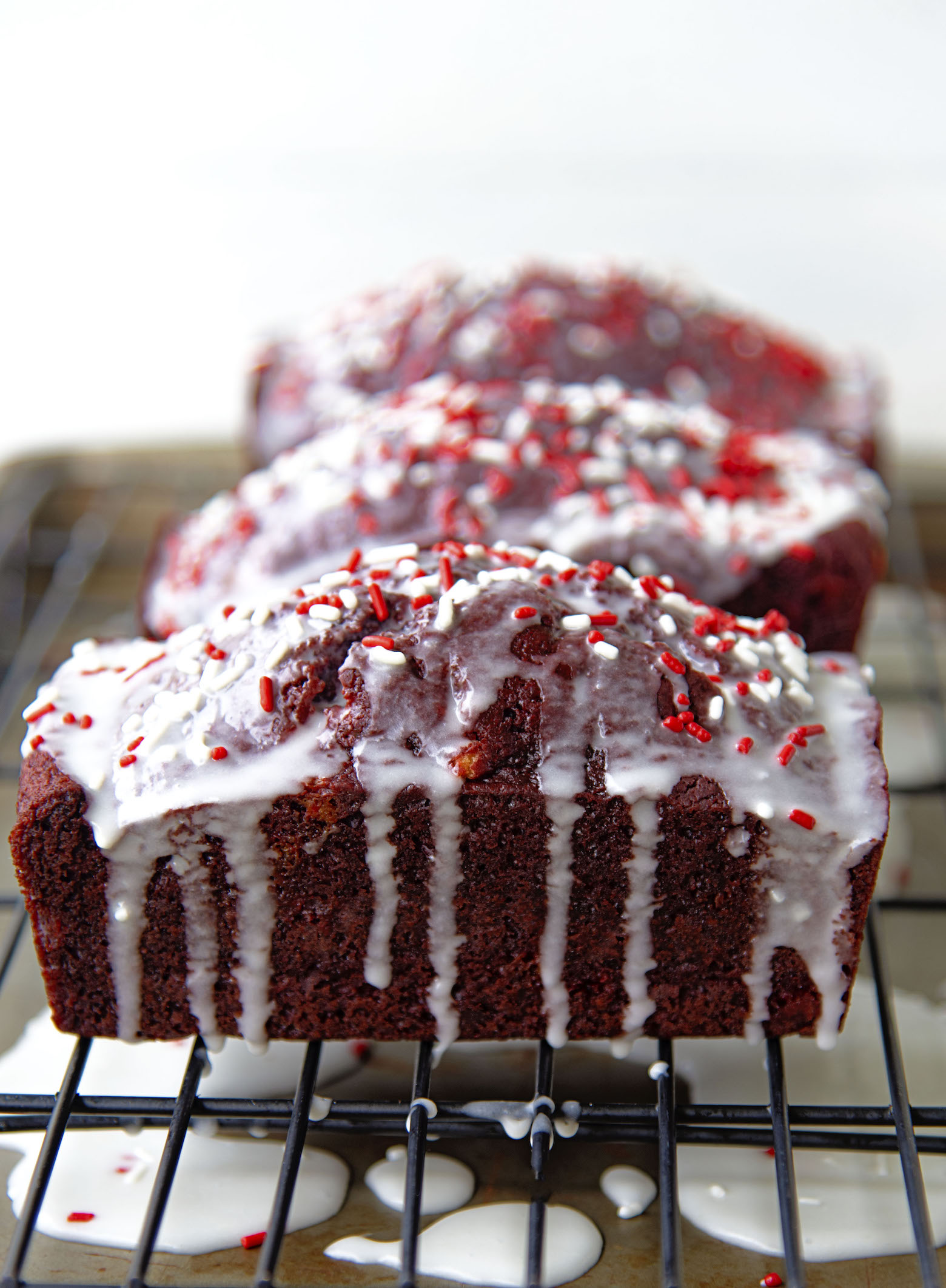 A lot of people get cranky when you don't use cream cheese frosting with red velvet.
And I love some classic red velvet cake.
But over the years I have realized I don't like peppermint and cream cheese together all that much.
And so I look for other types of icing.
If you want to use cream cheese icing instead of what I have here, feel free.
You can even leave out the peppermint all together if you aren't a big fan of it.
If you do that then in the loaf where it calls for peppermint extract substitute vanilla extract.
And instead of Andes Peppermint Crunch Baking Chips just use all mini chocolate chips.
Why mini chocolate chips?
They don't sink to the bottom of the loaves like the bigger chocolate chips do.
For the icing just substitute vanilla extract for the peppermint.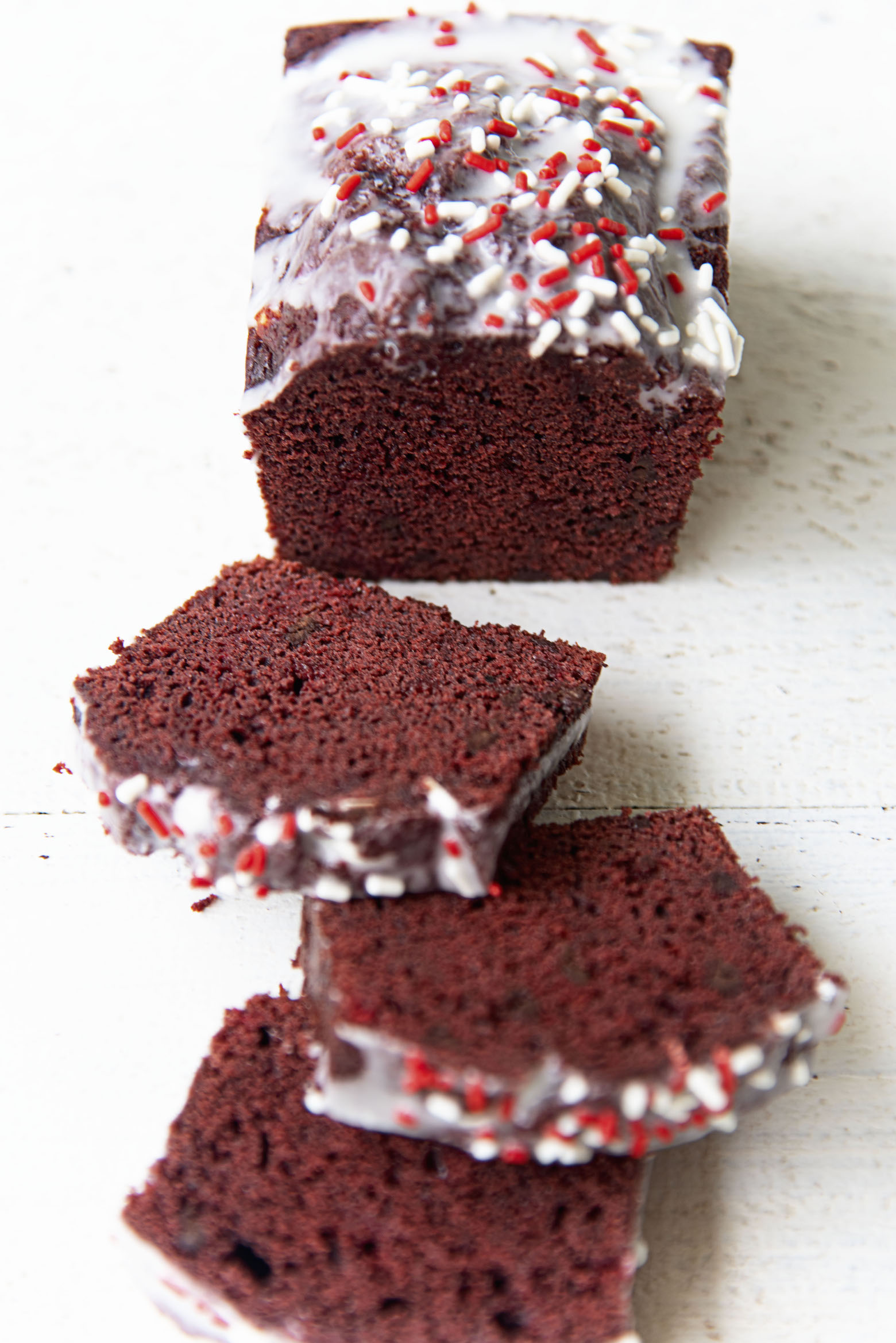 Since I know someone will ask…can you freeze these?
Yes.
You can freeze these before you ice them.
If you freeze them when they are glazed it will get all gummy and you don't want that.
The glaze is easy to throw together so it's not a big deal to make a bunch of the loaves and then freeze them for later.
And just whip the glaze up as you need it.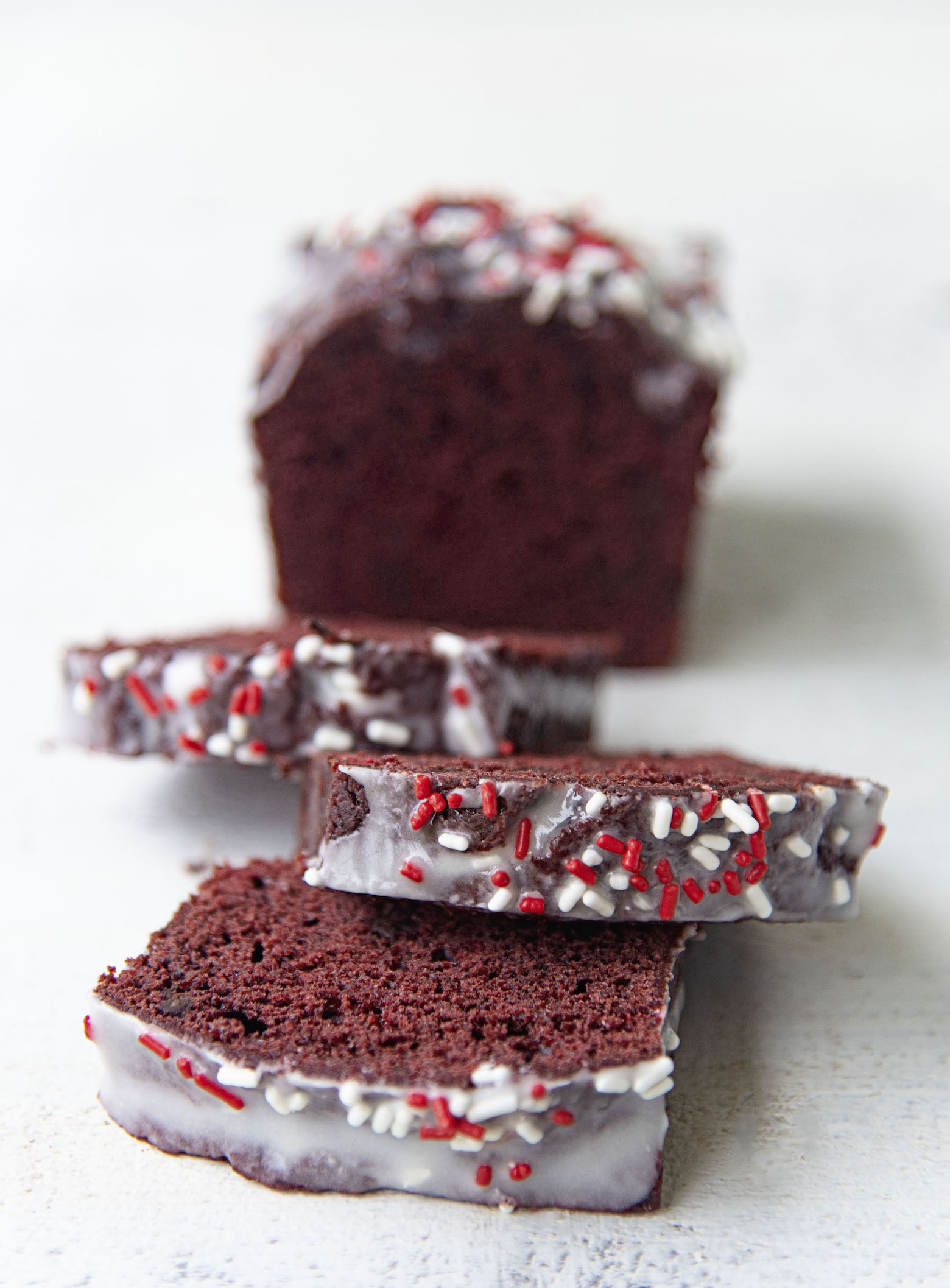 So if you are looking for an easy and quick baked good to make this year…here you go.
And again, because they are mini loaves they are perfect for giving away.
And really…spread some cheer this year.
We can all certainly use some.
P.S. It's a great day to buy my cookbook Holy Sweet!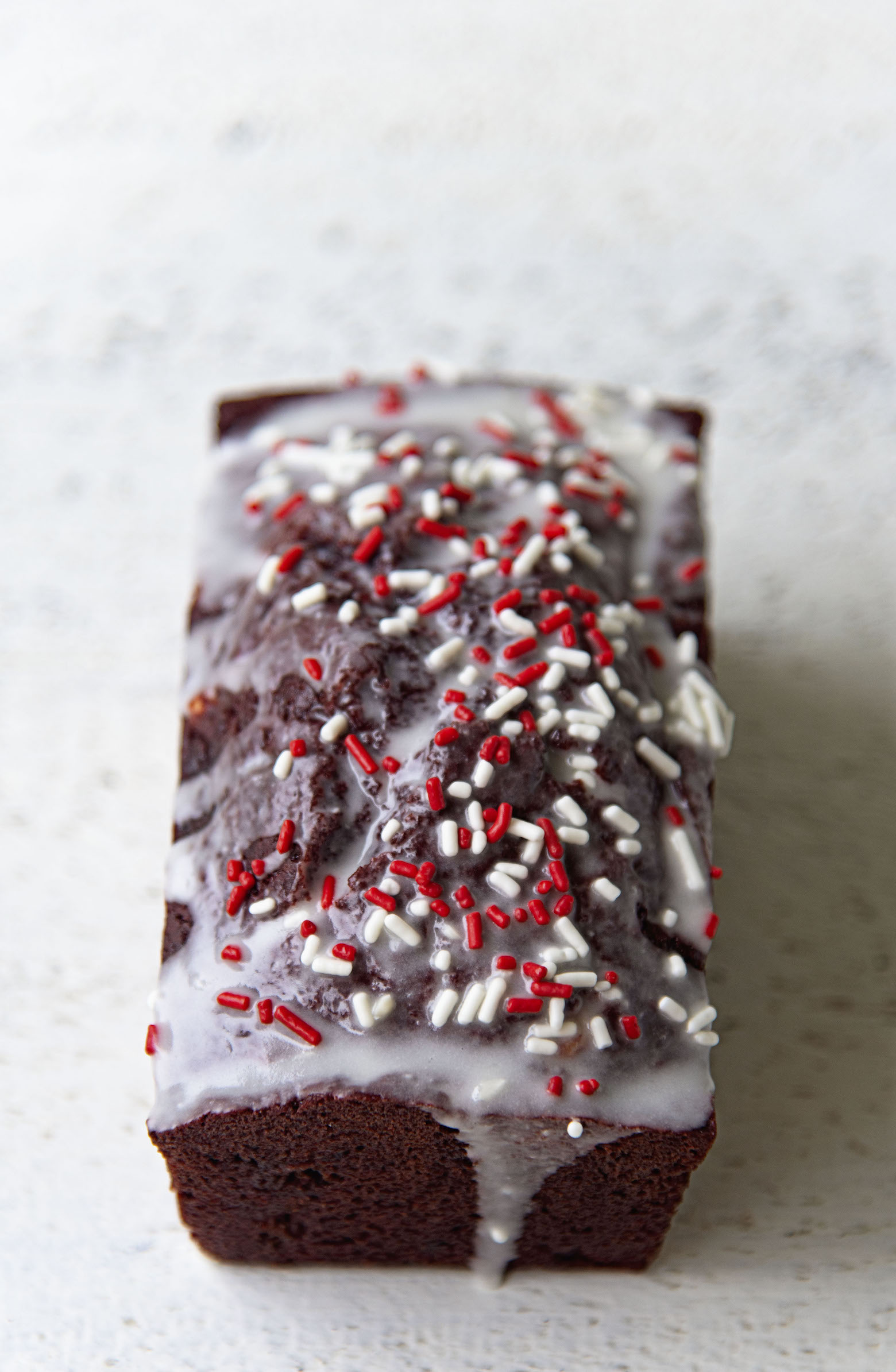 Want More Red Velvet Recipes?
Red Velvet Hot Chocolate Brownies
Peppermint Bark Red Velvet Cupcakes
 Kalimotxo Chocolate Red Velvet Cupcakes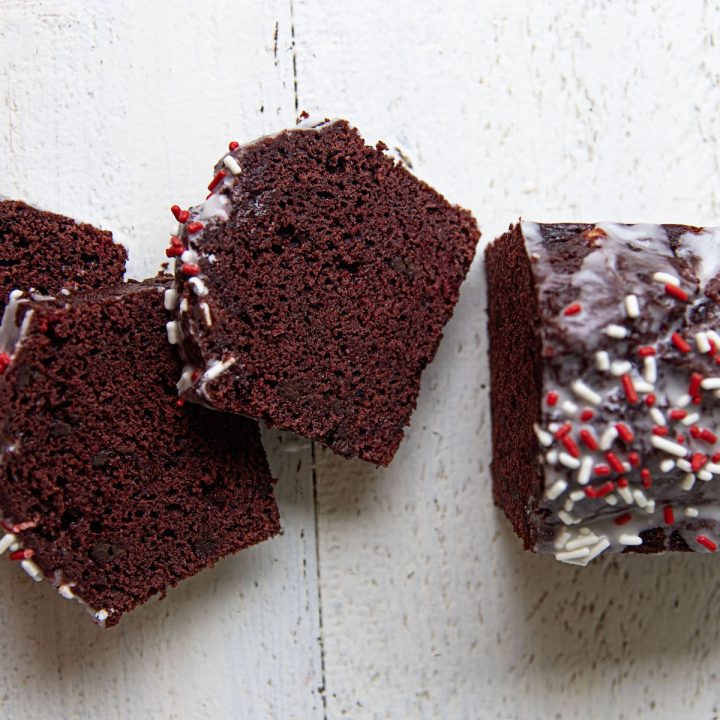 Peppermint Red Velvet Loaf Cake
Ingredients
For the Cake:
6 TBSP unsweetened cocoa powder
1/2 cup boiling water
1 1/4 cup brown sugar, tightly packed
1/2 cup plus 2 TBSP unsalted butter, at room temperature
2 large eggs
1/2 tsp peppermint extract
1/2 tsp vanilla extract
1/2 cup full fat buttermilk
1 TBSP red food coloring (more or less depending on how red you want your loaves)
1-1/2 cups plus 2 TBSP All Purpose White Flour
1 tsp baking soda
1/2 tsp salt
1/2 cup Andes Peppermint Crunch Baking Chips
1/2 cup mini chocolate chips
For the Icing:
3 TBSP unsalted butter, at room temperature
1 ½ cups powdered sugar
1/3 cup milk
1/2 tsp peppermint extract
red and white sprinkles for garnish if desired
Instructions
Preheat oven to 350F.
Spray three mini loaf pans with baking spray. Set aside.
In a bowl whisk together the cocoa powder and the boiling water. Mix until fully combined. Set aside and let cool.
Using a stand mixer with the paddle attachment cream tothere the brown sugar and butter until light and fluffy, about 3 minutes.
Add in the eggs one at a time, and beat for 30 seconds.
Scrape down the bowl after each addition.
Add in the peppermint and vanilla extracts and mix until fully combined.
Add in unsweetened cocoa and water mixture and mix until fully combined.
Mix in the full fat buttermilk and mix until just combined.
Add in the red food coloring. I said 1 TBSP but do more or less based on how red you like your red velvet cake to be.
With the mixer on low add the flour, baking soda, salt and mix until just combined.
Remove the bowl from the mixer and hand fold in the peppermint crunch baking chips and mini chocolate chips. Do your best to evenly distribute them throughout the batter.
Spoon or scoop (I like to use a cookie scoop) batter into the prepared pans. Do your best to divide the batter evenly.
Bake 35-40 minutes or until a wooden skewer or knife comes out clean.
Remove from oven and let cool on a wire rack.
When loaves are cool, prepare the icing.
Whisk all the ingredients together and drizzle over the mini loaves.
Sprinkle with red and white sprinkles if desired.
Let set up and then give away to friends and family or eat them all yourself.