This Pumpkin Salted Caramel Ice Cream Bread Pudding has pumpkin brioche and salted caramel ice cream custard topped with caramel sauce.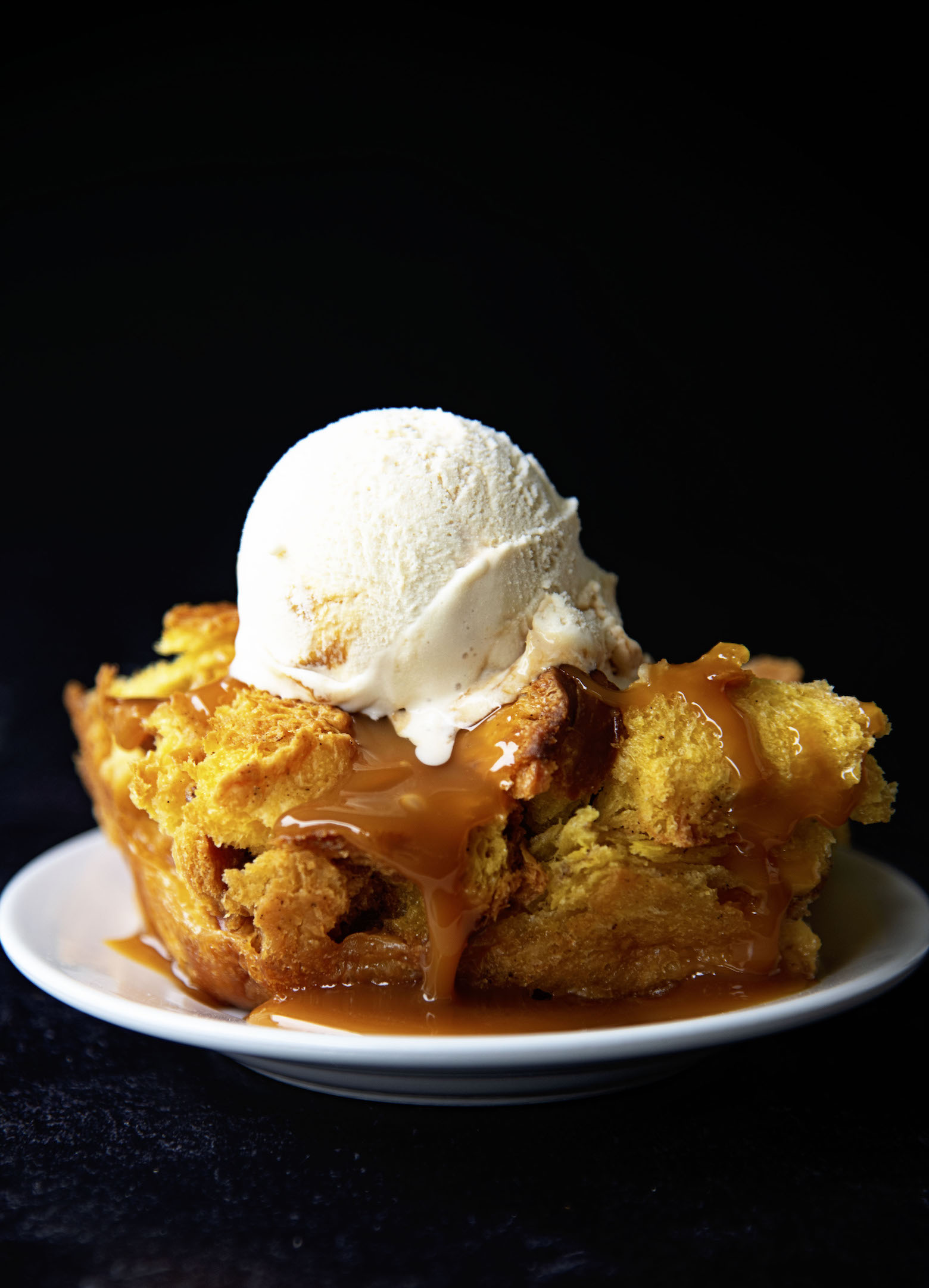 Last week when getting ready to make this Pumpkin Salted Caramel Ice Cream Bread Pudding my husband walked into the kitchen and laughed.
I said what are you laughing at.
He asked "are you baking out of your own cookbook"?
Yes, yes I am.
He found that to be really odd but I didn't.
I knew the idea I wanted for this bread pudding and I knew that idea was based on a recipe I made for the cookbook.
All made sense to me.
Granted it's very different than the one in the book but the concept is the same.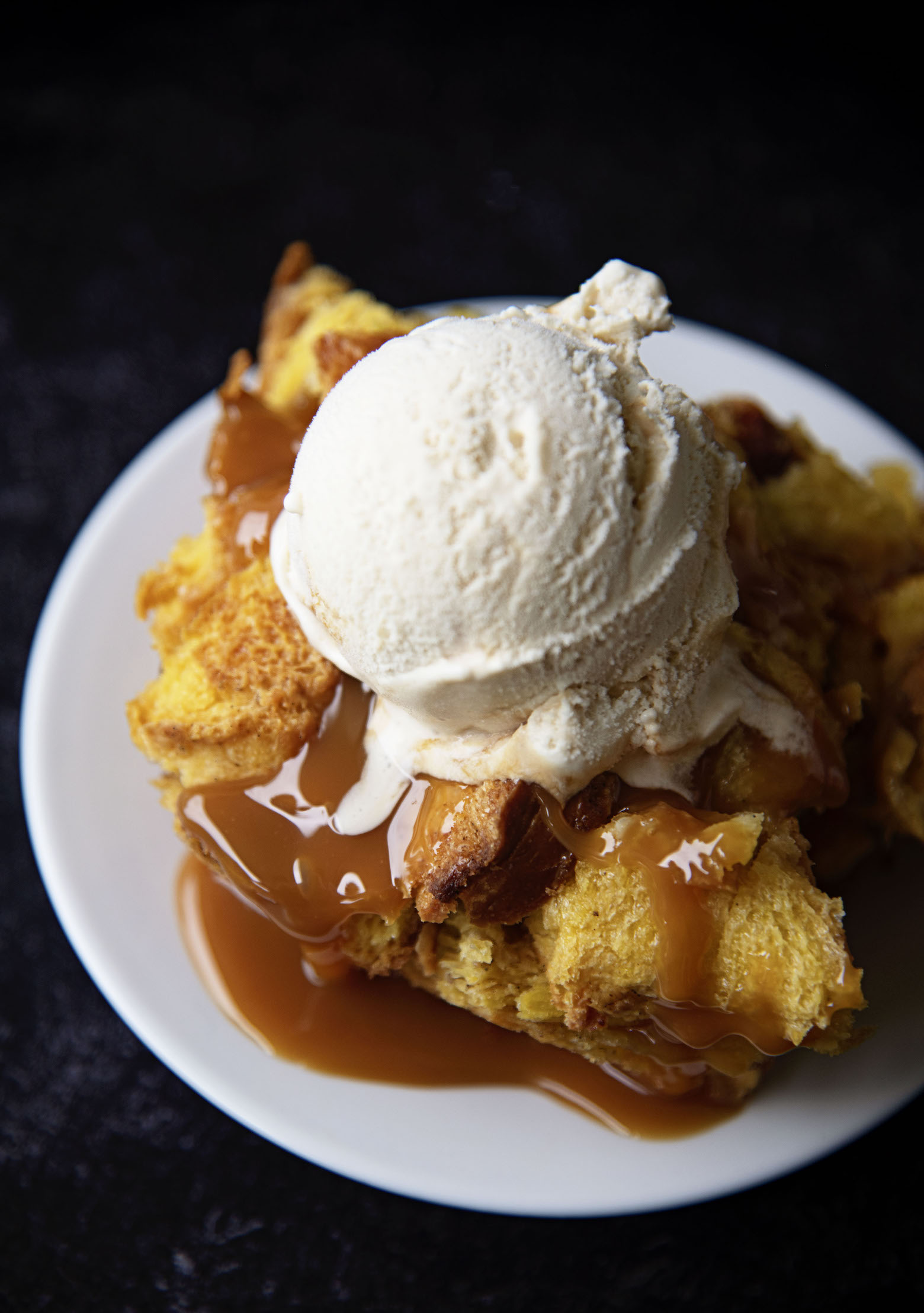 It personally makes sense to me to use my own cookbook.
I mean I often adapt recipes from this blog to make new recipes for this blog. 🙂
Given that I personally tested every recipe at least 5 times and most of them 10 times and then they were tested by recipe testers I know I have a good recipe to base my new recipe off of.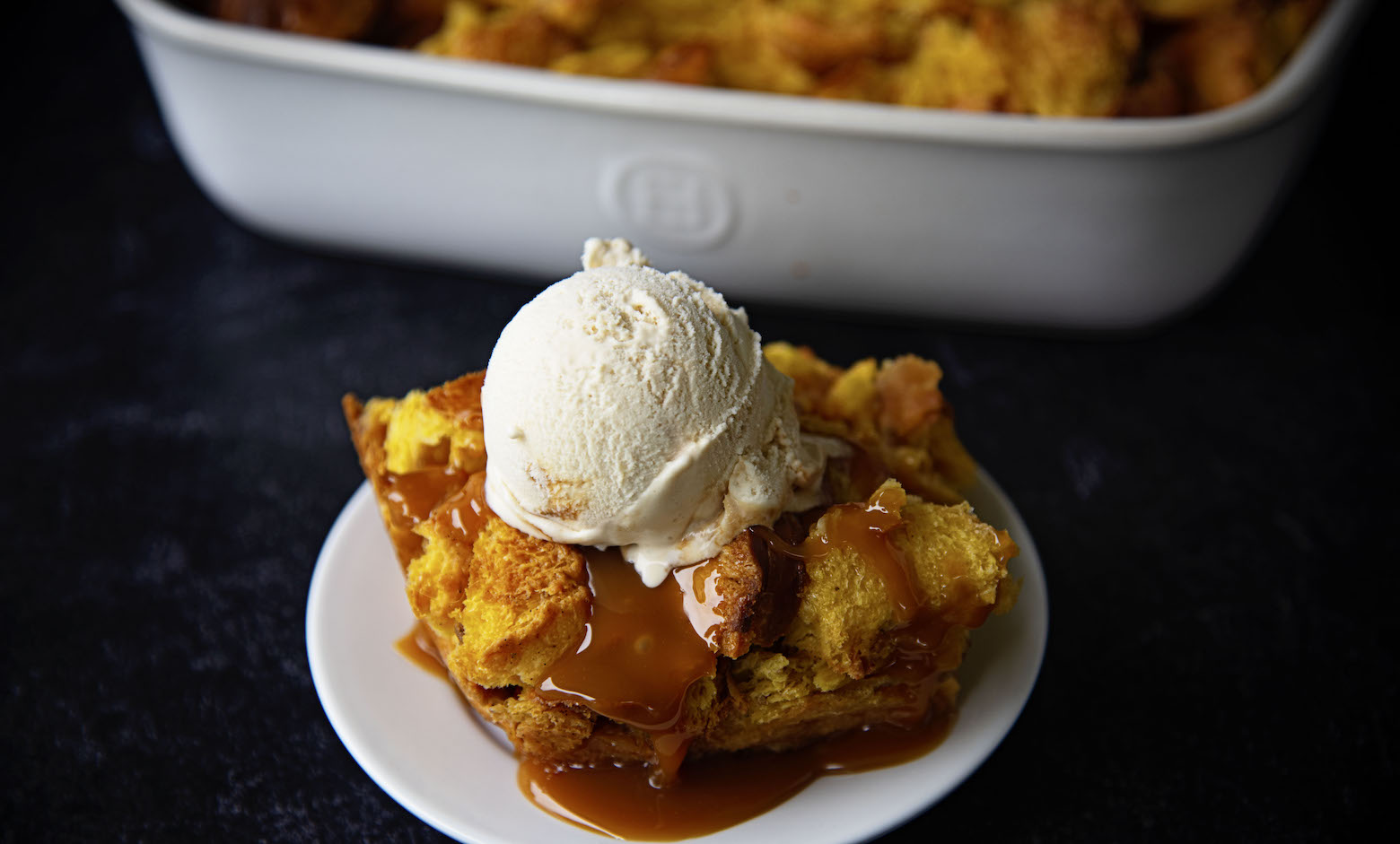 This bread pudding starts with my pumpkin brioche that I make all the time in a bunch of different forms.
I know you will ask do I have to make it with pumpkin brioche?
No you do not.
That is just seasonal.
What other kinds of bread could you use with this?
Chocolate Chip Brioche would be yummy.
Just plain brioche or using croissants would be yummy.
Laminated apple cider rolls.
Butterflake rolls.
Hawaiian rolls.
Honestly the options are pretty much whatever goes well with salted caramel.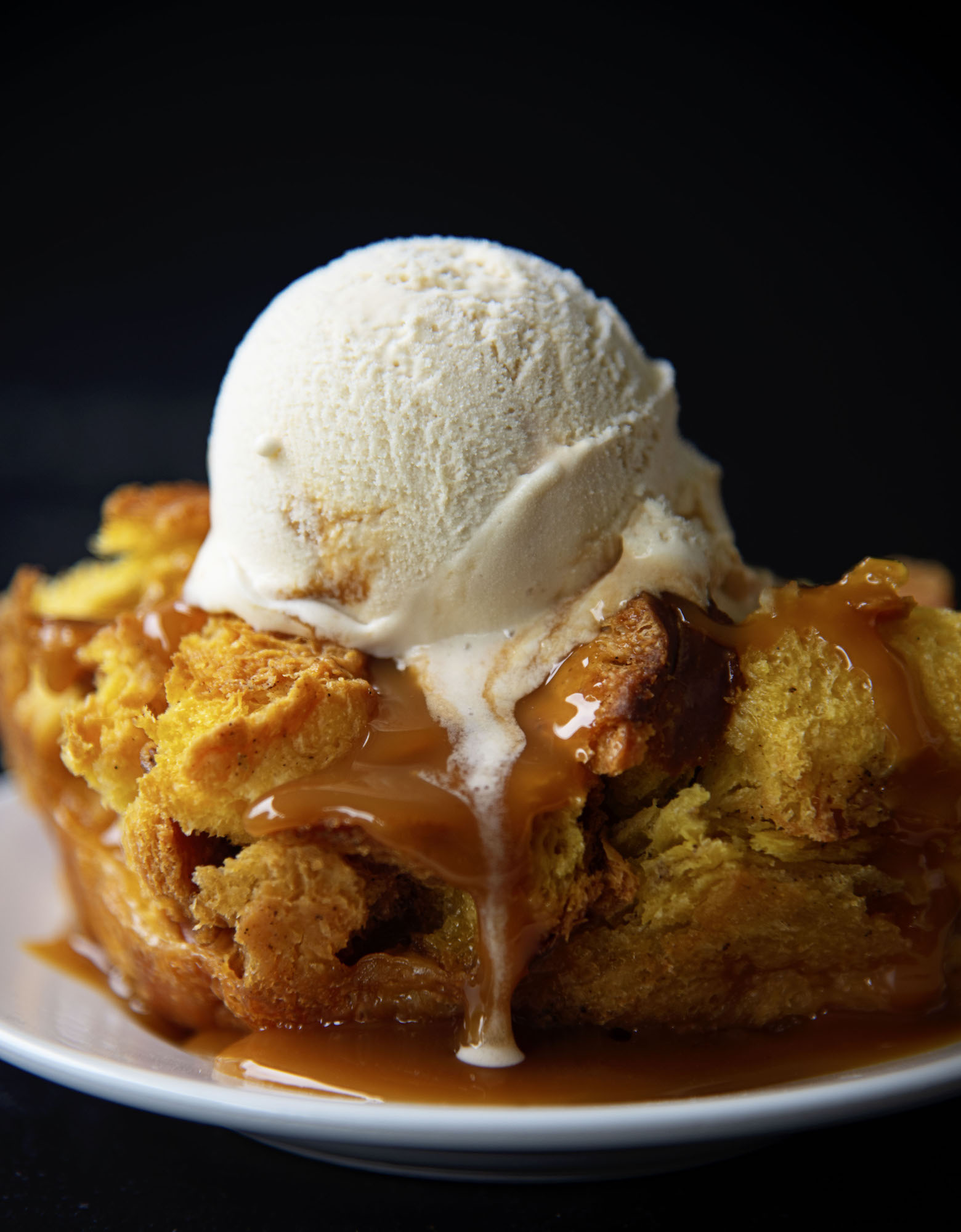 Does it have to be salted caramel?
No.
If you prefer you can use just plain caramel.
But I prefer the salted caramel because it offsets the sweetness.
Plus you can find really good salted caramel ice cream.
I ended up using Tillamook Salted Caramel Frozen Custard.
Man is that good stuff.
If you can't find salted caramel ice cream just use vanilla ice cream and add an extra 1/2 cup of salted caramel to the mix.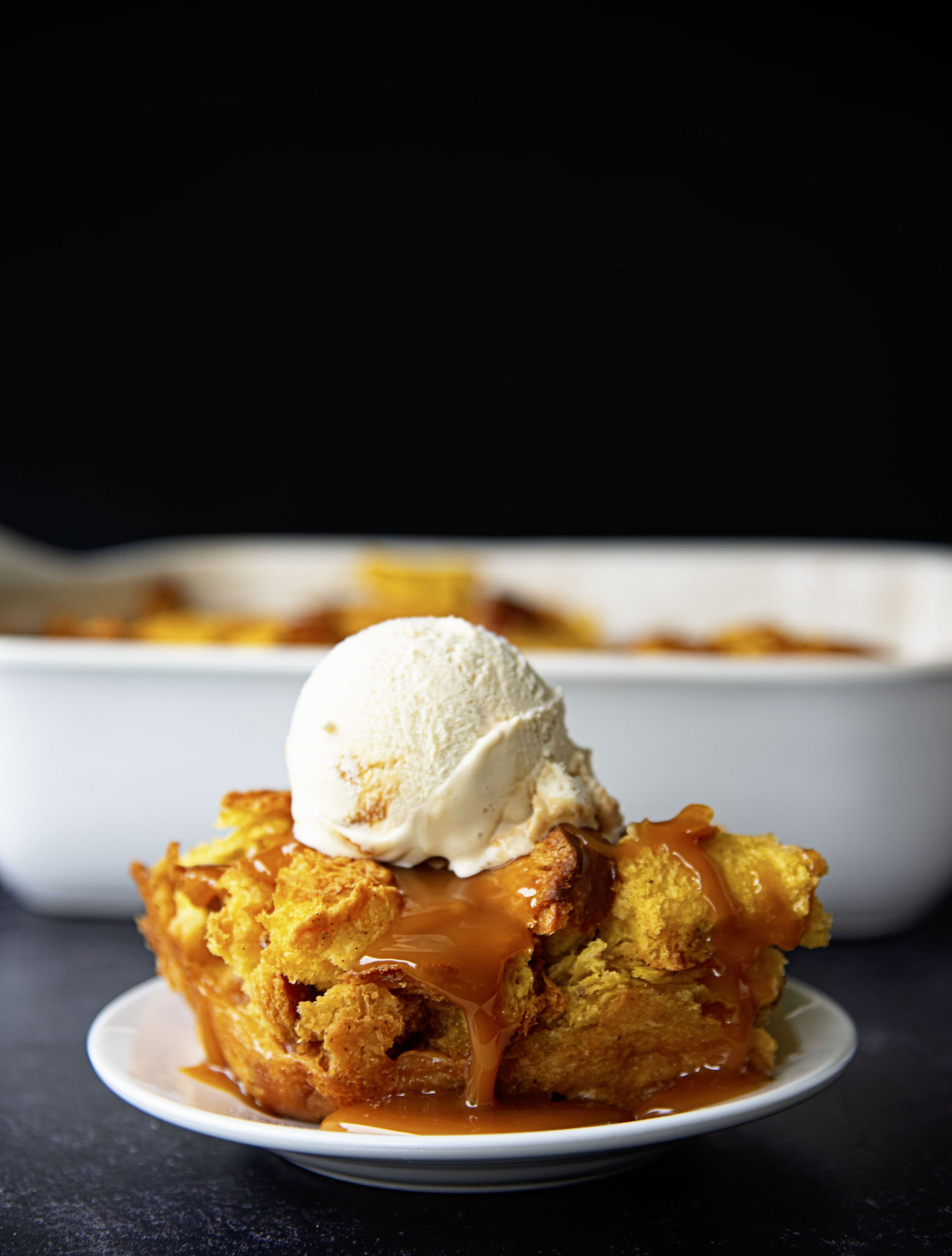 You can make your own caramel sauce for this if you would like.
Go for it.
But we have a local chocolatier place called Fran's that makes the best salted caramel sauce.
And most of our grocery store chains carry it around here.
Definitely top with more salted caramel ice cream too.
Because why not?
P.S. It's a great day to buy my cookbook Holy Sweet!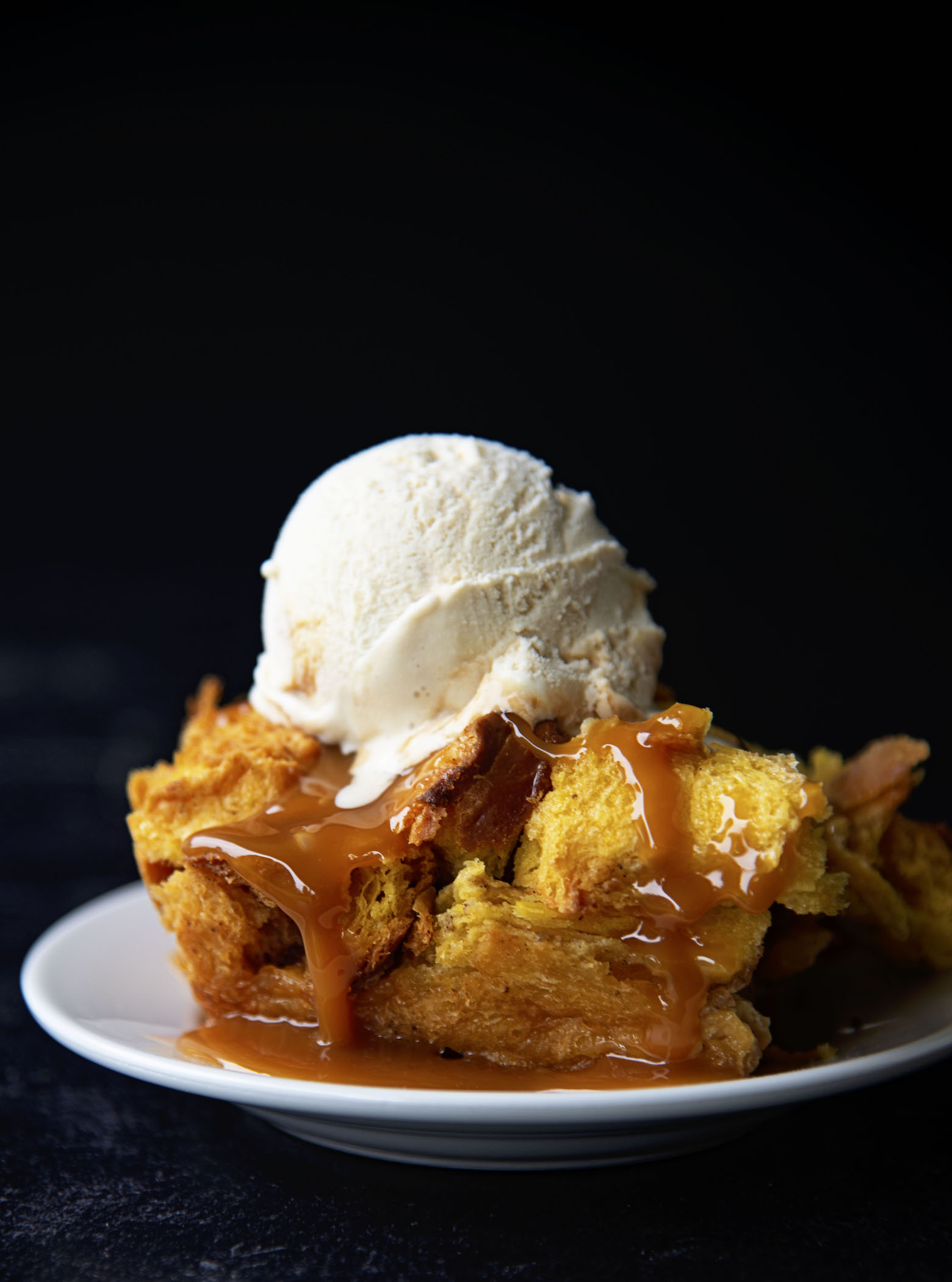 Want More Bread Pudding Recipes?
Bailey's Irish Nut Bread Pudding
Oatmeal Raisin Cookie Bread Pudding
Sticky Toffee Pudding Bread Pudding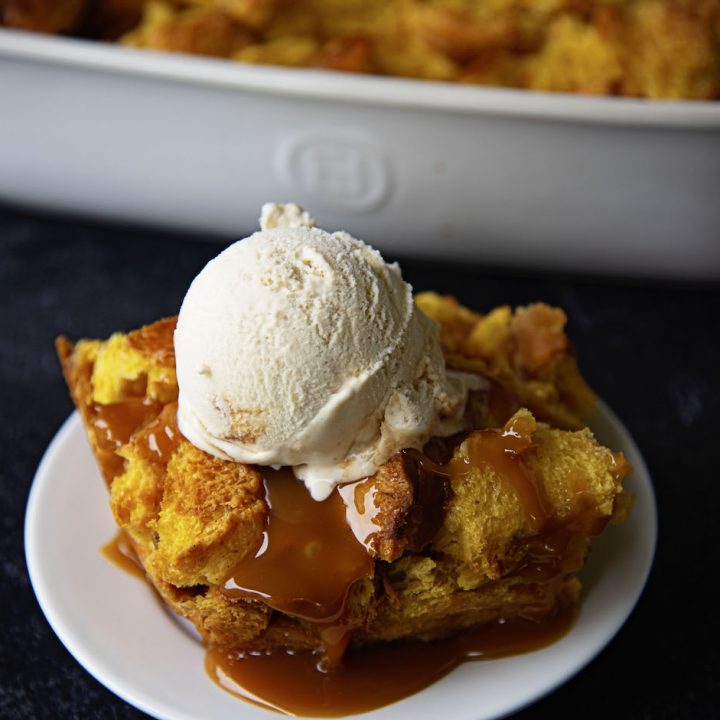 Pumpkin Salted Caramel Ice Cream Bread Pudding
Ingredients
For the Pumpkin Brioche:
For the Sponge:
¼ cup whole milk, at room temperature
2 ½ tsp. active dry yeast (I used Red Star Yeast Platinum)
1 cup pumpkin puree
1/3 cup granulated sugar
1 cup bread flour
For the Dough:
5 cups bread flour
2 tsp. salt
6 large eggs, lightly beaten
8 ounces (1 cup) unsalted butter, at room temperature
For the Bread Pudding:
8- 10 cups Pumpkin Brioche, cut into cubes, getting stale
1 1/2 cups heavy whipping cream
1 1/2 cups melted salted caramel ice cream
1/2 cup salted caramel sauce (I used Frans)
1/2 cup granulated sugar
3 egg yolks
2 whole eggs
1/8 tsp. Salt
Caramel Sauce for Topping (store bought or homemade)
Instructions
Note that the dough recipe makes two loaves.
For the Sponge:
Combine the milk and yeast in the bowl of a standing mixer fitted with a paddle attachment and whisk until the yeast is dissolved.
Let stand for 5 minutes, then stir in the pumpkin puree, sugar, and flour, forming a thick batter. Cover with plastic film and let rest in a warm environment until bubbles form, 30-40 minutes.
For the Dough:
Add the flour and salt to the sponge, then add the eggs.
Mix on low speed for 2 minutes, or until the eggs are absorbed.
Increase speed to medium and knead the dough for 5 minutes. The dough will begin to slap around. Hold on to the mixer when necessary.
On medium-low speed, add the butter, 2 TBSP at a time.
Stop the mixer and scrape down the sides of the bowl occasionally.(Recipe did not say to, but I switched to the dough hook at this point).
Knead until the dough is shiny and smooth, about 5 minutes.
Scrape out the dough, wash and dry the bowl, and coat it lightly with oil.
Place dough in the oiled bowl and turn it so that the top is coated with oil. Cover with plastic film and let rise at room temperature until doubled in volume, about 2 hours.
After the dough has doubled in volume, press down to deflate, folding one half into the other.
Cover with plastic film and refrigerate for at least 4 hours or overnight. This is the second rise.
Remove brioche dough (that has chilled overnight) from the fridge.
Divide dough into two equal halves.
Shape dough into a loaf shape and place into a prepared loaf pans.
Cover the dough with plastic film coated with pan spray and let rise at room temperature until it has doubled in size and filled the pans completely, 1 ½ to 2 hours.
Toward the end of proofing preheat the oven to 400F. Adjust the rack to the center of the oven.
Bake for 10 minutes.
Turn down the oven temperature to 350F and bake for 30 minutes more until it has a golden crust and an internal temperature of 180F.
Remove the brioche from the pans as soon as they come out of the oven and cool it on a rack before serving.
For the Bread Pudding:
Preheat oven to 350F.
Tear 5 cups of pumpkin brioche into pieces and place into a baking dish that has been sprayed with baking spray or lightly coated in butter. I use a 9-x-inch pan but you can use an 8-x-8-inch or 10-x-10-inch pan, basically whatever pan will hold the amount of bread you have.
Whisk together the heavy cream, melted ice cream, salted caramel sauce, sugar, egg yolks, eggs, and salt together until all the ingredients are fully combined and smooth.
Add the remaining 5 cups of bread.
Pour the remaining custard over the bread.
Press down the bread pieces with your hands until the bread is soaked with the custard. You may have extra custard depending on how stale your bread is. Don't feel like you have to use all the custard.
Place pan into another pan that will hold a water bath.
Bake the bread pudding covered with foil for 45 minutes.
Remove the foil and bake for another 15 minutes until golden brown.
Cool for 10 minutes and serve warm.
Notes
Use premium ice cream for this recipe it has a higher butterfat content that is needed for the custard.