This Pumpkin Zucchini Pecan Bread is pumpkin and zucchini based and covered with a pecan streusel and topped with a maple pecan glaze.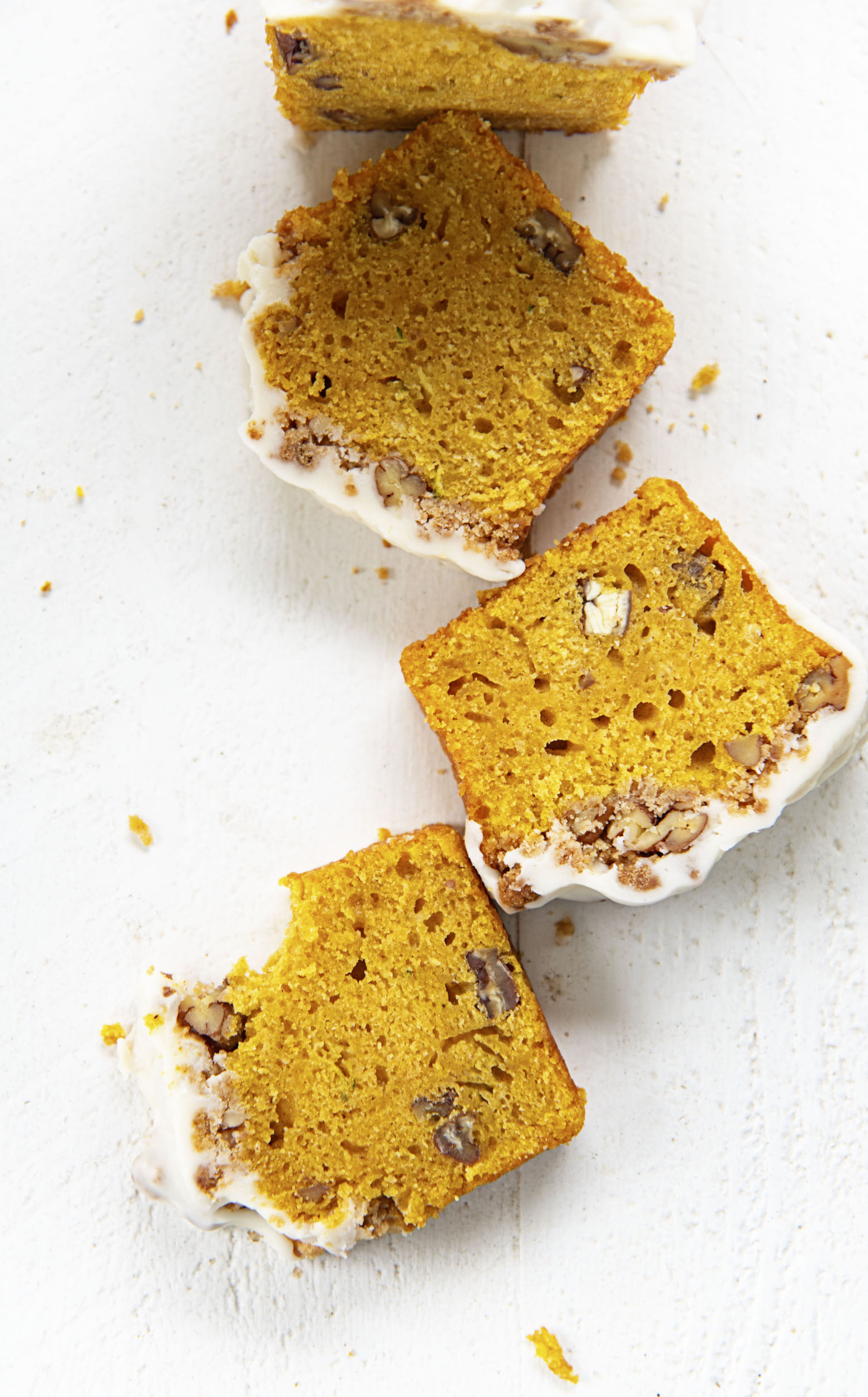 It's September now and I feel inclined to bake with pumpkin.
But I still also have a ton of zucchini that everyone with a garden has given me.
So I combine the two.
I do often.
It makes for a moist loaf (yes, I said moist). This time around I made Pumpkin Zucchini Pecan Bread.
It's a quick bread.
Made a little extra special with a pecan streusel topping.
And then covered with a maple pecan glaze.
The pecan flavor comes from a maple pecan liqueur.
If you can't find it or want to skip it all together you can use just all maple syrup.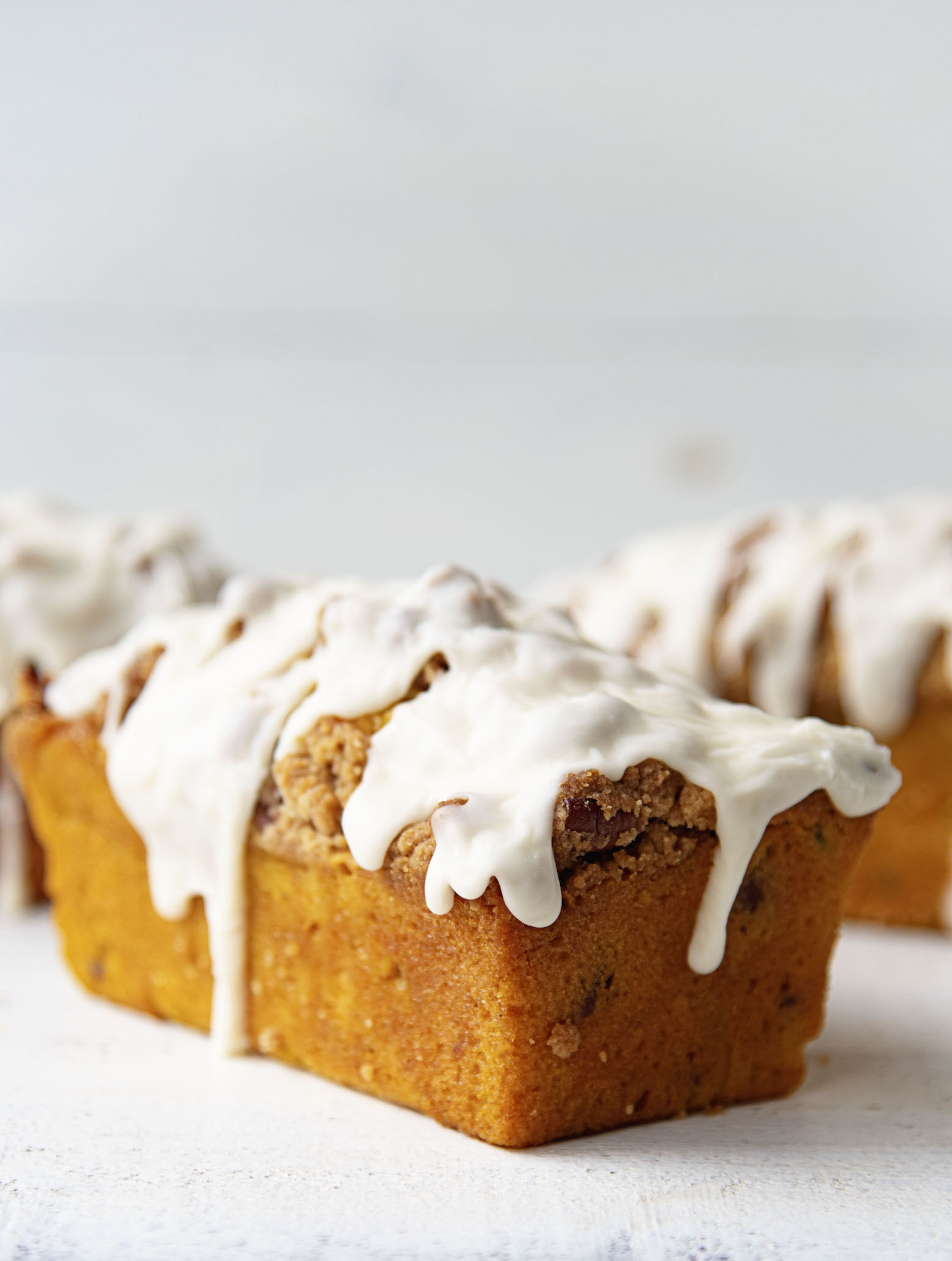 Tips for Successful Quick Breads:
Make sure your baking soda or baking powder is fresh.
Since quick breads do not rely on yeast you need to ensure your rising agents will actually rise.
Or else you will end up with a very dense bread.
To test your rising agents mix one cup of hot water with 2 teaspoons of baking powder or soda.
If there's an immediate fizzing reaction that dissipates all of the powder, you'll know it still works.
Measure your ingredients.
Quick breads are one of the great examples of baking is a science.
If you do not get the ratio of the ingredients right it will not turn out.
Or if you don't level off your rising agent and use too much of it and can cause your bread to rise up and then collapse.
It can also make it taste bitter.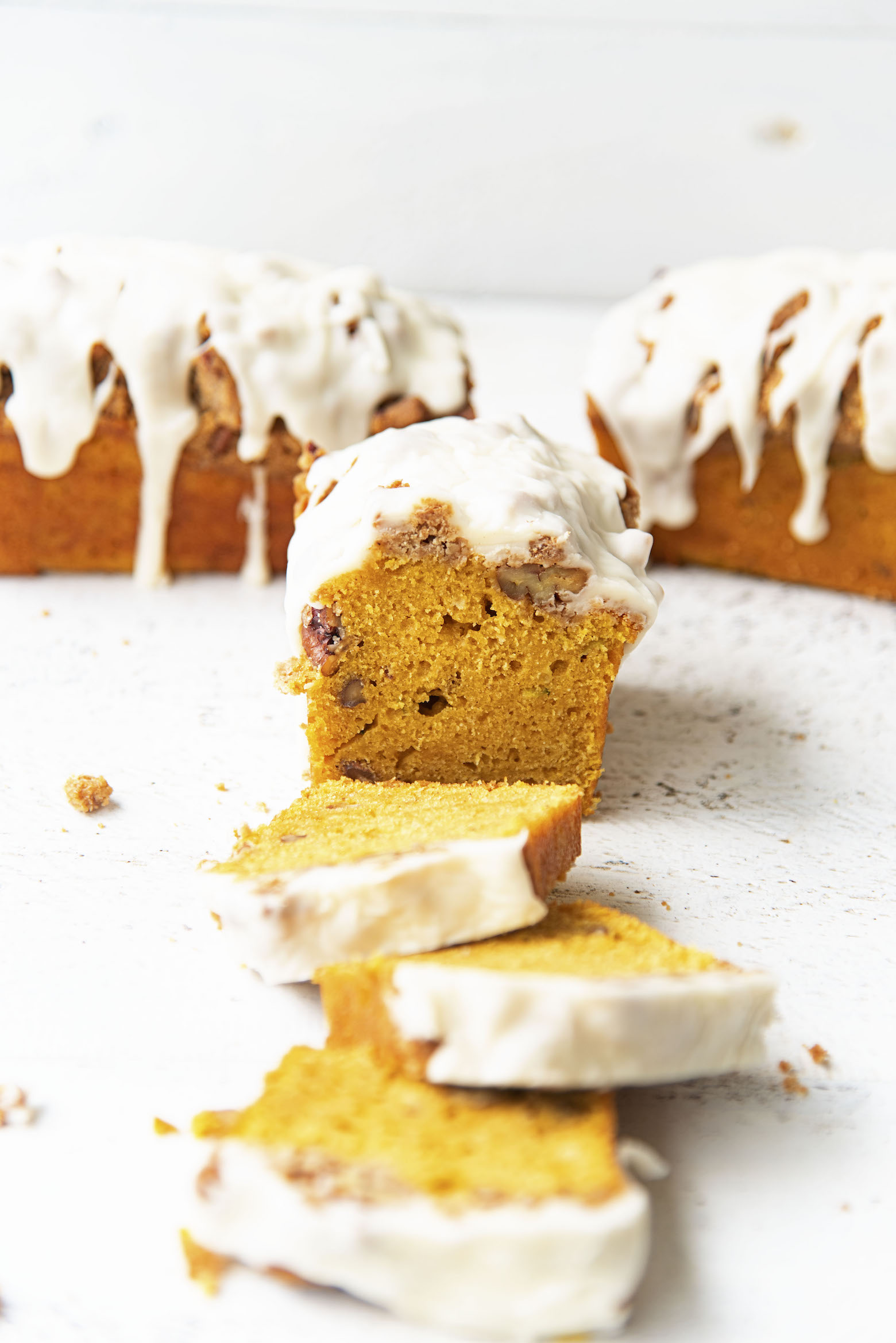 Don't overmix the batter.
Just like with muffins if you over mix you will develop too much gluten in the bread and you will get a tough loaf instead of a tender crumb.
Don't let your batter sit.
Make sure when making quick breads that you are going to bake them immediately.
You do not want much time to pass between mixing the rising agents in the batter and getting the mixture to the oven.
Otherwise you will compromise your breads rise.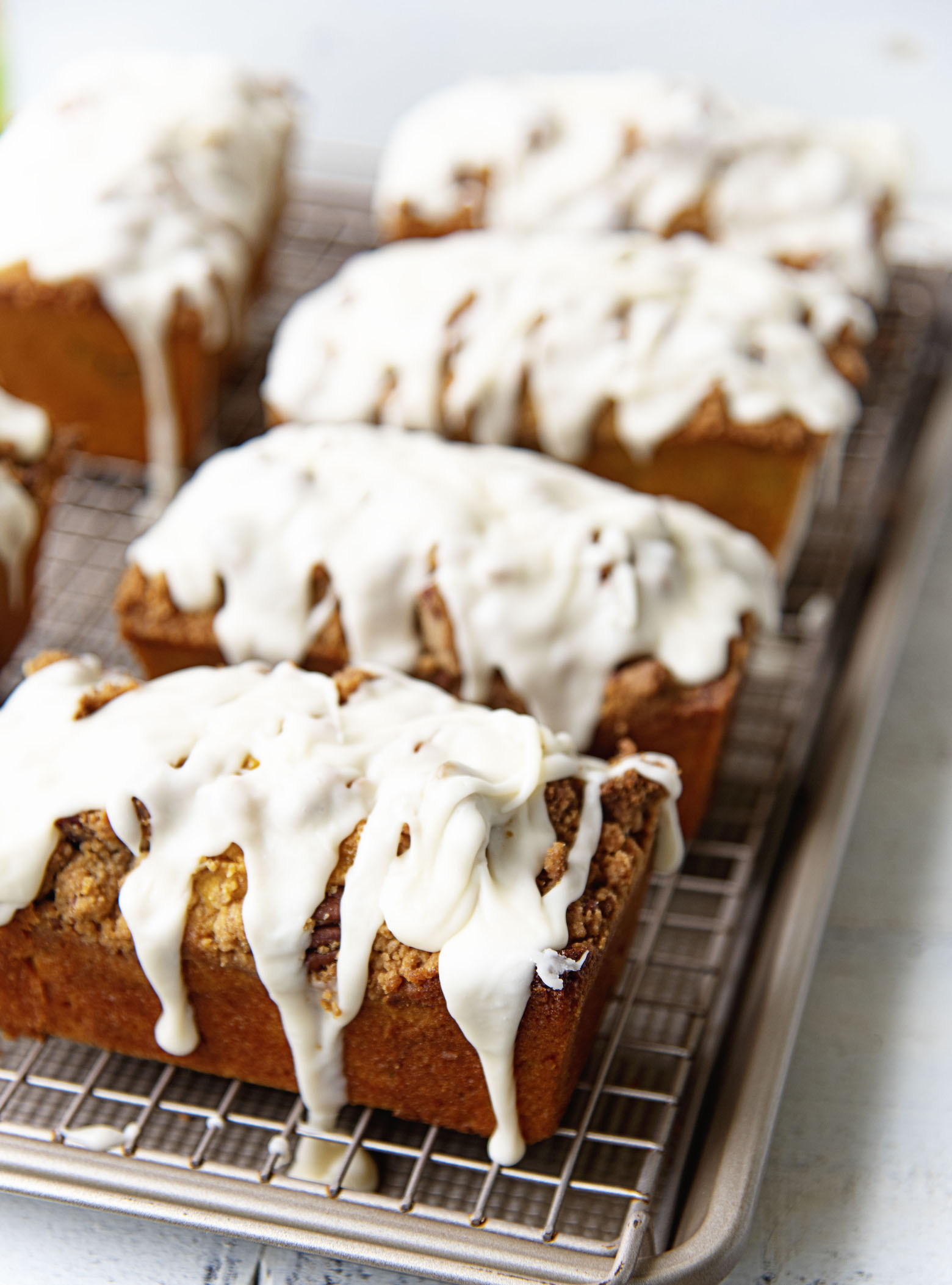 Storing you quick bread:
One of the great things about quick bread is that it freezes beautifully.
If you have a recipe like this one however, that has a glaze, I suggest waiting to glaze until you plan on serving the bread.
However, if eating it right away it will store at room temperature for about a week if properly wrapped in foil.
Be sure to order my cookbook.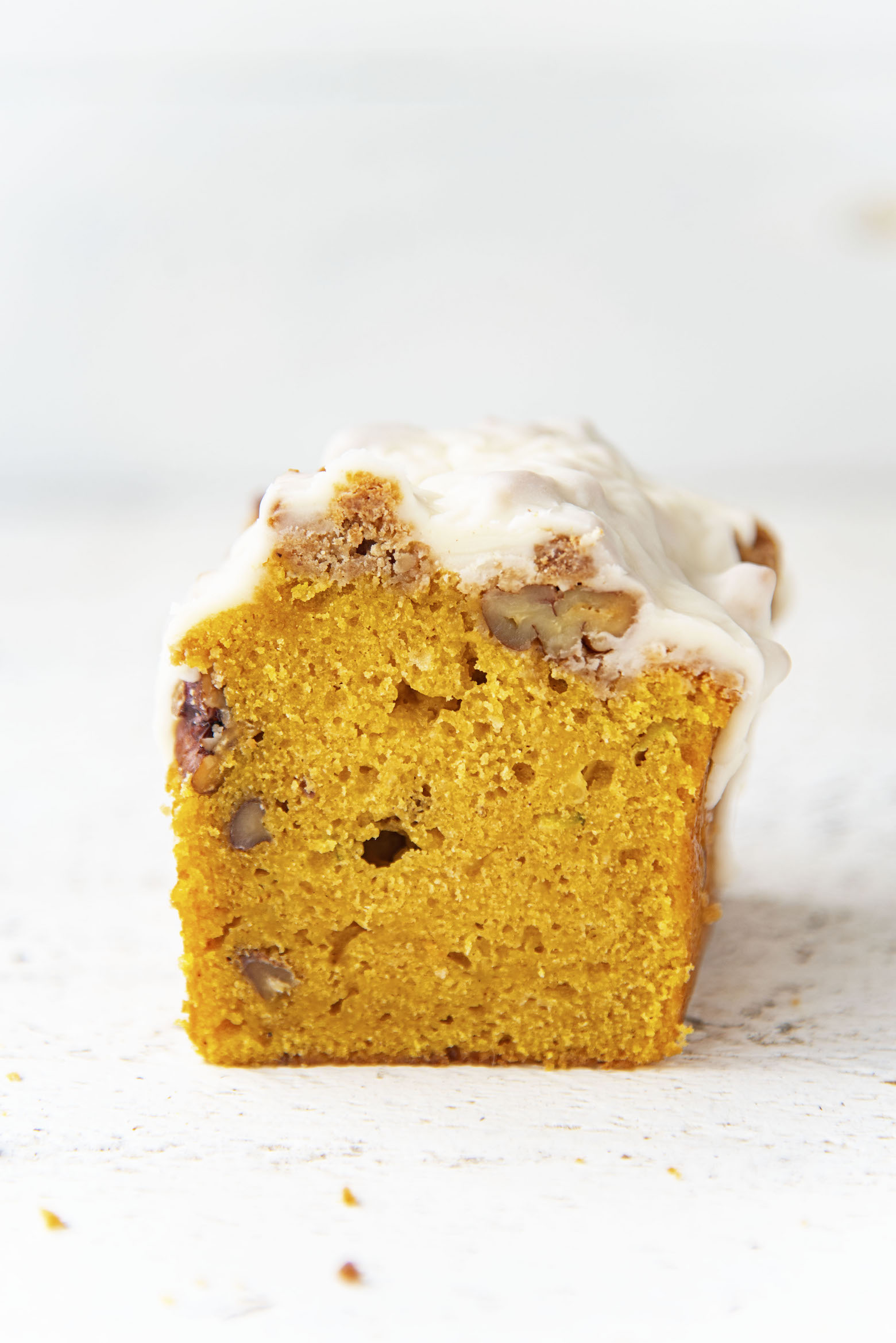 Want more Quick Bread Recipes?
Salted Caramel Apple Fritter Bread
Mini Caramel-Glazed Honey Crisp Apple Bread
Apple Cinnamon Buttermilk Bread
Zucchini Walnut Bread with Lemon Glaze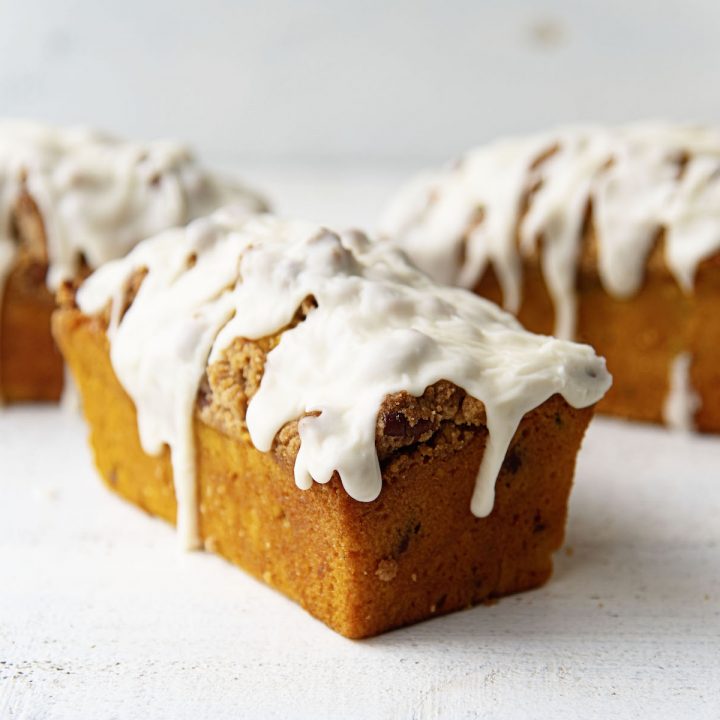 Pumpkin Zucchini Pecan Bread
Ingredients
For the Bread:
1 cup vegetable oil
3 cups granulated sugar
4 large eggs
1 (15 ounce) can pure pumpkin
1 cup zucchini, shredded and patted dry
3/4 cup buttermilk
3 cups all purpose flour
2 tsp baking soda
4 tsp pumpkin pie spice
1/2 tsp salt
For the Topping:
1 cup firmly packed golden brown sugar
1 cup all purpose flour
1/2 cup unsalted butter, melted and slightly cooled
2 tsp ground cinnamon
1 cup pecan pieces
1/4 tsp salt
For the Glaze:
1/4 cup unsalted butter
1/4 cup pure maple syrup
1 cup sifted powdered sugar
1/4 cup maple pecan liqueur (if you can't find just use maple syrup)
Instructions
To make bread:
Preheat oven to 350 degrees F.
Grease two 9 by 5-inch pans or 6 mini loaf pans with butter or baking spray.
Whisk oil and sugar in a large bowl.
Add eggs, pumpkin, zucchini, and buttermilk and whisk until combined.
Stir in flour, baking soda, spice, and salt.
Gently stir in 1 cup of the pecan pieces.
Divide batter evenly between two pans or 6 pans depending on what size you are making.
To make the topping:
Whisk together flour, brown sugar, and 1/4 tsp. salt in a bowl.
Cut butter into flour mixture using a pastry blender until butter is pea-sized.
Add the pecans and mix until fully combine.
Squeeze with hands to clump together large pieces.
Place in fridge until ready to use.
To bake:
Bake the full size loaves for 1 hour, or until a toothpick inserted into center comes out clean. Bake mini loaves for 35 to 45 minutes depending on the oven.
For the Glaze:
In a small saucepan over low heat, melt the butter and maple syrup together, whisking occasionally.
Once the butter has melted, remove from heat and whisk in the sifted powdered sugar.
Whisk in the maple pecan liqueur if using.
Set glaze aside and allow to cool and thicken.
Divide and glaze loaves.