This Hot Buttered Rum Babka is filled with brown sugar and hot buttered rum spices all covered in a spiced rum glaze.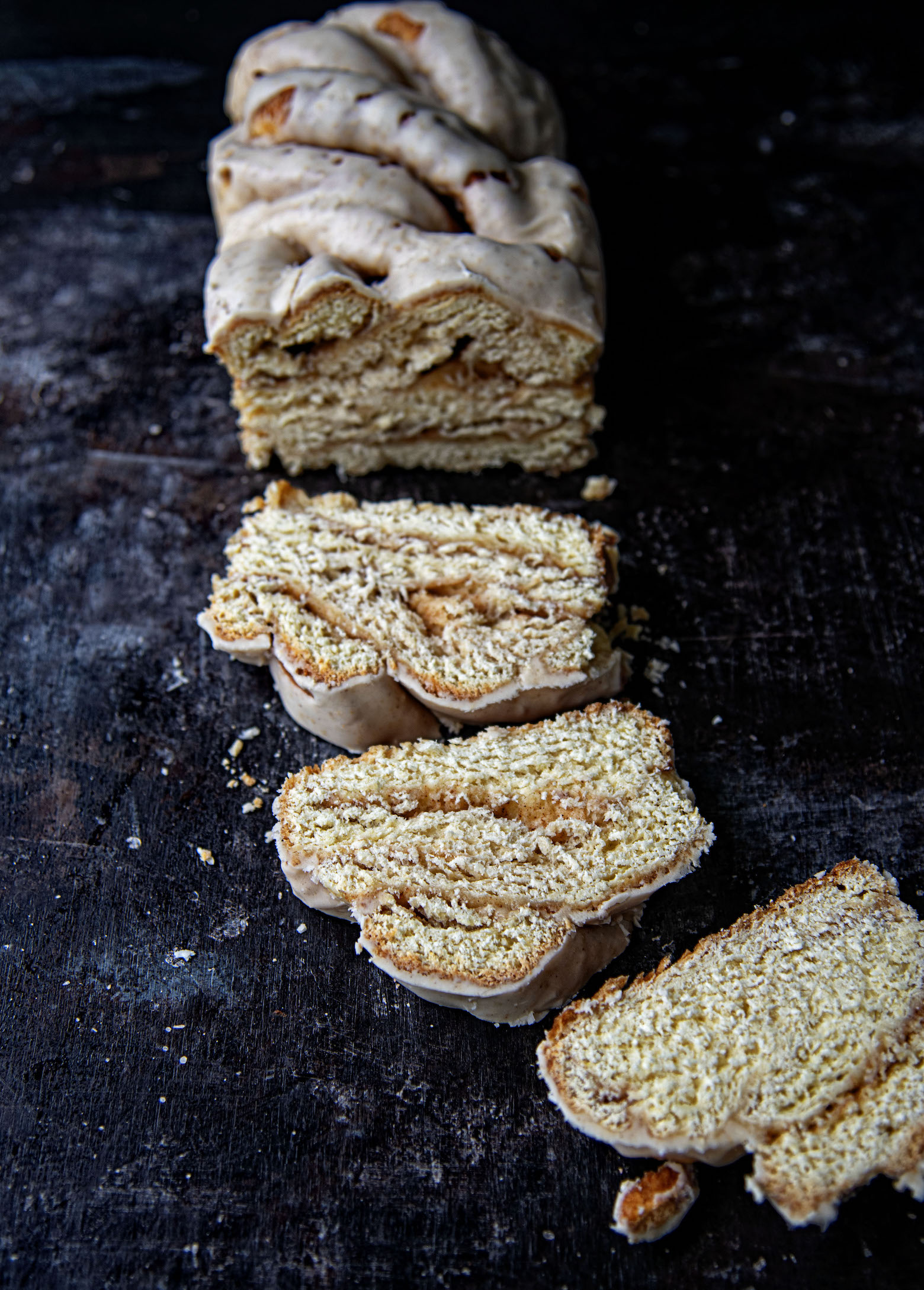 Full disclosure, I made this Hot Buttered Rum Babka back last December.
I was on a babka kick and decided that I would wait until later on in the winter to post it because I had already been posting so many babka recipes.
Only of course for the pictures to get buried in a sea of food photos and I forgot about it.
Which was too bad for you the reader because you have had to go 10 months without this recipe.
And it's a very tasty recipe.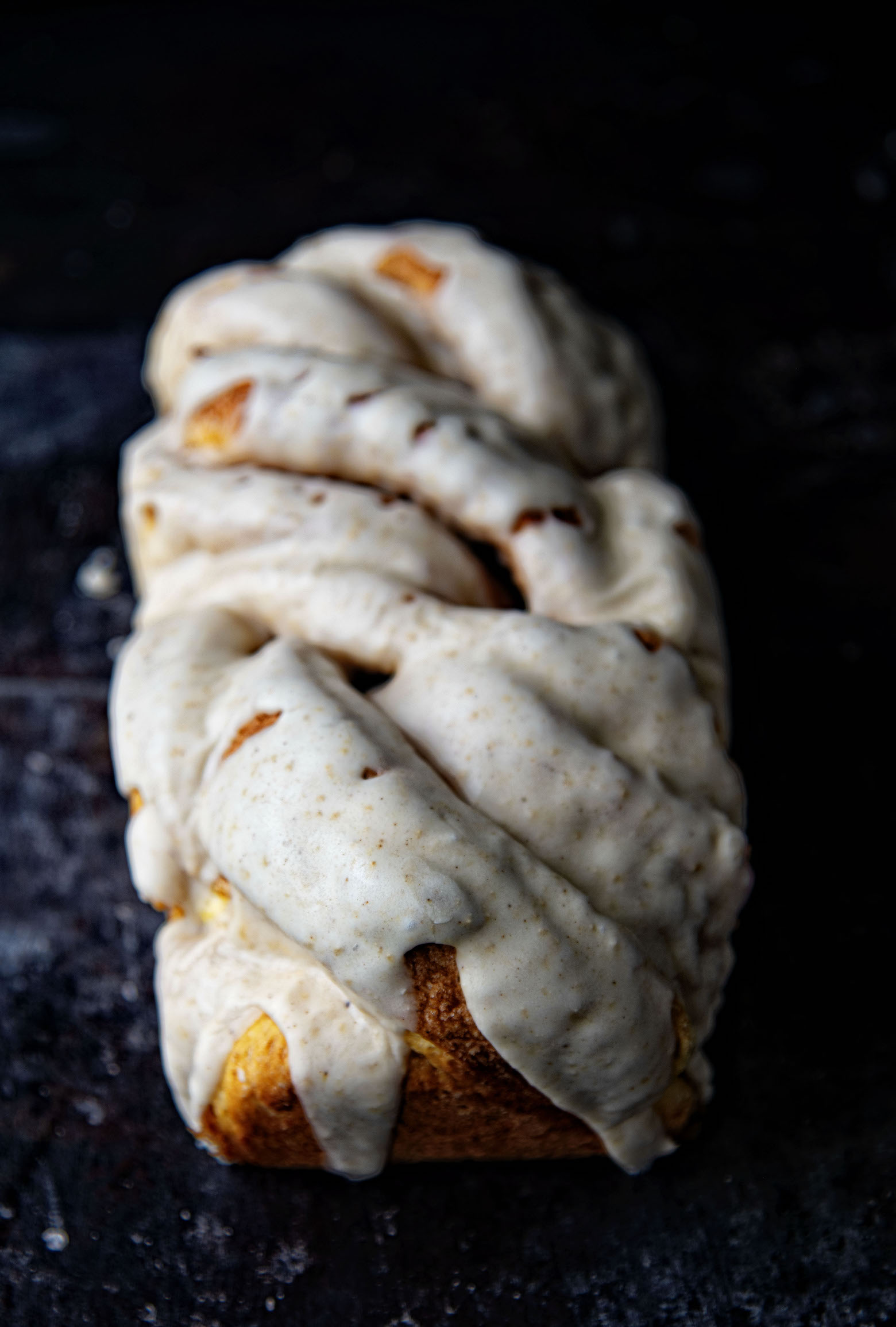 Now I realize that hot buttered rum is very much a fall/winter drink and it's well technically still summer for another couple of weeks.
However, most people are thinking about fall/winter already.
Or so my searched for recipes on Pinterest and Google tell me.
Many of you are already planning out your Thanksgiving and Holiday menus.
Which if that's you…you are my kind of people. 😀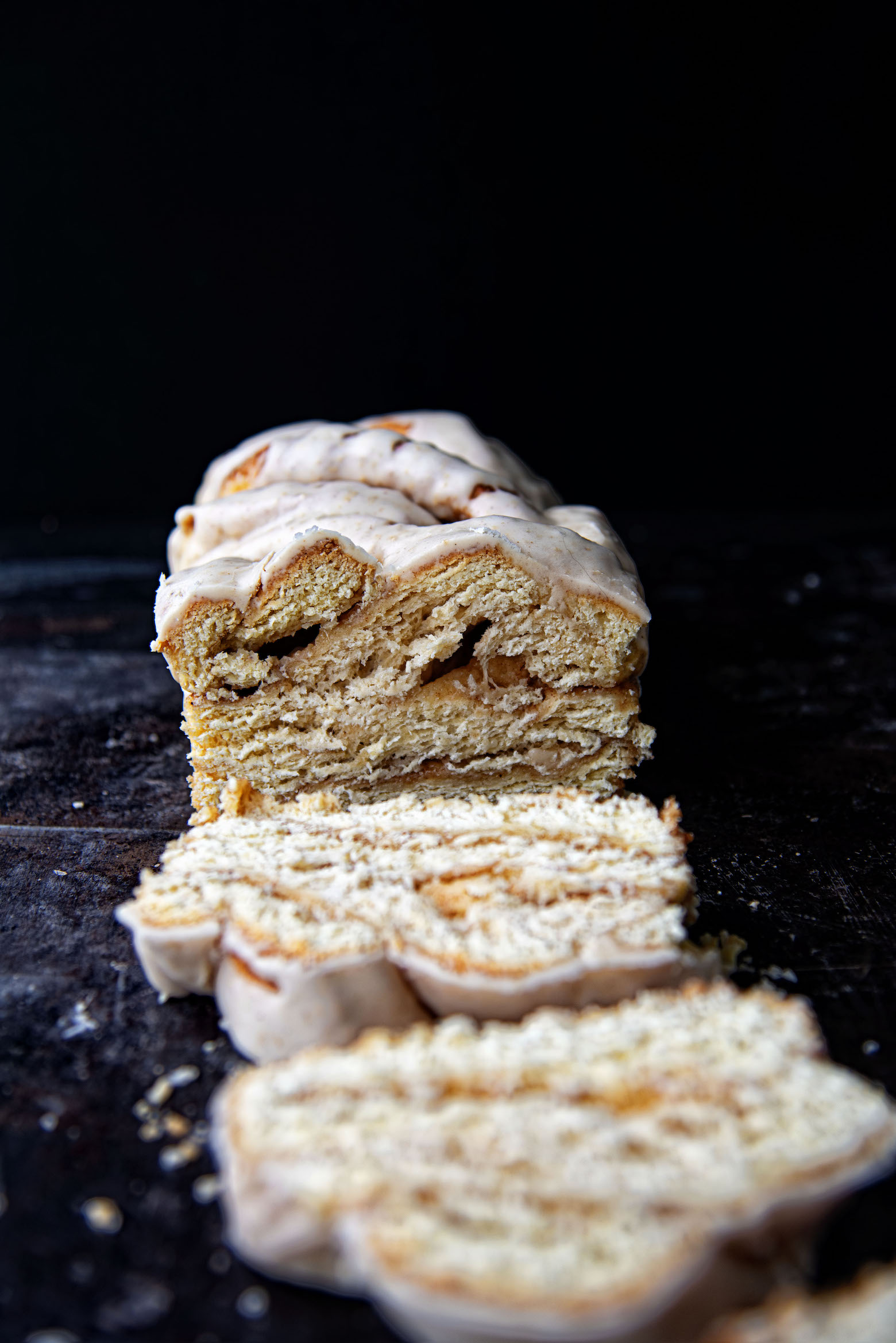 Now I usually find my hot buttered rum mix at the store.
But this time of year it's not always out (though I haven't checked actually).
If that is the case I almost always just buy directly from Spice Hunter which is the blend I tend to use, that or from Sprouts.
I'm sure if you Googled how to make your own there is someone who has made some.
Just make sure if you go the homemade route that it's just a blend of spices and does not have butter in it.
That won't work well for this recipe.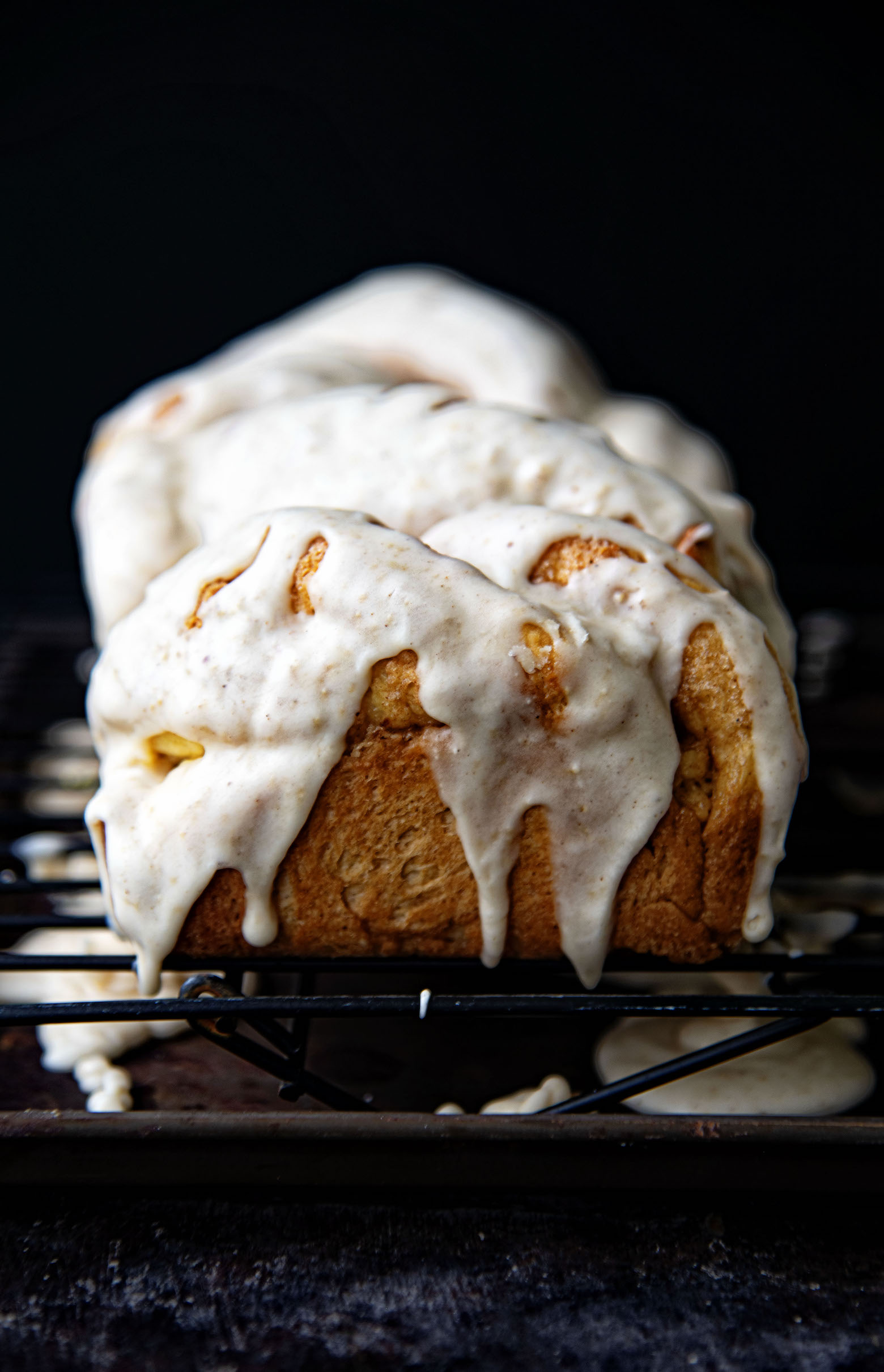 If you are not ready for hot buttered rum yet you can always just print off the recipe and forget about it like I do. 😀
Or you can pin it on Pinterest. 🙂
P.S. It's a great day to buy my cookbook. 
Want More Babka Recipes?
Oatmeal Chocolate Chip Cookie Babka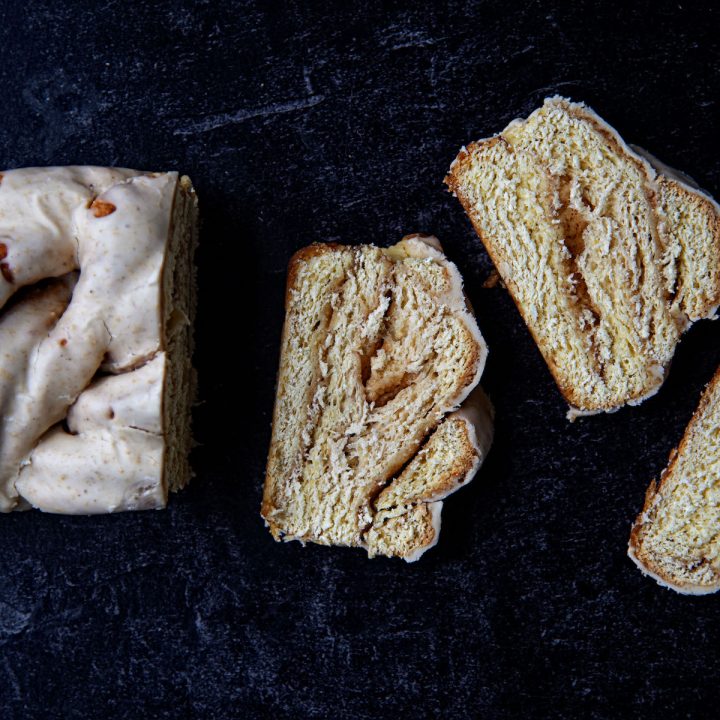 Hot Buttered Rum Babka
Ingredients
For the Dough:
1/2 cup whole milk
1 package active dry yeast
⅓ cup granulated sugar, plus 1 TBSP, divided
4 ¼ cups all-purpose flour, more as needed
1 ½ tsp salt
1 tsp vanilla extract
4 large eggs, at room temperature, lightly beaten
10 TBSP unsalted butter, at room temperature
For the filling:
6 TBSP unsalted butter, super soft but not quite melted
1 cup packed brown sugar
2 TBSP hot buttered rum spice
For the Glaze:
1 ½ cups powdered sugar
5 TBSP Spiced Rum
2 TBSP unsalted butter, melted
2 tsp hot buttered rum mix
Instructions
For the Dough:
In a small saucepan or a bowl in the microwave, warm the milk until it's lukewarm but not hot (about 110 degrees).
Add yeast and a pinch of sugar and let sit for 5 to 10 minutes, until slightly foamy.
In an electric mixer fitted with the dough hook, or in a food processor, mix together flour, 1/3 cup sugar, the salt, the vanilla, and the Buttery Sweet Dough Bakery Emulsion.
Beat or process in the yeast mixture and eggs until the dough comes together in a soft mass, about 2 minutes.
If the dough sticks to the side of the bowl and doesn't come together, add a tablespoon more flour at a time until it does, beating very well in between additions.
Add half the butter and beat or pulse until the dough is smooth and elastic, 3 to 5 minutes, scraping down the sides of the bowl with a spatula as needed. Beat in the rest of the butter and continue to beat or pulse until the dough is smooth and stretchy, another 5 to 7 minutes.
Again, if the dough sticks to the sides of the bowl, add additional flour, 1 tablespoon at a time.
Butter a clean bowl, form the dough into a ball and roll it around in the bowl so all sides are buttered.
Cover the bowl with a clean towel and let it rise in a warm, draft-free place (inside of a turned-off oven with the oven light on is good) until it puffs and rises, about 1 to 2 hours. It may not double in bulk but it should rise.
Press the dough down with your hands, re-cover the bowl and refrigerate overnight (or, in a pinch, for at least 4 hours, but the flavor won't be as developed).
Butter two 9-inch loaf pans, then line with parchment paper, leaving 2 inches of paper hanging over on the sides to use as handles later.
Remove dough from refrigerator and divide in half.
For the Filling:
Whisk together the brown sugar and spice mix. Set aside while you roll out the dough.
On a floured surface, roll one piece into a 9-by-17-inch rectangle.
Spread with half the butter (there's no need to leave a border).
Then sprinkle with half the brown sugar spice mix.
Starting with a long side, roll into a tight coil. Transfer the coil onto a dish towel or piece of plastic wrap and stick it in the freezer for 10 minutes. Repeat with the other piece of dough.
Slice one of the dough coils in half lengthwise to expose the filling.Twist the halves together as if you were braiding them, then fold the braid in half so it's about 9 inches long.
Place into a prepared pan, letting it curl around itself if it's a little too long for the pan. Cover loosely with a clean kitchen towel and let rise in a warm place for 1 to 1 1/2 hours, until puffy (it won't quite double).
Alternatively, you can cover the pans with plastic wrap and let them rise in the refrigerator overnight; bring them back to room temperature for an hour before baking.
When you're ready to bake, heat the oven to 350F.
Transfer to oven and bake until a tester goes into the cakes without any rubbery resistance and comes out clean, 40 to 50 minutes.
The cakes will also sound hollow if you unmold them and tap on the bottom. An instant-read thermometer will read between 185 and 210 degrees.
As soon as the cakes come out of the oven, use a skewer or paring knife to pierce them all over going all the way to the bottom of the cakes.
Transfer to a wire rack to cool completely before serving.
For the Glaze:
Whisk together the ingredients of the glaze in a medium bowl.
Glaze loaves while still warm.