This Zucchini Walnut Bread with Lemon Glaze takes zucchini bread to a whole new level with the addition of zesty lemon glaze.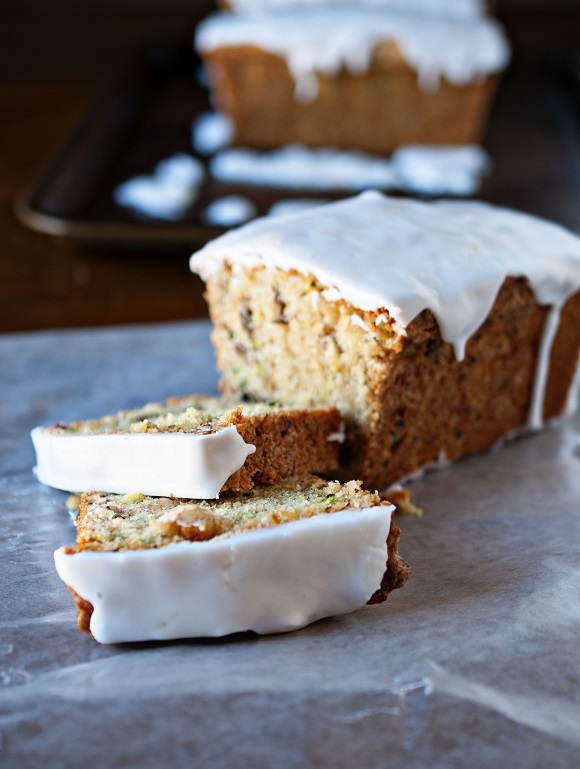 Something is not so great in my life right now.
My beloved crazy cocker spaniel is having some serious health issues that we are waiting to hear results on the severity at the beginning of this next week.
Waiting sucks.
If it's what they think then the treatment can actually be quite toxic to her and harsh side effects, including death, are a large reality.
Then there is the cost of it all that I have no idea how on Earth we can pay for it but she is my baby and I can't sit by and do nothing.
So there have been tears this week (okay more like uncontrollable sobbing) but there has also been gratitude.
So I'm going to focus on that.
Here's what's amazing in my life:
Hubby.
He has kept positive through all of this even though I know deep down he is just as worried as me.
He's just letting me stress eat, though randomly forcing me to eat protein since the all Drumstick diet is not all that nutritious…which is why I change it up with gummy bears and Mamba.
And he excels at the comforting, good, long, make me feel safe hugs.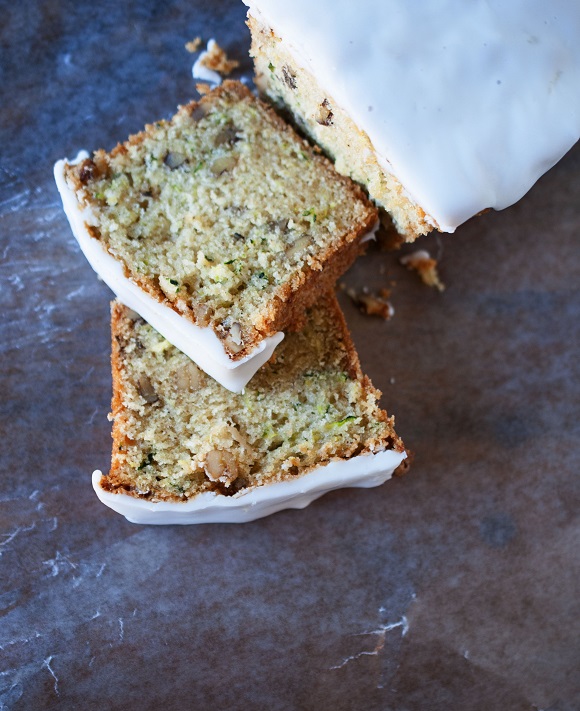 My parents.
They celebrated 43 years of marriage on Thursday.
It's both their second marriage which is impressive to go that long…heck any marriage these days going 43 years is impressive.
They are my role models for marriage.
I still remember my father's words when in college (after my first love dumped me) when he said that his one hope in life was for me to find a man that loved me as much as he loved my mother.
They still hold hands and enjoy going everywhere with each other.
My incredibly supportive friends.
While I don't always get to do things with them as our lives are filled with well…life.
I have cultivated the types of friendships that when all said and done they are there for me in true times of need.
You, the reader.
As always I am grateful for those who read my blog, follow me on various forms of social media, and interact with me in various forms.
I do want to remind you that I started my email back up again.
I'm doing something different this time around.
Next newsletter is on cocktails…if you don't want to miss that I would go sign up now!
Washington State.
Well, Western Washington state.
It's a little too warm as of late but you can't deny how beautiful it is to live here.
I will have lived here 10 years in October and am still in awe of the beauty that the area has to offer, I'm 15 minutes from a beach and 30 minutes from a mountain, and we are the evergreen state for a reason.
This Zucchini Walnut Bread with Lemon Glaze.
Zucchini is something that people are always looking for recipes for.
I love zucchini hollowed out with cream cheese and bacon under a broiler and of course in quick bread form.
I've tried many over the years, with my mother's being my favorite…until this.
It's moist, just enough spice, the lemon in the glaze makes the flavors pop, and of course you are getting your veggies in too…so it's a health food!
Be sure to order my cookbook.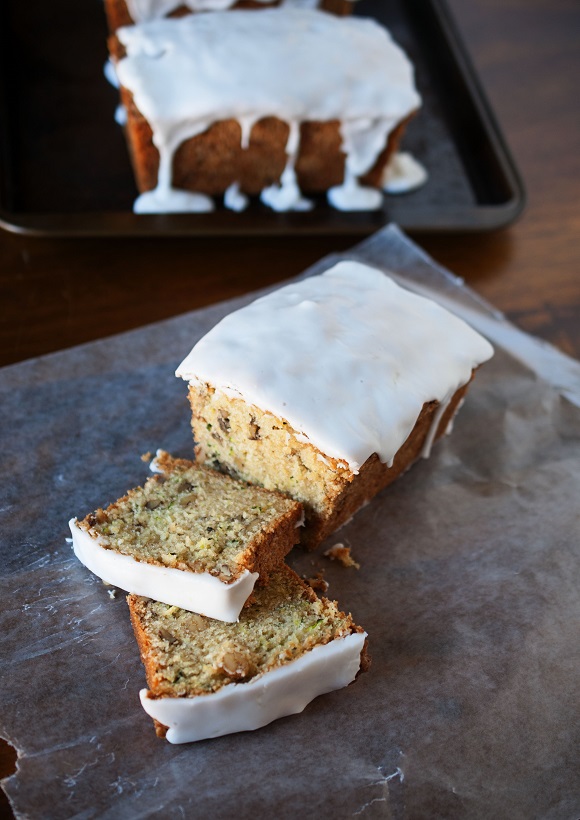 Want more Quick Bread Recipes?
Apple Cinnamon Buttermilk Bread
Salted Caramel Apple Fritter Bread
Mini Caramel-Glazed Honey Crisp Apple Bread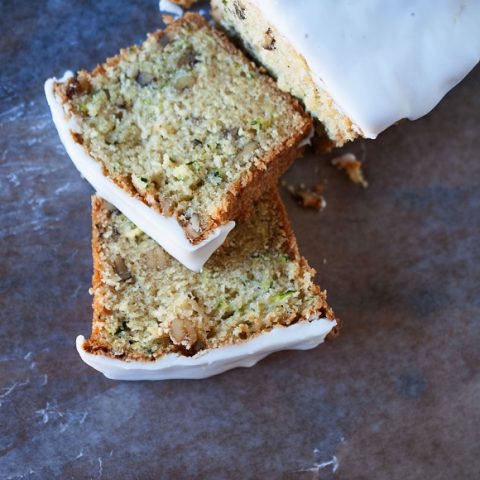 Zucchini Walnut Bread with Lemon Glaze
Ingredients
2 cups all-purpose flour
1 tsp. baking powder
1/2 tsp. baking soda
½ tsp. salt
1 tsp. ground cinnamon
1 tsp. ground ginger
1/2 tsp. freshly ground nutmeg
3 large eggs
2 cups granulated sugar
1 cup vegetable oil
1 tsp. vanilla bean paste
2 1/2 cups grated zucchini (about 2 small zucchini)
1 cup walnut pieces
Glaze:
¼-1/3 cup fresh lemon juice
2 cups powdered sugar
Instructions
Preheat the oven to 350° F.
Prepare three baking mini loaf pans with baking spray.
Mix the flour, baking powder, baking soda, salt, and spices into a medium bowl and set aside.
In a large bowl whisk the eggs, sugar and oil together until it becomes lighter in color.
Whisk in the vanilla bean paste and mix until fully combined.
Scrape down the sides of the bowl as needed.
Mix in the zucchini and do your best to distribute evenly throughout the batter.
Fold in the dry ingredients all at once and mix until thoroughly combined.
Fold in the walnuts.
Mix until there are no more dry ingredients visible.
Pour the batter into the prepared pans, I like to use an ice cream scoop…each mini loaf took 4 large ice cream scoops of batter.
Bake the cakes for 40 to 45 minutes or until a tester inserted in the cakes comes out clean and the cakes have begun to pull away from the sides of the pans. Each oven is different so I suggest checking your loafs starting at the 30 minute mark.
While the cake is baking, prepare the glaze.
In a medium bowl start with ¼ cup lemon juice and add a cup of powdered sugar. Add more lemon juice and powdered sugar until you reach the consistency you desire. I like mine more on the thick side.
Allow the cakes to cool in the pans for 10 minutes, and then carefully invert them onto a wire rack.
Pour the glaze over the loaves while they are still warm. Let cool completely and the glaze hardens.