These Fresh Berry Peach Jello Shots are made with fresh berry juice, peach Jello, peach sparkling water, Chambord liqueur, and Vodka.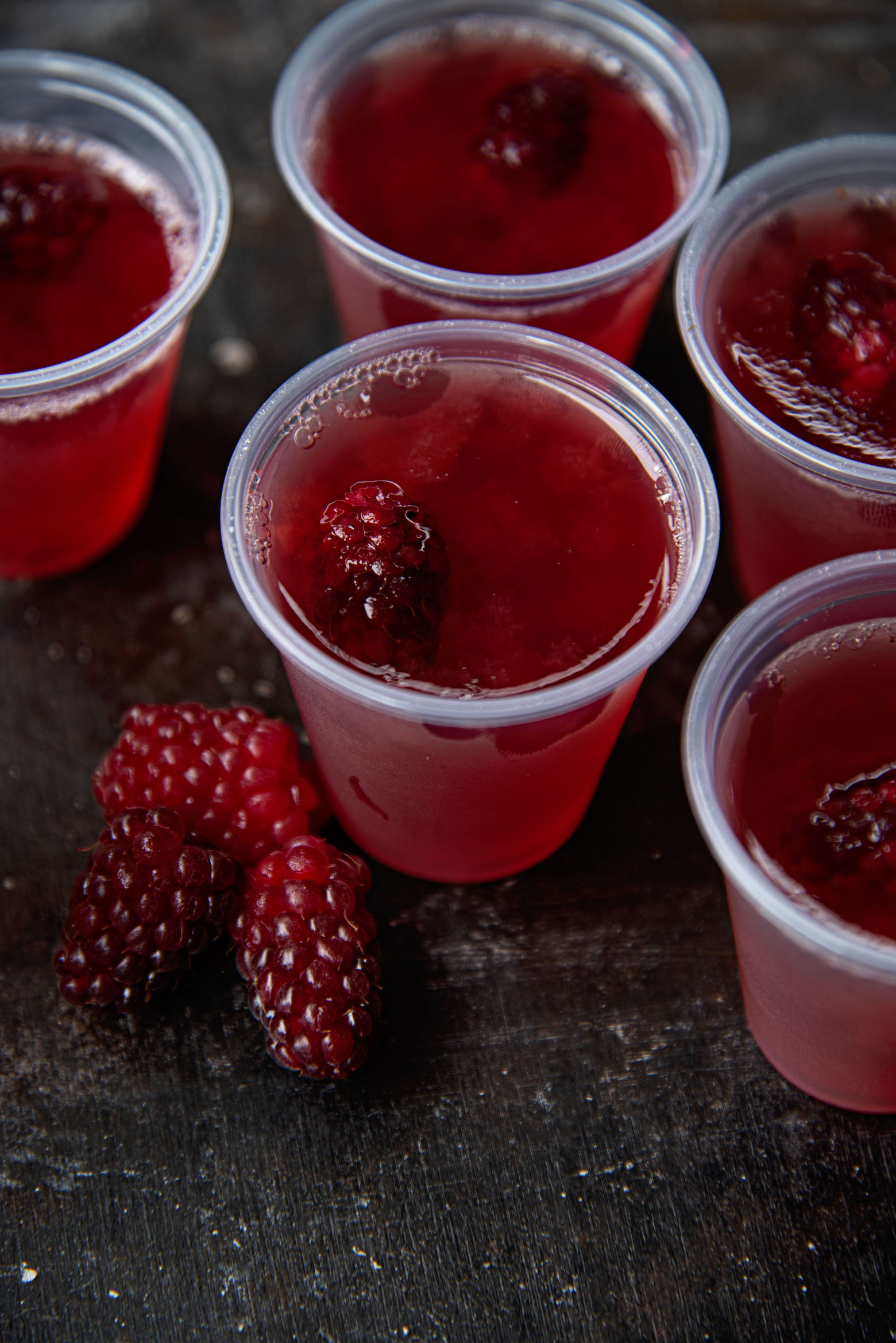 Ever since making the Strawberry Frosted Pop Tart Jello Shots I have been loving the idea of jam in jello shots.
It really brightens up the flavor.
So when I had a flat of tayberries (a cross between a raspberry and blackberry) I decided I would squash some of the berries to make juice.
And then put that fresh juice into a jello shot.
It was a good idea.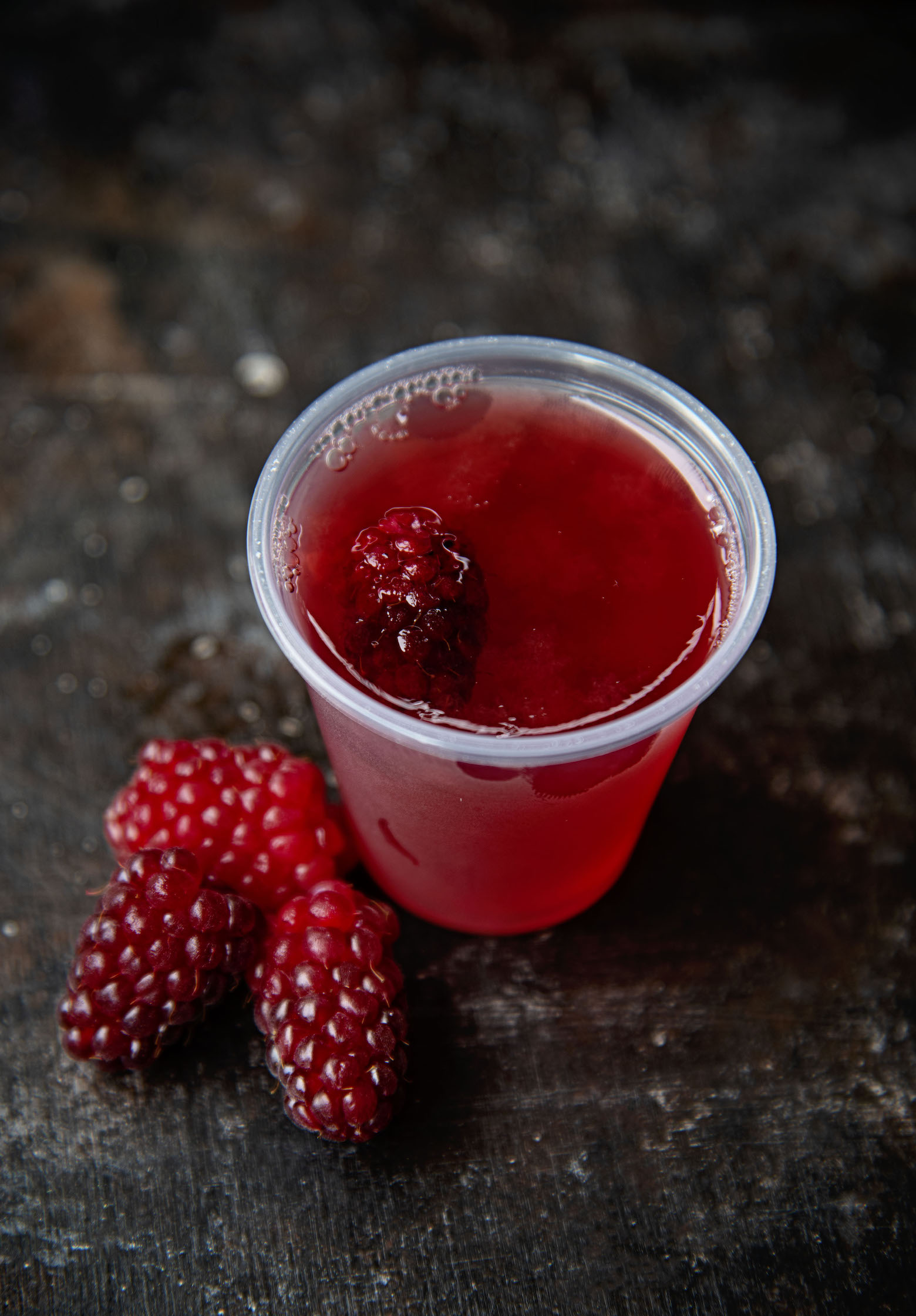 While most of you can't get tayberries and I can only get them a few weeks a year I based the shot around raspberries.
I had the intention of making these just an all berry jello shot.
Except even though I have a TON of jello. I don't have raspberry jello at the house for some reason.
But I love peaches and raspberry together and had peach jello so this is how this shot came to be.
It's probably for the best as I really like the peach and berry together.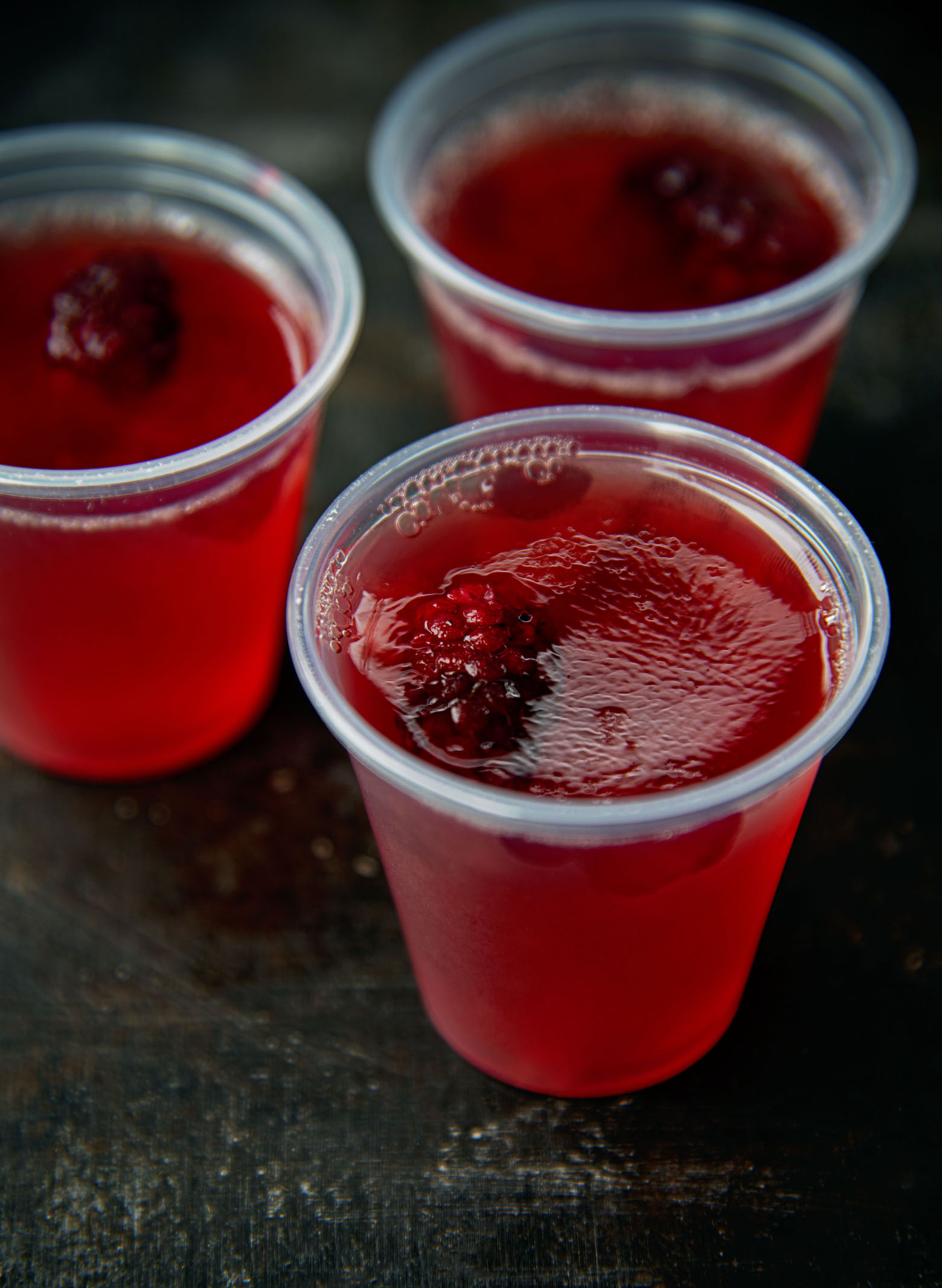 Since I used a peach jello in these Fresh Berry Peach Jello Shots I went with a raspberry liqueur.
If you use a raspberry jello I suggest going with something like peach schnapps in place of the Chambord.
To offset each other.
Either way these are super yummy and using the fresh berries to make the juice really brings the flavor of summer to the jello shots.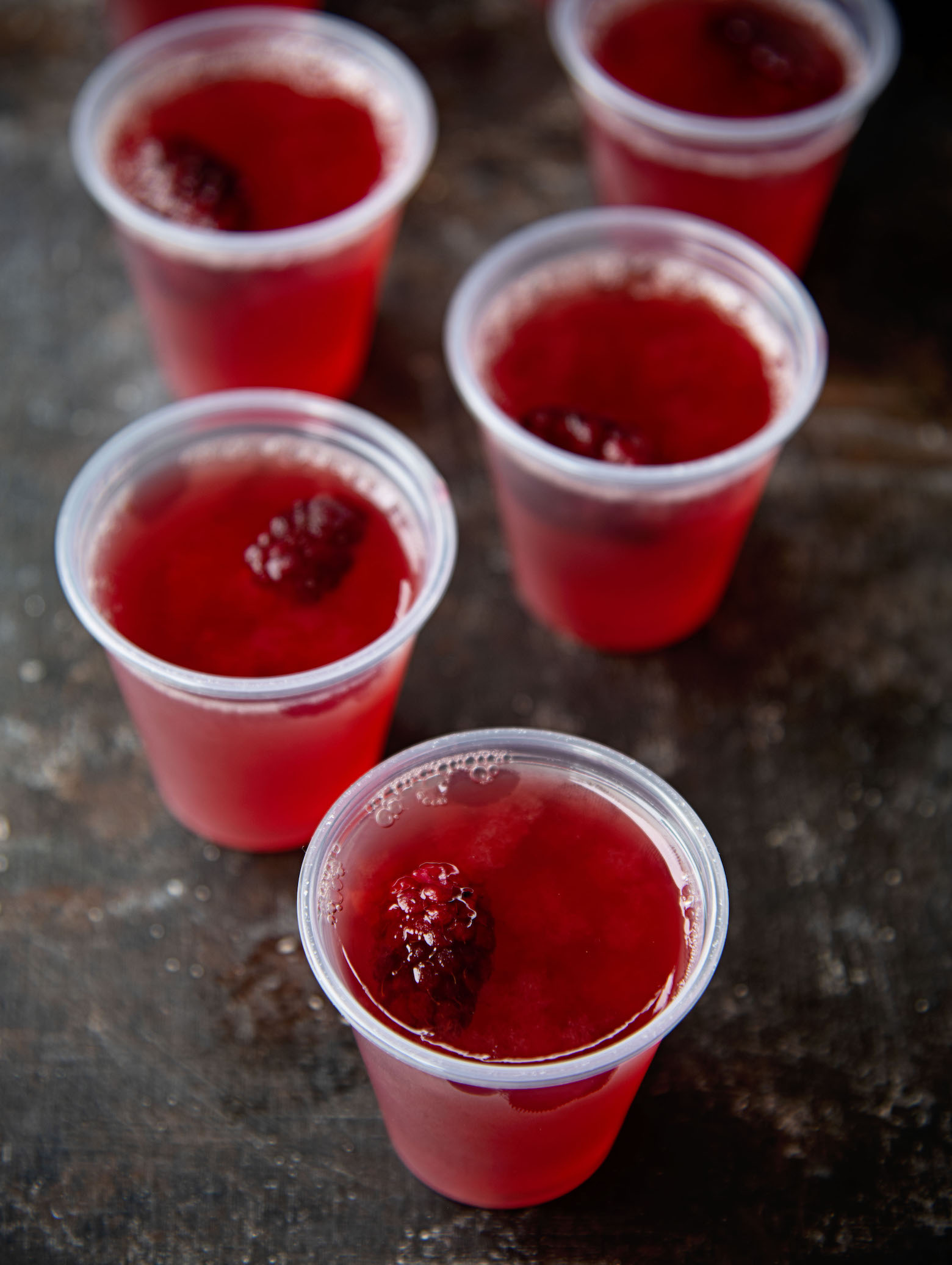 Things to remember when making Jello Shots. When throwing a party, you'll probably want to prepare 4-6 Jello Shots for each guest.
This batch uses 6 ounces of gelatin and so you will get around 18-20 Jello shots.
If doing a half recipe and only using 3 ounces of gelatin you will only get 8-10 Jello shots depending on how you pour.
It's a great day to order my cookbook.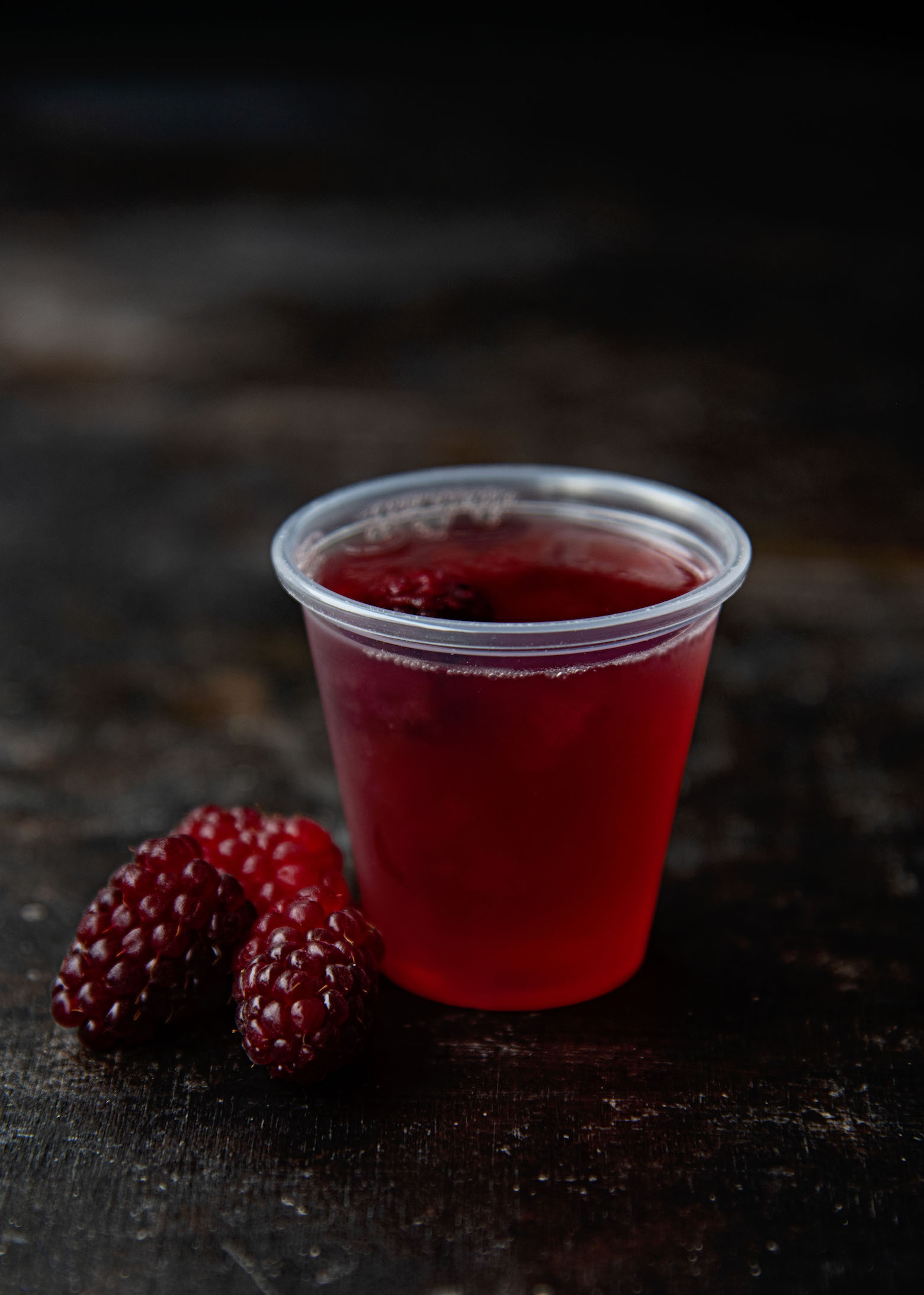 Want More Jello Shots?
Blue Hawaiian Rainbow Jello Shots
Fruit Punch Moonshine Jello Shots
Strawberry Pina Colada Jello Shots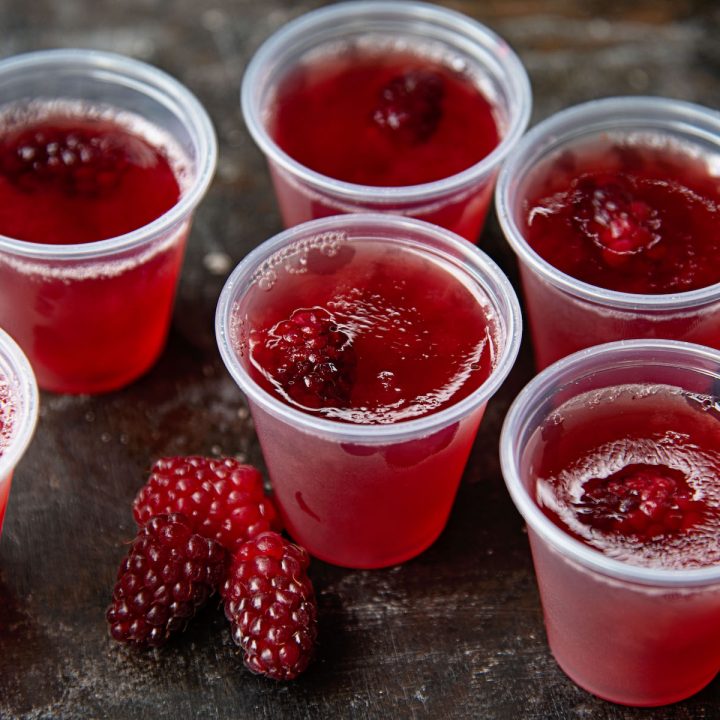 Fresh Berry Peach Jello Shots
Ingredients
1 cup water
2 (3 oz) packages peach Jello
1 cup freshly squeezed berry juice
1 cup peach sparkling water (I used Clearly Canadian)
1/2 cup Chambord liqueur
1/2 cup vodka
Instructions
Bring water to a boil.
Empty gelatin powder into a large mixing bowl and add the boiling water.
Continue stirring for two minutes or until the jello is completely dissolved.
Add in the berry juice, peach sparkling water, Chambord, and vodka.
Stir until mixed and pour into 2oz. cups filled 1/2 to 3/4 of the way.
Place in fridge and let set up for at least 2 hours, preferably at least 4.
These can be made two days ahead of your event.