Vanilla Cheesecake Funfetti Pink Ombre Layer Cake has vanilla pink ombre layers with cheesecake Bavarian cream and buttercream.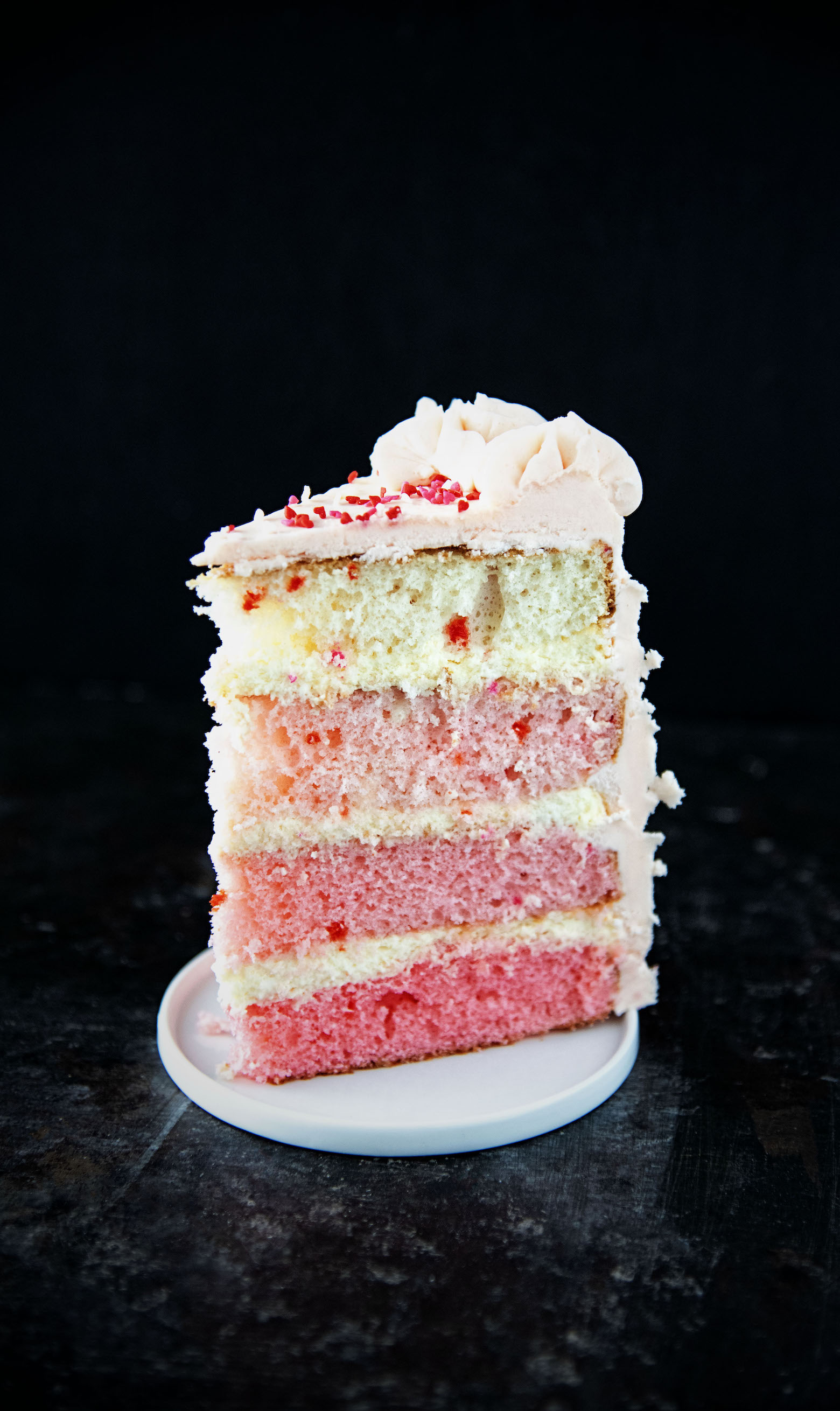 Okay yes, this cake has a few steps. 🙂
But your Valentine is worth it I am sure. 😀
First off the name is a mouthful and I wasn't really sure what to even call this.
It started because I saw someone pin my Grape Jelly Purple Layer Happy Sprinkles Cake.
Which clearly I couldn't figure out what to call that cake either. Ha!
But it made me want to do an ombre cake (funny story on that to follow).
So I set out Saturday night to make the cake layers.
I went with pink because of Valentine's but also because it's my favorite color.
I made the cake layers and let them cool and wrapped them up to finish Sunday.
Sunday I made the Bavarian cream and layered the cake.
The Bavarian has to sit for at least an hour and so I decided I would just frost it on Monday.
Which I did.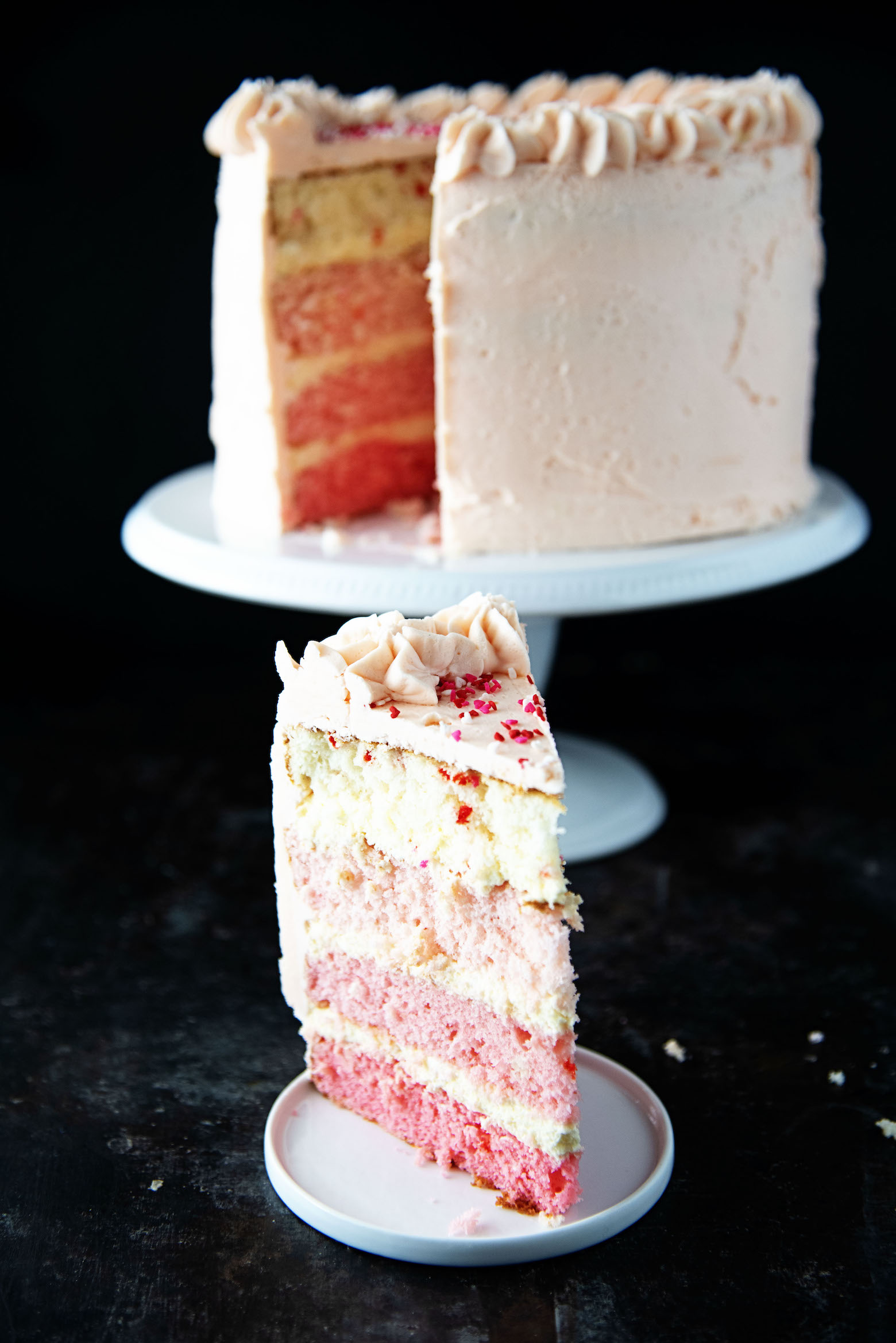 I got up super early and frosted it and then went back to bed.
I photographed the cake whole.
Then I cut into it.
And I kid you not my brain went on vacation clearly and I was genuinely surprised/shocked that it was in Ombre layers.
A fun surprise but I could not believe I just forgot about the layers.
Since that is why this whole cake idea started in the first place!
Man, I miss my brain sometimes.
If you want a super tall cake you could double the cake batter as the cake layers are thinner since it's split into four instead of two.
Happy Valentine's Day to all that celebrate tomorrow…and for those that don't try celebrating Arizona Statehood Day instead.
P.S. It's a great day to buy my cookbook Holy Sweet!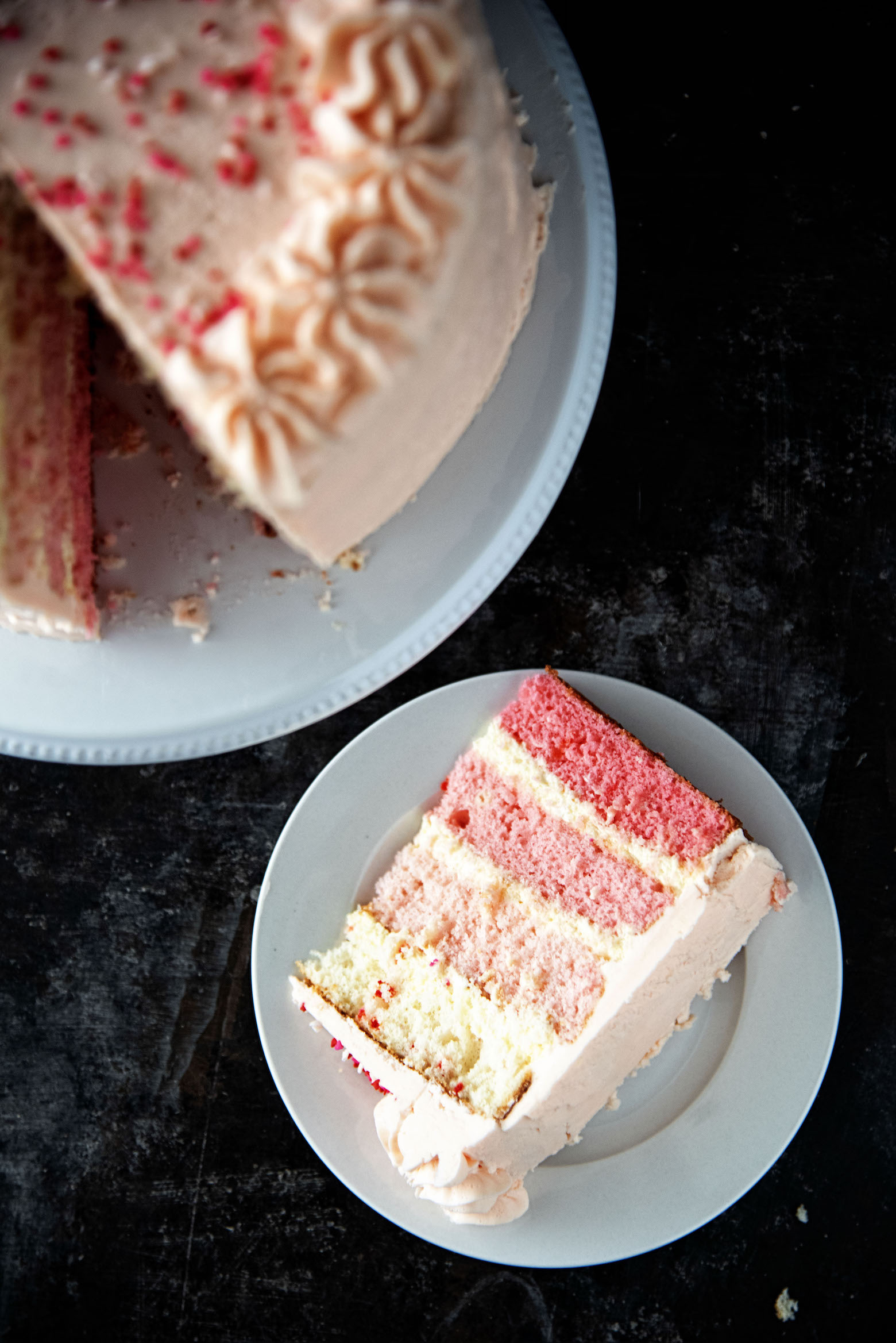 Want More Cake Recipes?
Chocolate Salted Caramel Popcorn Layer Cake
Strawberry Lemonade Layer Cake
Chocolate Peanut Butter Stout Layer Cake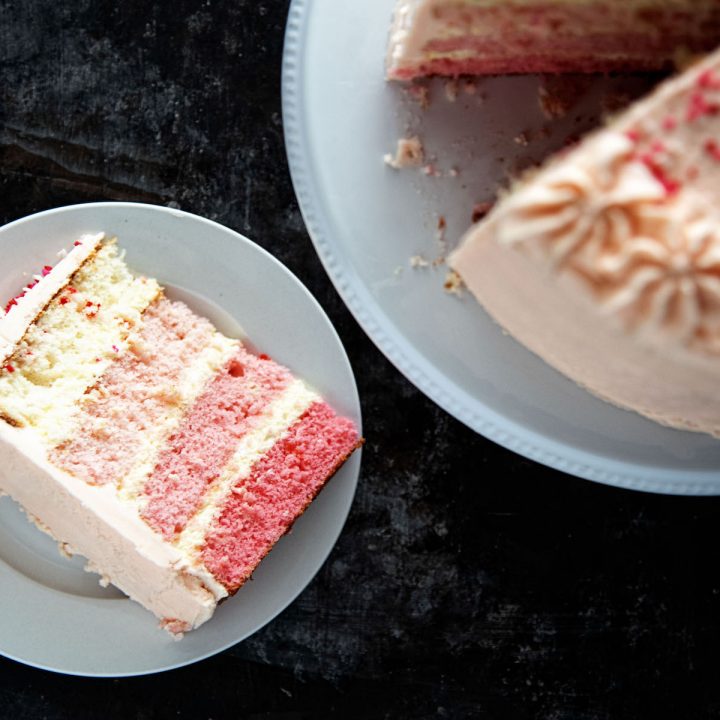 Vanilla Cheesecake Funfetti Pink Ombre Layer Cake
Ingredients
For the Cake:
2 1/4 cups cake flour
1 cup milk at room temperature
6 large egg whites at room temperature
1 tsp. vanilla extract
1 3/4 cups granulated sugar
4 tsp. baking powder
1 tsp. table salt
12 oz. unsalted butter, softened but still cool
1 cup valentine colored sprinkles
red food coloring (if coloring cake)
For the Cheesecake Bavarian:
1 packet powdered gelatin(around 2 ¼ tsp)
1 cup cold water, divided
3 large eggs, separated
3/4 cup granulated sugar, divided
1 cup heavy whipping cream
8 oz. cream cheese
2 tsp. vanilla extract
For the Buttercream:
1 cup egg whites
2 cups granulated sugar
3 cups unsalted butter, cubed and at room temperature
1/4 tsp. salt
2 tsp. vanilla extract
10 oz. white chocolate melted and cooled slightly
Instructions
For the Cake:
Heat oven to 350 degrees.
Prepare four 8-inch cake pans with baking spray.
Make sure milk and eggs are room temperature.
Pour milk, egg whites, and extracts into medium bowl and mix with fork until blended.
Mix cake flour, sugar, baking powder, and salt in bowl of a stand mixer at slow speed.
Add butter, cut into cubes and continue beating on low for about 1-2 minutes.
Add all but 1/2 cup of milk mixture to flour mixture and beat at medium speed for 1 1/2 minutes.
Add remaining 1/2 cup of milk mixture and beat for about 1 minute.
Fold in the sprinkles.

Divide mixture evenly into 4 medium bowls.

Leave one bowl of batter white, then very gradually add coloring to each bowl and gently fold it into the mixture, adding slightly more coloring as you do each bowl so that the 4 bowls give you an even gradient of color.

Pour batter into prepared tins and bake each layer for about 12-15 minutes or until a skewer into the center comes out clean and the outside is golden.

Allow cake to cool to room temperature.
For the Cheesecake Bavarian:
Place ¼ cup of the water into a small bowl.
Sprinkle gelatin over and let dissolve.
In a saucepan, whisk together egg yolks and 1/8 cup granulated sugar. Do not place over heat, yet.
Bring remaining water to a boil in a small saucepan.
Once boiled, remove from heat.
Temper egg/sugar mixture with water, slowly adding the water to the egg/sugar mixture and whisking the whole time.
Move to stove top add gelatin and heat and simmer, stirring constantly, until sauce coats the back of a spoon.
Place saucepan into a large, heat proof bowl filled with ice. This will help the mixture cool quicker. Watch to make sure the gelatin doesn't start to set. Once cool, remove from ice bath and set aside.
Whip 1 cup heavy cream into stiff peaks.
Add the vanilla and whip until fully incorporated.
Add in the cream cheese and 1/2 cup granulated sugar and beat together until fully combined.
Set aside.
Whip egg whites and the remaining 1/8 cup granulated sugar until stiff peaks form.
Carefully fold the egg whites with the whipped cream.
Then fold the mixture into the cooled gelatin mixture.
Place in fridge for 30 minutes.
For the Buttercream:
Place the egg whites and sugar in the metal bowl of a stand mixer and set over a small pot of simmering water (the bowl should not touch the water).
Heat, stirring occasionally, until mixture is 160F or hot to the touch.
Transfer bowl to stand mixer and beat on high speed with a whisk attachment to medium stiff peaks, about 8 minutes.
Reduce mixer speed to medium low and add butter a tablespoon at a time, letting it incorporate into the meringue for few moments before adding more.
Add vanilla extract, melted white chocolate, and salt and beat on high for 1-2 minutes until smooth and creamy.
If using food coloring, add now, and beat until frosting is the same color.
To assemble cake:
Set the darkest pink cake layer on turntable cake stand.
Cover with 3/4 cup Cheesecake Bavarian.
Top with the second darkest cake layer and add Bavarian.
Then the lightest pink layer followed by more Bavarian.
Place the white layer on top.
Set in fridge for 1 hour.
Remove cake from fridge to frost.
Use an offset spatula to frost cake with buttercream.
If desired, first make a thin coat to seal in crumbs and chill for 30 minutes.
Cover completely with another layer of frosting.
Pipe some decorative swirls on top of cake and top with sprinkles (optional).
Chill cake for 30 minutes.