These Homemade Strawberry Frosted Pop Tarts are an ode to my favorite morning strawberry pastry complete with icing and sprinkles.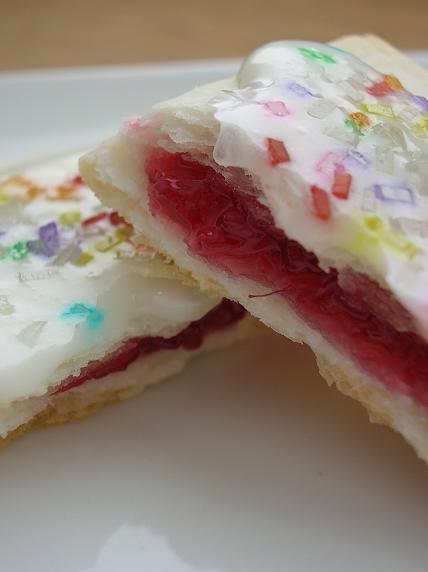 So wasn't going to participate in this Sugar High Friday…just no time.
But I figured if I could squeeze in fritters last week for HHDD, I could come up with something for SHF.
The theme this time around was little bites of delight.
We were to make petits fours.
Well that encompasses a lot of things…I'm sure my entry was not one they were thinking of.
Over burdened with extra pie crust taking up space in the freezer, I decided that since I had so much luck with the Circus Cookies that I would make Homemade Strawberry Frosted Pop Tarts.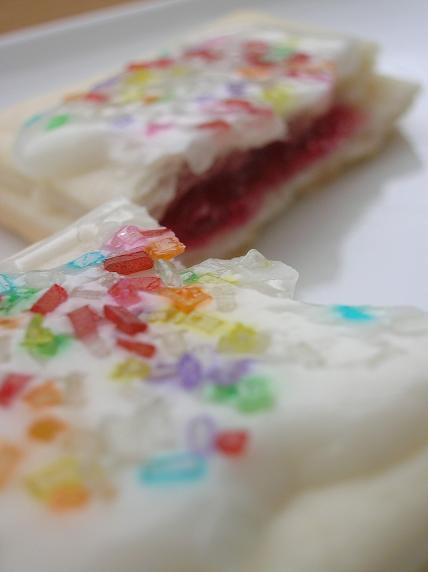 Oh how I love Pop Tarts.
So bad for you I know but my first years of teaching I was so poor I lived off of Pop Tarts and Stove Top Stuffing.
Because you could buy them in bulk at Costco.
Not exactly nutritionally sound but you have to do what you have to do.
The strawberry frosted kind are my favorite, but I've never been one to turn down any Pop Tart.
I am bad in my pie crust I know because I still do use half shortening, but it really makes the pie crust more flaky.
And I also apologize that none of my pictures can really let you see that it is mini, but they are, I swear. 
But the Poptart looked so washed out when it was unopened that I got no quality photos whatsoever.
Head on over to Cook Sister to see all of the SHF participants.
P.S. It's a great day to buy my cookbook Holy Sweet!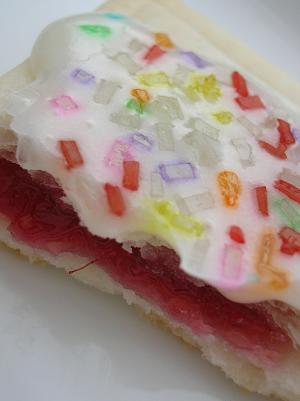 Want More Pie Recipes?
Cinnamon Toast Crunch Apple Slice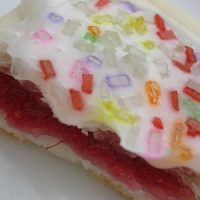 Homemade Strawberry Frosted Pop Tarts
Ingredients
pie crust(recipe follows)
good jam(your choice)
Glaze
Sparkling Sugar
Pie Crust 
For the Pie Crust:
1-1/2 cups sifted flour
1/2 teaspoon salt
1/4 cup shortening
1/4 cup unsalted butter
3 tablespoons cold water
For the Icing:
1 cup powder sugar
milk to thin
Instructions
For the Pie Crust:
Combine flour and salt in bowl.
Add shortening or butter and blend with fork, pastry cutter or your fingers until mixture is fairly coarse.
Add water, 1 tablespoon at a time, gently mixing dough after each addition until dough forms a ball. (Dough can also be prepared in food processor. Use the pulse button just until it starts to pull away from the sides.
Be very careful not to overwork the dough.
Place dough on a lightly floured surface and roll into a square/rectangle.
Cut out long strips about 2 inches wide, and 3 inches long. If you don't want to make mini ones you can make bigger strips.
Repeat till you run out of dough.
For the Icing:
Place powdered sugar in bowl. Pour milk slowly until it has a consistency of really thick syrup.
To make the Pop Tarts:
Take one pie crust rectangle, fill with a tsp of jam.
Cover with another piece of pie crust.
Crimpe all four edges.
Repeat until you run out of pie crust.
Bake at 450F for about 7-8 minutes or until slightly brown.
Set aside to cool.
Once cooled, pour glaze on to Poptart and decorate with sparkling sugar.