These Dirt Chocolate Pudding Cookies are chocolate pudding cookies topped with chocolate icing, crushed Oreos, and a gummy worm.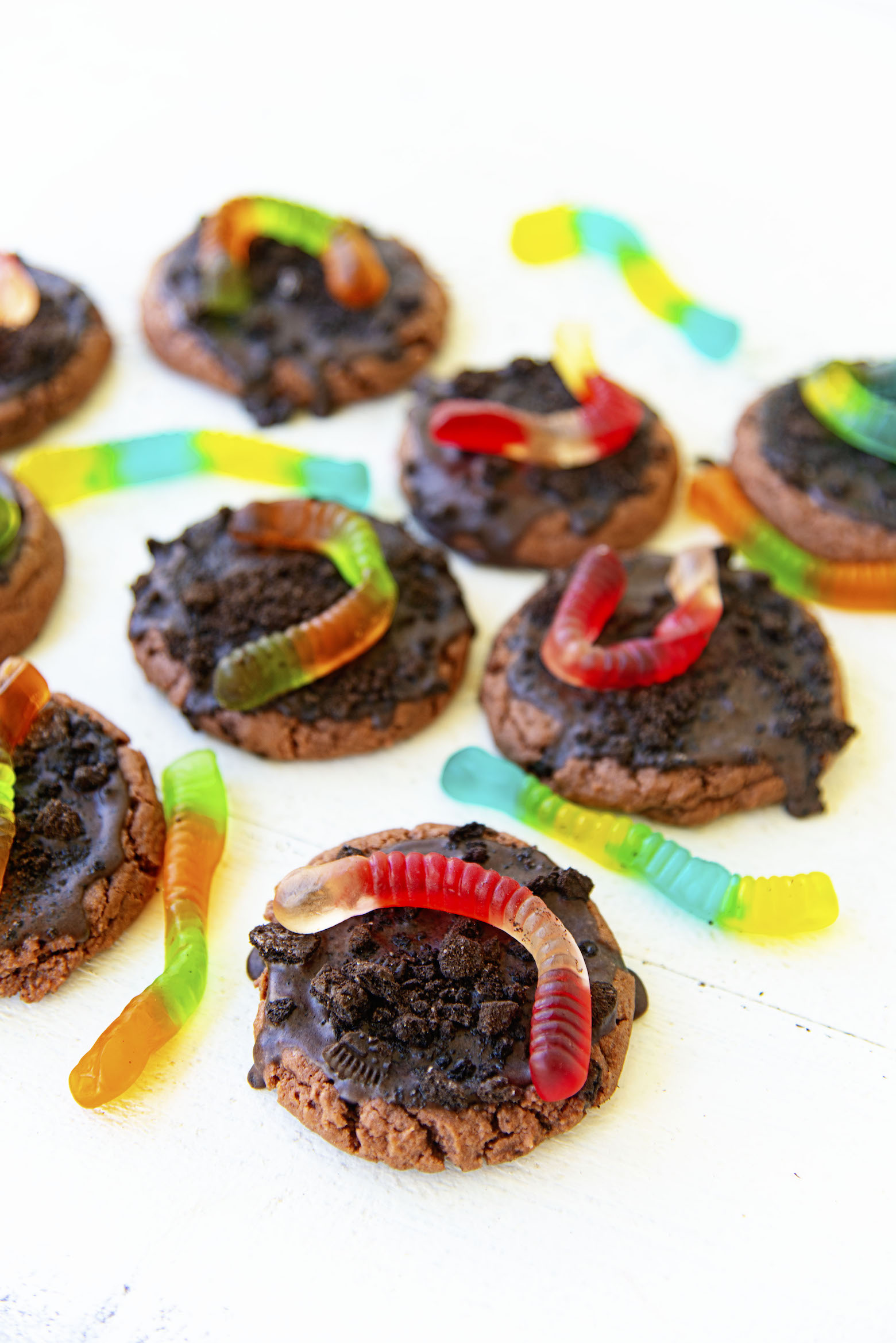 While scrolling through Instagram the other day I saw a picture of a cookie dressed up like Dirt Pudding Cups I used to have as a kid.
And while their cookie was cute it didn't really look like the dirt cups I grew up with.
The cookie also didn't seem to have any pudding in it.
And well, that seemed wrong to me.
So I figured I would put my own spin on it.
And I made Dirt Chocolate Pudding Cookies.
You have to admit they are fun.
I laughed because someone on IG (when I posted in stories) asked if they were for my kids.
And well, I only have dogs.
I do have two step kiddos but both of them are far from being kids anymore. 🙂
I'm just a kid at heart. 😀
Ironically I had a hard time just finding gummy worms.
All I could find were organic and natural flavored ones.
Which is not what I wanted. I wanted some glowing, colorful gummy worms darn it all.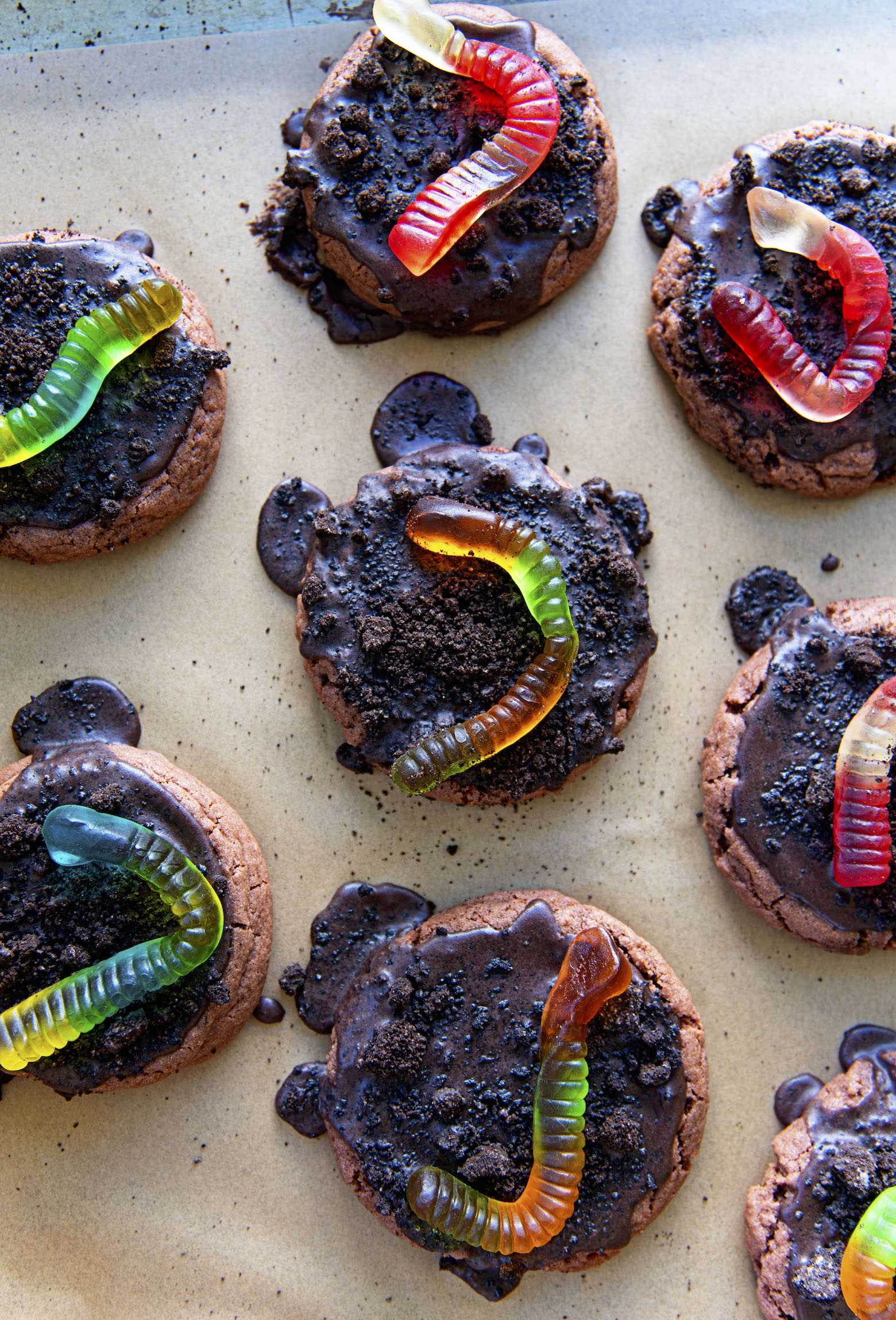 Obviously, I eventually found them but it did take longer than I thought it would.
Your icing will be a little thicker.
I wasn't paying attention and I added more milk than I originally planned on.
But these are dirt cookies so the messier the better. 🙂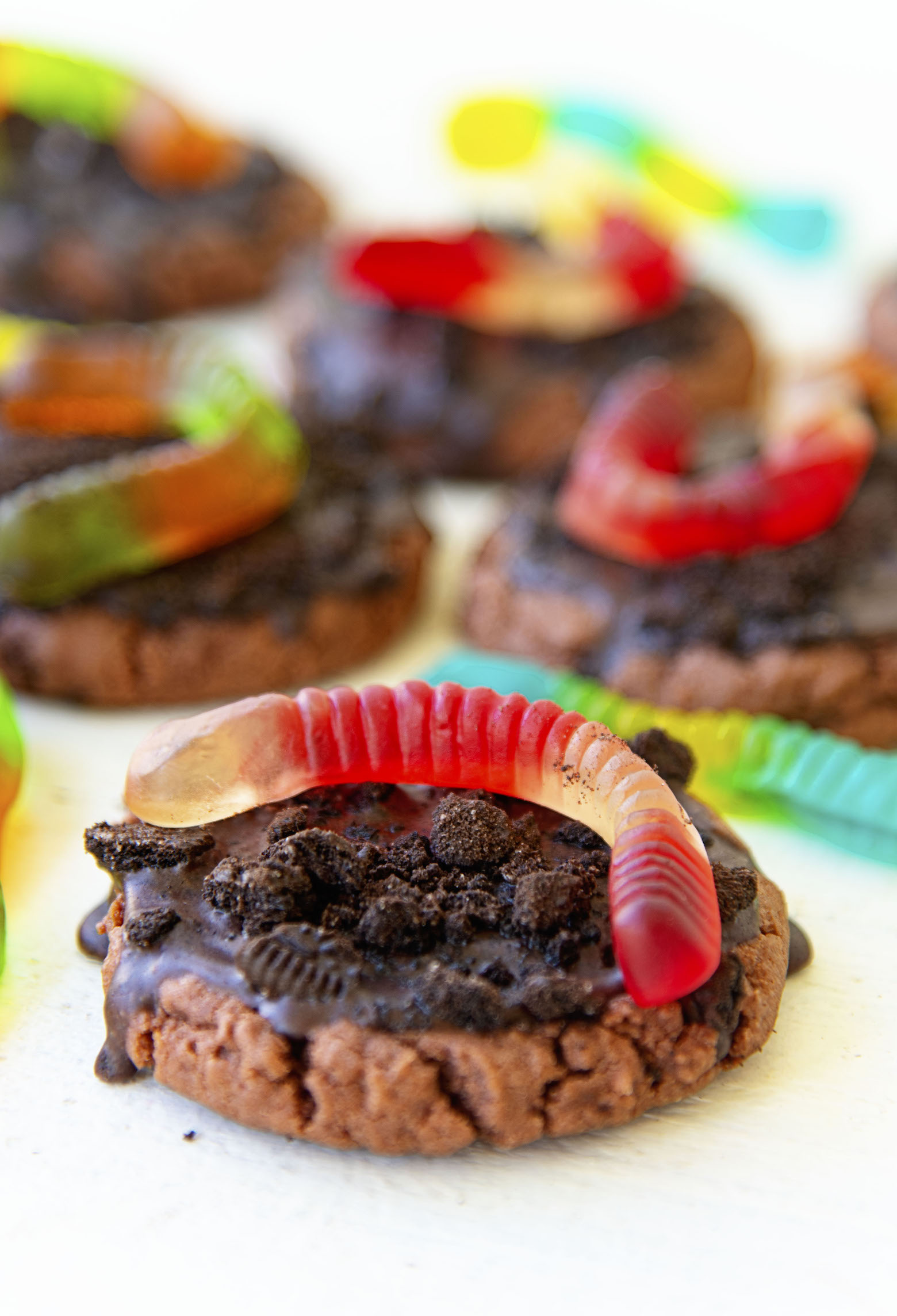 The base is a simple chocolate pudding cookie.
I didn't add anything to them but if you want you could add some mini chocolate chips.
I do flatten them out in the baking process as they tend to not flatten out as much as I wanted when I first tested them.
It's a great day to order my cookbook.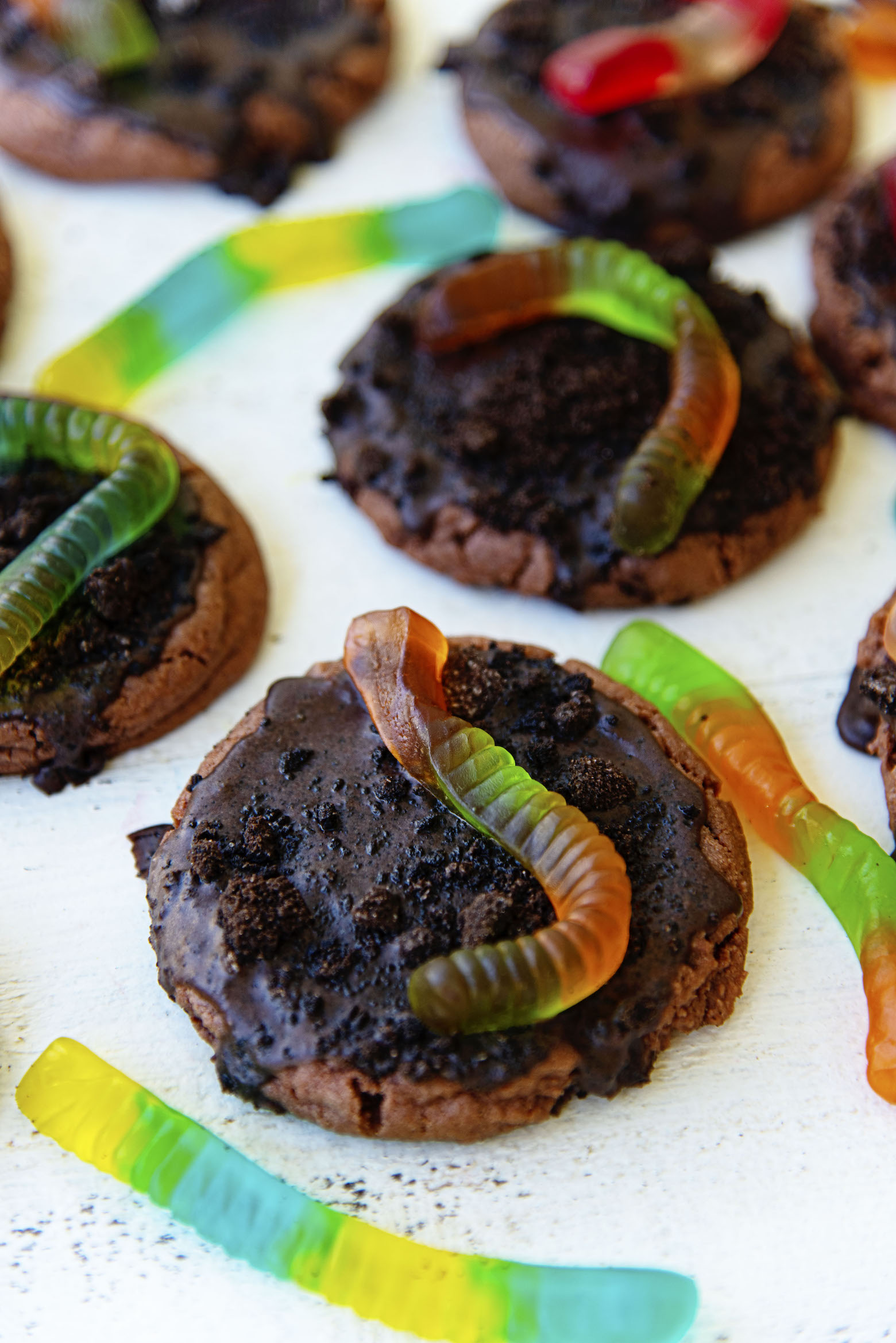 Want More Cookie Recipes?
Vanilla Bean Caramel Thumbprint Cookies
White Chocolate Dried Pineapple Salted Macadamia Nut Cookie
Caramel Cream Filled Snickerdoodles
Double Chocolate Rainbow Chip Cookies
Strawberry Cheesecake Chocolate Chip Cookies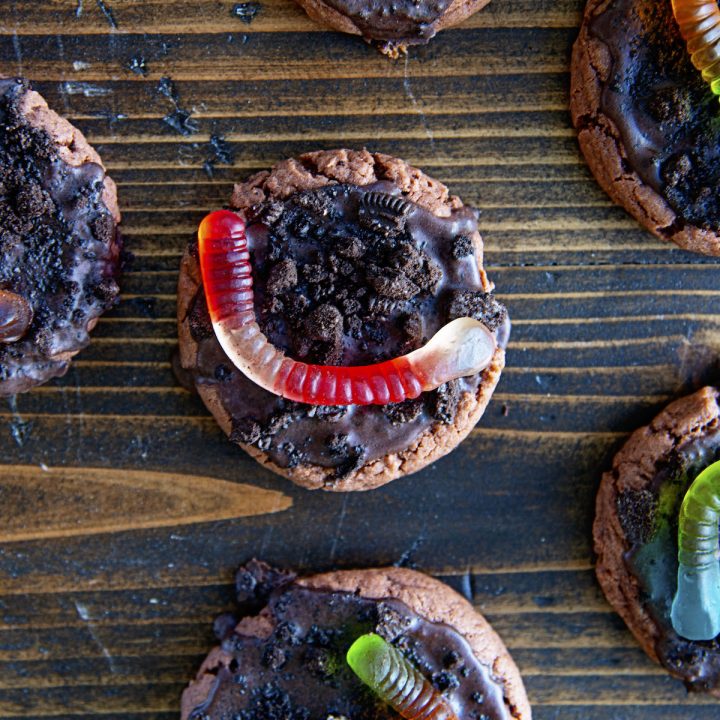 Dirt Chocolate Pudding Cookies
Ingredients
For the Cookies:
2 cups flour
1 tsp. baking soda
1 cup butter or margarine, softened
1 cup packed brown sugar
1 (3.4 oz) pkg. JELL-O Chocolate Flavor Instant Pudding
2 eggs
For the Icing:
1/2 cup butter
2 Tbsp cocoa powder
3 Tbsp milk
2 1/2 cups powdered sugar
For the Topping:
2 cups crushed Oreo cookies, crushed to look like dirt
16-20 gummy worms (depending on how big of cookies you make)
Instructions
For the Cookies:
Heat oven to 350°F.
Combine flour and baking soda.
Using a stand mixer with a paddle attachment cream together the butter and sugar until light and fluffy, about three minutes.
Add dry pudding mix; beat until blended.
Add eggs; mix well.
Gradually add flour mixture, mixing well after each addition.
Using a 3 inch cookie scoop, scoop out the batter and place the cookies 3 inches apart, onto baking sheets.
Bake for 8 minutes. Then using a heat proof glass, press down on the cookies. Then bake another 2-4 minutes or until edges of cookies are lightly browned.
Cool 1 min. on baking sheets.
Remove to wire racks; cool completely.
For the Icing:
In a medium saucepan combine butter, cocoa powder and milk over medium heat, whisking until melted together.
Remove from heat and whisk in powdered sugar.
Spoon icing into the middle of the cookies and immediately sprinkle about 1-2 TBSP Oreo cookie crumbs and add a gummy worm.
Let the icing set up, about 30 minutes.