This Strawberry Rhubarb Key Lime Margarita is tart and refreshing made with frozen strawberries, rhubarb syrup, key lime juice, and tequila.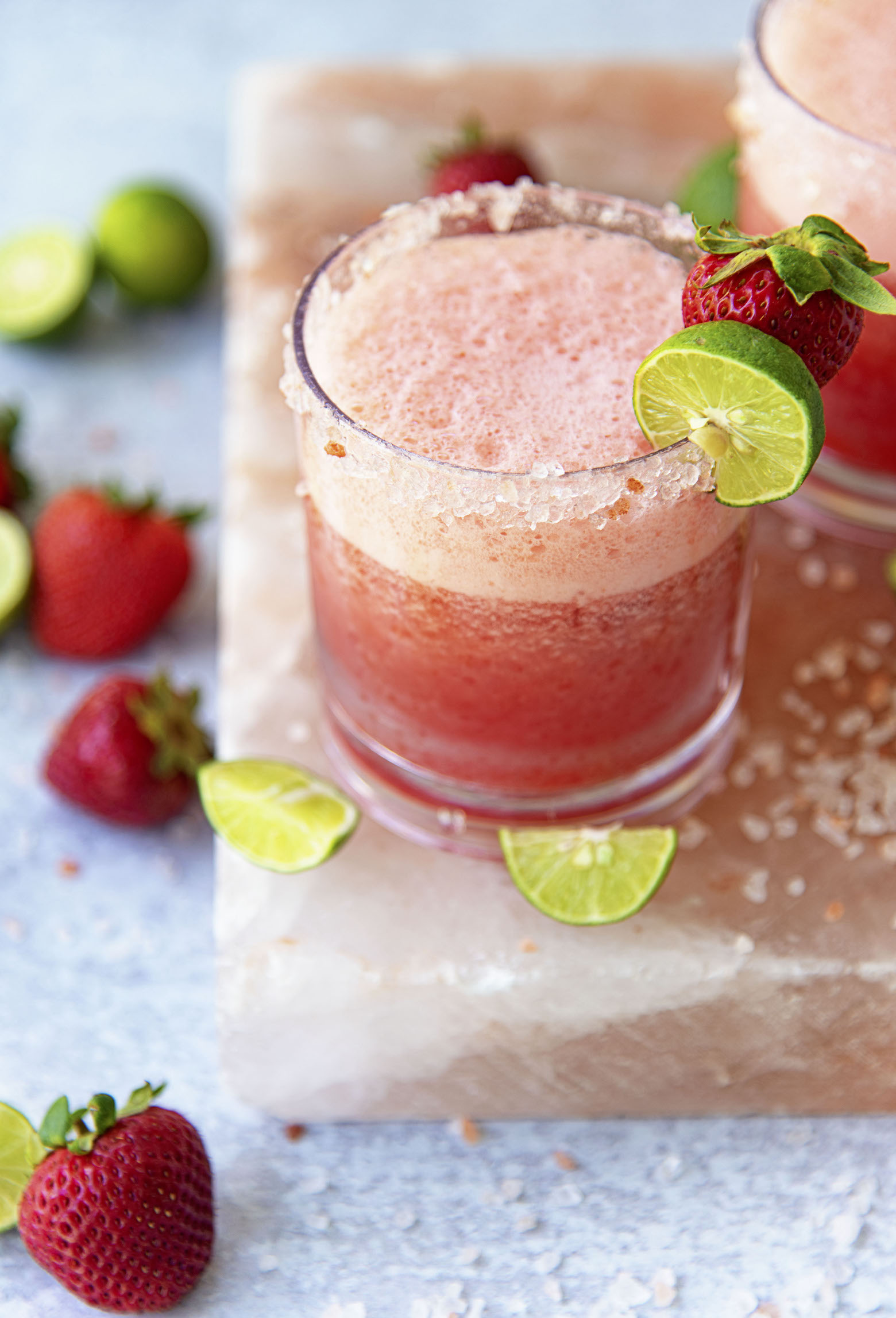 The tequila holiday is upon us.
And I've made a Strawberry Rhubarb Key Lime Margarita.
Well, two margaritas actually.
I would call these a hybrid of sorts.
Not a fully frozen margarita and not a on the rocks margarita.
Why?
Strawberries.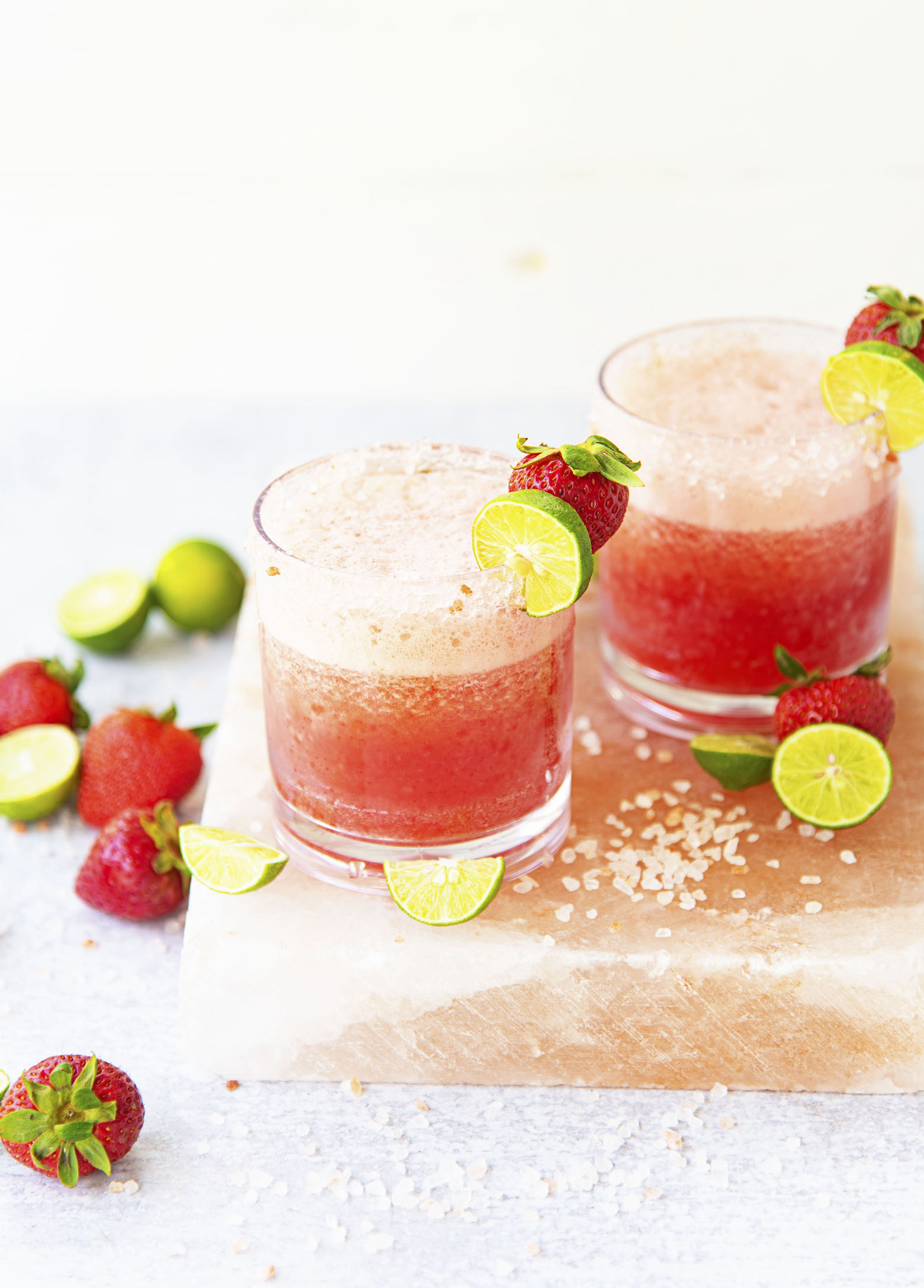 While it is rhubarb season, hence the fresh syrup, the strawberries aren't quite perfect.
So I used the frozen strawberries from last years peak strawberry crop.
I also chose to use key limes because I love them more than regular limes.
The first thing you have to do to make these margaritas is make the rhubarb syrup.
Fresh rhubarb is preferred but you can use frozen if out of season.
The recipe for the syrup makes for more syrup than what you will need.
It goes great in smoothies, on top of ice cream, and in other cocktails.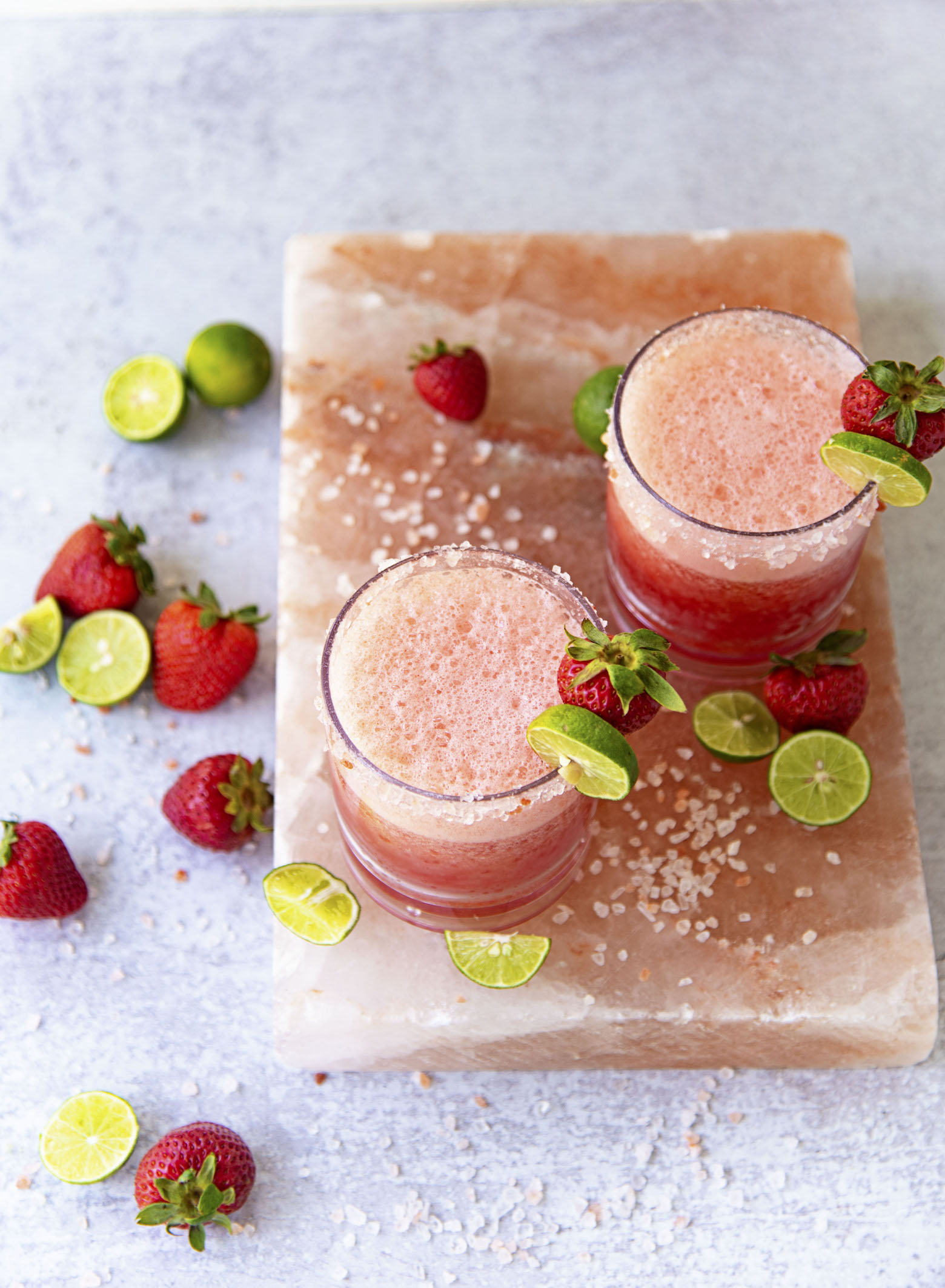 In fact, I'll have another cocktail next week that uses it.
If you are not familiar with rhubarb it's a tart fruit.
My aunt always made Rhubarb Grunts which are kind of like a cakey cobbler.
I've never put it in a cocktail thought and that turns out to be a mistake.
Because it makes for a very refreshing cocktail.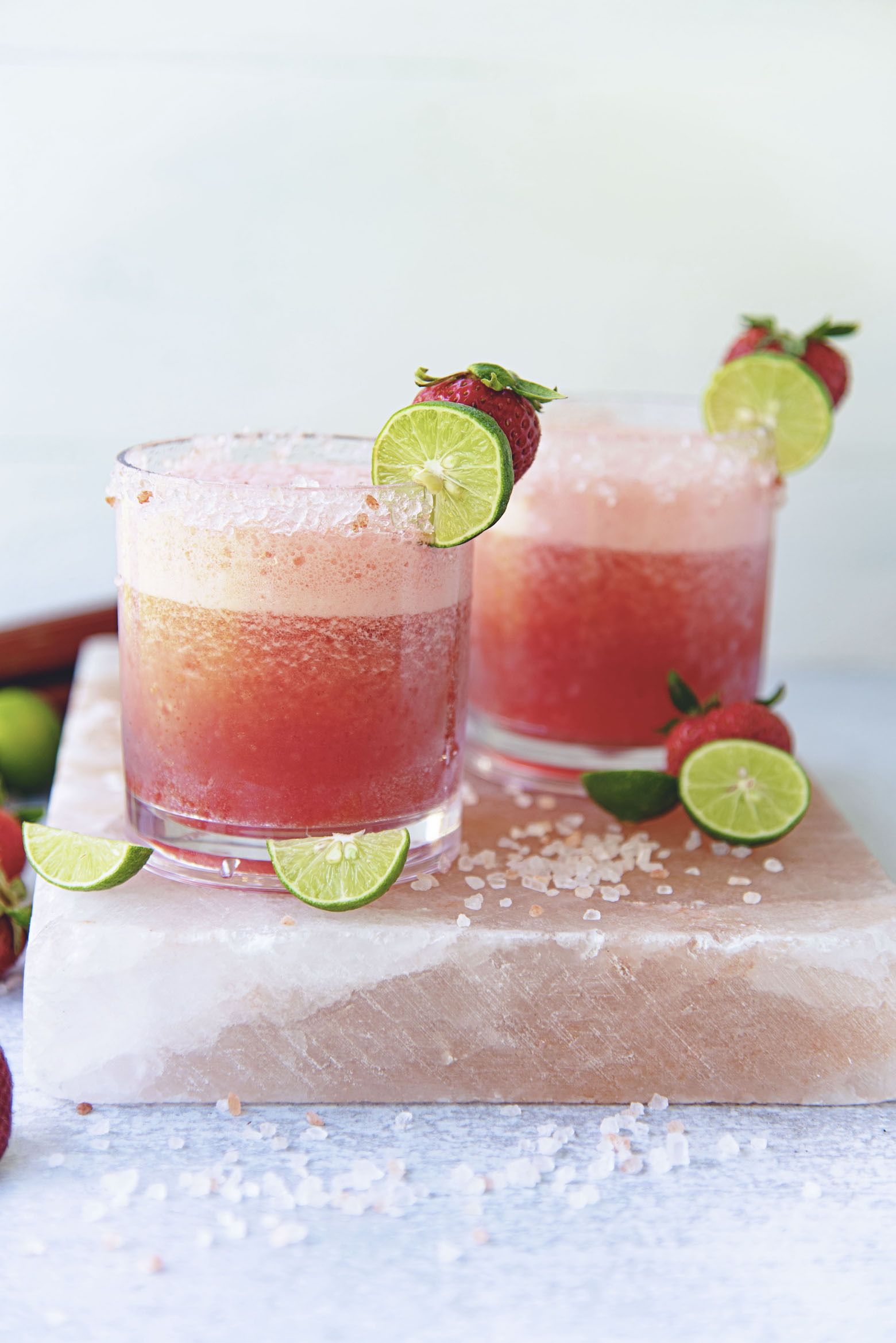 If you can't find key lime juice, you can use regular limes.
Or you can use frozen limeade concentrate as well.
P.S. It's a great day to buy my cookbook Holy Sweet!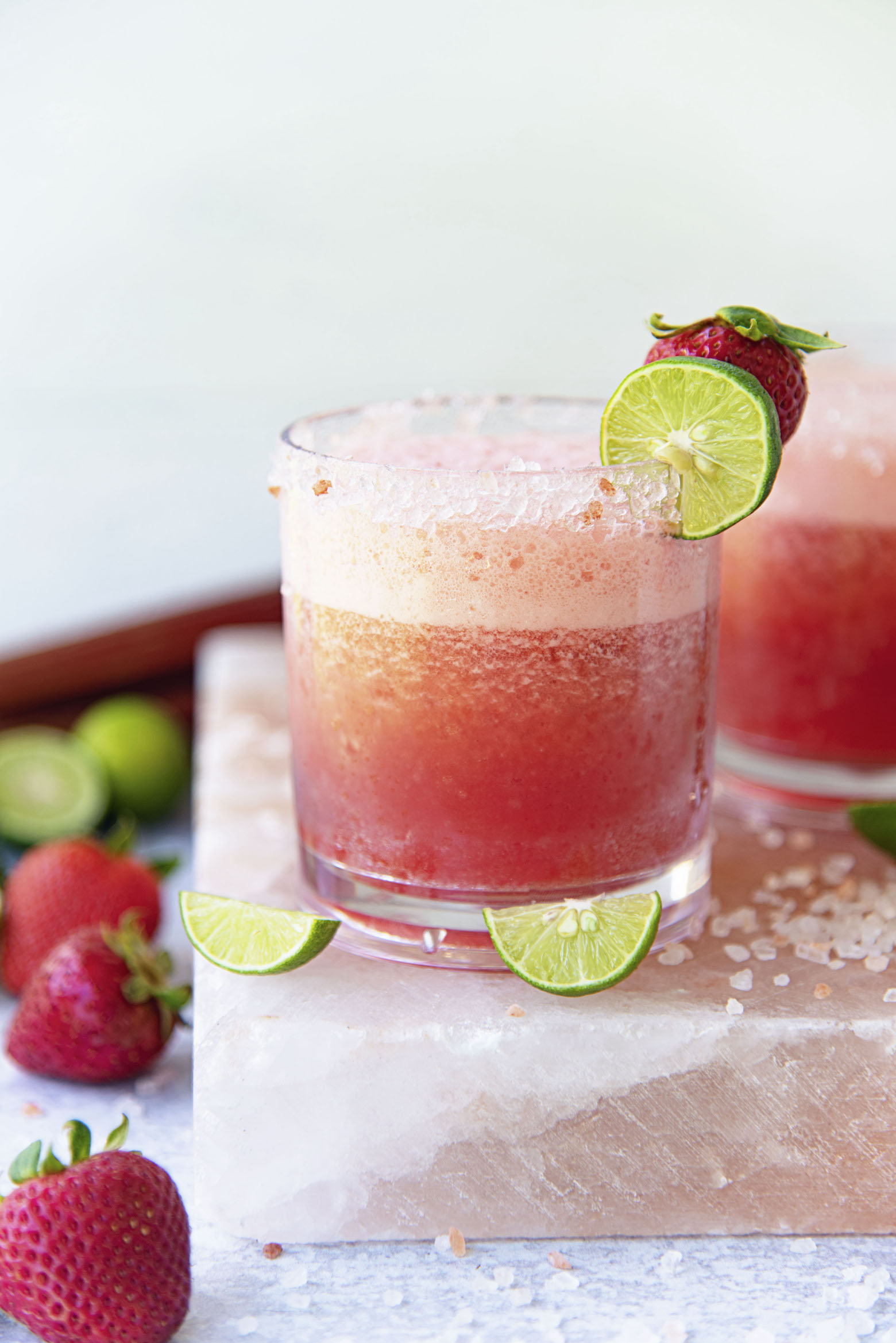 Want More Tequila Recipes?
Frozen Caramelized Pineapple Margarita
Key Lime Sorbet Tequila Cocktail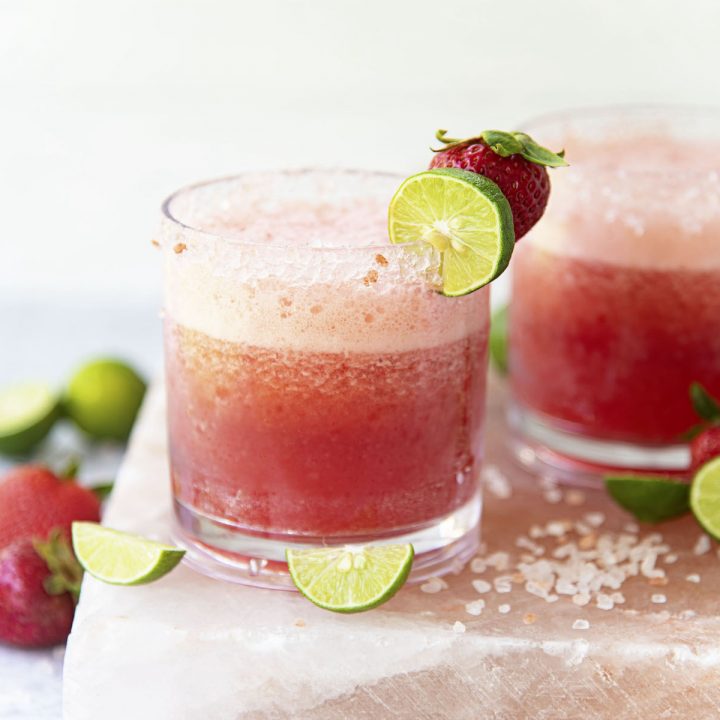 Strawberry Rhubarb Key Lime Margarita
Ingredients
pink Himalayan sea salt (or any salt you want) for the rim of the glasses
For the Rhubarb Syrup (makes more than you need for the cocktail):
2 cups granulated sugar
2 cups water
juice of 1 lemon
5 cups rhubarb
For the Cocktail:
1 1/2 cups frozen strawberries
3 oz tequila
1 oz key lime juice
2 oz rhubarb syrup
1 tsp granulated sugar
Instructions
Rub a lime wedge around the rim of the glasses.
Spread some sea salt onto a plate.
Dip glass rim in sugar to coat
Blend strawberries, tequila, key lime juice, , rhubarb syrup, and 1 teaspoon sugar in blender to combine, about 10 seconds.
Then blend on high until the ice is crushed, about 15 seconds. If you want a fully frozen margarita you can add more ice.
Pour margarita into the prepared glasses.