This Cherry Coke Float Babka has cola and ice cream both in the dough and in the glaze and is filled with maraschino cherries.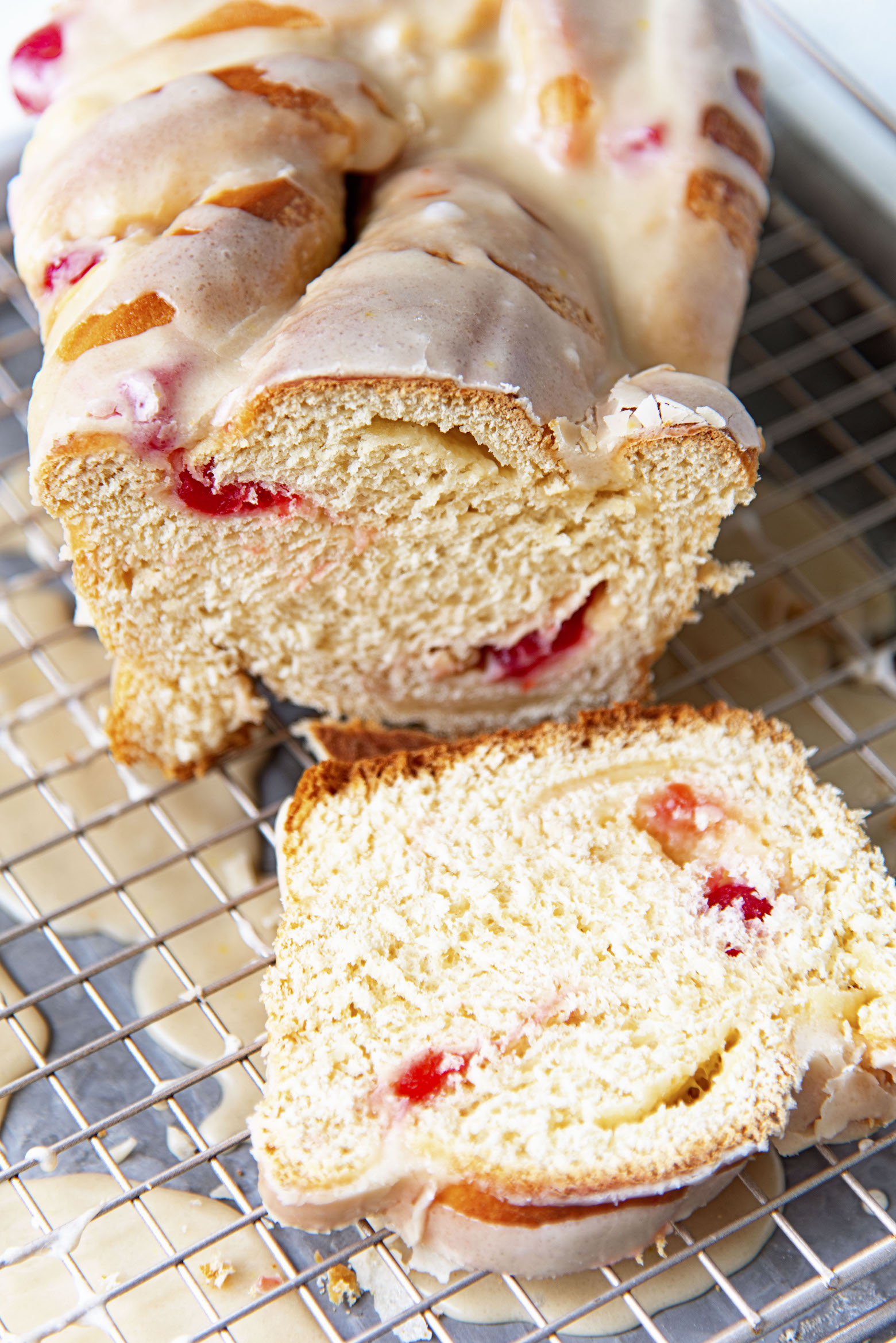 If you have never been to my blog before it doesn't take too long to figure out that I do things a little different.
Like say this Cherry Coke Float Babka.
I try and make a lot of things.
And sometimes those turn out to be epic fails.
Epic fails.
Which honestly, I don't mind failing.
I mean, sure it sucks because certain ingredients cost a lot, but overall I feel the risk is worth it.
What's that saying?
No risk, no reward.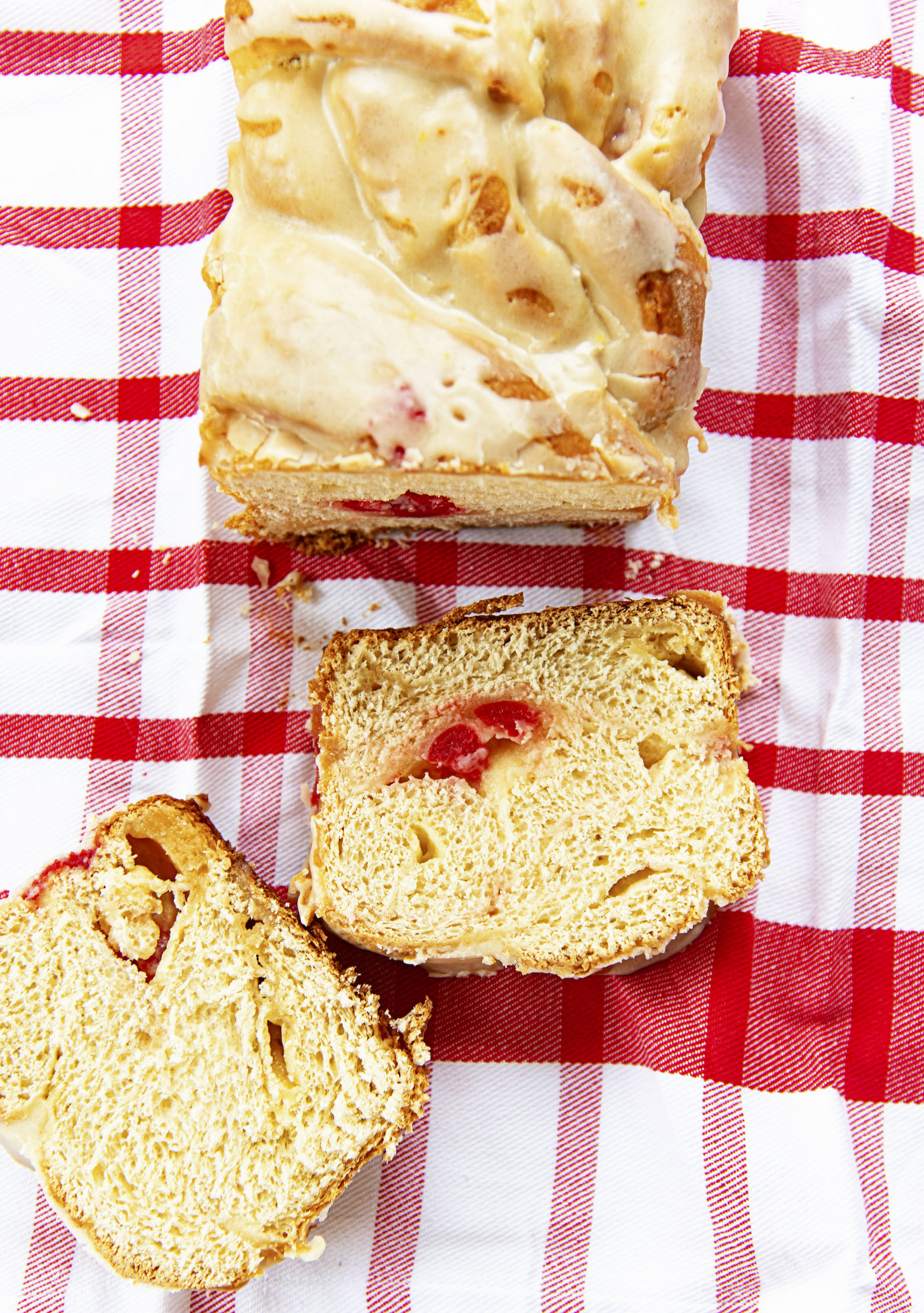 I bring this up because at least once a day someone leaves a comment either on the blog or social media asking if they can add something to the recipe.
Or change something out?
Now, I don't mean subbing things like skim milk for heavy cream…because that won't work.
I mean things like white chocolate for dark chocolate and so on.
My response is always the same…don't know haven't tried that.
And then I encourage that person to give it a try.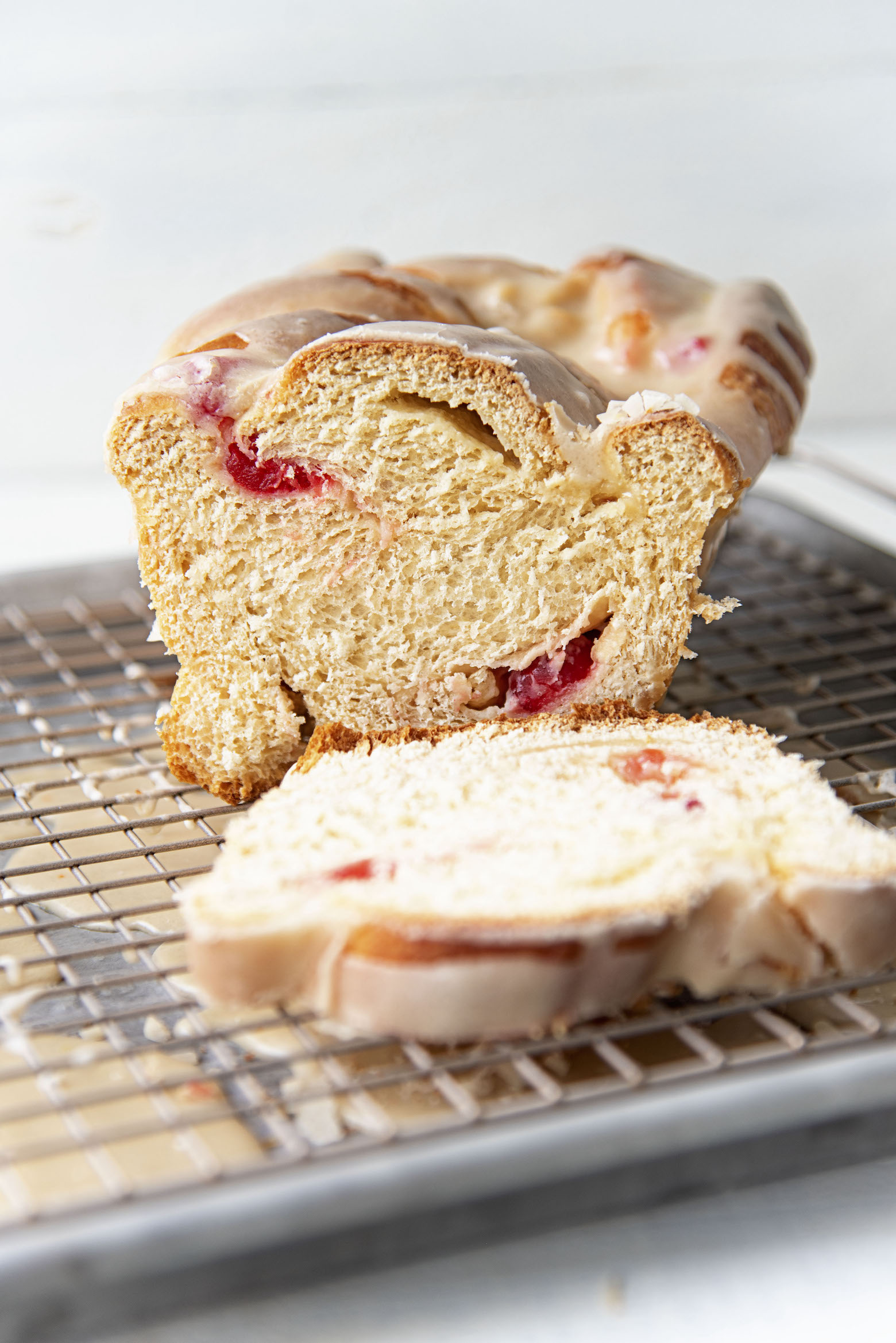 I had someone the other day ask if they could add peanuts to a gingerbread cookie.
No idea.
Could work.
Or it could be a disaster.
But there really is only one way to find out.
That's how this babka came about.
I wondered if I could use Coke instead of milk in my babka.
Turns out you can.
And it taste really good.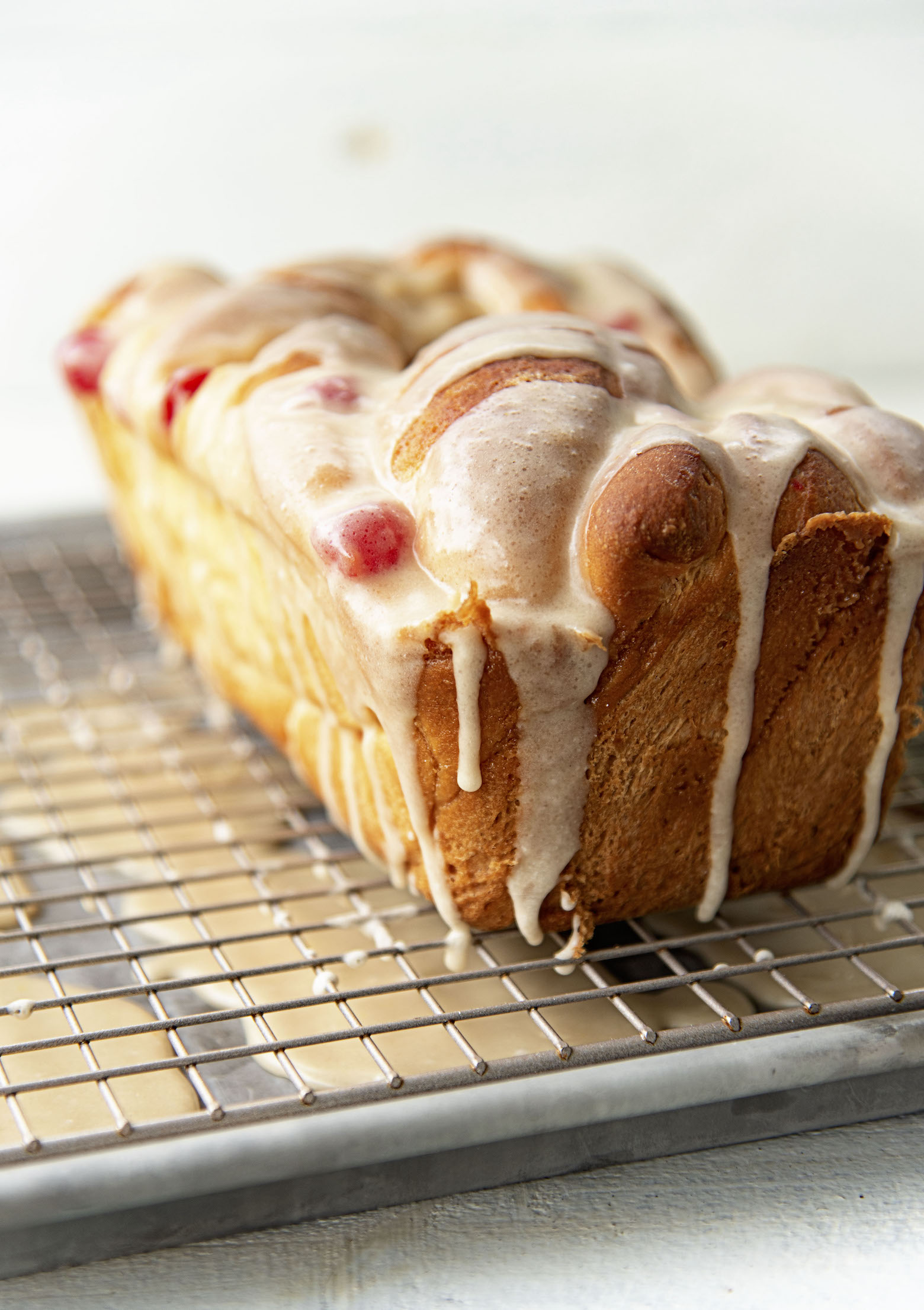 Coke is used it in the glaze as well.
I didn't use that many cherries in this.
Mostly because I only had a certain amount.
I would definitely add more if you like cherries.
You also need to use the vanilla soft serve mix.
Quite a few recipes on this site use it so it's worth buying…in my opinion. 😀
P.S. It's a great day to buy my cookbook.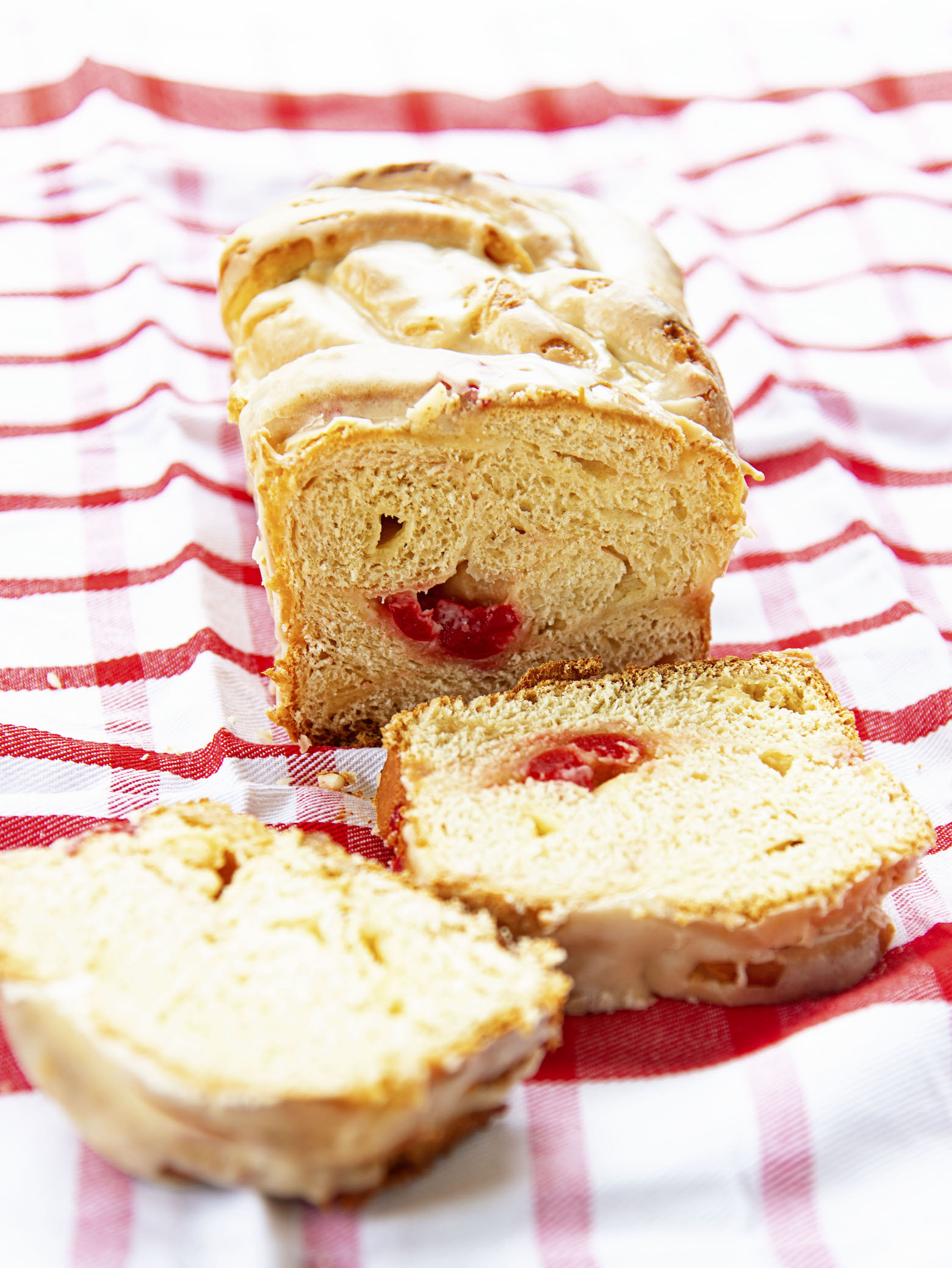 Want More Babka Recipes?
Oatmeal Chocolate Chip Cookie Babka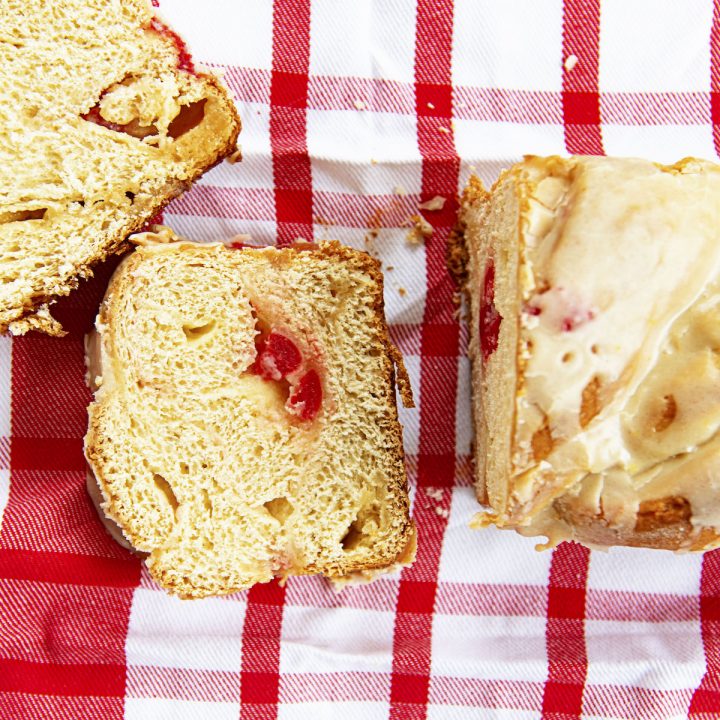 Cherry Coke Float Babka
Ingredients
For the Dough:
1/4 cup Coke (or any regular cola)
1/4 cup whole milk
1/4 cup plus a pinch of granulated sugar
2 1/4 tsp. active dry yeast
1 large egg, brought to room temperature
2 cups all-purpose flour, plus more for work surface
1/2 tsp salt
2 TBSP Vanilla Flavored Soft Serve Mix
3 TBSP) unsalted butter, at room temperature
For the Filling:
2 TBSP unsalted butter, at room temperature
2 TBSP Vanilla Flavored Soft Serve Mix
1 cup chopped maraschino cherries
For the Glaze:
2 TBSP unsalted butter, at room temperature
6 TBSP Coke
3 TBSP Vanilla Flavored Soft Serve Mix
1 1/2 cups powdered sugar
Instructions
Prepare a standard loaf pan with baking spray.
For the Dough:
Warm milk, Coke, and a pinch of sugar to between 110 to 116°F.
Sprinkle yeast over mixture and let stand until foamy, about 5 minutes.
In a small bowl, whisk together egg and remaining 1/4 cup sugar, then slowly whisk in yeast mixture.
Using a stand mixer fitted with the paddle attachment, combine flour, Vanilla Flavored Soft Serve Mix, and salt.
With the mixer on low and add egg mixture, mixing until combined.
Add butter and mix until incorporated.
Switch mixer to dough hook and let it knead the dough for 10 minutes on low speed.
Spray a large bowl with baking spray or butter it and place dough in it. Cover loosely with a lint-free towel or plastic wrap and let rise for 1 hour, or until doubled. If it's cool in your house it will take longer.
Once dough is doubled, turn it out onto a well-floured surface and gently deflate it with floured hands.
Let it rest for another 5 minutes. Once rested, roll dough into a large, large rectangle.
The short sides should be a scant 11 to 12 inches. The other side can be as long as you can roll it. The longer you can make it — I got mine to 20 inches before I ran out of counter space.
Spread the 2 TBSP soft butter covering the dough.
Sprinkle the Vanilla Flavored Soft Serve Mix over the butter and rub it in a little with our hands.
Sprinkle the maraschino cherry pieces over the butter and Vanilla Flavored Soft Serve Mix.
Tightly roll the dough back over the filling from one short end to the other, forming a 12 to 13-inch log.
Using a sharp knife cut it straight down the middle so the filling is exposed.
Layer each cut piece on top of one another and twist.
Place in a greased loaf pan.
Lightly drape a kitchen towel over the top of pan.
Allow to rise another 30 minutes.
Preheat oven to 350°F while the dough rises.
Bake for 20 minutes with aluminum foil lightly tenting the bread.
Remove foil and place back in oven and bake another 15-20 minutes.
The edges should be brown and the middle should be slightly doughy.
Allow to cool for 5 to 10 minutes.
Using a butter knife, loosen sides of the babka from the pans and place on top of parchment wire rack to cool.
For the Glaze:
Simply whisk together the Coke, butter, Vanilla Flavored Soft Serve Mix, and powdered sugar in a medium bowl
When babka is cool pour glaze over the top of it.
Let glaze firm up. Will take about 30 minutes.