Rainbow Sherbet Layer Cake is brushed with melted rainbow sherbet, and topped with a colorful rainbow sherbet American buttercream frosting.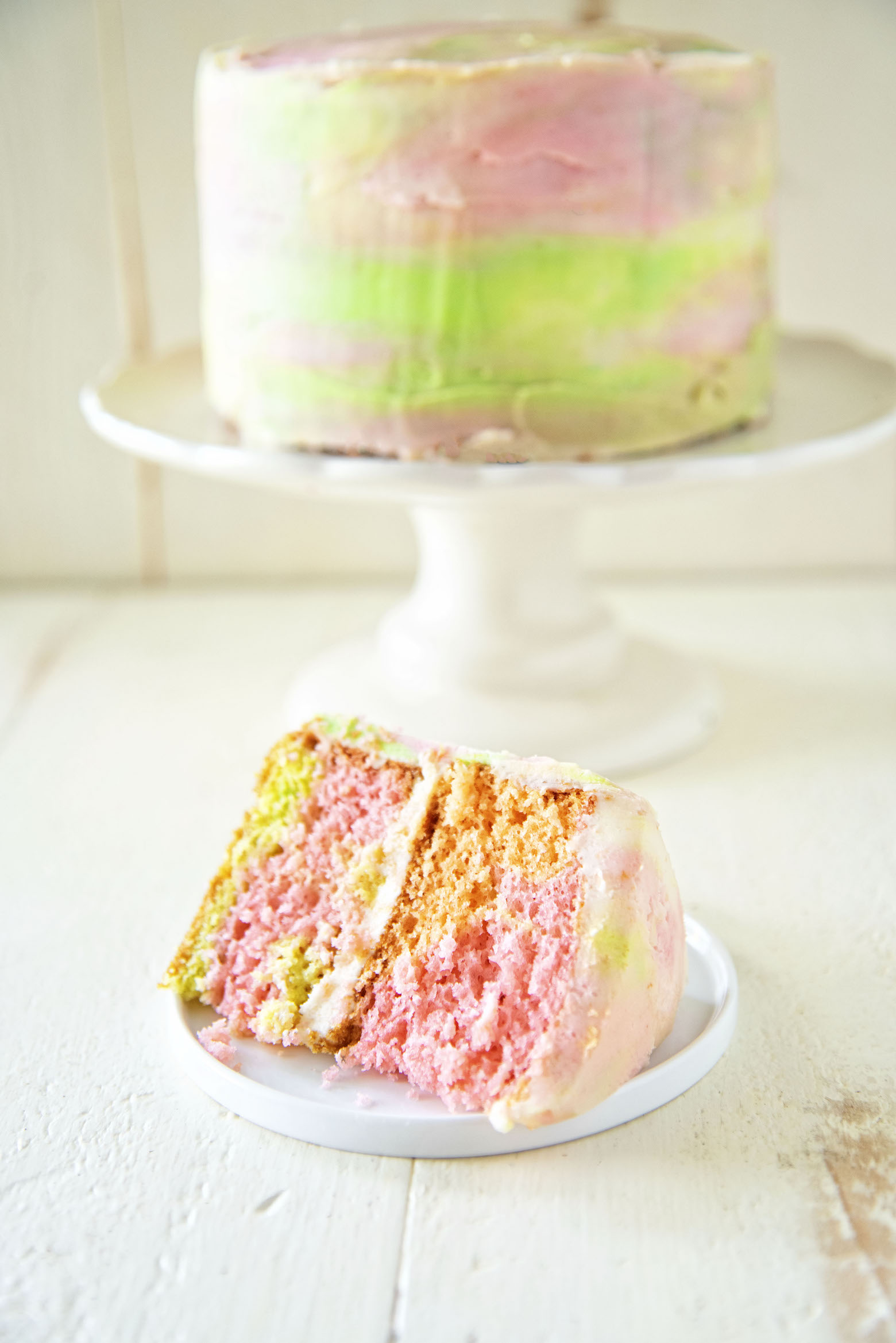 This post and recipe was created for #SummerDessertWeek!
I was sent samples by some of the sponsor companies but as always opinions, bad grammar, and overuse of emojis are 100% mine.
In this post I used Dixie Crystals granulated sugar.
I got great results with the product that they sent me.
While no money was given for this post I did receive free product.
I used Wilton Food Coloring Gel which was not sent to us but what I normally use at home and they are one of the sponsors.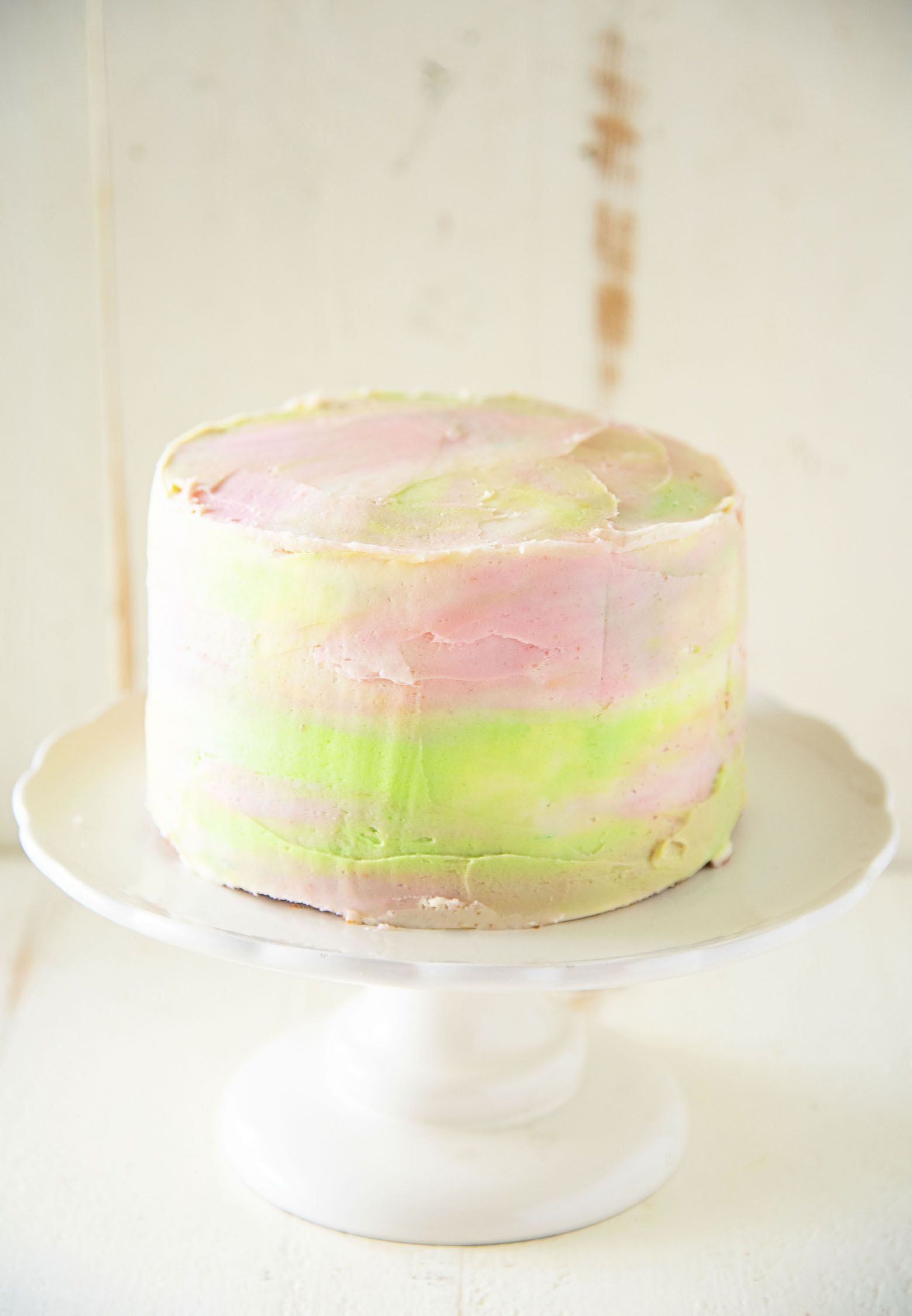 It's the last day of #SummerDessertWeek!
A big shoutout to Angie of Big Bear's Wife who always works so hard to not only organize these weeks but find companies to give you the reader a chance to win fun prizes.
I deserve a gold star I feel because I actually made something every day for it.
Six new recipes.
Hopefully you liked them all and were inspired to turn on your ovens…even though it might be hot out.
To end the week I went with a layer cake.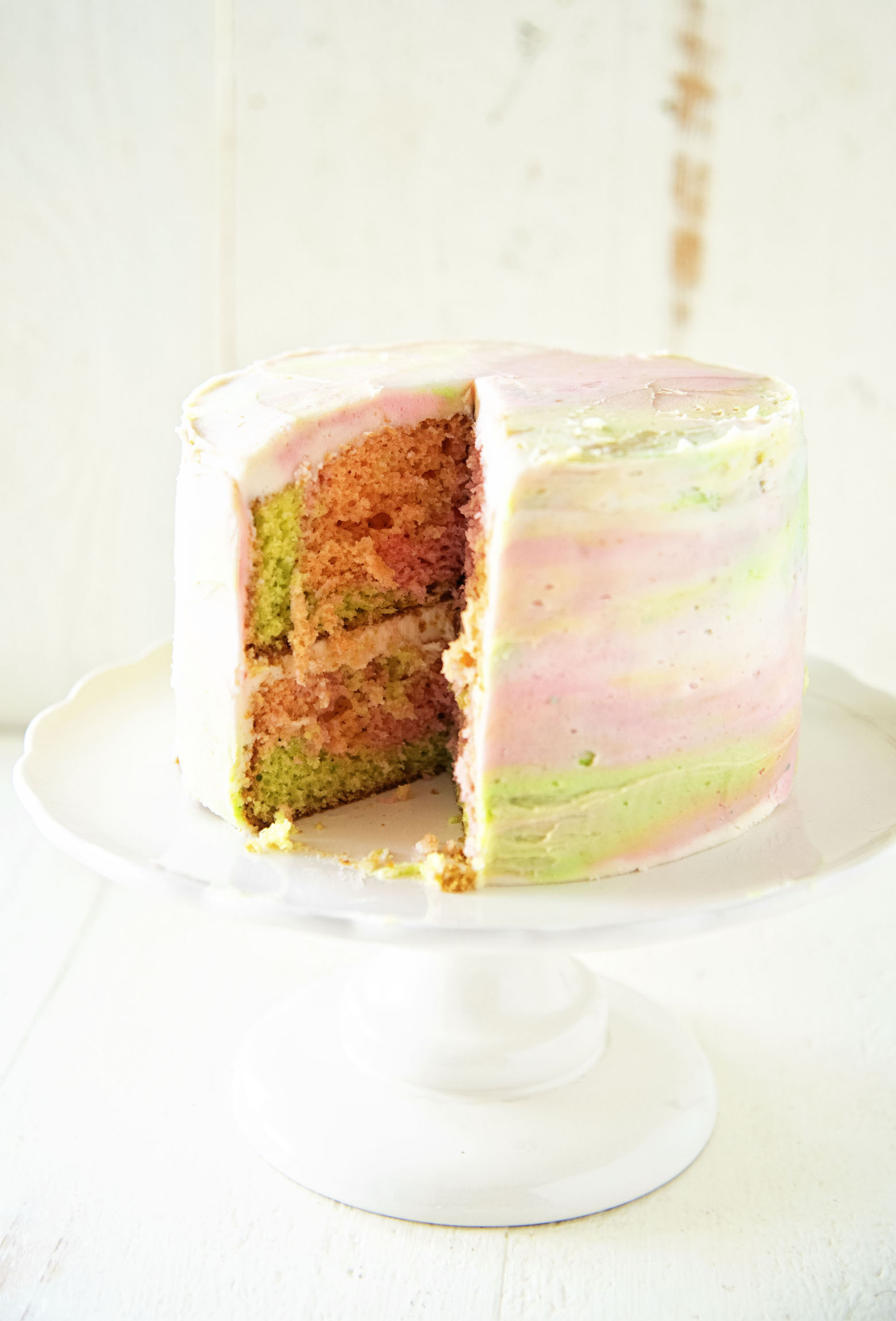 I still have a love/hate relationship with them because I still am not that skilled at decorating them.
But I'm going with the more you make them the better you get.
This cake does use cake mix.
Which people groan at.
But really with all the food gel that goes in here I just didn't think it warranted a scratch cake.
It also makes it super easy to just add the rainbow sherbet in for the water.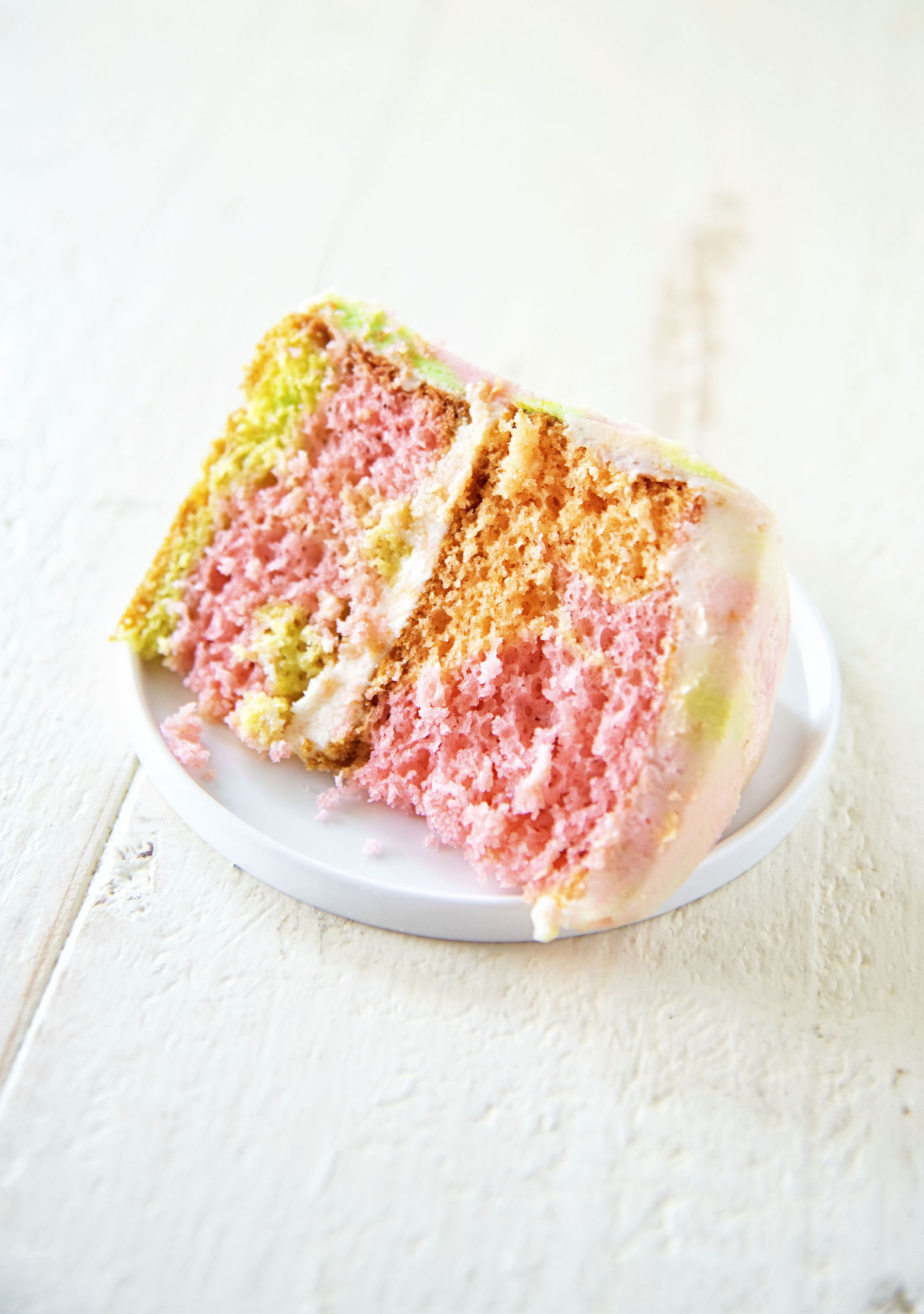 Rainbow sherbet is used in the batter.
It's brushed on top of the cake layers.
And it's in the frosting.
So Rainbow Sherbet lovers…this cake is for you.
I hope you all have enjoyed #SummerDessertWeek and that you have all entered to win prizes.
Because who doesn't love free stuff?
I had a great time participating in it for a third year.
P.S. It's a great day to buy my cookbook Holy Sweet!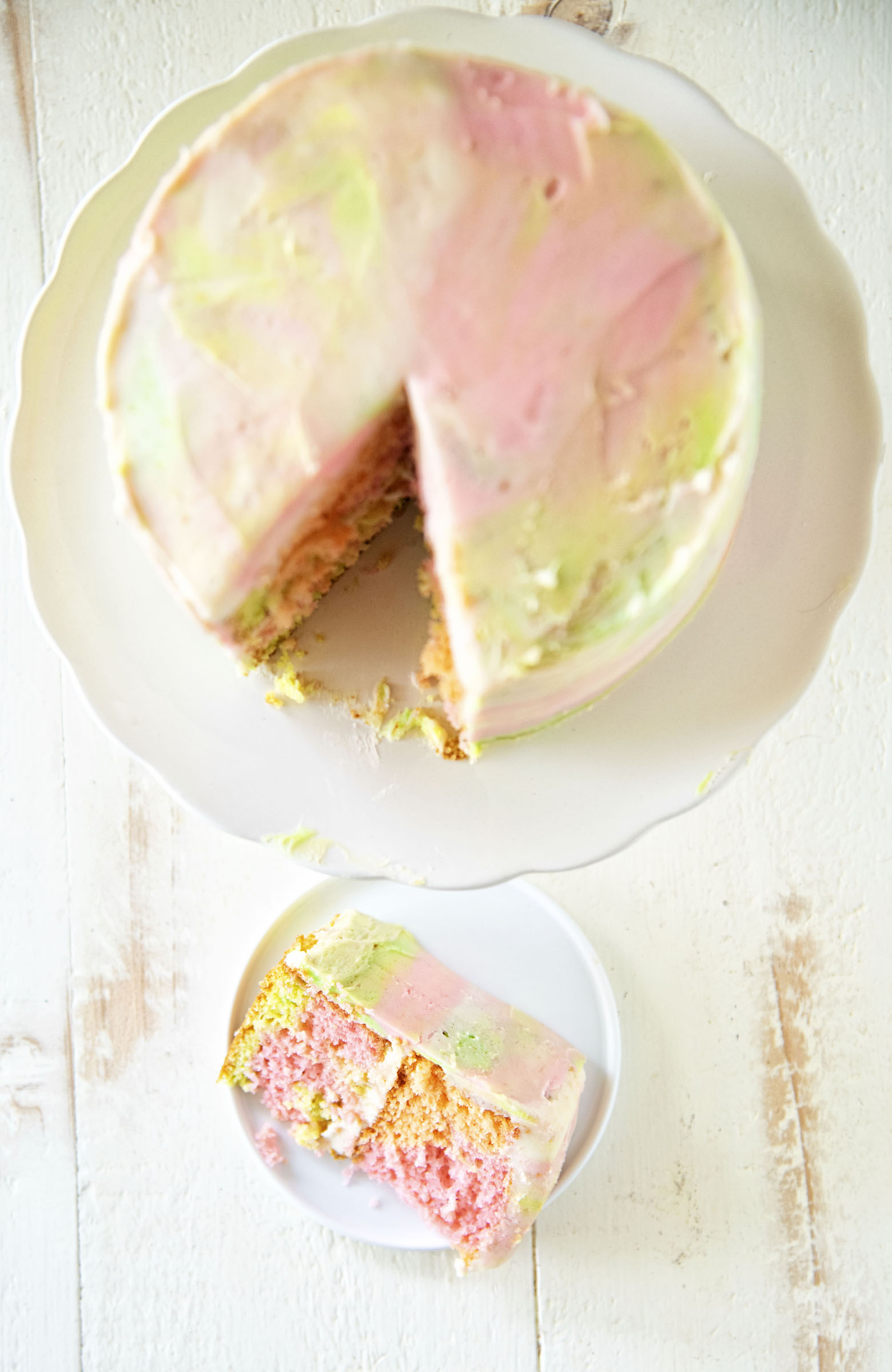 Want more Layer Cake Recipes?
Circus Animal Cookie Layer Cake
Strawberry Lemonade Layer Cake
Strawberry Mascarpone Buttermilk Layer Cake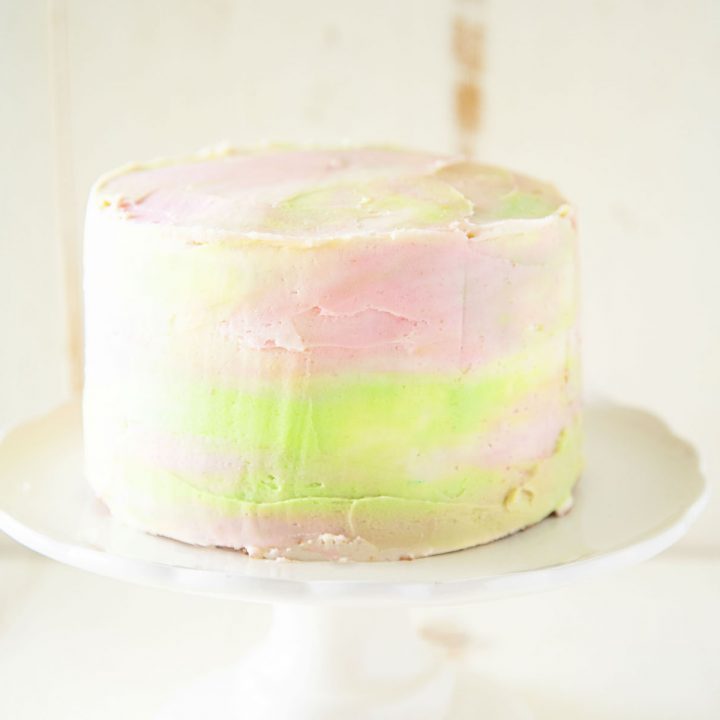 Rainbow Sherbet Layer Cake
Ingredients
For the Cake:
1 box White Cake mix
3 large eggs
1 cup melted Rainbow Sherbet
1/2 cup vegetable oil
food coloring: pink, orange, and green
addition melted sherbet for brushing on cake layers
For the Frosting:
6 cups powdered sugar, sifted
2 cups unsalted butter, at room temperature
1/3 cup melted Rainbow Sherbet (more if needed to thin)
Instructions
For the cake:
Line two 6-inch cake pans with parchment paper and spray with baking spray.
Preheat oven to 350F.
Using a stand mixer with the paddle attachment mix together the cake mix, eggs, oil, and melted rainbow sherbet.
Once all the ingredients are fully combined and the batter is smooth, divide batter into three bowls.
Add pink food coloring to one bowl, green to another bowl, and orange to the third bowl.
Mix so that the color is fully integrated in each batter.
Scoop the different colored batter alternating colors so that you will have all three colors throughout the cake.
For a swirled effect run your knife into the batter and swirl the colors together.
Bake for 32-34 minutes.
Remove from oven and let cool.
Once cool, brush rainbow sherbet onto the cake layers to infuse more sherbet flavor into the cake.
Place in fridge while making frosting.
For the Frosting:
Using a stand mixer with the paddle attachment cream the butter for about 2 minutes.
Add in powdered sugar 1 cup at a time until well blended. Increase speed to med and beat for 3 minutes.
Add rainbow sherbet and continue to beat on medium for 1 minute.
Add more sherbet as needed until desired consistency is reached.
Just like the cake, evenly divide the frosting into three bowls.
Add pink food coloring to one bowl, green to another bowl, and orange to the third bowl.
Mix so that the color is fully integrated in each frosting.
Place one cake layer on the bottom.
Frost the layer.
Place top layer on.
Dot the different color frosting onto the cake.
Smooth out the frosting to create a mixed color pattern.
Notes
The 6-inch cake pans I use can be found HERE.