The Grinch Mint Ice Cream Hot Chocolate is made using melted mint ice cream, milk, and white chocolate topped with a frozen red whipped cream heart.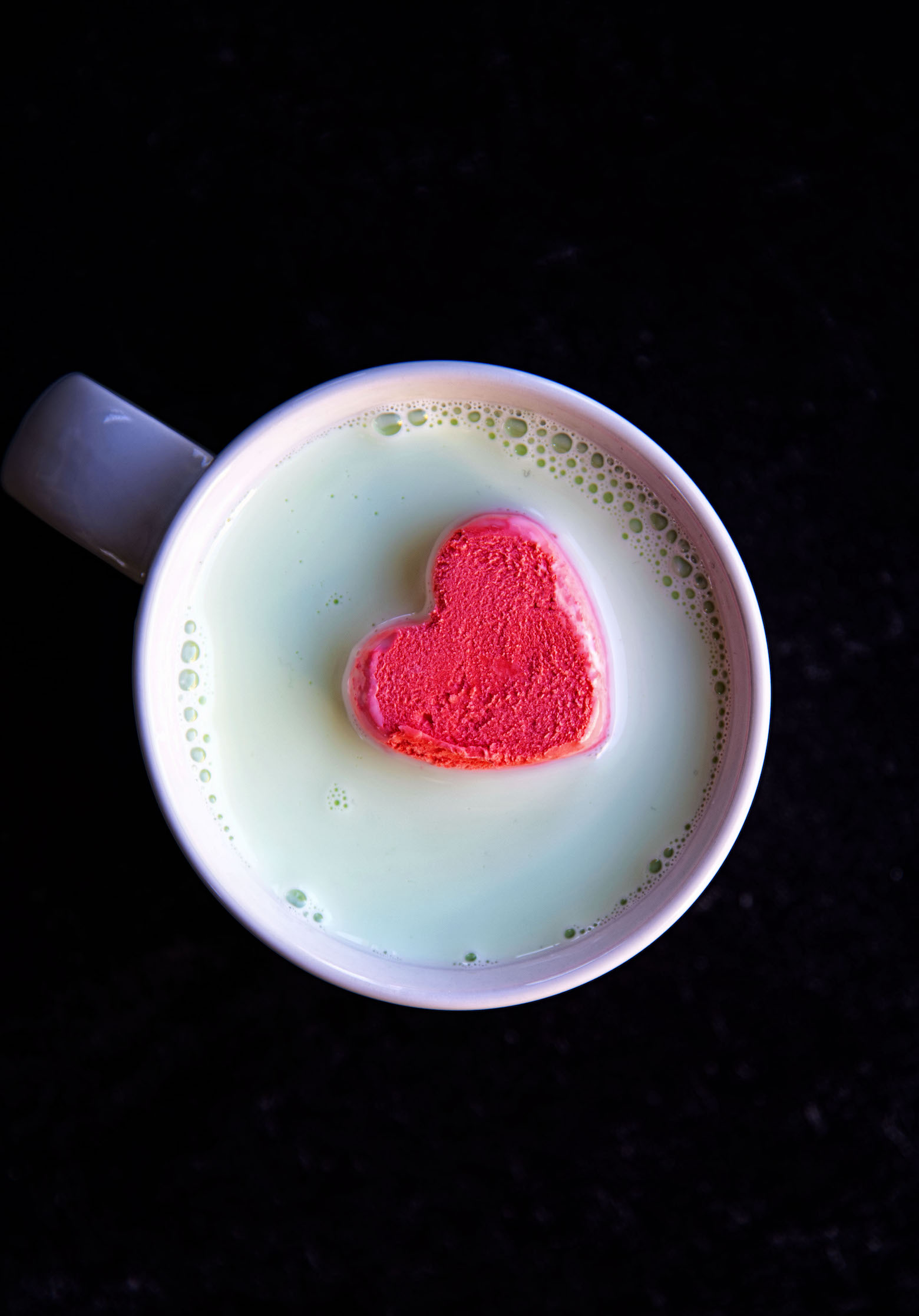 It's the final day of Grinch Week around here.
I hope you liked the 6 recipes I made.
We finish the week with The Grinch Mint Ice Cream Hot Chocolate.
I'm a big fan of making hot chocolate with ice cream.
Because well, it's just better. 🙂
Oh sure, it's a few more calories, but it's the holidays.
And most of us are wearing sweatpants 24/7 now. 😀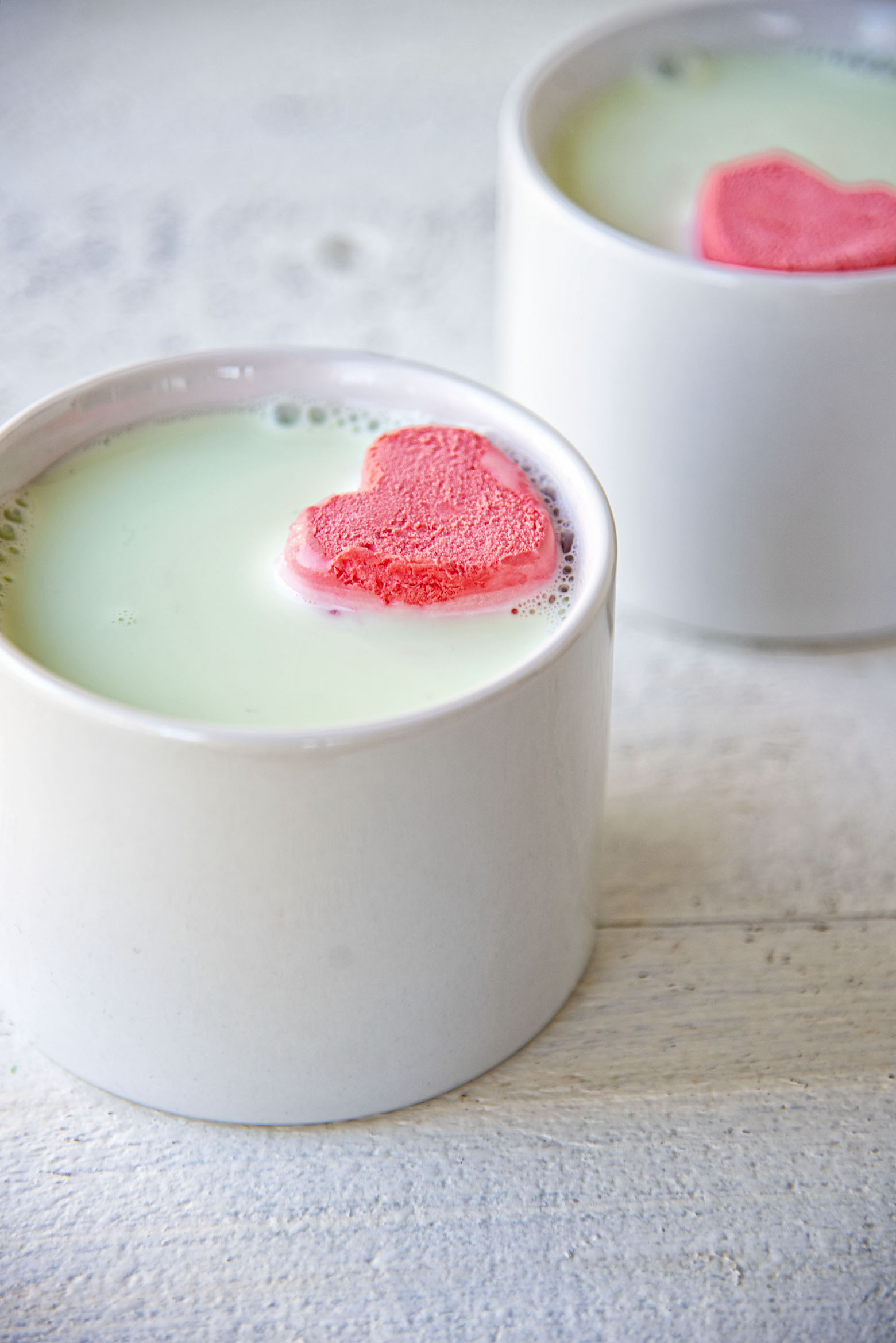 This recipe uses mint ice cream.
Most mint ice creams have chocolate chips in them.
If this is the case you can melt down the ice cream and strain out the chips.
But if you look hard enough you can usually find an all mint one.
A few of the all mint ones I found are white.
If that is the case, just break out the green food gel.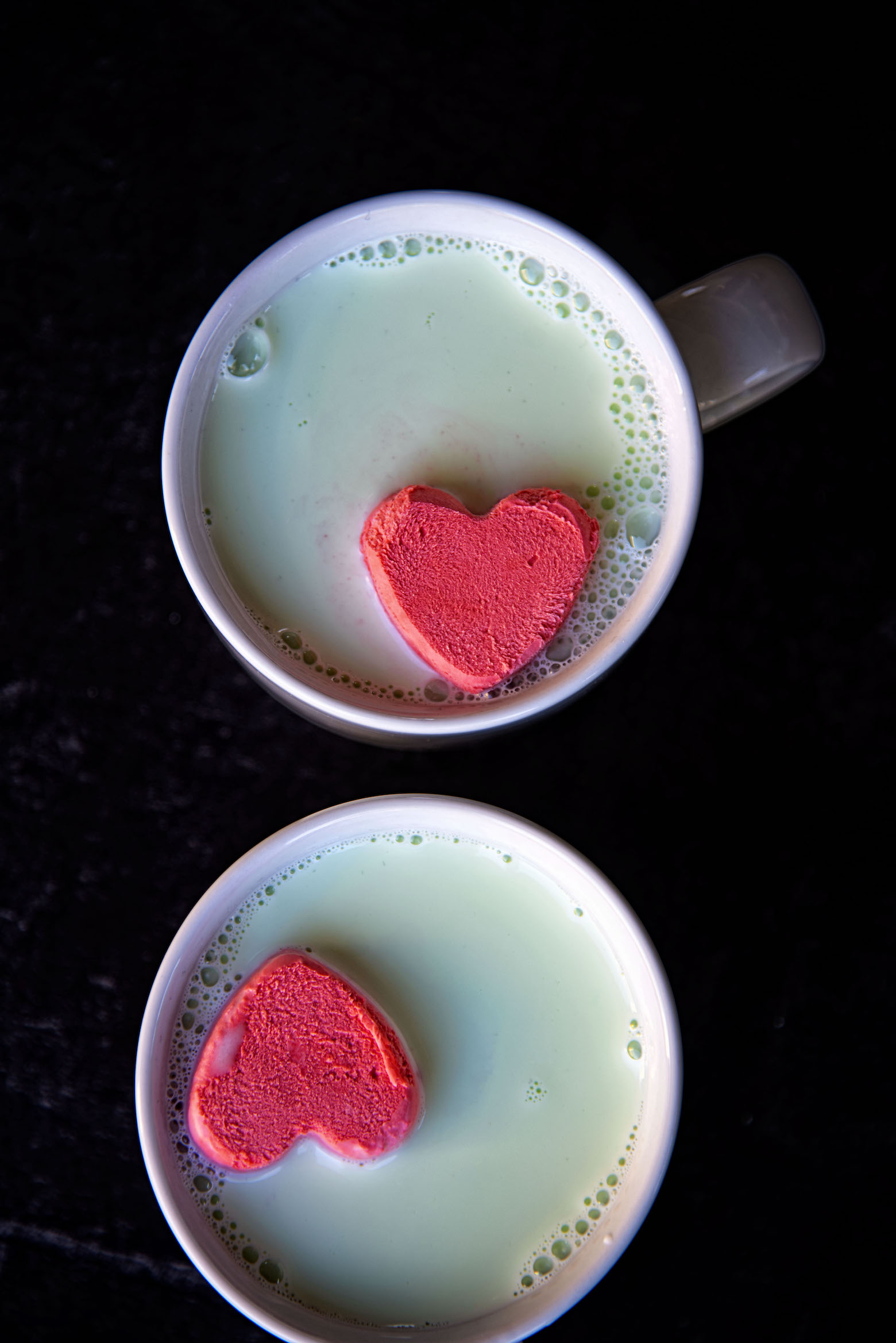 If you have no luck finding mint ice cream you can always just use vanilla.
Again, break out the green food gel.
And a couple of drops of peppermint extract.
Which you will also use in the Frozen Red Whipped Cream Hearts.
I make frozen whipped cream disc each year for my cocoa but this is the first time I used a mold.
The molds work pretty good but you have to make sure to push on them evenly.
Otherwise the hearts break in two.
You could save the broken hearts for Valentine cocoa if this isn't your year for love.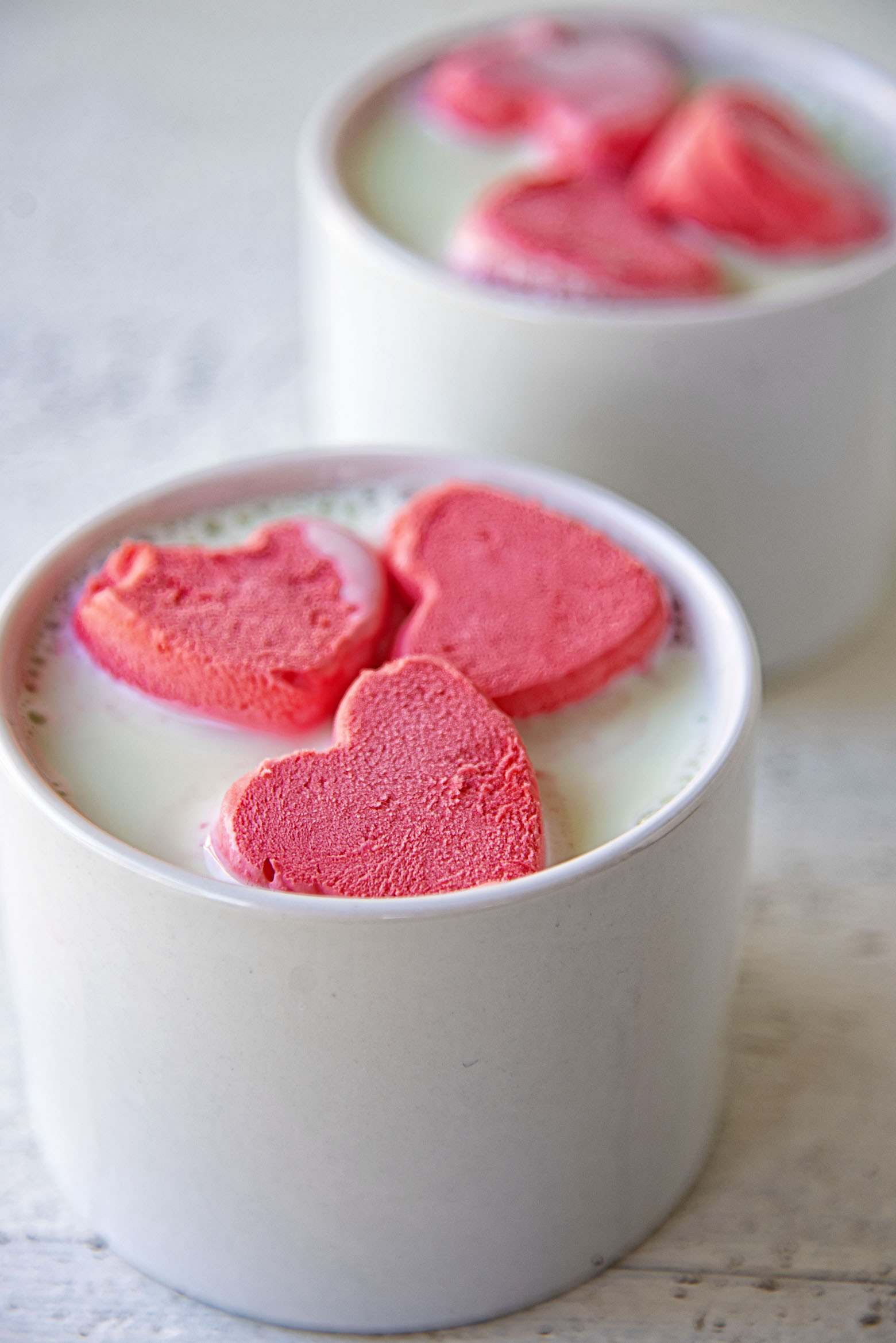 While I hope your heart doesn't grow three sizes (no one wants an enlarged heart) I hope you still find joy in the season.
No matter what you do or don't celebrate.
Remember it's a hard time of year for a lot of people.
This year it will be even harder.
Last year my parents couldn't come due to my dad throwing out his back.
And of course this year they aren't coming because we are being safe.
So be gentle to each other.
Be kind. It's a great gift to give.
Then again so is my cookbook Holy Sweet! 😀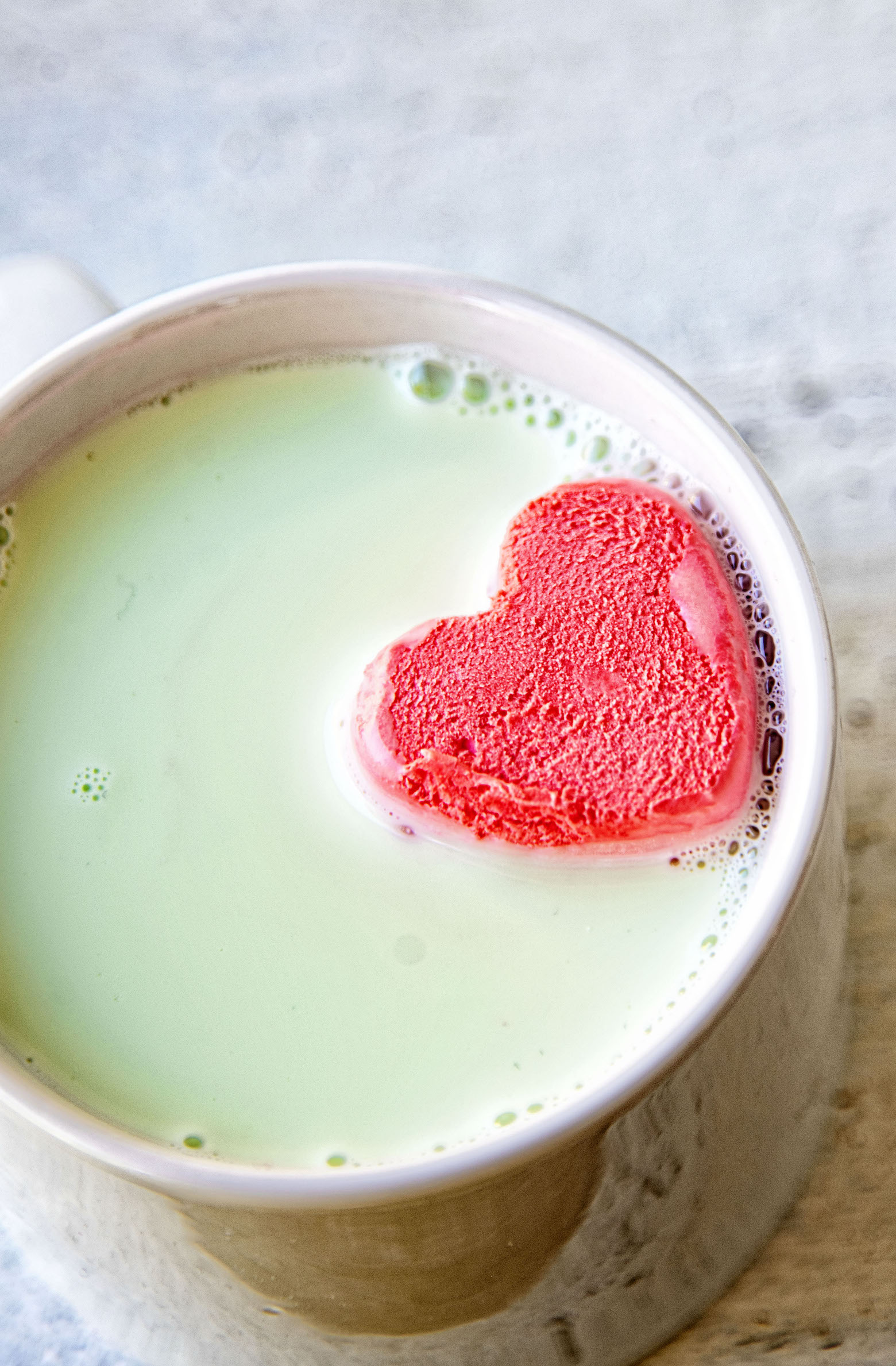 Want More Grinch Recipes?
The Grinch Peppermint Cheesecake Cups
The Grinch Buttercream Sandwich Cookies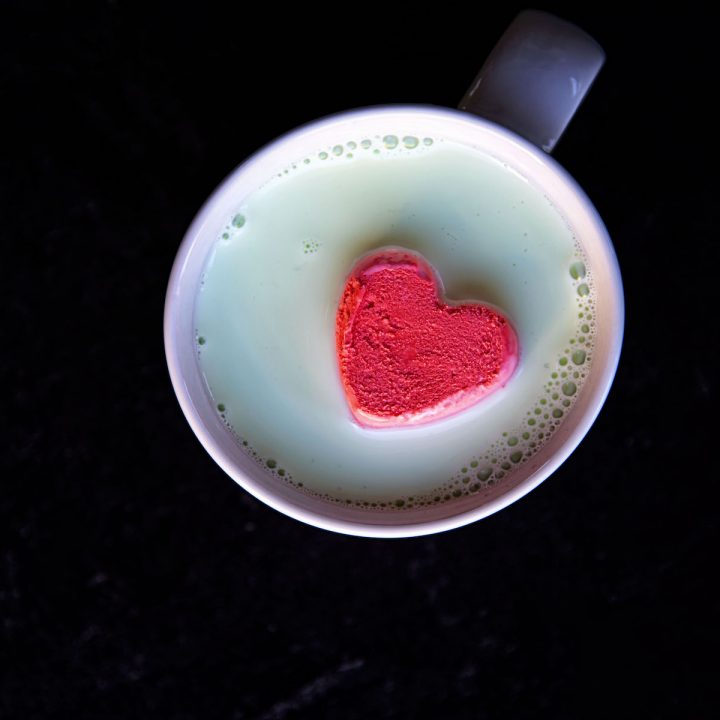 The Grinch Mint Ice Cream Hot Chocolate
Ingredients
Frozen Red Whipped Cream Hearts:
1 1/2 cups heavy whipping cream
1/4 cup powdered sugar
red food coloring
For the Hot Chocolate:
3 cups green colored mint ice cream
3 TBSP unsalted butter
¼ cup white chocolate chips
1 cup milk
Instructions
Frozen Red Whipped Cream Hearts:
In a stand mixer with the whisk attachment, whip the cream until soft peaks start to form.
Add the sugar and beat until whipped cream is stiff.
Add the red food coloring and whip until the color is fully incorporated.
Fill into a piping bag and pipe whipped cream into mini heart molds.
Freeze for about 3 hours. Then remove and you can store in a freezer safe airtight container.
For the Hot Chocolate:
In a large saucepan, melt together the white chocolate chips and butter. Then add the ice cream (yes, I know but go with it).
Once ice cream has melted add the milk to thin it out and let it be heated through.
Serve warm and add Frozen Red Whipped Cream Hearts.