This Charlie Brown Thanksgiving Caramel Corn is made with popcorn, pretzel sticks, jelly beans, and ice cream caramel. Just add toast.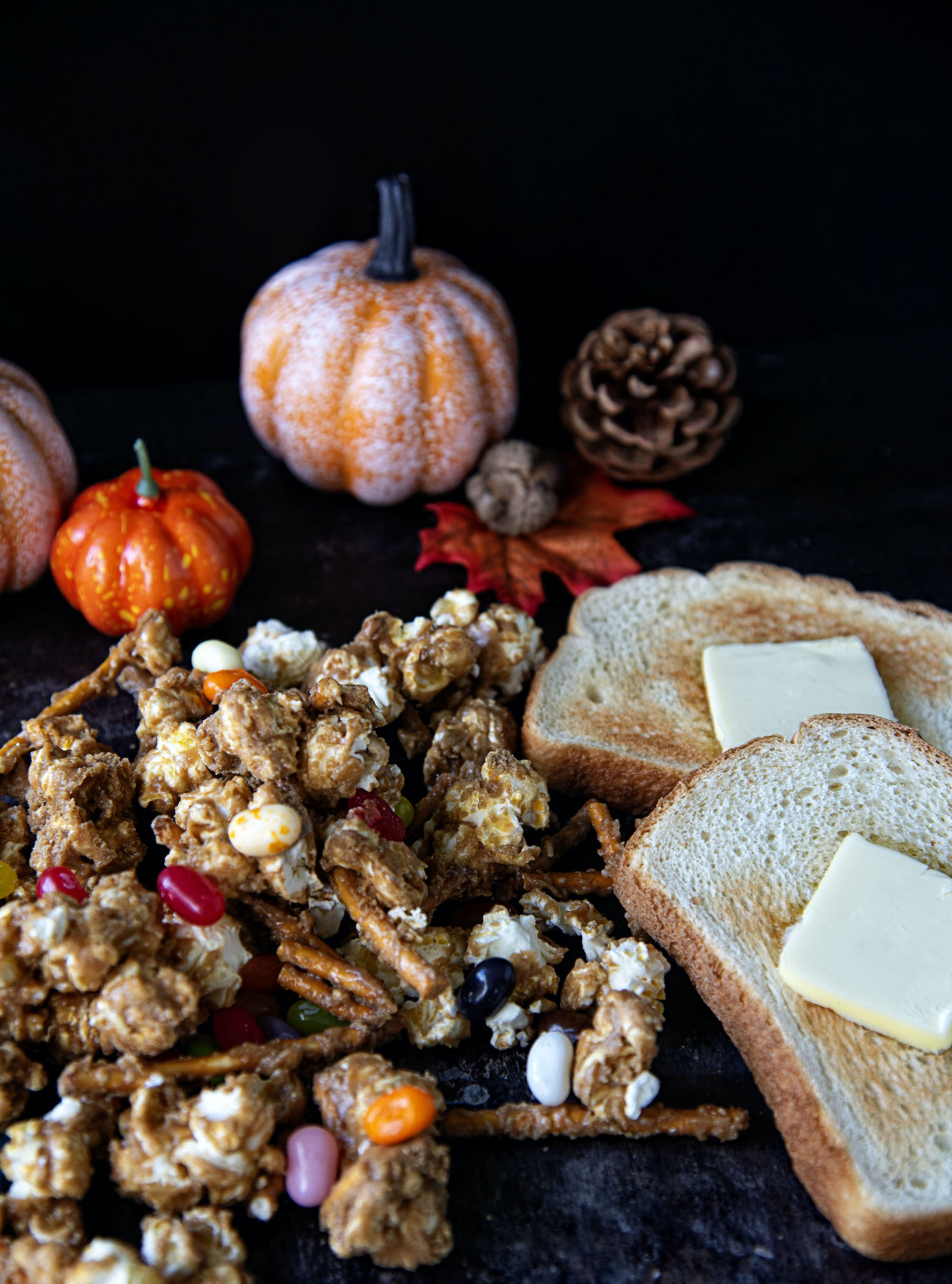 If you read my blog and make my recipes then you know that I think out of the box a little.
So imagine me as a teacher. 😀
Every year, even when I would teach 6th, 7th, and 8th grade, I would have the kids watch Charlie Brown Thanksgiving.
We would watch the movie and while watching they had the option of making turkey hats.
Which came from the 1st grade teacher.
You colored them and made a band to go around your head.
The choice to add legs and feet were up to you.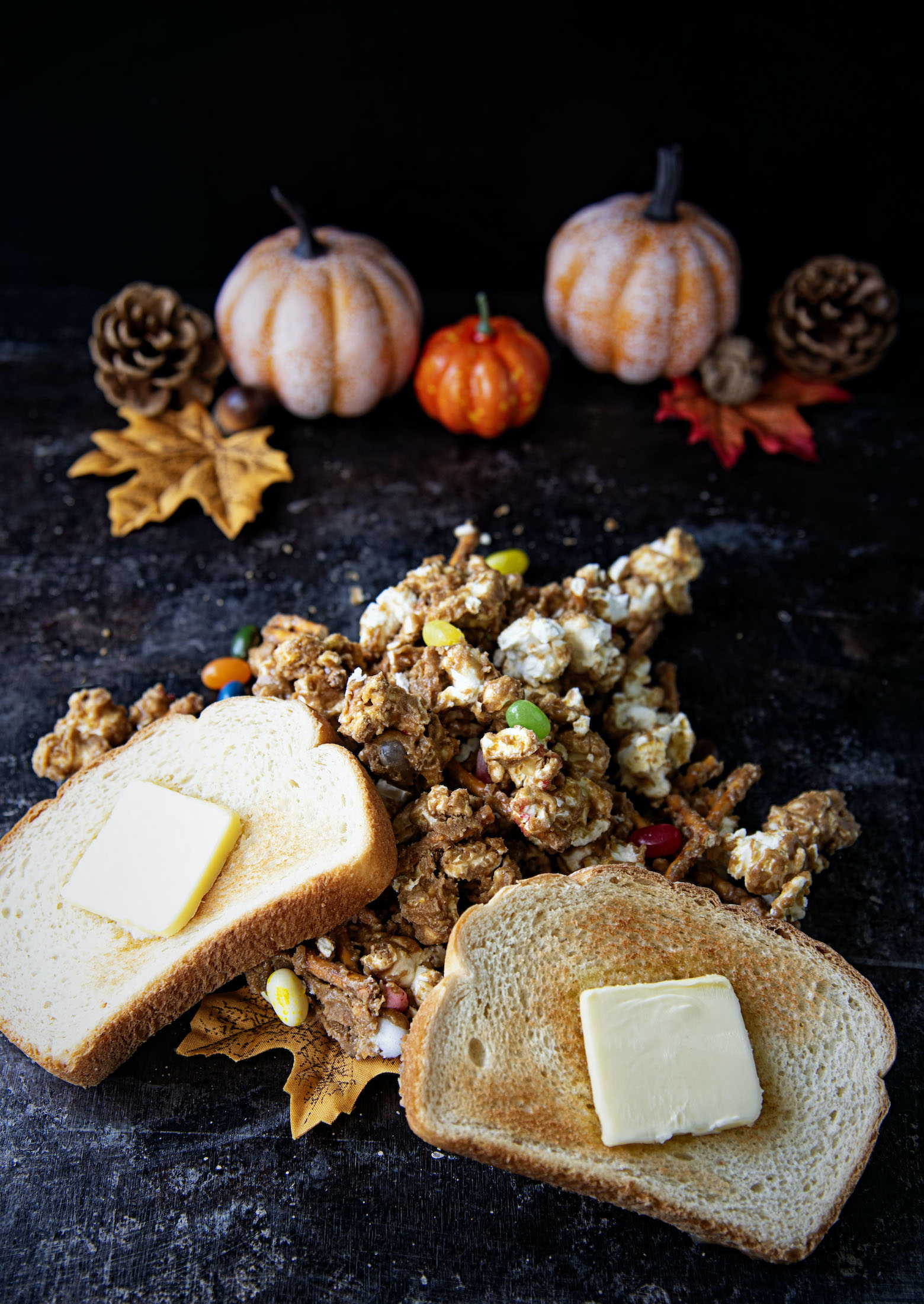 The first year I did it I thought for sure I would have one or two kids make them.
So I was surprised when pretty much every kid wanted to make them.
Including the gang bangers (I was in a tough district).
Since I saw they were liking being kids again I challenged them to wear the hat home and then on Thanksgiving.
If they came with photographic proof they got extra credit being applied to whatever test they did the worst on that quarter.
And amazingly a lot of them did.
After the holiday weekend was over the resource officer came to my room.
He said I was out patrolling on Thursday and I saw a bunch of gang members wearing turkey hats.
That was you wasn't it?
It was.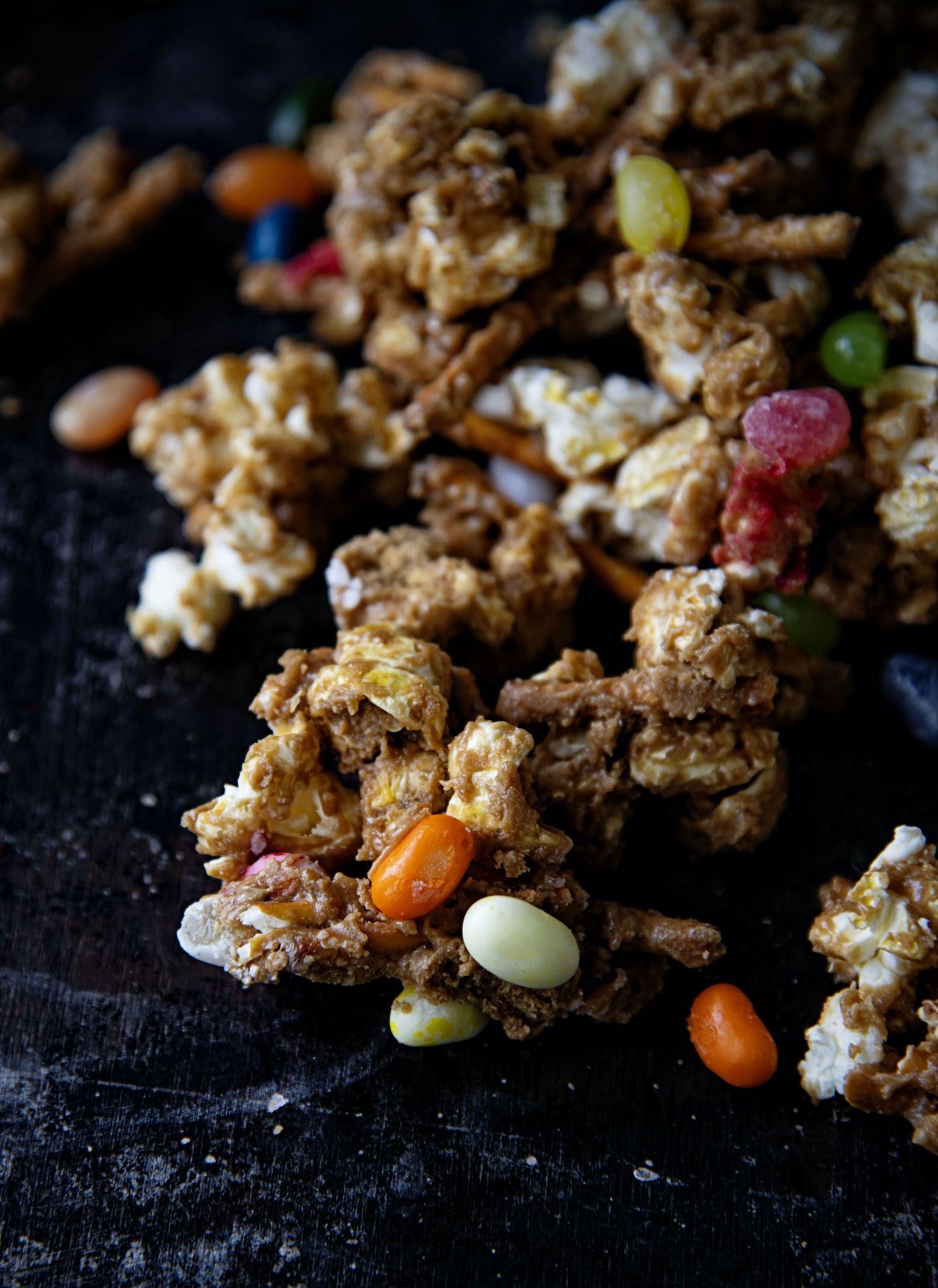 After watching the cartoon and making hats we would always have a Charlie Brown Thanksgiving.
Popcorn.
Pretzel sticks.
Jelly beans.
Ice Cream.
And buttered toast.
Ironically buttered toast was the most popular every year.
Many of them had never had real butter.
I would buy so many loaves of bread to bring in as this caught on each it was insane.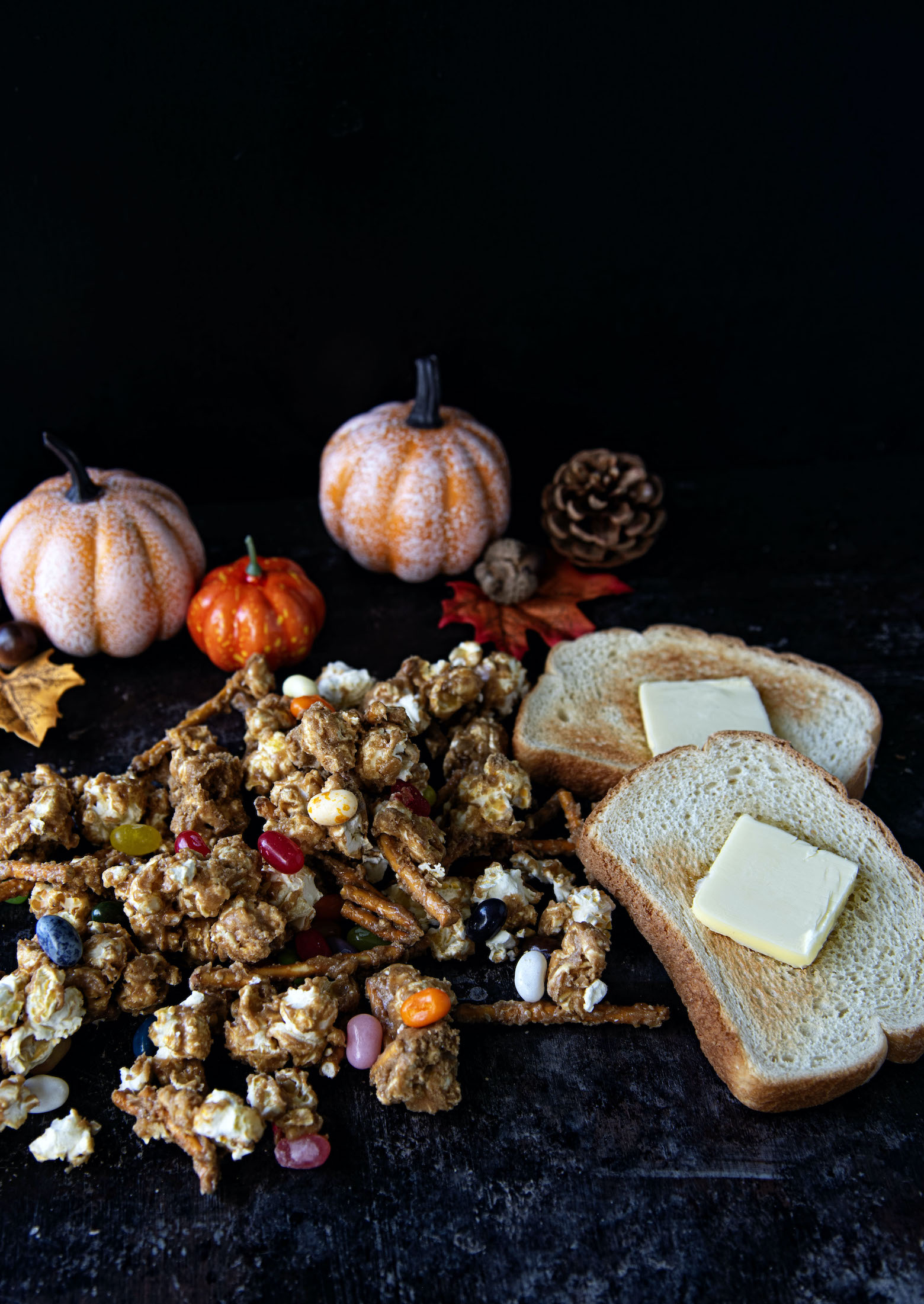 I don't teach anymore so I don't get to do it anymore.
So I decided to make some Charlie Brown Thanksgiving Caramel Corn and incorporate the meal into caramel corn.
Obviously there is popcorn.
Pretzel sticks.
Some jelly beans.
There is vanilla soft serve mix in the caramel sauce.
The only thing missing was the buttered toast.
I thought about using French Toast Crunch since it's shaped like toast.
And that had a maple flavor.
But if you want to use them feel free.
By the way, it's a great day to buy my cookbook !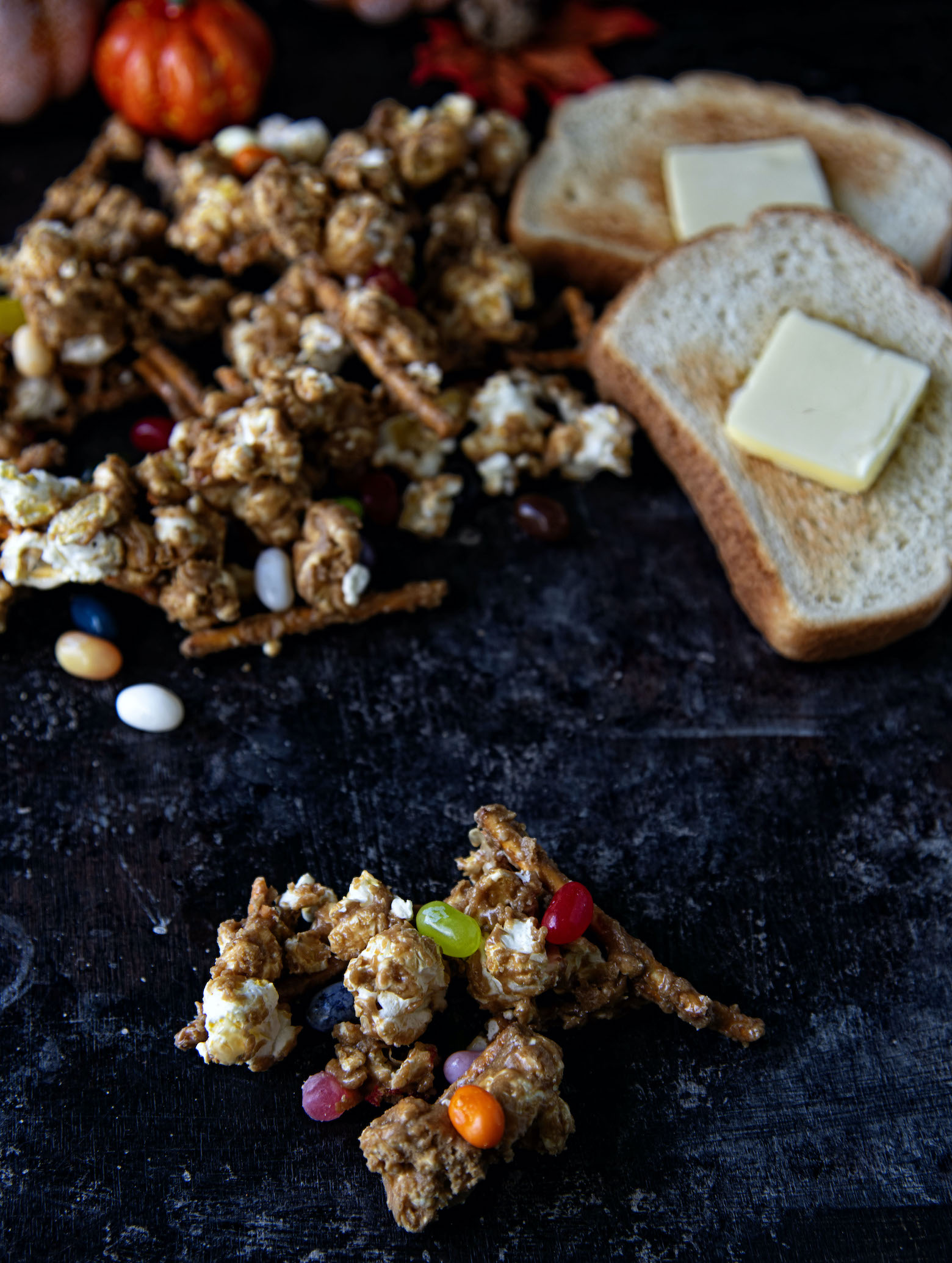 Want more Caramel Corn Recipes?
Oatmeal Raisin Cookie Caramel Corn
Peppermint Hot Chocolate Caramel Corn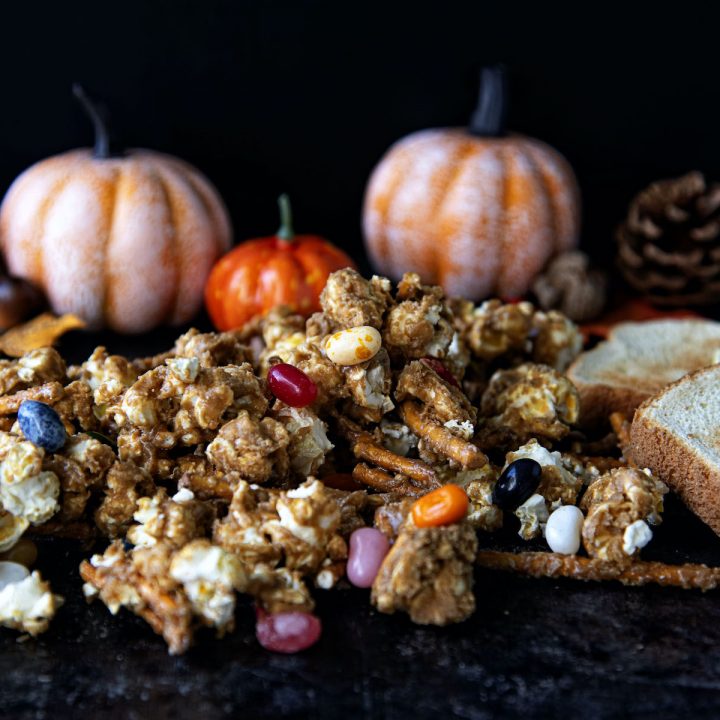 Charlie Brown Thanksgiving Caramel Corn
Ingredients
3 TBSP vegetable oil
1/2 cup un-popped popcorn kernels
2 cups thin pretzel sticks
1/2 cup unsalted butter
1 1/4 cup light brown sugar, loosely packed
1/4 cup Lyle's Golden Syrup (or corn syrup but Lyle's is preferred big time)
1/8 tsp. cream of tartar
1/2 tsp. salt
1/2 tsp. baking soda
1 overflowing cup of jelly beans
Instructions
Preheat oven to 200F.
You need either two smaller baking sheets or one really large baking pan.
In a large heavy bottom pot like Le Creuset add the oil and popcorn to the pan.
Heat over medium.
Cover but leave open a little to allow steam to leave the pot.
Throughout popping, shake the pan so that you get every kernel.
When popping starts to slow (even after shaking), remove from heat.
Remove the lid (away from you) and get ready for a stray piece of popcorn to pop and attack. 🙂 You will get it back later by eating it.
I like to scoop the popcorn out 1 cup at a time so that I can make sure no un-popped kernels are sneaking in or a stray burnt piece gets in. Place popcorn in a separate bowl. Set aside.
Clean and dry the large heavy bottom pan as you need it to make the caramel. You could use a smaller pan but I like to use the large so that I can mix the popcorn right in the pan, and then pour on top the baking sheets.
Place the butter, sugar, Lyle's Golden syrup, cream of tartar, and salt in the heavy bottom pan.
Heat over medium-high heat, stirring constantly while the mixture boils for 5 minutes.
Remove from heat and add the baking soda and mix until fully combined. It will bubble up a little so be careful.
Stir in the vanilla soft serve mix until fully combined.
Add the popcorn and pretzel sticks to the pan and mix and mix and mix until every piece of popcorn is covered in the caramel mixture.
Add in the jelly beans and mix to distribute the candy.
Spread the caramel corn on to the baking pan/s making a single layer.
Bake for 20 minutes then take out the caramel corn and stir and flip it. Then back in the oven for another 20 minutes.
Again take it out and stir and flip the caramel corn.
Then one last time into the oven for 20 minutes.
Remove from oven and let cool.