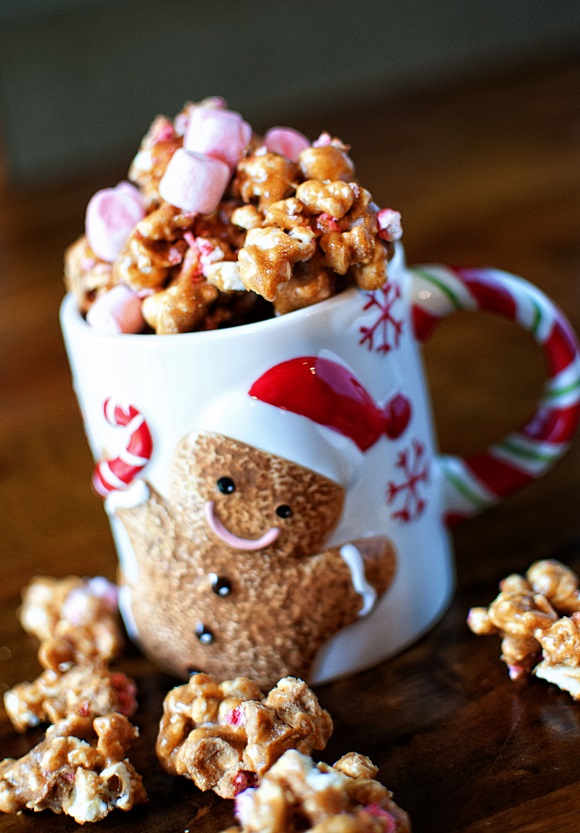 I always like Christmas but some years it seems I LOVE Christmas. This year seems like it is going to be a love year. When we were staying in Denver our hotel is actually inside a renovated train station and last Wednesday while we were there they started to put up their giant Christmas tree. I spent way too long starting up at it or forcing MDP to go have drinks in the bar where you could have a view of the tree.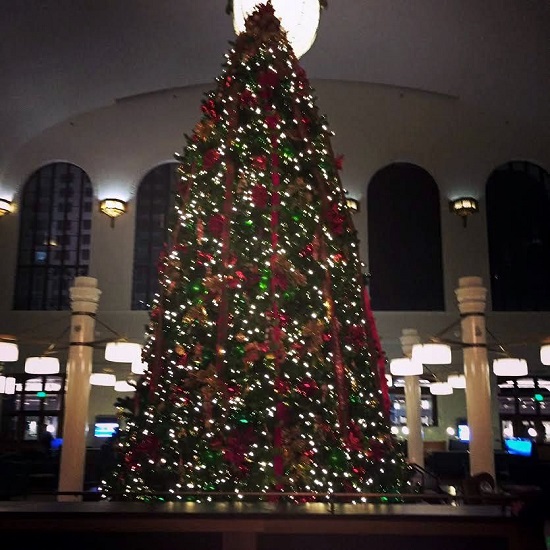 See…it's pretty! I of course immediately wanted to come home and put ours up and got the umm, a hard no from the husband, but I did tell him that it was going up before Thanksgiving this year and he can just deal. 🙂 I don't know what it is about Christmas tree lights. I can look at them for almost forever. I often stay up long after everyone has gone to bed and just sit in the dark in silence staring at the tree, it's very peaceful.
Since I got a veto on coming home and putting the tree up I had to channel my overwhelming Chritmasness (it's a word) into something else. Food. Out came the red and green sprinkles (you will see those later on this week) and my craving for peppermint came on strong. I've already had three cups of cocoa with what can only be described as Leslie Knope sized whipped cream. So while I was sipping my cup of cocoa I came up with the idea of caramel corn….mostly because I was lamenting that I didn't get caramel corn at the arena when we were in Denver.
You can use regular powdered hot chocolate but I love peppermint hot chocolate. When I was a kid I used to love putting a mini candy cane in my cocoa every year. To this day Christmas breakfast while opening presents is two frosted sugar cookies and cocoa with a mini candy cane in it. My favorite is Stephen's which I think most places carry nowadays…you can even get it at Costco I believe. It's the one with a cute happy bear holding cocoa on it.
In other news: Make sure to read THIS post. Make sure to enter the chance to win the Rodelle Holiday Gift Pack. And if you are a cake maker and haven't bought Surprise-Inside Cakes: Amazing Cakes for Every Occasion–with a Little Something Extra Inside
yet the Kindle version right now only $1.99! No idea how long that will last but you might want to jump on that!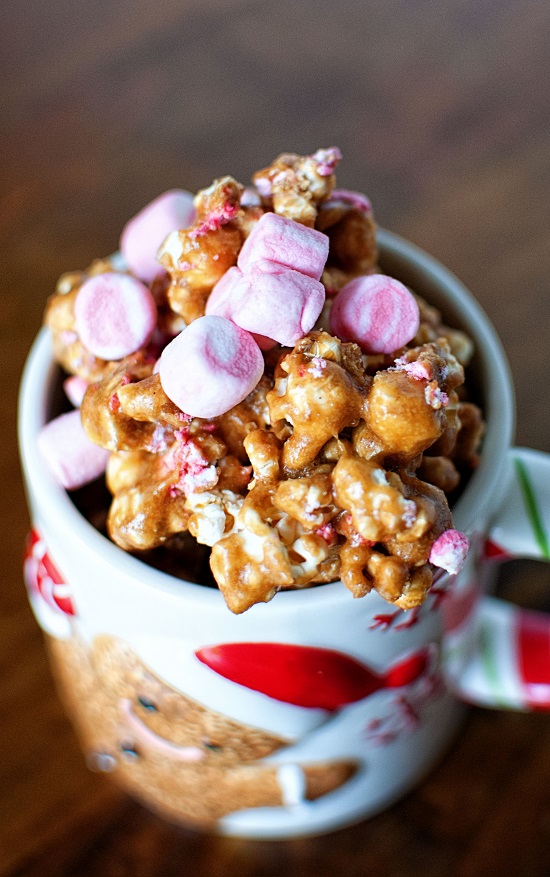 Peppermint Hot Chocolate Caramel Corn 
16 cups popped popcorn (unsalted)
1 cup unsalted butter
1 cup granulated sugar
1 ½ cups brown sugar
½ cup Lyle's Golden Syrup (if can't find use corn syrup)
1 tsp. lemon juice
1 tsp. salt
1 tsp. vanilla extract
½ tsp. baking soda
½ cup peppermint hot chocolate mix (I used Stephen's)
½ cup Kraft Jet-Puffed Mallow Bits Peppermint Flavor Marshmallows (optional)
Preheat oven to 250F. Spray two baking sheets with nonstick baking spray and set aside.
In a large bowl (the largest heat safe bowl you have in the house) put popcorn in it. Set aside.
In a large saucepan over medium-high heat, combine the butter, sugars, golden syrup, lemon juice and salt. Cook, stirring occasionally, until the butter and sugars melt together.
Increase the heat to high and bring the mixture to a boil. Boil gently until the mixture reaches the hard crack stage (300F on a candy thermometer) 6-9 minutes.
Remove from the heat and stir in vanilla and the baking soda. They syrup with bubbles and foam with the baking soda is added, simply stir until it subsides. Then add in the peppermint hot chocolate mix.
Immediately pour the caramel over the popcorn mixture and stir with a large wooden spoon until a caramel glaze completely coat all the popped corn and mix until all the popcorn is covered. Mix in the mallow bits if using.
Divide the caramel corn between the prepared baking sheets and bake for 20 minutes. Remove from oven and stir and flip (I use a heat proof spatula) the caramel corn. Bake for another 20 minutes. Do the same again.
Let caramel corn cool completely. Store in a tightly covered container for up to a week.
Adapted from Sticky, Chewy, Messy, Gooey: Desserts for the Serious Sweet Tooth   [STICKY CHEWY MESSY GOOEY] [Hardcover]