These Halloween Candy Kitchen Sink Brownies have a rich brownie base, then topped with more chocolate, and covered in Halloween candy.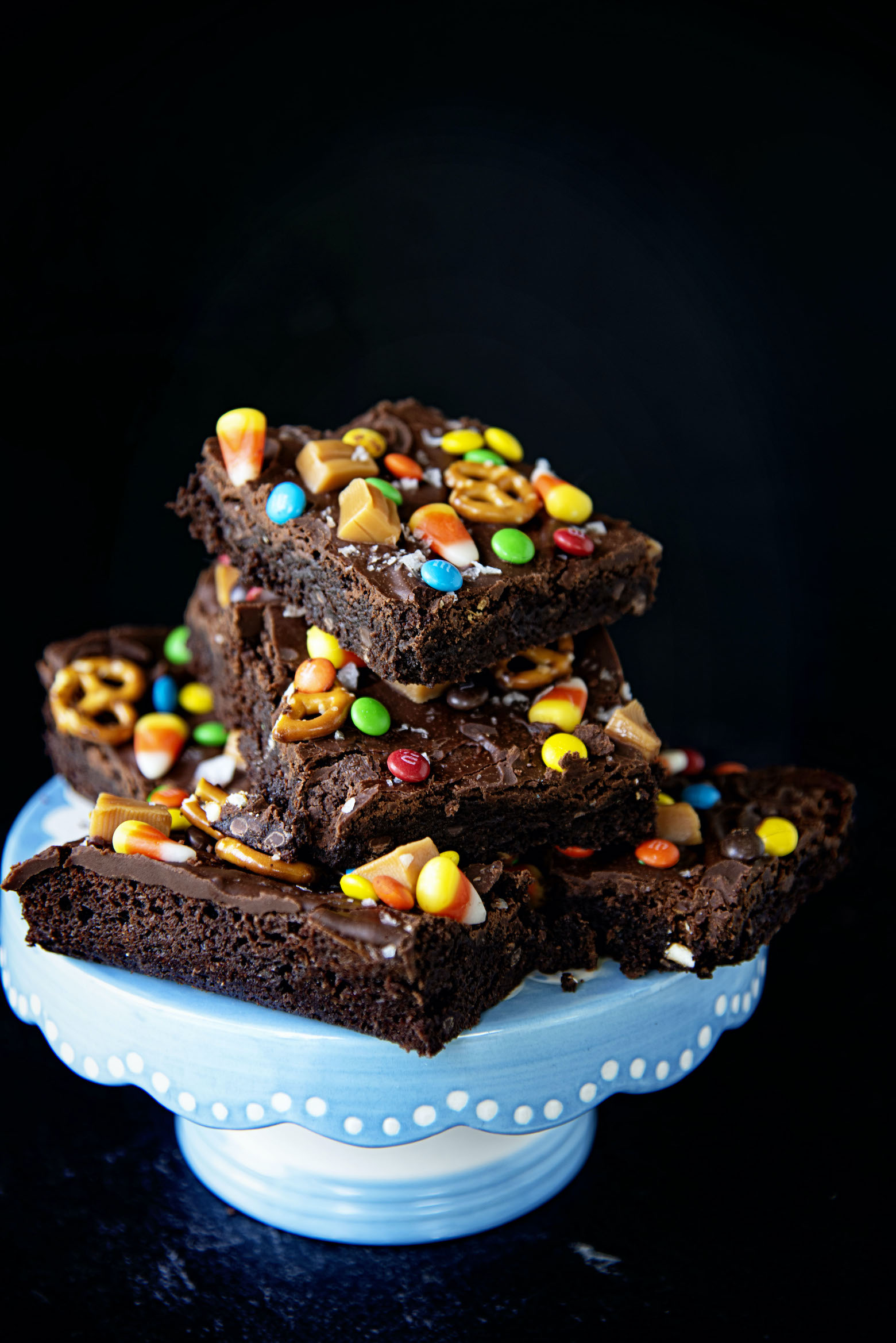 One of my favorite magazines is Bake From Scratch.
I subscribe to their magazine and I buy their cookbooks each year.
They have a new volume each year.
A couple weeks ago they sent an email saying they were teaming up with Williams Sonoma and doing online baking classes.
The classes were pretty cheap considering that they don't have to supply you with baking supplies since it's online and so I signed up.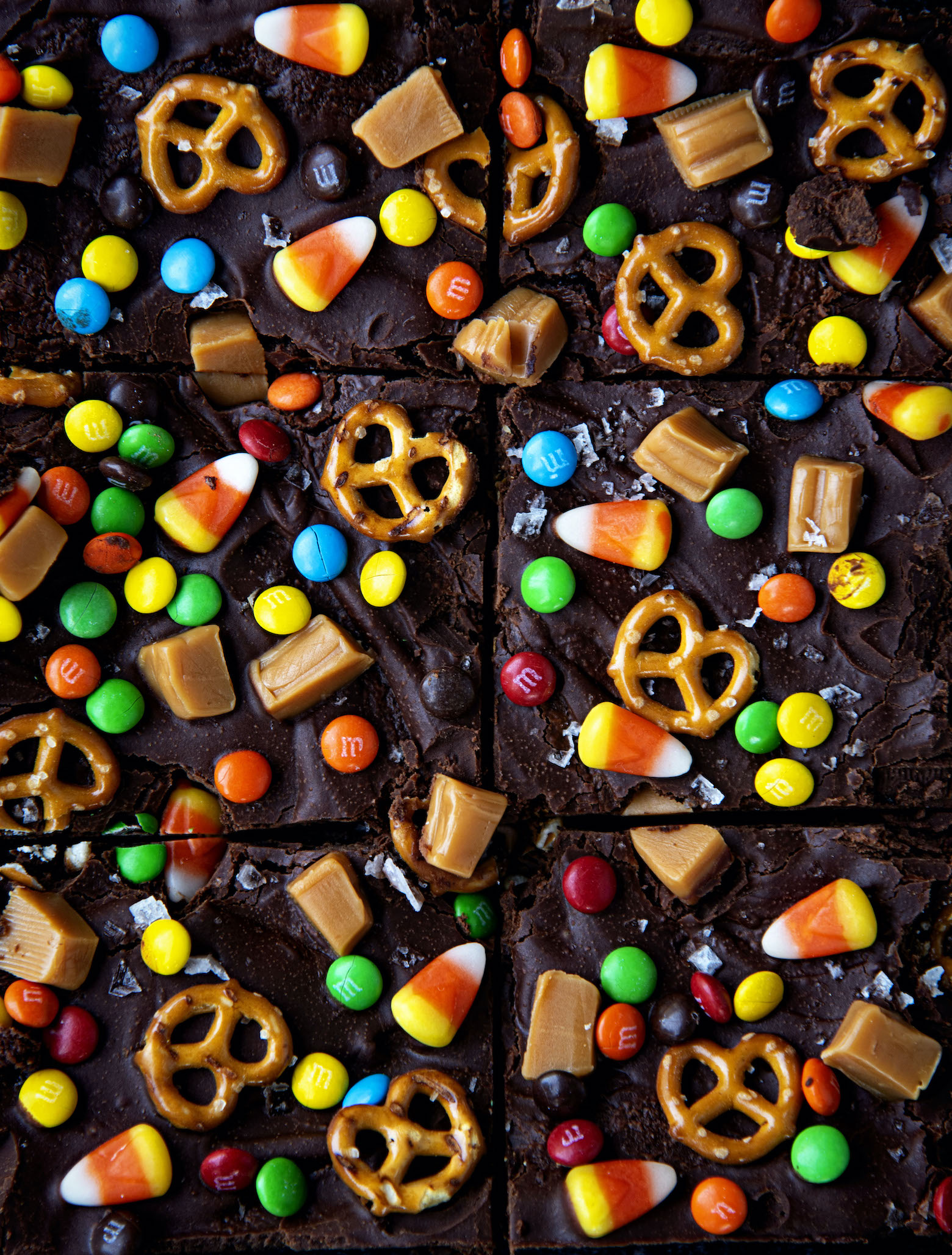 Now these are not big advanced baking classes.
The first class was brownies.
These Halloween Candy Kitchen Sink Brownies to be exact.
And some mummy cookies.
Now, I of course, know how to make those things.
I could teach you all how to do that.
So why sign up?
Number one, something fun.
I don't spend a lot on myself usually.
The majority of my money I make goes to the dogs and their costly health care.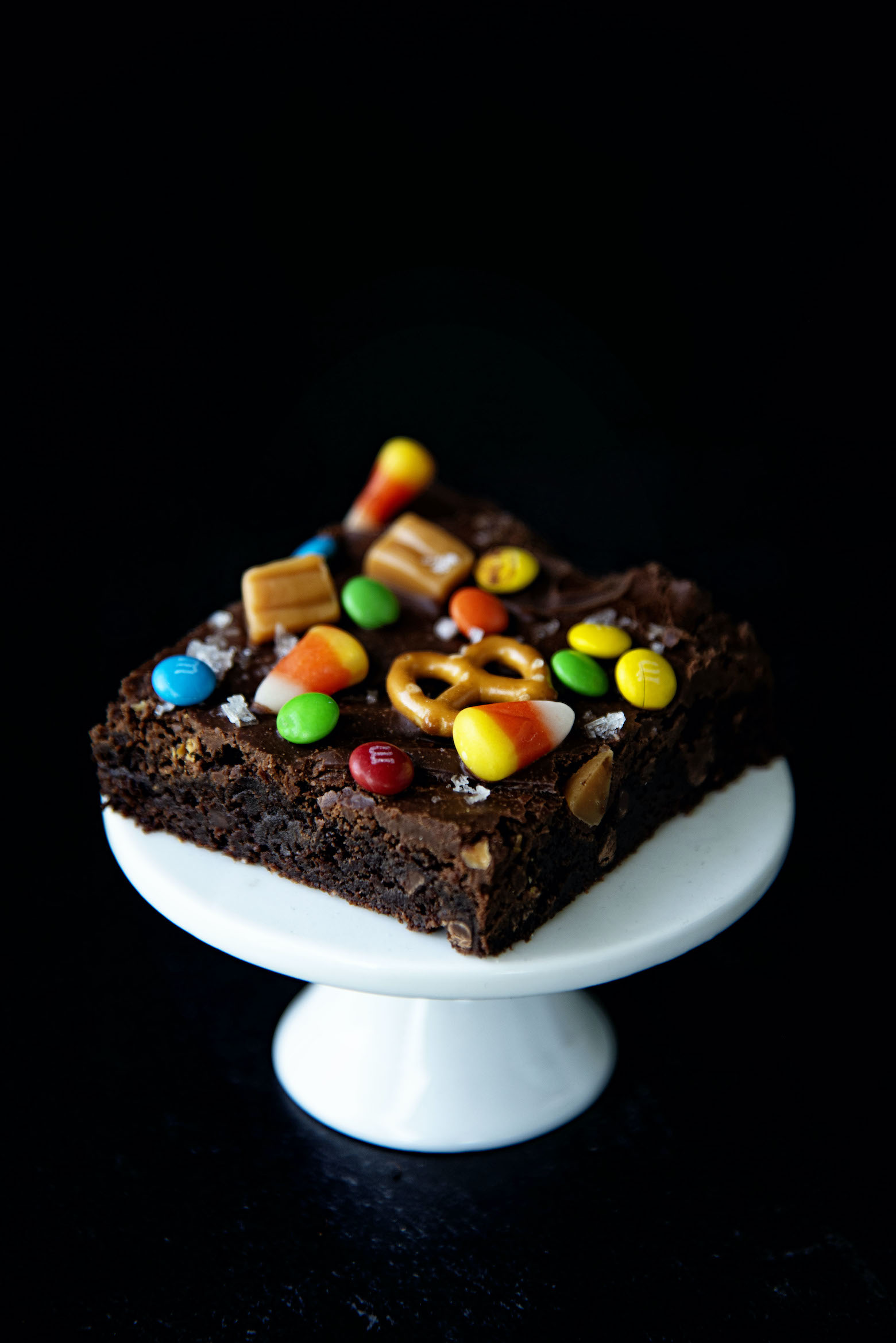 The other reason is because I like to see how people teach.
With the launch of my cookbook coming up I plan on having bake along session to those that have the book.
So I like watching other people bake virtually so that I can get some tips.
Make note of things I wish the did or didn't do.
And hopefully adapt my style based on that.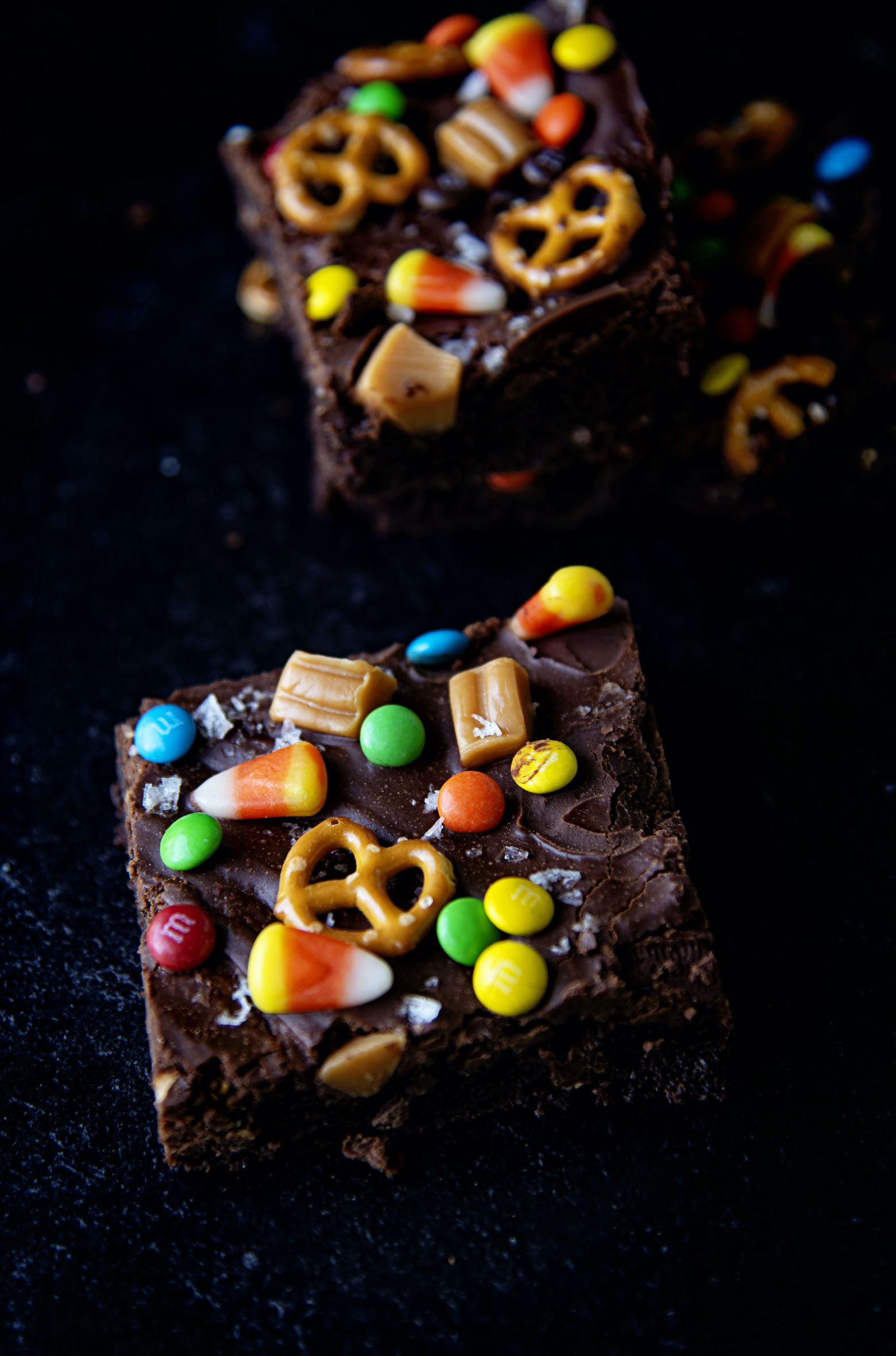 If that sounds like something you are interested in doing…baking along with me then I suggest you buy my cookbook.
You know, if you haven't already.
Wink, wink.
Hint, hint.
Anway, I don't plan on starting until the new year.
With maybe the exception of one of the holiday recipes.
Because I know I will be busy during the holiday season and so will you.
And I don't plan on stopping baking just because it's new years.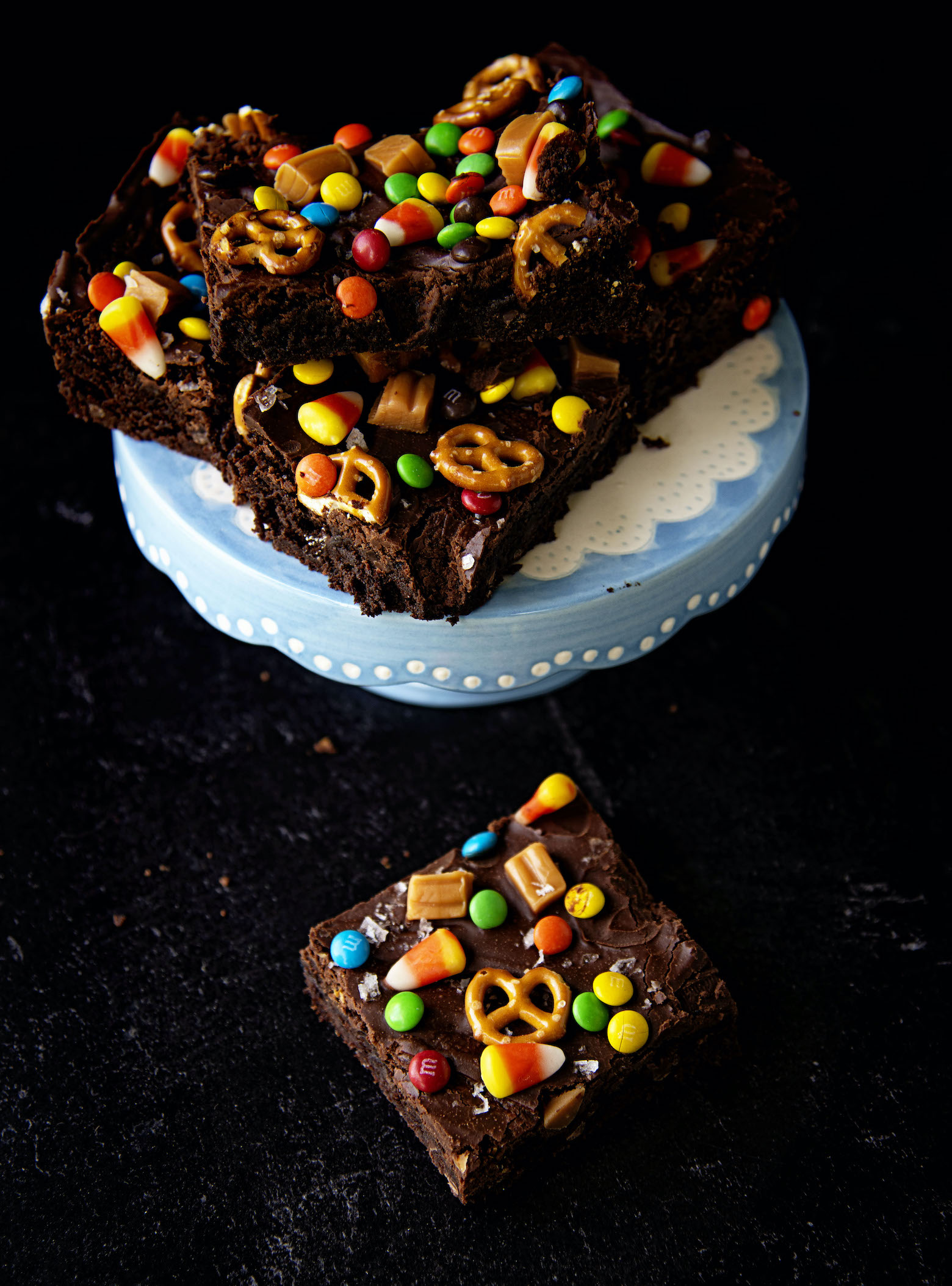 Like I said, these brownies came from the class I took.
The recipe comes from Mike Johnson (MikebakesNYC).
Who just happens to be a fellow cookbook author who has the same publisher, Page Street, as I do.
His book is all about brownies…so clearly he was the one in charge of the brownie recipe.
The brownie itself is not that sweet.
That is done on purpose because of the candy going on top.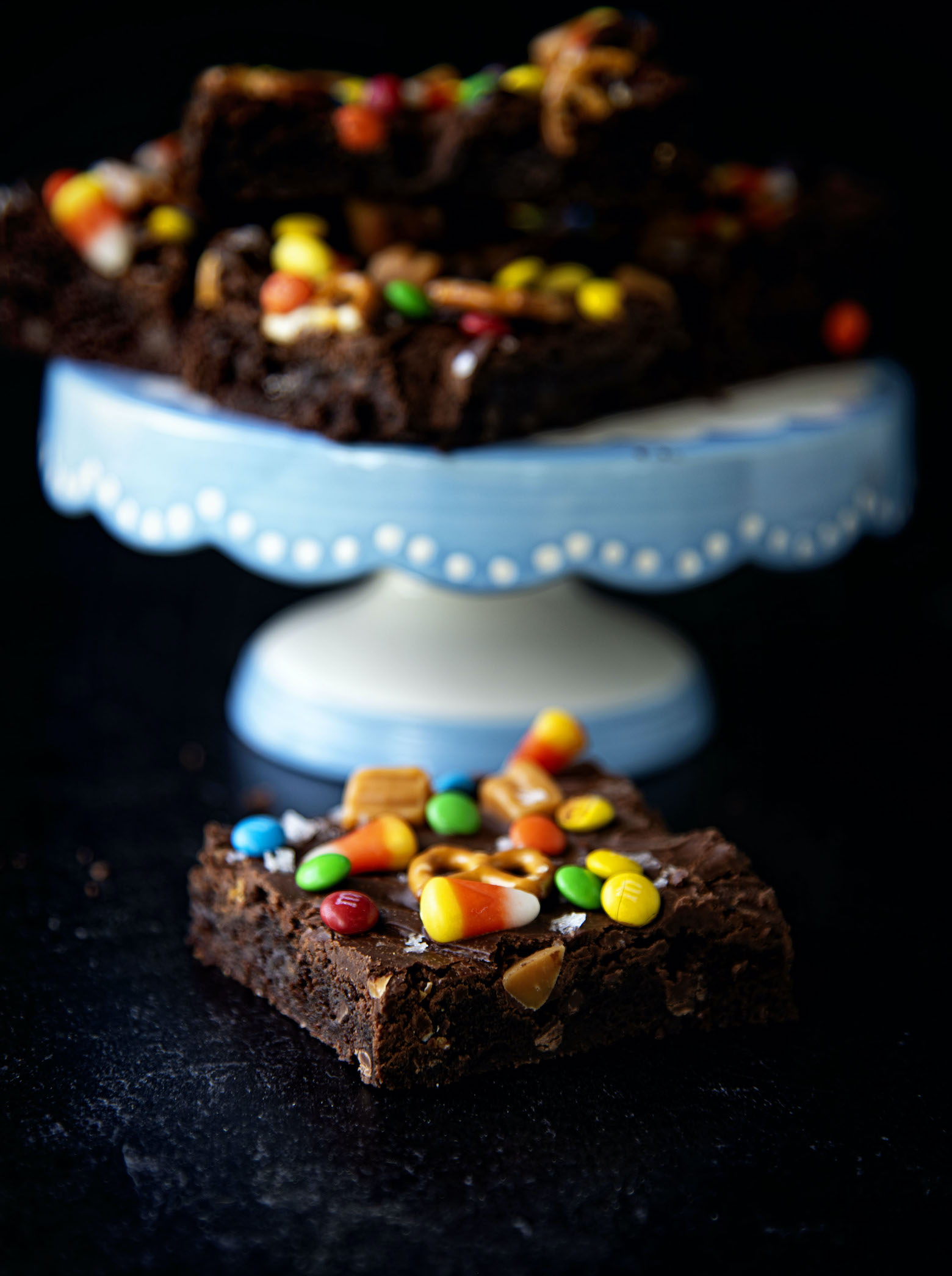 You can use whatever candy you want. I love mini everything and so I used mini pretzels.
Mini candy corn.
Caramels and mini M and M's.
You don't have to use mini.
I also sprinkled a little sea salt on there as well.
And it doesn't have to be Halloween candy.
It can be anything you want to throw on top.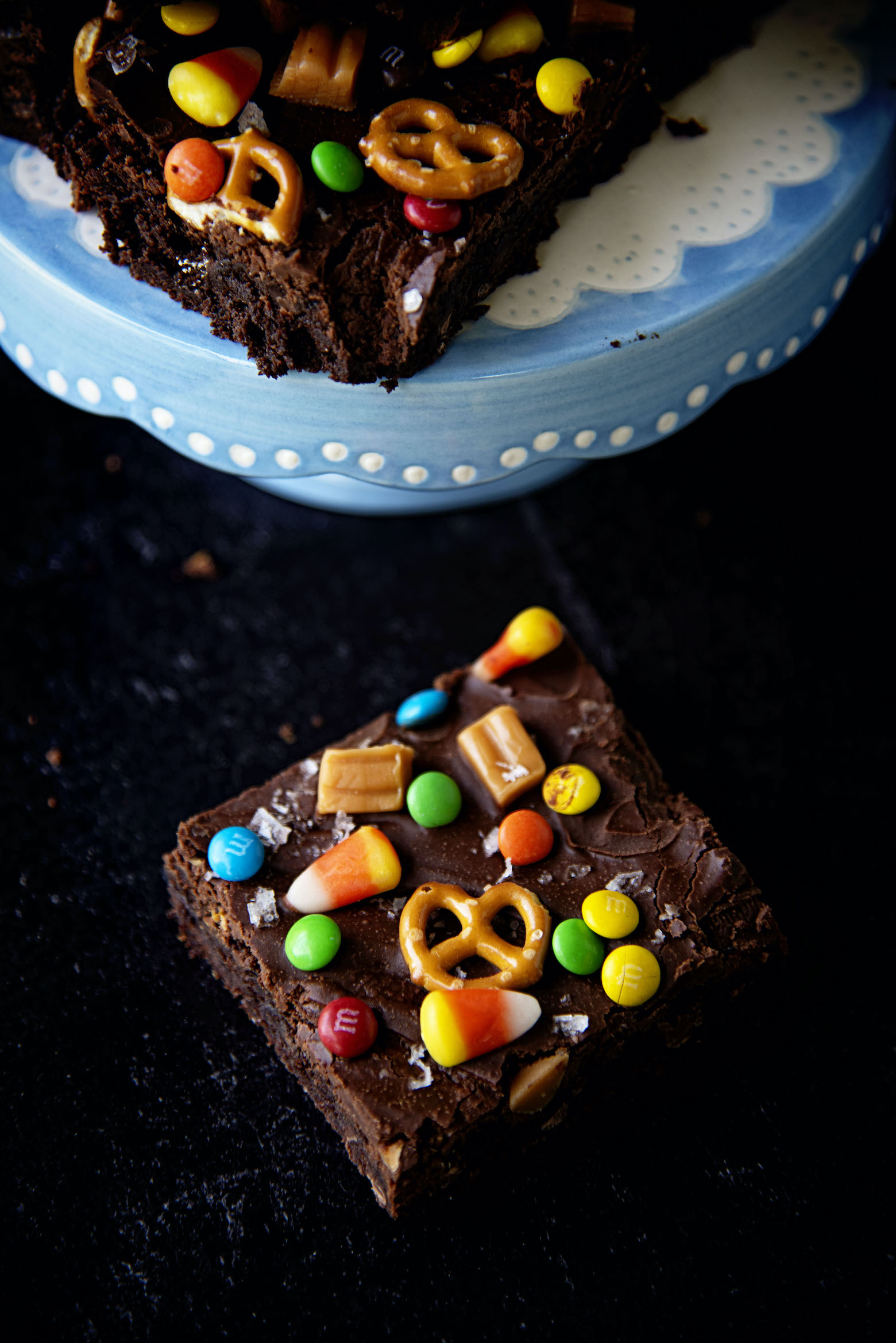 Want More Brownie Recipes?
Marshmallow Crunch Peanut Butter Brownie Bars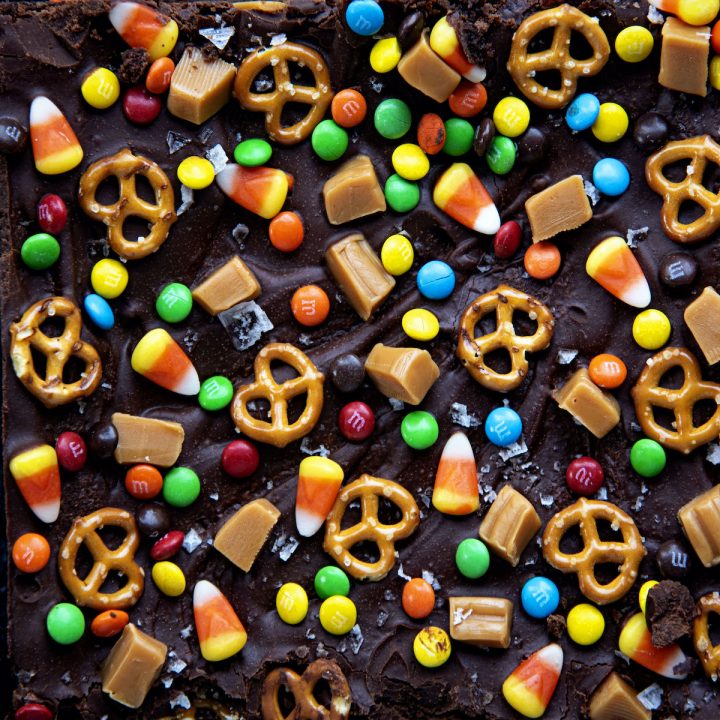 Halloween Candy Kitchen Sink Brownies
Ingredients
For the Brownies:
½ cup unsalted butter
1 cup semisweet chocolate chips, divided
¾ cup granulated sugar
½ TBSP vanilla extract
1 tsp espresso powder
2 large eggs
1/3 cup all-purpose flour
¼ cup unsweetened natural or Dutch-process cocoa
powder
1 tsp baking powder
For the Topping:
4 oz dark chocolate, chopped
3 TBSP unsalted butter
¼ cup mini pretzels
¼ cup mini m and m's
¼ cup mini candy corn
¼ cup caramels
Instructions
Preheat the oven to 350°F (180°C). Grease an 8 x 8–inch(20 x 20–cm) pan with butter or nonstick cooking spray and then line the pan with parchment paper, leaving an overhang on all sides.
Grease the parchment with butter or nonstick cooking spray and then set it aside.
For the Brownies:
In the microwave, melt together the butter and ¾ cup (130 g) of chocolate chips in a medium microwave-safe bowl, stirring at 30-second intervals, until melted and smooth. Stir in the sugar, vanilla and espresso powder.
Beat the eggs, one at a time, into the chocolate mix.
Add the flour, cocoa powder and baking powder. Stir until just combined.
Stir in the remaining ¼ cup of chocolate chips.
Evenly spread the mixture into the prepared pan.
Bake for 28 to 30 minutes, or until the brownies are just set.
For the Topping:
In a small microwave-safe bowl, melt and stir together the chopped chocolate and butter in the microwave until smooth.
Pour the mixture over the top of the warm brownies and then sprinkle the pretzels, mini m and m's, mini candy corn and caramels on top.
Let the brownies cool completely before slicing.
Cover and store leftover brownies in an airtight container at room temperature for 3 to 4 days.
Notes
Recipe by Mike Johnson (Excerpted from Even Better Brownies, Page Street Publishing, 2020)