These French Toast Cookies with Maple Glaze are kind of like a breakfast version of a Snickerdoodle complete with maple glaze and toast.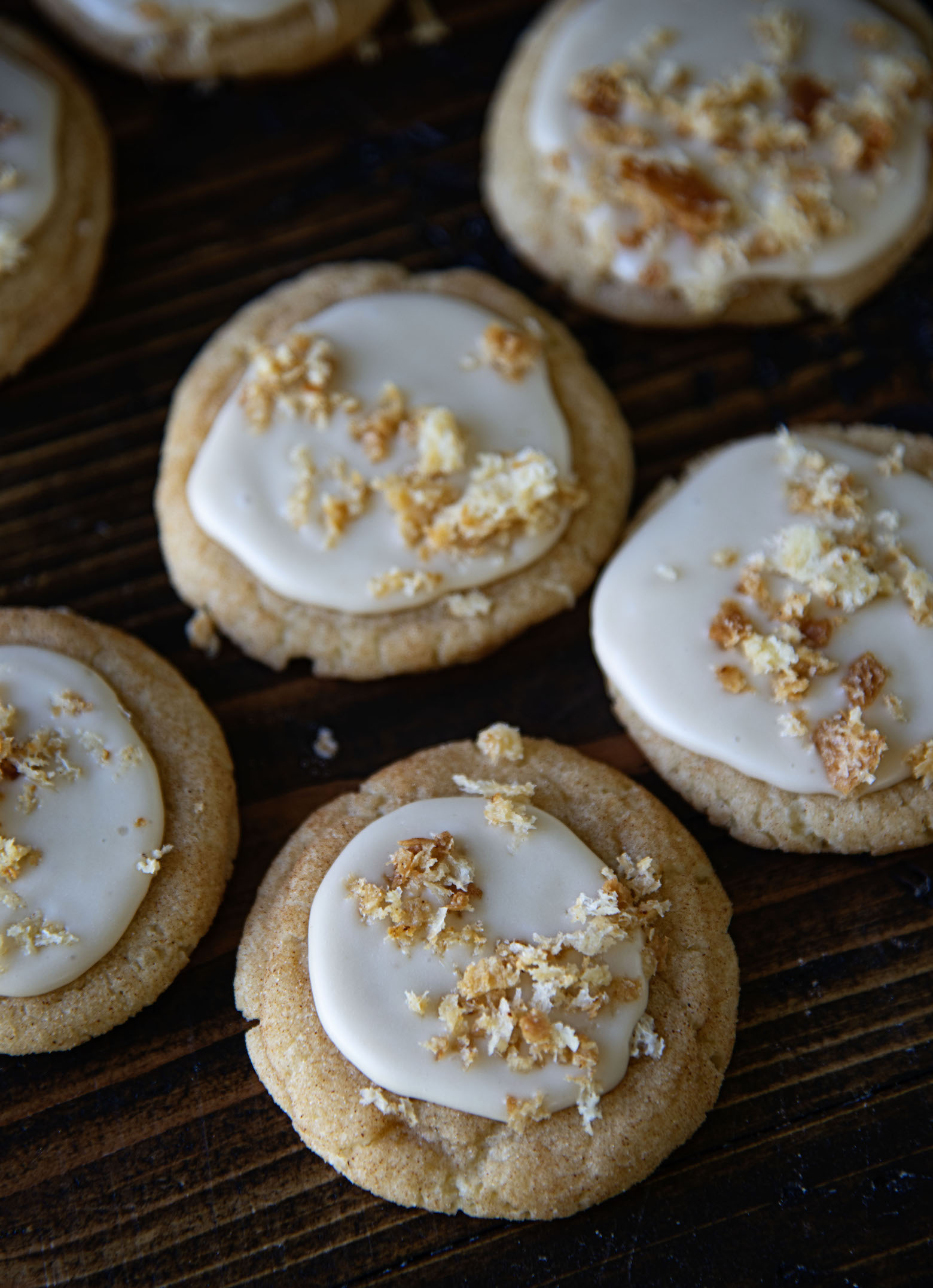 Just like so many things in life, until you do it, you can't every really know what it's like.
Almost any cookbook author you talk to will tell you that it's hard to write a cookbook.
And it is.
I had to be broken of my blog habits.
Of writing recipes a certain way to make the Google people happy for ranking and all that fun.
But with books the only ranking happening is how many people buy my cookbook.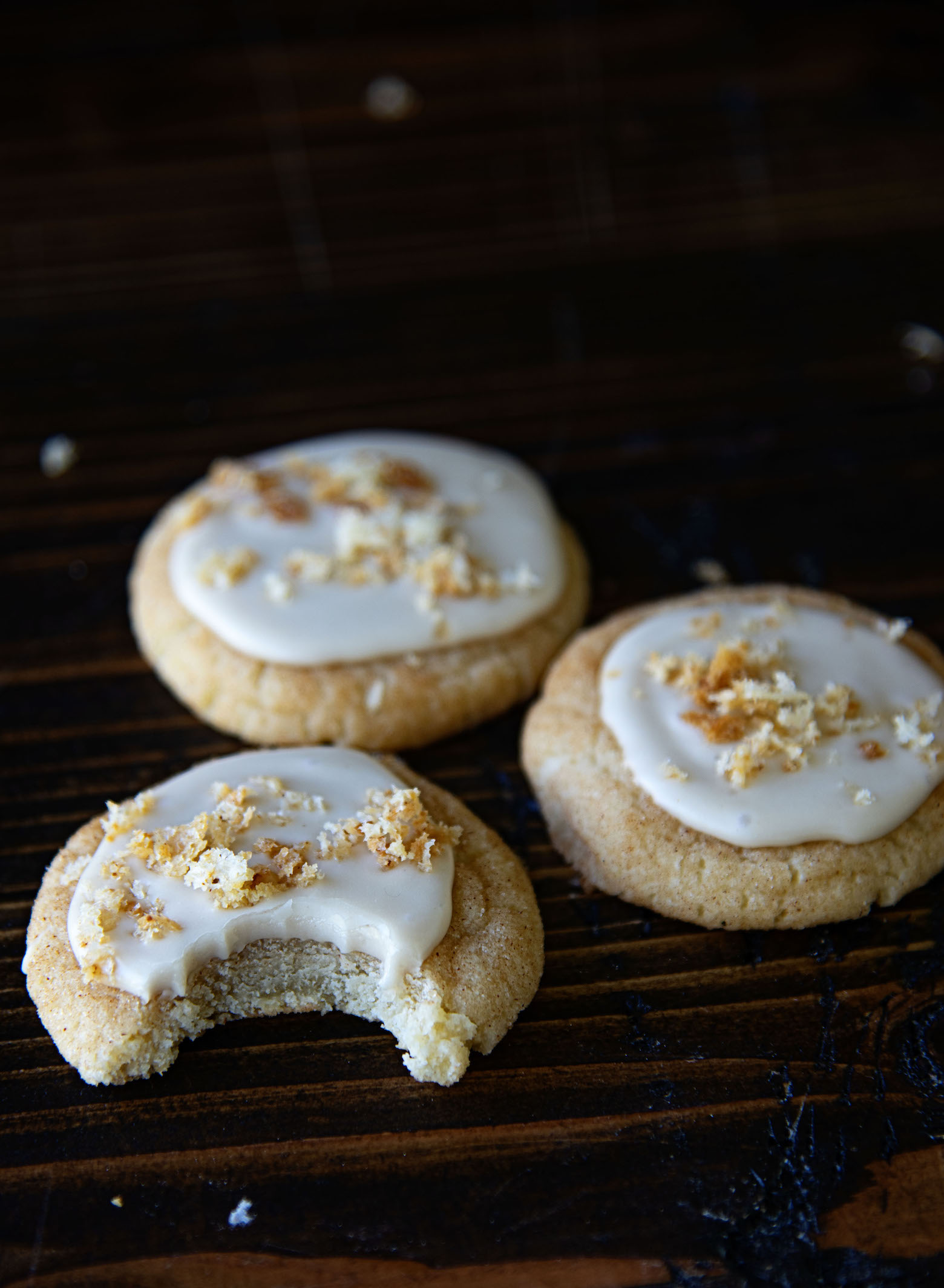 So ironically I had to retrain myself to write how I used to write on my blog before blogging was really a thing. 🙂
Which is one of the things I really liked about doing a cookbook.
I mean, I don't follow hardly any of the rules you are supposed to for blogging.
By rules I mean the stuff to do to make your blog impersonal but profitable.
I chose to be personal…and make hardly any profit. 😛
Once you write a cookbook you are kind of in a club.
And you feel even more connected to those of you who have the same publisher.
Because you've gone through most of the same steps and often with the same people.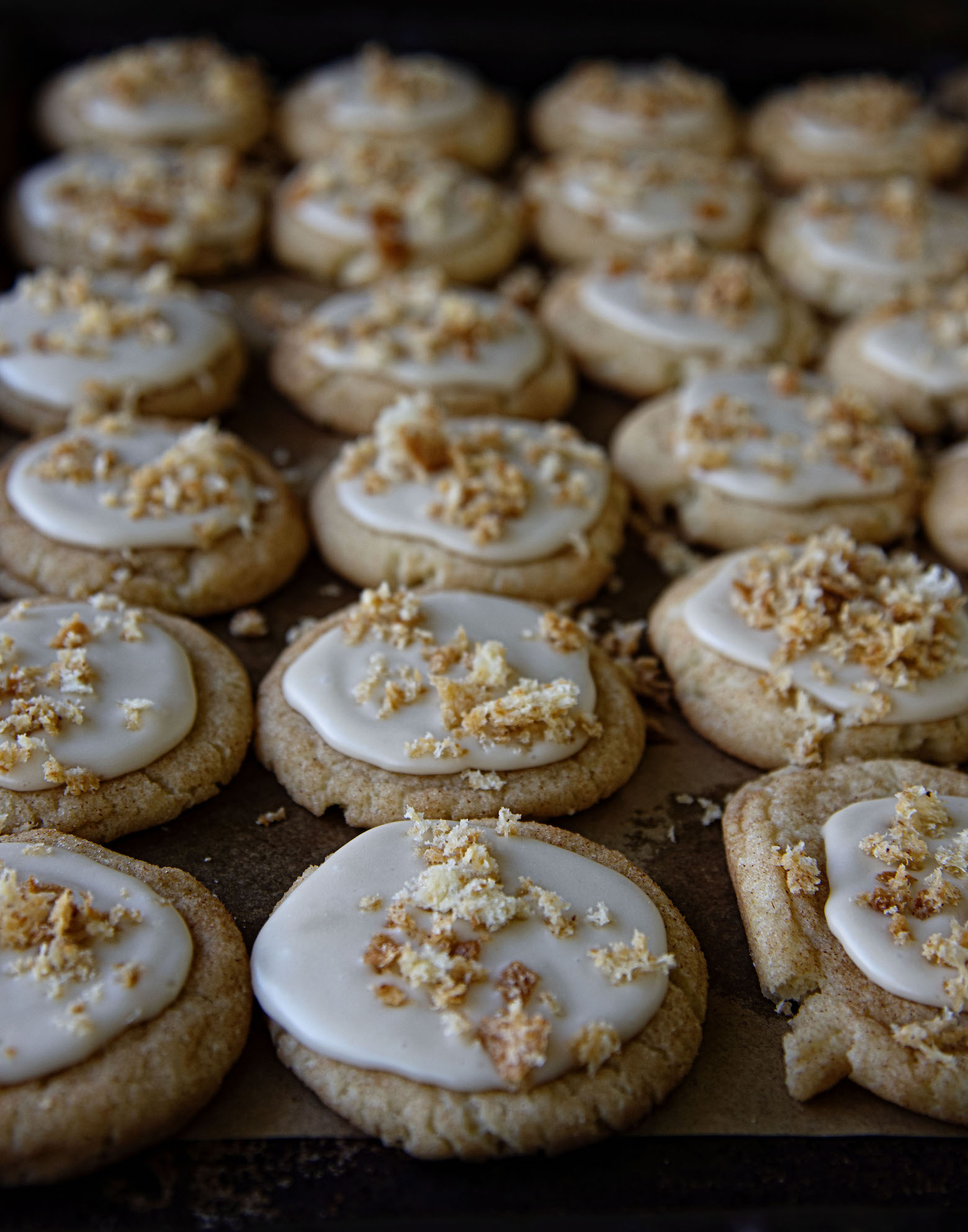 Erin Mylroie is one of those.
We both have the same publisher.
Our books come out roughly the same time.
Her's released the last week of September…but they are both fall releases is my point. 🙂
They are both baking books.
She's already been through this once before as this is her second book.
So she has been super helpful and has been giving me tips that I greatly appreciate.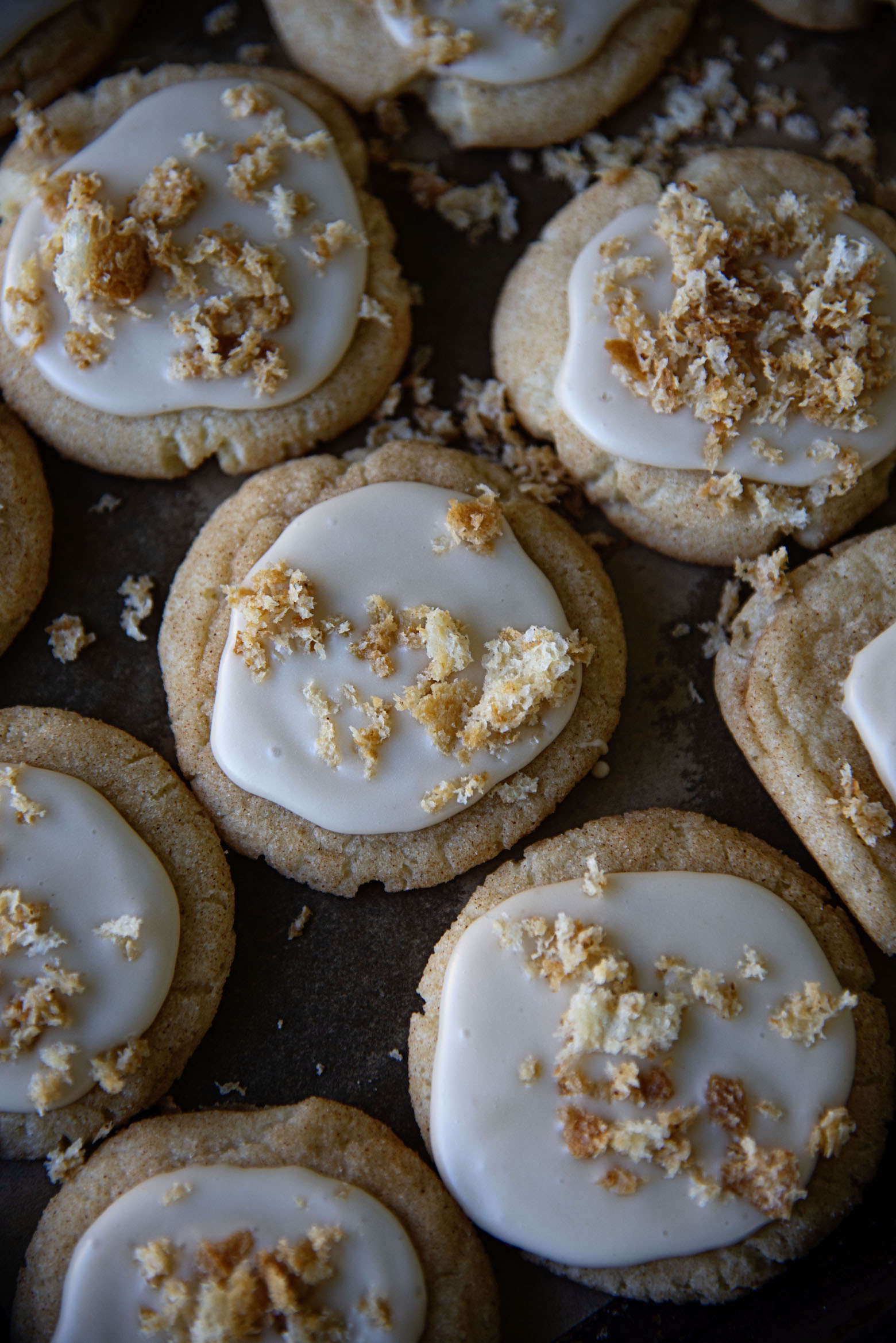 When I first skimmed through 101 Greatest Cookies on the Planet I knew right away I wanted to make these French Toast Cookies with Maple Glaze.
Cookie lovers you need this book.
The hubby and I have been on a big breakfast kick lately.
Especially French Toast and Pancakes.
These are kind of like a Snickerdoodle.
They have the same texture in my opinion and they are rolled in cinnamon sugar.
But they do have maple in them and in the glaze.
The recipe called for using maple extract.
It's kind of against the law if you are Canadian to not use real maple syrup, so that's what I did.
The original recipe did not call for the Brown Butter Breadcrumbs.
I added them not only for texture but because my husband and I will find an excuse to add bread to anything.
If you are a maple bacon fan you could always top with bacon.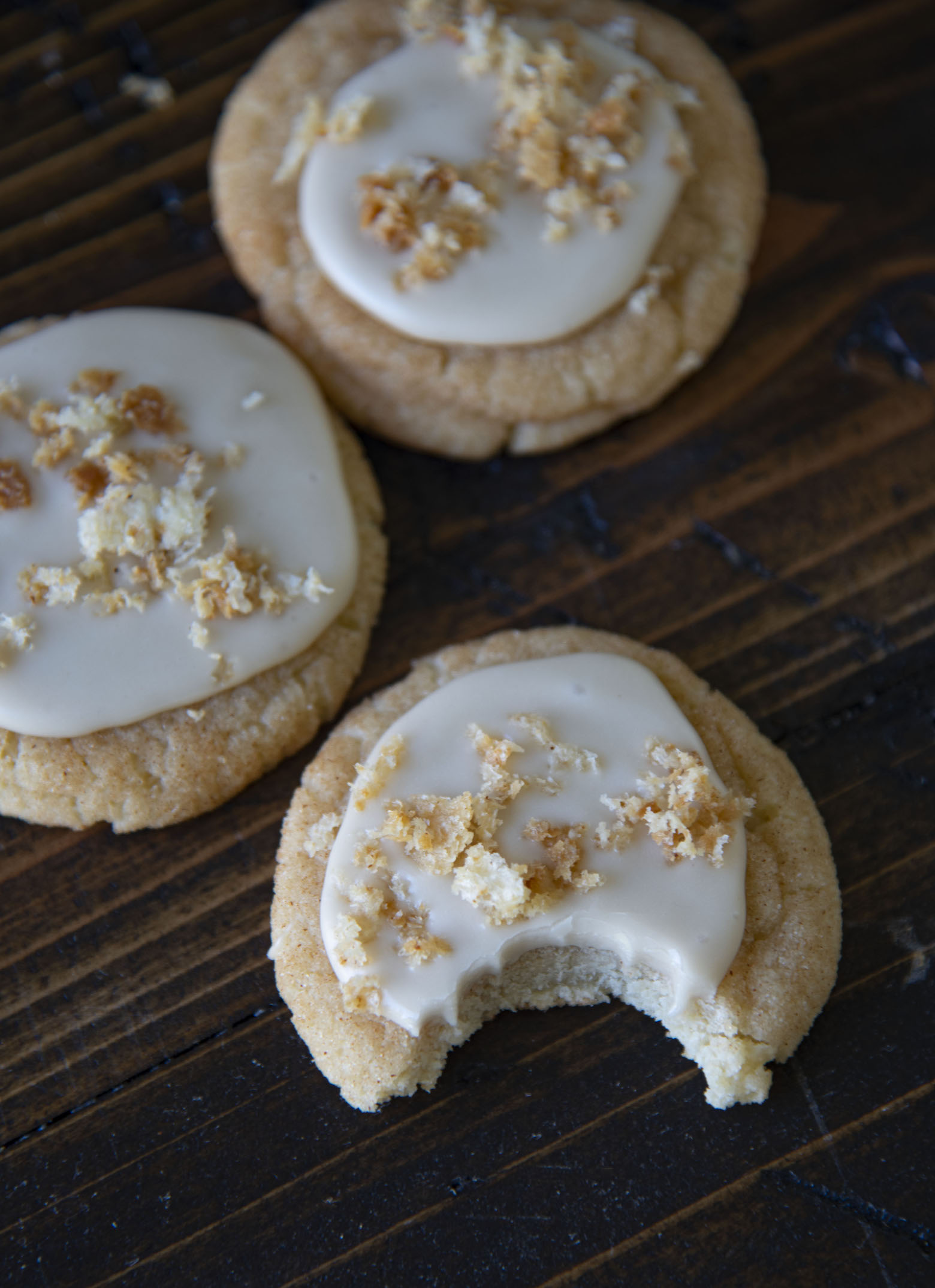 Want More Cookie Recipes?
Roll Out Shortbread Sugar Cookies
White Chocolate Chip Creamsicle Cookies
Vanilla Bean Caramel Thumbprint Cookies
White Chocolate Dried Pineapple Salted Macadamia Nut Cookie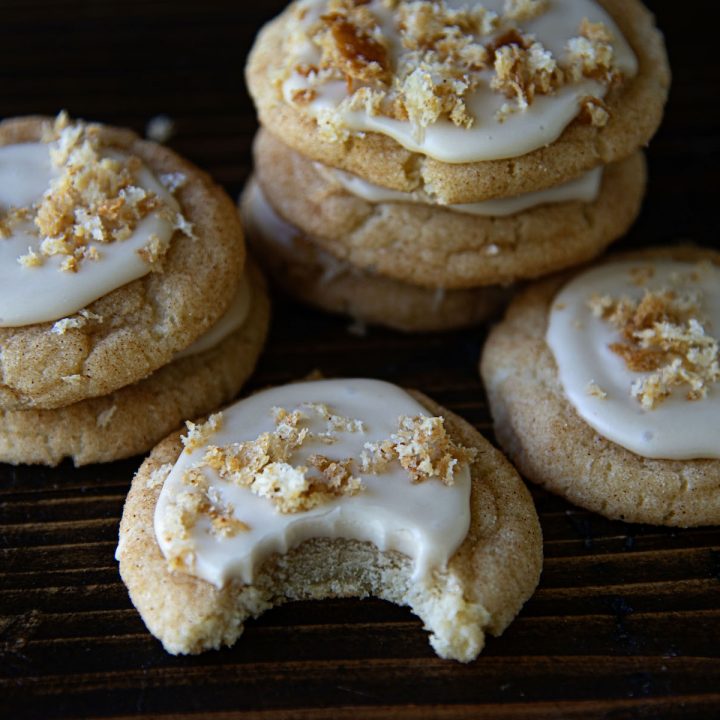 French Toast Cookies with Maple Glaze
Ingredients
For the Cookies:
3/4 cups unsalted butter, at room temperature
2 cups granulated sugar, divided
1 egg
1 tsp vanilla extract
1 TBSP maple syrup
1/2 tsp freshly ground nutmeg
1/2 tsp salt
1 tsp baking powder
2 1/4 cups all-purpose flour
1 TBSP cinnamon
For the Brown Butter Breadcrumbs:
2 TBSP unsalted butter
1 cup fresh white bread crumb, from a bread you would make French toast from
For the Glaze:
2 cups powdered sugar
2 TBSP milk
2 TBSP maple syrup
Instructions
For the Cookies:
Preheat the oven to 350F.
Line two baking sheets with parchment paper.
To make the cookies, in a large bowl, cream together the butter and 1 1/2 cups of the granulated sugar, until light and fluffy, about 3 minutes.
Add the egg, vanilla, and maple syrup.
Add the nutmeg, salt and baking powder and mix until combined.
Add the flour and mix until fully combined.
Shape the dough into the ping-pong-sized balls.
In a small bowl, combine the remaining sugar and the 1 TBSP cinnamon.
Roll the dough balls in the cinnamon-sugar mixture and place on the prepared baking sheets, about 2 inches apart.
Using the bottom of a drinking glass, flatten the cookies.
Bake for about 8-10 minutes, or until the cookies are just beginning to set and turn golden brown on the edges.
Let cool on the cookie sheets for 10 minutes before transferring to a rack to cool completely.
For the Brown Butter Breadcrumbs:
Spread the breadcrumbs on a baking sheet for a toaster oven (or large oven if you don't have one).
Toast up until just crisp, and set aside.
Melt the butter in a medium skillet over medium high heat.
As soon as the butter melts and begins to foam, reduce the heat to medium-low and allow to foam.
Once the foam dissipates, the butter will begin to brown.
When the butter is a deep nut brown, add the toasted breadcrumbs and coat them well; lightly salt or add herbs or spices, if desired, and sauté for one minute.
For the Glaze:
Combine the powdered sugar, milk, maple syrup, and pinch of salt.
Whisk together until a smooth and thick glaze is formed.
Spoon over the tops of the cookies and sprinkle the brown buttered toast crumbs.
Let glaze set up for about 30 minutes.