These Brown Butter Cinnamon Sugar Pumpkin Brioche Buns are pumpkin brioche dipped in brown butter and rolled in cinnamon sugar.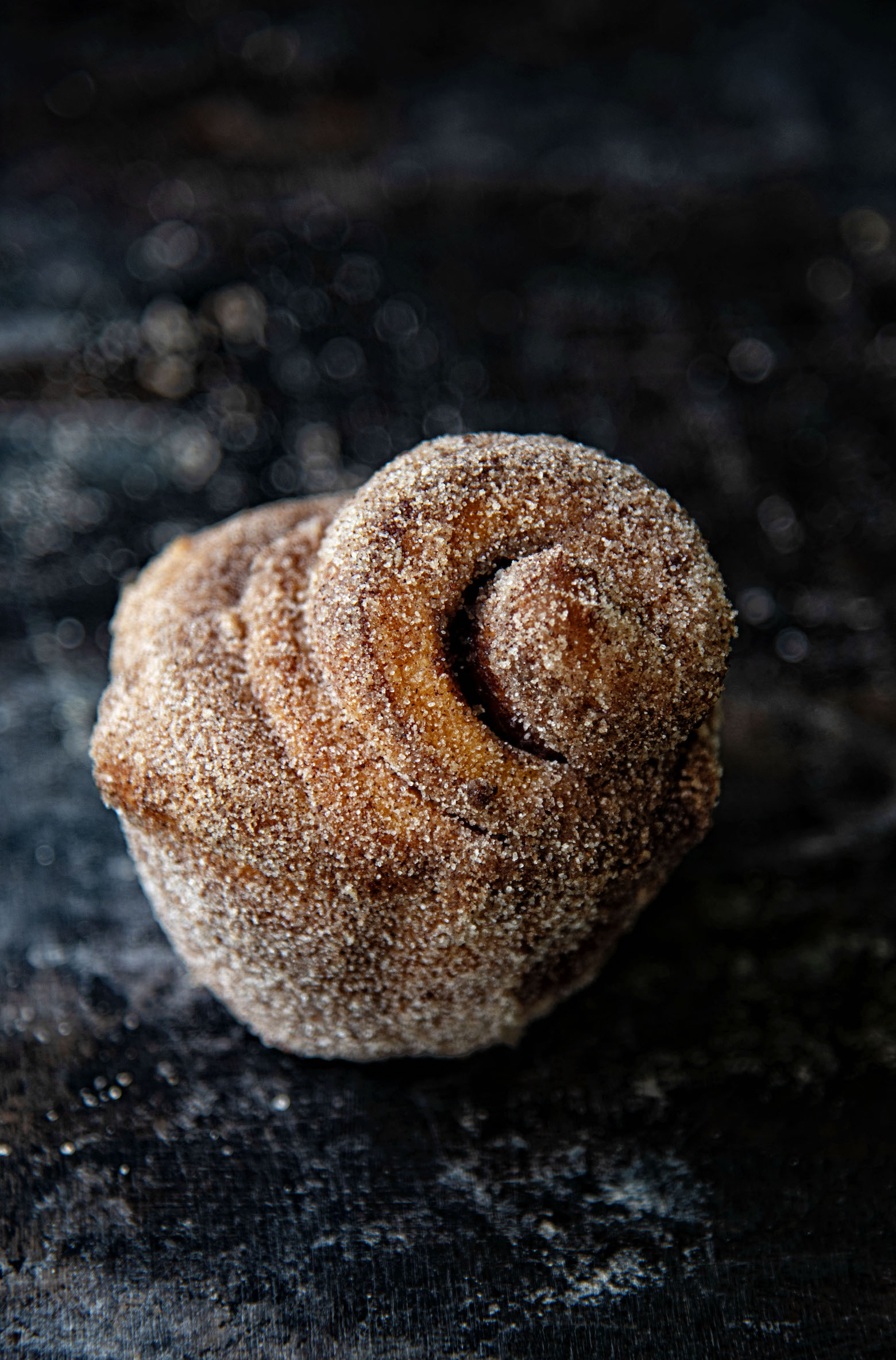 My husband has many fine qualities.
Many.
And one of those is that he watches The Great British Bake Off with me.
On purpose.
And most of the time he will watch the reruns on Netflix with me as well.
I like to watch the reruns while I bake or if I'm in a grumpy mood.
It's hard to be mad when Ian is baking.
Nadia is saying she would rather have another child than bake a chocolate souffle.
Or my absolute favorite when Matt bakes his tennis court.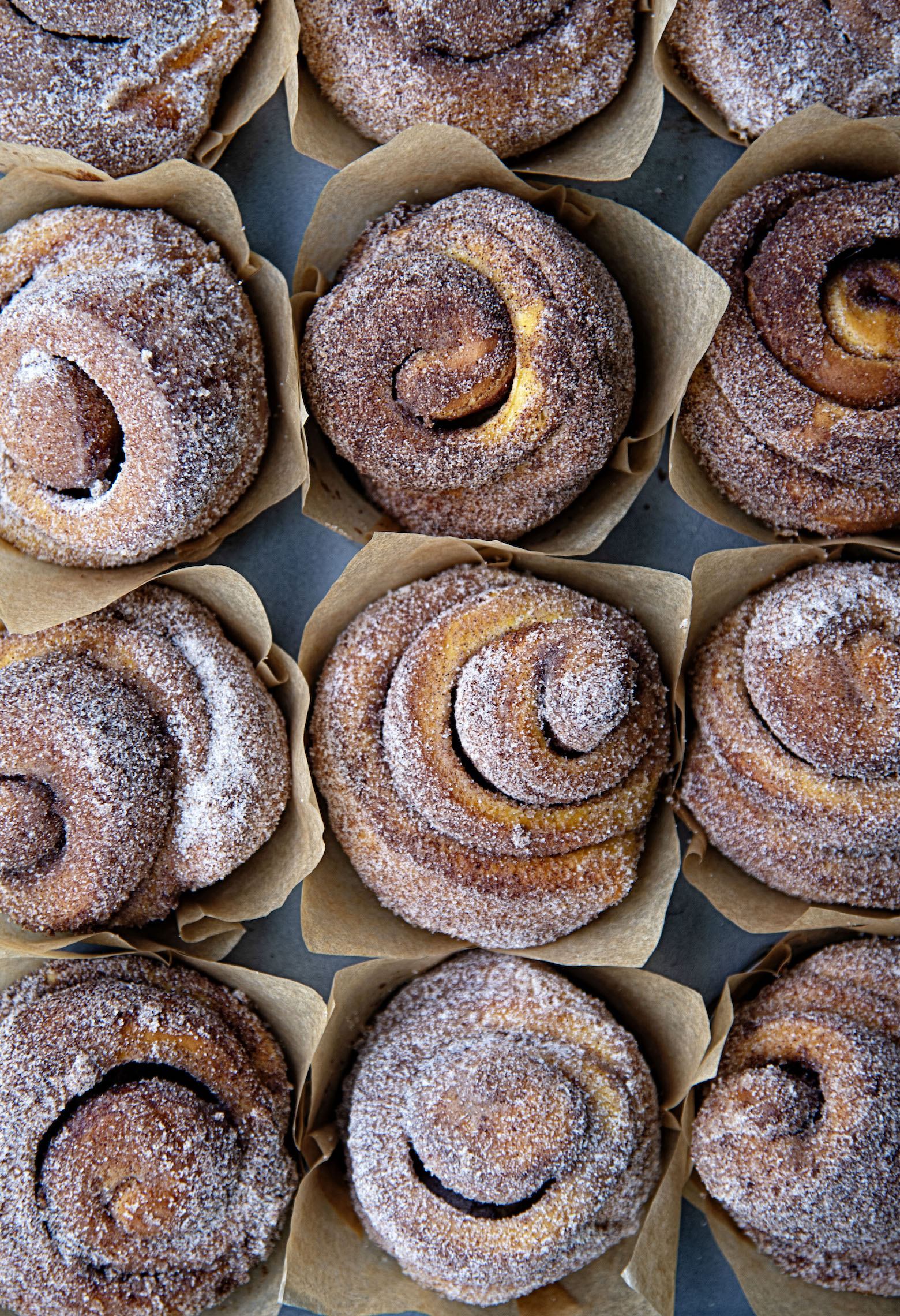 Just like me, my husband knows all the contestants.
And of course all the judges.
He has become his own Paul Hollywood in a sense.
Not mean by any means.
But I used to give him a piece of cake and he would eat it.
Now, you will see him taking his fork and checking the crumb before he eats it.
He loves to make comments about any and all bread I make though.
Hubby will look at the bread and say I think it's underproved.
And I'll smile and say why do you feel that.
He can't answer other than to just say I don't know I was just messing with you. 😀
You can find him poking at the inside to see if he thinks it's baked enough.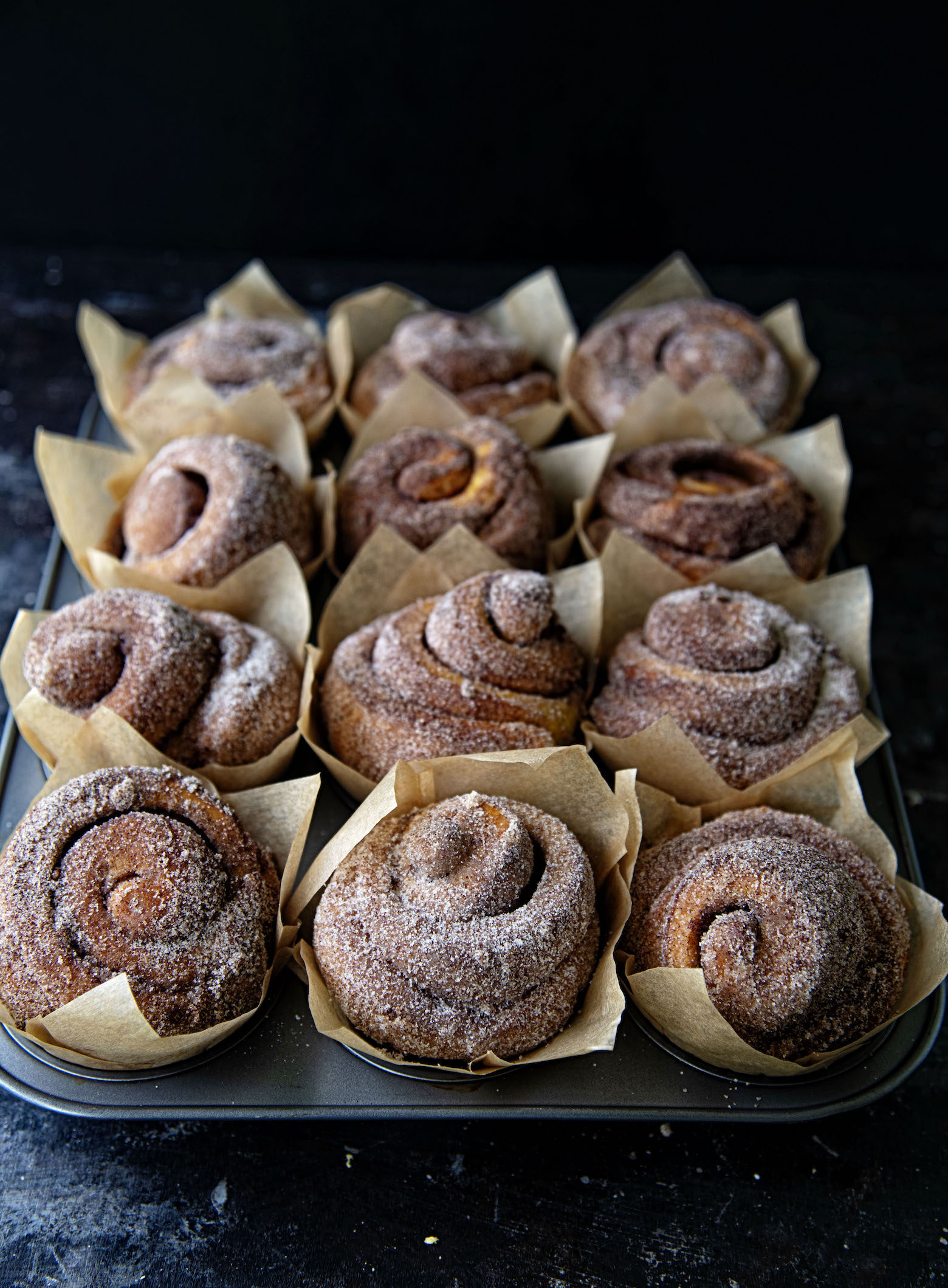 Even if it's raw he would most likely eat it.
The first "meal" I ever saw my husband eat at his house was a stale hamburger bun with mayo and a piece of Kraft American cheese slice.
Except air had hit part of the cheese and so the corner of it was hard.
He still ate it.
Which makes feeding him easy because you can put almost anything in front of him.
He does know at least that the crappy food he is eating is crappy. 😀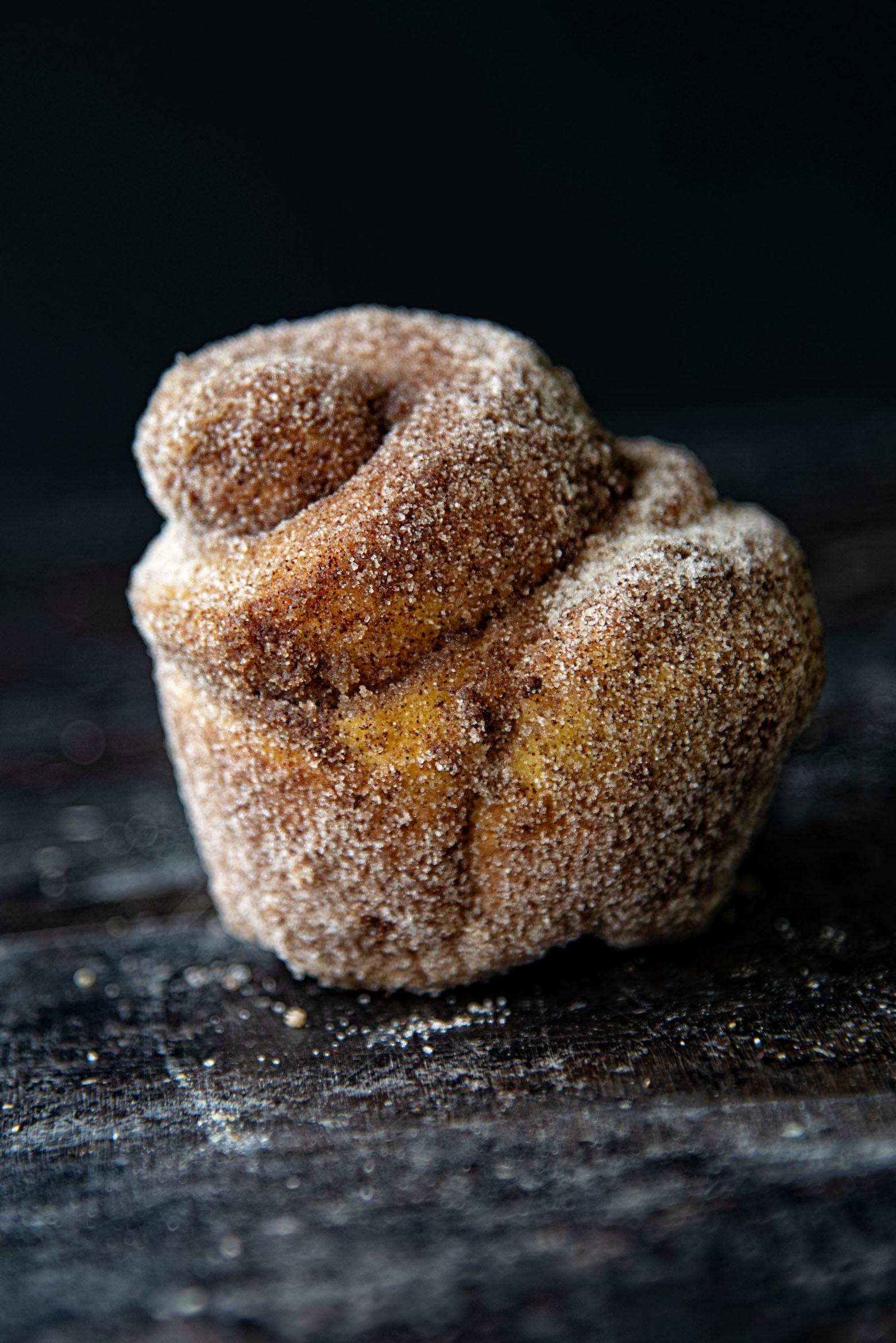 So when he came home yesterday and the buns were out he asked if he could have one.
Which in this household means…did you photograph these yet?
He is trained well to ask.
I had and so he ate one.
Then informed me that Paul Hollywood would be proud.
Probably earn me a handshake.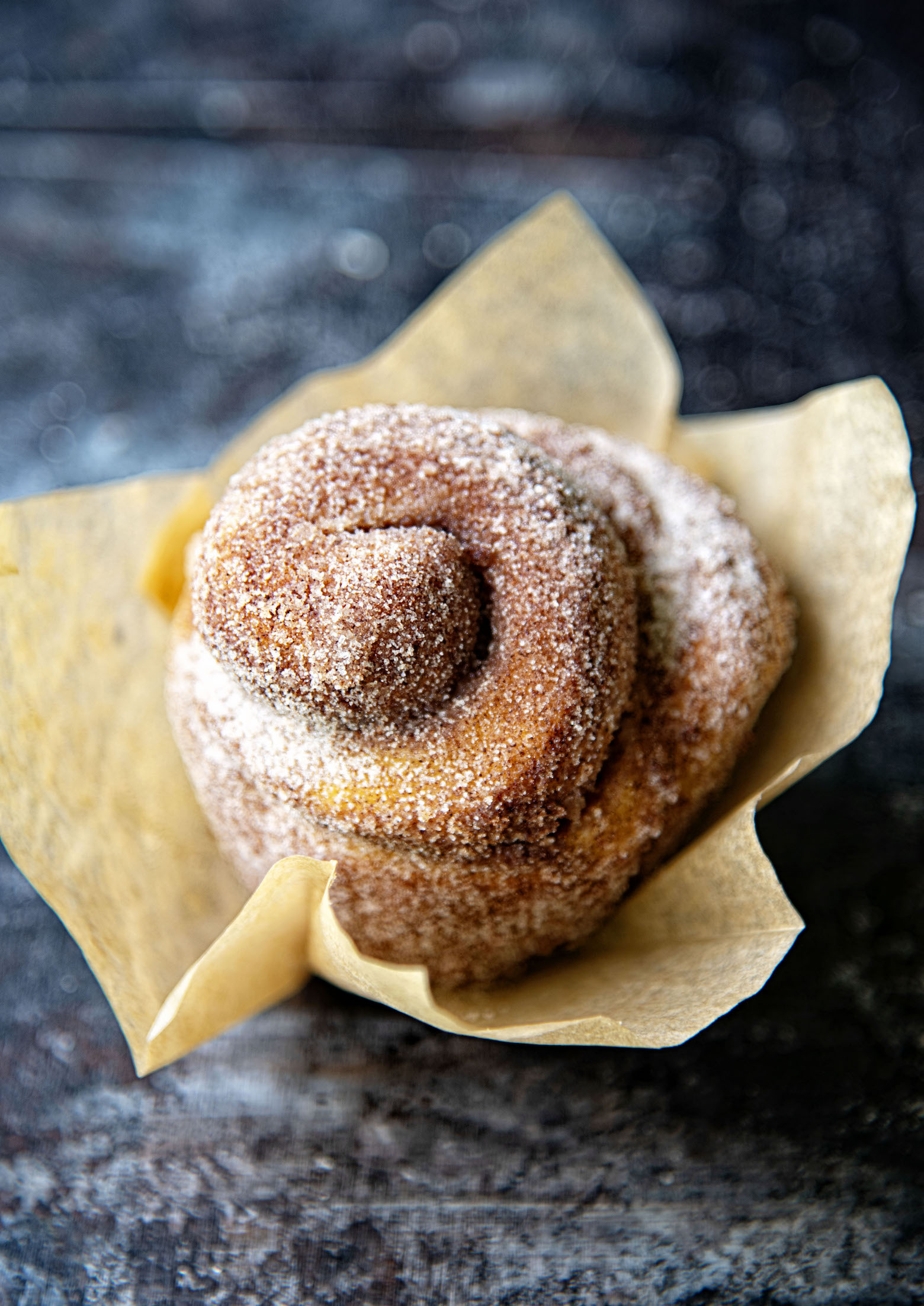 I say more than probably.
These are Brown Butter Cinnamon Sugar Pumpkin Brioche Buns for goodness sake.
They are pumpkin brioche that is rolled up with cinnamon sugar.
Then rolled, sliced, and baked.
After that they are dipped into brown butter.
And rolled in cinnamon sugar.
Yeah, they are awesome.
Totally worth a handshake.
P.S. It's a great day to buy my cookbook.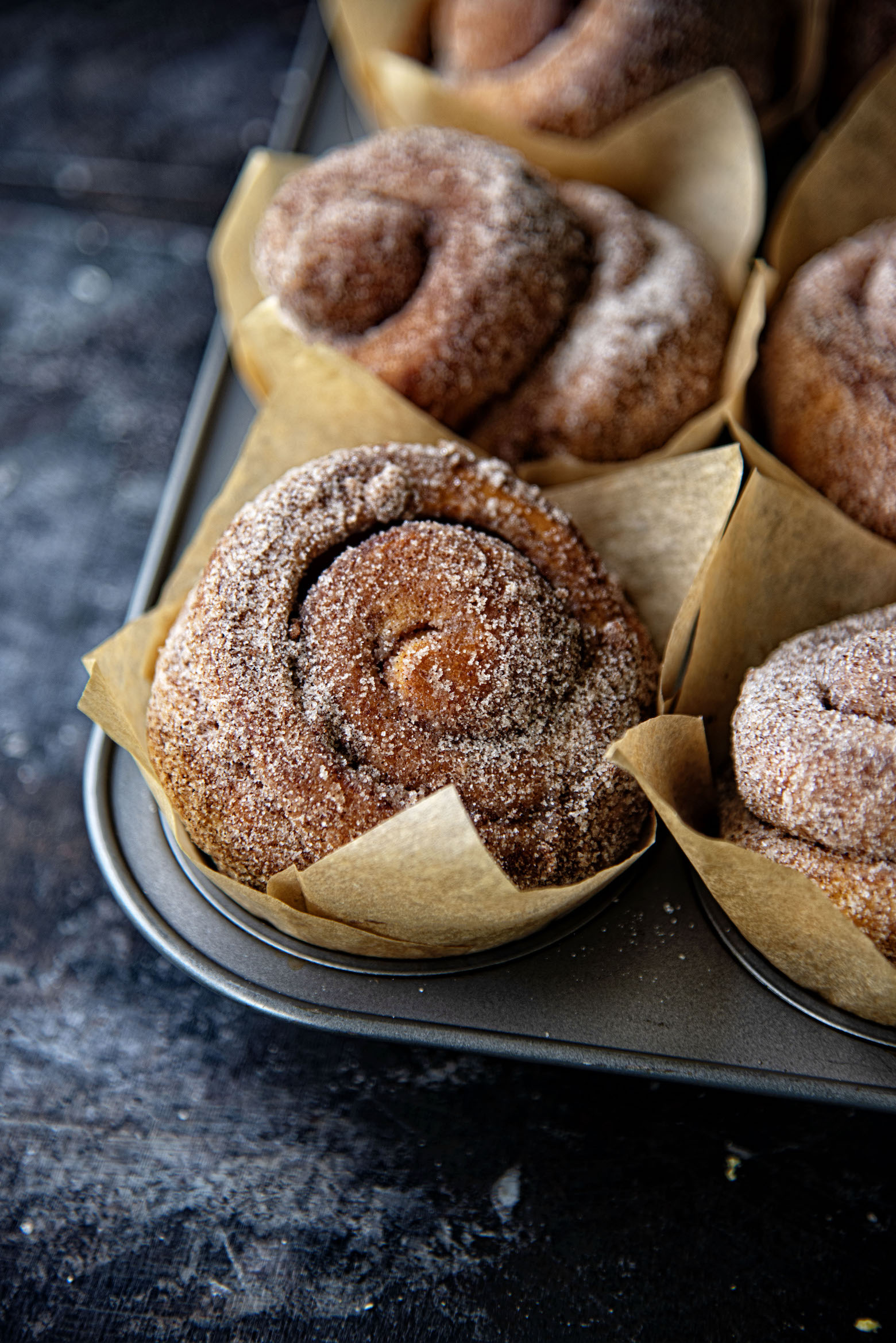 Want More Sweet Roll Recipes?
Bourbon Brown Sugar Caramel Peach Sweet Rolls
Salted Caramel Apple Sweet Rolls
Cinnamon Sugar Apple Babka Buns
Coconut Cream Pie Breakfast Buns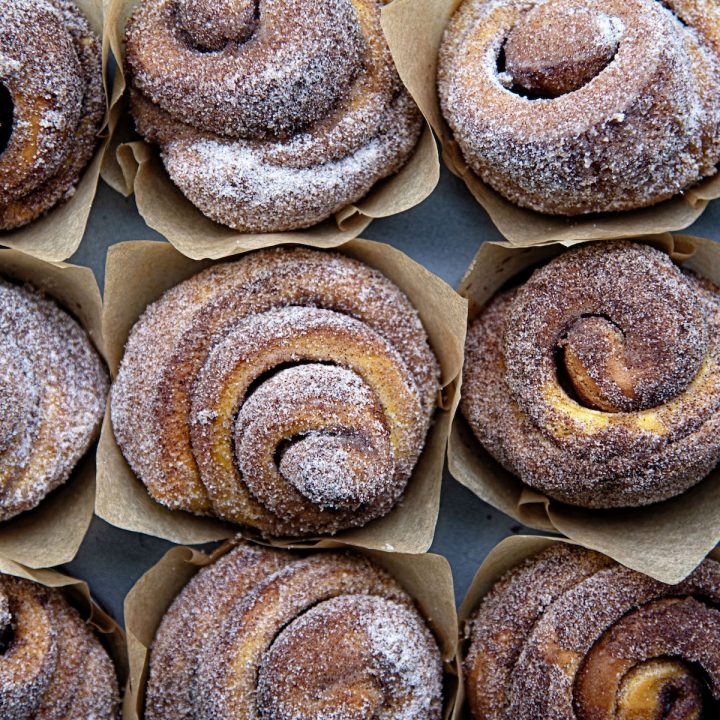 Brown Butter Cinnamon Sugar Pumpkin Brioche Buns
Ingredients
For the Sponge:
¼ cup whole milk, at room temperature
2 ½ tsp. active dry yeast (I used Red Star Yeast Platinum)
1 cup pumpkin puree
1/3 cup granulated sugar
1 cup bread flour
For the Dough:
5 cups bread flour
2 tsp. salt
6 large eggs, lightly beaten
8 ounces (1 cup) unsalted butter, at room temperature
For the Filling:
3 TBSP unsalted butter, melted
1 cup cinnamon sugar
For the Coating:
1 cup melted brown butter
2 cups cinnamon sugar
Instructions
Note that you will only use one HALF of this recipe for the buns.
For the Sponge:
Combine the milk and yeast in the bowl of a standing mixer fitted with a paddle attachment and whisk until the yeast is dissolved.
Let stand for 5 minutes, then stir in the pumpkin puree, sugar, and flour, forming a thick batter. Cover with plastic film and let rest in a warm environment until bubbles form, 30-40 minutes.
For the Dough:
Add the flour and salt to the sponge, then add the eggs.
Mix on low speed for 2 minutes, or until the eggs are absorbed.
Increase speed to medium and knead the dough for 5 minutes. The dough will begin to slap around. Hold on to the mixer when necessary.
On medium-low speed, add the butter, 2 TBSP at a time.
Stop the mixer and scrape down the sides of the bowl occasionally.(Recipe did not say to, but I switched to the dough hook at this point).
Knead until the dough is shiny and smooth, about 5 minutes.
Scrape out the dough, wash and dry the bowl, and coat it lightly with oil.
Place dough in the oiled bowl and turn it so that the top is coated with oil. Cover with plastic film and let rise at room temperature until doubled in volume, about 2 hours.
After the dough has doubled in volume, press down to deflate, folding one half into the other.
Cover with plastic film and refrigerate for at least 4 hours or overnight. This is the second rise.
Remove brioche dough (that has chilled overnight) from the fridge.
Turn the dough out onto a lightly floured surface. Using a rolling pin, roll it into a rectangle as thin as you can get it.
Use a pastry brush(or your hands if you like to get messy) to spread 3 TBSP of butter around the rolled out dough, leaving an 1-inch margin at the top edge with no butter.
Combine the cinnamon sugar. Sprinkle evenly over the butter, rubbing in with hands to make sure that it sticks
Sprinkle filling evenly over the surface, again leaving the 1-inch margin.
Starting from the long side closest to you, roll up the dough like a jellyroll.
Transfer the log to a baking sheet, cover with plastic wrap and freeze for 10 minutes.
This will make cutting the buns clean and even.
Remove from freezer, cut buns into 1 ½-inch pieces, you should get around 12.
Place them back onto a greased baking pan. Or if you want individual ones like photographed add cupcake liners to a standard muffin pan.
Wrap with plastic wrap and let rise at room temperature for 1 ½ to 2 hours. The cooler your house is the longer it will take.
Preheat the oven to 400F.
Bake buns for 10 minutes and reduce heat to 350F.
Bake for another 10-15 minutes depending on the size of your buns.
Brush or dip the cooled buns in melted brown butter and then roll around in cinnamon sugar.
Serve immediately or cover tightly with plastic wrap.
Will keep at room temperature for up to 2 days. You can also, freeze the baked buns and then thaw and roll around in butter and sugar when you're ready to serve and eat.