These Peach Amaretto Laminated Brioche Buns are made with a peach butter block, Amaretto peach jam, and glazed with an Amaretto peach glaze.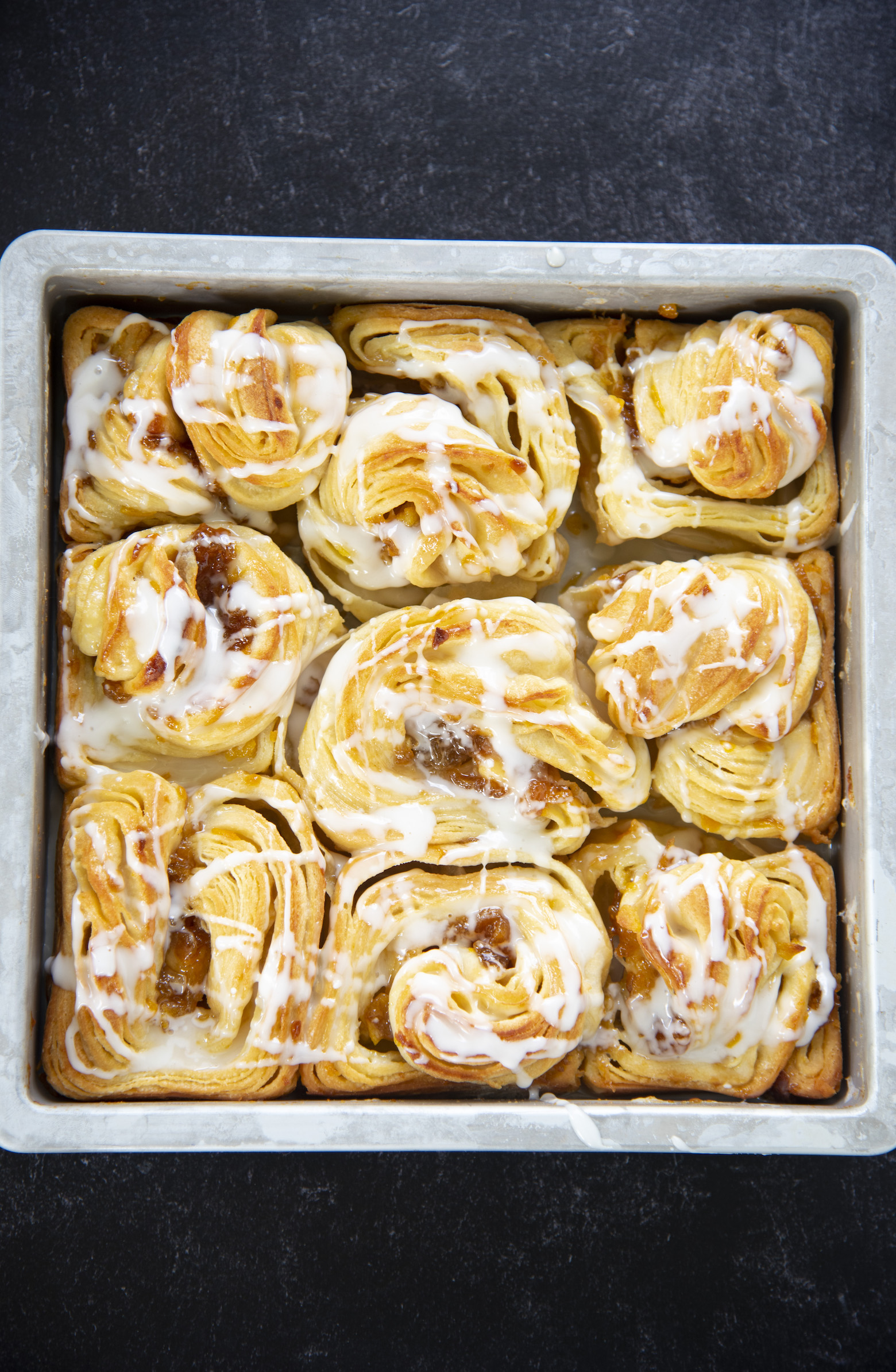 For as long as I can remember I have wanted two totally impractical kitchen items.
Which technically are so large that they would not fit into a kitchen because they are commercial size.
One is a soft serve ice cream machine.
The other is a Bench Dough Roller…you might know them as a dough sheeter.
Used in pizza places to roll out the dough and in bakeries to make croissants.
When I was first divorced I had a friend who worked for Starbucks offer one up for me.
Starbucks had tried soft serve in a few of its stores and didn't take off so they had these machines.
Living in an apartment I had no place for it.
I should have taken it and paid for storage because later one when I looked up what they would cost I kicked myself.
Both items are costly even used. I mean they are made for professional kitchens.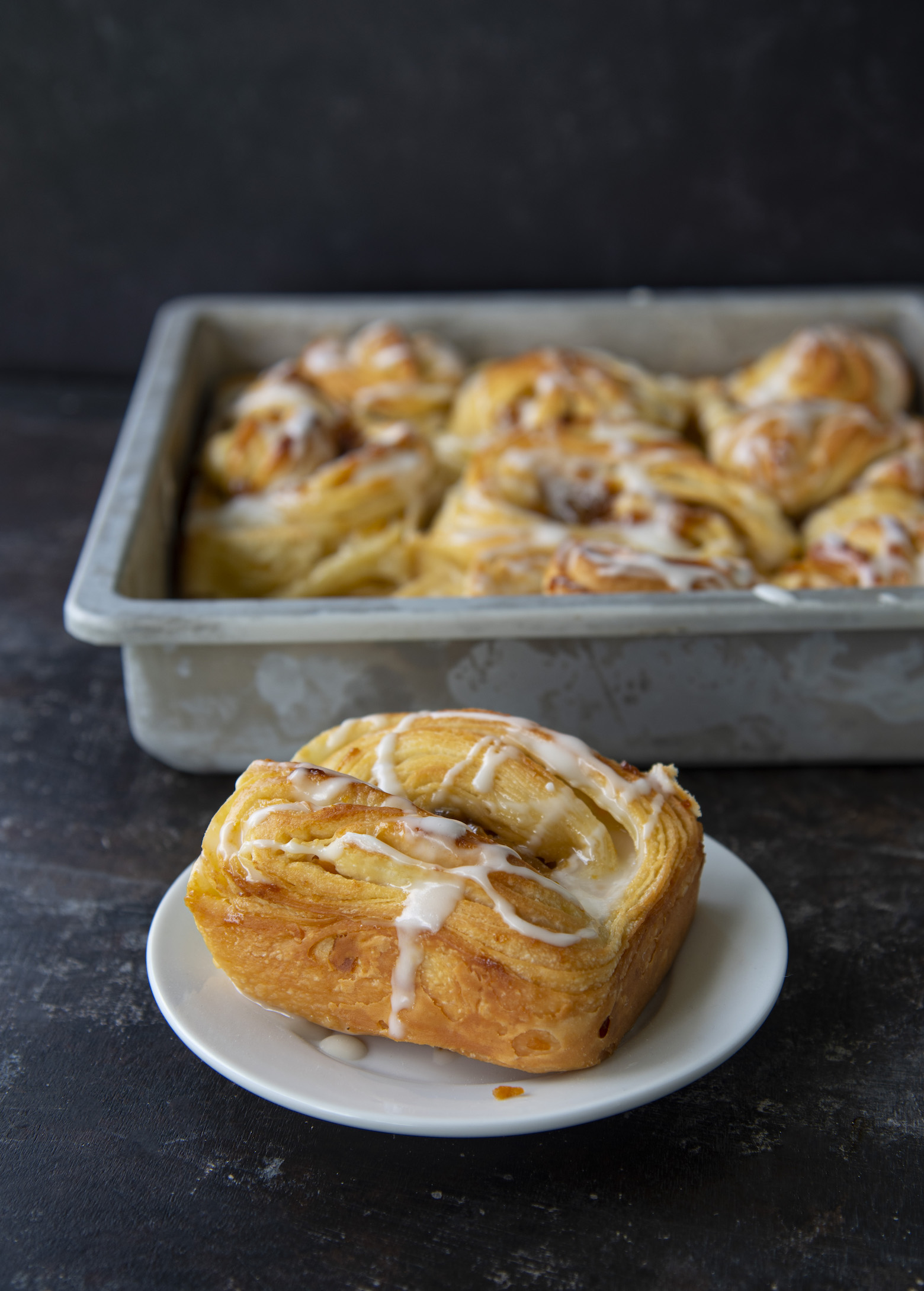 The great thing about commercial grade equipment is that it's built to last but also built to rebuild.
Since they do cost so much brand new most restaurants once making the initial investment don't want to keep buying a new one.
All the parts over the years are the same and so the parts are relatively cheap.
Which is why even used machines cost so much.
My husband and I look at Craigslist randomly over the years for both a soft serve and a dough sheeter.
Always the price is way too much for us and I continue to dream.
As I get older the desire for a dough sheeter gets more and more because I love to make laminated dough but my rheumatoid arthritis in my hands progresses and makes it hard.
Then a few weeks ago a dough sheeter popped up.
They claimed it was working.
Honestly even if it wasn't working the price was so cheap it would have been worth it to buy it and rebuild it (my husband is handy and can do those kinds of things).
We mulled around at the idea but I did not like the idea of buying a machine from someone going out of business because of all of this.
But I had my husband call the man and it turned out he was not going out of business.
He was in fact taking the time to remodel and just wanted it gone.
They also wanted to know if we wanted to buy a pizza oven as well (we did not but boy would that have been fun).
The price was WAY too good not to go look and so my husband did.
It is old. Well used. Still works.
And now I own Alvin (that's what I named him).
So you may be seeing many more laminated breads coming your way.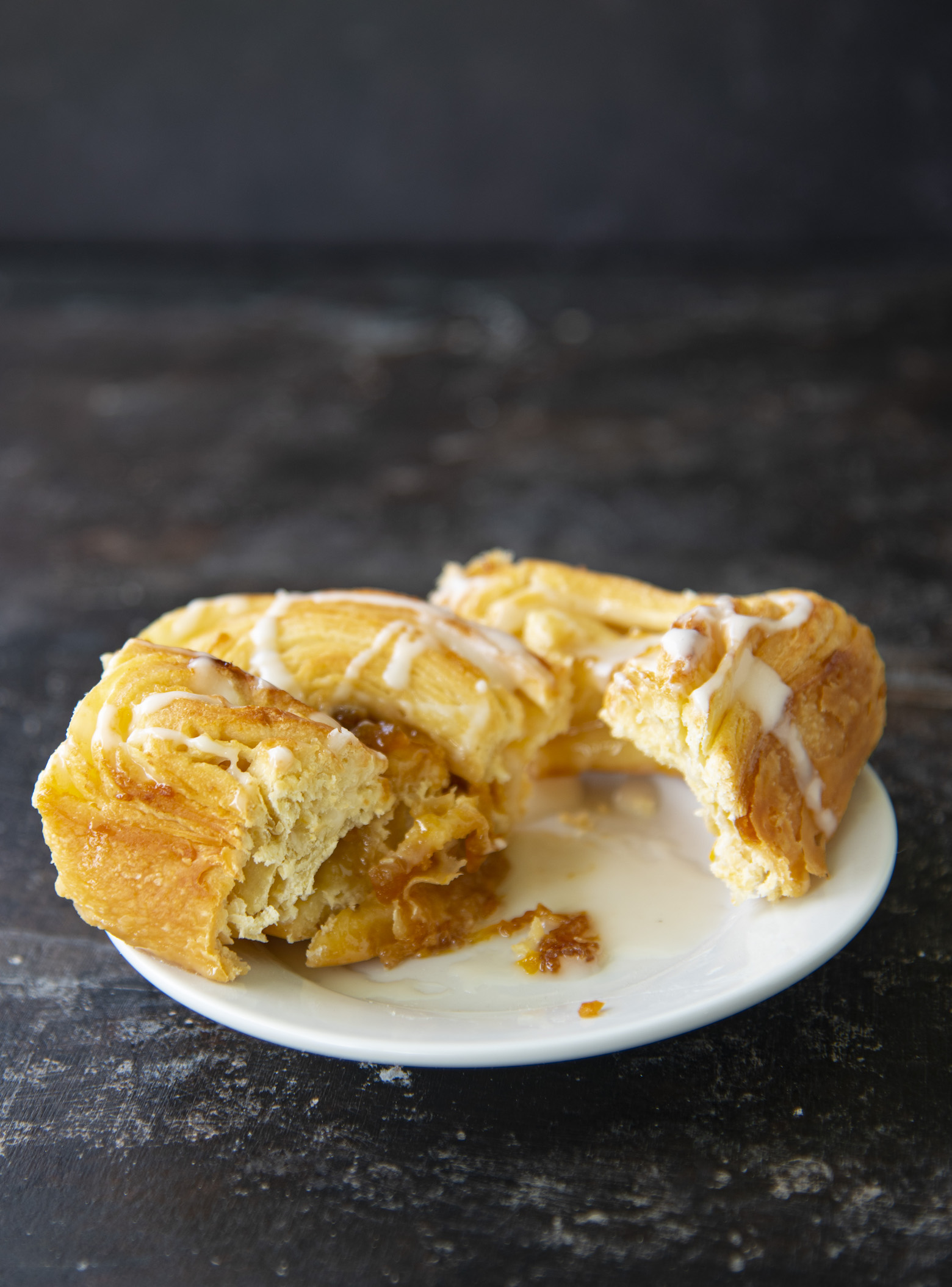 The day before Alvin came into our lives I had ironically made laminated dough.
I had played with the idea for years of adding freeze dried fruit to the butter block.
It's my new favorite thing to do.
These Peach Amaretto Laminated Brioche Rolls are the result.
Made some quick jam with lots of Amaretto in it. Rolled it up and baked it.
Then covered them in glaze.
And as always wash your hands and be sure to pre-order my cookbook.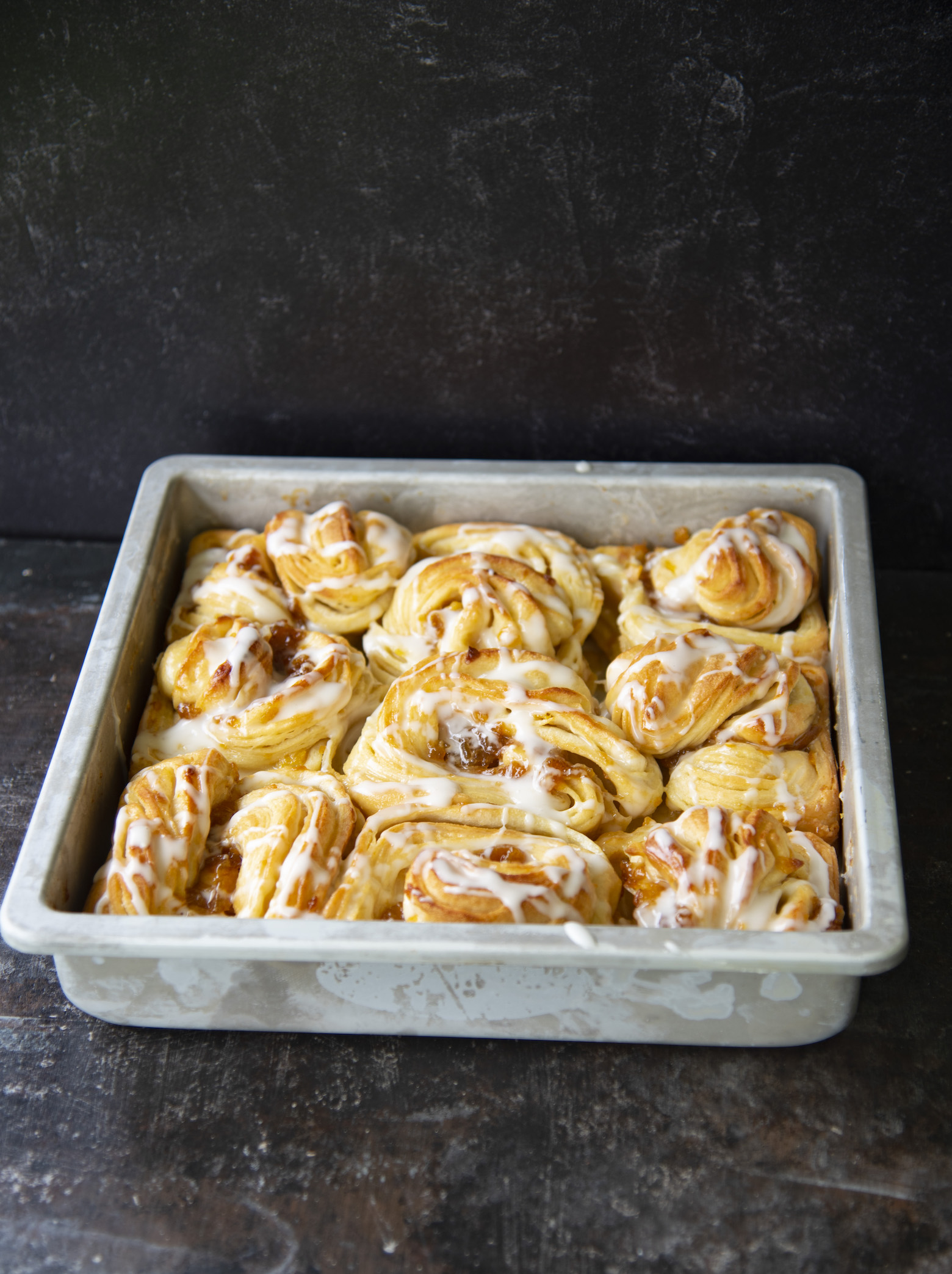 Want more Sweet Roll recipes?
Bourbon Butterscotch Sweet Rolls
Chocolate Clementine Sweet Rolls
Bourbon Brown Sugar Caramel Peach Sweet Rolls
Blackberry Laminated Brioche Brown Butter Crumb Rolls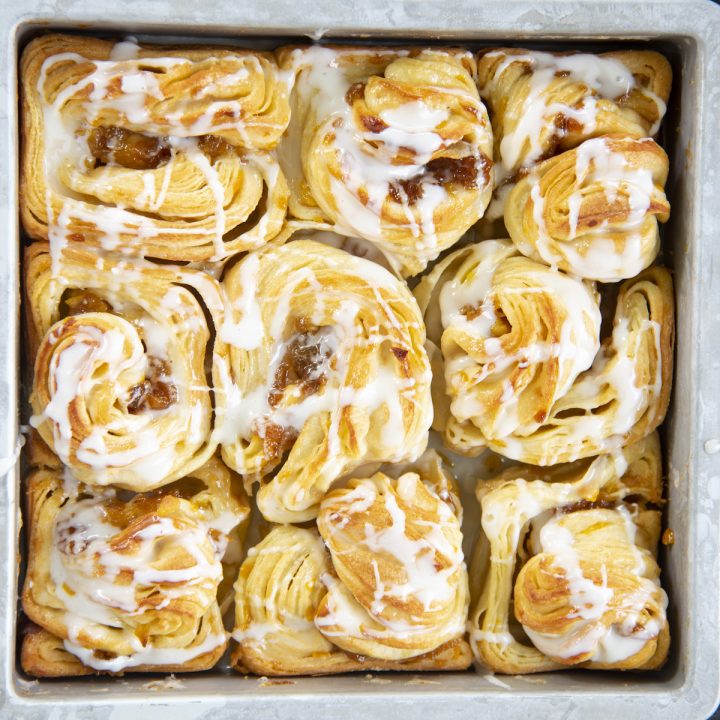 Peach Amaretto Laminated Brioche Buns
Ingredients
For the Sponge:

1/3 cup whole milk

2 tsp. Red Star® Platinum Superior Baking Yeast®

2 ½ TBSP granulated sugar

1/3 cup bread flour

For the Dough:

3 cups bread flour

1 ½ tsp. salt

4 large eggs

6 oz. cold unsalted butter

For the Butter block:

1 pound cold unsalted butter

Filling:
1 1/2 cups fresh or frozen peaches, diced and crushed
2 cups granulated sugar
1/3 cup Amaretto liqueur
For the 
Egg wash:

1 large egg

1 egg yolk
For the Glaze:

2 cups powdered sugar
¼ cup Amaretto
2 TBSP peach juice (or you can use the peach jam left over)
Instructions
For the Sponge:
Using the bowl of a stand mixer add the milk and yeast. Whisk until yeast dissolves.
Add the flour and the sugar.
Mix until it forms a thick batter.
Cover with plastic wrap and let rest at room temperature for about 1 hour, or until bubbles form.
For the Dough:
Add flour and salt to the sponge.
Mix on low speed using the dough hook attachment.
Add eggs and mix on low until just incorporated.
Knead the dough for 5 minutes.
Add the butter 2 TBSP at a time.
Knead until the dough is shiny and smooth and no butter is visible.
Place the dough into a lightly oiled bowl. Cover with plastic wrap and let rise for 2 hours or until dough doubles in volume.
Punch down the dough and cover again with plastic wrap and let rise for another 45-60 minutes.
Transfer dough to a lightly floured surface.
Roll out dough into a 18-x-13-inch rectangle.
For the Butter Block:
Cream together the butter and freeze dried peaches using a stand mixer with the paddle attachment.
For the butter into a thin sheet of butter measuring 12-x-13 inches.
Wrap in plastic wrap and place in fridge for 10 minutes (no more).
Lay the butter block over the center and right thirds of the rectangle in an even layer.
Fold the left edge of the dough to the right, covering half of the butter. Fold the right third of the rectangle over the center third, like a business
letter.
Place dough on a baking sheet and cover. Place in fridge for 30 minutes.
Remove from fridge and place lengthwise on a lightly floured surface. The open ends should be to your right and left.
Roll out the dough into another 18-x-13-inch rectangle.
Again, fold the left edge of the dough to the right, covering half of the butter. Fold the right third of the rectangle over the center third. No butter is added this time. Only the first.
Place back on baking sheet, cover, and chill for another 30 minutes.
Repeat the process one more time for a total of three turns.
Wrap in plastic wrap and place in fridge overnight. You can also freeze it at this point for up to one month.
For the Peach Amaretto Jam:
In a large deep skillet, add peaches, sugar, and 2 TBSP of the Amaretto.
Bring to a rolling boil, stirring often.
Once boiling, add the remaining Amaretto and cook until it thickens, about 10 minutes.
For the rolls:
One last time roll out the dough on a lightly floured surface into a 18-x-13-inch rectangle.
Brush the melted butter using a pastry brush over the surface of the dough.
Spread about a cup of jam over the dough covering all but 1 inch at the top edge of the rectangle.
Starting at the long edge closest to you, begin to roll up the rectangle like a jellyroll. Roll tightly at first, then ease up and push the dough into a log.
Using a serrated knife, cut the log crosswise every 1 ½ inches, creating 12 spiraled buns (you only see 9 in the photo because of the pan size...the other 3 were in a mini pan so my husband and I could eat them right away).
Place buns 2 inches apart, cut side up, on a prepared baking sheet (lined with parchment).
Cover loosely with plastic wrap.
Proof at room temperature for about 45 minutes.
Preheat oven to 400F.
Whisk together the egg and egg yolk.
Using a pastry brush, lightly coat each bun with egg wash.
Bake for 10 minutes at 400F.
Then turn down to 350F.
Bake another 10-15 minutes more or until the buns are golden brown.
You will see a lot of butter bubbling away…don't worry…it will soak back into the pastry. And that makes it oh so good.
Glaze:
Add the ingredients together in a medium bowl and whisk until combined.
If too thick add more milk. If too thin add a little more powdered sugar.
Drizzle over buns.