This Bourbon Brown Butter Chocolate Chip Cake is full of chocolate and then baked and topped with a sugary, rich brown butter and bourbon glaze.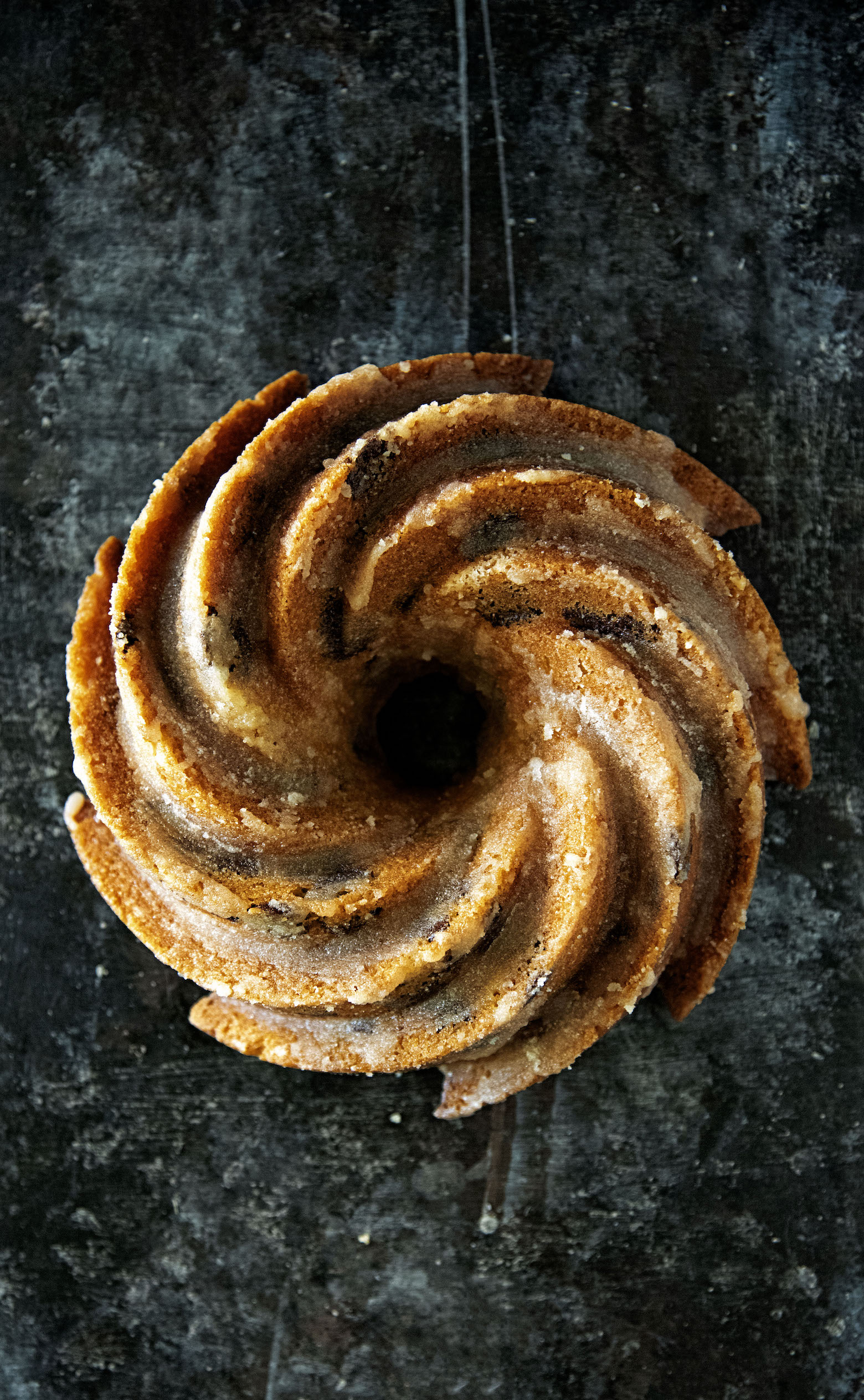 We may be in the high 80's but I'm beyond ready for fall.
I've been eyeing all the cute fall coats popping up in my inbox and buying up all the Fall Baking issues the supermarkets put out on the rack.
I'm ready even if the summer is not.
So I'm transitioning to fall foods.
Without trying to drag the apples and pumpkin into the mix yet.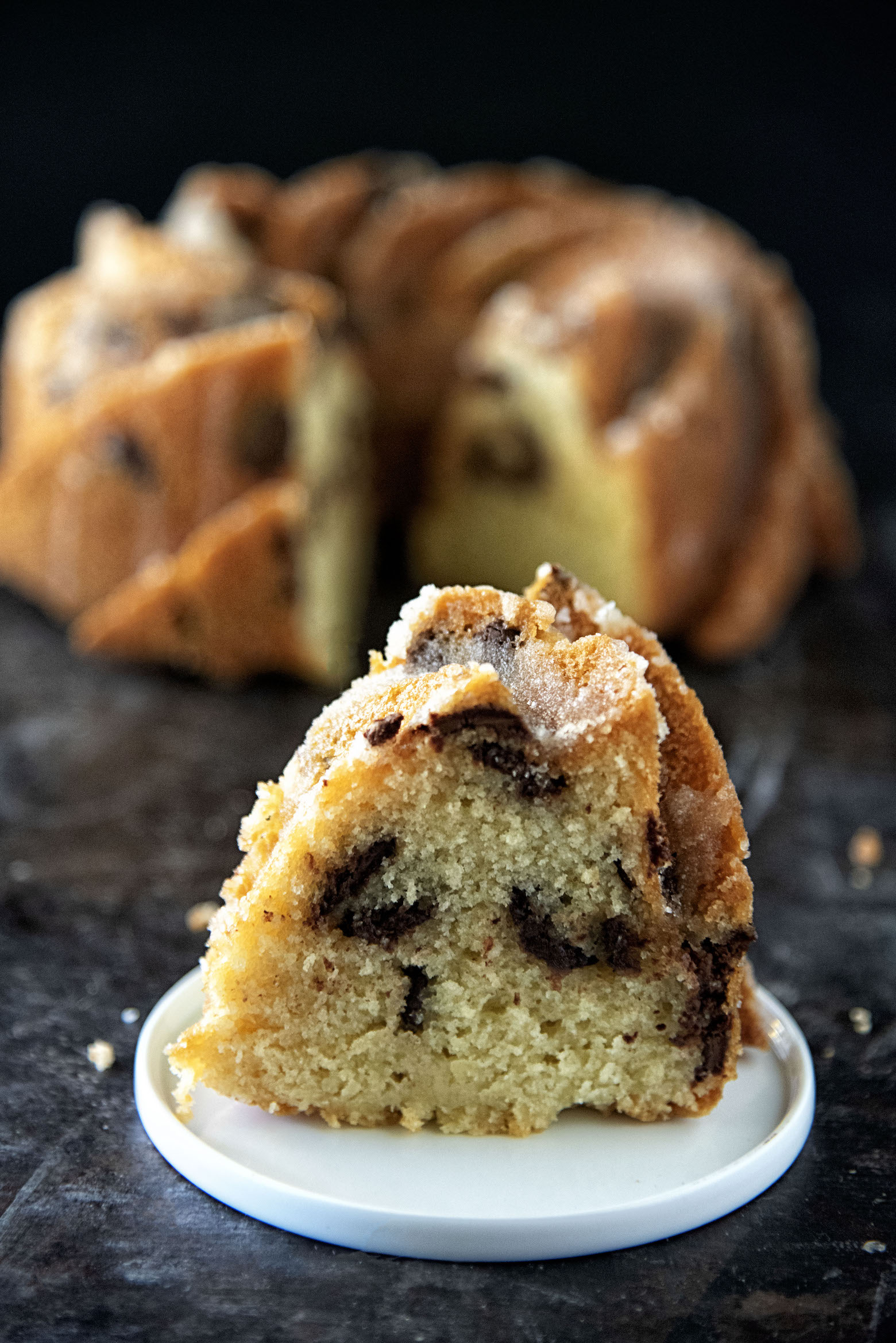 I'm not sure how browned butter became a fall winter thing.
Perhaps because it makes things more rich and have more depth and in summer we want things light.
Nice and light because it's hot and miserable in the summer. 🙂
I will admit that Bundt cakes are not the best choice for summer.
They do take at least an hour to bake and so that means your oven is on for at least an hour.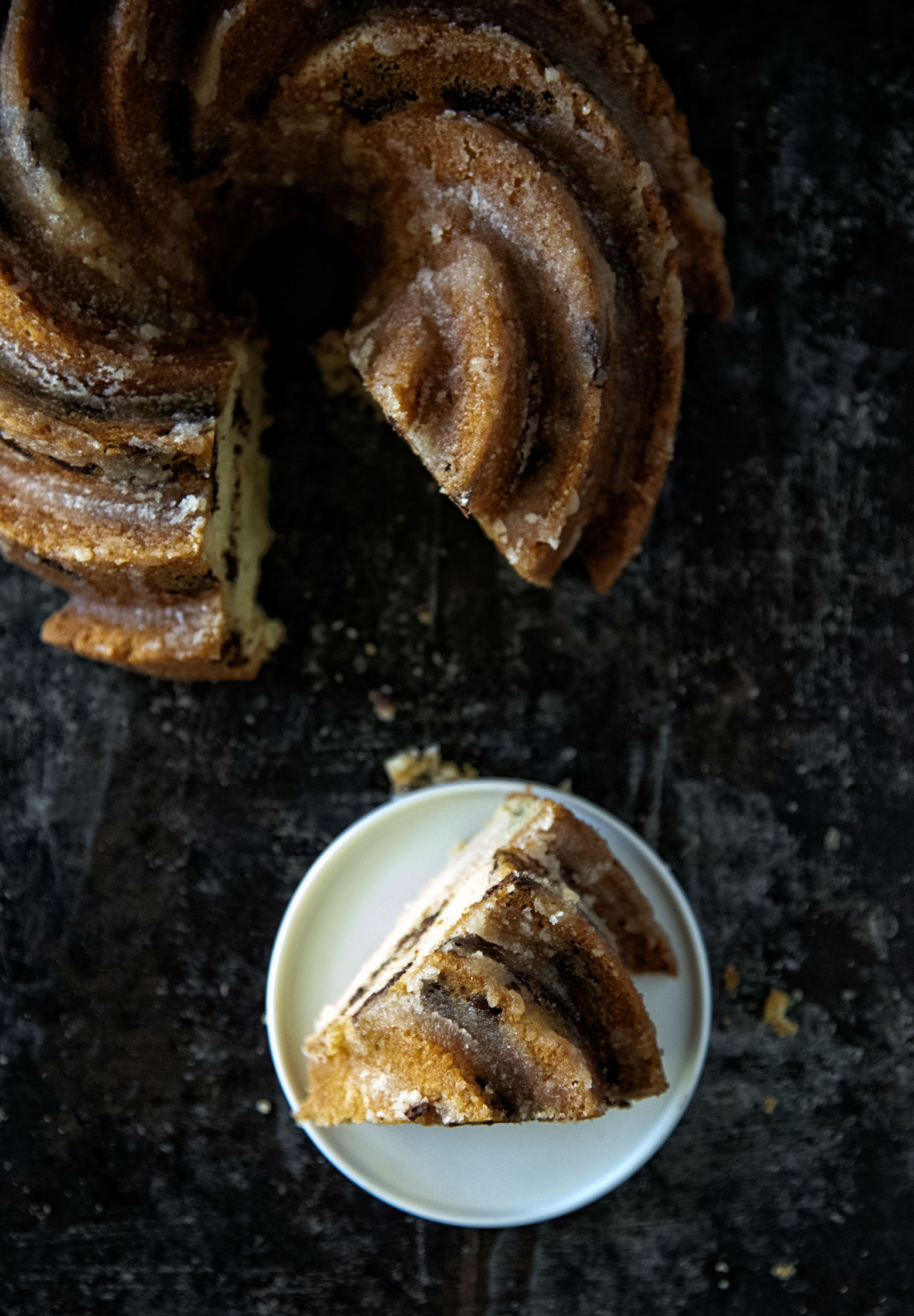 But that's why baking at 3am was invented. 🙂
No, really.
Bakeries open early to give people their pastries and what not to start the day but it came out of necessity due to baking being too hot in the days of summer.
So celebrate history by baking cake in the middle of the night and early morning.
This Bourbon Brown Butter Chocolate Chip Cake is rather straightforward.
My chocolate chips in this cake are really chocolate baking discs.
I don't suggest using that size…it's just all I had.
While luckily I followed my own tips and the cake did not stick…I was afraid it would with the giant chocolate pieces.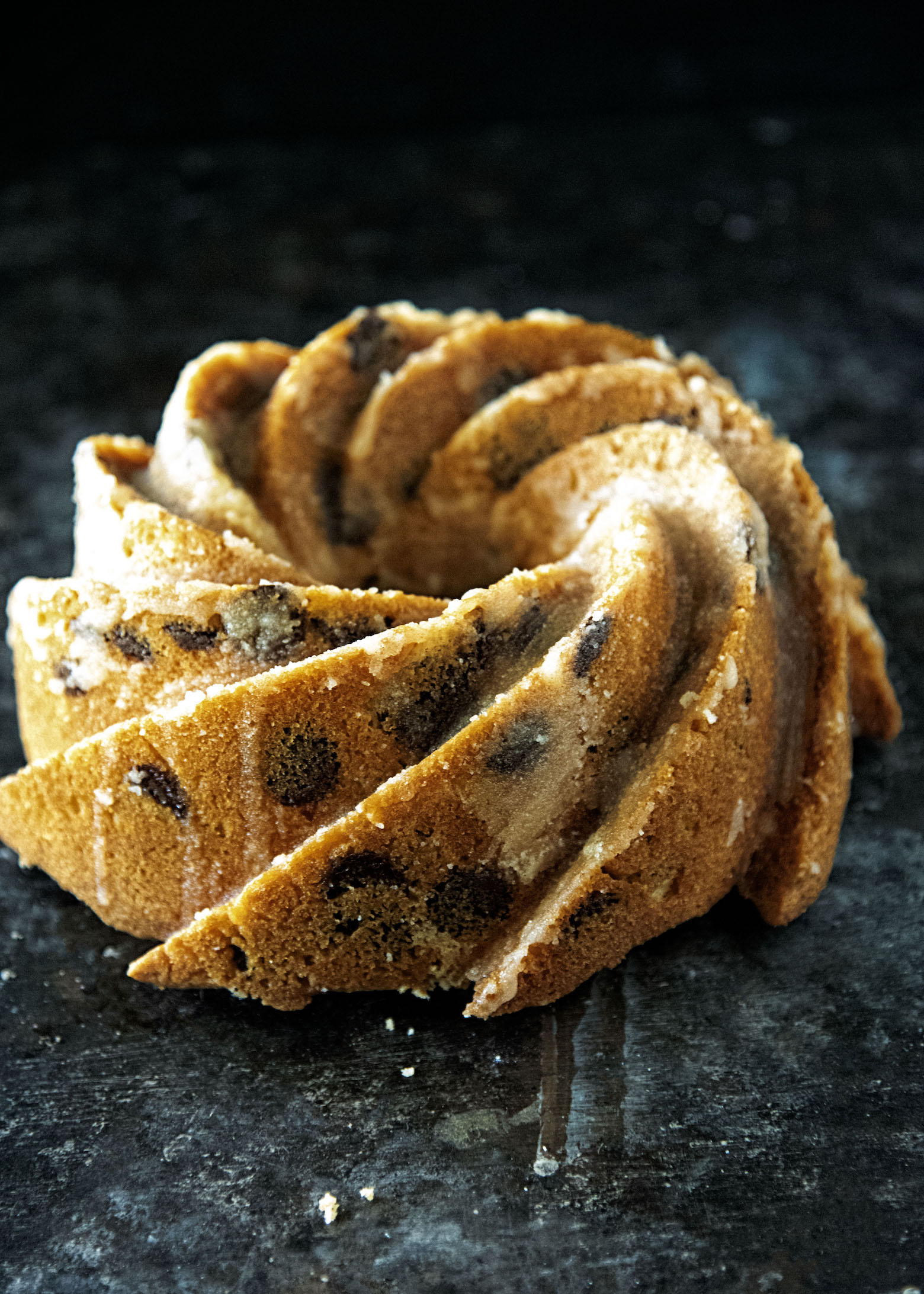 Tips For Getting Your Bundt Cake Not To Stick
Use a non-stick pan.
If you have never purchased a Nordic Ware Bundt pan I highly suggest you do, that's the brand I tend to buy the most and they are non-stick.
Use either baking spray or melted shortening.
Do NOT use butter. What? No butter. Why not?
Because the milk solids in the butter can cause your batter to stick.
Use a Pastry Brush.
If you have an intricate pan it's best to use a pastry brush to really get the baking spray or shortening in there.
Add the Baking Spray right before the batter goes in.
Do not do it early and let is sit on the counter.
Loosen the Edges.
Loosen the edges around the cake while it is still warm.
Let cake rest for a few minutes.
Especially if you have a more fragile cake such as one that was made with cake flour.
Help it a little.
If you flip your cake over and it doesn't come out right away, gently tap the top and sides of the pan.
And if all else fails.
Cake failed? Then you are left with broken cake then break out the trifle dish and layer the cake pieces with some fruit and whipped cream.
Last but not least…it's a great time to order my cookbook. 😀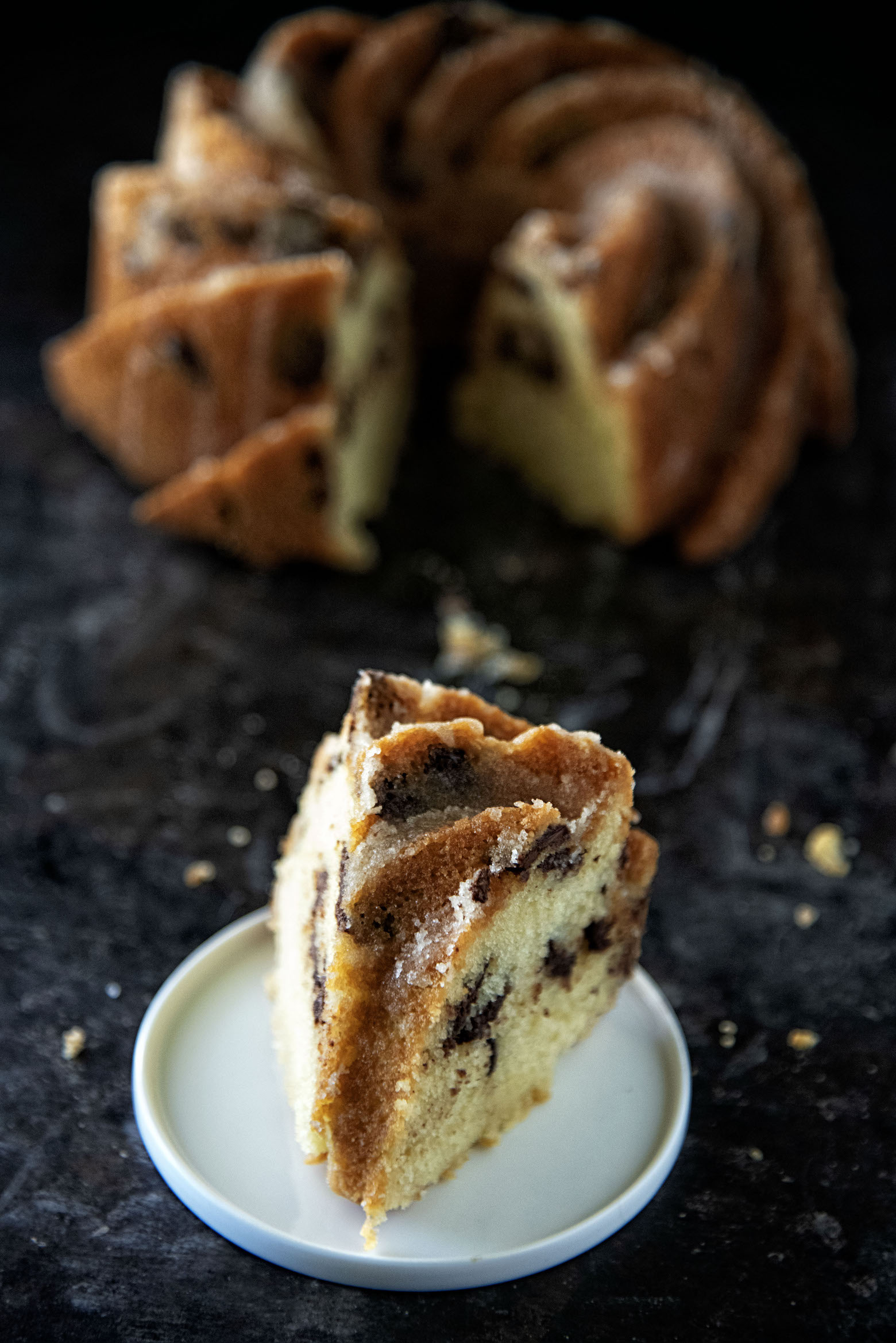 Want more recipes? Try these:
Caramel Rum Pina Colada Bundt Cake
Bourbon Glazed Orange Nutmeg Pound Cake
Vanilla Cognac Buttermilk Pound Cake
Bourbon Brown Sugar Pound Cake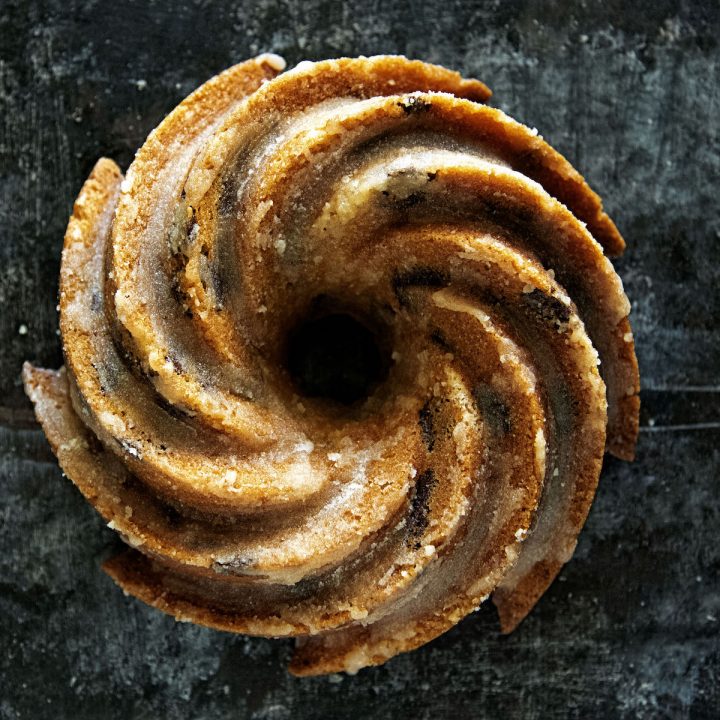 Bourbon Brown Butter Chocolate Chip Cake
Ingredients
For the Cake:
1 cup, unsalted butter at room temperature
2 cups granulated sugar
4 large eggs
3 cups all-purpose flour
1½ teaspoons kosher salt
1 teaspoon baking powder
½ teaspoon baking soda
½ teaspoon ground nutmeg
1 TBSP bourbon
1 tsp. vanilla extract
1 cup whole buttermilk
2 tsp. vanilla extract
1 1/2 cups milk chocolate chips
For the Glaze:
2 TBSP unsalted butter
6 TBSP granulated sugar
1 TBSP Bourbon
Instructions
For the Cake:
Preheat oven to 325°.
Spray a 10-cup Bundt pan with baking spray with flour.
In a large bowl, beat 1 cup unsalted butter and 2 cups sugar with a mixer at medium speed until fluffy, 3 to 4 minutes, stopping to scrape sides of bowl.
Add eggs, one at a time, beating just until combined after each addition.
In another large bowl, whisk together flour, salt, baking powder, baking soda, and nutmeg.
In a small bowl, stir together buttermilk, vanilla, and bourbon.
With mixer on low speed, gradually add flour mixture to butter mixture alternately with buttermilk mixture, beginning and ending with flour mixture, beating just until combined after each addition.
Fold in the chocolate chips.
Pour batter into prepared pan.
Bake until a wooden pick inserted near center comes out clean, 60 to minutes. Let cool for 15 minutes; invert onto a serving plate.
For the Glaze:
In a small saucepan, melt remaining butter over medium-low heat.
Cook until butter is light brown, about 12 minutes.
Add 1 TBSP Bourbon and 6 TBSP sugar and bring to a simmer.
Cook, stirring frequently, until sugar is dissolved, about 1 minute.
Pour glaze over warm cake.
Let cool completely until sugar has crystalized, about 1 hour.