This Creamy Tomato Spinach Orzo Soup is hearty and full of veggies and can be made to be either Vegan or Vegetarian, your choice.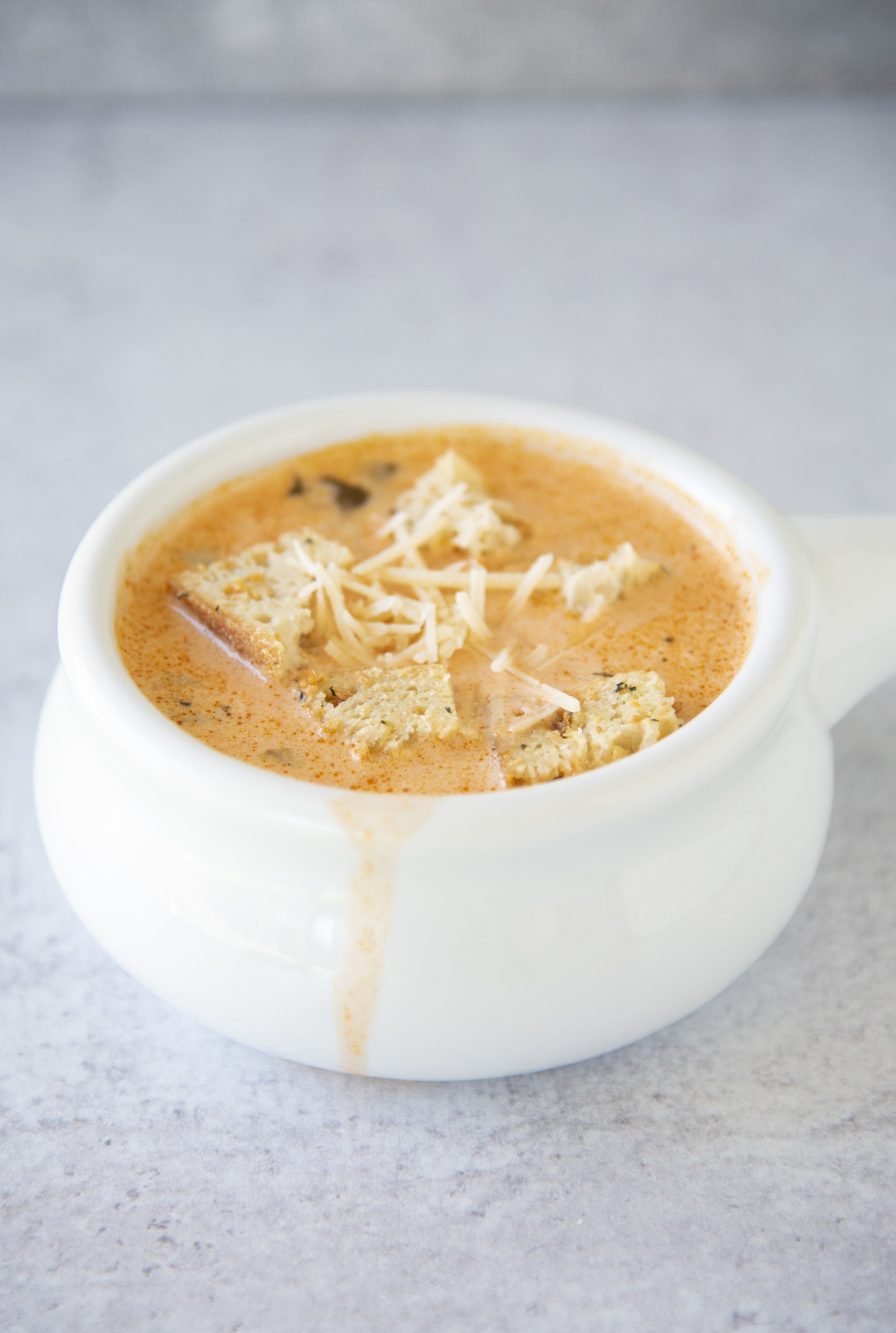 "That Escalated Quickly"-Ron Burgundy
And boy has it. It's St. Patrick's Day and no bars will be open in our state.
I have a feeling there will be a lot of drinking though.
Last night was the first night I was truly sleepless over all of this.
Our state tightened up measures yesterday to try and get ahead of things.
Seattle area health workers are already overwhelmed.
I have friends who have been told to self quarantine because they most likely have it but can't be tested because we don't have enough tests. So it's the right decision.
It's just hard on a lot of people who got laid off this past week.
I saw quite a few bloggers post that they won't be putting up new content.
That they don't want to overburden the system by buying up food to test for recipes.
And I get that.
But my blog isn't a business to me.
The IRS says so but it's not, at least not a viable one :P.
Baking isn't a business to me.
It's my therapy, always has been.
I blog to connect with others and I think in these times of isolation connection is important more than ever.
Heck, even my cookbook was just a tribute to the people in my life in print form because my mom doesn't ever go on a computer. 😀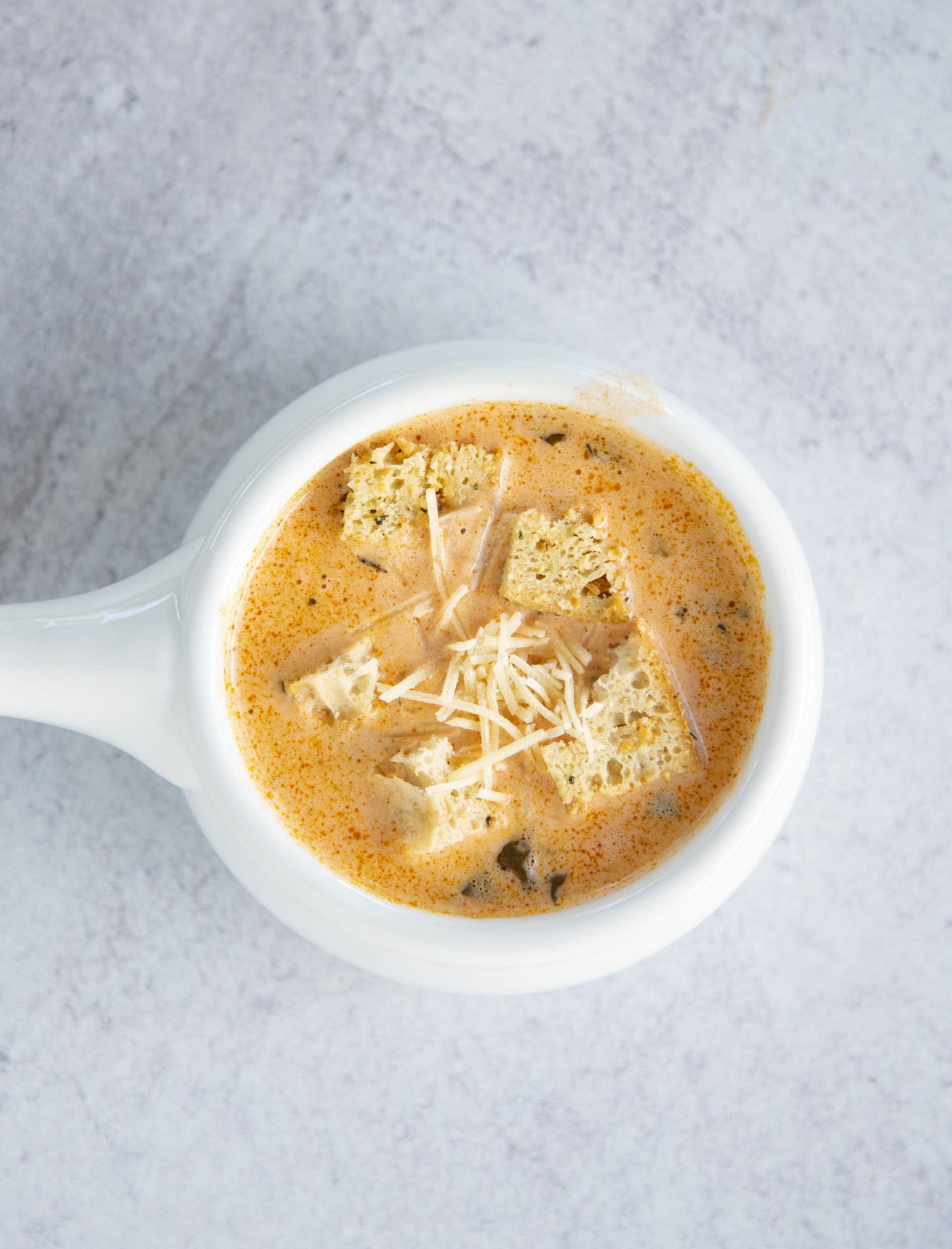 So I need to bake and cook to stay sane. And fed.
Expect a lot of carbs.
They are comforting to me.
Expect a lot of soups and casseroles because again, comforting to me.
This soup as you see it is in Vegetarian form but it could easily be made vegan.
This Creamy Tomato Spinach Orzo Soup is a tomato based soup because tomato soup was my go to childhood soup.
Actually tomato rice soup.
Hence the orzo.
It reminds me of childhood.
So make some soup.
Gather up your pets if you have them and love on them.
Binge watch Law and Order SVU (our current binge rewatch…dang there are a lot of seasons).
Be patient with each other, wash your hands, and stay at home as much as you can.
Know that I will be around if you want to stress eat with someone virtually.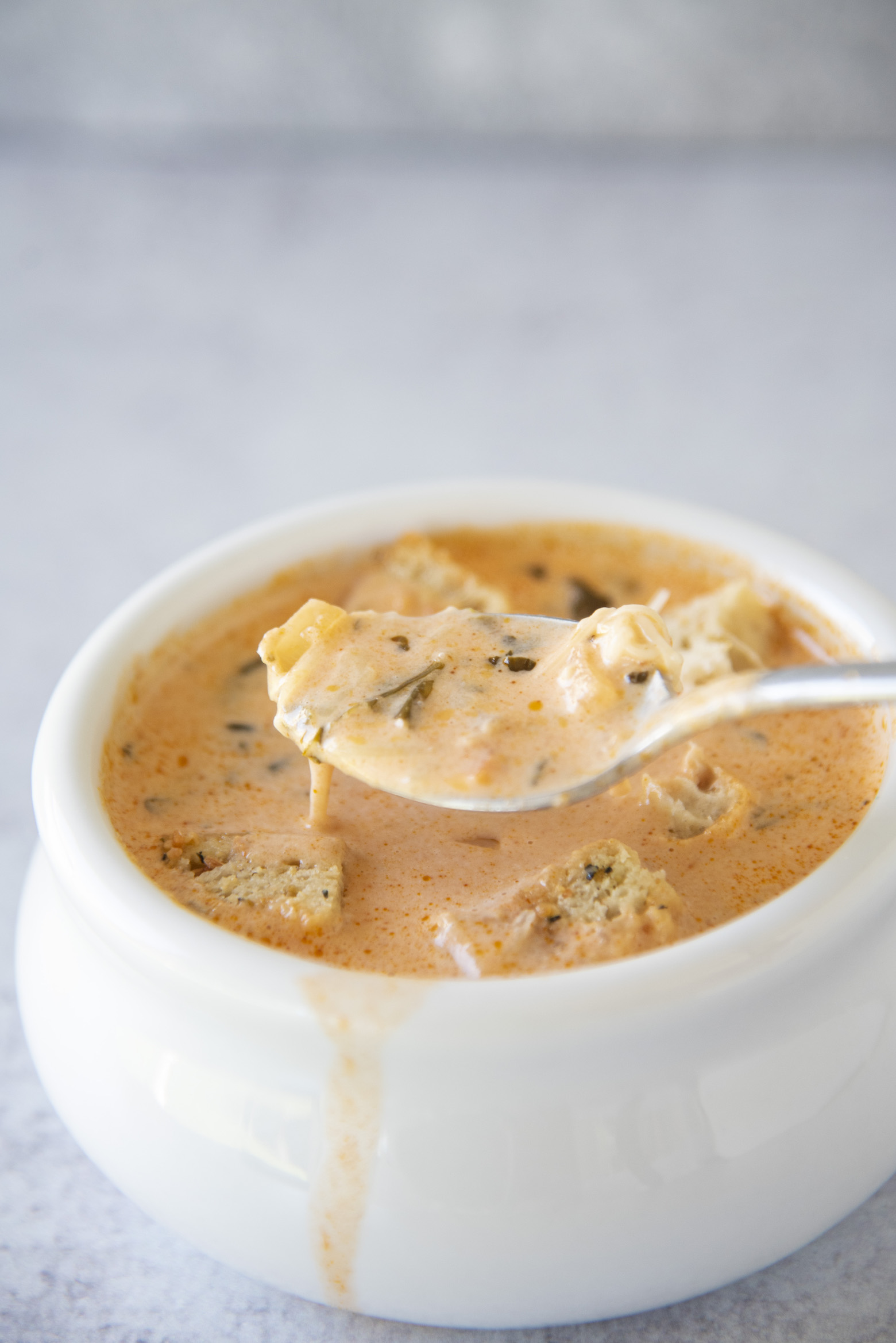 Want More Soup Recipes?
Dill Pickle Cheddar Cheese Soup
Roasted Garlic Chili White Bean Soup
Smoked Bacon Corn Cheese Chowder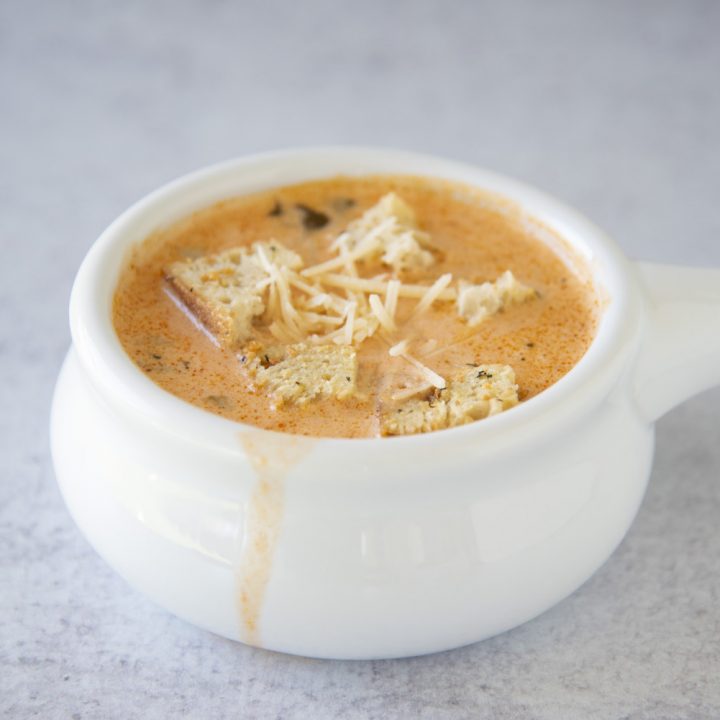 Creamy Tomato Spinach Orzo Soup
Instructions
In a stock pot add the ghee, onions, and celery.
Cook the veggies over medium heat until the onions and celery become translucent, about 5-6 minutes.
Add the carrots and cook for about ten minutes.
Add the garlic and cook another minute.
Add in the spinach.
Add the chicken-less stock and canned tomatoes and bring to a boil, once you have reached a boil, reduce heat to a simmer and let simmer for about 20 minutes.
Add the orzo and bring back to a boil. Cook for 5 minutes.
Add the heavy cream and Parmesan cheese, simmer until the soup is evenly warmed.
Add salt and pepper to taste.