This Gingerbread Sugar Plum Layer Cake is made with gingerbread layers, sugar plum jam, and sugar plum Swiss meringue buttercream.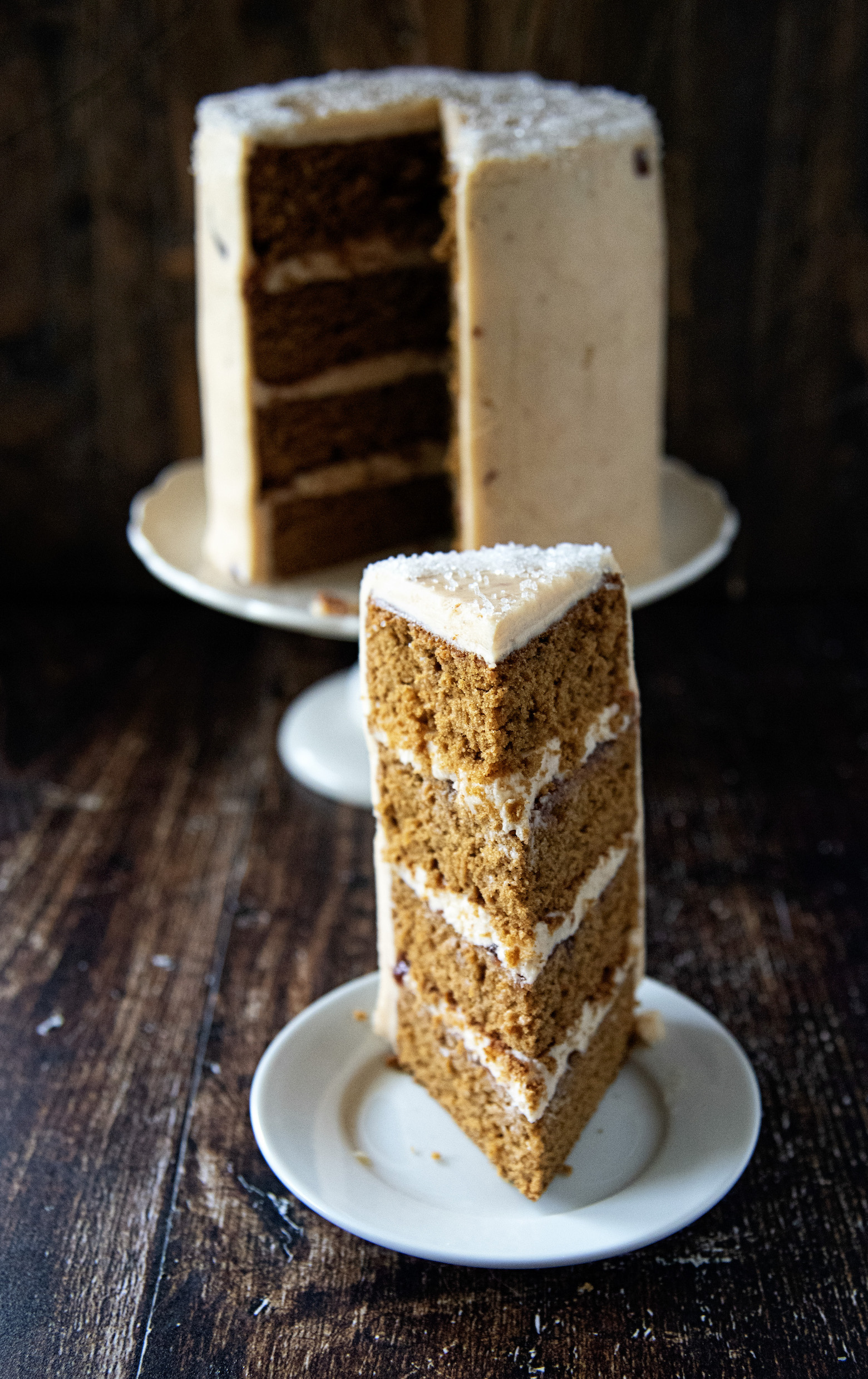 If you are not on Twitter let me just tell you that you are probably a happier person. 🙂
Twitter is the land of extremes.
I fully admit that I am the most extreme on Twitter as well.
It's pretty much the only place I talk politics on.
And because I'm a moderate I'm equally hated on Twitter.
Twitter also is the land of boycotts.
Every day I log on and see what I'm supposed to be boycotting.
Yesterday it was the Hallmark Channel.
Apparently the wedding registry company Zola had ads on the channel.
In one of those ads a lesbian couple kisses at the end.
An organization that's a little on the extreme side took offense to the commercials and demanded them to be pulled.
And Hallmark caved and took them down.
The general consensus is that it's almost 2020 and Hallmark should get with the times.
Which they should but have you watched Hallmark Christmas movies?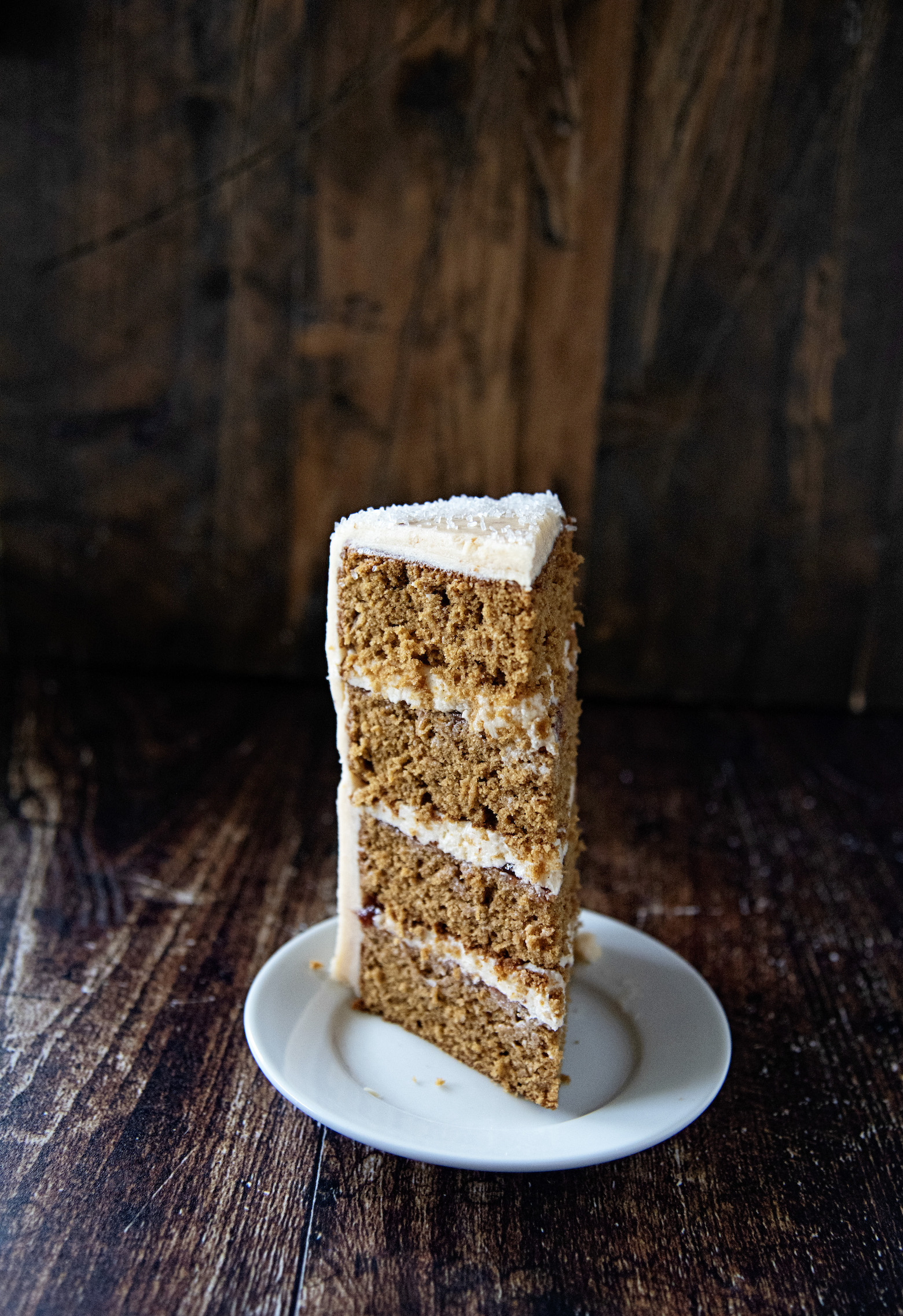 Hallmark is about 20 years behind on everything.
Up until recently even though the movies were romance the characters didn't kiss until the end of the movie.
Which is usually only one kiss.
And it's a glorified peck.
But lately there has been some middle of the movie kissing with multiple kissing. Progress. 🙂
Recently Hallmark has also discovered that there are more shades of skin tone than just white. Progress. 🙂
In a good portion of their movies someone is always a widow.
Because divorce is messy and you don't want to have to deal with the reality of that.
But this year there was a movie where the dad had his kids at some Christmas camp because he wasn't getting them for actual Christmas due to the…divorce. Progress :).
Interestingly enough there is a lot of cheating on the Hallmark Channel.
Almost everyone seems to have a fiance but falls for another person.
While it's emotional cheating with the rare accidental kiss that still counts as cheating.
But it's always played off as okay because they found their soulmate.
So my guess is based on how quickly Hallmark keeps up with the times you will be seeing same sex marriage on there in about 20 years.
What does this have to do with cake?
Nothing. As usual. 🙂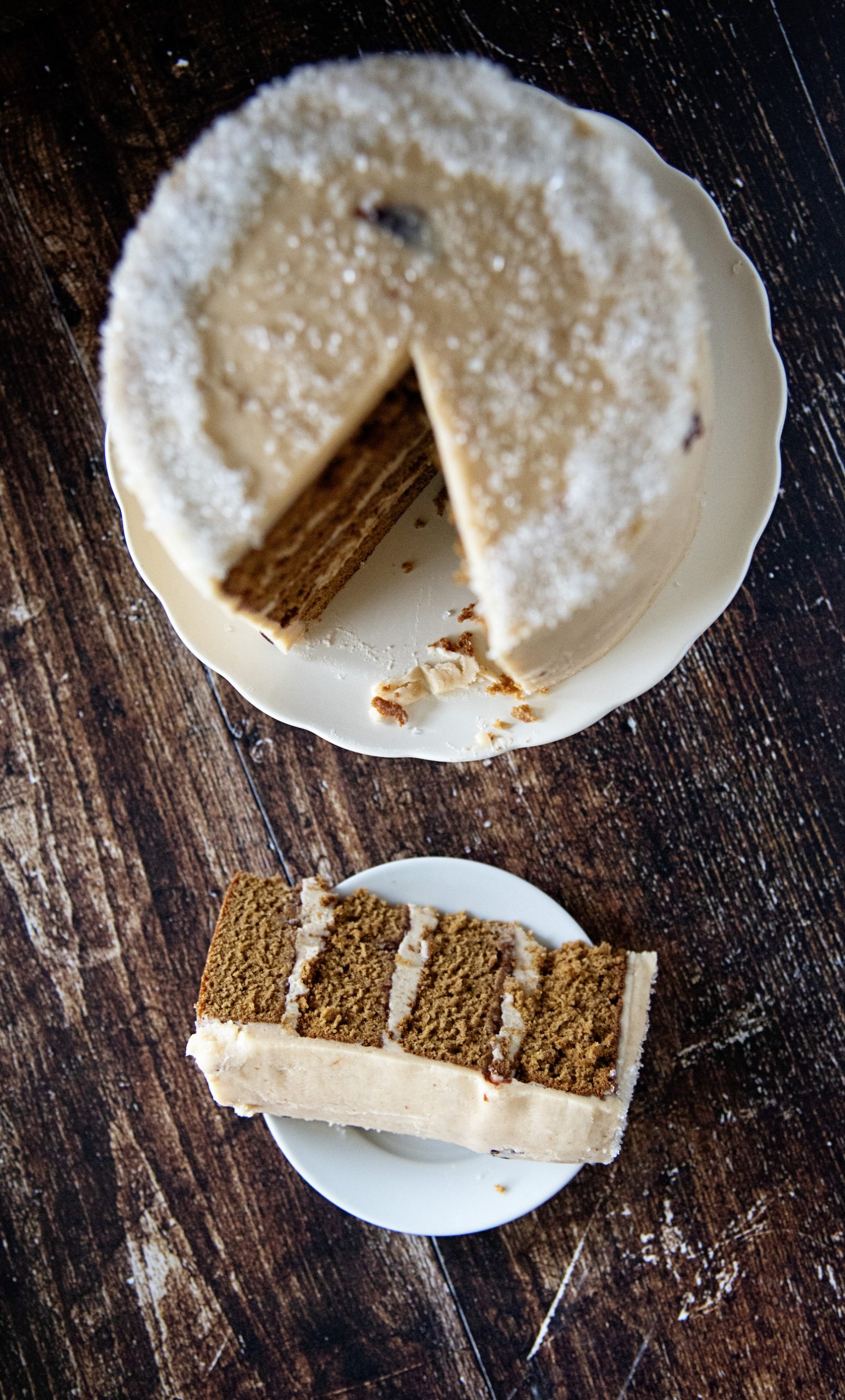 This cake is a tribute to my old neighbor.
She used to make a simple gingerbread cake that had plum jam and whipped cream on top.
I took that idea and made it my own.
This Gingerbread Sugar Plum Layer Cake has layers of gingerbread cake.
Then filled with sugar plum jam.
I put a link in the recipe as to which sugar plum jam I use.
If you can't get your hands on it, regular plum jam will work.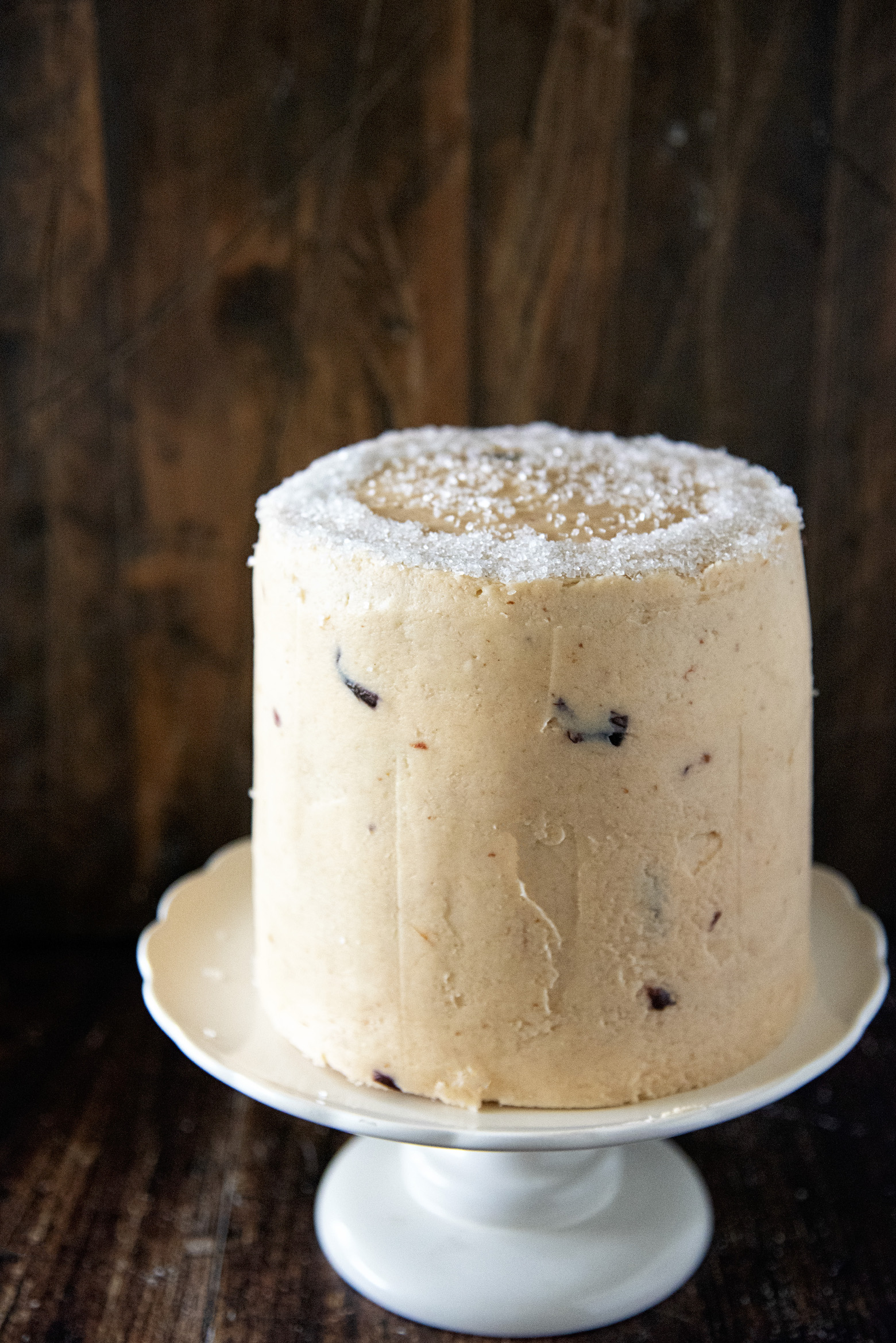 You can make this cake with either 6-inch cake pans which I used.
Or you can use the more standard 9-inch but you will only get three layers with those size pans.
It's really just your preference.
I like to do the smaller taller cake for the blog because it photographs better.
Which is why I also tell you how to make it with the 9-inch because most people aren't make this for their blog. 🙂
And as always it's a great day to order my cookbook.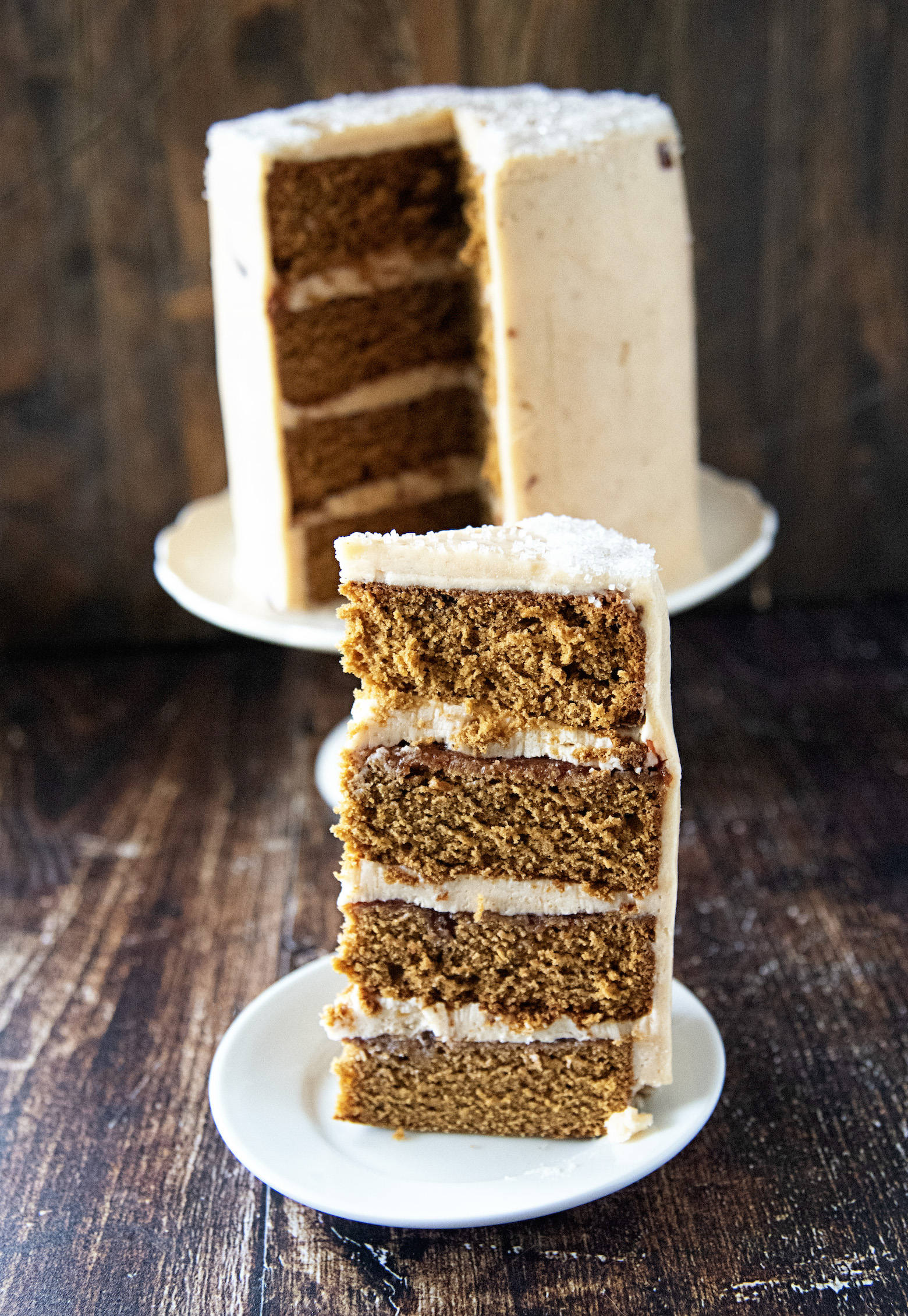 Want more Holiday Layer Cakes?
Chocolate Gingerbread Layer Cake
Bourbon Eggnog White Chocolate Layer Cake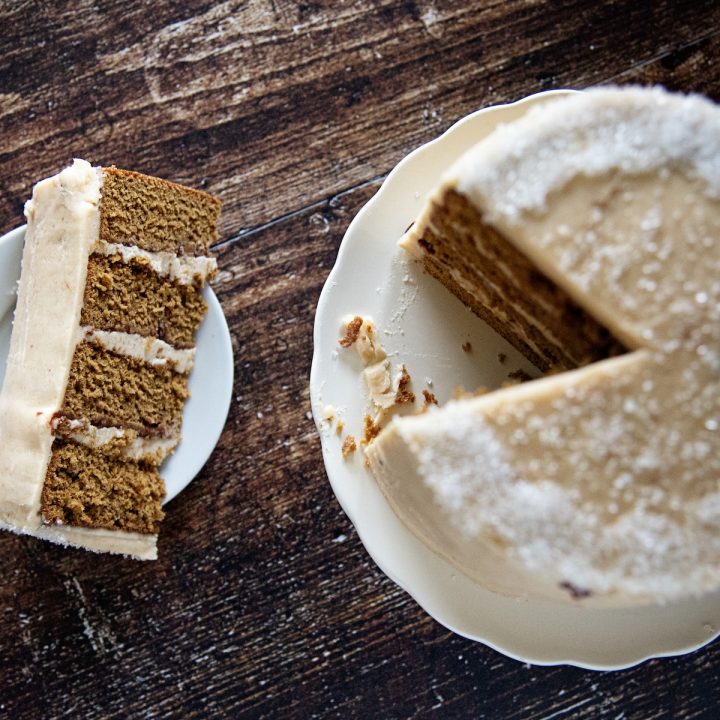 Gingerbread Sugar Plum Layer Cake
Ingredients
For the Cake:
1 cup butter, at room temperature
2¼ cups light brown sugar, firmly packed
3 large eggs
¾ cup unsulphured molasses
3¾ cups all-purpose flour
1 TBSP gingerbread spice
1½ tsp baking powder
¾ tsp salt
½ tsp baking soda
1½ cups hot coffee
For the Filling:
For the Buttercream:
1 cup egg whites
2 cups granulated sugar
3 cups unsalted butter, cubed and at room temperature
1/4 tsp. salt
1 tsp. vanilla extract
5 oz. white chocolate melted and cooled slightly
1/3 cup sugar plum jam
Instructions
Preheat oven to 350°F.
Line 3 (9-inch) round cake pans or 4 (6-inch) round cake pans with parchment paper; butter and flour edges of pans.
In the bowl of a stand mixer fitted with the paddle attachment, beat butter and brown sugar at medium speed until fluffy, 3 to 4 minutes, stopping to scrape sides of bowl.
Add eggs, one at a time, beating well after each addition.
Stir in molasses.
In a large bowl, whisk together flour, gingerbread spice, baking powder, salt, and baking soda. With mixer on low speed, gradually add flour mixture to butter mixture alternately with coffee, beginning and ending with flour mixture, beating just until combined after each addition.
Divide batter among prepared pans.
Bake until a wooden pick inserted in center comes out clean, 30 to 33 minutes for the 9-inch. The 6-inch layers take about the same time but start to check at the 28 minute mark.
Let cool in pans for 10 minutes. Remove from pans, and let cool completely on wire racks.
For the Frosting:
Place the egg whites and sugar in the metal bowl of a stand mixer and set over a small pot of simmering water (the bowl should not touch the water).
Heat, stirring occasionally, until mixture is 160F or hot to the touch.
Transfer bowl to stand mixer and beat on high speed with a whisk attachment to medium stiff peaks, about 8 minutes.
Reduce mixer speed to medium low and add butter a tablespoon at a time, letting it incorporate into the meringue for few moments before adding more.
Add vanilla extract, melted white chocolate, sugar plum jam, and salt and beat on high for 1-2 minutes until smooth and creamy.
To assemble:
If you used 6-inch pans like me you will have four layers. If you used the 9-inch you will have three.
Place a layer on a cake plate and spread 1/2 (or 1/3 cup if you made the 6-inch cake) cup sugar plum jam on the layer.
Pipe a layer of buttercream frosting on top of the jam. You will need to pipe this. If you try and spread it with a knife that will just result in a lot of swearing and make your life ten times more difficult.
Place a second layer on top of the first layer. Spread with jam and then pipe frosting on top of jam layer. If you made 6-inch layers you will have one more layer of jam and frosting.
Place the top layer on the cake and frost the sides and top of the cake with a crumb coat.
Set in fridge for 30 minutes to set up.
Finish frosting the cake and add sparkling sugar to the top if desired.