This Yule Log Layer Cake is a take on Ho Ho's snack cakes. With chocolate, creamy filling, then topped with chocolate frosting and decorated like a log.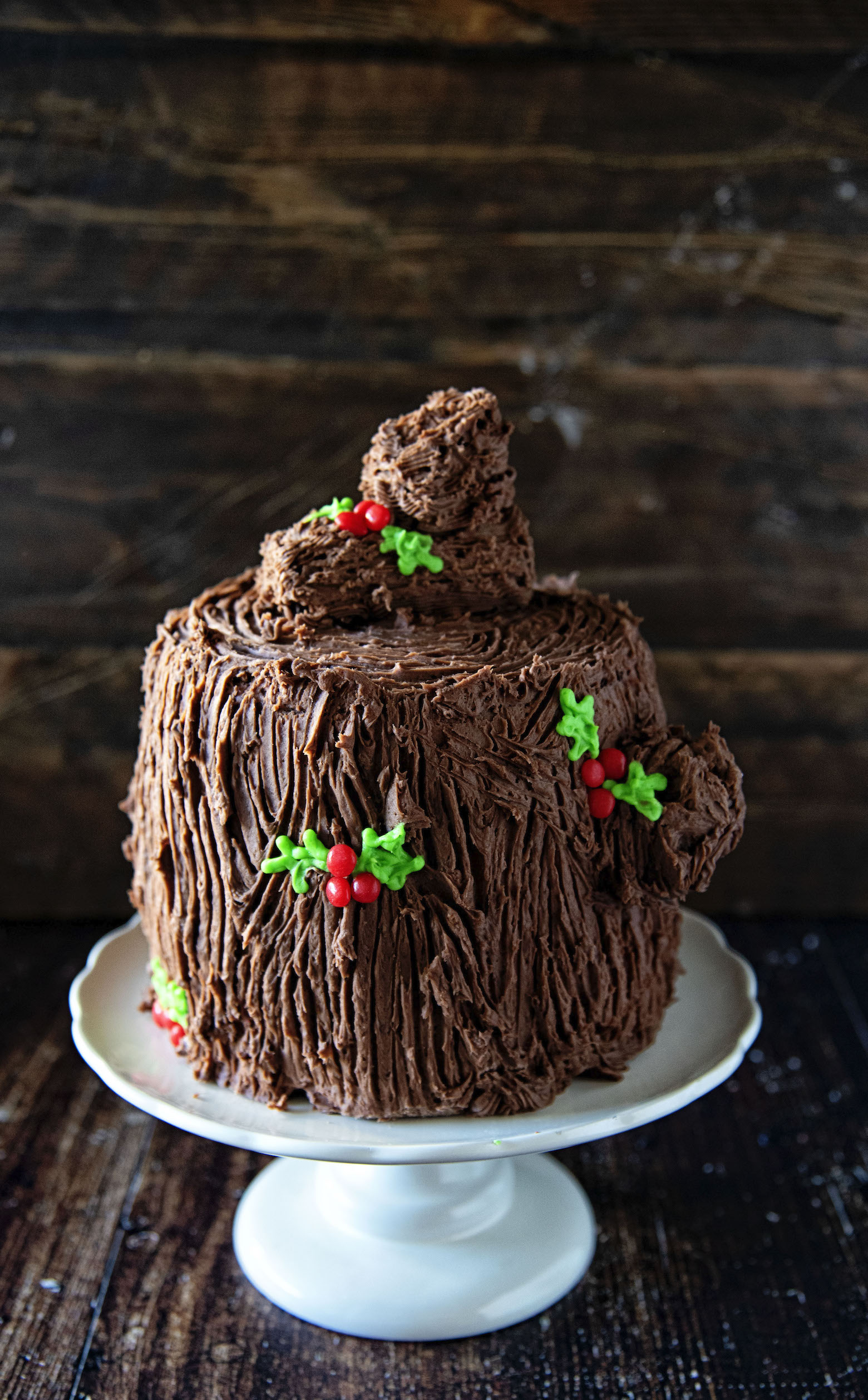 Making a Yule log can be intimidating.
Because traditionally it is make with a delicate sponge cake that you have to roll up.
Aka a Swiss Roll.
And they are tricky because they can crack so easily and you have to roll them up a certain way.
Then there is filling them which you usually end up having frosting creep out of the sides.
But this Yule Log Layer Cake is the easy way to have the fun look with a lot less effort.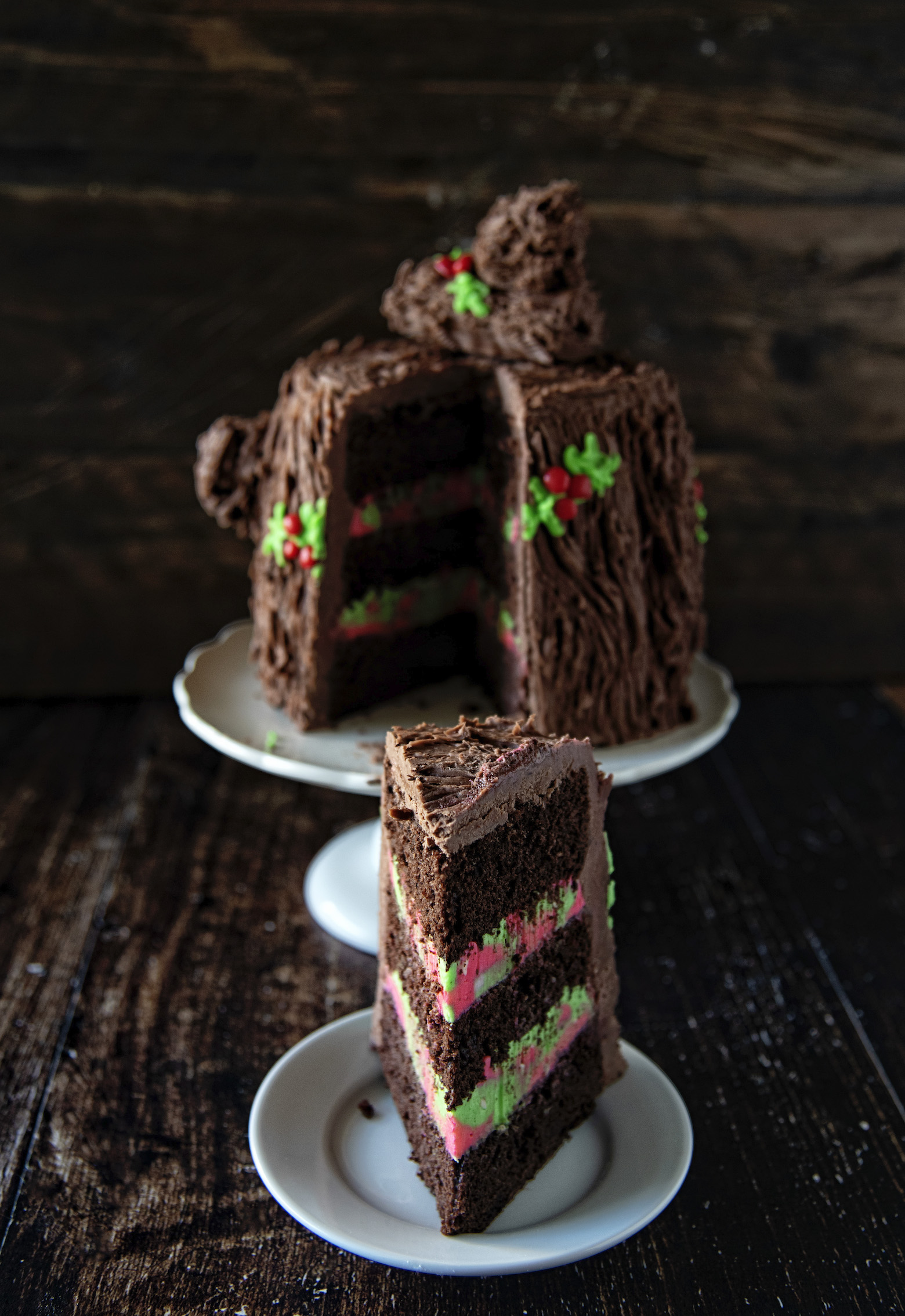 I originally saw on Instagram that someone had taken Little Debbie Swiss Rolls and made them into mini Yule logs.
They looked so cute and I knew I wanted to add them to a cake.
They come from Chef Nicolas Lodge and they are super fun.
He got far more fancy than I did with mine but I was going for rustic.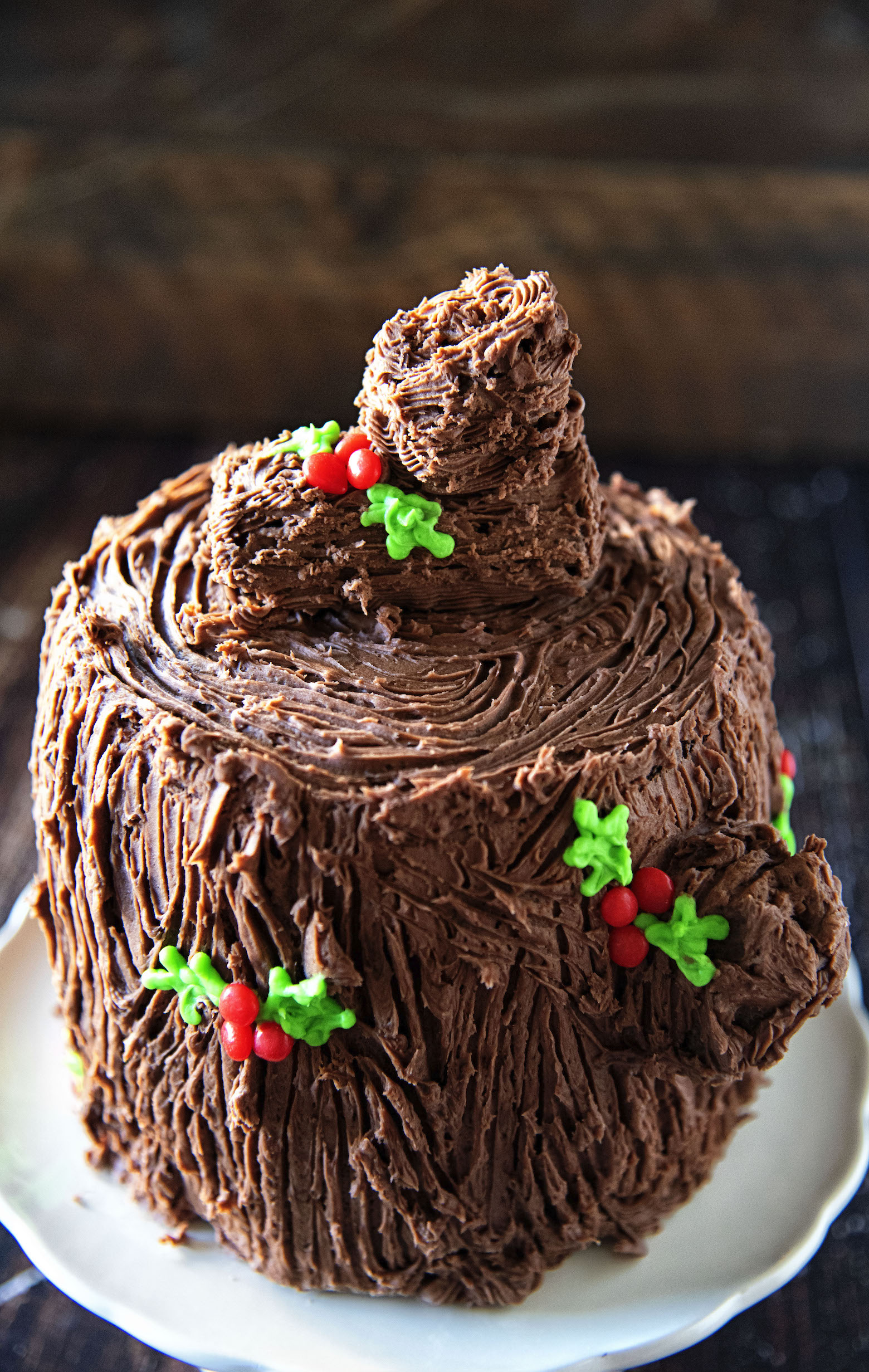 This cake originally was just going to be plainly decorated with a mini Yule log.
But as I got going I realized I could make it into a little Yule stump.
It turned out quite cute.
I used Ho Ho's instead of Swiss Rolls.
Though I think Swiss rolls would be better as Ho Ho's are a little flat and I had to build them up with the frosting.
But I went with Ho Ho's because I was going to call this the Ho Ho Ho's Cake. 🙂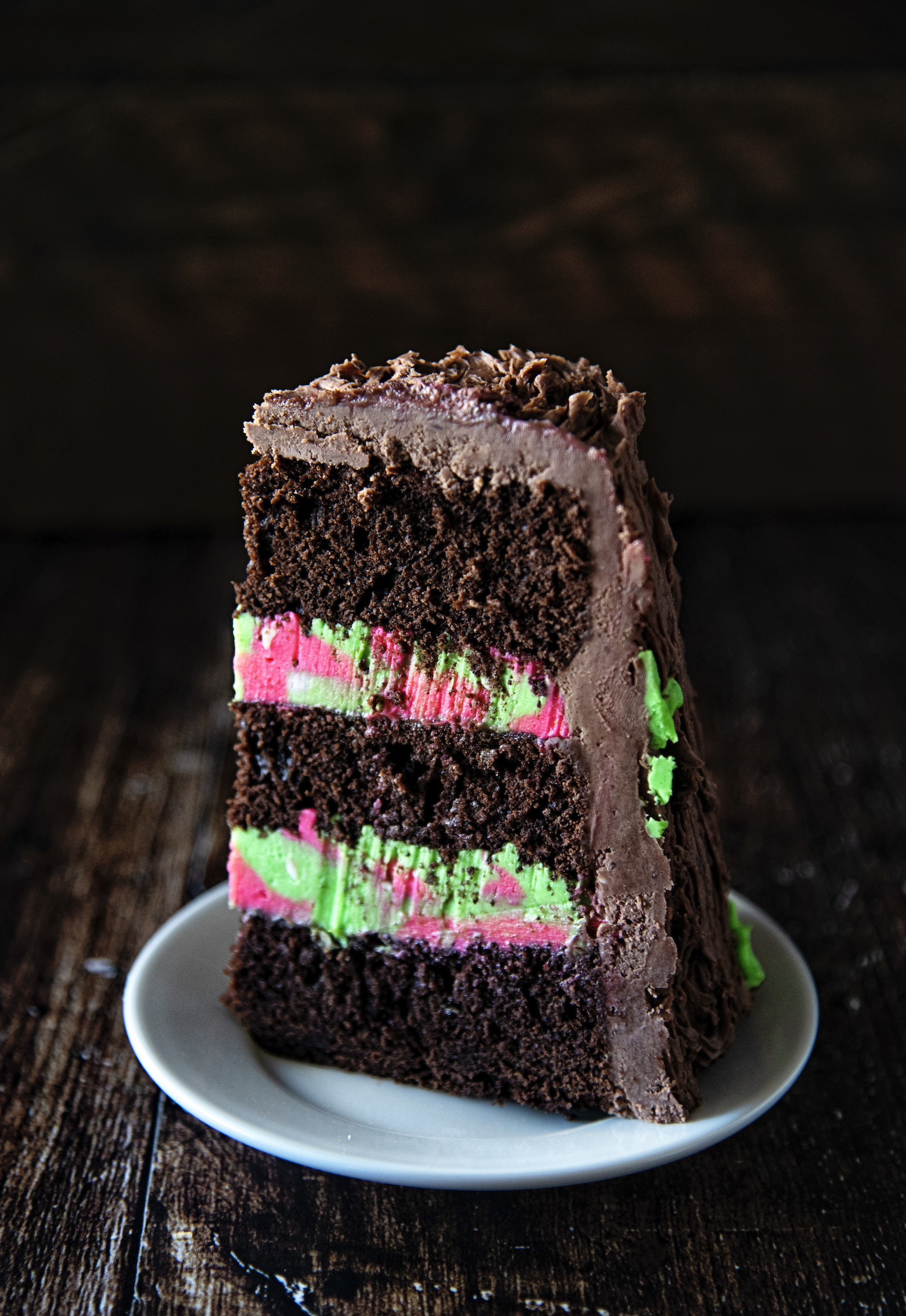 The filling is supposed to be similar to that inside a Ho Ho's snack cake.
I did change the recipe for that quite a bit.
As you basically make flour paste, aka paper mache paste as the base of the filling.
Which was super odd to me.
But I went with it.
When I saw it had only one cup of sugar and some butter and shortening I knew it wasn't going to taste good.
And it did not.
I ended up changing the granulated sugar to powdered and added two more cups.
Plus some salt and some vanilla.
Then it tasted good.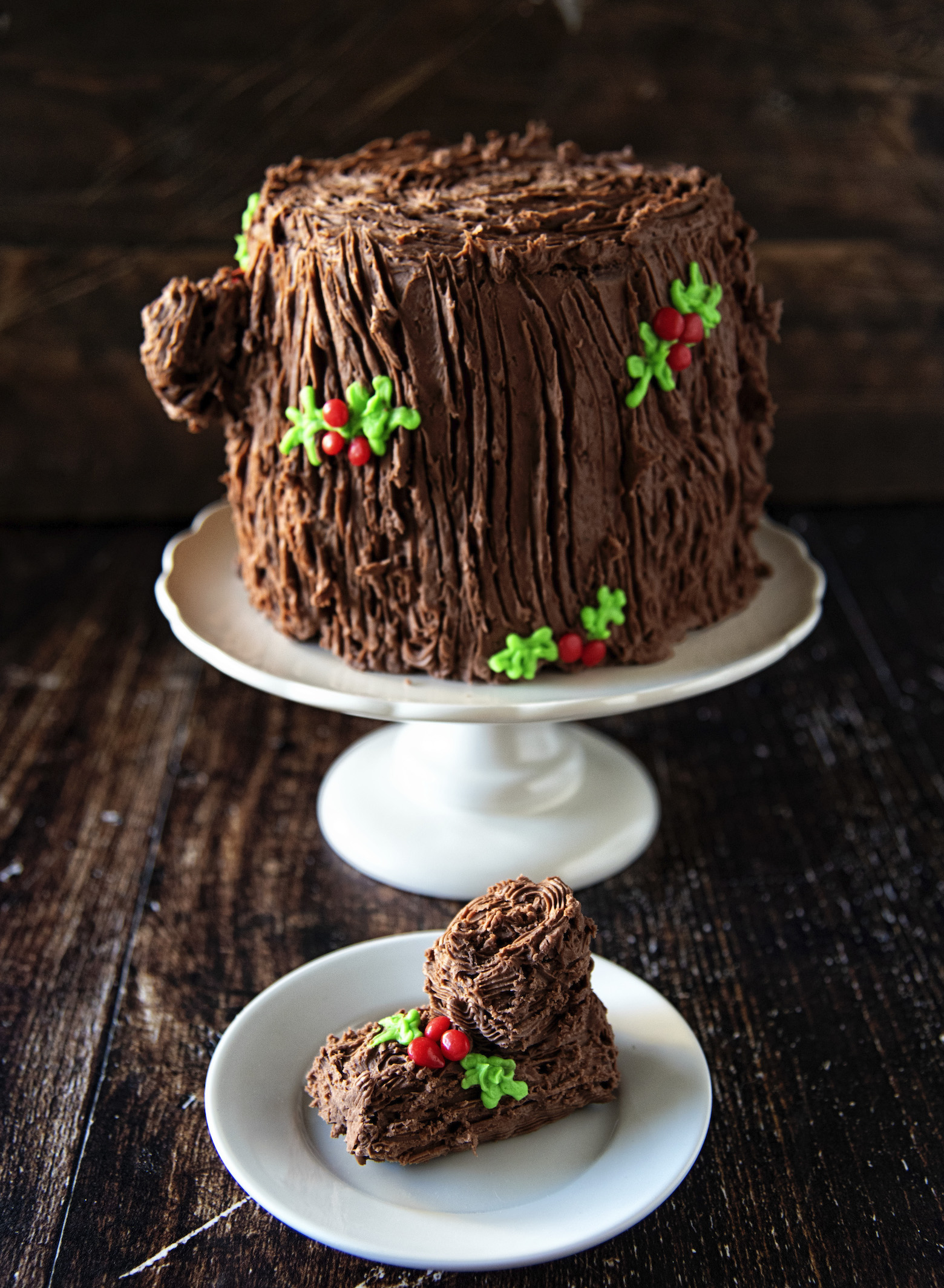 You are definitely going to want to do a crumb coat on this cake.
As the filling is red and green and will mix into the frosting if you are not careful.
So be sure to put the cake in the fridge for a full 30 minutes for the filling to set.
Then a full 30 minutes for the crumb coat to set up to help prevent this.
Last but not least…it's a great time to order my cookbook. 😀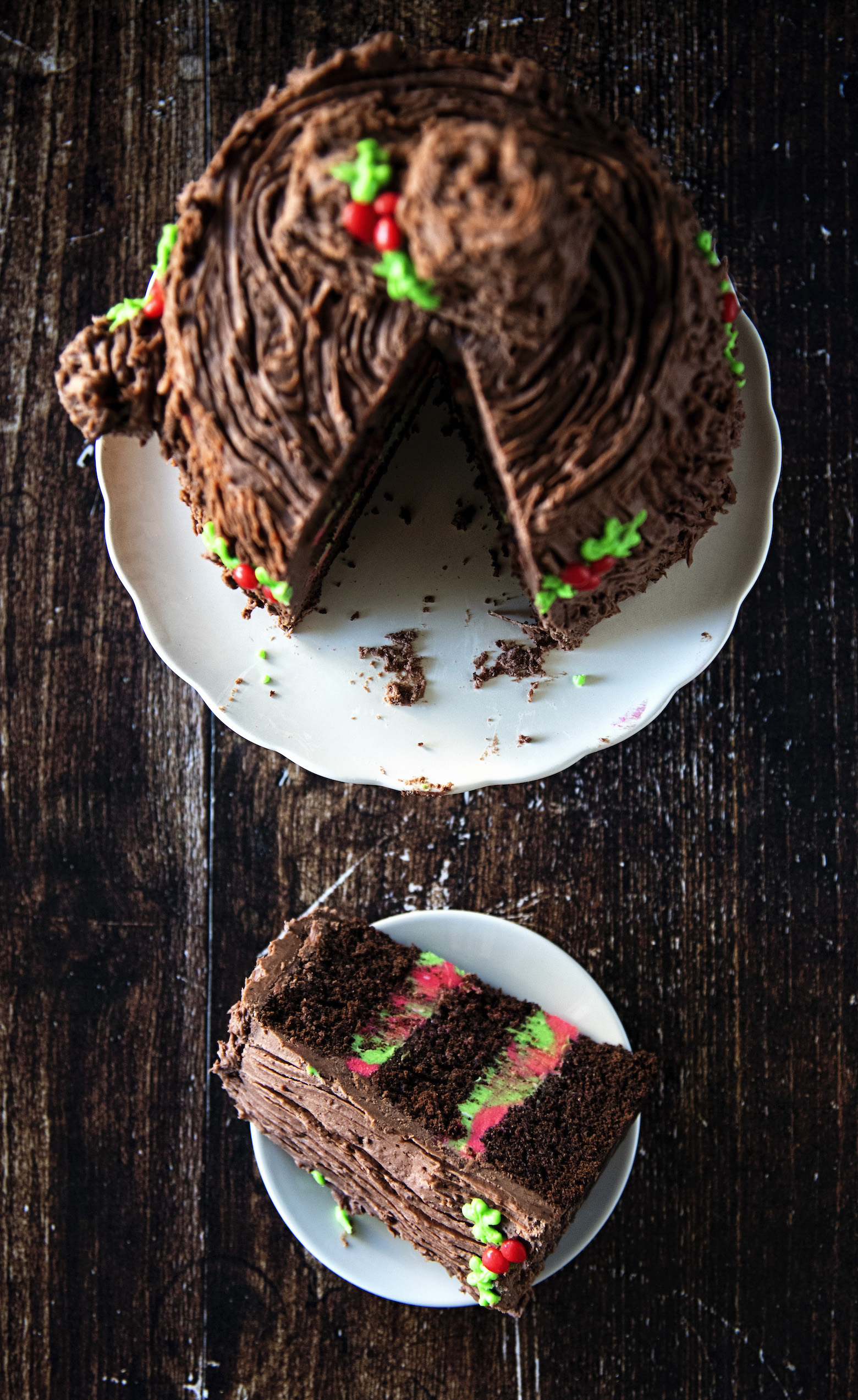 Want More Holiday Cakes?
Bourbon Eggnog White Chocolate Layer Cake
Chocolate Gingerbread Layer Cake
Chocolate Peppermint-White Chocolate Layer Cake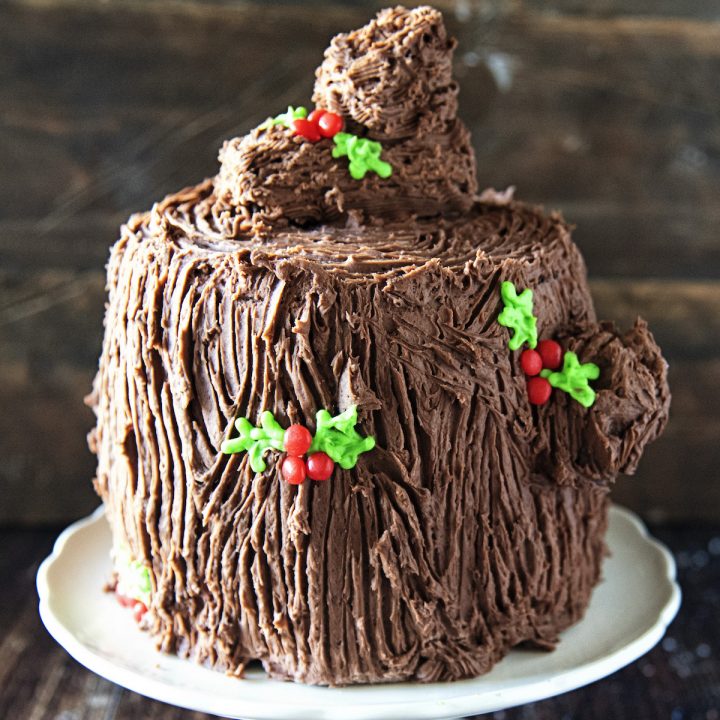 Yule Log Layer Cake
Ingredients
Chocolate Cake:
2 1/2 cups granulated sugar
1/2 cup vegetable oil
2 eggs + 1 egg yolk
1 tsp. vanilla extract (I used Rodelle)
2 1/2 cups all-purpose flour, sifted
1 cup unsweetened Cocoa Powder, Dutch Processed
2 tsp. baking powder
1/2 tsp. baking soda
1 tsp. salt
1 1/2 cups whole milk
1 cup hot water
Cream Filling:
1 1/4 cups milk
5 tablespoons all-purpose flour
3 cups powdered sugar
1/2 cup butter
1/2 cup vegetable shortening
1 1/2 tsp. vanilla extract
1/4 tsp. salt
red and green food coloring if using
Fudge Frosting:
2 cups unsalted butter, at room temperature
12 ounces semisweet chocolate, melted, slightly cool
4 cups powdered sugar
2 TBSP unsweetened cocoa powder
For the Ho Ho's Yule Log:
1 Ho Ho's snack cake
fudge frosting
cinnamon red hots
green frosting
Instructions
Chocolate Cake:
Spray with baking spray two 9-inch cake pans or three 6-inch pans (I used 6 inch) and line with a parchment circle and spray circle with baking spray as well.
Preheat oven to 350F.
Sift flour, baking soda, baking powder, cocoa, and salt.
Set aside.
Using a stand mixer, beat together the oil and sugar with a paddle attachment until combined – about 1 minute.
With the mixer on low, add the eggs one at a time.
Stir in extract.
Beginning and ending with your dry mixture, alternate dry ingredients and liquids (milk and hot water) until smooth.
Be sure to scrape down the sides of your mixing bowl with a spatula between batches.
Pour into prepared cake pans and bake in a 350 degree oven until centers are done and a toothpick inserted in center comes out clean, about 25-28 minutes for 9-inch and about 40-45 minutes for the 6-inch cakes.
Cool on a wire rack for 10-15 minutes before removing from pans.
For the creme filling:
Combine the milk and flour in a saucepan and cook over medium-low heat, stirring constantly, until the mixture thickens which will take about 10-15 minutes..
It going to smell and look like paper mache paste.
Remove the mixture from the heat. It will continue to thicken as it cools.
Press plastic wrap down on top of the flour mixture while it is cooling so it does not form a "crust" on top. Cool to room temperature.
While this is cooling, cream together the rest of the filling ingredients: the powdered sugar, salt, vanilla extract, butter and shortening, on medium speed until fluffy, about 3 minutes.
Add the cooled flour & milk mixture and beat on high for 7 minutes.
Divide the filling into two equal parts and color one red and one green.
Place each color into its own piping bag. Then combine those two piping bags into one larger bag to get a swirl effect.
Place into fridge for 30 minutes for filling to set before frosting your crumb coat.
For the Fudge Frosting:
Using a stand mixer with the paddle attachment, cream butter and 2 cups sugar until fully combined.
Add melted chocolate and cocoa powder, and beat on low speed until fully incorporated.
Add the remaining two cups of sugar. You might need to thin it out, I never have had to.
Frost a crumb coat and place in fridge for 30 minutes.
Take out of fridge and finish frosting.
Run a fork over the frosting to make it look like a log.
You can add little yule logs and side logs if desires.
For the Ho Ho's Yule Log:
Frost the Ho Ho snack cake with fudge frosting. Just like with the cake make marks with a fork.
You can add a mini stump by cutting a Ho Ho's cake at an angle. Frost that as well. Add holiday decor such as edible holly leaves and berries.