Chocolate Covered Strawberry Muffin: These mini muffins are buttermilk based, filled with freeze dried strawberries and mini chocolate chips, and then dipped in a chocolate coating.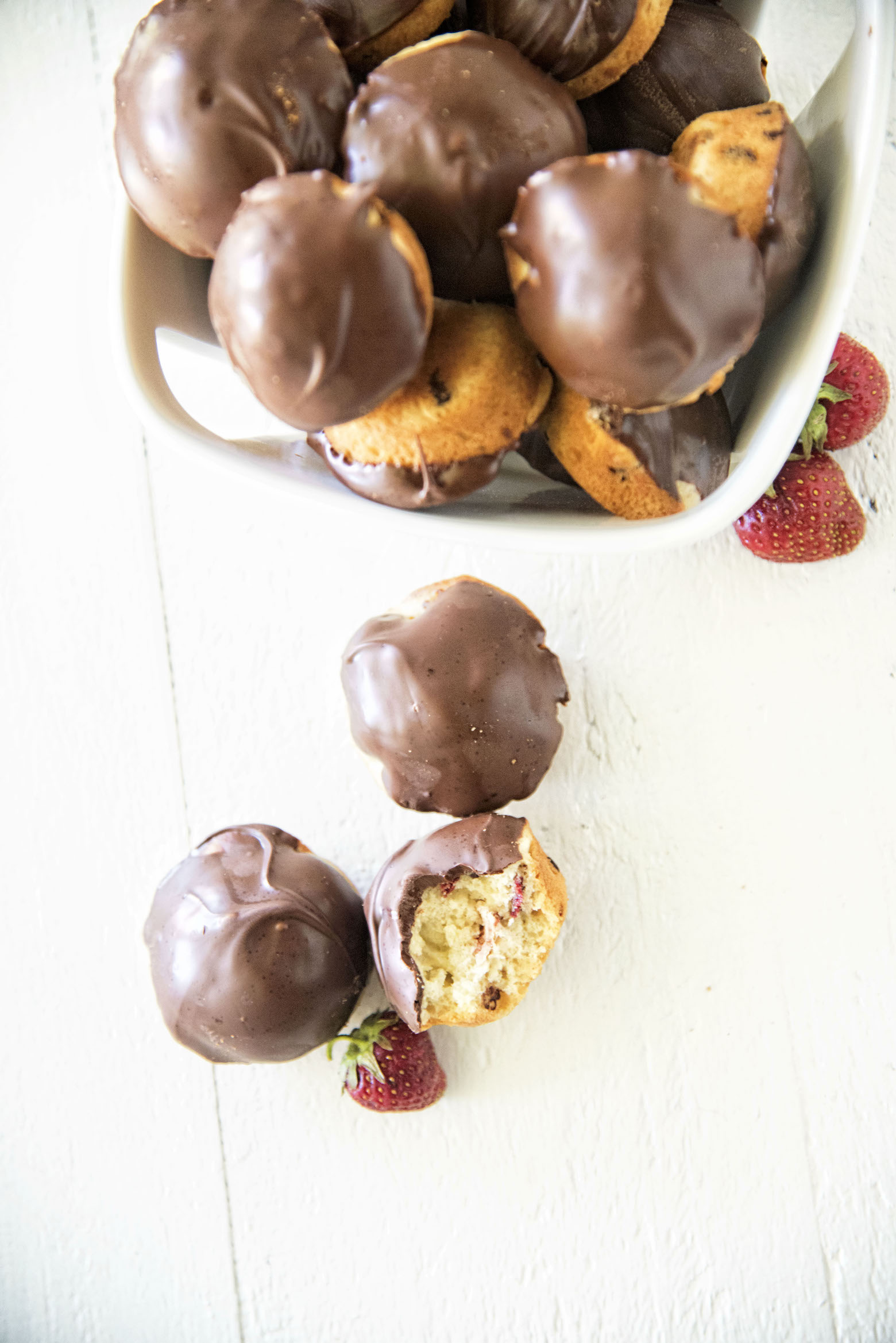 Now some might say because these muffins have a chocolate coating that they are not muffins.
I try not to listen to those people.
These are muffins darn it all and they are healthy for you because there is fruit in there. 😀
This recipe was actually created about a year ago but I used fresh strawberries.
The problem I found with the strawberries was that they were too juicy.
And so if you did not eat the muffins in one sitting (which I applaud you if you rise to that challenge and indeed eat them all in one sitting) then they got bad really fast.
Like quickly growing mold on them fast (after one day), especially since it is warm outside.
So I didn't post the recipe because I thought Moldy Chocolate Strawberry Muffins wasn't that great of an idea. 😛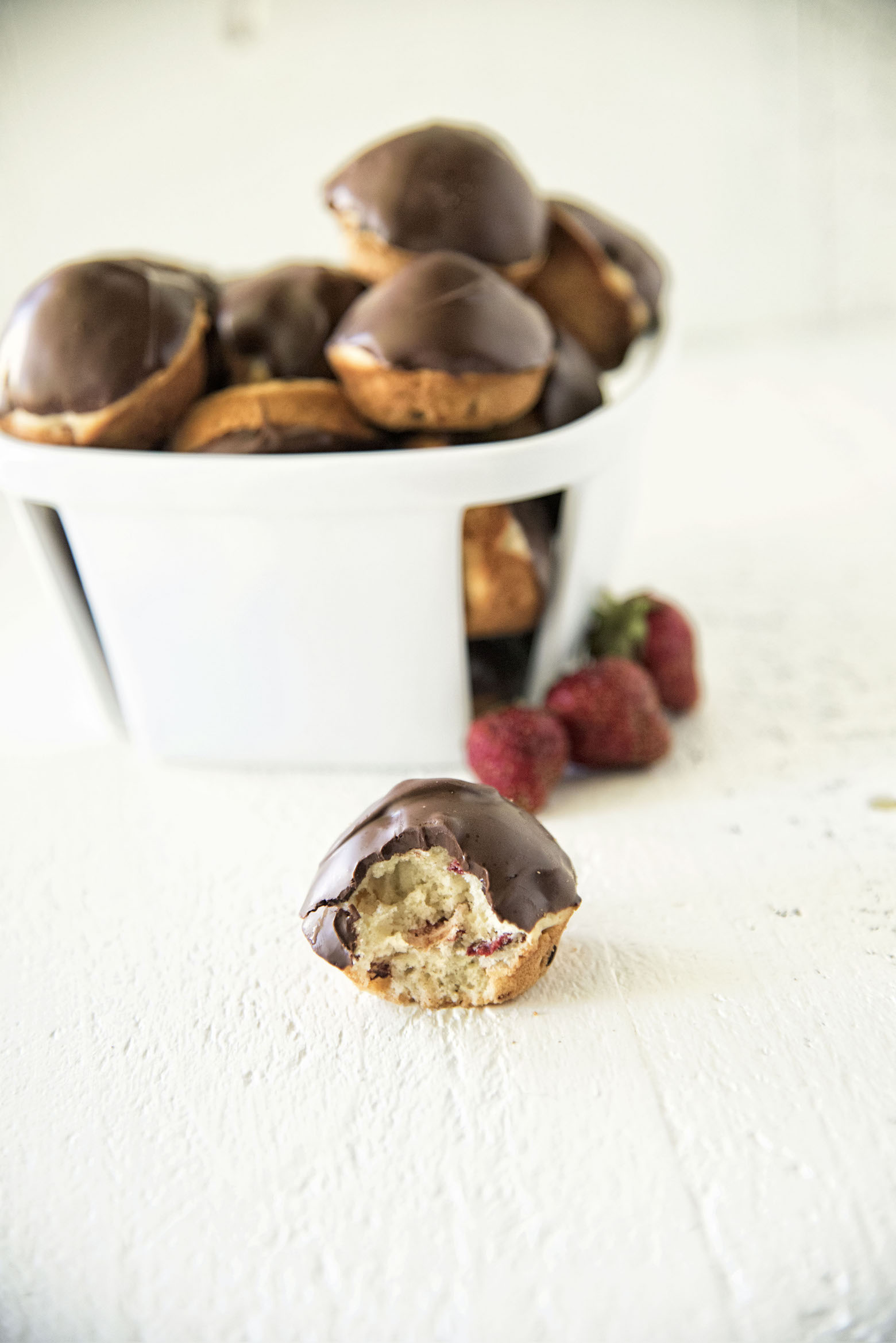 But I liked the idea and so I decided to tweak the recipe to include freeze dried strawberries.
That worked much better. 🙂
Then again there are people who eat blue algae so maybe I was just making them even healthier for you. Bahaha.
I chose to make these as mini muffins because I like that they are more the size of a chocolate covered strawberry that way.
However, you could easier make them larger by simply adding more baking time, I am guessing about 22-24 minutes.
If you have a Trader Joe's near you they carry freeze dried strawberries.
Bulk is the way I go since I used freeze dried fruit often because it stores well and can easily be turned into a powder which is great when making frosting.
And last but not least it's a great day to buy my cookbook.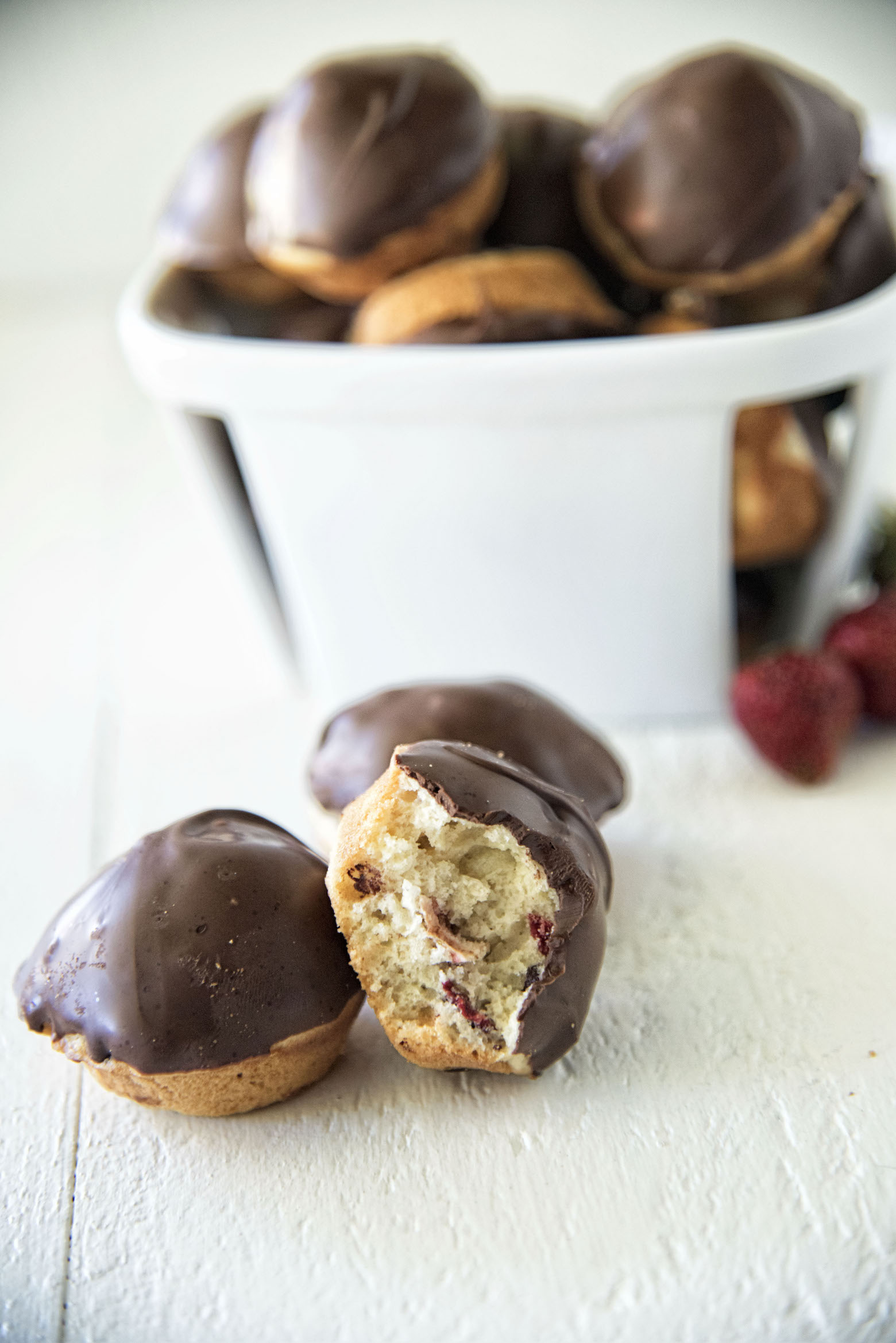 Want More Muffin Recipes?
Clementine Chocolate Chip Muffins
Cider Glazed Apple Fritter Muffins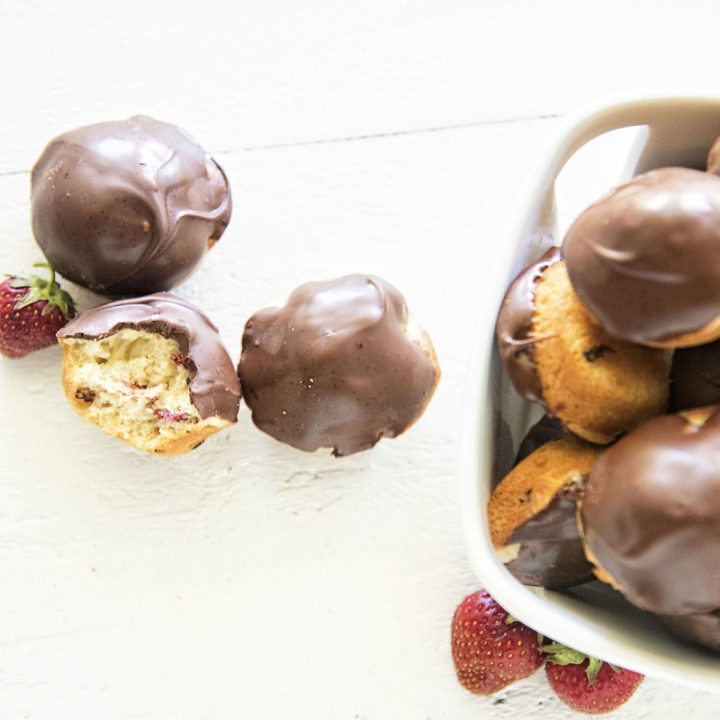 Chocolate Covered Strawberry Muffin
Ingredients
For the Muffins:
2 1/2 cups all-purpose flour
1 1/2 tsp. baking powder
1/2 tsp. baking soda
1 cup granulated sugar
1/4 tsp. salt
2 large eggs
1 cup buttermilk
1 tsp. vanilla extract
1/2 cup vegetable oil
1 1/4 cups freeze dried strawberries
1 cup mini chocolate chips
For the Chocolate Coating:
12 ounces semisweet chocolate chips
3 TBSP vegetable oil
Instructions
For the muffins:
Preheat oven to 400F.
Prepare two mini muffin pans with baking spray.
Sift dry ingredients together in a large bowl.In another bowl, whisk eggs, buttermilk, vanilla, and oil together until fully combined.
Make a well in dry ingredients and pour in liquid ingredients, mixing quickly.
Fold in freeze dried strawberries and chocolate chips.
Spoon batter into greased muffin cups.
Bake for 12-14 minutes.
For the Chocolate Coating:
Combine chocolate and oil in a medium heat-proof bowl set over a medium saucepan of barely simmering water; stir until melted and smooth.
Transfer to a small bowl, and let cool about 15 minutes.
Dip the top of each muffin into the chocolate and set on a wire rack with a cookie sheet below to catch any drips.
Let the muffins stand at room temperature until the coating hardens.