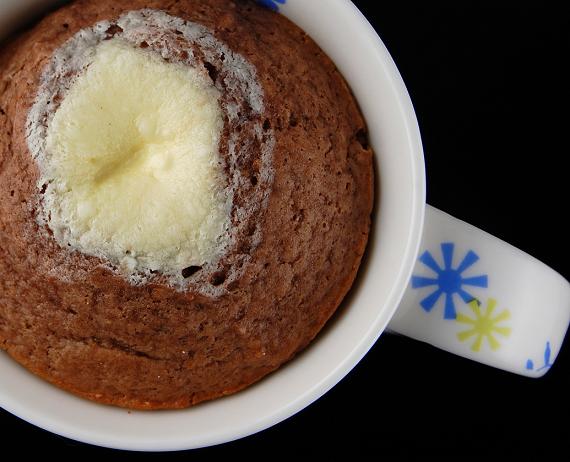 I live in the land of Starbucks. I visit one often. I don't think they are corporate scum like some people do. They provide me with yummy pumpkin latte's and baked goods. So gladly throw me on the corporate sell out list. Plus I have several friends who work for Starbucks and are happily employed, so they can't be that evil.
This time of year the Pumpkin Cream Cheese Muffin comes out. If you don't think about the calories it is a yummy treat. 😉 Though while others eat them, I find my self starring off into space thinking what other kinds of muffins could I do this with the cream cheese center concept. A carrot cake type muffin would go nice of course with a cream cheese filling, as would a spice muffin. But me being the lover of all things hot chocolate and our area having hot chocolate weather, I decided to focus on those flavors.
I originally was going to go with a Candy Cane Hot Chocolate but some people are refusing to do holiday stuff yet until American Thanksgiving and so I am putting that on hold. I personally make my own, or if I am going powdered, I am a Stephen's Hot Chocolate girl.
These turned out pretty darn good. A little too good says the extra pound being carried around in my thighs. I think next time I might use a little more marshmallow cream. It didn't have that much marshmallow flavor. But I didn't really know what the marshmallow cream was going to do since this was a bit of an experiment. But since I know who it reacts in the oven, I might throw in more next time.
Don't be confused by the pictures, these aren't baked in cups. They are just regular muffins. I just happen to have a cup that the muffin fit perfectly into. Oh, and that cup is from Starbucks. 😉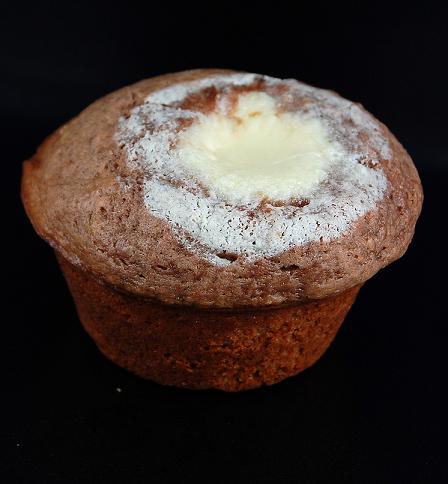 Hot Chocolate Muffins with Marshmallow Cream Cheese Center
Hot Chocolate Muffin:
2 cups all-purpose flour
4 ounces hot chocolate (powdered)
1 cup granulated sugar
1 tsp baking powder
½  tsp baking soda
½  tsp salt
2 large eggs
½ cup buttermilk
½ cup sour cream
4 ounces unsalted butter, melted
1 tsp vanilla
Marshmallow Cream Cheese Filling:
8 ounces cream cheese, at room temperature
1 cup marshmallow cream (fluff)
1/4 cup sugar
1 egg
1 TBSP all-purpose flour
1 tsp vanilla
Preheat oven to 375F.
Spray two muffin pans with baking spray, or butter and flour them. This only makes about 16, but you need two pans, since a standard one only holds 12.
Using a stand mixer, or a bowl with electric beaters, beat the eggs and sugar together on medium-high speed until eggs become pale yellow, about 3 minutes. Add vanilla and beat another 30 seconds.
In a medium bowl, combine flour, hot chocolate, baking powder, baking soda, and salt. Set aside.
In a medium bowl whisk together sour cream, butter, and buttermilk.
Add half of the flour mixture to the egg/sugar mixture. Mix on low until just combined.
Add the sour cream/buttermilk mixture and mix on low until just combined.
Add the remaining flour mixture and again, mix until just combined. Don't over mix.
Using a spoon or a piping bag, divide batter evenly, filling the cups ½ way up.
If using stand mixer, clean bowl. If using electric hand beaters, just get a new bowl. Beat the cream cheese and marshmallow cream together on medium-high for about 2 minutes. Until it is nice and smooth. Add sugar, egg, flour, and vanilla and beat an additional 2 minutes.
Spoon into piping bag (this will be the easiest). Place tip into the middle of the muffin and fill until you see the cream cheese on top. Repeat with all of the muffins.
Bake for 16-18 minutes. Insert a knife or wooden skewer to make sure they are done. Be sure to not insert the knife or skewer where the cream cheese is, that will give you a false reading of whether the muffin is done or not.