These adorable Ghost High Hat Cupcakes are vanilla based with black and orange sprinkles topped with candy corn buttercream and dipped in white chocolate.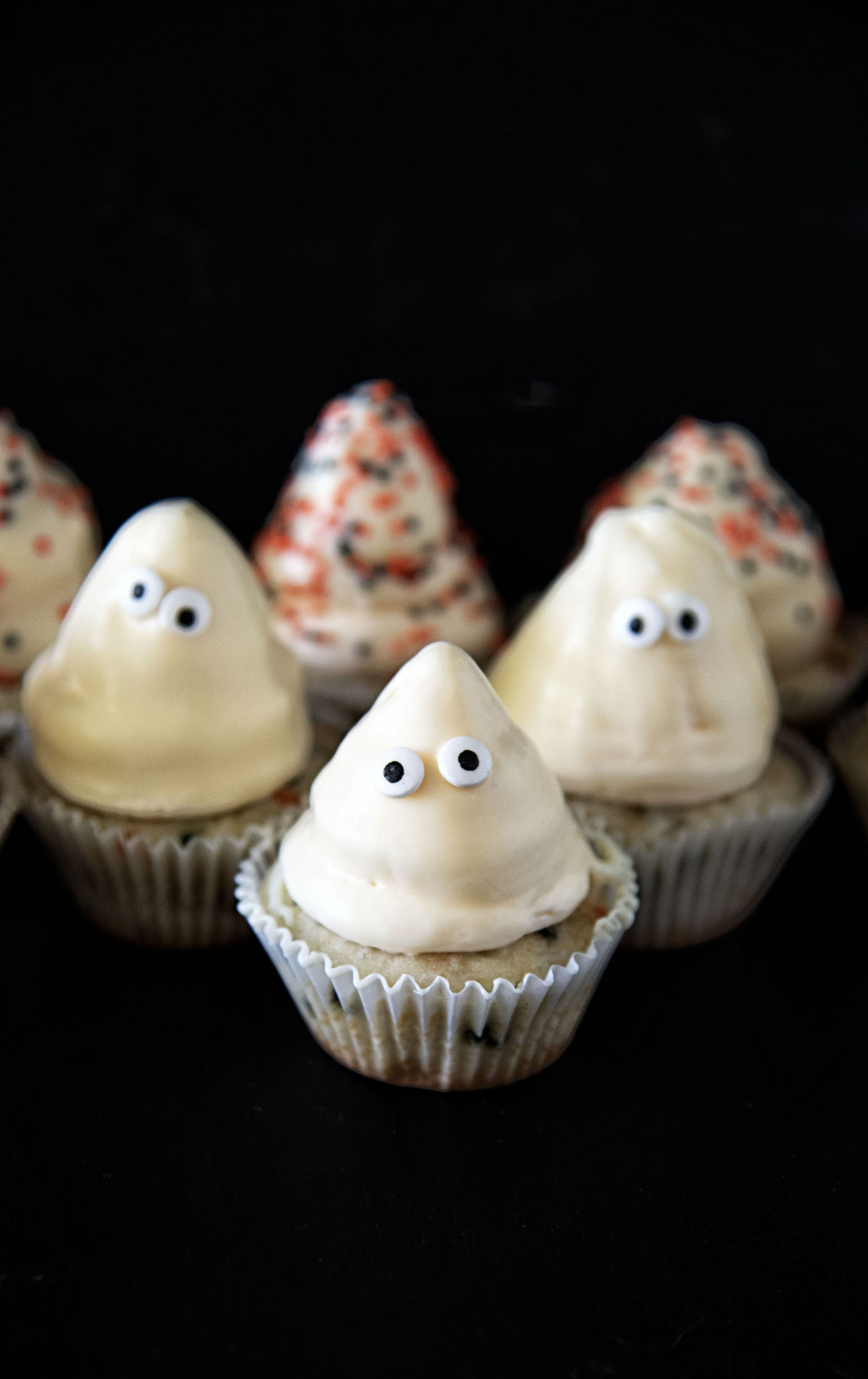 This post and recipe was created for #HalloweenTreatsWeek!
I was sent products by some of the sponsor companies but as always opinions, bad grammar, and overuse of emojis are 100% mine.
In this post I used Dixie Crystals Sugar granulated sugar as well Wilton Candy Eyes and orange and black sprinkles which were sent to me free by both companies for participating in #HalloweenTreatsWeek.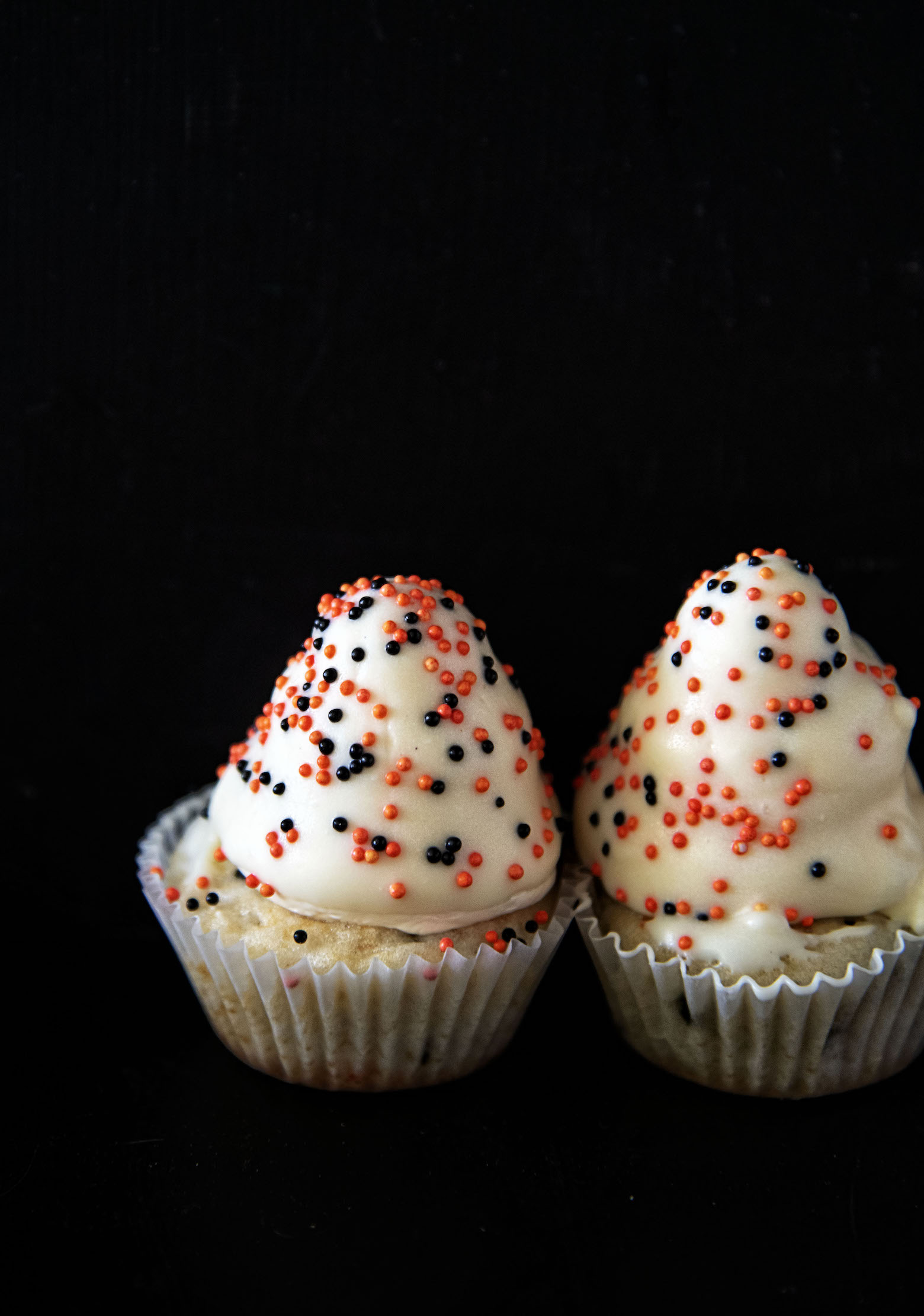 Today's #HalloweenTreatWeek treat combine quite a few of my favorite things.
Number one they are mini.
I love mini food because in my mind I can eat a ton of them and it's totally fine.
Like, have you ever notice that you wouldn't really sit down and eat a King Sized Snickers (well, you might) but we will somehow eat 12 mini Snickers that ends up being more than the King size.
I find also with high hat cupcakes that have so much frosting that bite size is better.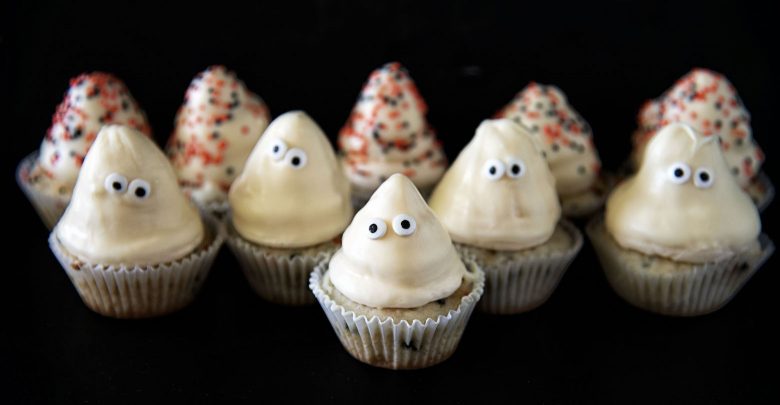 Number two I have sprinkles.
I'm all about sprinkles on just about anything.
Sweets and Treats Shop let us pick what sprinkles we wanted.
They had these tiny little balls (nonpareil sprinkles) that I thought would be great for folding into cupcakes to make my own funfetti cupcakes.
The black does leak a little but that just kind of made a cool gray streak which normally you wouldn't want but for a Halloween cupcake you do.
These Ghost High Hat Cupcakes certainly looked cute using them.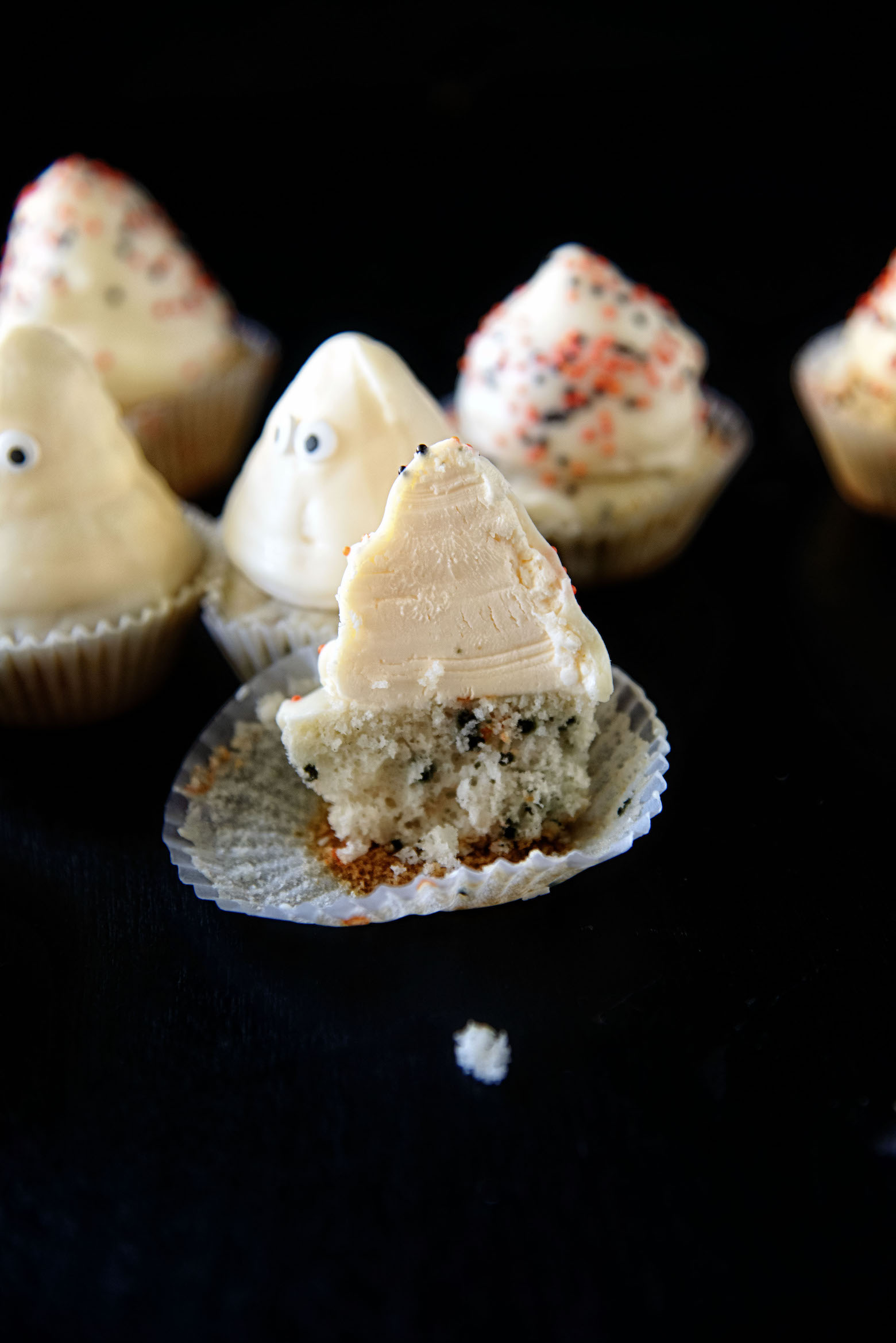 Number three is Swiss Meringue Buttercream.
Most high hat cupcakes are chocolate and they usually have a homemade marshmallow top.
But I find those to get weepy if not eaten right away.
Swiss Meringue Buttercream holds up beautifully and as you can see works just as good for making Ghost High Hat Cupcakes.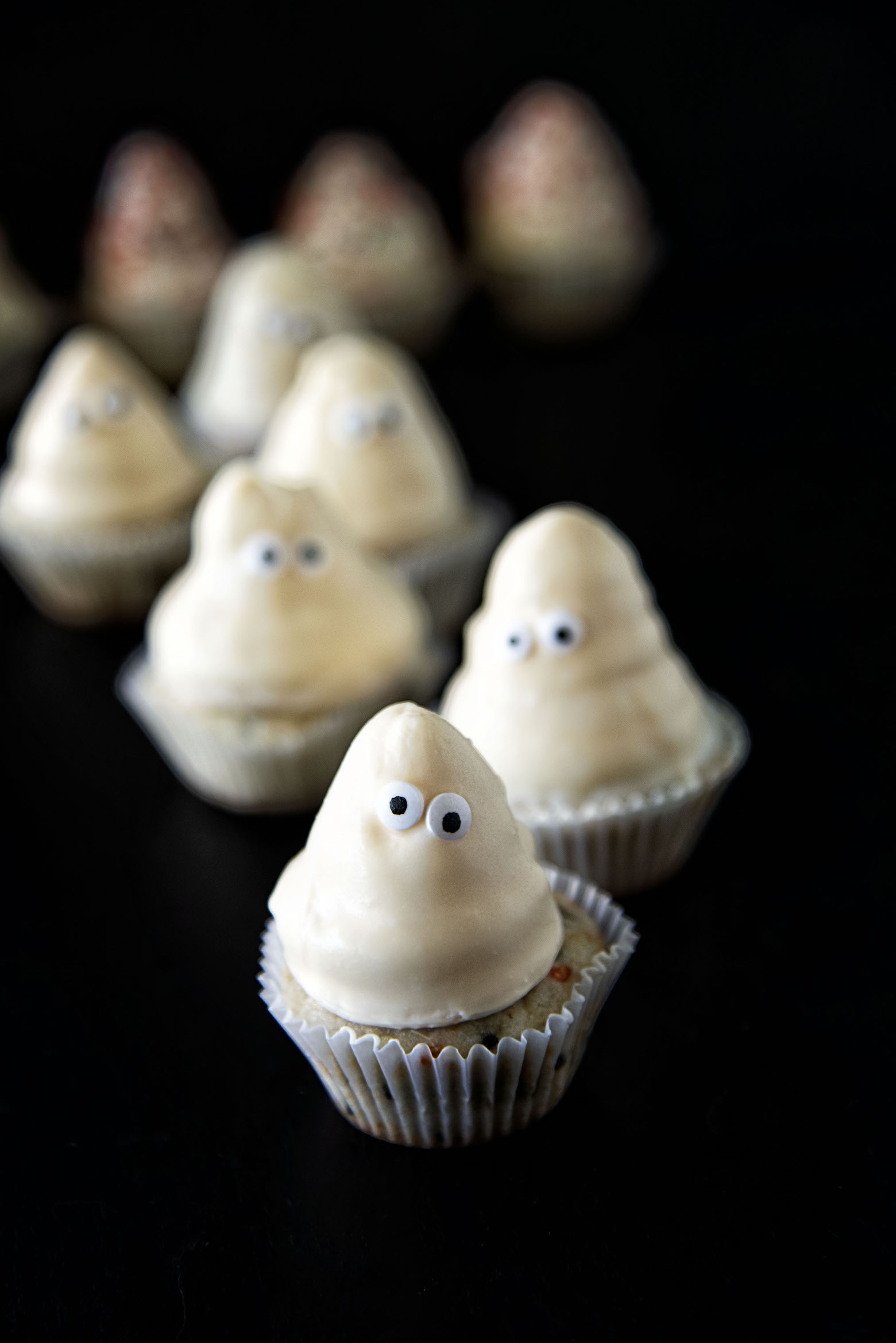 I did flavor the frosting with some candy corn syrup I made.
If you are not a candy corn fan then you can simply use vanilla extract instead.
I just think adding the candy corn syrup as flavoring is a little more Halloween-ish.
And yes, I used cake mix.
If you want to make a white cake from scratch go right ahead.
But these are most likely going to kids who don't care that I used a cake mix. 😛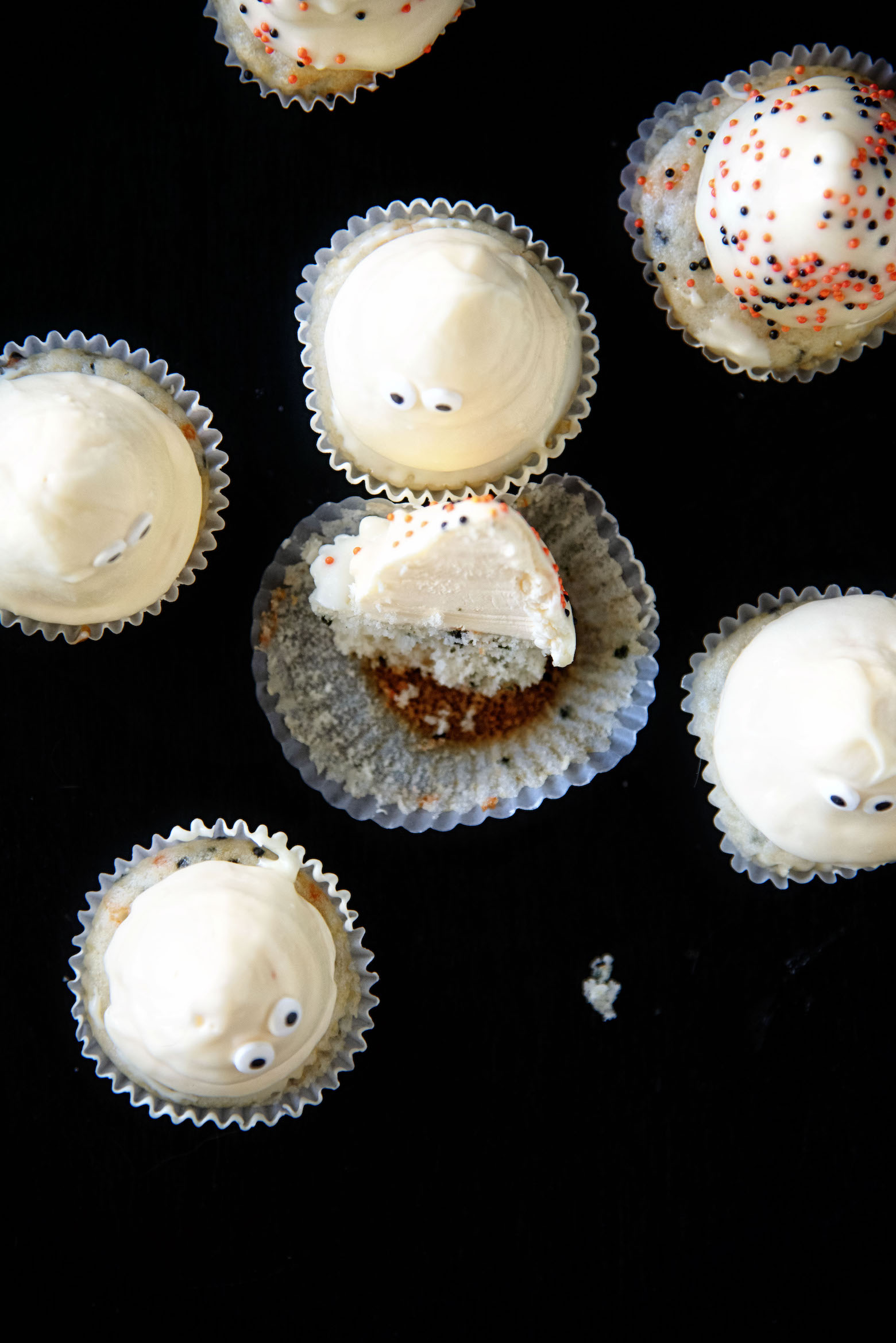 What did the other bloggers make today for #HalloweenTreatsWeek?
Check out the amazing #HalloweenTreatsWeek recipes from our bloggers today!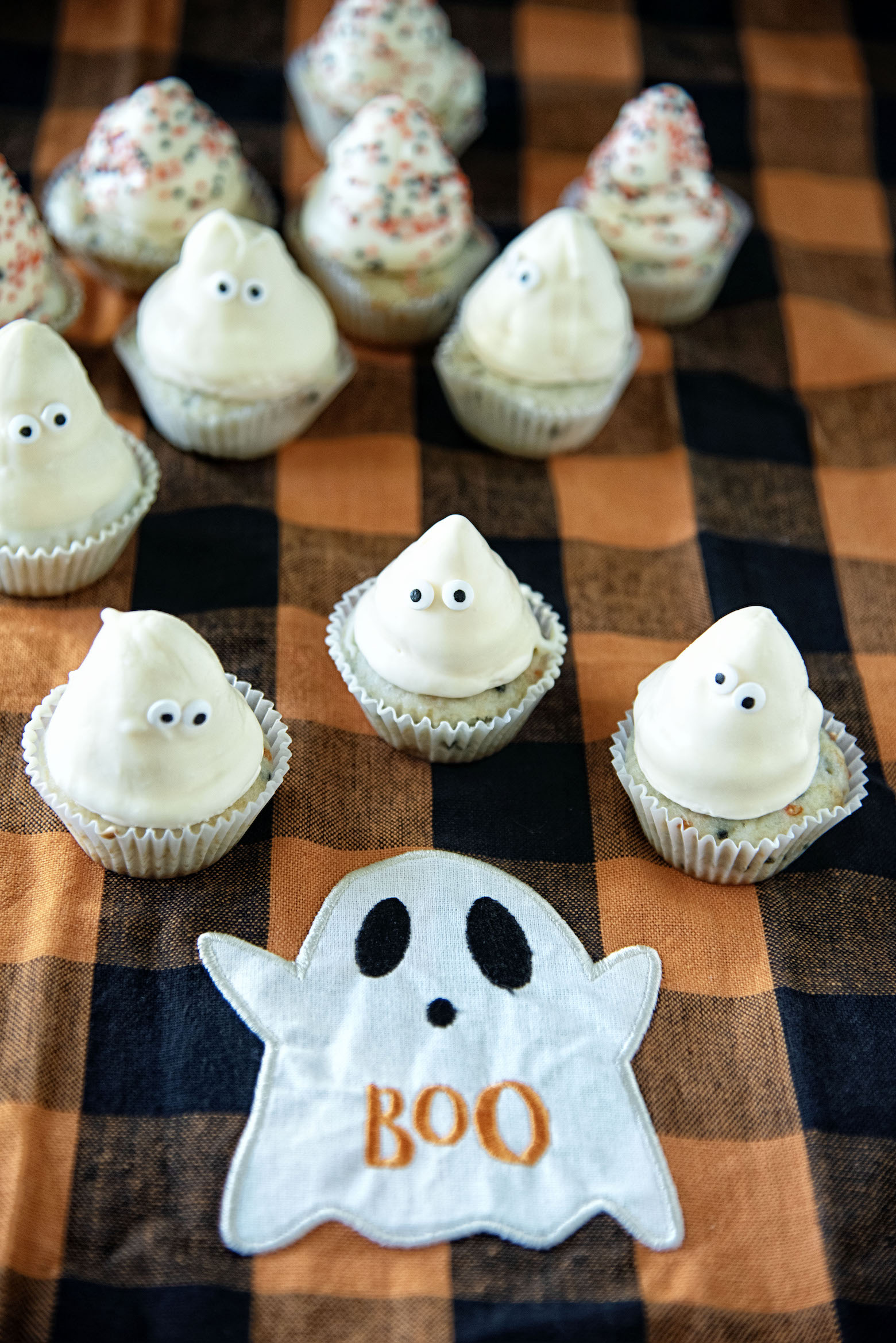 Want More Halloween Recipes?
Chocolate Spider Cheesecake Cheeseball
Witches Cauldron No-Bake Vanilla Cheesecake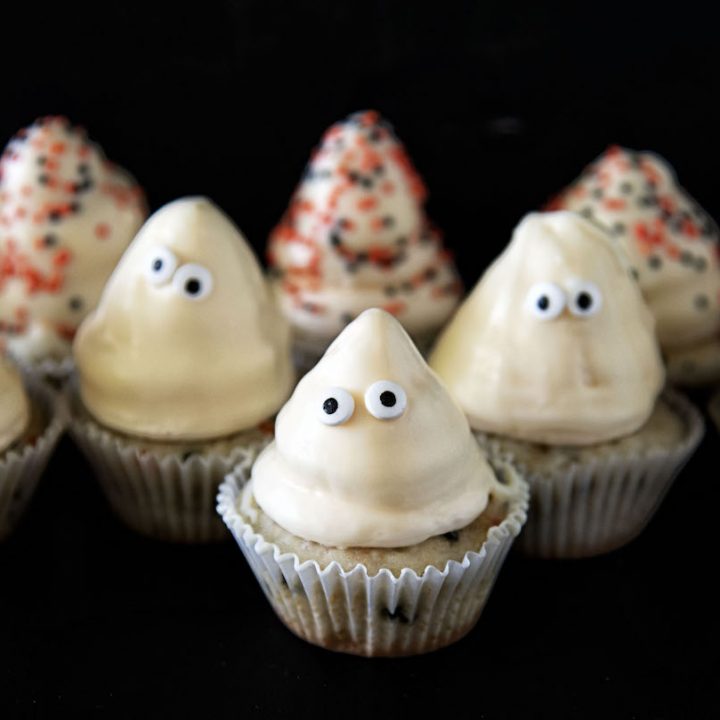 Ghost High Hat Cupcakes
Ingredients
For the Cupcakes:
1 box white cake mix
3 egg whites
1/3 cup vegetable oil
1 1/3 cup milk
1/2 cup orange and black sprinkles
For the Frosting:
3/4 cup egg whites
1 1/2 cup granulated sugar
2 (4 sticks) cups unsalted butter, cubed and at room temperature
For the White Chocolate Coating:
12 oz white chocolate chips
3 TBSP vegetable oil
candy eyes for ghosts
sprinkles for garnish
Instructions
For the Cupcakes:
Preheat oven to 350F.
Line 2 mini cupcake tins with mini cupcake liners. Set aside.
Using a stand mixer with a paddle attachment (or a large bowl and electric mixer) add the cake mix, oil, egg whites, and milk.
Mix together until fully combined.
Fold in the sprinkles.
Fill the cupcake liners 2/3 of the way full.
Bake for 15-17 minutes.
For the Candy Corn Syrup:
Using a small saucepan heat together the candy corn and water.
Let come to a rolling boil.
Boil down until it's has decreased by half and has a syrup like consistency. Set aside.
For the Frosting:
Place the egg whites and sugar in the metal bowl of a stand mixer and set over a small pot of simmering water (the bowl should not touch the water).
Heat, stirring occasionally, until mixture is 160F or hot to the touch.
Transfer bowl to stand mixer and beat on high speed with a whisk attachment to medium stiff peaks, about 8 minutes.
Reduce mixer speed to medium low and add butter a tablespoon at a time, letting it incorporate into the meringue for few moments before adding more.
Add 3 TBSP candy corn syrup (or vanilla extract), and salt and beat on high for 1-2 minutes until smooth and creamy.
Frost cupcakes and place in fridge for at least 2 hours.
For the White Chocolate Coating:
Combine white chocolate and oil in a medium heat-proof bowl set over a medium saucepan of barely simmering water; stir until melted and smooth.
Transfer to a small bowl, and let cool about 15 minutes.
Holding each cupcake by its bottom, dip cupcake in the white chocolate to coat frosting, allowing excess to drip off.
Add ghost eyes or sprinkles to your cupcakes, your choice
Transfer to a baking sheet fitted with a wire rack and allow 30-60 minutes for coating to set. If taking too long place in fridge to speed up process.
Happy Halloween! It's October which means it's time for Spooky Season and this year's #HalloweenTreatsWeek event! #HalloweenTreatsWeek is hosted by Angie from
Big Bear's Wife
& its a creepy and haunting week-long event is filled with some amazingly wicked Halloween treats, recipes and some frightfully fun giveaways.
"When witches go riding, and black cats are seen, the moon laughs and whispers 'tis near Halloween."
For the 2nd annual #HalloweenTreatsWeek event we have 41 fantastically talented bloggers that are sharing their favorite Halloween recipes throughout the week! There are going to be over 160 Halloween themed recipes shared during this year's #HalloweenTreatsWeek and we can't wait for you to see them all! Follow the hashtag #HalloweenTreatsWeek on social media and look at the bottom of each post to see all of the Halloween recipes that we're sharing!
Plus, don't forget that we have 6 (six) great giveaways for you this week thanks to our amazing sponsors!
Scroll down to take a look!
Prize #1
Prize #1 — Dixie Crystals is giving away a "Dinner and Dessert Set" – ONE 6-Quart Cook & Carry Programmable Slow Cooker, a Pyrex mixing bowl set plus some fun Dixie Crystals items like a Dixie Crystal Apron and Cookbook!
Prize #2
Prize #2 — Adam's Extract is giving away – 1 Gift Pack – including 4oz Adams Best, 1.5 oz Peppermint, 1.5oz Almond, 1 bottle vanilla cinnamon sugar, 1 bottle pumpkin pie spice
Prize #3
Prize #3 —Wilton is giving away a Texturra 7-Piece Bakeware Set
Prize #4
Prize #4 — Sweets and Treats Shop is giving away a large baking box of goodies! Sweets and Treats will send one lucky winner a large assortment of sprinkles and lines and other samples of their products!
Prize #5
Prize #5 — Treat Street USA is giving away a set of Holiday Treat Decorations (1 Gummy Assortment, 1 Marshmallow Snowman, 1 Toy Solider and 1 Gingerbread Men)
Prize #6
Prize # 6
–
Litehouseis giving away the following: 1
Litehouse® Honeycrisp Apple Cider, 1
Litehouse® Old Fashioned Caramel, 1
Litehouse® Pumpkin Spice Caramel, 1
Litehouse® Butterscotch Caramel & 1
Litehouse® Chocolate Dip, Snack Packs
a Rafflecopter giveaway
Giveaway open to US Residents 18 years or older. All entries will be verified. No PO Boxes Please. Prizes will be sent directly from sponsors to winners, bloggers are not responsible for prizes. This giveaway runs from October 7th – October 13th at 11:59PM EST. Winners will be selected soon afterward and contacted by e-mail. Winners will have 48 hours to respond or a new winner will be chosen. There are a total of 6 (six) prizes and therefore we will have a total of 6 (six) winners. No purchase necessary. Void where prohibited by law.
Disclaimer:
These posts and recipes are part of the week-long event, #HalloweenTreatsWeek but all opinions are 100% mine! We would like to Thank our amazing sponsors:
Dixie Crystals, Adam's Extract
,
Wilton
,
Sweets and Treats Shop,
Treat Street USA and Litehouse
! These wonderful sponsors provided the prize packs for our giveaways and also sent samples and products to the #HalloweenTreatsWeek bloggers to use in their recipes.