Witches Cauldron No-Bake Vanilla Cheesecake: Cocoa Krispie Treats shaped into witches cauldrons filled with no-bake vanilla cheesecake and topped with gummy frogs, worms, and other Halloween candies.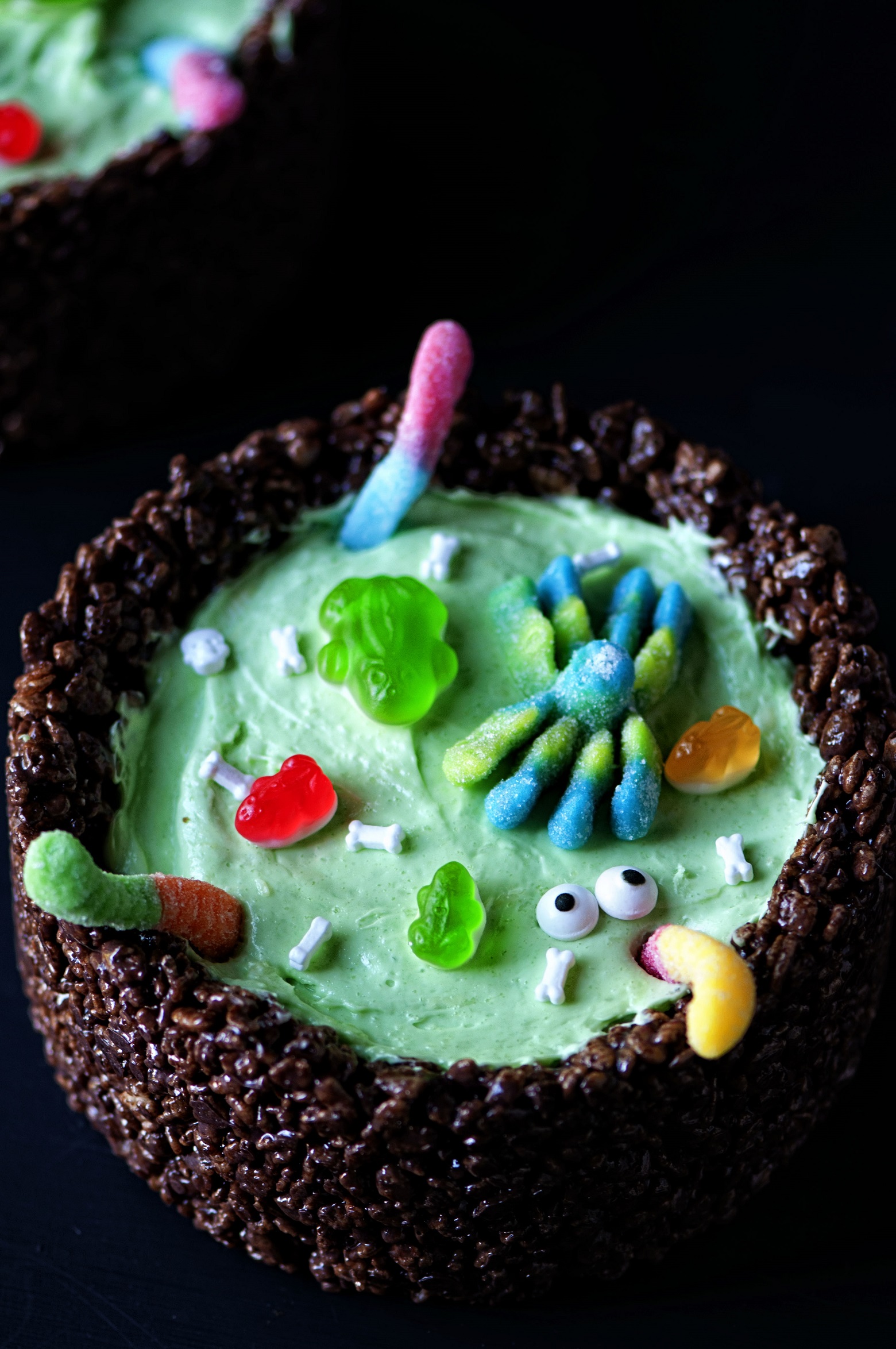 I have a love/hate relationship with Halloween. I love the mini candy. I love dressing up. I love pumpkins. But I am a weenie when it comes to scary things. Like even a little bit scary. Which means I pretty much don't turn on the TV during the month of October because they show nothing but scary movies. I can't even hear scary music without getting a tad freaked out…I'm that bad.
I kind of just overlook Halloween. My neighborhood gets hardly any Trick or Treaters…though we still buy candy as if 1000 were stopping by. 😀 We don't have little kids that make Halloween fun (though the dogs are in a Halloween parade this year). So when it comes to doing Halloween things on the blog I just don't do it, well unless it's with candy corn.
A fellow blogger friend had told me that Rice Krispies had contacted her and that she had sent them my way because she knew I did a ton of things with Rice Krispies on my blog. Two of my highest performers of all time involve Rice Krispies. She had sent me the pitch they sent to her so I could see if I had wanted to do it.
The pitch involved making a Halloween themed item. I had seen cute little witches' cauldron cupcakes on Pinterest and thought immediately that I could make my no-bake cheesecake with rice krispie treat crust into mini ones. Use Cocoa Krispies instead of regular Rice Krispies and fill it with green no-bake cheesecake. I was all excited to make it.
Then…
Nothing.
Never heard a thing from them. Which, I will be honest bummed me out. Not even nice enough to say hey, we already found all our bloggers maybe next time. Nada. 🙁
But the truth is I still use their product and I wanted to make them now that I thought of them. So I did.
Making sure to use product from a company that does support me, Rodelle. This is not a sponsored post (though there will be one in a few weeks), more like me just showing them some love. They make good products and have good people working for them.
This recipe uses both Rodelle cocoa powder and vanilla. The vanilla because well, I love it, and the cocoa powder because I don't think people realize they make a cocoa powder. They do. It's good.
You can use whatever candy you want or think would be in a witches' cauldron. I used gummy frogs (mini and large). I used candy eyes. I used bone sprinkles. I used sour gummy worms and octopi. Have fun with whatever you choose.
So what do you think of my Halloween creation? Should I make more Halloween stuff?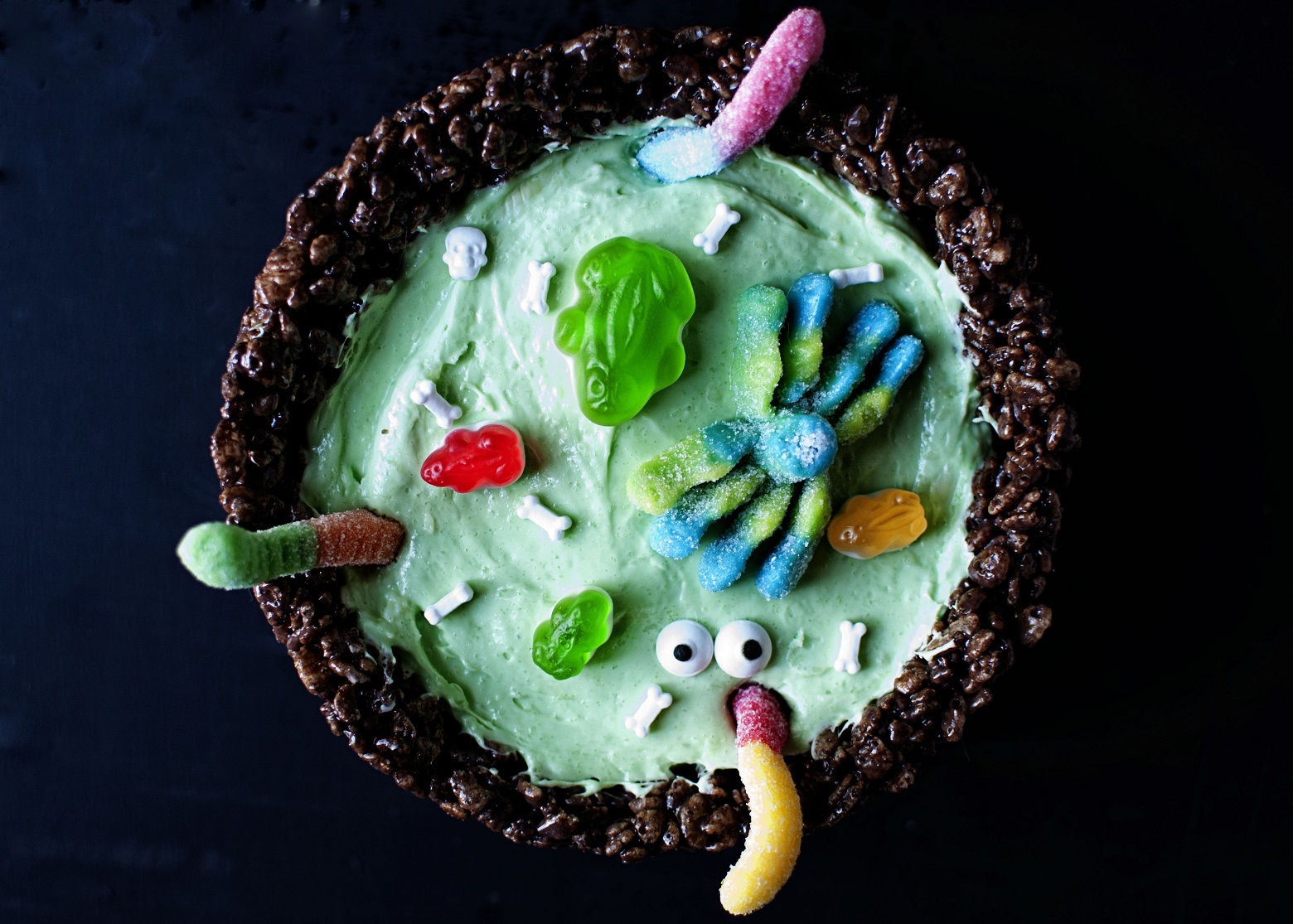 Witches Cauldron No-Bake Vanilla Cheesecake
Recipe Type
:
No-Bake, Cheesecake
Author:
Ingredients
Cocoa Krispie Treat Crust:
3 TBSP unsalted butter
½ tsp. vanilla extract (I used Rodelle)
1 TBSP unsweetened cocoa powder (I used Rodelle)
6 cups Cocoa Krispies Cereal
10 oz. mini marshmallows
Black food coloring (if desired)
Vanilla No-Bake Cheesecake:
1 envelope unflavored gelatin
1 cup granulated sugar, divided
1/3 cup boiling water
16 oz. cream cheese, at room temperature
2 tsp. vanilla bean paste or extract (I used Rodelle)
Green food coloring
Sour gummy worms (garnish)
Gummy frogs, various sizes (garnish)
Candy eyeballs (garnish)
Candy bone sprinkles
Instructions
For the Cocoa Krispie Crust:
Spray a two 6-inch spring form pan with baking spray. Set aside.
Melt the butter over low heat in a large heavy bottom pot, I used my Le Creuset.
Add marshmallows and stir until completely melted.
Remove from heat and add vanilla, cocoa powder, and food coloring (if using) and mix until incorporated.
Add the cereal and mix until well coated.
Form the Cocoa Krispie treats into the two mini spring form pans, starting with the bottom and then the sides.
For the cheesecake:
Mix ¼ cup sugar and gelatin in a small bowl.
Add boiling water and let sit for 5 minutes while gelatin dissolves.
Using a stand mixer with a paddle attachment beat the cream cheese, remaining ¾ cup sugar, and vanilla until soft and creamy.
Add the green food coloring and mix until incorporated.
Gradually add the gelatin mixture.
Divide evenly into the two Cocoa Krispie Treat Crust and smooth evenly with spatula.
Top with whatever Halloween candy you are using.
Put back in fridge for at least 4 hours to fully set up.