These Caramel Apple Cheesecake Cheeseballs will bring fun to your Halloween themed party. All the flavors of caramel apples while looking like them too.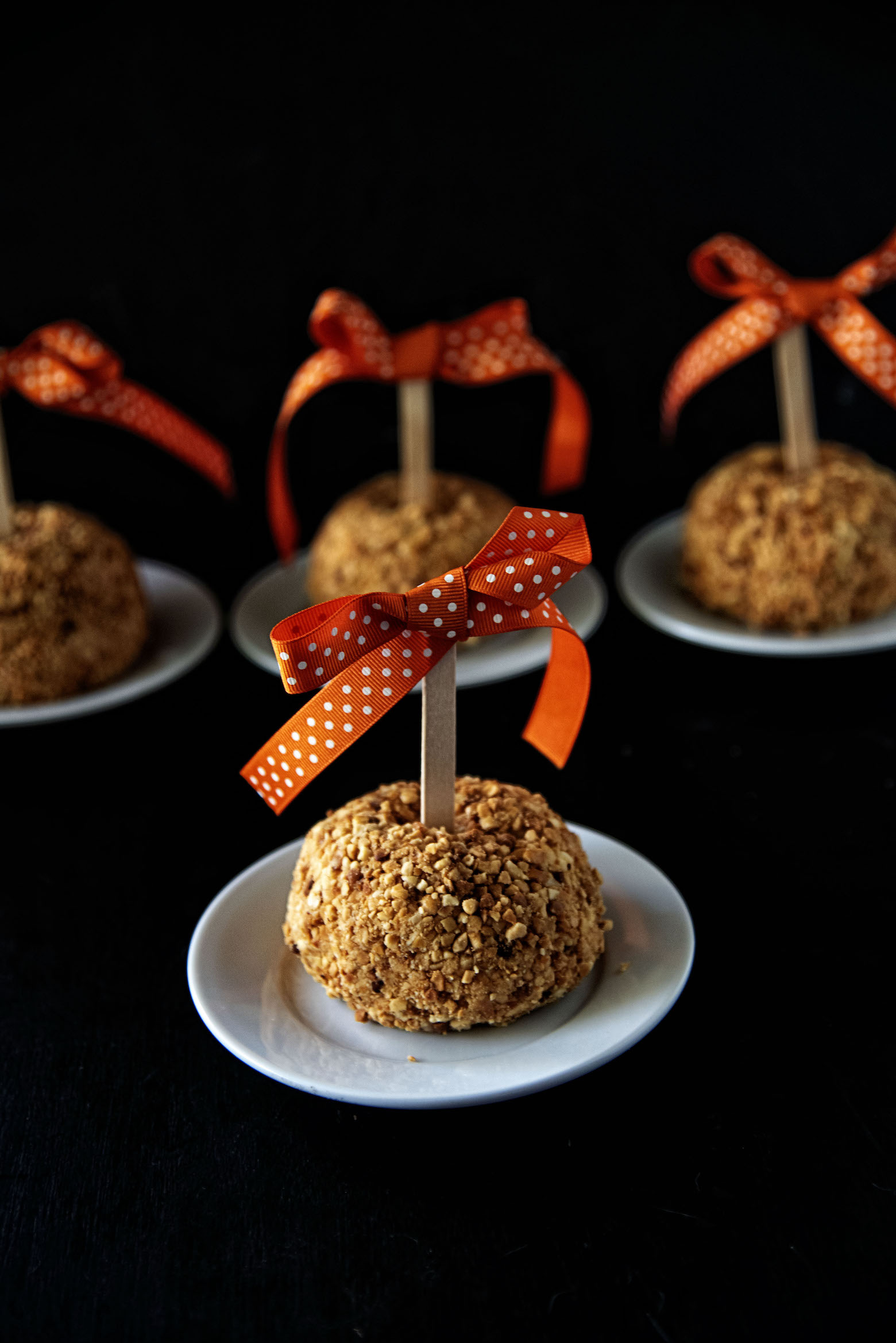 This post and recipe was created for #HalloweenTreatsWeek!
I was sent products by some of the sponsor companies but as always opinions, bad grammar, and overuse of emojis are 100% mine.
In this post I used Dixie Crystals Sugar granulated sugar as well as Litehouse Foods Caramel Old Fashioned Caramel Dip which were sent to me free by both companies for participating in #HalloweenTreatsWeek.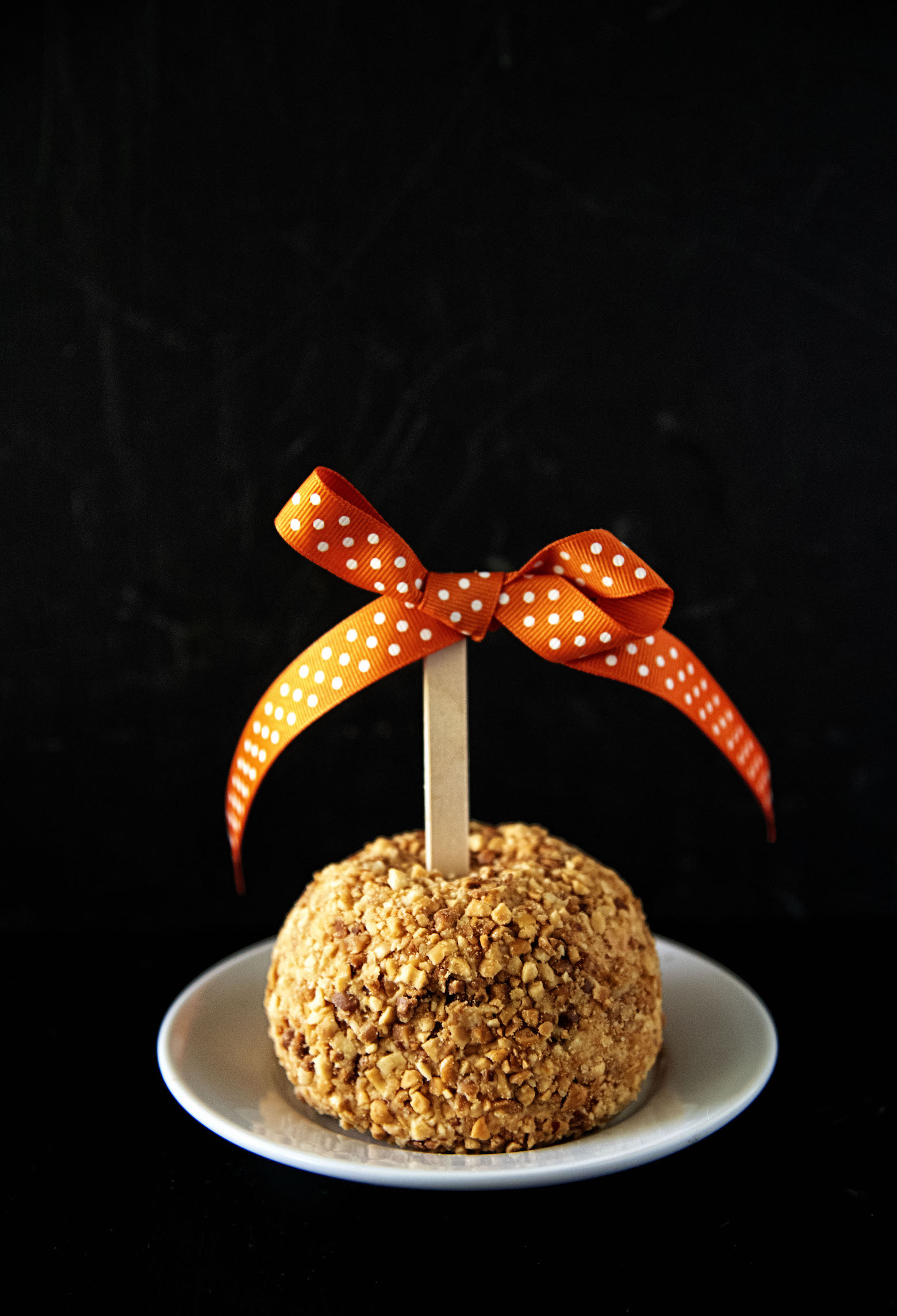 So #HalloweenTreatsWeek got a new sponsor this year, Litehouse Foods.
But it's one I know well because their headquarters in the town where my parents retired to.
So I've driven by their headquarters quite a few times.
That and I buy their salad dressing. 🙂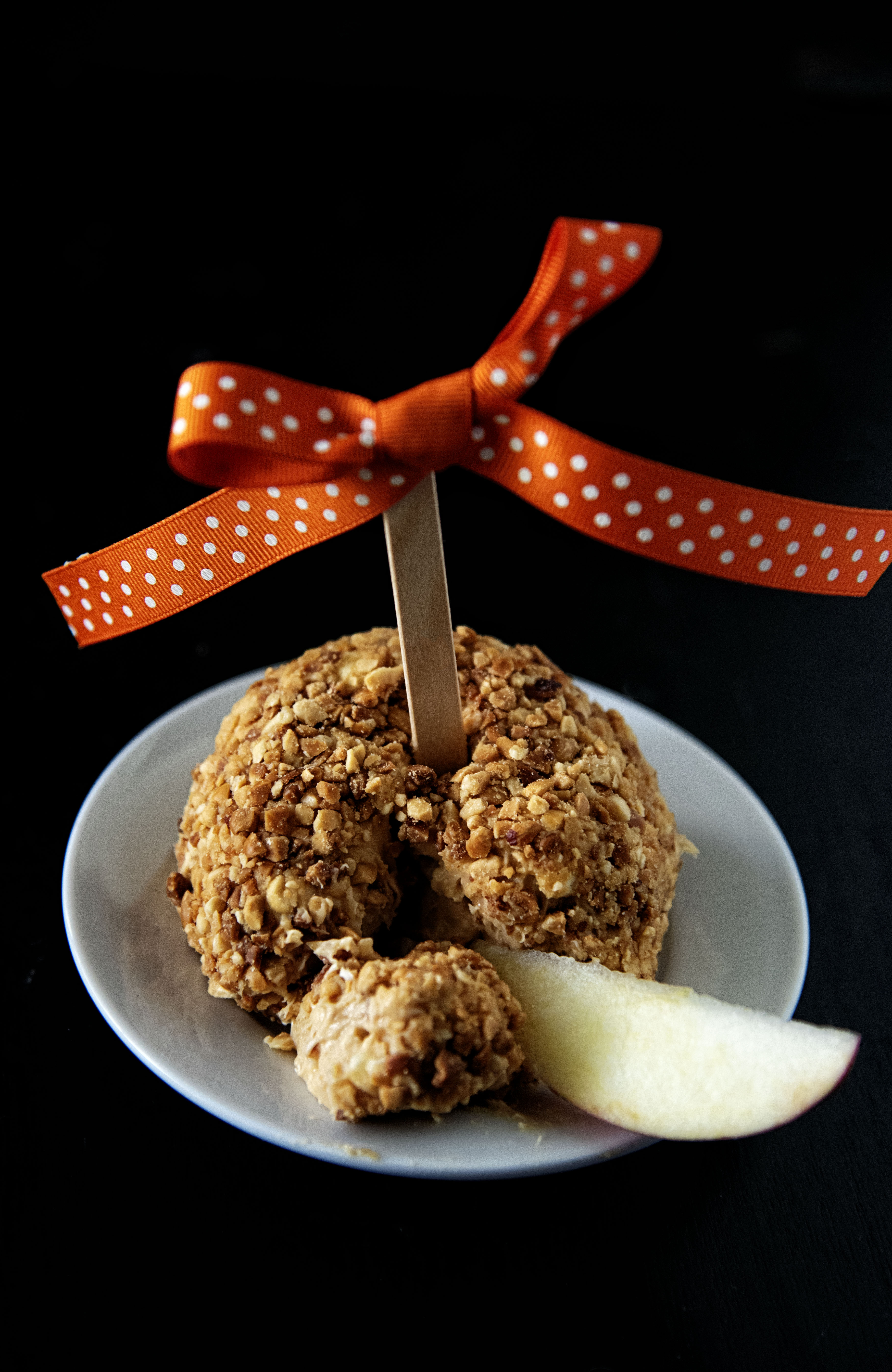 But since this is a treats week they sent us sweet treats.
Caramel dip.
And a pumpkin spice caramel dip.
Chocolate dip as well.
I was all about the Old Fashioned Caramel Dip and that's what I used in my cheesecakes.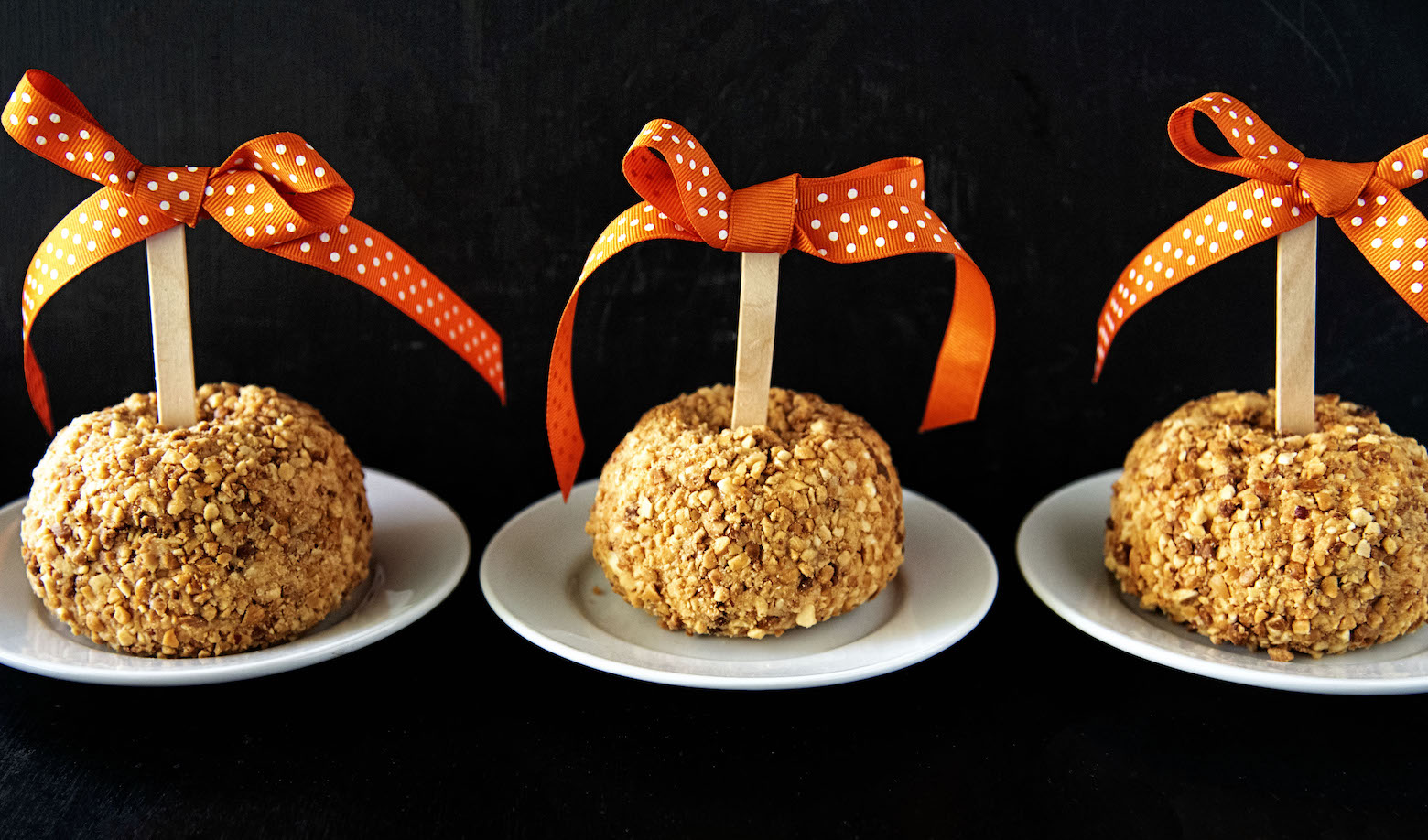 I do love making dessert cheesecake cheeseballs.
Figuring out how to make this Halloween-ish was a little hard.
At first I was going to make a giant one like I usually make my cheeseballs.
Then randomly at hockey while skating I thought hey, I'll make them small and attempt to look like actual caramel apples.
That's what they are supposed to look like.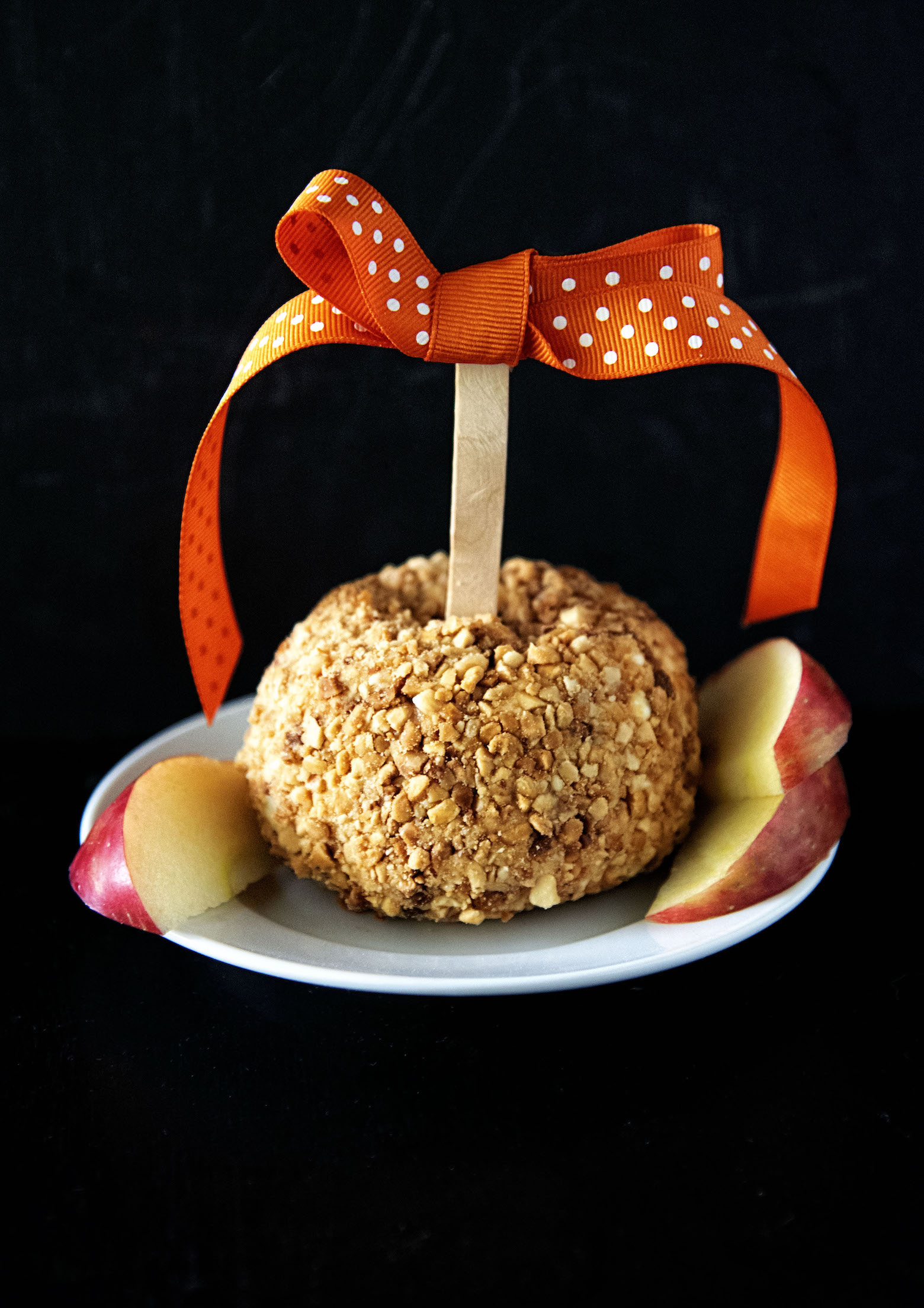 Not sure that I totally nailed it but it's definitely not a Pinterest fail. 😀
I chose to roll my cheeseballs in dry roasted peanuts because that is my favorite on caramel apples.
But if you like yours with white chocolate chips or pecans or whatever feel free to switch them out.
I did once again prove to myself that I can not tie bows. 🙂
But the cheesecakes themselves are very tasty and I think it's fun that everyone gets their own little cheeseball to enjoy.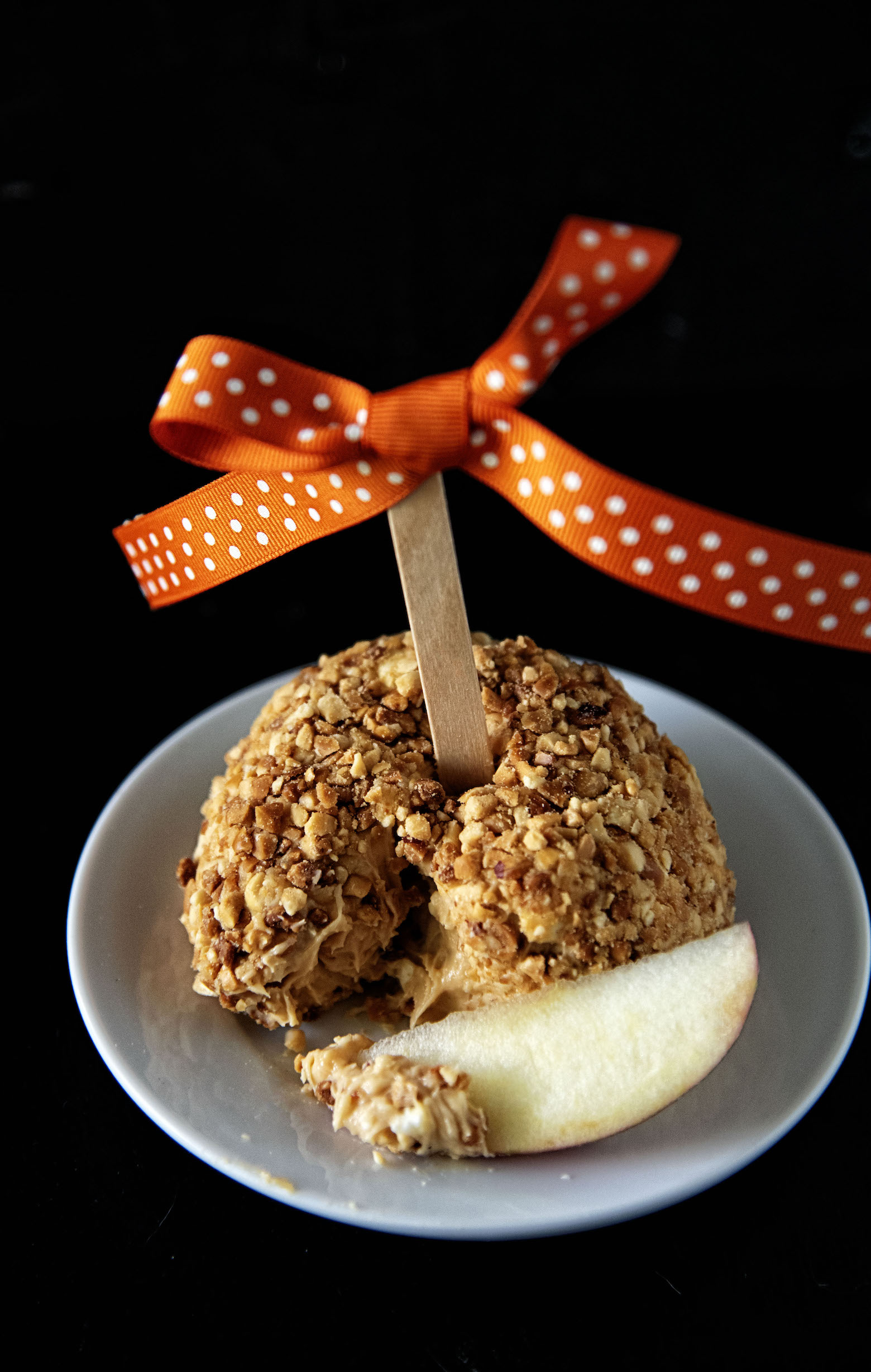 What are the other bloggers making?
Check out the amazing #HalloweenTreatsWeek recipes from our bloggers today!
And even more recipes….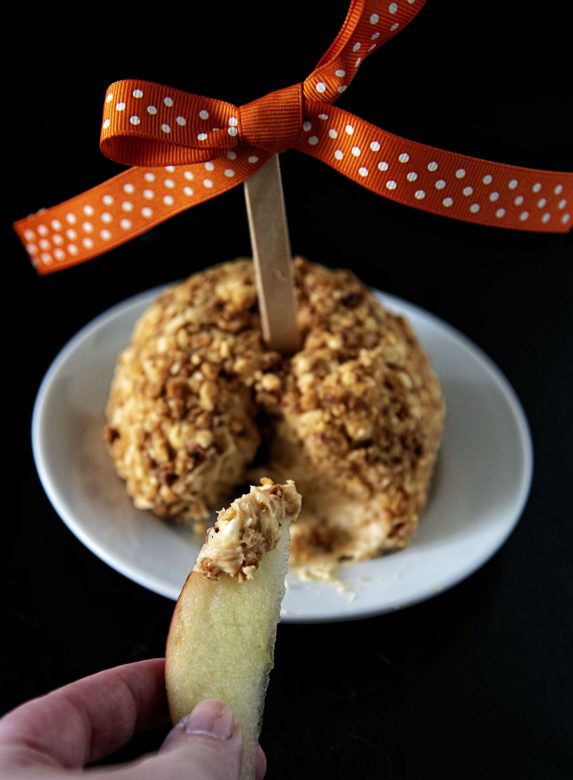 Want more Cheeseball Recipes?
Chocolate Spider Cheesecake Cheeseball
Gingerbread Cheesecake Cheeseball
Angel Food Cake and Strawberry Cheesecake Cheeseball
Circus Animal Cheesecake Cheeseball
Chocolate Chip Cookie Dough Cheesecake Cheeseball
Cake Batter Cheesecake Cheeseball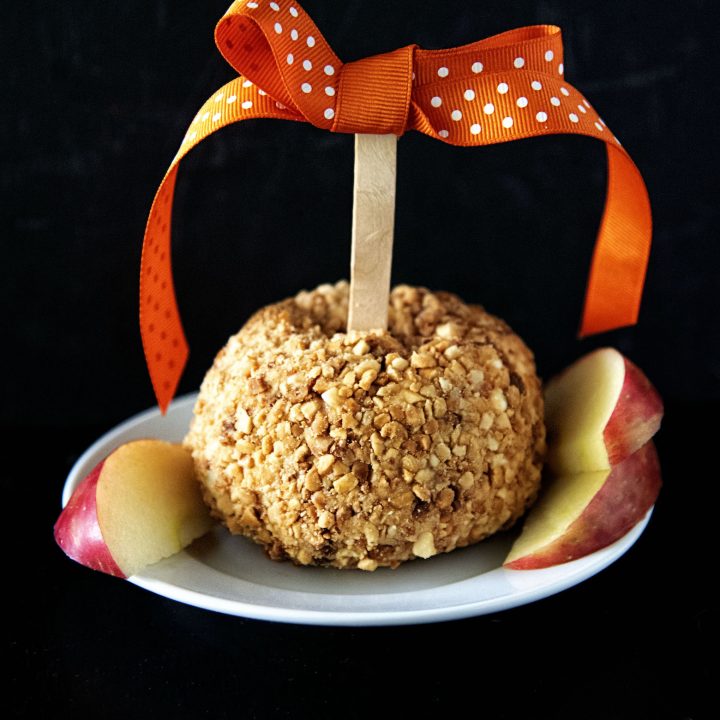 Caramel Apple Cheesecake Cheeseballs
Ingredients
16 oz. cream cheese, at room temperature
1 cup unsalted butter, at room temperature
1/3 cup freeze dried apples, crushed
3 TBSP powdered hot apple cider drink mix
16 oz. Litehouse Old Fashioned Caramel Dip
2 cups powdered sugar
1 cup toffee piece (not chocolate covered)
2 cups dry roasted chopped peanuts
Instructions
Using a stand mixer with a paddle attachment beat together the cream cheese and the butter until fully incorporated.
Add the caramel dip and mix until fully incorporated.
Add the hot apple cider mix, freeze dried apples, and sugar, and beat until fully incorporated.
Add toffee to the batter and mix on low until they are dispersed into the cheeseball mixture.
Lay out 4 pieces of plastic wrap.
Divide cheeseball mixture into 4 parts and scoop 1 part onto one piece of plastic wrap. Repeat for all four.
Do your best to form a ball, then wrap up the ball in the plastic wrap.
Do an extra layer of plastic wrap to help it keep its shape.
Freeze for about 2 hours.
Take the ball out of the freezer and unwrap.
It's going to be sticky. That is okay.
Place the nuts in a low shallow baking dish or jelly roll pan (I find a plate too small).
Roll the ball in the nuts making sure you cover as much of it as you can.
Wrap the ball back up into some plastic wrap and place in the fridge.
If not serving that day, place back in the freezer and then take out an hour before serving to come up to room temperature.
Add a popsicle stick and some ribbon to make them look more like caramel apples.
Serve with apple slices.