This Hot Buttered Rum Spiral Loaf is swirly layers of dough filled with butter, brown sugar, and butter rum seasoning, and topped with a butter rum glaze.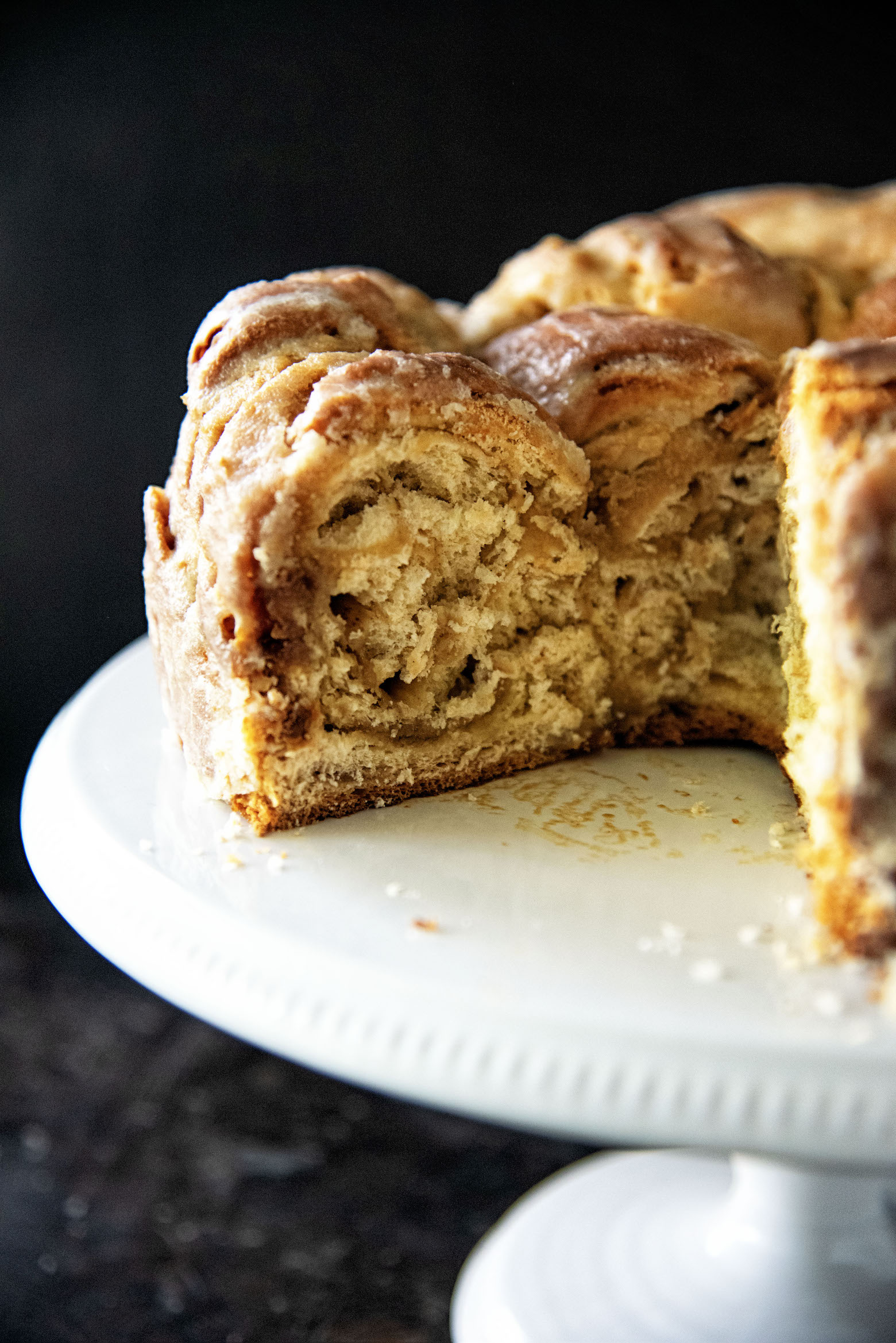 I went to Sprouts the other day.
We used to have them in Arizona where I lived and a year ago we got one not too far from me.
If you don't know them they are similar to a Trader Joes.
They have healthy food stuff, Vegan and Vegetarian, Paleo, etc…
And like Trader Joes they have their own brand of stuff.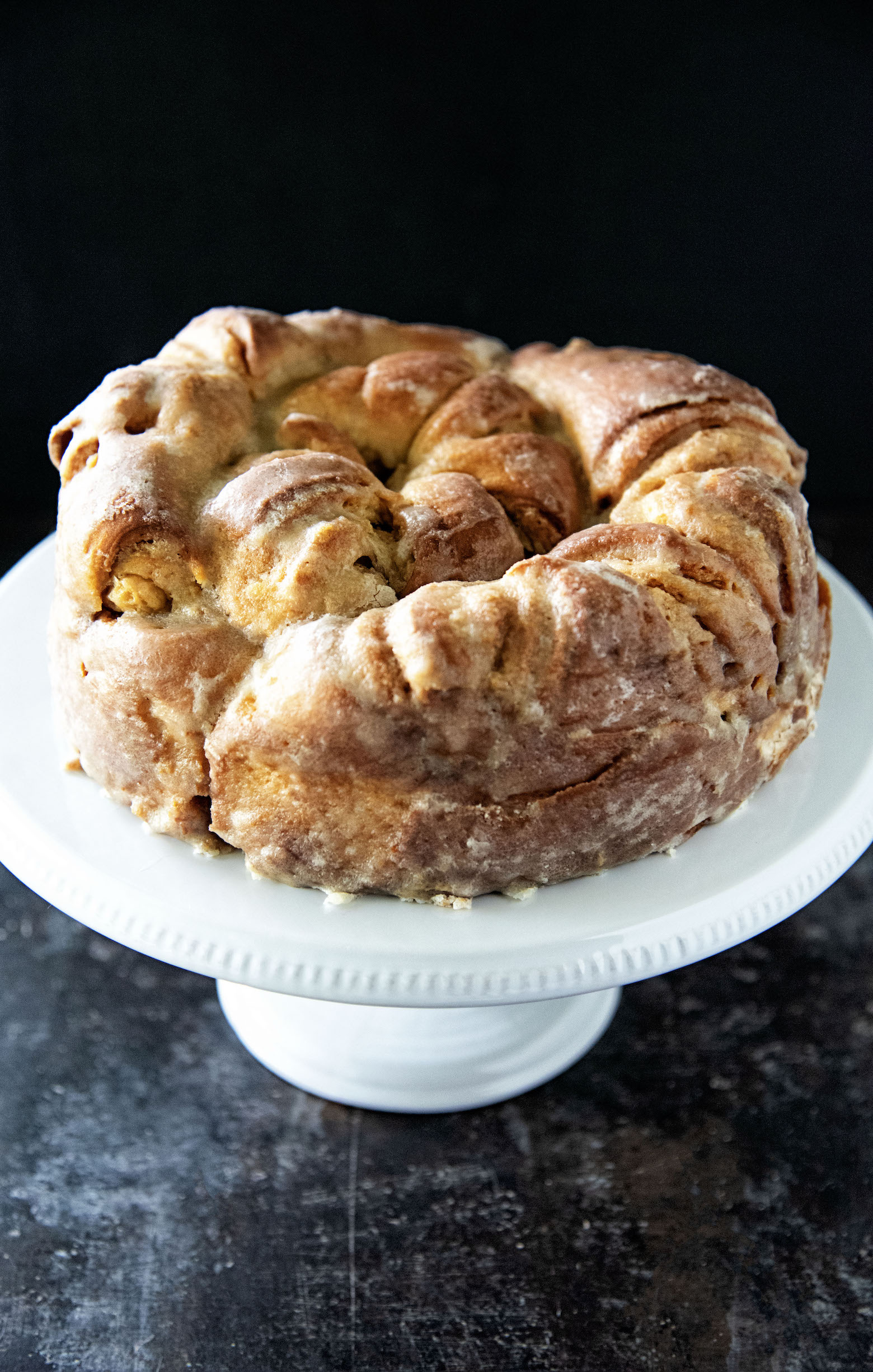 Last year I bought their gingersnaps at holiday time and was addicted.
I missed the fall foods last year so I went to see what they had.
While they had some fall foods they were already putting out the Thanksgiving and holiday baking displays.
Before you get cranky about Thanksgiving being far away, remember for Canada it's Monday the 14th (yes, of October).
Which technically means I can put my tree up early if I want because it will be after my Thanksgiving. 😛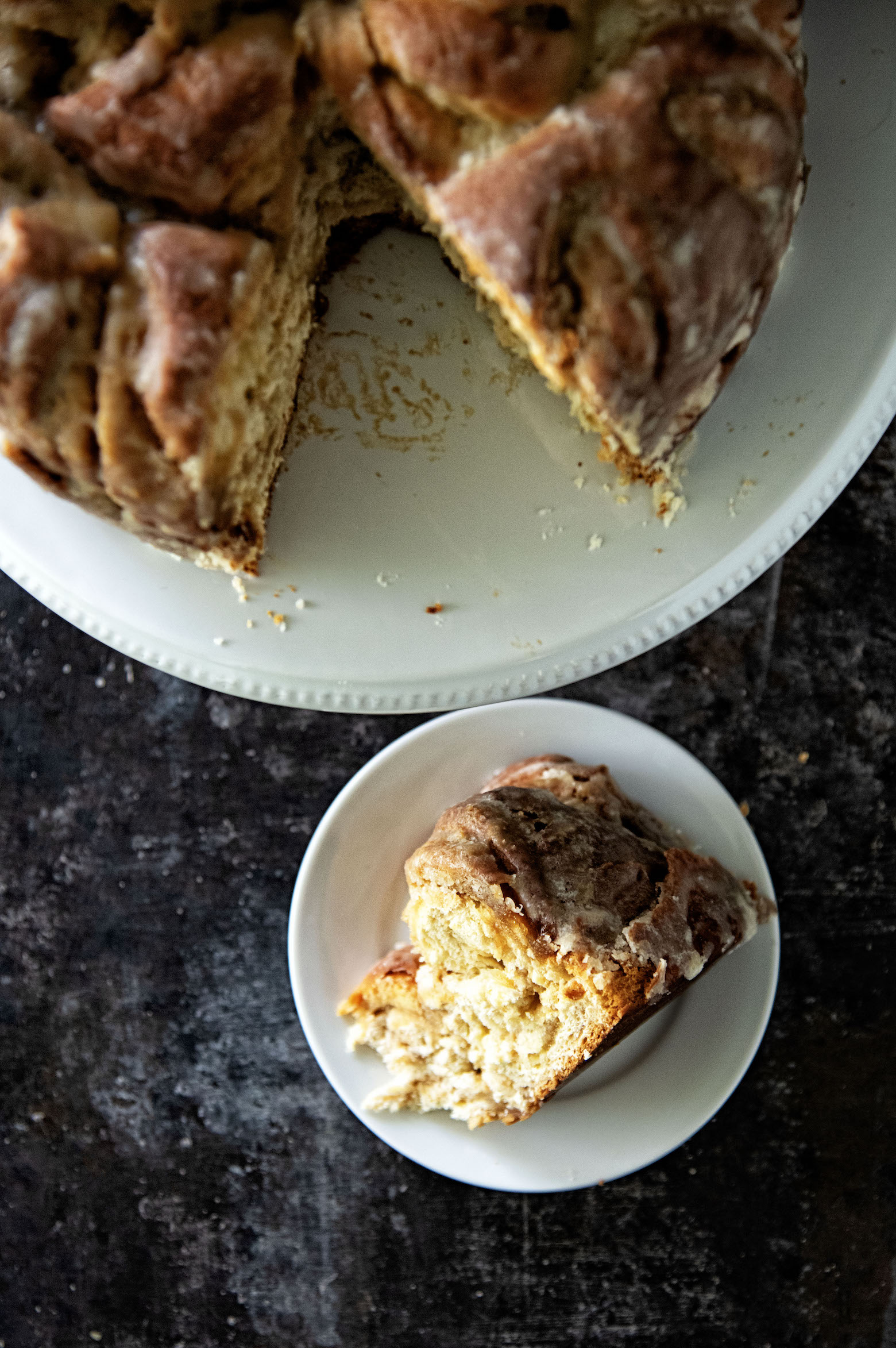 Anyway, I of course had to go see what was in the holiday baking section.
Lots of fun stuff there and one of the things was a packet of hot buttered rum spices.
Ohhh.
Color me intrigued.
At first I thought that I would simply make hot buttered rum with it.
But our local grocery store Haggen makes their own hot buttered rum base and it's really good.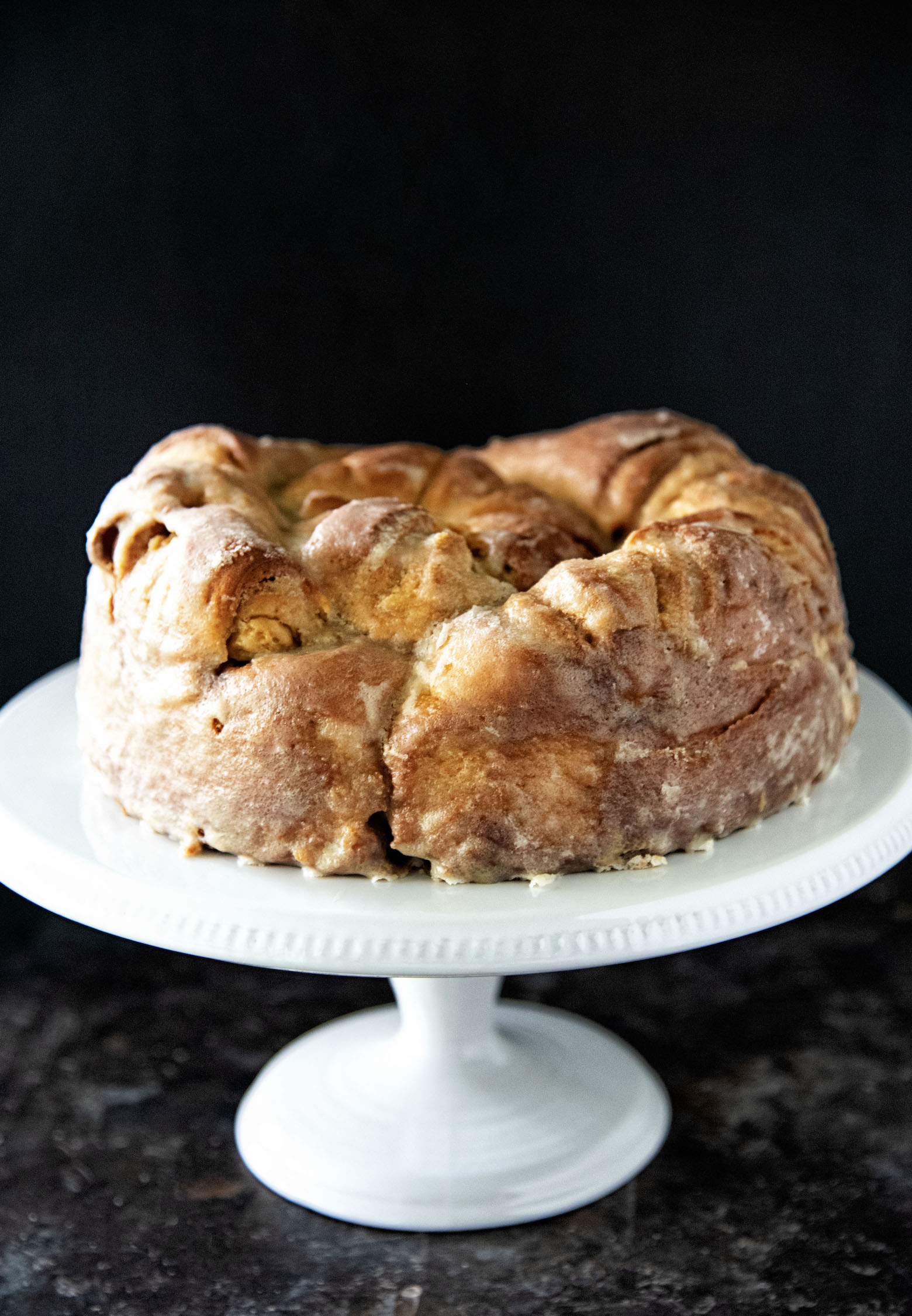 Now if you are panicking and saying I can't get that spice where I live don't panic.
Want to make your own Hot Buttered Rum Spice?
Most recipes just seem to use cinnamon and nutmeg when I look them up.
However the packet has cloves, allspice, lemon oil, and cardamon as well and I think that really adds something.
So I would take 3 TBSP cinnamon, 2 tsp. nutmeg, 1/2 tsp. allspice, 1/2 tsp. ground cloves, 1/2 tsp. lemon zest, and 1/2 tsp. ground cardamom and mix together.
It might not be exactly like the spice mix (which also adds brown sugar but there is enough brown sugar in my recipe you don't need it).
If you are not a fan of cloves, allspice, or cardamon feel free to omit those.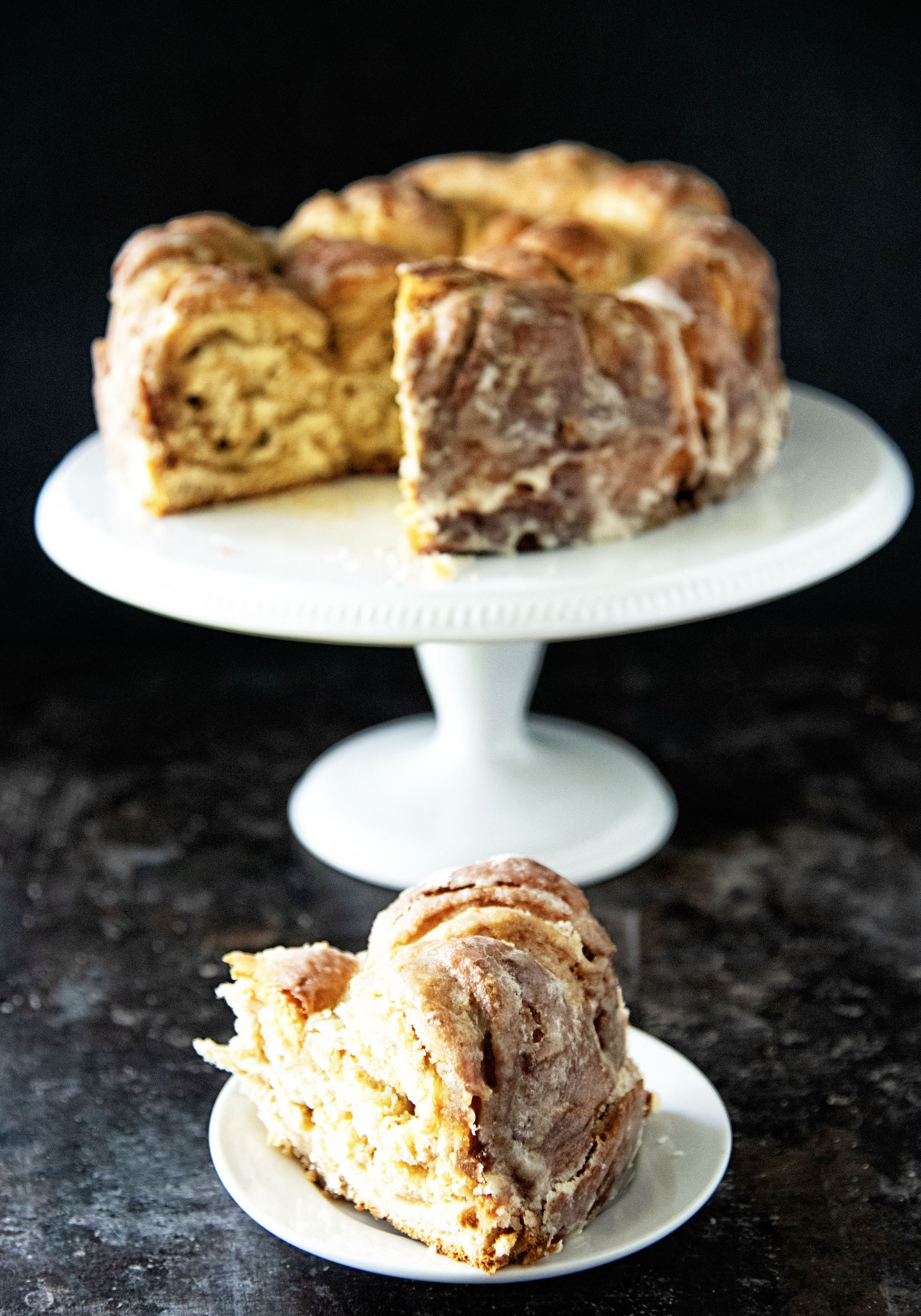 I fully intended on these being cinnamon roll type buns.
But I have been making so many buns lately I went for a loaf this time around.
A Hot Buttered Rum Spiral Loaf.
You are rolling it up the same way.
I chose to cut the top of the dough with scissors in places just to add some visual appeal and to have some of the filling show.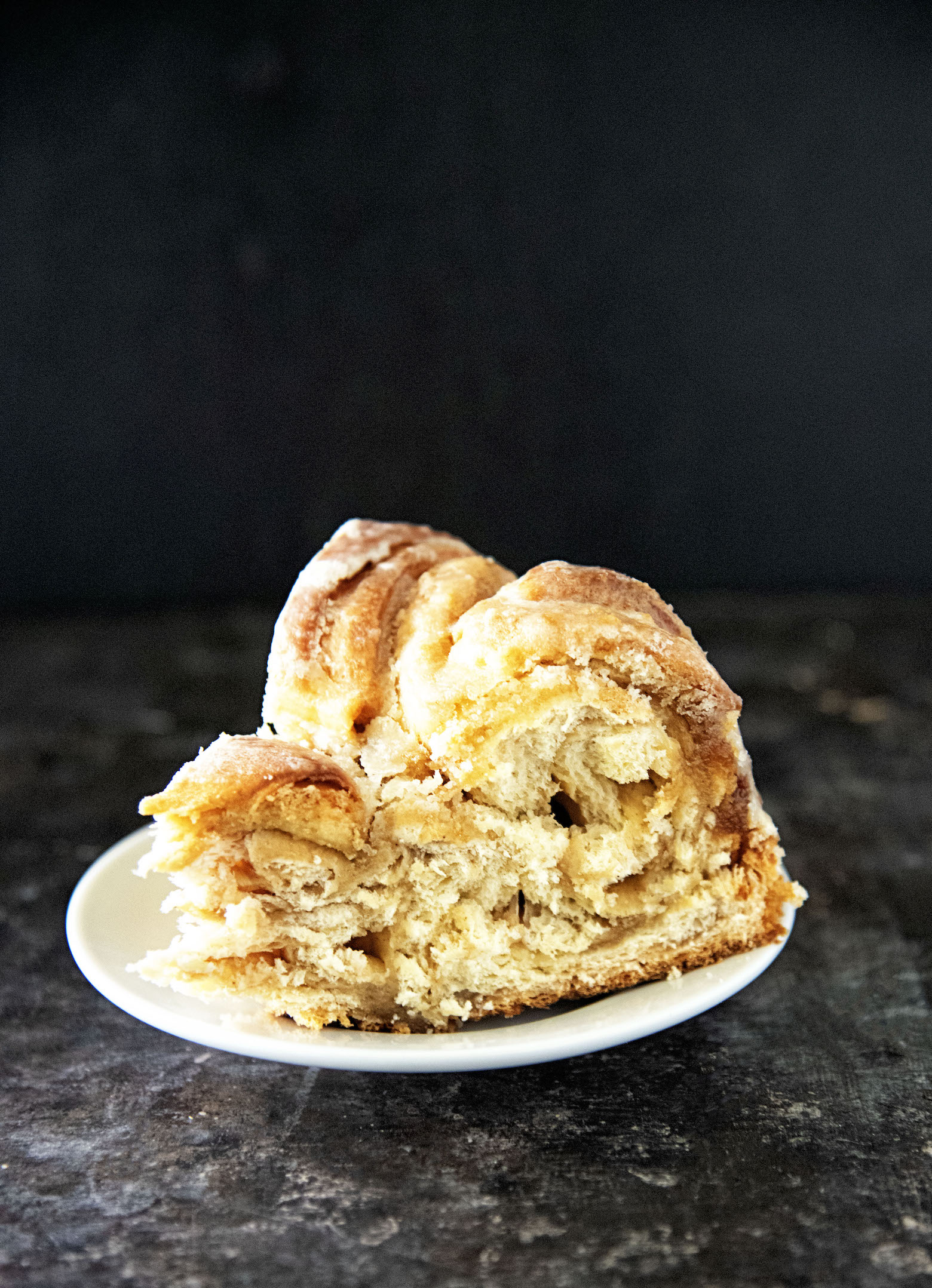 If you want to make these into rolls instead of a loaf:
Cut into 12 equal portions using a large sharp knife (they should be 1 1/2-inch each).
Cover with plastic wrap loosely.
Let rise in a warm place until doubled in volume, about 1 1/2 hours.
Preheat oven to 350F near the last 20 minutes of rolls rising.
Bake rolls in preheated oven until centers are no longer doughy, about 25-30 minutes.
And then glaze them individually.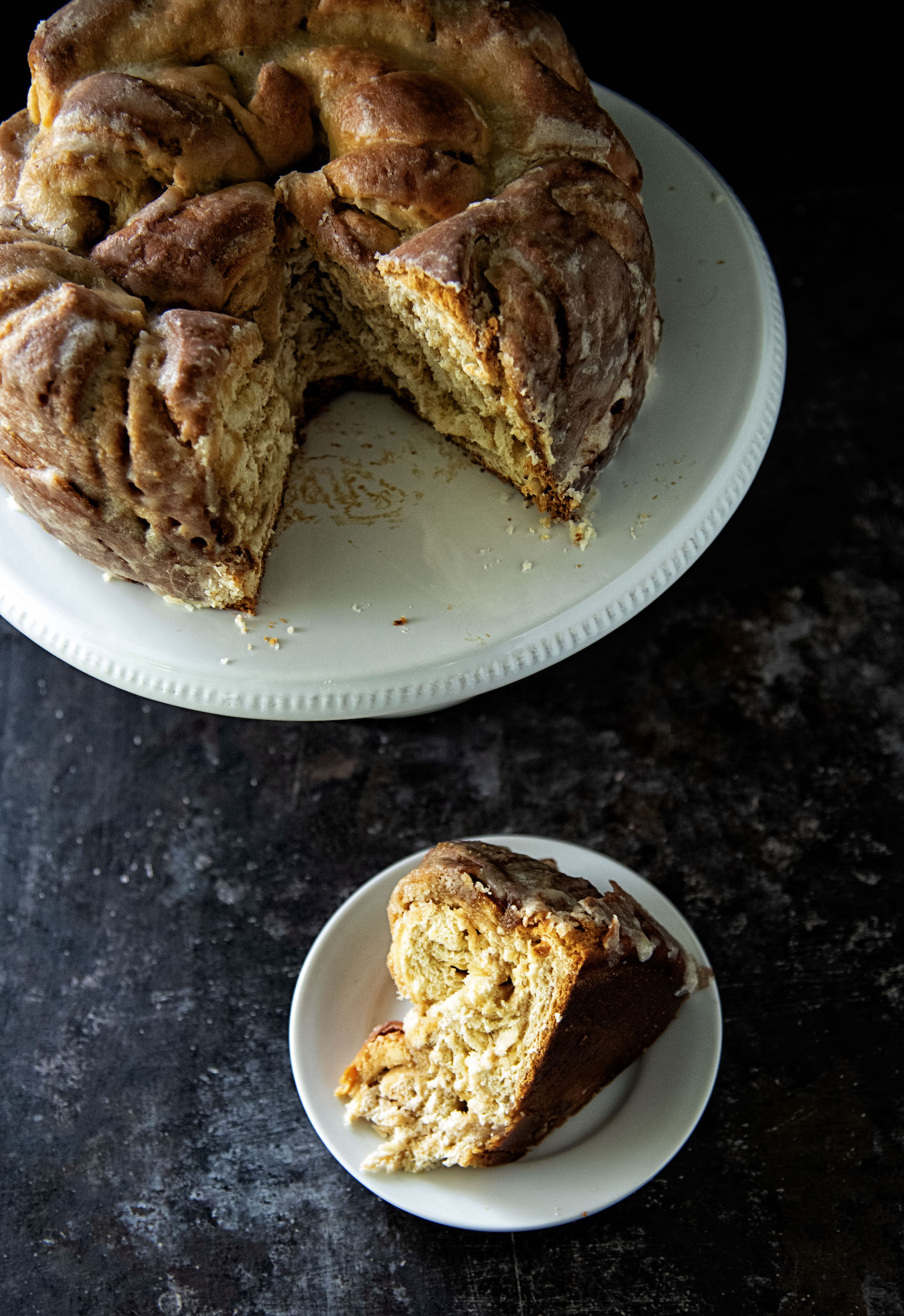 Whether you choose loaf or rolls you should make this.
It's super tasty and I'm so hoping when I go back to the store that there will be more spice mix there.
As I will now be hoarding it for other projects. P.S.
It's a great day to buy my cookbook Holy Sweet!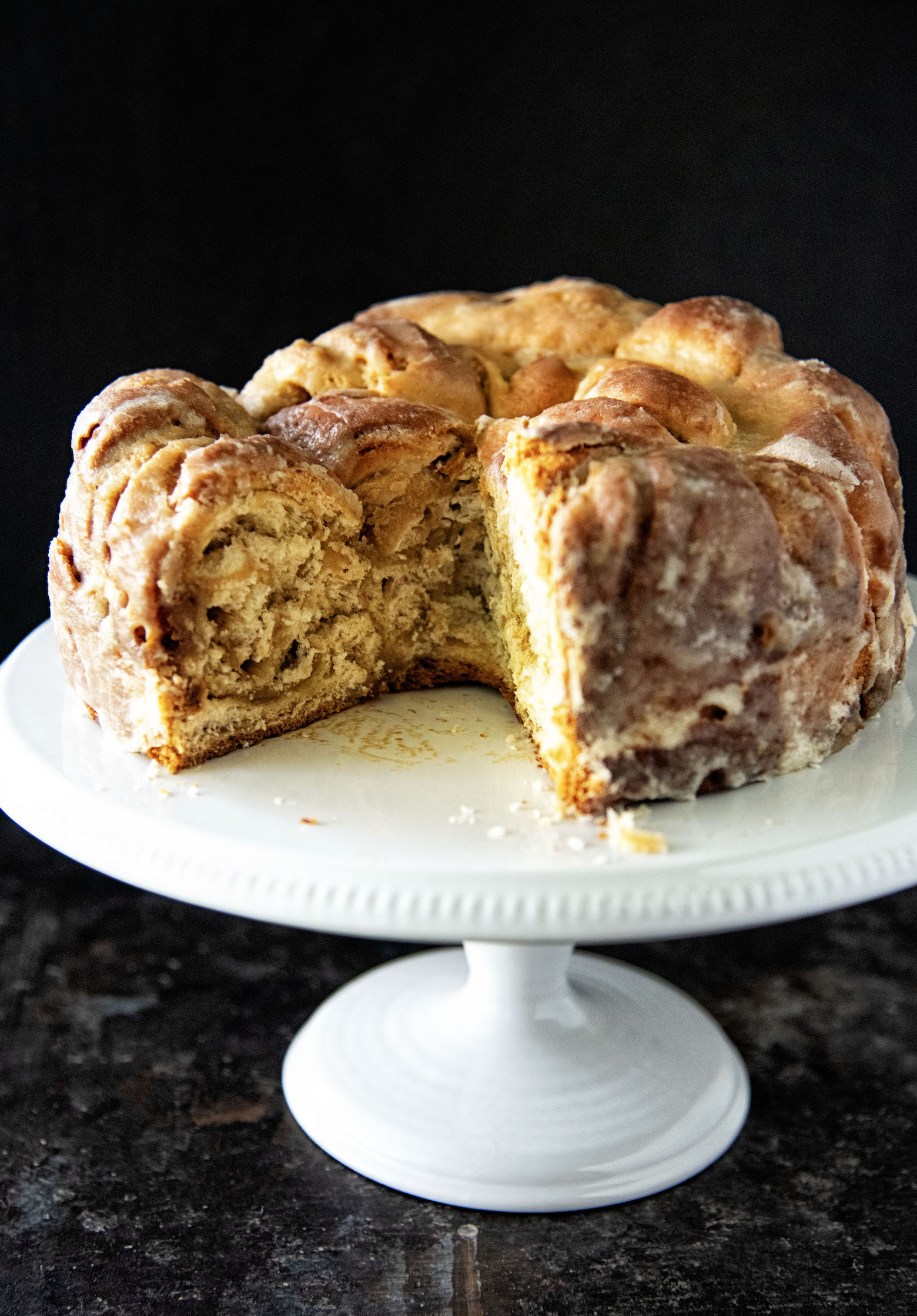 Want more recipes? Try these:
Whiskey Glazed Apple Buttermilk Pound Cake
Fireball Glazed Cinnamon Sugar Babka
Bourbon Brown Butter Chocolate Chip Cake
Apple Cider Cinnamon Roll Loaf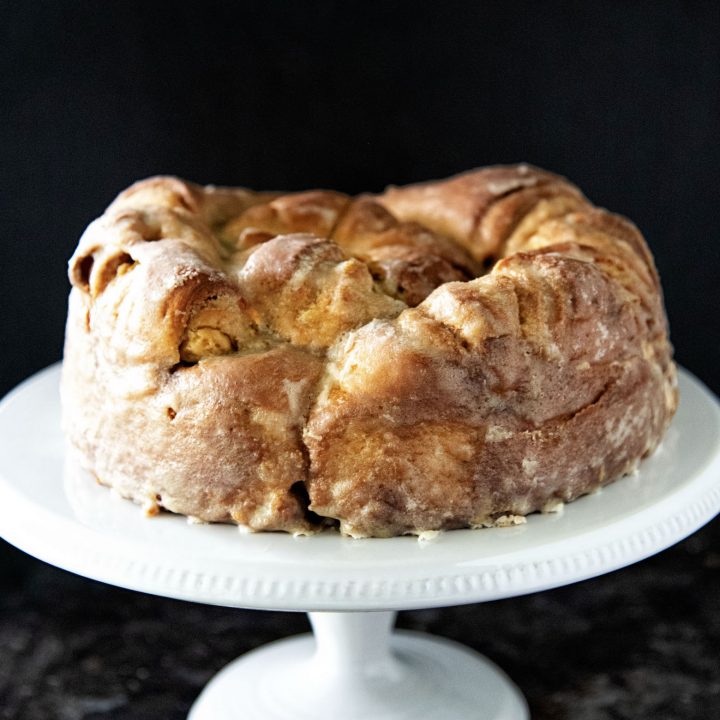 Hot Buttered Rum Spiral Loaf
Ingredients
For the Dough:
1/2 cup warm water, at 110 – 115F
1 TBSP active dry yeast (I used Red Star Yeast Platinum)
1/2 cup whole fat buttermilk, at room temperature
2 large eggs
1/2 cup plus 1/2 tsp granulated sugar, divided
1 tsp. salt
1 tsp. vanilla extract
1 TBSP hot buttered rum spice
6 Tbsp unsalted butter, melted and slightly cooled
3 1/2 – 4 cups bread flour
For the filling:
6 TBSP unsalted butter, super soft but not quite melted
1 cup packed brown sugar
2 TBSP hot buttered rum spice
For the Glaze:
1 ½ cups powdered sugar
5 TBSP Spiced Rum
2 TBSP unsalted butter, melted
Instructions
Using a stand mixer with the paddle attachment add the yeast, warm water, and 1/2 tsp. granulated sugar.
Let rest for 5-10 minutes to proof…the batter will puff up.
Add in buttermilk, eggs, 1/2 cup granulated sugar, salt, vanilla, butter rum spices, and melted butter and mix until fully combined.
Add in 2 1/2 cups of the flour and mix until fully combined.
Switch to a hook attachment then add another 1 cup flour. Knead mixture until combined.
Continue to knead on low speed about 5 – 6 minutes while adding a little more flour as needed to reach a soft and moist dough (Dough shouldn't stick to the sides of the bowl but does stick to the bottom).
Transfer dough to an oiled bowl, cover with plastic wrap (I find press and seal works best) and let rise in a warm place until doubled in volume, about 1 1/2 hours.
Punch dough down.
Dust a working surface lightly with flour and turn dough out onto surface.
In a small mixing bowl whisk together brown sugar and buttered rum spice.
Roll into a 30-inch by 20-inch rectangle.
Spread butter to within 1-inch of edges.
Sprinkle the cinnamon sugar on top of the butter.
Roll up from one long side; pinch seams and ends to seal.
Grease a 10-inch springform pan.
Form the dough into one giant spiral.
Cut top of dough with kitchen scissors in a few spots to reveal the filling if desired. This is not needed but makes for a fun looking loaf.
Cover with plastic wrap loosely.
Let rise in a warm place until doubled in volume, about 1 1/2 hours.
Preheat oven to 350F near the last 20 minutes of rolls rising.
Bake at 350F for 35 minutes or until golden brown.
Cool on a wire rack.
For the Glaze:
Whisk together the ingredients of the glaze in a medium bowl.
Glaze loaf while still warm.