The addition of creamy Nutella and rough puff pastry crust really adds to the amazing scratch made Nutella Chocolate Cream Pie.


So you are going to look at the long recipe and think no way.
YES way people, yes way!!!
This is what a chocolate cream pie is supposed to taste like.
And what makes it even better?
Nutella.
That's right, Nutella Chocolate Cream Pie.
It has many steps but most can be prepared ahead of time and is not hard just time consuming.
You will write me a love letter after you eat this, well okay, a like you a whole bunchy-bunch letter. 😀
For years I had shied away from making chocolate cream pie because my husband said that he could not take another chocolate cream pie in his life every again.
I just didn't understand this.
Until one day I said describe the type of chocolate cream pie you were eating (because there are a few variations).
He explained that it was a store bought crust (which I have been known to use from time to time), chocolate pudding mix with sweetened condensed milk and whipped cream on top.
I said you didn't have chocolate cream pie, you had pudding pie.
I said I will make you a chocolate cream pie.
He scrunched the nose a little and said okay.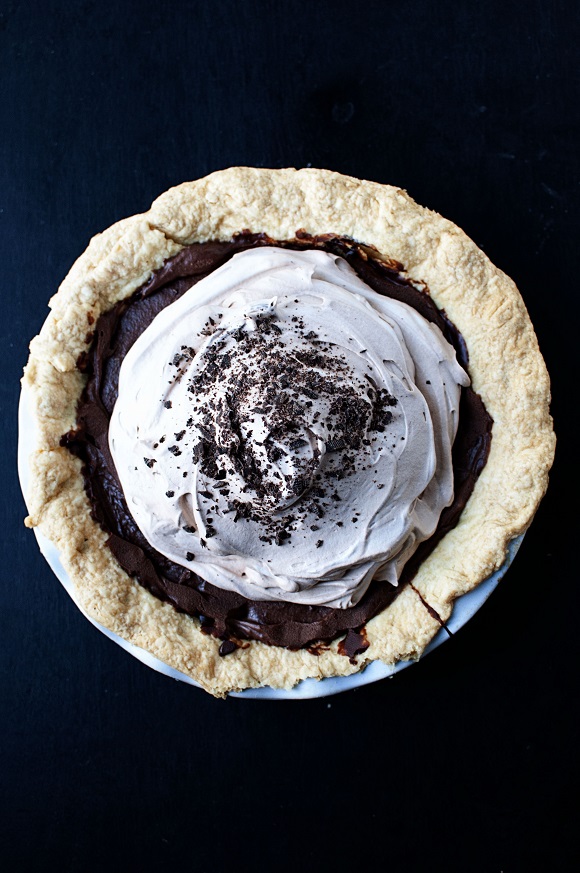 I was taught to make chocolate cream pie with pastry cream (where it gets the cream part of its name) and that to me is the only way to make them.
All traditional cream pies are pastry cream based.
Don't get me wrong I'm all in favor of pudding…it's just not cream pie to me.
There are tons of chocolate cream pies when you google it.
It got me thinking how many Nutella Chocolate Cream Pies are there?
Not many surprisingly.
Some people like to use a chocolate cookie crust for their cream pies, but I like the more traditional crust.
I've been searching for a good crust as pie crust and I are often not friends.
So I turned to one of my favorite cookbook authors Gesine Prado Bullock (yes she is Sandra's sister) because all of her cookbooks are the best.
I made her beautiful Rainbow Cake for the twins 15th birthday two years ago and it was a huge hit.
Her chocolate cream pie asked for a quick puff pastry crust.
I thought okay, I'll trust her on this and give it a try.
I was not disappointed.
This makes one heck of a flaky crust.
Don't skimp on the kind of butter you use, this is definitely a time to break out the Plugra!
You will also notice that the crust is lined with the ganache and then chilled.
Don't skip this step, this is a great way to help keep the crust from getting soggy!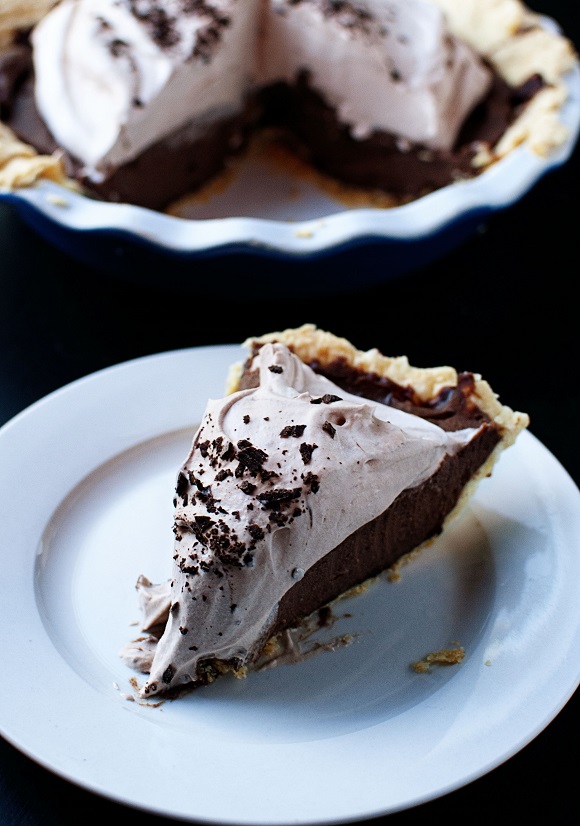 So will my hubby be eating chocolate cream pies now?
That would be a HECK yeah!
He was blown away!
I was blown away.
I forgot how good they can be when you really take the time to do it right..and this is the way to do it right!
It also means get ready for a whole heck of a lot of cream pies coming your way as I feel I found my crust and a great base recipe!
So MAKE this pie!
Did I mention MAKE this pie?
No really, MAKE this pie!!!
Please, please, please READ through the whole recipe before you make this.
Make sure that you get your ducks in a row before you realize something has to chill for a couple hours before assembly, etc.
It will be worth the effort!
P.S. It's a great day to order my cookbook.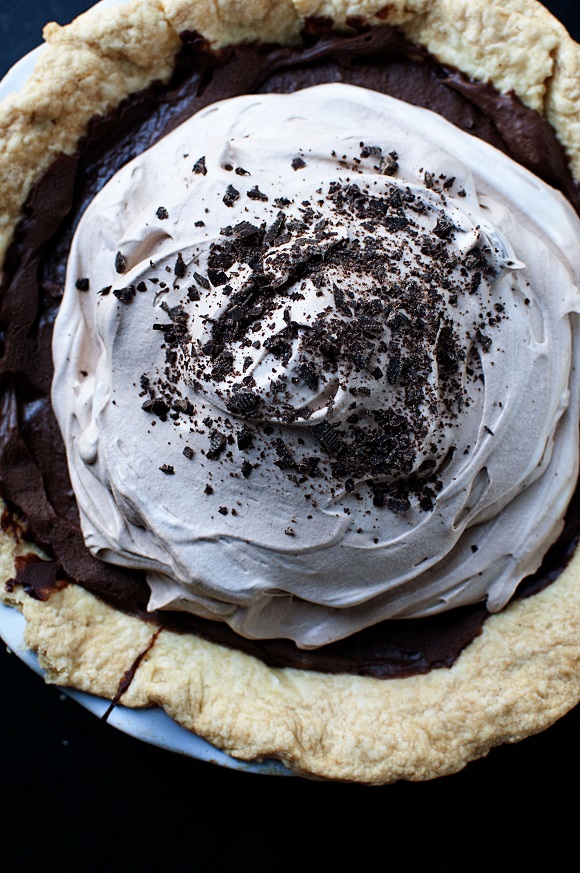 Want More Pie Recipes?
Cinnamon Toast Crunch Apple Slice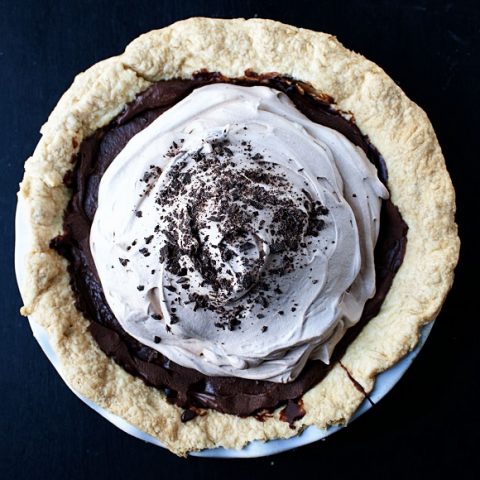 Nutella Chocolate Cream Pie
Ingredients
What You Need:
¼ batch Quick Puff Pastry Crust (recipe follows)
1 batch chocolate ganache
½ batch pastry cream
¾ cup Nutella hazelnut spread
1 batch Nutella whipped cream
Semisweet chocolate shavings (garnish)
For the Crust:
3 1/3 cup all-purpose flour
2 cups unsalted butter, cold and cut into chunks (I used Plugra)
1/2 cup plus 1/8 cup ice cold water
1/4 tsp. salt
For the Pastry Cream:
1 cup milk
1 cup heavy cream
6 egg yolks
¼ cup granulated sugar
1/4 cup cornstarch
Pinch of salt
For the Chocolate Ganache:
6 oz. semisweet chocolate, finely chopped
2 oz. bittersweet chocolate, finely chopped
¾ cup heavy cream
2 TBSP unsalted butter
1 TBSP corn syrup
Pinch of salt
For the Nutella Whipped Cream:
1 cup heavy cream
½ cup Nutella hazelnut spread
Instructions
For the Crust:
In a large bowl, combine the flour and salt.
Stir with your hands to distribute the salt.
Add the butter and massage the butter into the flour with the tips of your fingers until the butter pieces are a bit smaller, about the size of a dime.
Add the water and smoosh everything around with your hands, coating the mixture with water (this gets terribly messy and sticky).
Gently knead until the whole mess looks like it's just barely holding together.
Dump the dough out onto a lightly flour surface and form it into a loose square.
Cover the dough with plastic wrap and let it rest for 10 minutes on the counter, where the flour will continue to absorb moisture from the water and butter.
Roll the dough into a rough 12 x 20″ rectangle.
Make a single fold by bringing one short edge of the dough to the midline of the rectangle, then fold the other side over on top of the first fold- just like folding a letter.
Turn the dough 90 degrees, roll out the dough again to the same size rectangle, and make another letter fold.
Do this twice more, to make 4 folds and turns total.
Bits are going to fall off and you are going to panic. Don't worry. Just be patient.
Place the globs of dough back into the whole and just keep going, it comes together in the end I promise.
Cover the dough with plastic wrap and allow to rest in the fridge for at least 20 minutes or freeze for months.
Remove from fridge and preheat oven to 350F.
Roll out the dough and use it to line a 9-inch pie plate.
Dock (aka stab with a fork in several spots) and freeze it for 20 minutes.
Line the crust with parchment paper and fill it with pie weights.
Bake 20 minutes.
Remove the pie weights and parchment and bake the crust for 10-15 minutes more, or until he bottom is golden brown and cooked through.
Set it aside to cool completely, about an hour.
For the Pastry Cream:
In a saucepan, combine the milk and heavy cream.
Bring to a simmer.
In the bowl of a stand mixer fit with the whisk attachment, combine the egg yolks, sugar, corn starch, and salt.
Whisk on high until light and fluffy.
Turn the mixer speed to medium and carefully pour the hot milk/cream mixture down the sides of the bowl into the egg yolk mixture.
Whisk until combined.
Transfer the custard back to the saucepan, scraping the sides of the bowl to get all the cornstarch into the saucepan.
Whisk over medium/low heat until the mixture thickens, to the consistency of mayo.
Transfer to a large bowl.
Cover with plastic wrap, making sure that the wrap touches the surface of the cream to keep a skin from forming.
Refrigerate until cold, about 2 hours.
For the ganache:
Place the chocolate and pinch of salt in a medium sized heat safe bowl and set aside.
Combine the butter, corn syrup, and cream in a saucepan over medium-high heat and bring the mixture to a simmer.
Pour the cream mixture over the chocolate and allow to sit for about a minute.
Whisk until the mixture is smooth.
Cover with plastic wrap and have it come to room temperature.
For the Whipped Cream:
Pour cream into a bowl of a stand mixer, using the whisk attachment, beat until it forms stiff peaks.
Add Nutella and beat until fully combined.
Place in fridge until needed.
To assemble the pie:
Spoon ¼ cup of the chocolate ganache into the crust and spread it evenly along the bottom and sides of the pie crust.
This will help it from becoming soggy when the cream filling goes in.
Chill in fridge for 15 minutes.
Stir 1 cup chocolate ganache into the pastry cream and whisk until mixture is smooth.
Add the ¾ cup of Nutella and again whisk until smooth.
Pour into the prepared ganache lined pie shell and spread it into an even layer.
Chill the pie until it is set, about 2 hours.
Top with the Nutella Whipped Cream and sprinkle chocolate shavings on top.