The Pumpkin Cinnamon Roll Bread Pudding has chopped up pumpkin spice custard to be made into a comforting fall bread pudding.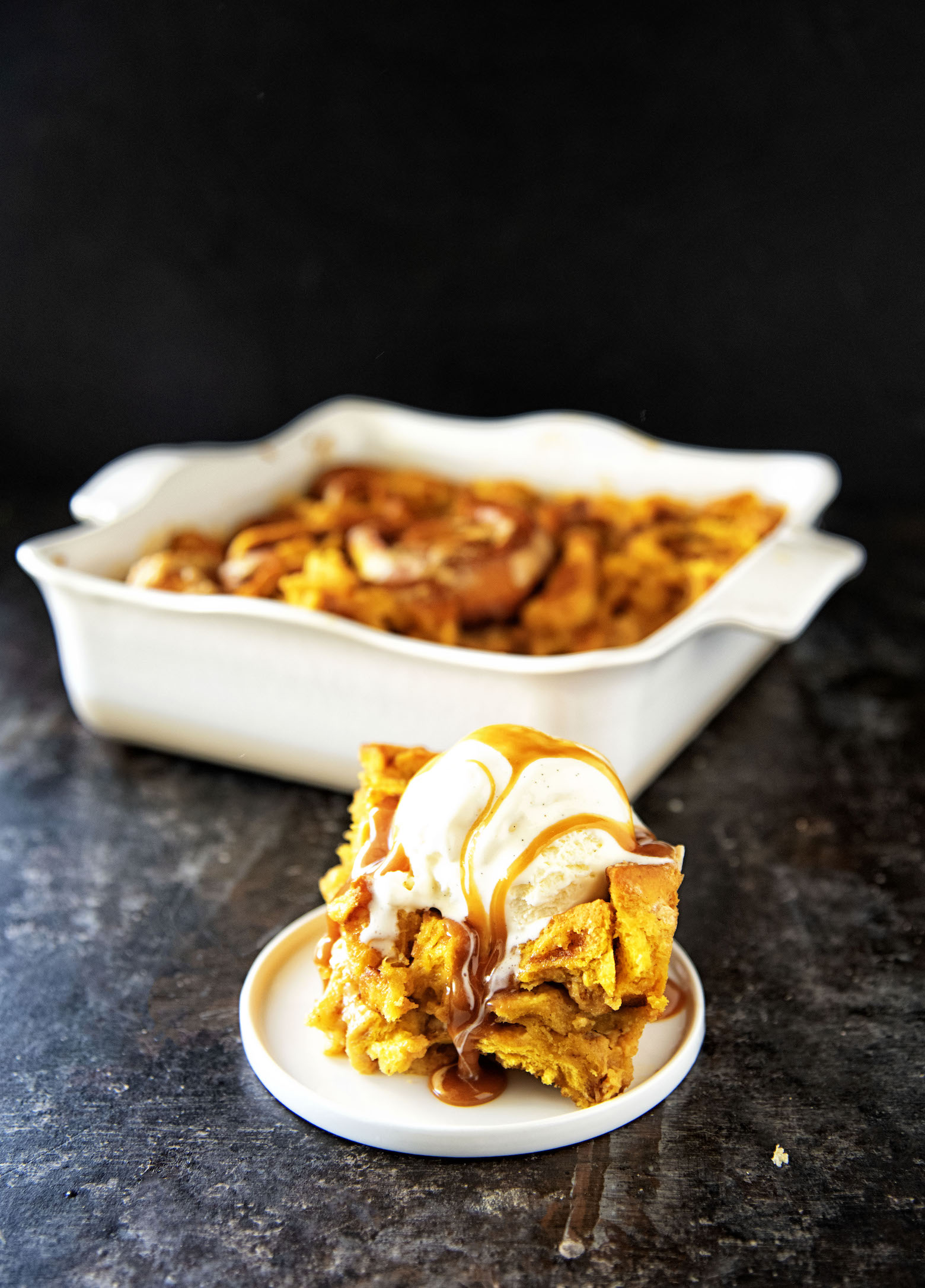 If you have ever watched Grey's Anatomy and never been to Seattle you might think we get downpours and thunder and lightning all the time.
But we don't.In fact our rain is more of a misty drizzle most days.
We don't use umbrellas.
If we see someone with an umbrella in Seattle we assume they are a tourist.
We are usually right.
And I think I have seen lightning here a few times since I've moved here almost 15 years ago.
Saturday night though that all changed.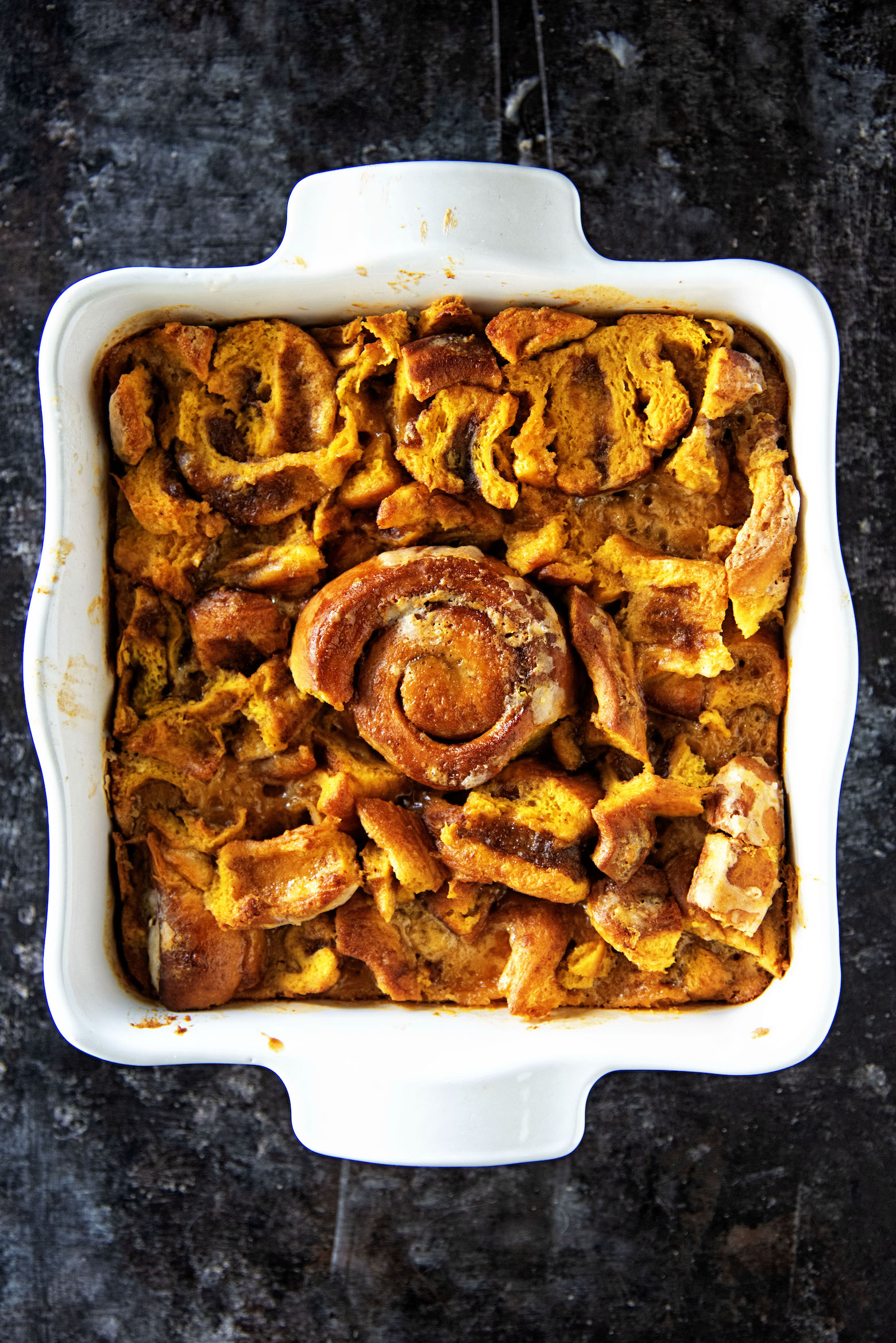 We had over 2000 lightning strikes in and around Seattle.
The skies opened up and dumped water.
Just like Grey's Anatomy shows basically every week. 🙂
The day before it has been in the mid-80's.
Storm moved in and kind was like here's fall.
I've already been pretending we had fall like weather and just baking through the warm weather. 🙂
But to finally get fall weather was nice.
Our leaves are starting to change color.
And the neighboring farms have their pumpkins growing.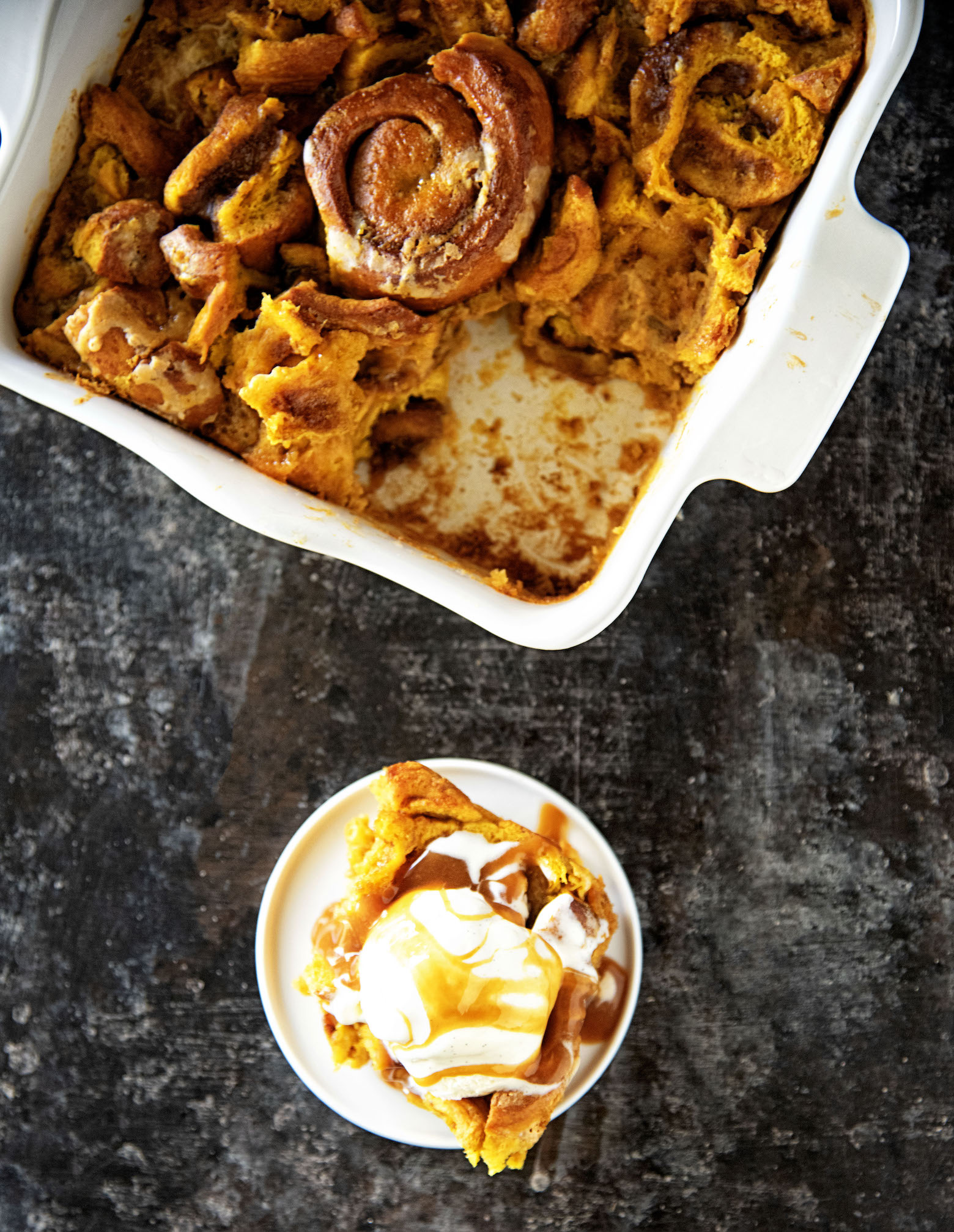 Are You Ready For Pumpkin?
You don't have to be making things with pumpkin now if you don't want to.
I get there are parts of the country where the idea of fall seems like so far off.
I lived in Phoenix far too long to know that.
Our fall never really came until the end of October…if we were lucky.
I remember getting J. Crew catalogs in the mail and seeing all these girls in sweater sets.
And thinking…where do these people live that they wear sweaters in September.
Seattle.
It turns out you wear sweaters in September in Seattle. 🙂
Or in my case usually sweatshirts.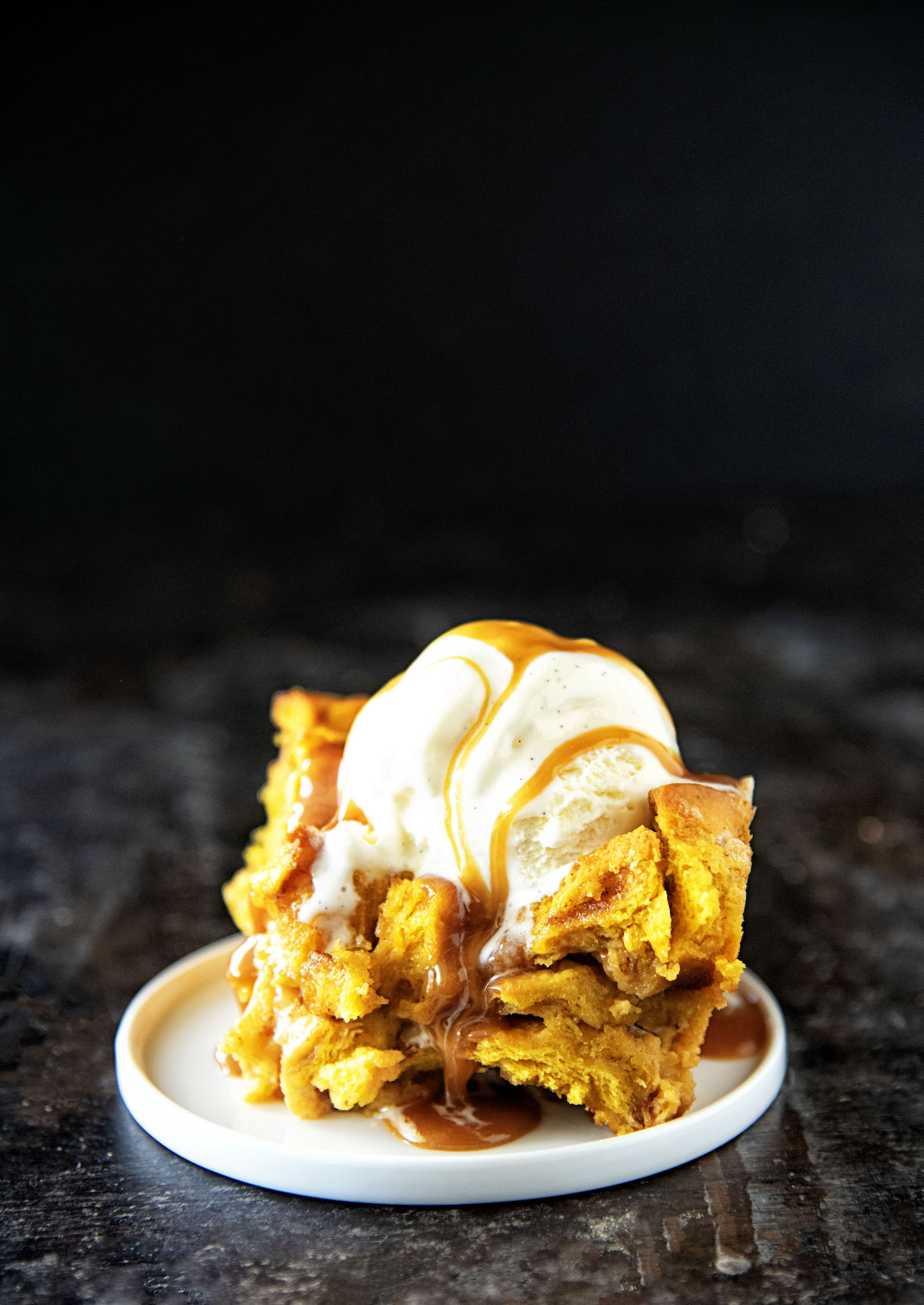 But those of you braving the world of baking with pumpkin I give you this Pumpkin Cinnamon Roll Bread Pudding.
It's base is the Maple Glazed Pumpkin Pie Cinnamon Roll Loaf I made the other day.
I just pulled a bunch off the loaf, chopped them up, and made bread pudding…icing and all.
The custard base is a pumpkin pie base in that it has pumpkin and pumpkin pie spices.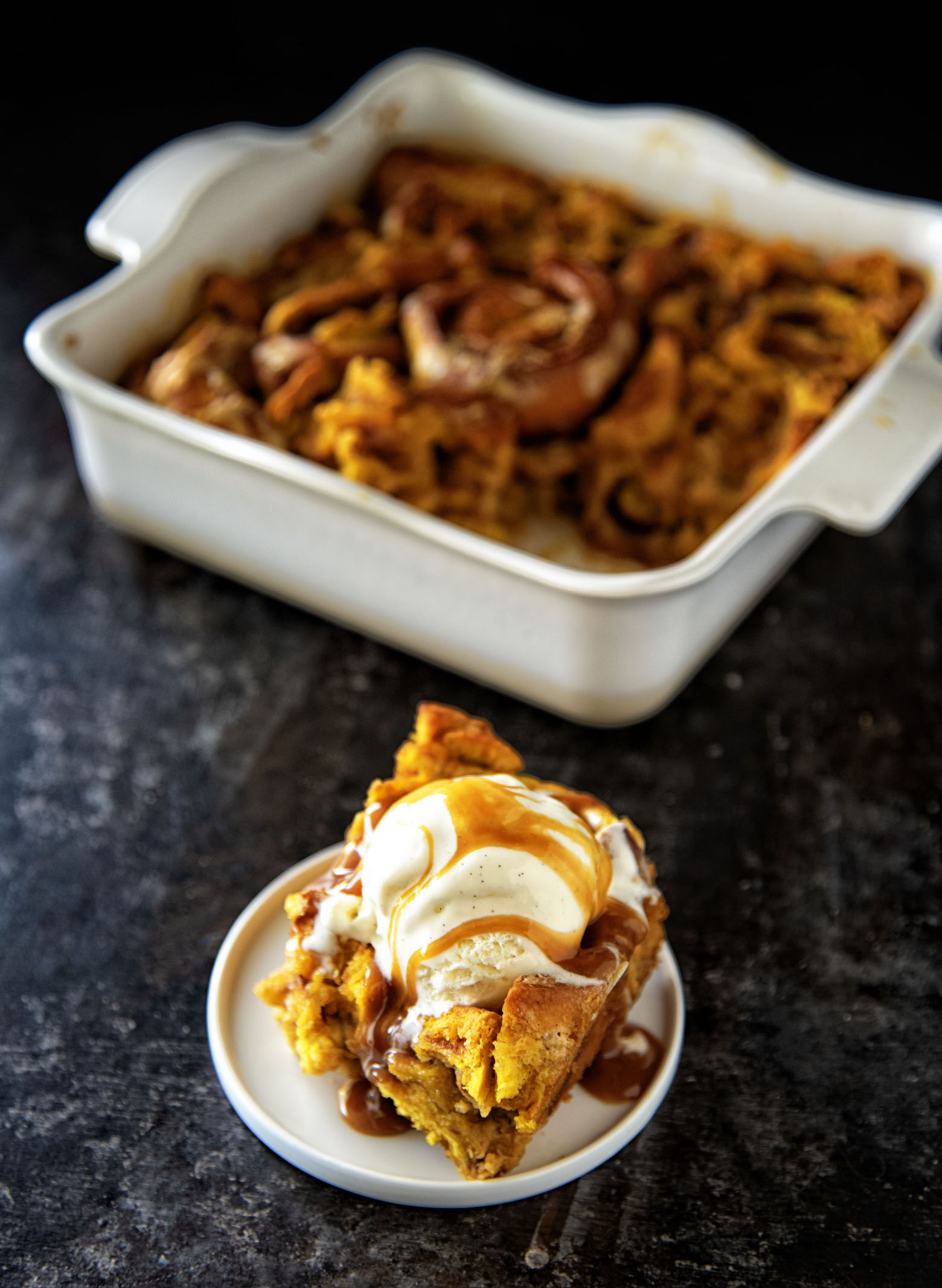 This recipe is definitely for pumpkin pie lovers.
The dough is pumpkin.
The filling of the rolls is pumpkin pie.
And the custard base is as well. 
So this is one of those recipes where you do really have to like pumpkin. 
Which I do.
The caramel sauce has whiskey but if you don't want the whiskey you can just substitute water.
And last but not least, it's a great day to order my cookbook.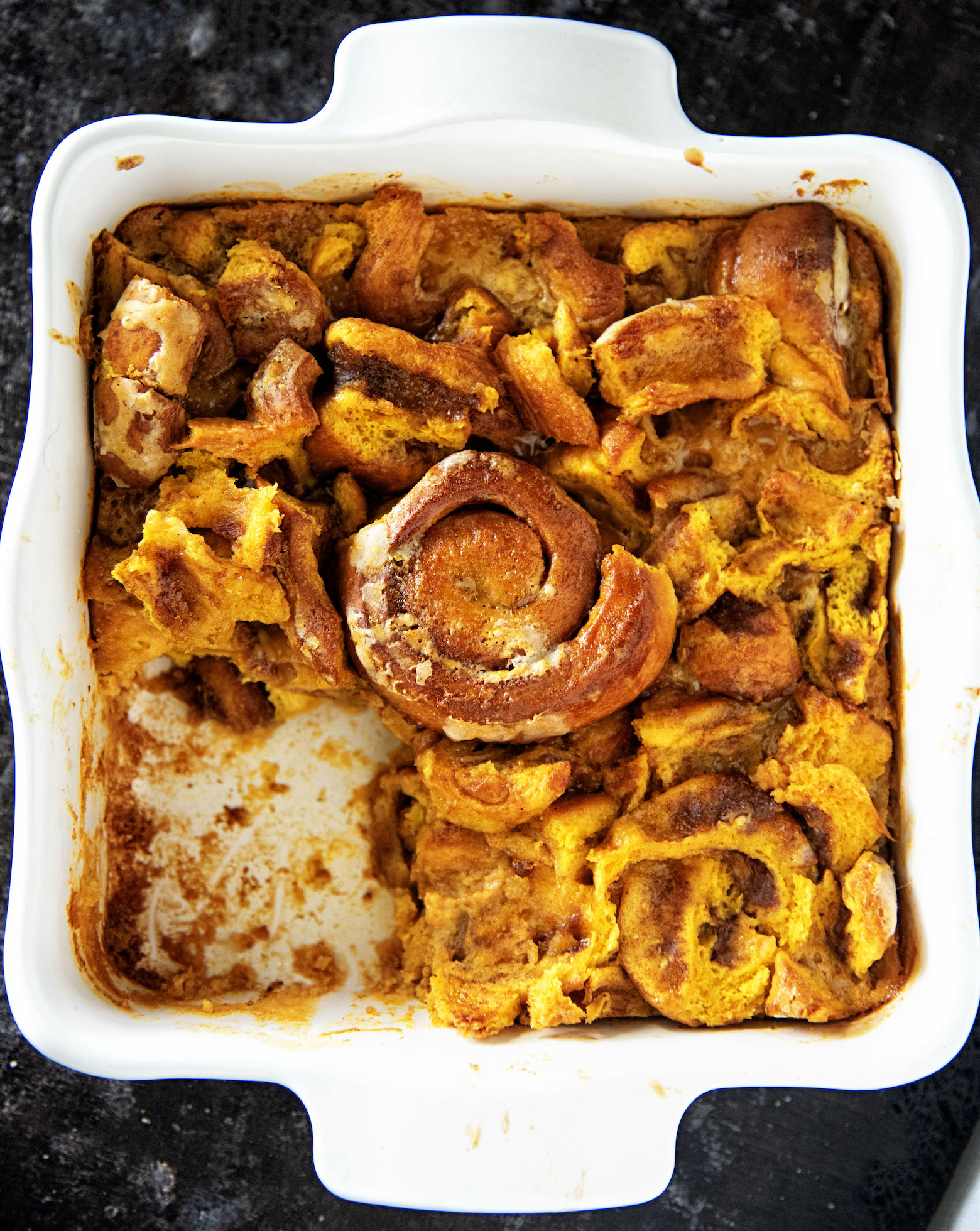 Want More Bread Pudding Recipes? Try These:
Apple Cider Donut Bread Pudding
Bailey's Irish Nut Coffee Bread Pudding
Eggnog Bread Pudding with Spiced Rum Caramel Sauce
Oatmeal Raisin Cookie Bread Pudding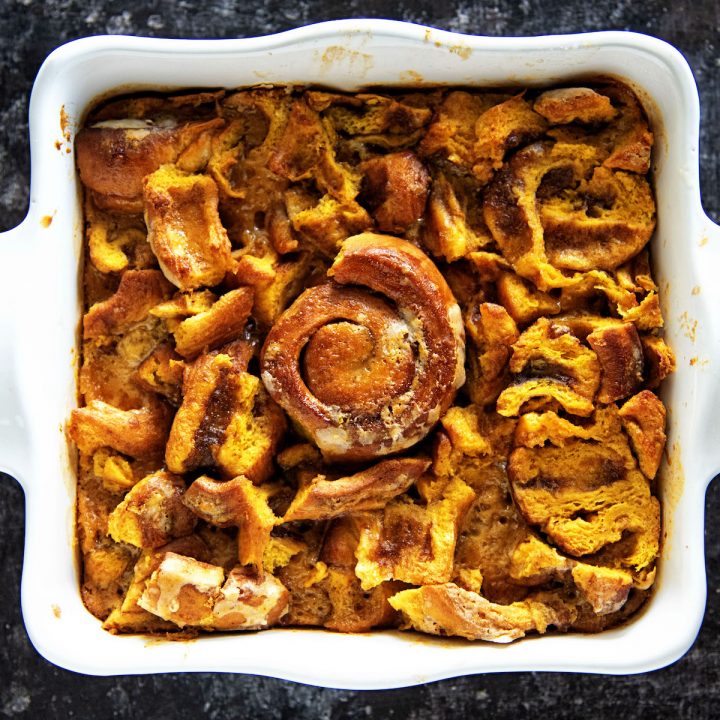 Pumpkin Cinnamon Roll Bread Pudding
Ingredients
For the bread pudding:
3 large eggs
14 oz. heavy cream
½ cup granulated sugar
½ cup brown sugar
6 oz. pumpkin puree
1 tsp. pumpkin pie spice
Caramel Sauce:
1 cup granulated sugar
3 TBSP water
3 TBSP whiskey (or water)
1/3 cup heavy cream
Instructions
In a large bowl whisk the eggs, heavy cream, puree, sugars, and spice until smooth and fully combined.
Add the bread, and toss with your hands or spoon until all the bread is coated with the custard.
Preheat oven to 375F.
Pour bread and custard into a 8-x-8-inch greased pan.
Press the mixture down.
Bake for 45 minutes until golden brown and feels firm when pressed.
To make the sauce:
In a medium saucepan add the sugar.
In the middle of the sugar add water and whiskey
Cook over high heat.
Cook until the sugar is dissolved, washing down the side of the pan with a wet pastry brush.
Continue cooking, without stirring, until an amber caramel forms, about 6 minutes.
Remove from the heat and carefully stir in the cream.
Let the caramel sauce cool slightly and serve warm or at room temperature.