A great alternative to your holiday dessert this Caramel Cranberry Pound Cake drenched in a glaze is sure to be a crowd-pleaser.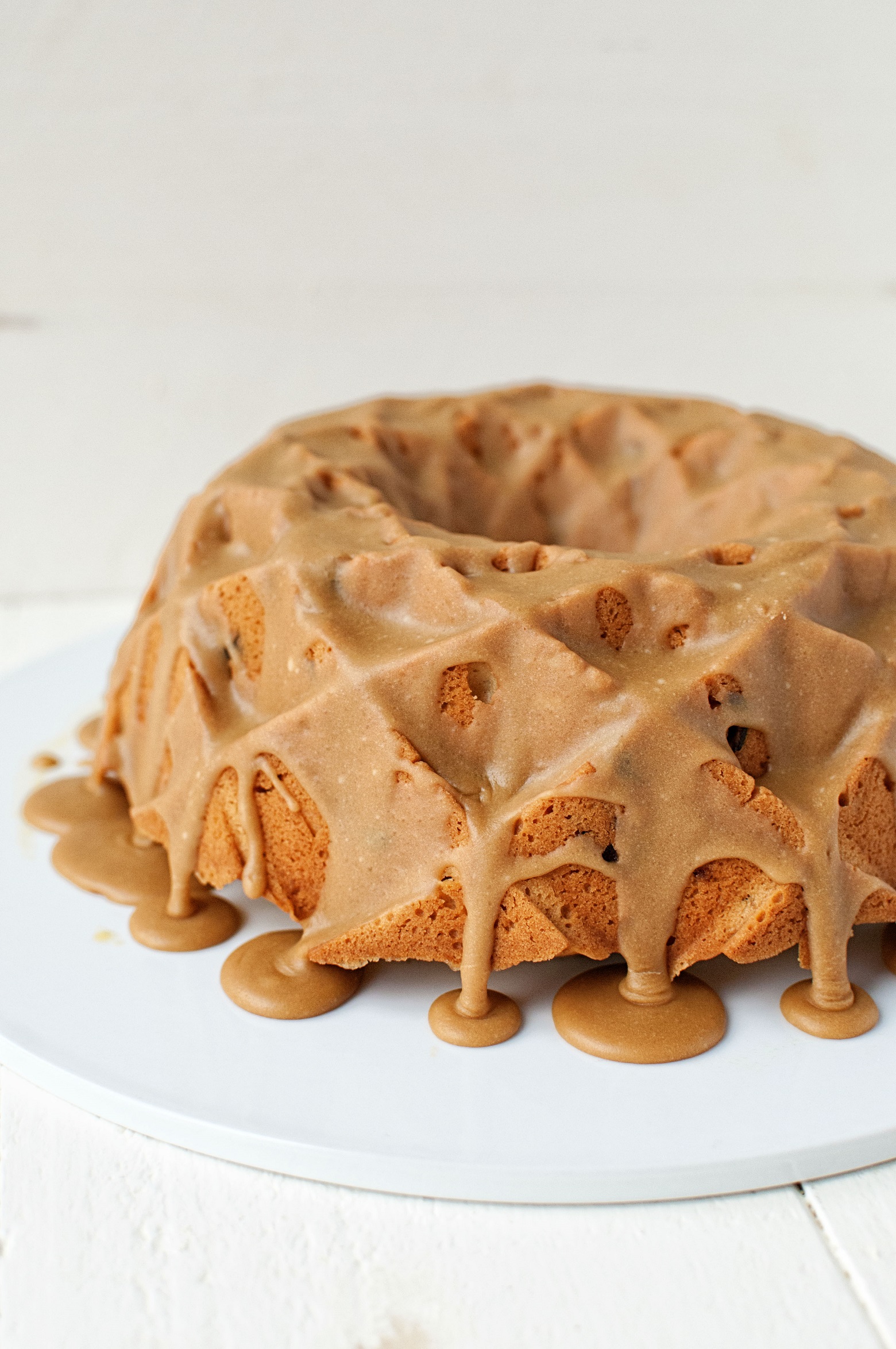 Focusing really hard this week on being thankful.
It has been a long hard week.
I'm thankful I can finally write this post.
I've been trying for four days but the universe decided I needed to be doing other things.
I am thankful that we have a 24-hour vet close to our house.
Also, I am thankful that I now know all there is to know about idiopathic facial paralysis in dogs.
And I am thankful that I have a good veterinary neurologist who was able to conclude that Mickey's facial paralysis is most likely from a middle ear infection.
Plus she was able to figure that out without doing an MRI.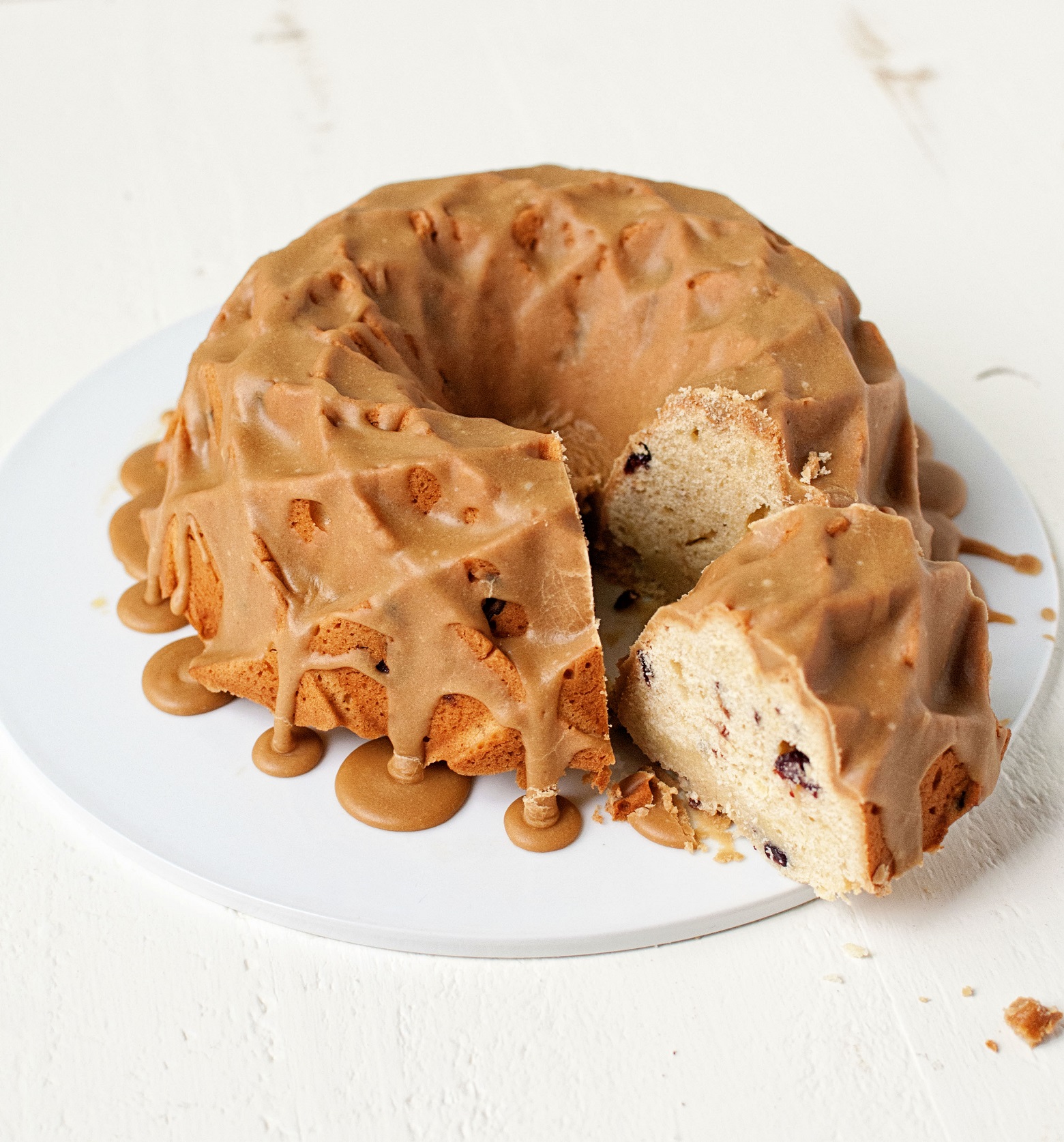 I am thankful that the ear infection can clear up (hopefully) and the paralysis should stop in about 5-6 weeks.
Fingers crossed.
I am thankful I have a wealth of resources in my friends.
I'm thankful that I have a very flexible job that allows me to take time off while I put eye gel in my dog's eye every four hours.
So that he doesn't get dry eye since right now he can't blink or close his eyes.
I'm thankful that all my crazy efforts of putting eye gel in have allowed him to not develop dry eye or ulcerations on his eye so far.
Fingers crossed.
I am thankful that the neurologist says that I don't have to get up every four hours at night anymore with him and hopefully will no longer be zombie like. 🙂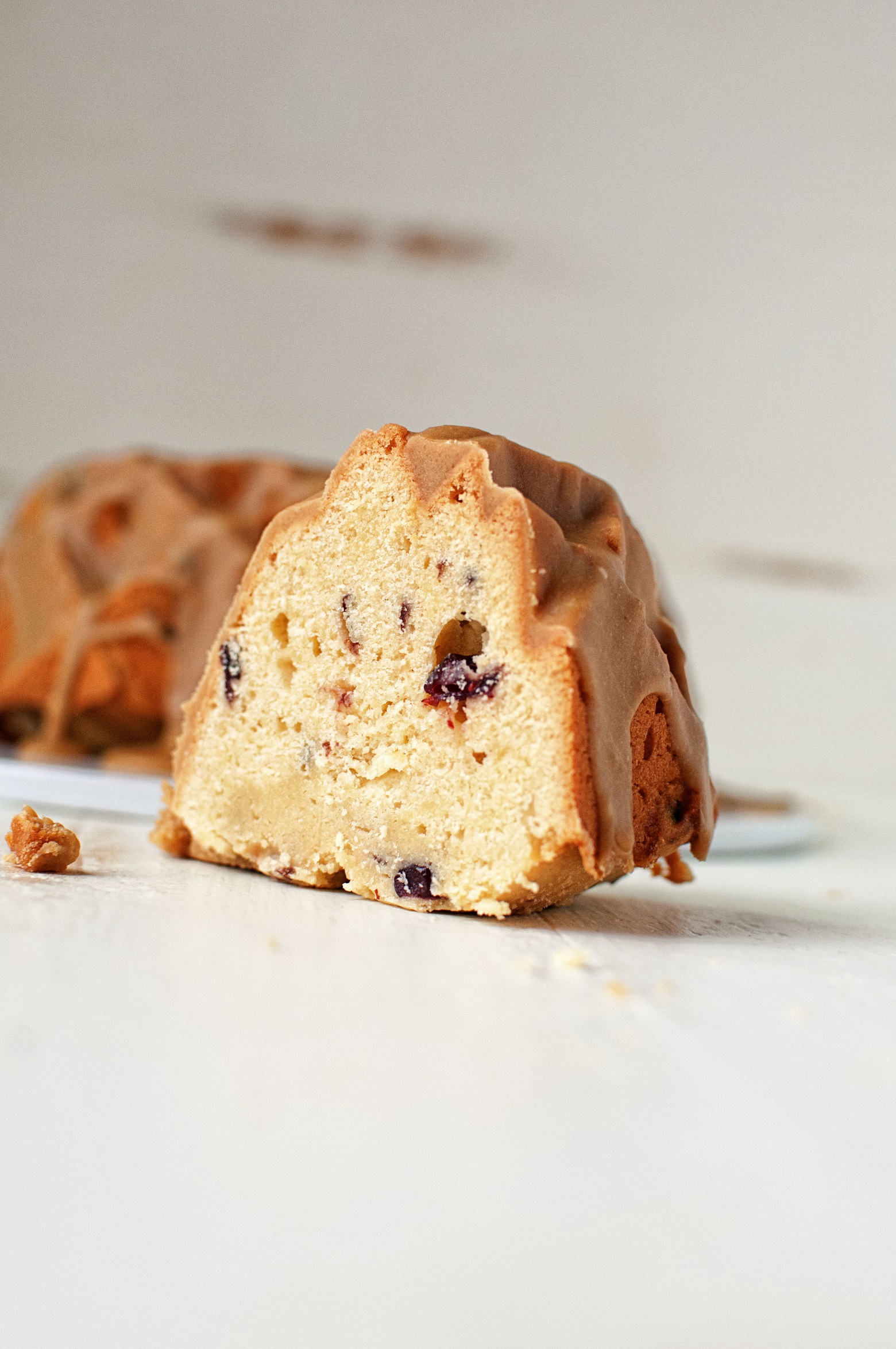 Now on to food.
I'm thankful for pumpkin pie at Thanksgiving but I'm also thankful for alternatives.
I usually like to have something like my Salted Caramel Cashew Tart and something with cranberry.
Now I usually like a combo of cranberry and orange but this cake really caught my eye.
I love this glaze with this cake…makes for a slightly tart but mostly sweet combo that will be sure to please your Thanksgiving day eaters.
P.S. It's a great day to buy my cookbook.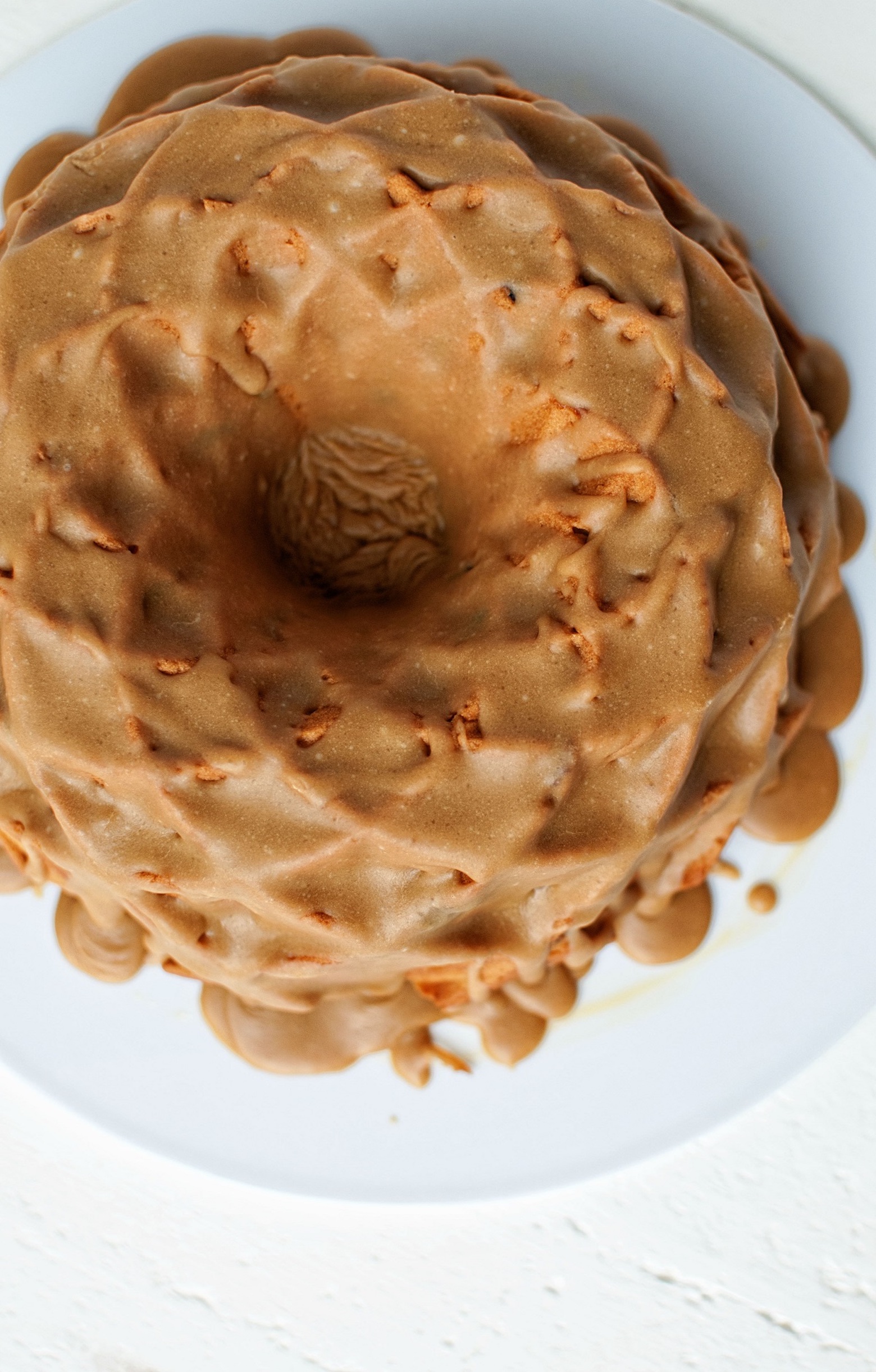 Want More Pound Cake Recipes?
Bourbon Brown Butter Chocolate Chip Cake
Strawberry Lemonade Bundt Cake
Whiskey Glazed Apple Buttermilk Pound Cake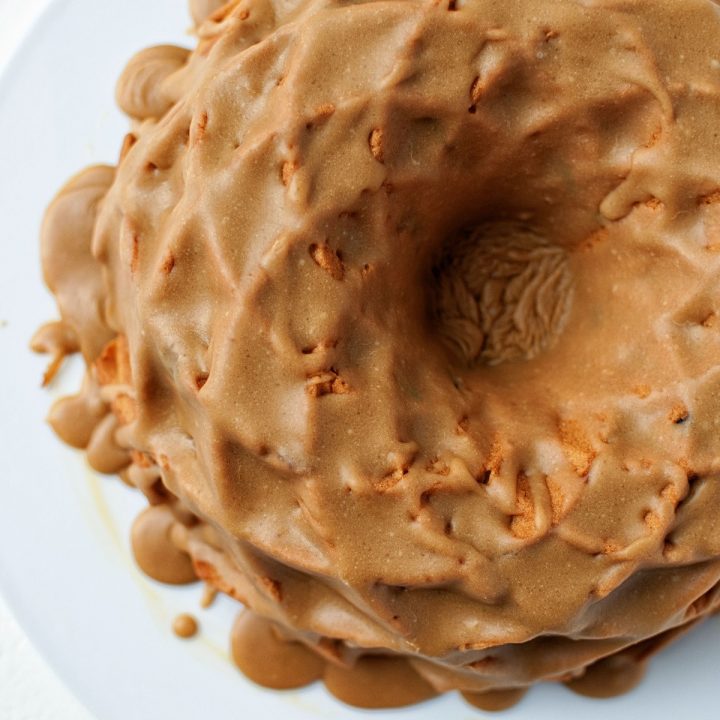 Caramel Cranberry Pound Cake
Ingredients
For the Cake:
6 oz. bag sweetened dried cranberries
¾ boiling water
1 ½ unsalted butter, at room temperature
8 oz. cream cheese, at room temperature
2 cups granulated sugar
½ cup brown sugar, firmly packed
1 ½ tsp. salt
5 large eggs
3 cups all-purpose
1 TBSP. vanilla extract
½ tsp. baking powder
Brown Sugar Glaze:
2 cups brown sugar, firmly packed
½ cup unsalted butter
½ heavy whipped cream
1 tsp. vanilla extract
½ tsp. salt
Instructions
Spray a 15 cup Bundt pan with baking spray.
Place the cranberries in a medium bowl and pour boiling water over them.
Let the stand until softened and plumped a little, about 10 minutes. Drain.
Using a stand mixer with the paddle attachment cream together the butter, cream cheese, and sugars, for about 3 minutes.
Add eggs one at a time, scraping down the bowl after each addition.
Add the salt and vanilla and beat for 30 seconds.
Add the flour and baking powder and mix until well combined.
Fold in the cranberries.
Spoon batter into prepared pan and smooth top with a spatula.
Place in a COLD oven.
Turn oven on to 300F.
Bake about an hour and 15 minutes or until a wooden skewer comes out clean.
Remove from oven and let cool for 10 minutes then flip and glaze.
For the glaze:
In a medium saucepan, bring all the ingredients to a boil over medium-high heat.
Remove from heat and place in a stand mixer using the whisk attachment.
Whisk until thickened about 5 minutes.
Quickly drizzle over cake as it will start to firm up as it cools.