This Fruitcake Babka is filled with candied fruits and covered in spiced rum glaze. Perfect for those celebrating Christmukkah.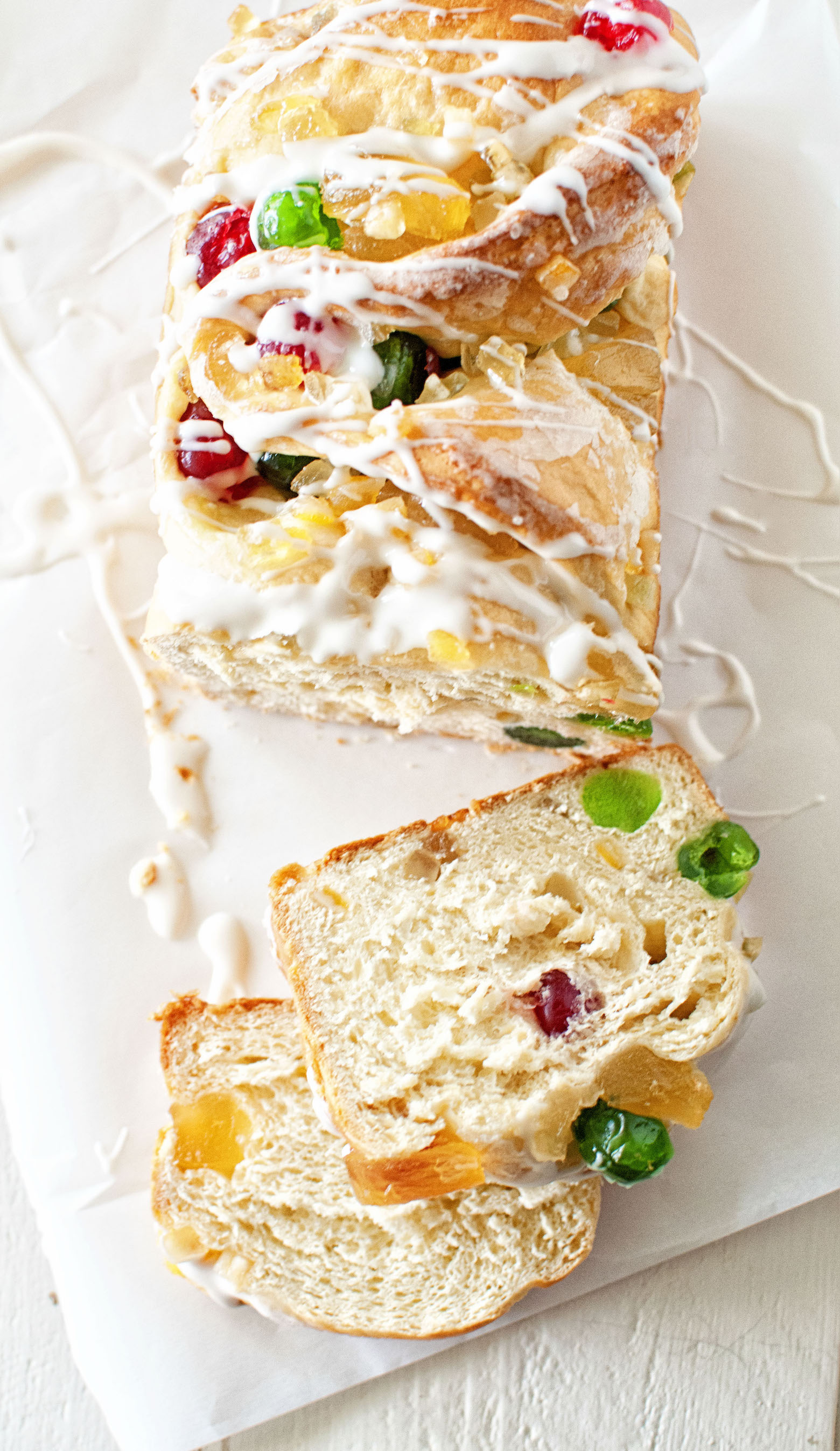 Over the summer when there is nothing on to watch I like to binge watch old shows I grew up on.
Some shows I watch and think how did I watch this as a teen/young adult?
I tried to re-watch 90210 and Dawson's Creek but couldn't make it through them.
Other shows like Party of Five and The OC I made it through the whole series.
Watching the OC made me remember what a crush I had on Adam Brody aka Seth Cohen.
I like me a nerd.
Seth was a lover and creator of Christmaukkah: A combo holiday for those that had both Jewish and Christian roots.
Growing up my high school had three basic religions at our school: Mormon, Judaism, and a small percentage of other.
I was other.
A ton of my Jewish friends though had a Christmas tree.
Heck, my friend who loved to go Christmas caroling (and knew all the words better than any of us) was Jewish.
So I had been around Christmukkah for a while and didn't know it until the OC came along.
I had found Hazelnut Spiced Rum at the store this week and wondered what I would do with it.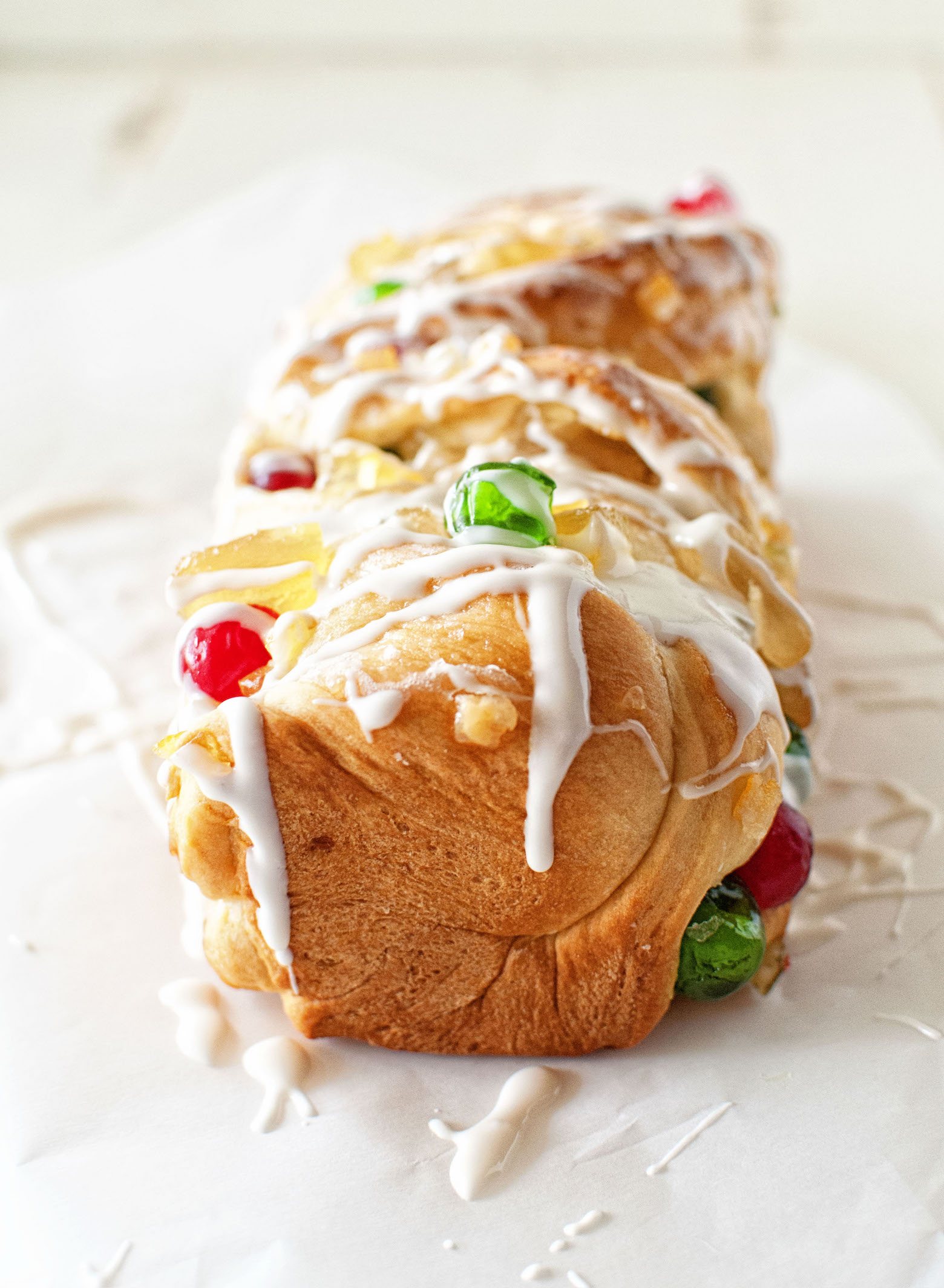 I usually make a fruitcake about a month away from Christmas so that it gets good and boozy but for some reason I was wanting a yeast bread.
Enter Fruitcake Babka.
Clear warning…the fruit when you cut it open to braid will try and escape…that's fine, just shove it back in there.
Since this makes two loaves, I made one with a bourbon glaze and one with the Hazelnut Spiced Rum.
Both were good but I liked the spiced rum the best mostly because it was a little different.
Like most fruitcakes, because this is so full with candied fruit it does weigh more than your average babka.
Not to worry as the bread itself is still very light in texture.
I gave measurements for the candied fruit but honestly I just stuck a bunch of candied fruit in there until it looked full enough. 🙂
You don't need to use the fruit I used.
Feel free to do dried cranberries, nuts, dried apricots, whatever floats your boat.
And as always it's a great day to order my cookbook.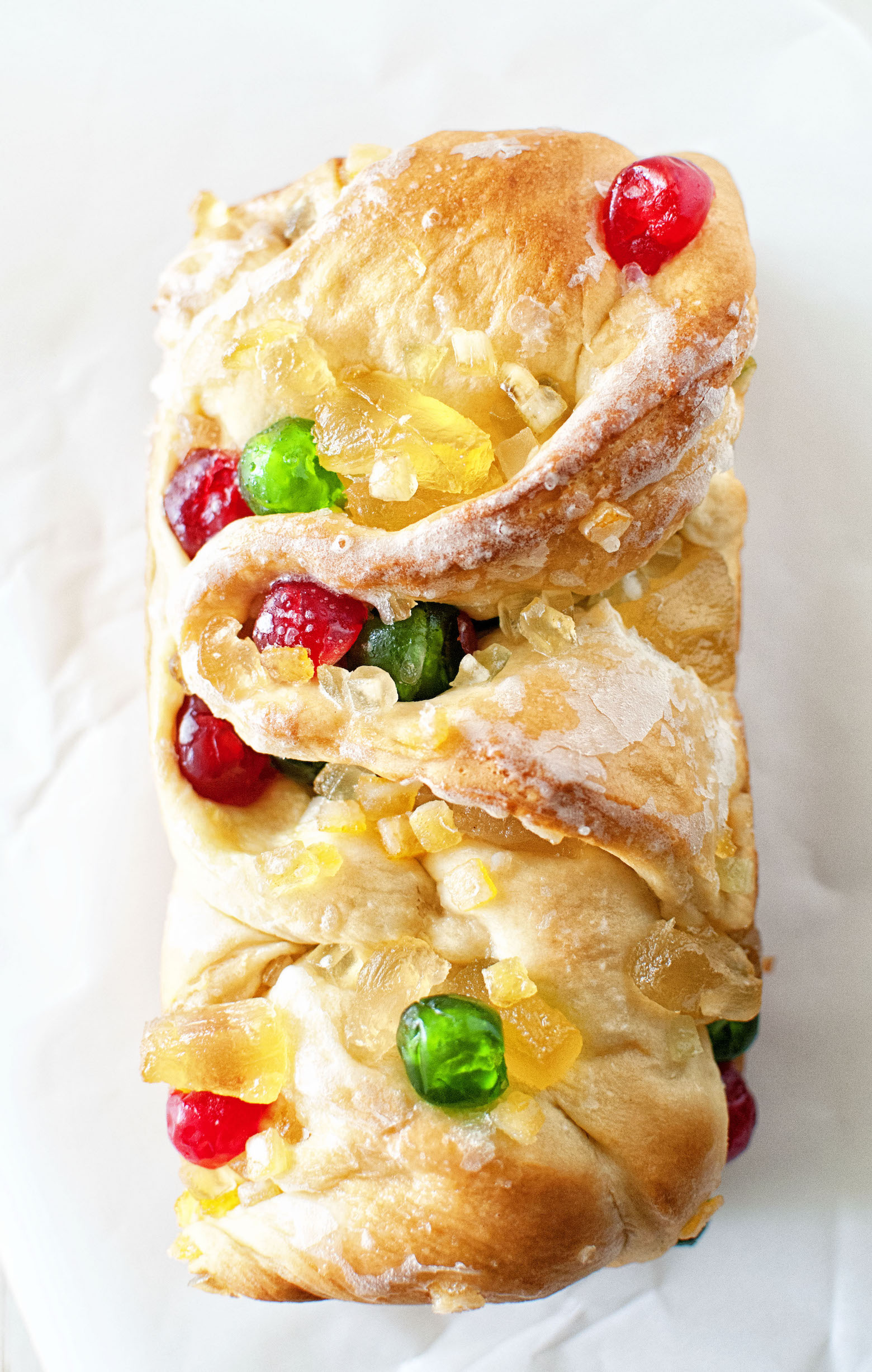 Want more Fruitcake Recipes?
Drunken Orange Cranberry Fruitcake
Orange Glazed Bourbon Soaked Fruitcake Cupcakes
Bourbon Soaked Eggnog Fruitcake Pound Cake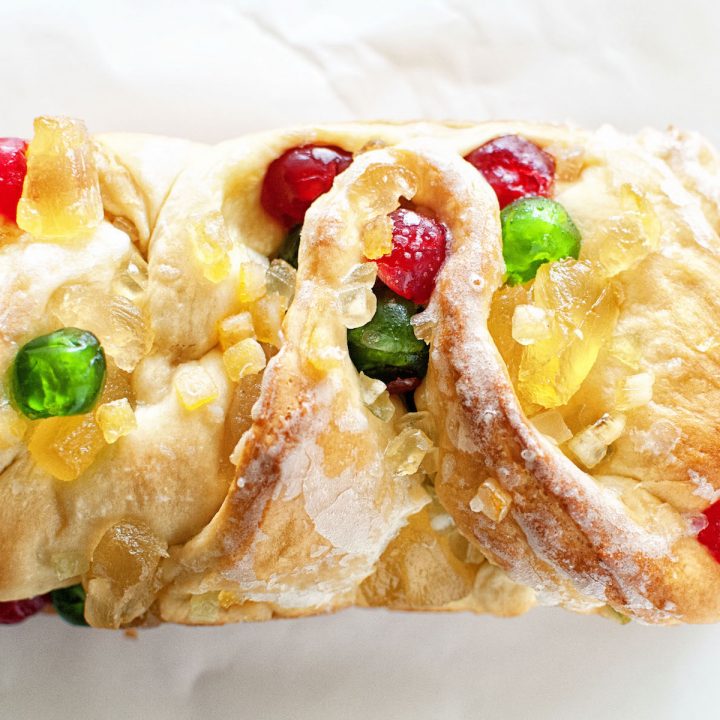 Fruitcake Babka
Ingredients
For the dough:
1 TBSP dry active yeast (I used Red Star Yeast)
1/2 cup + ½ tsp. sugar
½ cup lukewarm water (105-110F)
4 ½ cups all-purpose flour
2 tsp. vanilla extract (I used Rodelle)
½ cup whole milk
¾ cup (1 ½ sticks) unsalted butter, melted
2 eggs
For the filling:
1/3 cup candied pineapple
1/3 cup candied red cherries
1/3 cup candied green cherries
1/4 cup citron
1/4 cup candied orange peel
For the Glaze:
1 cup powdered sugar
3 TBSP bourbon or spiced rum
Instructions
To make the dough:
Place the yeast and ½ teaspoon sugar in a small bowl.
Add the lukewarm water and stir gently to mix.
Set aside until foamy, 5 to 10 minutes.
In a stand mixer fitted with a dough hook, mix together the flour, 1/2 cup sugar, and 2 teaspoons vanilla.
In a medium saucepan, scald the milk (bring almost to a boil, until milk is just simmering).
Allow to sit for 1 minute to cool just slightly.
With mixer on low, add the water-yeast mixture, milk, and melted butter.
Add eggs one at a time.
When the dough begins to come together, after 2 to 3 minutes, turn off mixer and scrape down the sides.
Raise the speed to high and mix for another 5 to 10 minutes until the dough is shiny and elastic. Place dough in a greased bowl with a damp towel on top.
Allow to rise until it has doubled, about 1 to 2 hours.
While dough is rising, make the filling and the topping.
For the filling:
There isn't anything really to do to make the filling as it is just candied fruits.
Making the babka:
Cut the dough into two equal parts.
Roll out one part into a rectangle.
Sprinkle half of the mixed candied fruit onto the rolled out dough.
Press the fruit down into the dough so as to help keep it in place.
Roll dough up like a cinnamon roll and cut it straight down the middle so the filling is exposed.
The candied fruit will come out. Just shove it back in. Show it who is boss. 🙂
Cut ½ inch off each end.
Layer each cut piece on top of one another and twist.
Place in a greased loaf pan.
Repeat with other babka dough.
Lightly drape a kitchen towel over the top of pans.
Allow to rise another 30 minutes.
Preheat oven to 350°F while the dough rises.
Bake for 20 minutes with aluminum foil lightly tenting the bread.
Remove foil and bake another 15-20 minutes.
The edges should be slightly brown and the middle should be slightly doughy.
Allow to cool for 5 to 10 minutes.
Using a butter knife, loosen sides of the babkas from the pans and place on top of parchment wire rack to cool.
For the glaze:
Combine powdered sugar and bourbon or rum in a bowl and whisk until combined.
Drizzle on top of each babka.