Strawberry Lemonade Babka: Soft yeasty sweet braided dense bread filled with homemade strawberry jam and all coated in sugary and tangy lemonade glaze.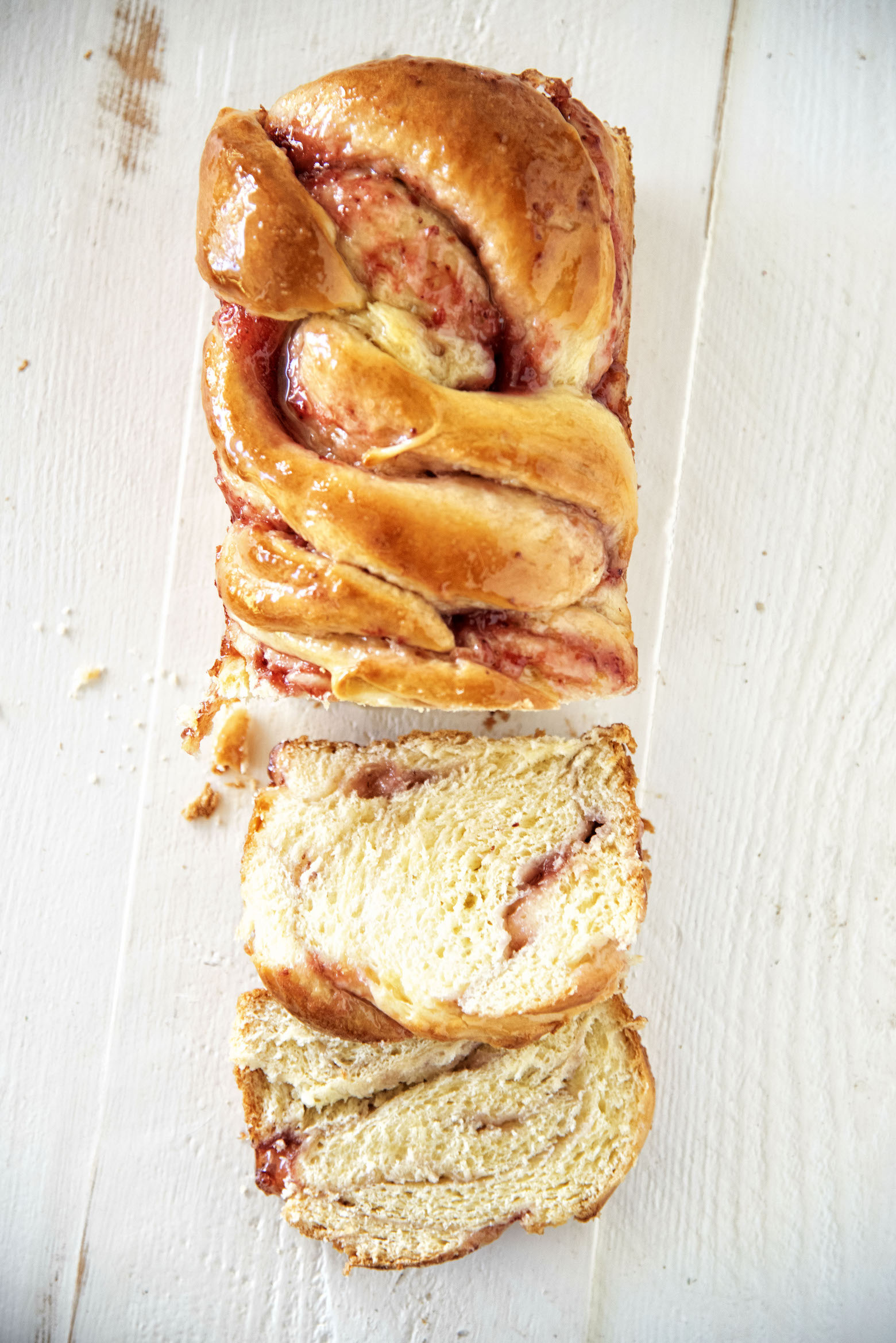 Hey look….
Strawberry Lemonade Babka.
Because I never make anything strawberry lemonade flavored.
And I never make babkas.
Bahahaha.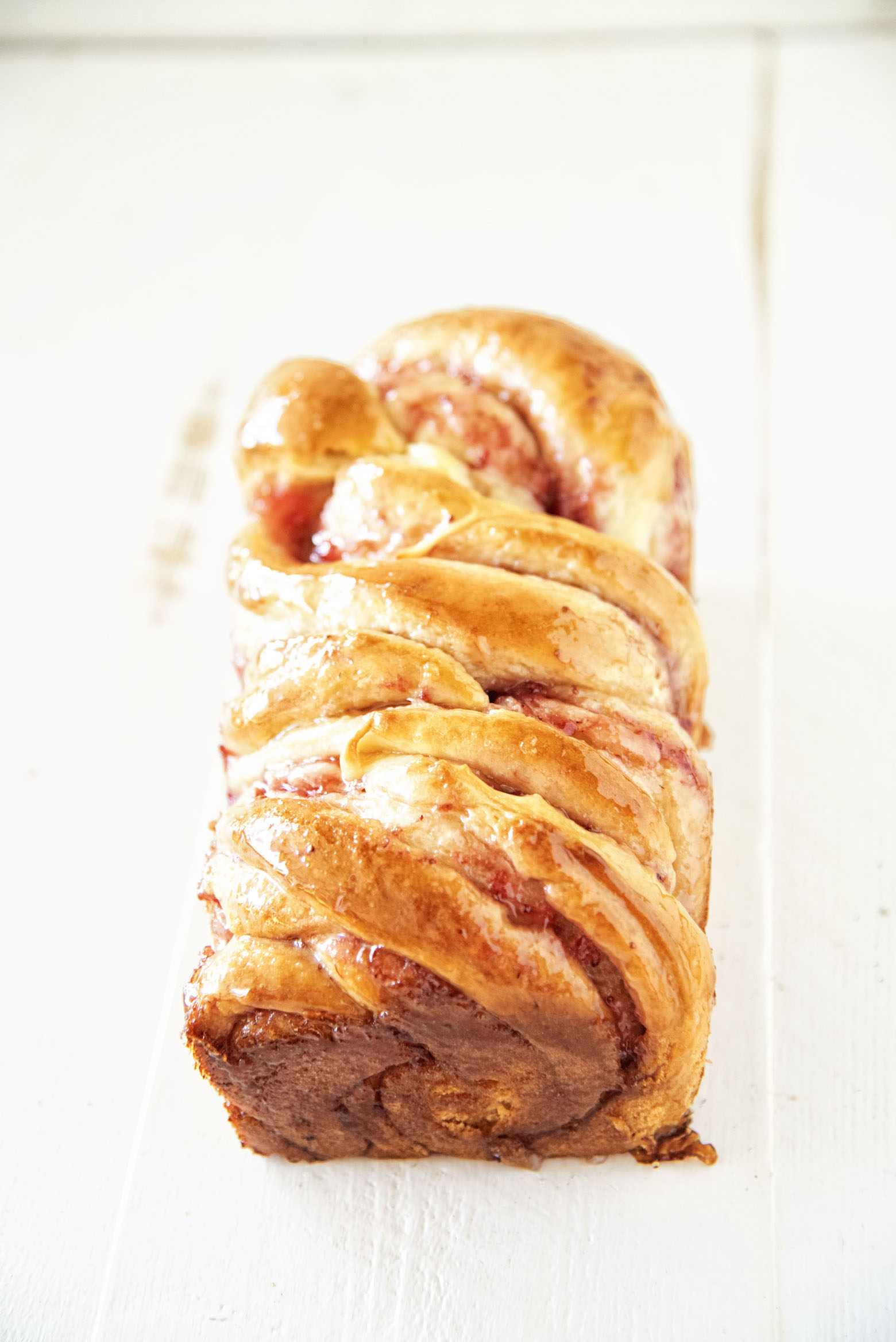 If you follow me on Instagram or you get my weekly email then you know this week was a rough one for me.
Our grumpy old man Mickey had a seizure on Wednesday.
It was scary and sad but he has luckily not had another one sense.
Mickey has a ton of health issues and I feel bad that one more is being added to the list.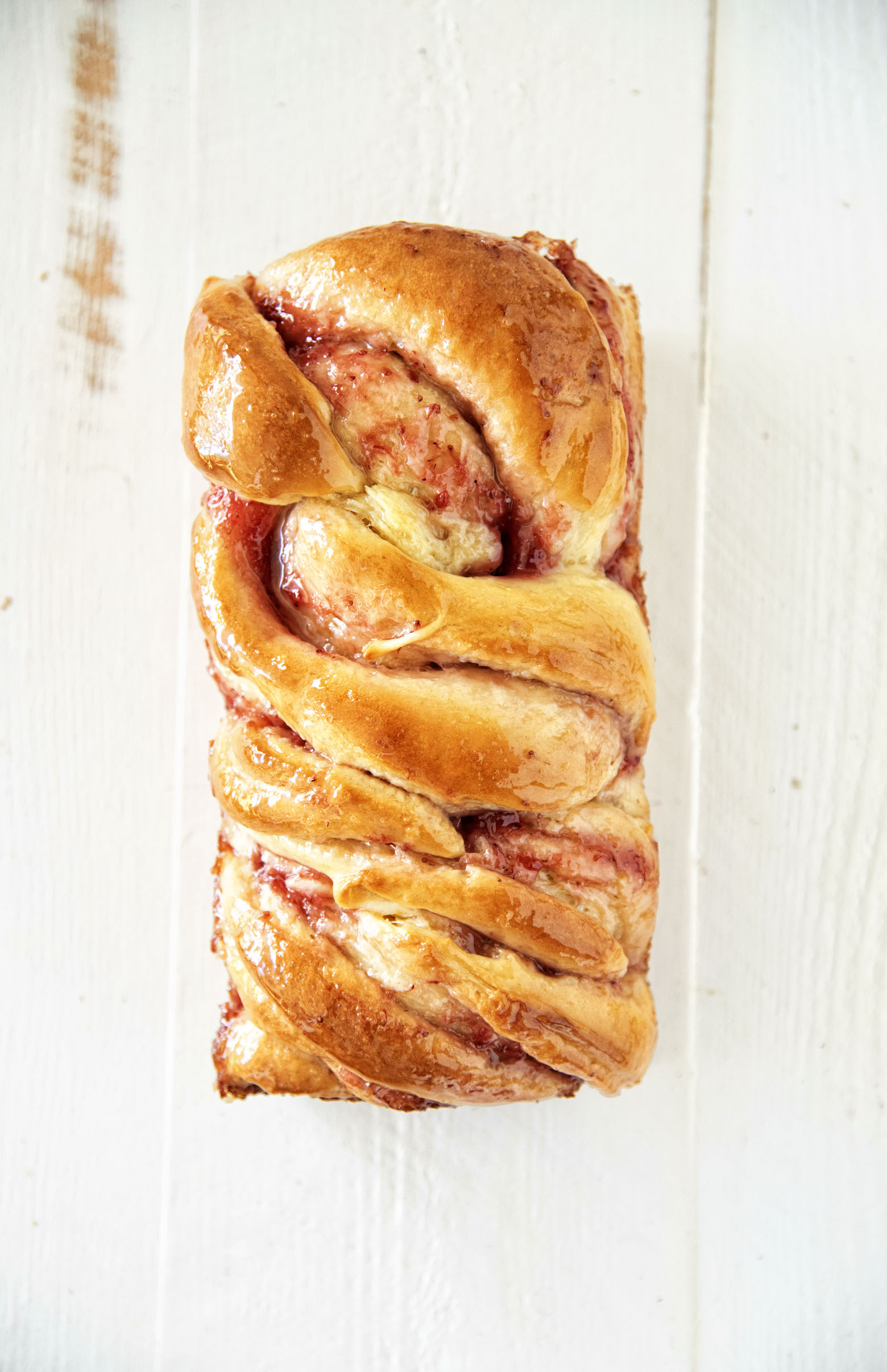 We things like this happen you tend to reflect.
About all the things you will miss about your pet.
What I have found is while you miss the good stuff it's all the little annoying things they did that you end up missing more.
I'm coming up on the 1 year anniversary of my dog Crissy passing.
There were so many things to love about her because she was so sweet.
But it was her sassy moments that I miss the most.
I miss that if she barked…she farted.
Her staring me down and stomping her feet for treats.
Laying on top of my head while I slept which made me so warm but now I would do anything to have her up there again.
So hug your furbabies tight today.
And embrace all that they do that drives you a little insane.
Because I promise you one day you will miss it like crazy.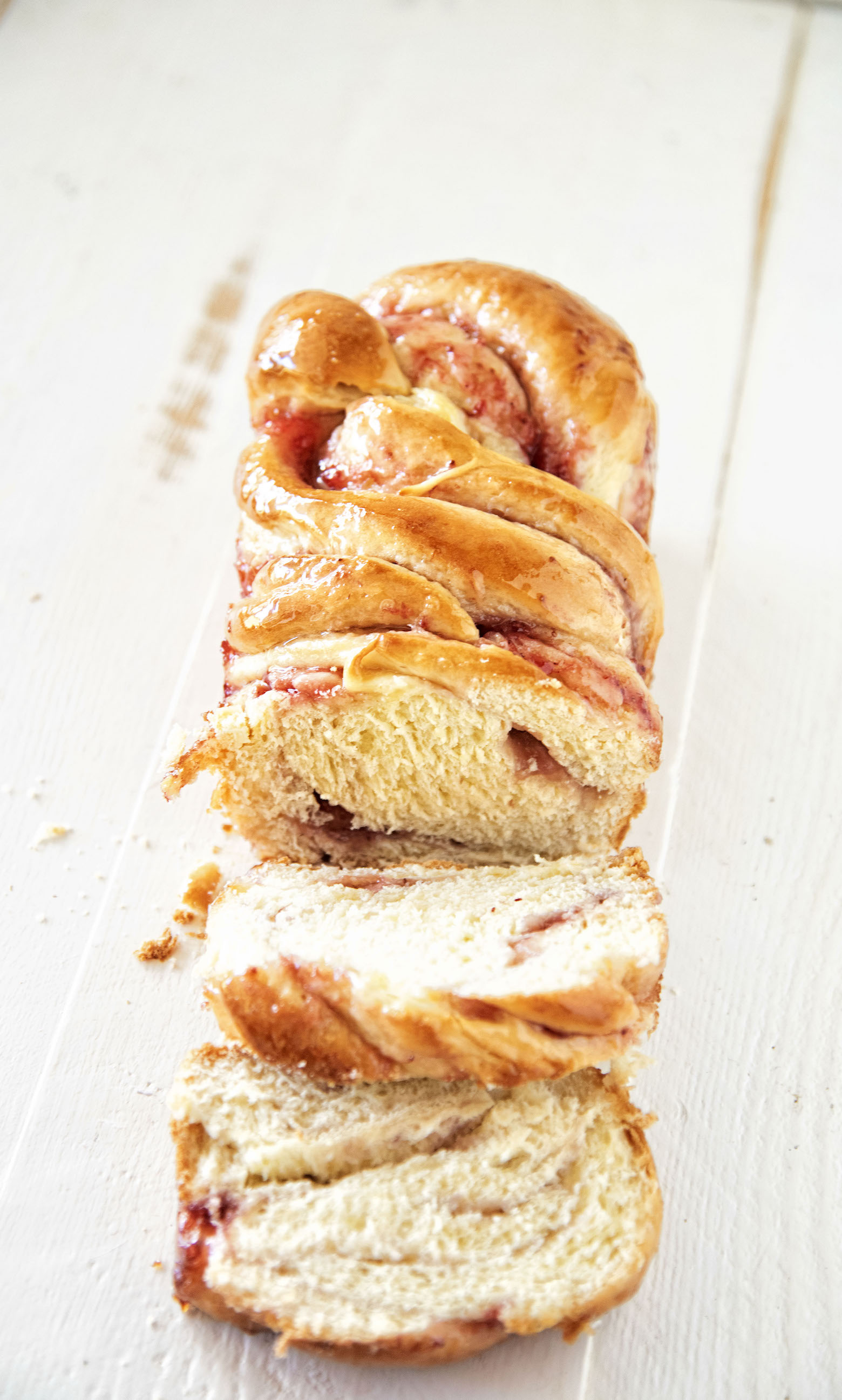 Still on a bit of a strawberry lemonade kick as you can tell.
And I'm always on a babka kick.
This one has a hint of lemon in the dough and is spread with homemade strawberry jam.
I am lucky as my mom makes awesome jam.
If you don't have homemade just make sure to splurge and use a really good strawberry jam.
Once baked this Strawberry Lemonade Babka is then glazed in….you guessed it….
Lemonade glaze.
It's sticky, sweet, and tart.
And all sorts of awesome.
Want more recipes like this? Try these:
Brown Sugar Apple Cinnamon Babka
Sweet Corn and Raspberry Babka
Fireball Glazed Cinnamon Sugar Babka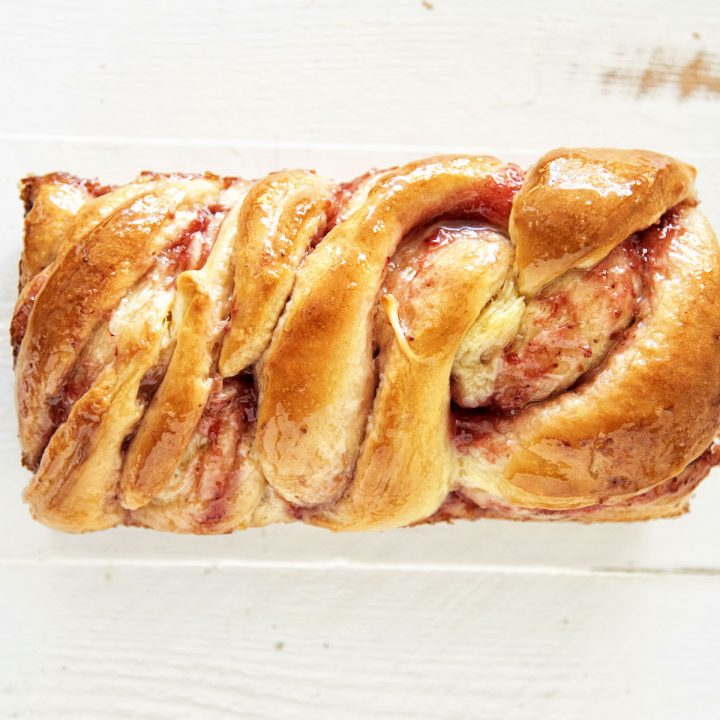 Strawberry Lemonade Babka
Ingredients
For the dough:
1 TBSP dry active yeast (I used Red Star Yeast)
1/2 cup + ½ tsp. Granulated sugar
½ cup lukewarm water (105-110F)
4 ½ cups all-purpose flour
1 tsp. vanilla extract (I used Rodelle)
1 TBSP lemon juice
Zest of one lemon
½ cup whole milk
¾ cup (1 ½ sticks) unsalted butter, melted
2 eggs
For the Glaze:
2/3 cup lemonade
1 cup granulated sugar
2 cups strawberry jam (preferably homemade)
Instructions
To make the dough:
Place the yeast and ½ teaspoon sugar in a small bowl.
Add the lukewarm water and stir gently to mix.
Set aside until foamy, 5 to 10 minutes.
In a stand mixer fitted with a dough hook, mix together the flour, 1/2 cup sugar, lemon juice, and vanilla.
In a medium saucepan, scald the milk (bring almost to a boil, until milk is just simmering).
Allow to sit for 1 minute to cool just slightly.
With mixer on low, add the water-yeast mixture, lemon zest, milk, and melted butter.
Add eggs one at a time.
When the dough begins to come together, after 2 to 3 minutes, turn off mixer and scrape down the sides.
Raise the speed too high and mix for another 5 to 10 minutes until the dough is shiny and elastic.
Place dough in a greased bowl with a damp towel on top.
Allow to rise until it has doubled, about 1 to 2 hours.
While dough is rising, make the glaze.
For the glaze:
Combine lemonade and sugar in a medium saucepan.
Bring to a low boil until the sugar has dissolved.
Set aside to cool.
Making the babka:
Cut the dough into two equal parts.
Roll out one part into a rectangle.
Spread 1 cup of strawberry jam onto the rolled out dough.
Roll dough up like a cinnamon roll and cut it straight down the middle so the filling is exposed.
Cut ½ inch off each end.
Layer each cut piece on top of one another and twist.
Jam will come out, that is to be expected.
Place in a greased loaf pan.
Repeat with other babka dough.
Lightly drape a kitchen towel over the top of pans.
Allow to rise another 30 minutes.
Preheat oven to 350°F while the dough rises.
Bake for 20 minutes with aluminum foil lightly tenting the bread.
Remove foil and brush with two layers of the lemonade glaze.
Put back in oven and bake another 15-20 minutes.
The edges should be slightly brown and the middle should be slightly doughy.
Immediately brush with another 3 layers of lemonade glaze.
Allow to cool for 5 to 10 minutes.
Using a butter knife, loosen sides of the babkas from the pans and place on top of parchment wire rack to cool.