This Key Lime Pie Gelatin Salad is a light and fluffy version of key lime pie that you will want on your summer dinner table.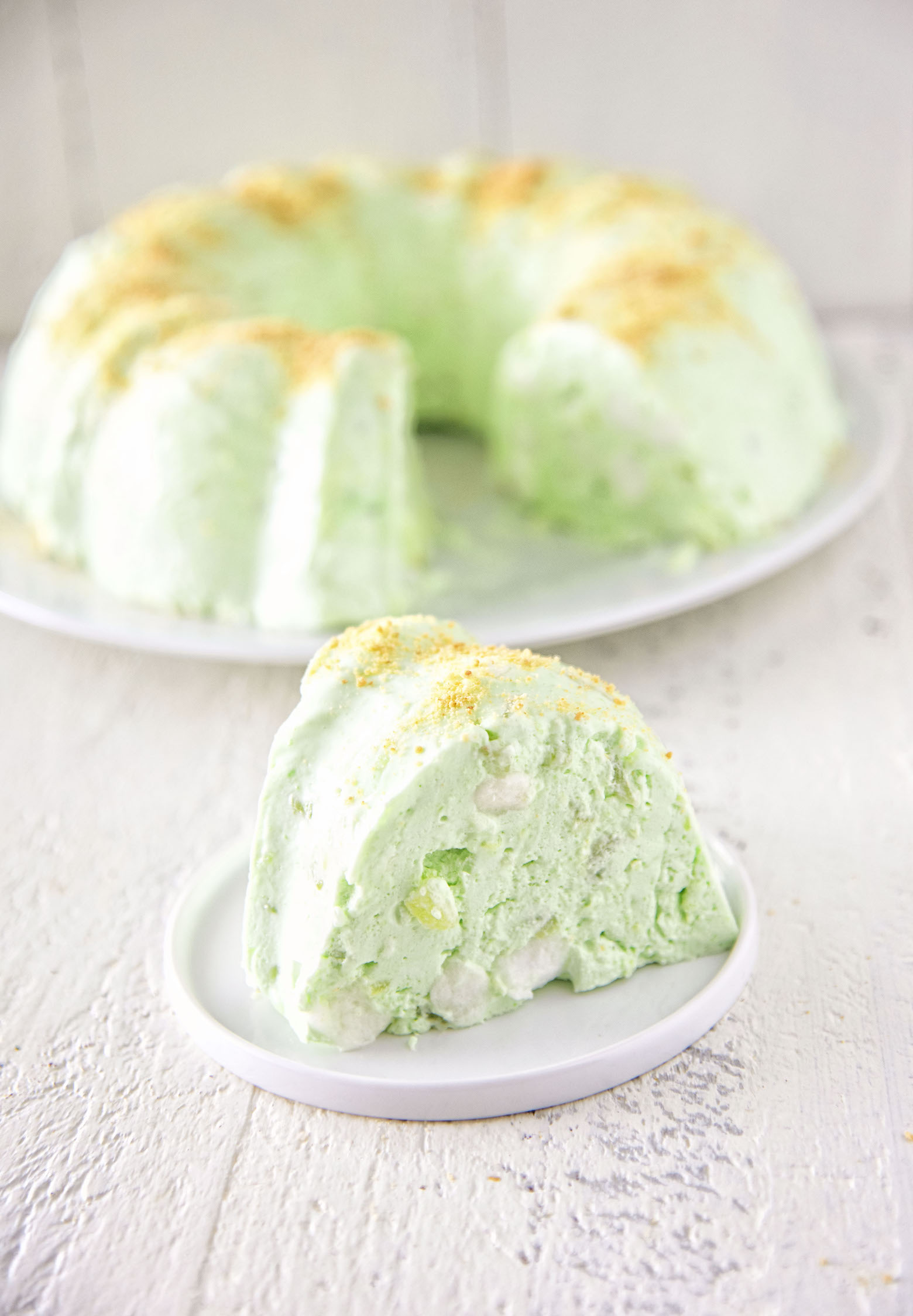 I'm always fascinated with what is popular on this blog.
The number one recipe for traffic, over and over, each month is my Croissant Bread Pudding with Pecan Toffee Sauce.
And it should be.
It's an absolute favorite of mine.
Many people make it each year for special occasions.
I make it for the special occasion of it being a Tuesday. 😛
What has surprised me as popular as of late is my Cranberry Marshmallow Gelatin Salad.
It was served at Thanksgiving this last year and it was a hit.
I mean I love me a gelatin mold.
Gelatin salad.
Whatever it is you call it.
But it's still a Gelatin mold. 🙂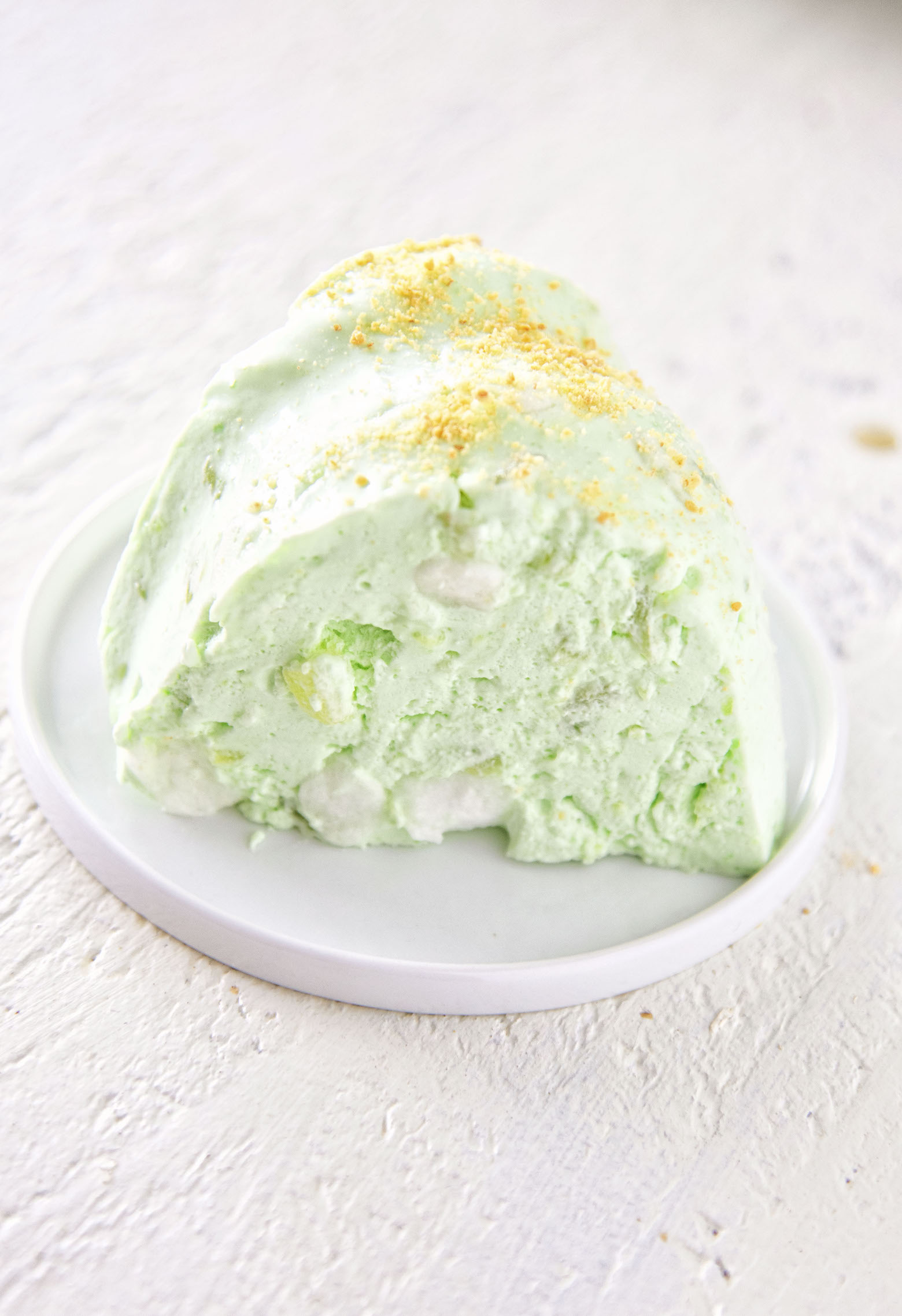 Since people are clearly wanting some gelatin mold recipes I decided to make one that I would love.
The hubby too.
I kid you not this Key Lime Pie Gelatin Salad, half of it is gone already.
We cut it this morning.
What can I say, we both are key lime pie fans.
This is a take on my mom's Green Gelatin Salad that we had every Easter from when I was a teen on.
We will be making this for Easter this year instead.
You can make this in a Bundt or a 9-13-inch pan but I like the presentation of the Bundt for special occasions.
If you cannot find key lime soda (we use Stewarts) then you can use Sprite.
Don't use diet soda.
I have made this with real whipped cream but honestly prefer the Cool Whip in it.
If using the graham cracker crumbs, don't sprinkle on until ready to serve to avoid them getting soggy.
P.S. It's a great day to buy my cookbook.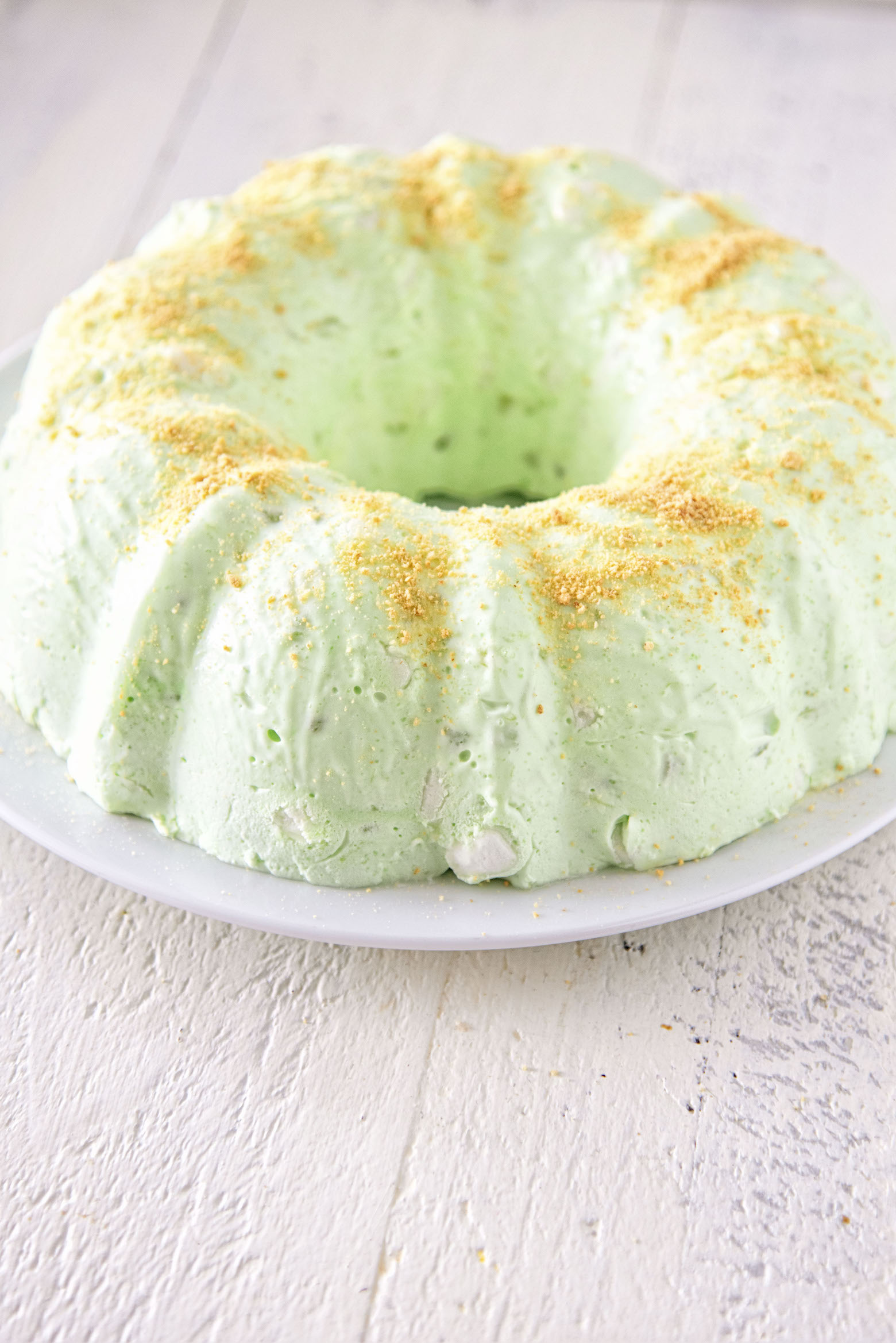 Want more Gelatin mold recipes?
Strawberry Prosecco Gelatin Mold
Lemon Meringue Pie Gelatin Mold
Creamsicle Marshmallow Gelatin Salad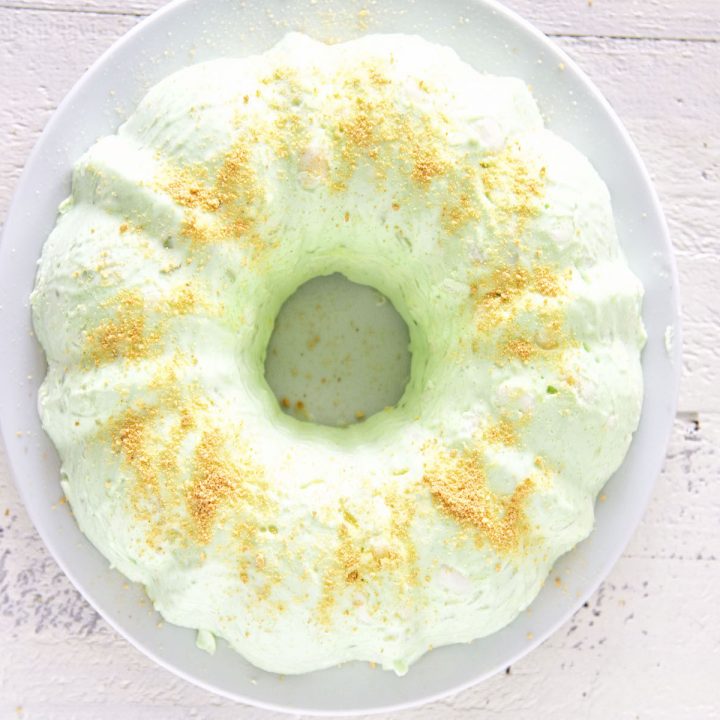 Key Lime Pie Gelatin Salad
Ingredients
1 (6 ounce) package lime gelatin
1 cup boiling water
1 (8 ounce) package cream cheese, at room temperature
½ tsp vanilla extract
4 TBSP sweetened condensed milk
4 TBSP key lime juice
1 (8 ounce) can crush pineapple, drained
2 cups mini marshmallows
1 cup Key Lime Soda (I used Stewarts)
1 (8 ounce) carton of Cool Whip (or whipped cream)
graham cracker crumbs (for garnish)
Instructions
Dissolve gelatin in water.
In a mixing bowl, beat the cream cheese and vanilla until fluffy.
Stir in Jello and beat until smooth.I usually put it in the blender to fully mix.
Add pineapple, sweetened condensed milk, key lime juice, and soda and mix until incorporated.
Chill the mixture in refrigerator for about 30-40 minutes, so that when you lift it with a spoon it is clumpy.
Fold in the Cool Whip and mini marshmallows.
Pour into a 9-x-13-inch pan or Bundt pan.
Refrigerate for 3-4 hours or until firm.
Garnish with graham cracker crumbs right before serving.
If serving in pan, will make about 16 squares for 9-x13 pan or about 8 for a Bundt.