This Pistachio Dried Cranberry Caramel Tart has a shortbread shell filled with a rich caramel sauce, pistachios, and dried cranberries.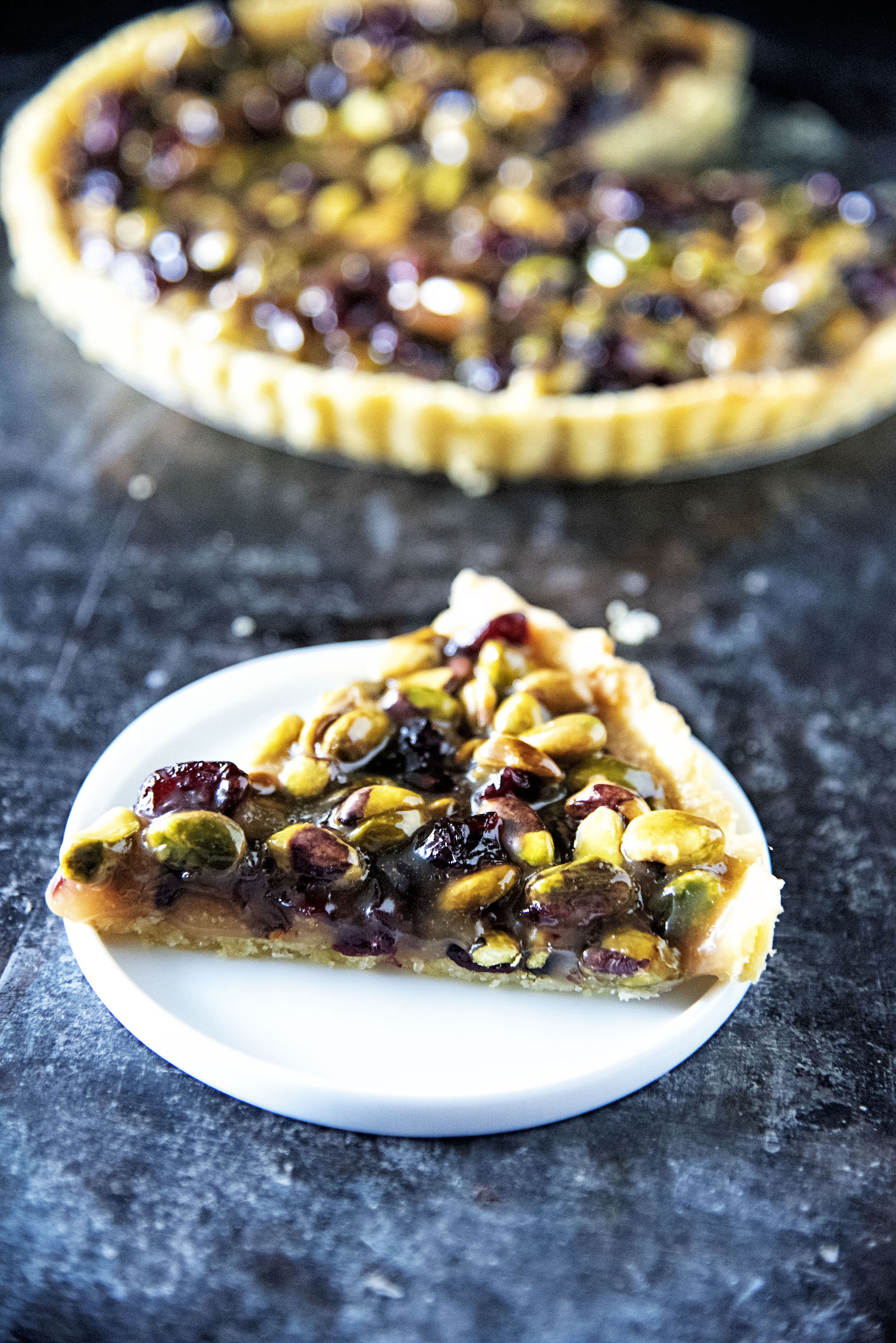 Well, I did it.
I'm amazed I did.
But I did a recipe every day from the day after Thanksgiving to today…Christmas Eve.
Gotta say…it was pretty hard.
Not so much the baking and candy making but the photographing and doing the actual blogging.
But today is Christmas.
Even and I'll be taking a few days off of blogging. 🙂
I think I deserve it.
Ironically, because I've focused so much on getting things up on the blog that I haven't thought about what I will make for Christmas dinner dessert. 🙂
Since my mom is here I think bread pudding.
Because bread pudding is my mom and I's favorite.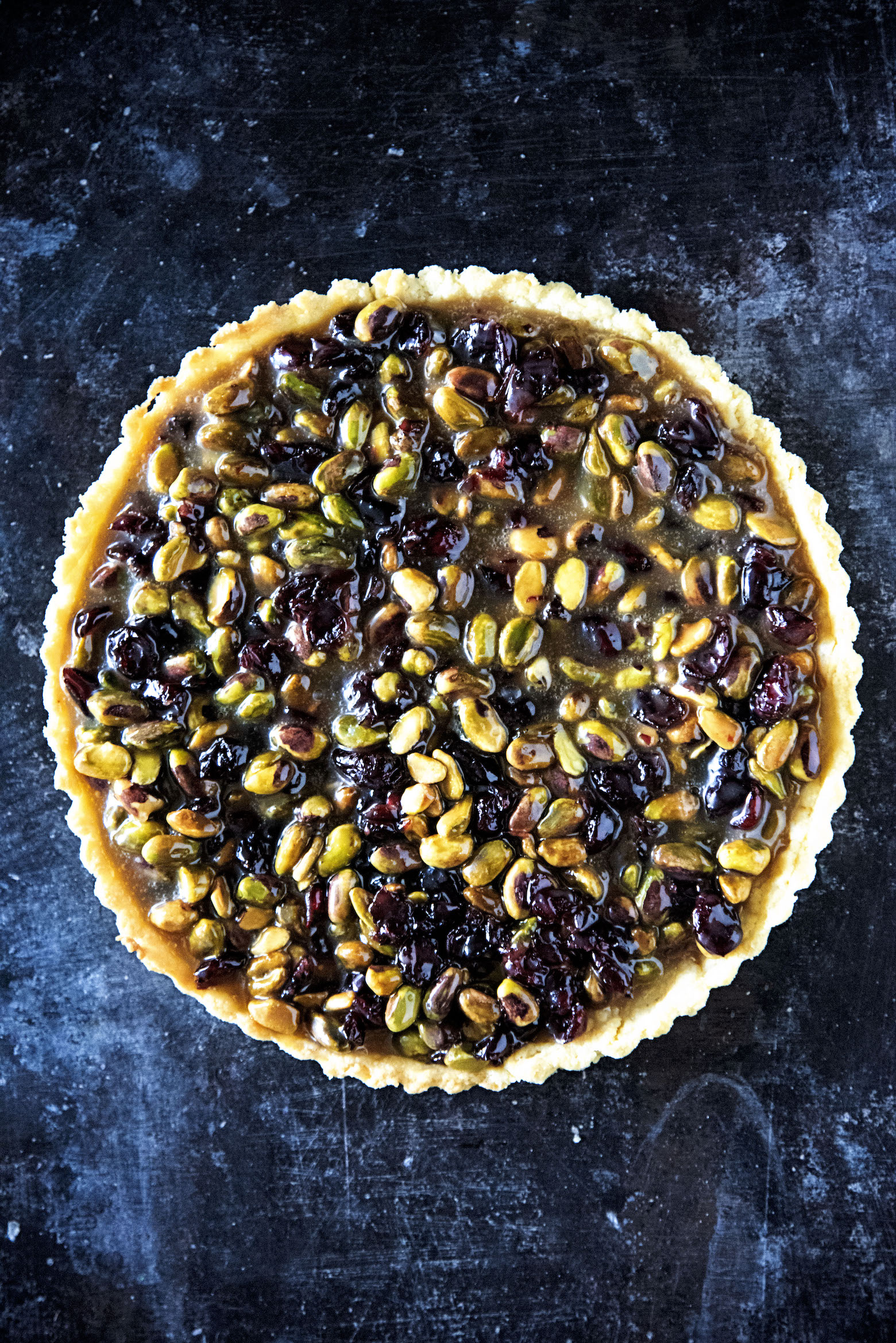 This Pistachio Dried Cranberry Caramel Tart is one of my favorites to make.
I've made it for tonight's (Christmas Eve) dinner.
I make many variations but my mom loves cranberries and pistachios so I thought I would make one for Christmas.
It's sort of Christmas-like in that the cranberries are red and the pistachios are green.
For all those celebrating tomorrow….
I hope you are getting to spend it with those you love.
Get the gifts you want.
And eat way too much. 🙂
I wish you all a Merry Christmas.
Enjoy the last few days of 2018.
And as always be sure to order my cookbook.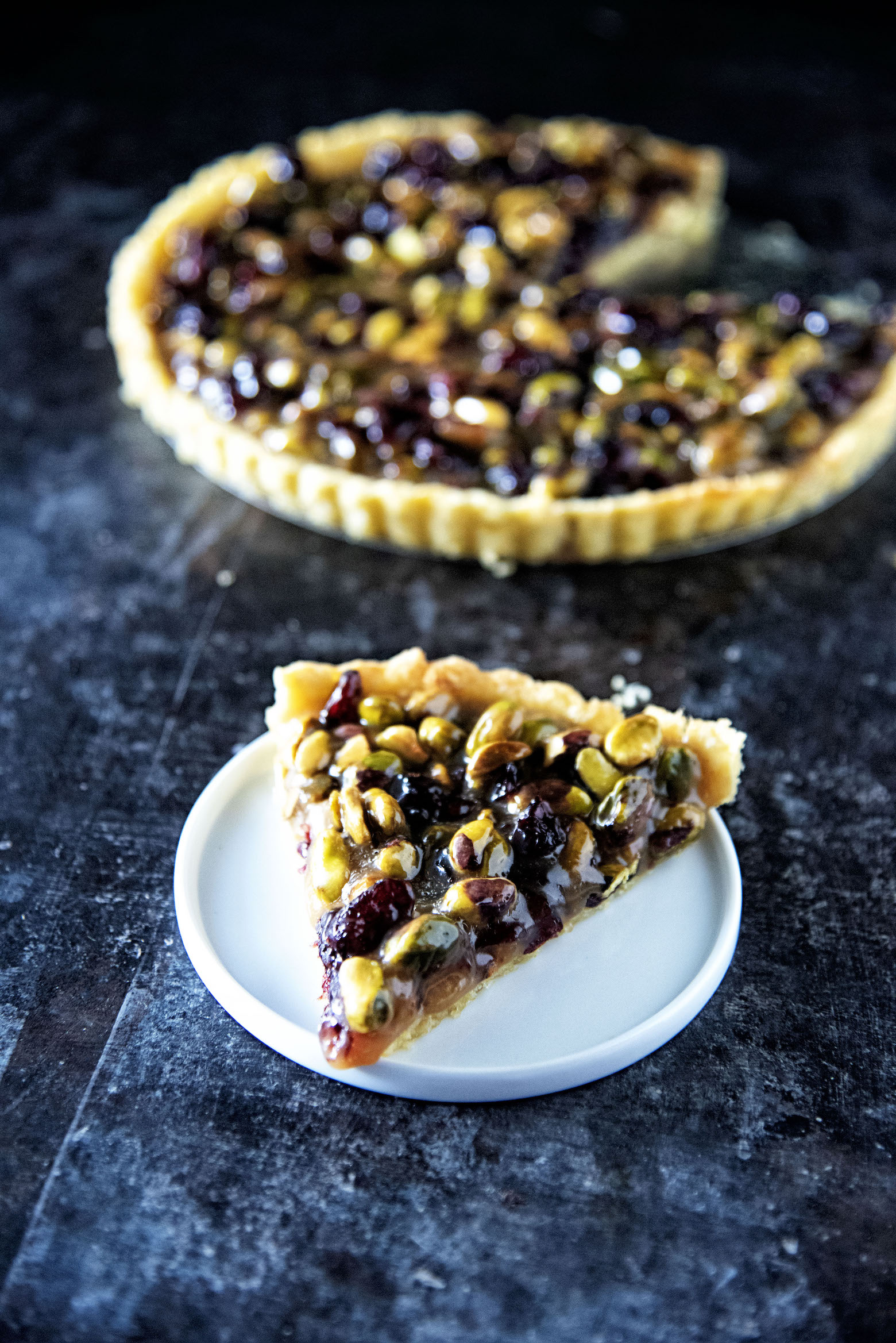 Want More Tart Recipes?
Mini Bailey's Irish Cream Mocha Cheesecake Tarts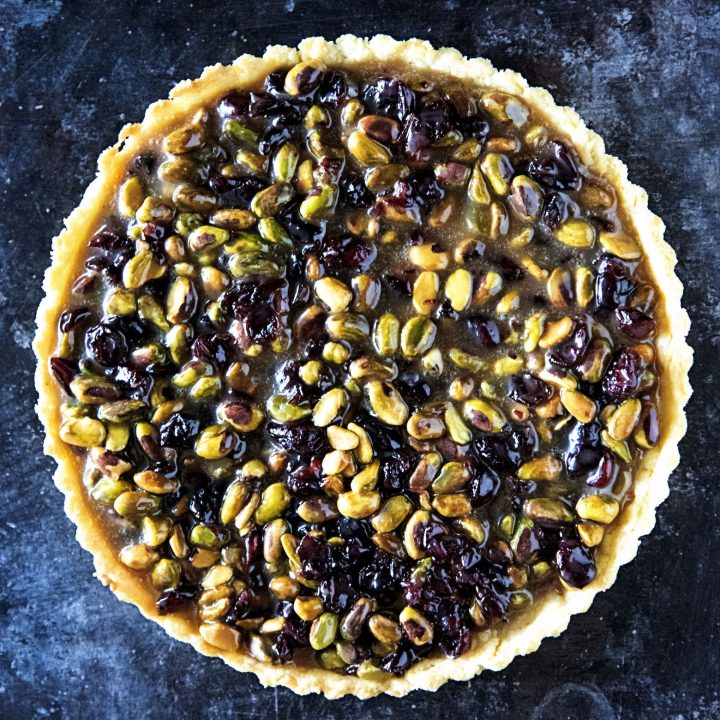 Pistachio Dried Cranberry Caramel Tart
Ingredients
For the tart shell:
1 cup all-purpose flour
4 TBSP granulated sugar
½ cup butter unsalted butter, cut into small pieces
4 egg yolks
pinch of table salt
For the filling:
1 cup granulated sugar
4 TBSP water
¼ cup heavy cream
4 TBSP light corn syrup
1 1⁄2 cups pistachio nuts
1 cup dried cranberries
4 TBSP unsalted butter
Instructions
Preheat oven to 375°.
For the Tart Shell:
Whisk together flour, sugar, and the table salt in a small bowl (or use food processor)
Add the butter.
Using a pastry blender, cut butter into flour mixture until mixture resembles coarse meal. You can also use a food processor and pulse.
Add egg yolks.
Knead lightly until dough comes together or use the pulse setting.
On a well-floured surface, roll into a 10-inch circle.
Place circle of dough into a tart pan with a removable bottom.
Press dough against sides of the pan.
Trim away and discard excess dough.
Chill shells until firm, 15 minutes.
Bake pastry shell 15-20 minutes; cool.
For the Filling:
Place sugar, water, and corn syrup in a small skillet over medium heat.
Swirl pan lightly to mix.
Simmer mixture until it turns the color of iced tea, about 5 minutes.
Remove caramel from heat; stir in the butter.
Add cream; stir until caramel is smooth.
Add pistachios and dried cranberries; pour caramel filling evenly into baked tart shells.
Allow tart to cool completely.
It's going to have a candy bar texture. You can cut it easily but the caramel will not run…will be more like the inside of a Snickers bar.