Chocolate Dipped Candy Cane Fudge: Minty candy cane flavored fudge made with white chocolate and dipped in semisweet chocolate and sprinkled with candy cane pieces.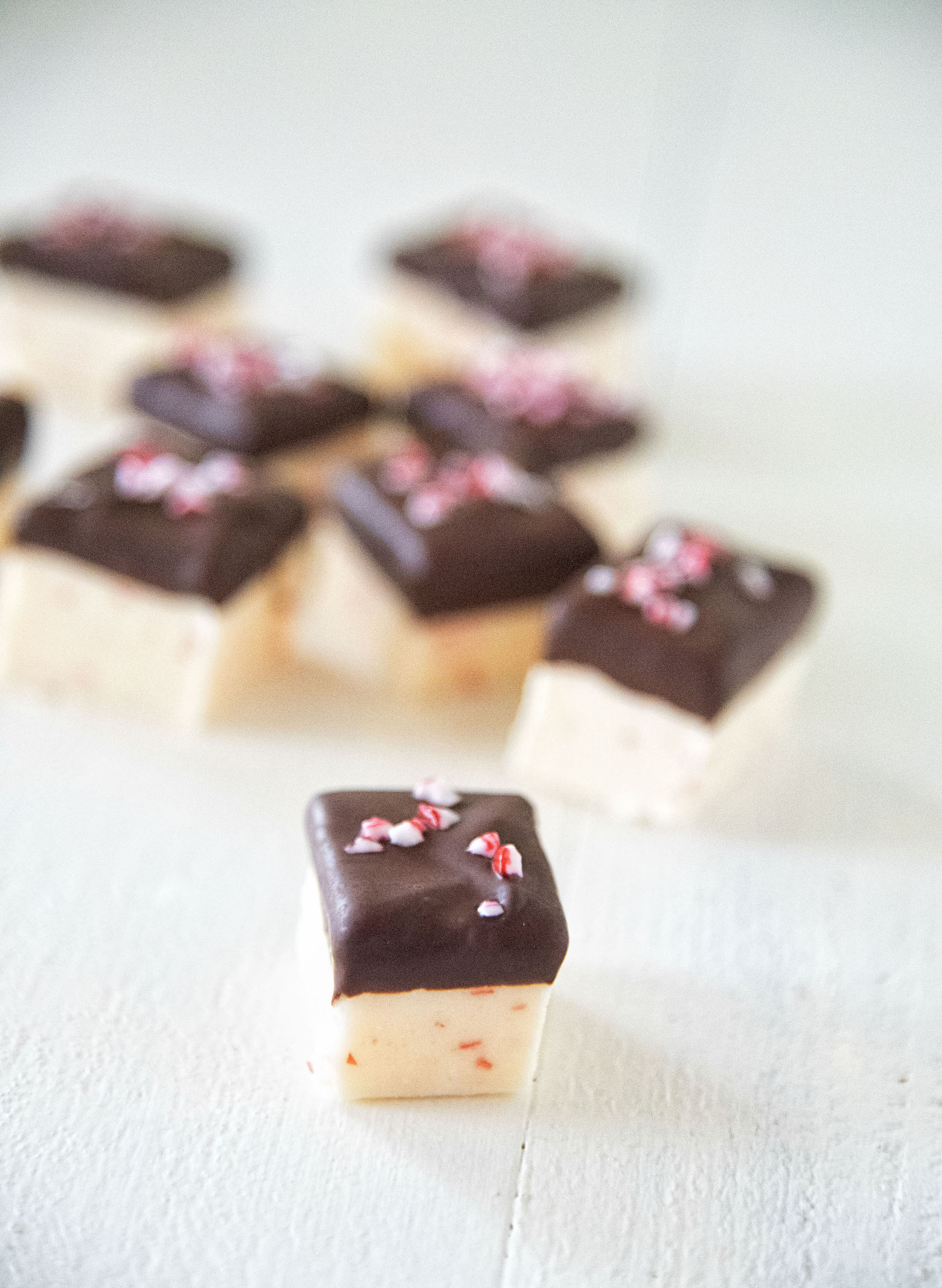 My dad loves mint.
Favorite ice cream is Mint Chip.
His favorite part of Christmas was candy canes.
So whenever he comes out for Christmas I make sure that I have peppermint desserts.
I made the Peppermint Bark Red Velvet Cupcakes for him.
As well as this fudge.
Which is a combo of white chocolate and white peppermint bark.
But to take it up a notch, just like my Boston Cream Pie Fudge I dipped these in chocolate.
It's my new favorite thing to do to fudge.
Because how can you go wrong with more chocolate?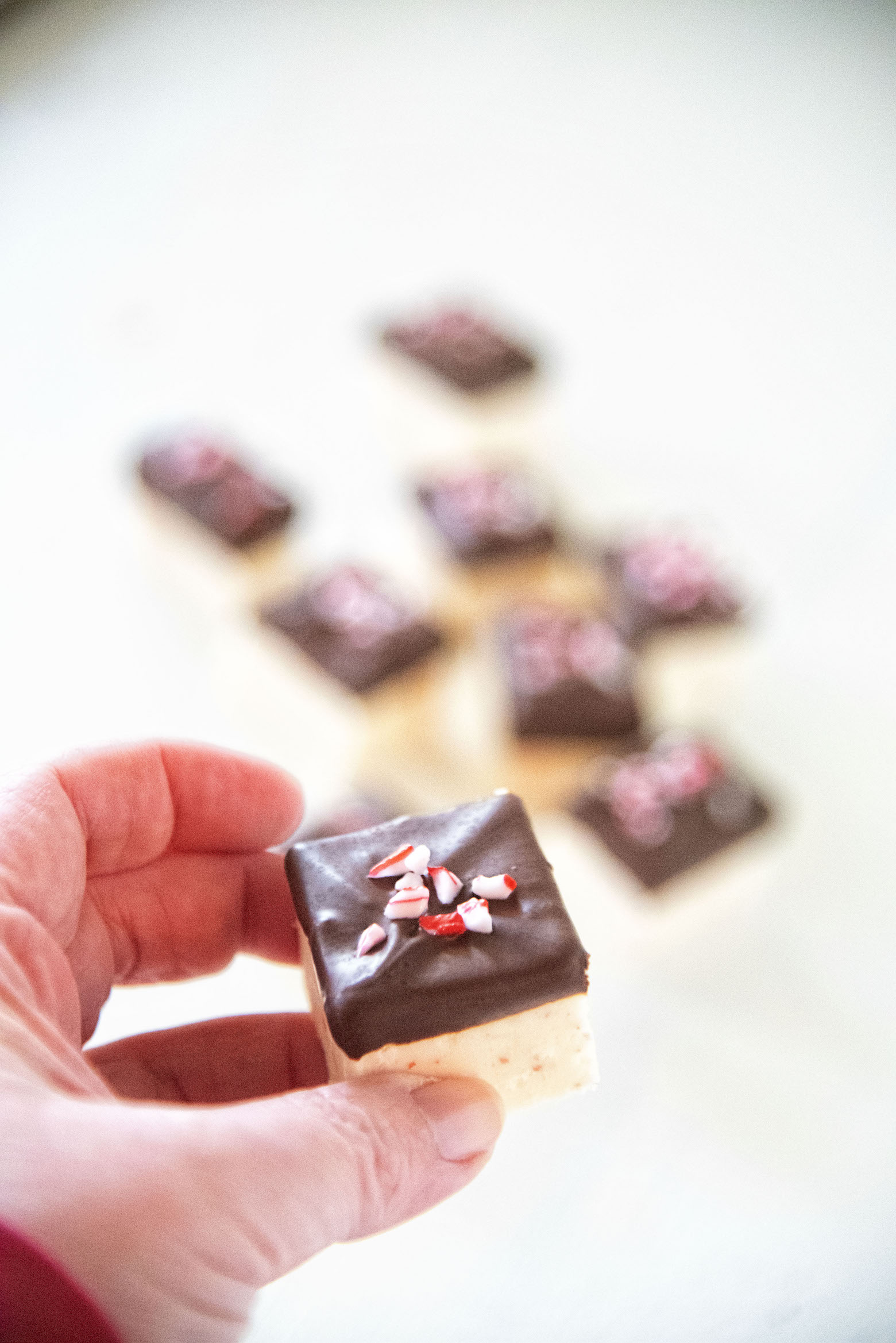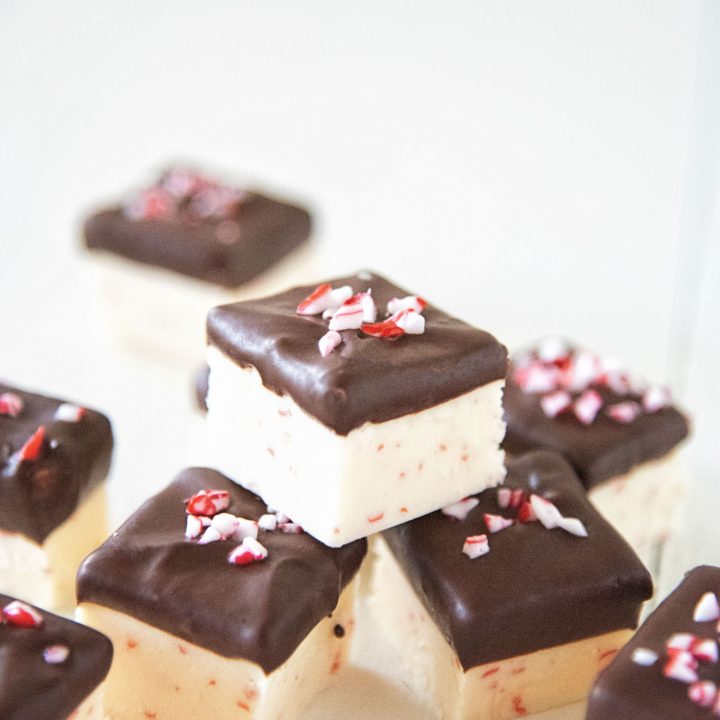 Chocolate Dipped Candy Cane Fudge
Ingredients
For the Fudge:
2 cups granulated sugar
4 oz. unsalted butter
⅓ cup heavy cream
1 cup Ghirardelli Peppermint Chunks or Wilton Candy Cane Melts
1 cup white chocolate chips
7-ounce jar marshmallow crème
For the topping:
6 oz. semisweet chocolate, finely chopped
1 1/2 TBSP vegetable oil
3 TBSP candy cane pieces
Instructions
Line an 8×8 inch pan with parchment with an overhang so you can lift the fudge out later and coat with baking spray.
Combine sugar, butter, heavy cream, and liquor into a large heavy bottomed sauce pan and bring to a boil over medium heat.
Once boiling, attach a candy thermometer and reduce the heat to a hair above medium low and cook for 7-10 minutes until your thermometer reads 234°F (soft ball stage), stirring constantly.
Once you reach 234F remove from heat and add the white chocolate chips and Peppermint Chunks, stirring vigorously with a wooden spoon until the chocolate has melted and the mixture is smooth.
Add the marshmallow crème and mix until well blended.
Pour into prepared pan.
Let cool to room temperature. Then lift out of the pan and onto a cutting board.
Cut into whatever amount you want. I think I got about 24 pieces.
For the Topping:
Combine chocolate and oil in a medium heat-proof bowl set over a medium saucepan of barely simmering water; stir until melted and smooth.
Transfer to a small bowl, and let cool about 15 minutes.
Dip the top of each piece of cut fudge into the chocolate.
Sprinkle with candy cane pieces.
Let the chocolate set up, about an hour and serve.