These Key Lime Pie Thumbprint Cookies are a fun twist on the classic rolled in graham cracker crumbs and key lime pie filling!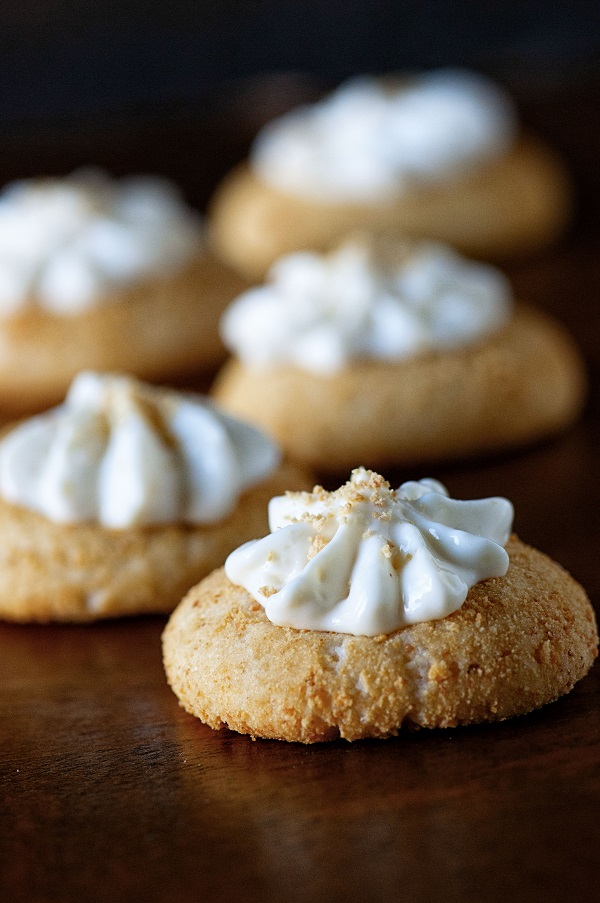 My husband noticed the other day that I had a bunch of Plugra butter hidden away in the back of the fridge and commented how is that possible.
I go through a lot of butter.
A lot. Like so much.
So much.
I told him that my contract was coming to an end at the end of October and I wasn't sure if they were doing the program again.
He said okay, what does that have to do with the leftover butter?
I said I'm hoarding it for holiday baking just in case.
Which amazingly he understood that logic.
Then no more than a few days after that, Plugra contacted me asking if I wanted extend my contract (I felt like an NHL player…okay not really but still) for the holiday season as well as join them for year three in 2016.
I, of course, jumped on the chance since unless you are living under a rock (and even then I probably lifted that rock and told you) you know I LOVE their butter.
So while I thought these cookies might be my last post for Plugra, turns out they love me as much as I love them.
Yay for the Plugra Butter Brigade! 🙂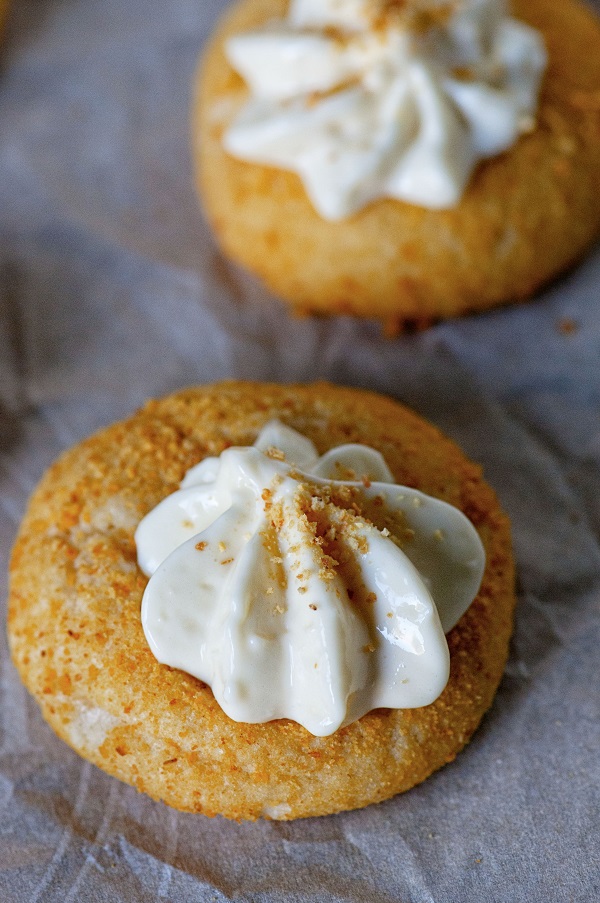 Speaking of these Key Lime Pie Thumbprint Cookies, oh how I love them.
Jam Thumbprints are one of my favorite cookies to see on my mom's holiday cookie plate.
I make them every Christmas (only 9 more weeks people…eek!!).
Every Christmas I'm always looking for a new cookie to take to cookie exchange.
I try and not make it chocolate or peppermint or gingerbread since that is what I see most at cookie exchange.
Well, I am happy to say that I found a winner.
I would definitely pipe the key lime pie filling into them last minute due to fear of getting soggy.
Though I will say that I had these out on the table for a while (a couple hours) after photographing them and they did not get soggy.
If you love key lime pie you will love these cookies…which FYI are great for breakfast…or maybe that's just me. 😀
P.S. It's a great day to buy my cookbook.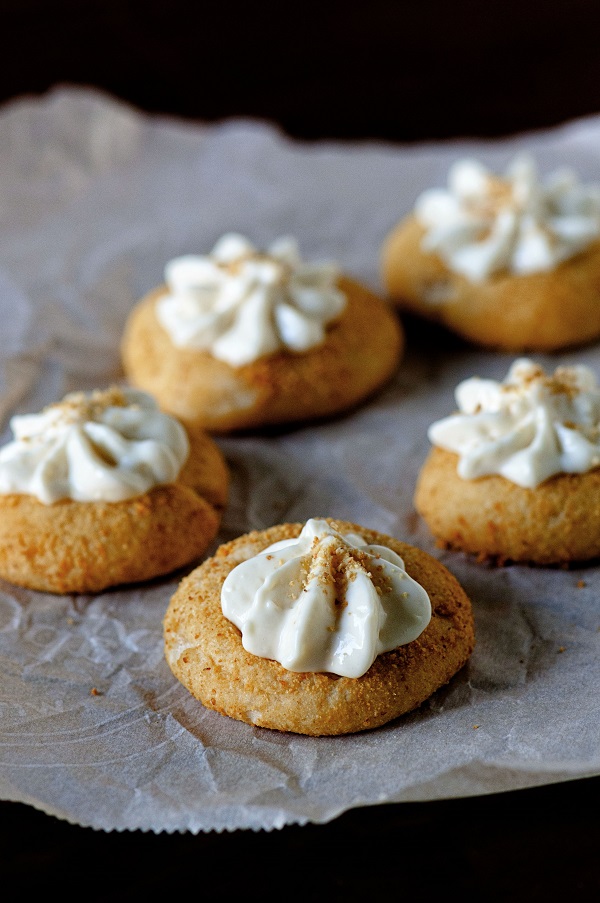 Want more Thumbprint Cookie Ideas?
Dulce de Leche- Cashew Thumbprints
Vanilla Bean Caramel Thumbprint Cookies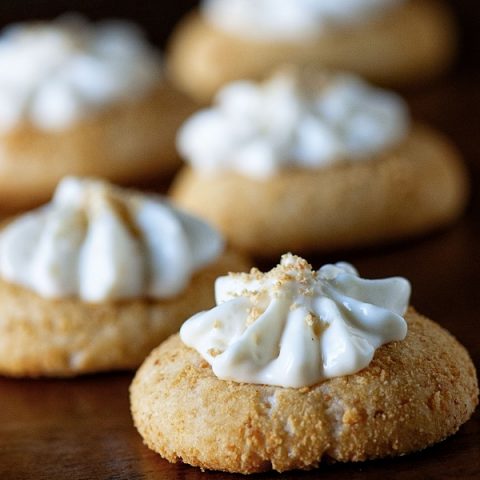 Key Lime Pie Thumbprint Cookies
Ingredients
For the Key Lime Pie Filling:
8 oz. cream cheese, at room temperature
5 oz. key lime juice
9 oz. sweetened condensed milk
For the cookies:
½ cup unsalted butter, at room temperature (I used Plugra)
2/3 cup granulated sugar
1 egg
½ tsp. vanilla extract
¼ tsp salt
1 1/3 cups all-purpose flour
1 egg white
1 tsp. water
1 cup graham cracker crumbs
1 ½-2 cups key lime pie filling
Instructions
For the filling:
Place all ingredients in a mixer fitted with a paddle attachment.
Mix on low for 30 seconds.
Increase speed to medium and blend for 2 minutes.
Place in a separate bowl and place in fridge for 2 hours.
For the Cookies:
Using a stand mixer with the paddle attachment or a hand mixer, cream the butter and sugar until light and fluffy, about 3 minutes.
Add egg, vanilla extract, and salt to creamed mixture.
Beat on low speed until fully combined.Add in flour, beat on low until fully combined.
Wrap dough in plastic wrap and chill in the fridge for 1 hour.
Preheat oven to 350F.
Line baking sheets with parchment paper.
Using a fork, beat together egg white and water in a small bowl.
Place graham cracker crumbs in a separate bowl.
Remove dough from fridge and shape into 1-inch balls.
Dip balls in egg white, allowing excess to drip off.
Roll dough balls in graham cracker crumbs to coat.
Transfer cookies to the prepared baking sheets, spacing cookies 2-inches apart.
Using a 1-tsp measure, or your thumb, make an indentation in each cookie.
Bake cookies, one sheet at a time, until the edges are set, 12-13 minutes.
I like to at this time repress my thumb or tsp measure to make the indentation really big in the cookie when the cookies come out of the oven.
Transfer the cookies to a cooling rack.
When cookies are cool, pipe the key lime pie filling into the indentations.
Sprinkle with pie filling with graham cracker crumbs.