This Bourbon Fruitcake Fudge is white chocolate fudge filled with bourbon soaked candied cherries, candied pineapple, and candied oranges.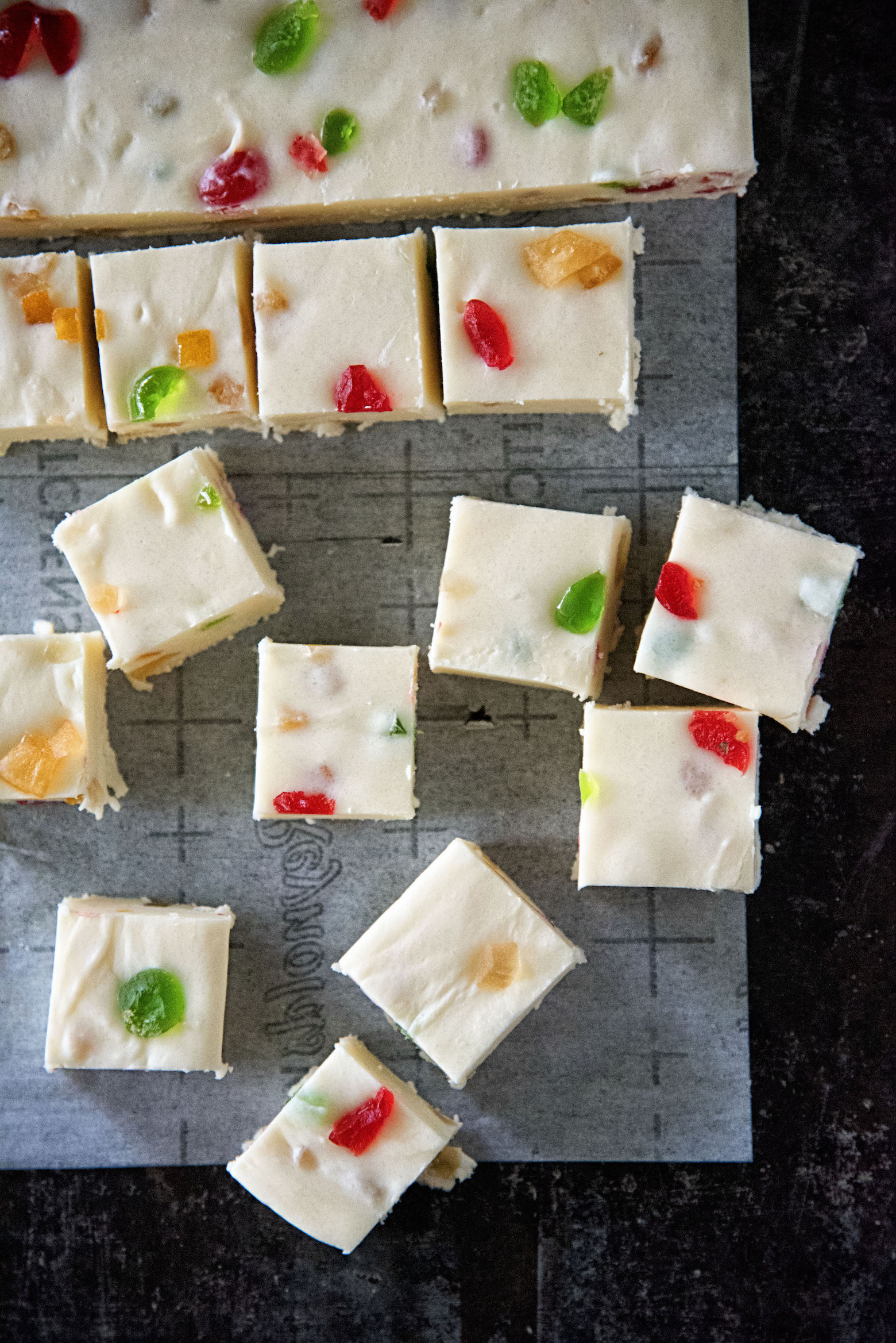 I avoided fruitcake for a really long time.
Which lead me to miss out on something that it turns out I really like.
Like most things, my first experience with it was not a positive one. It was one of those tiny fruitcakes sent from a catalog that you pick things from for relatives you know nothing about.
It was bad and so I swore all fruitcakes off.
That was until years ago when my family was sent a Tipsy Cake from Jack Daniels.
First off, wow those are strong.
We did not expect it to pack such a punch.
Second, wow those are good.
It was then I realized that not all fruitcakes are alike and started making my own.
Like with fruitcake the longer the fruit soaks in the booze…the boozier it will be.
And well, I like my fruitcake to be boozy.
So if you are wanting a more family friendly fudge you could leave out the bourbon.
But honestly you kind of need it.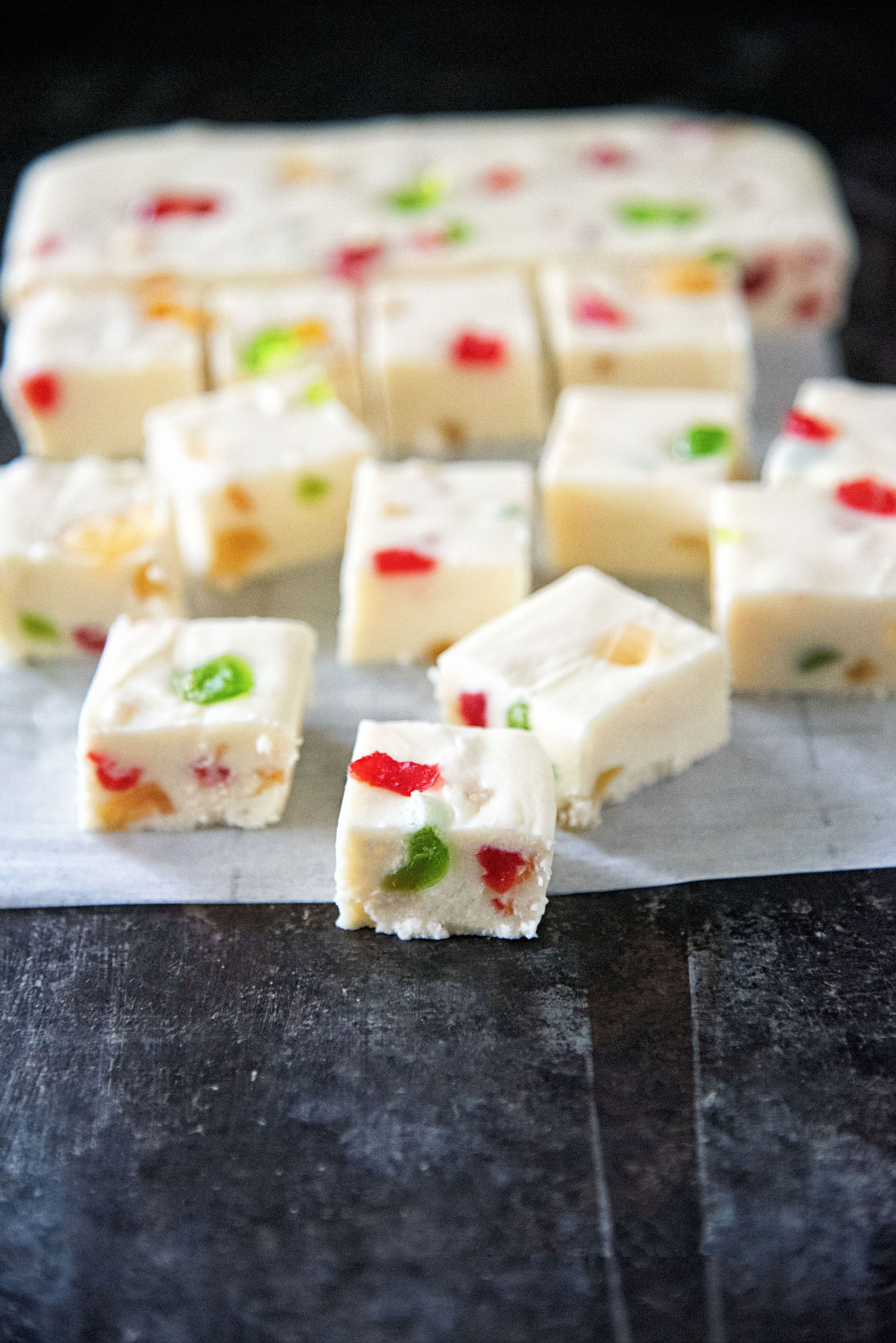 I originally was going to add pecans to the Bourbon Fruitcake Fudge.
Only to notice the bowl of pecans off to the side after I already had the fudge setting up in the pan.
Whoops.
That happens more than I care to admit. 😀
My husband says he's glad there were no nuts.
He says he likes the fudge just is.
Then again, he loves bourbon and all things flavored with bourbon.
So if you like nuts in your fruitcake feel free to add about a cup of them in there.
It really doesn't matter what fruitcake fruit you use.
I buy individual flavors but they make a mix of it that you can buy.
It's almost always at every grocery store this time of year.
Normally over in the bulk nuts and candy in produce section of the store.
This is definitely a fun fudge to bring to a holiday party.
Keys to Successful Fudge:
Have a thermometer.
I don't like the old fashioned ones that you clip to the side.
Those never work for me.
I like digital and use this one.
Use Baker's sugar.
Also known as caster or superfine sugar.
I don't always follow my own rule because I don't always have it on hand but it makes for a less gritty fudge.
Use good butter. Preferably European.
They higher the butterfat content the better.
Cheaper butter often has too much water in it and will cause your fudge to separate.
Same goes for your chocolate.
The cheaper the chocolate the more likely it is to separate.
If using chips I tend to use Guittard.
And when making extra special fudge I used TCHO.
P.S. It's a great day to buy my cookbook.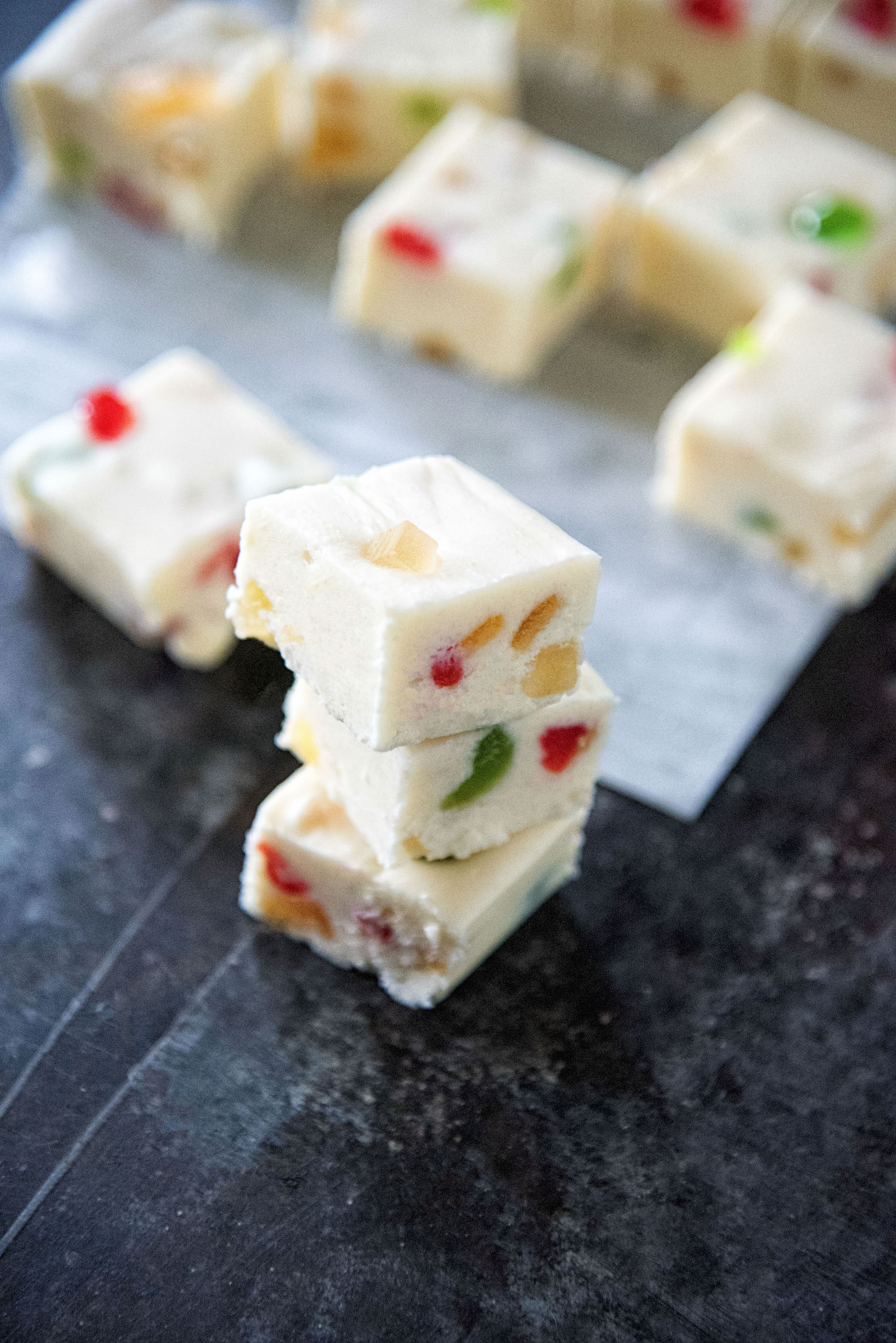 Want more Fruitcake Recipes?
Drunken Orange Cranberry Fruitcake
Orange Glazed Bourbon Soaked Fruitcake Cupcakes
Bourbon Soaked Eggnog Fruitcake Pound Cake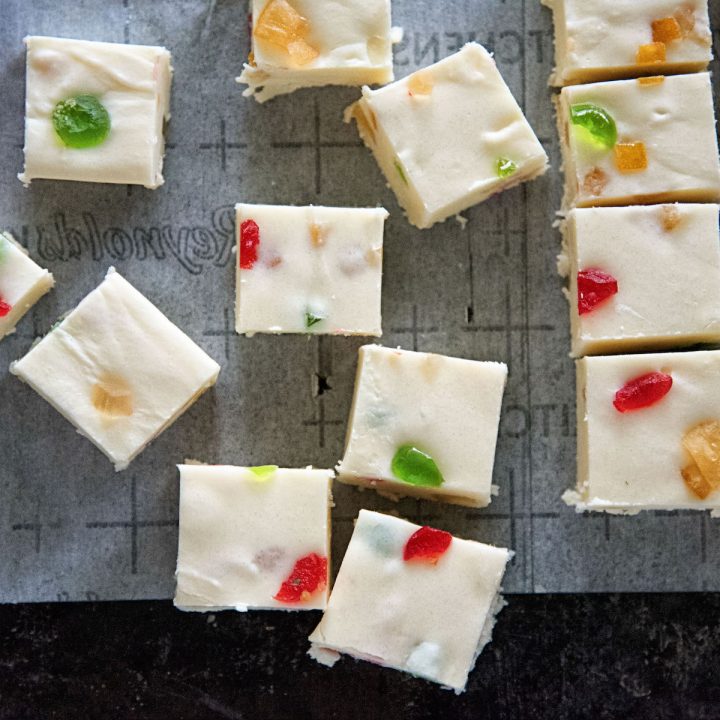 Bourbon Fruitcake Fudge
Ingredients
2 cups granulated sugar
4 oz. unsalted butter
½ cup heavy cream
12 ounces white chocolate chips
7-ounce jar marshmallow crème
3/4 cup fruitcake fruit (candied cherries, candied pineapple, candied orange peel), diced
enough bourbon to over the fruitcake fruit, about a cup
Instructions
Place fruitcake fruit into a medium bowl.
Even out with a spatula.
Pour bourbon over the fruit until the booze covers the fruit completely.
Let fruit sit in bourbon for 2 hours (or more).
Drain the fruit from the bourbon.
Reserve 3 TBSP of the bourbon used to soak fruit.
Line an 8×8 inch pan with parchment with an overhang so you can lift the fudge out later and coat with baking spray.
Combine sugar, butter, and heavy cream into a large heavy bottomed sauce pan and bring to a boil over medium heat.
Once boiling, attach a candy thermometer and reduce the heat to a hair above medium low and cook for 7-10 minutes until your thermometer reads 234°F (soft ball stage) , stirring constantly.
Once you reach 234F remove from heat and add the white chocolate chips stirring vigorously with a wooden spoon until the white chocolate has melted and the mixture is smooth.
Add the marshmallow crème and mix until well blended.
Add the 3 TBSP reserved bourbon.
Fold in the bourbon soaked fruitcake pieces.
Pour into prepared pan.
Top with more fruitcake fruit if desired.
Let cool to room temperature.
Then lift out of the pan and onto a cutting board.
Cut into whatever amount you want.