Gingerbread Spice Latte Bundt Cake: Moist, spicy Bundt cake flavored with molasses and gingerbread spices and espresso powder all glazed with chocolate coffee icing.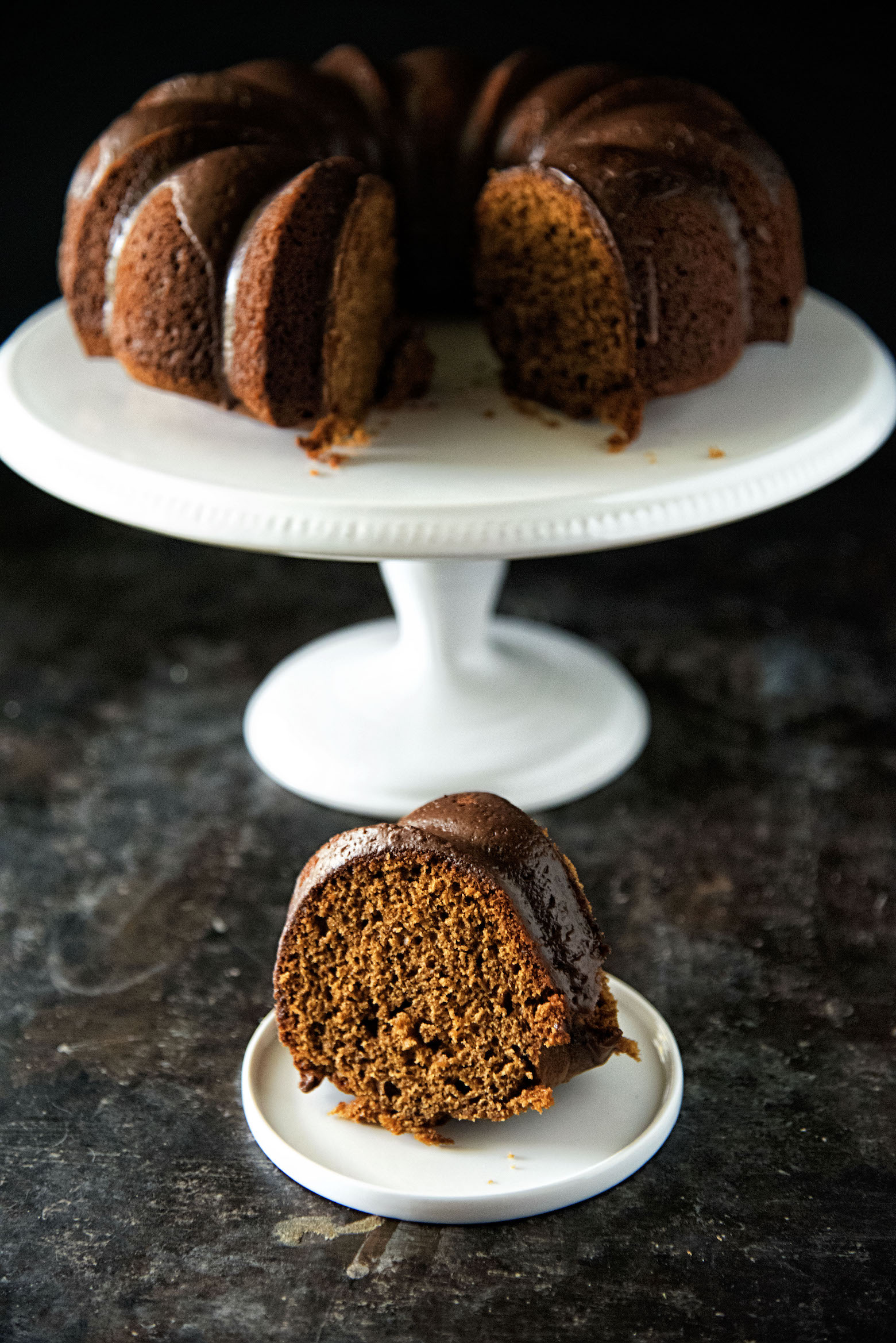 Happy National Bundt Cake Day!
Who doesn't love a good Bundt cake?
I love them because the pan does the decorating for you.
And if you are like me you need all the help you can get when it comes to decorating.
I have a lot of Bundt pans but decided to go with the classic shape for this cake.
You can use whatever one you wish as long as it holds 10-12 cups.
I warned you that I was on a gingerbread kick and I still am. 🙂
This cake has more of a hint of coffee than a knock you over the head with coffee flavor.
So if you want more coffee flavor add more espresso powder to your cake batter.
To see more Bundt cakes you can check out a few of my favorites.
Whiskey Glazed Apple Buttermilk Pound Cake
Chocolate Root Beer Float Bundt Cake 
Cranberry Orange Spice Bundt Cake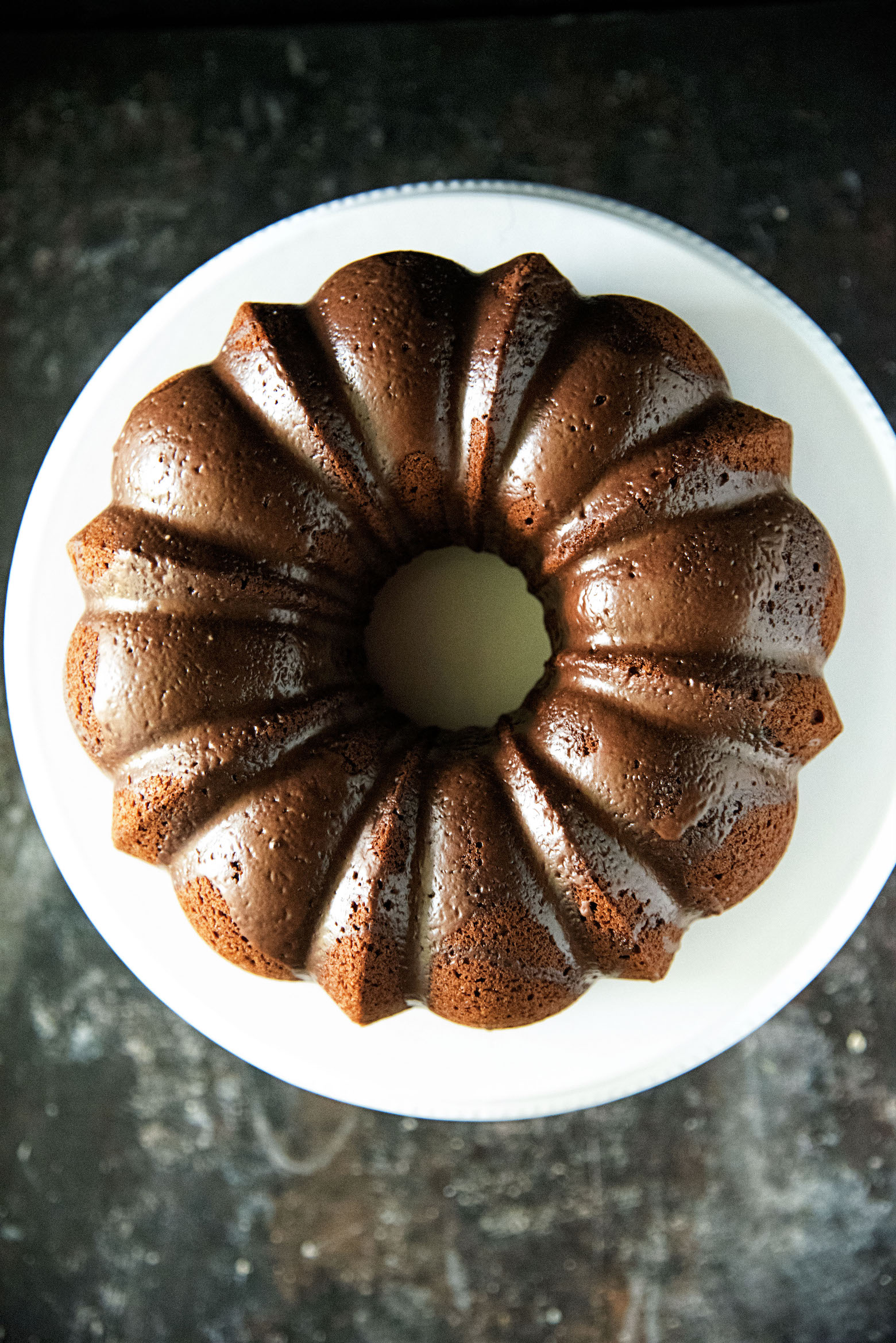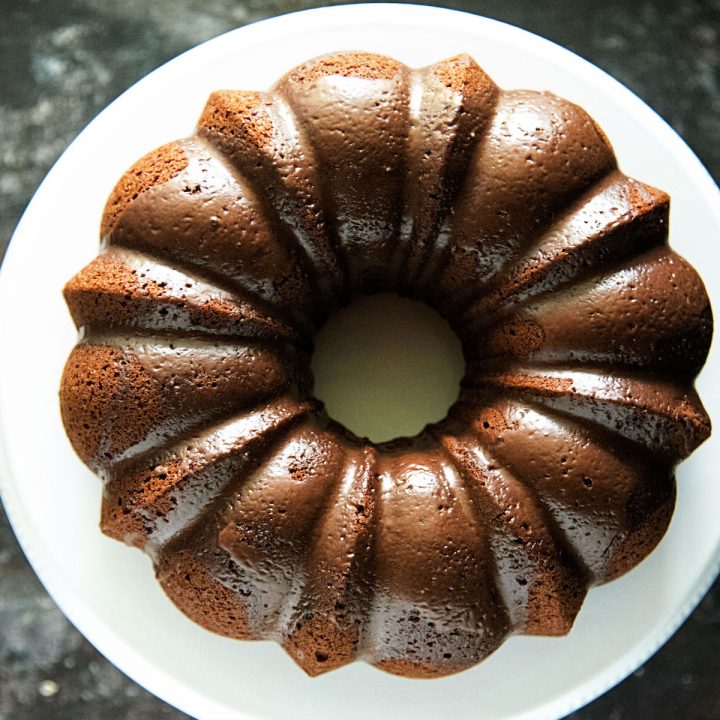 Gingerbread Spice Latte Bundt Cake
Ingredients
For the Cake Batter:
2 and 1/2 cups unbleached all-purpose flour
2 1/2 TBSP. gingerbread spice
2 tsp. espresso powder
3/4 tsp. baking soda
1/4 tsp. baking powder
3/4 tsp. salt
1 1/4 cup packed dark brown sugar
3/4 cup vegetable oil
1/2 cup molasses
3 large eggs, at room temperature
2 tsp. vanilla extract
3/4 cup buttermilk, room temperature
For the Icing:
2 cups powdered sugar
2 TBSP cocoa powder
1/4 cup coffee (might need more depending on how thin you want icing).
Instructions
For the cake:
Preheat the oven to 350 degrees F with a rack in the center position.
Grease a 10 or 12-cup bundt cake pan and set aside.
In a medium bowl, whisk together the all-purpose flour, gingerbread spices, espresso powder, baking soda, baking powder, and salt. Set aside.
In a large bowl, whisk together the dark brown sugar, oil, molasses, eggs, and vanilla extract.
Mix until no lumps remain.
Pour in the buttermilk and whisk until smooth.
Add the flour mixture to the wet ingredients in two additions, whisking until the flour is just absorbed.
Using a spatula, transfer the batter to the greased bundt pan.
Bake at 350 F for 40 to 45 minutes or until a toothpick inserted in the center comes out clean.
Allow the cake to cool in the pan set on a wire rack for 10 minutes. .
For the Icing:
Whisk together all the ingredients.
If too thin add more coffee. If too thick add more powdered sugar.