Chocolate Root Beer Float Bundt Cake is a chocolate root beer Bundt swirled with vanilla ice cream mascarpone and fudgy root beer frosting.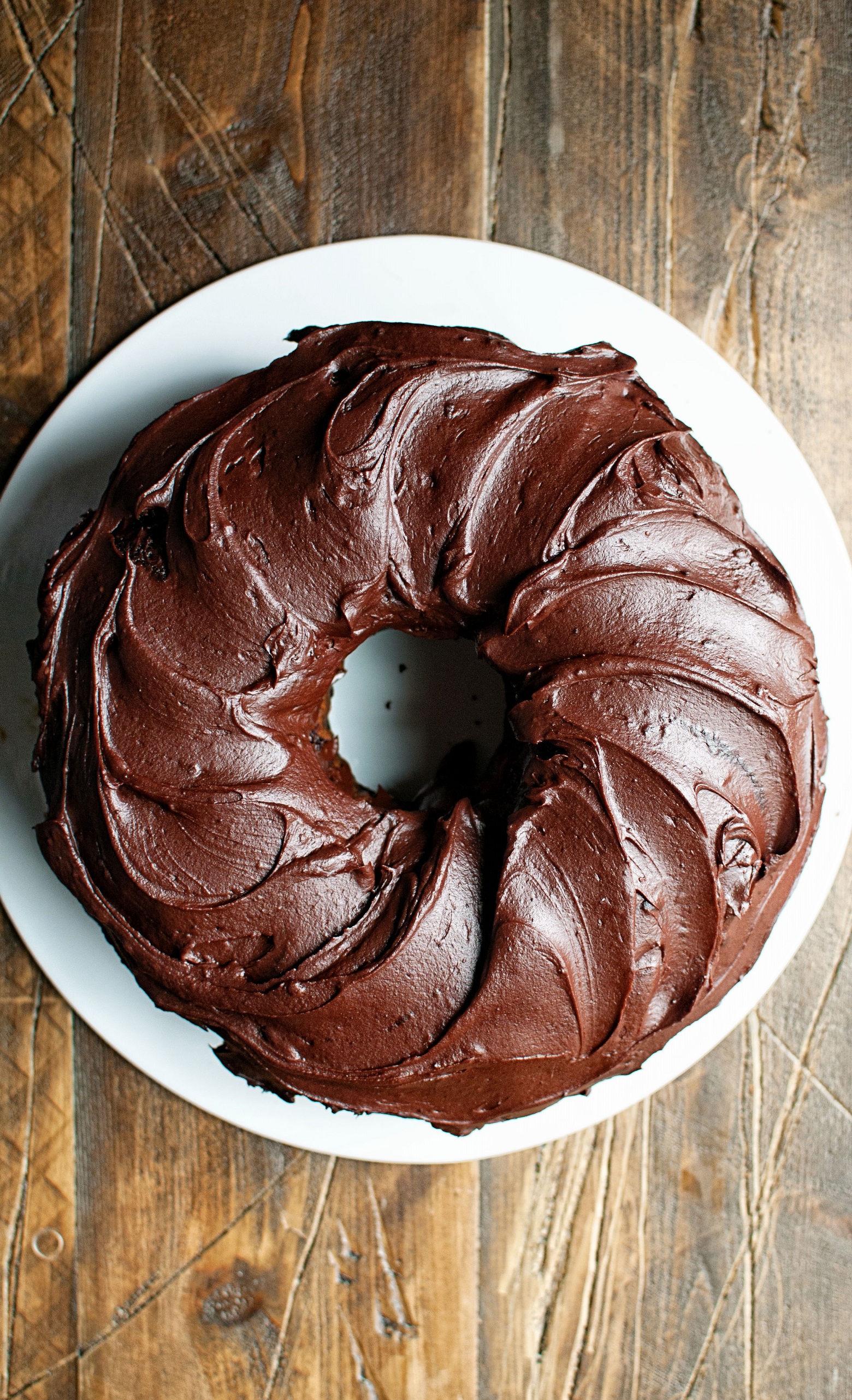 This time of year you have two types of people.
The ones desperately trying to cling on to summer and those of us with our fall sweaters and canned pumpkin waiting to come out.
We all know what category I fall into…pun intended.
Tomorrow will start the flood of pumpkin everything (I'm okay with that).
Halloween candy is out and I will start to buy bag after bag for the whole two trick or treaters we get. 🙂
Oh, darn I guess I have to eat those leftovers…and will have to taste test before Halloween for you know, test for freshness. 😉
I woke up to cool temps and a light sprinkling of rain and my soul smiled.
But the summer lovers are sad that their sun and fun are gone.
There are people who are sad that their kids are back in school (and some who are throwing confetti 😀 ) and miss the carefree days of summer with them with no arguing about bedtimes.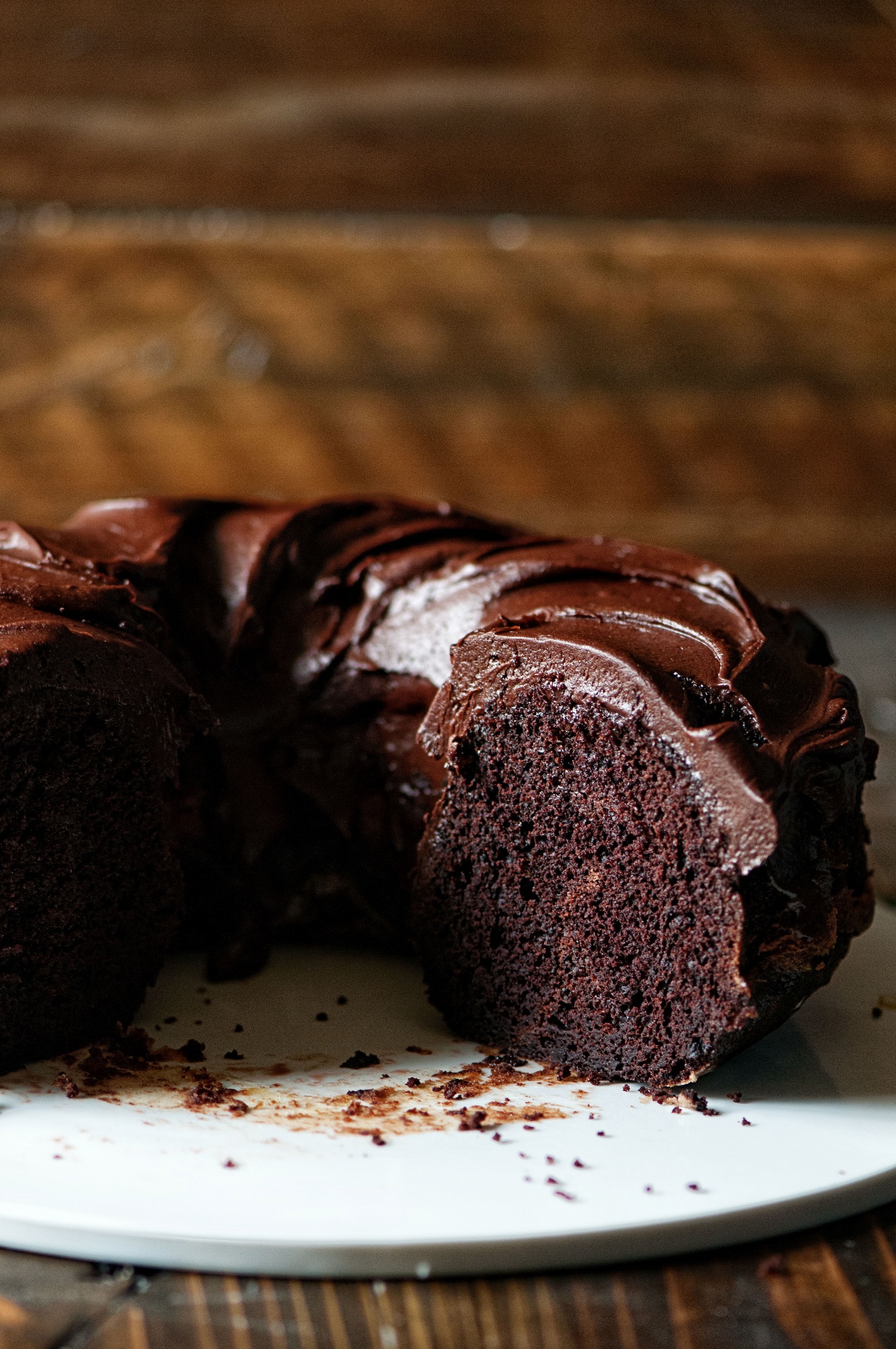 So I tried to think of a dessert that both says a little bit summer but a little bit fall.
I'm in a group of bloggers who privately (not a blogging event) have been going back and looking at our "older" cookbooks.
So I was flipping through the first Baked book and ran across this luscious looking chocolate cake only to read it was a root beer float cake.
I was intrigued since I don't think chocolate and root beer floats.
Reading through it and it sounded good but I didn't see much float in the root beer float.
In fact the only really ice cream part was them telling you to put a scoop of ice cream on top of the cake when you served it.
So my brain got to thinking (so rare these days 😛 ) and I decided to swirl in a little mascarpone, cream cheese would have just too much tang.
Then I thought why not just add actual ice cream to that mixture…so I did.
Because it is a rather thin mixture it does blend into the cake.
Which is more than fine, I simply wanted some float flavor in cake that said it was root beer float. 🙂
This Chocolate Root Beer Float Bundt Cake uses a lot of cocoa powder, which is code for show how messy I can get.
I don't know what it is about cocoa powder but I seem to get it everywhere?
Am I the only one?
Anyway, because it uses so much be sure to use a quality one.
I, of course, use Rodelle (no this is not a sponsored post) because I love all of their products.
Whatever you end up using be sure it's a good one.
If you are a summer lover I'm sorry.
But if you are a fall lover…yeah baby, it's on it's way!!!!
P.S. It's a great day to buy my cookbook.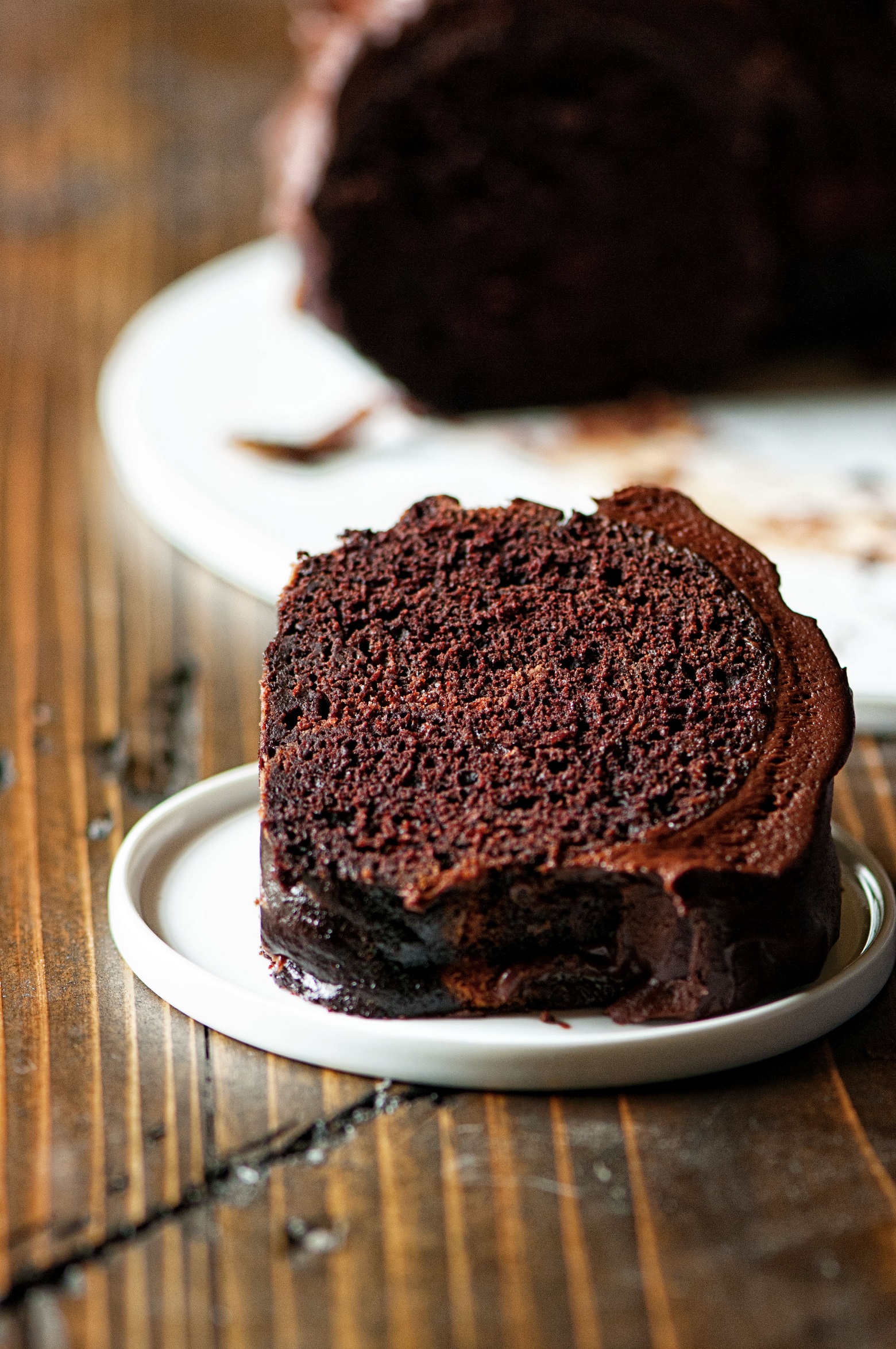 Want More Bundt Cakes?
Bourbon Brown Butter Chocolate Chip Cake
Strawberry Lemonade Bundt Cake
Whiskey Glazed Apple Buttermilk Pound Cake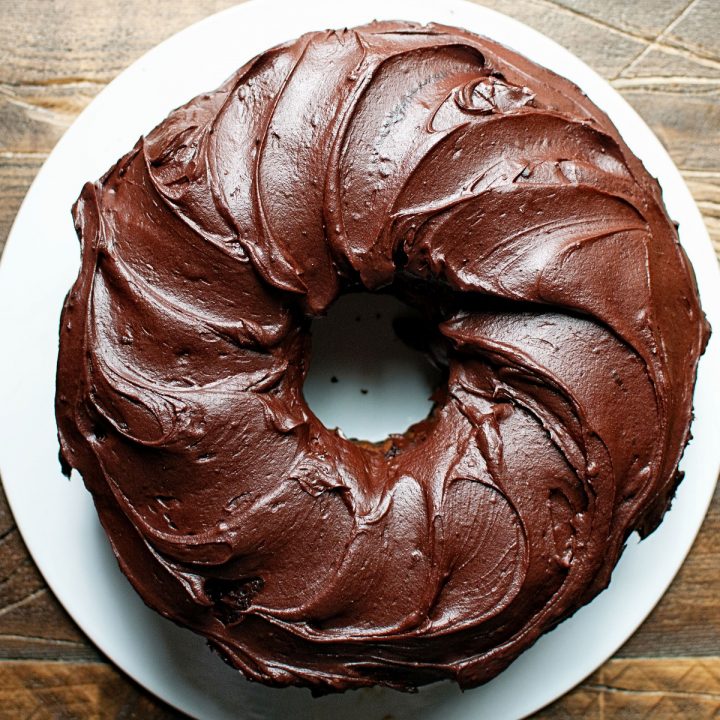 Chocolate Root Beer Float Bundt Cake
Ingredients
Cake:
2 cups root beer (no not use diet)
1 cup dark unsweetened cocoa powder (I used Rodelle)
1/2 cup unsalted butter
1 1/4 cups granulated sugar
1/2 cup firmly packed dark brown sugar
2 cups all-purpose flour
1 1/4 tsp. baking soda
1 tsp. salt
2 large eggs
Vanilla Ice Cream Mascarpone:
8 oz. Mascarpone cheese, at room temperature
1/3 cup melted vanilla ice cream
2 tsp. vanilla bean paste (I used Rodelle)
2 TBSP all-purpose flour
1 large egg
Fudgy Frosting:
2 ounces dark chocolate, melted and cooled slightly
1/2 cup unsalted butter, at room temperature
1/3 cup vanilla ice cream, melted
1/4 cup root beer (more if need to thin)
2/3 cup dark unsweetened cocoa powder (I used Rodelle)
2 1/2 cups powdered sugar
Instructions
For the Vanilla Ice Cream Mascarpone:
Using a stand mixer with a paddle attachment beat together the mascarpone and egg until fully incorporated.
Add ice cream and vanilla bean paste and mix until fully combined.
Add the flour and mix until fully combined and smooth.
Set aside.
For the cake:
Preheat the oven to 325F.
Spray a 10-inch Bundt pan with baking spray.
In a small saucepan, heat the root beer, cocoa powder, sugars, and butter over medium heat until the butter is melted and sugar is dissolved.
Remove from the heat and let cool.
In a large bowl, whisk the flour, baking soda, and salt together.
In a small bowl, whisk the eggs until just beaten, then whisk them into the cooled cocoa mixture until combined.
Gently fold the flour mixture into the cocoa mixture.
The batter will be slightly lumpy–do not overbeat, as it could cause the cake to be tough.
Pour 1/3 the batter into the prepared pan.
Add ½ of the vanilla ice cream mascarpone.
Swirl with a knife or wooden skewer.
Pour another 1/3 batter on top of the mascarpone layer.
Add the remaining mascarpone and swirl again.
Add the remaining cake batter.
Bake for 45 to 50 minutes, rotating the pan halfway through the baking time, until a small sharp knife inserted into the cake comes out clean.
For the frosting:
Melt the chocolate over low heat on the stove.
Add the rest of the ingredients and stir.
Take the mixture off the heat and allow to cool in the bowl of a stand mixer.
Using a stand mixer with a paddle attachment beat the butter and cooled chocolate together.
Add the cocoa powder and beat until combined.
Add the root beer to thin.
Add the powdered sugar and ice cream and beat until smooth and a spreadable consistency.
Add more root beer if you want a thinner frosting.
Frost top of cake.