Pineapple-Coconut juice, pineapple gelatin, coconut cream pie pudding, Malibu Rum, and Rumchata make up this tropical Jelly shot treat.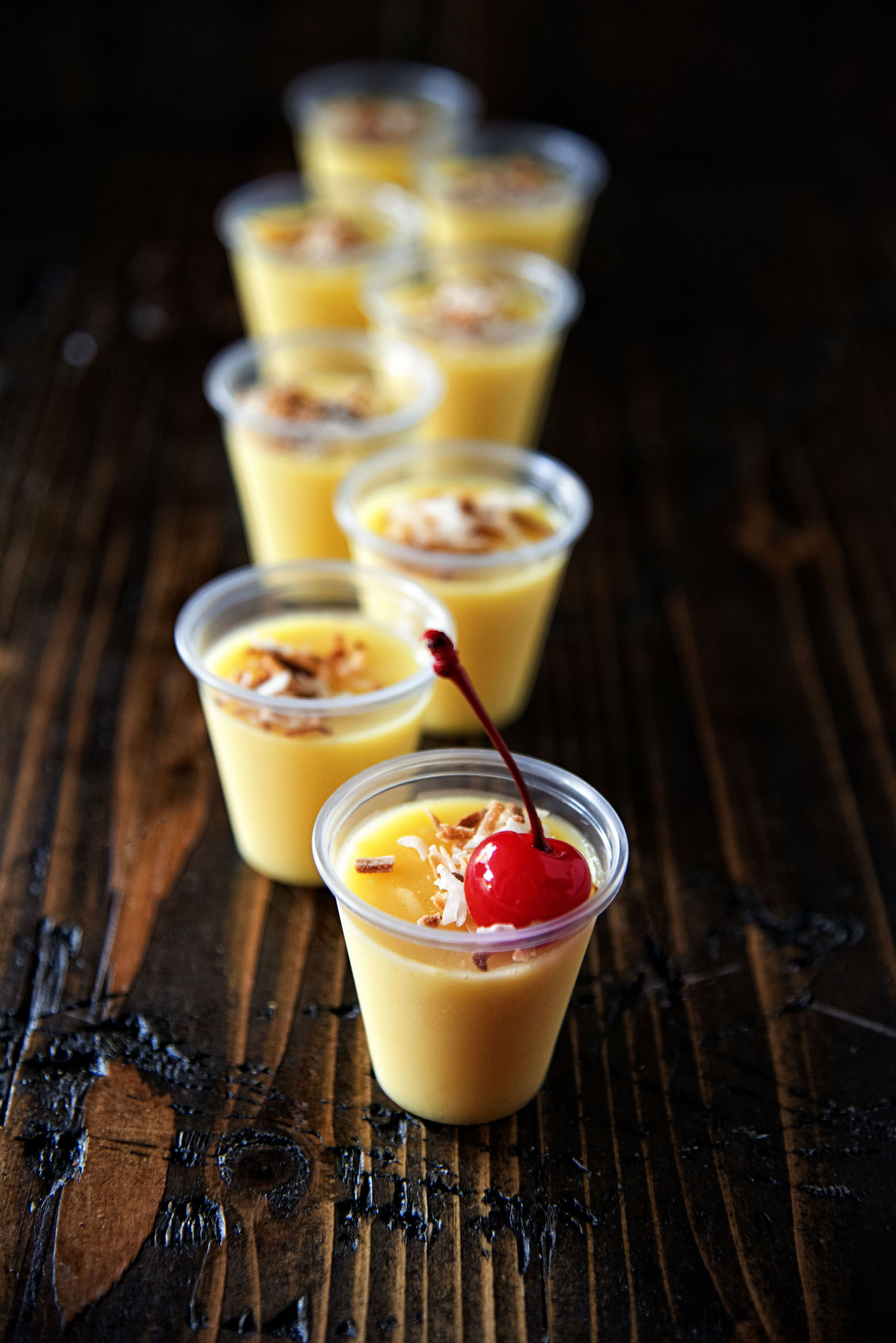 This week's Tipsy Tuesday Jelly shot has an island theme.
Even though I am fully in fall minded mode, this Jelly shot is the favorite of many of the guys on the hockey team and therefore the recipe gets asked for a lot.
It was our last game of the summer season last night and so I decided to make their favorite.
So tropical we go.
I could have called this a Pina colada shot but it's slightly different.
For one it has coconut cream pudding in it.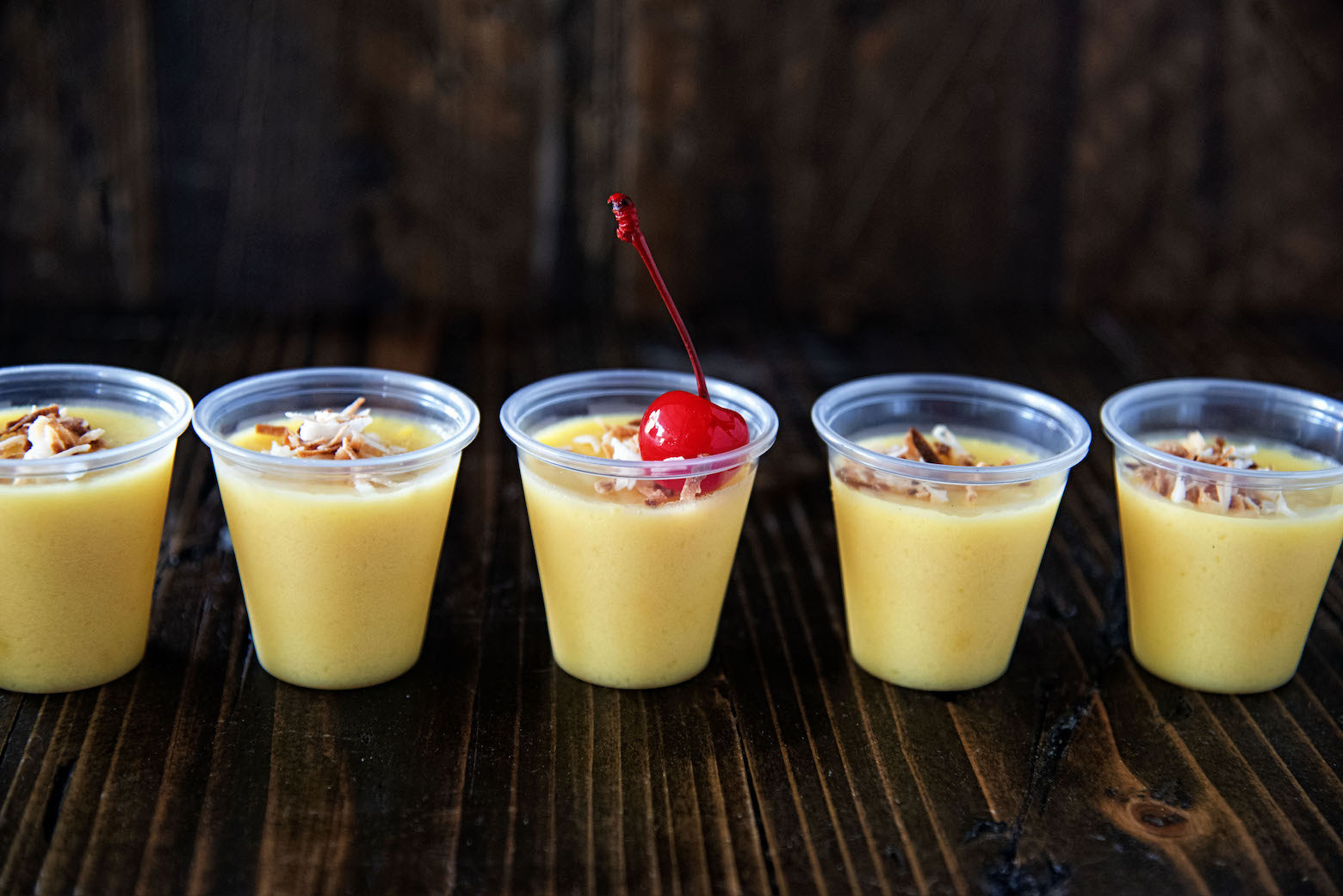 Because of that this Jelly shot is a little more sturdy than your average shot.
The pudding also has coconut in it so don't worry that you see little chunks (that's coconut).
It also contains Rumchata.
Because it contains dairy when you add it to the pineapple juice it will curdle…but once you whisk it all together it's fine.
So don't panic.
This recipe uses Island Pineapple Jelly.
You can find it at the store from time to time but I just buy 4 boxes at a time from Amazon.
Pineapple-coconut juice is used in this recipe but if you cannot find it then you can use just regular pineapple juice.
So the next you are invited to a luau or just want to bring a little sunshine to your party make these.
Things to remember when making Jelly Shots.
When throwing a party, you'll probably want to prepare 4-6 Jelly Shots for each guest.
This batch uses 6 ounces of gelatin and so you will get around 18-20 Jelly Shots.
If doing a half recipe and only using 3 ounces of gelatin you will only get 8-10 Jelly Shots depending on how you pour.
If using a garnish, don't place the garnish on the Jelly Shot until just ready to serve.
It's a great day to order my cookbook!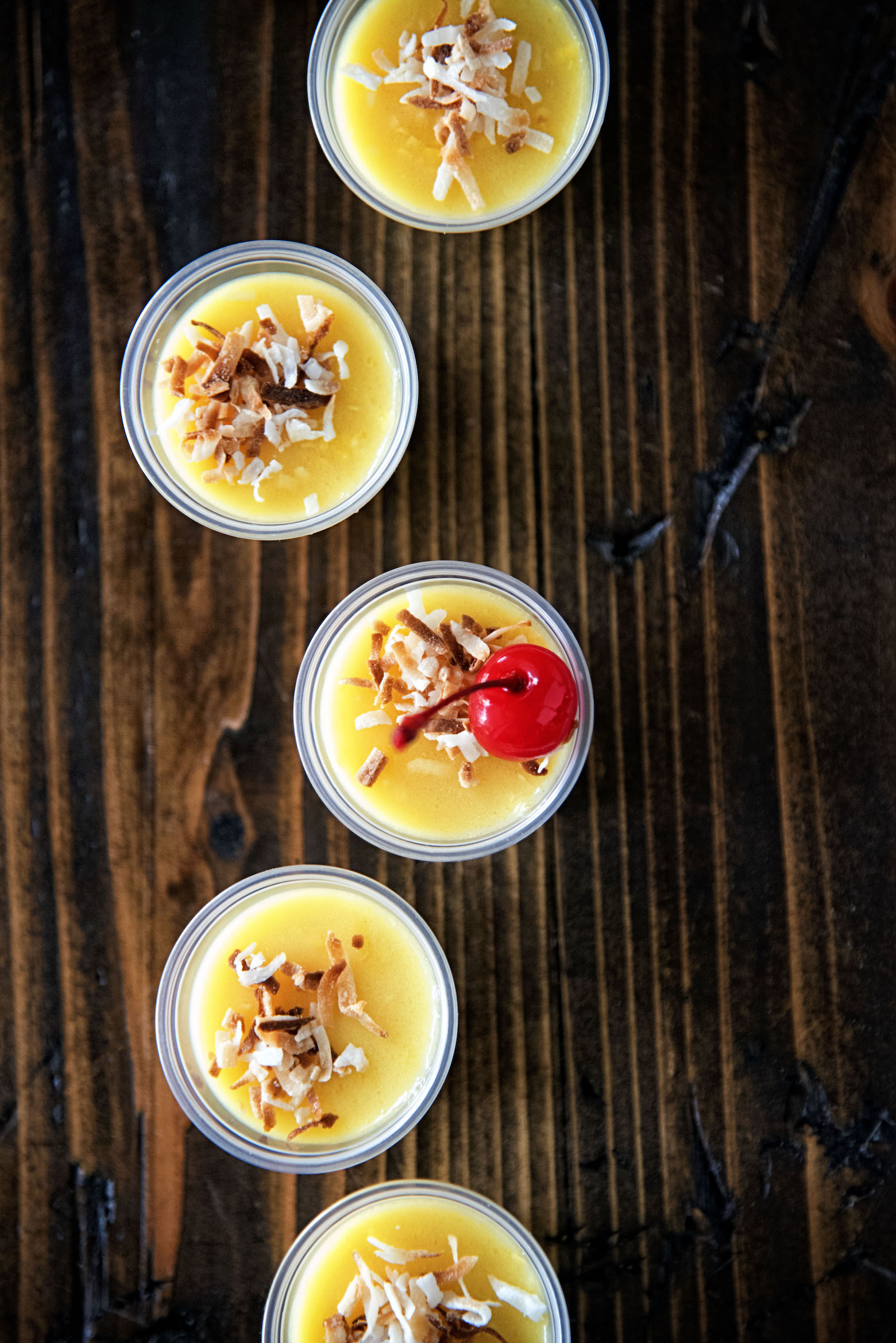 Want More Jelly Shots Recipes?
Peanut Butter Grape Jelly Jelly Shots
Strawberry Ice Cream Jelly Shots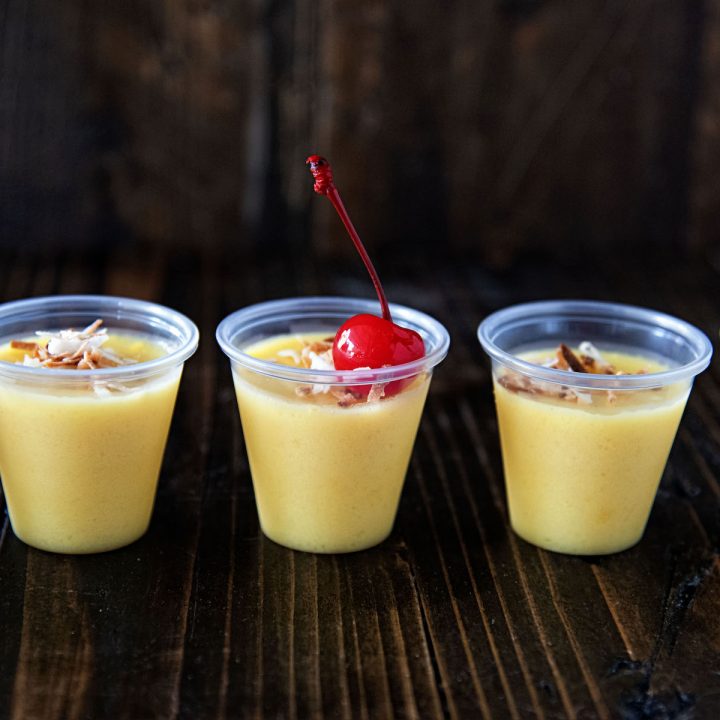 Pineapple Coconut Cream Jelly Shot
Ingredients
2 cups Pineapple Coconut Juice (or just pineapple if you can't find)
2 (3 oz) packages Island Pineapple gelatin
3 TBSP coconut cream pie pudding (powdered)
1/2 cup cold water
1/2 cup Rumchata
1 cup Malibu Rum
Toasted coconut for garnish (if desired)
Instructions
Bring the pineapple coconut juice to a boil.
Empty gelatin powder into a large mixing bowl and add the boiling pineapple coconut juice.
Continue stirring for two minutes or until the jello is completely dissolved.
Whisk in the coconut cream pie pudding powder and mix until dissolved.
The pudding has little pieces of coconut in it…that is normal.
Add in the 1/2 cup of cold water, 1/2 cup of Rumchata, and 1 cup Malibu Rum.
Stir until mixed and pour into 2oz. cups filled 1/2 to 3/4 of the way.
Top with toasted coconut for garnish if desired.