Key Lime Cornmeal Cake: Moist cornmeal cake covered with key lime glaze topped with a strawberry margarita compote makes for a great summertime dessert.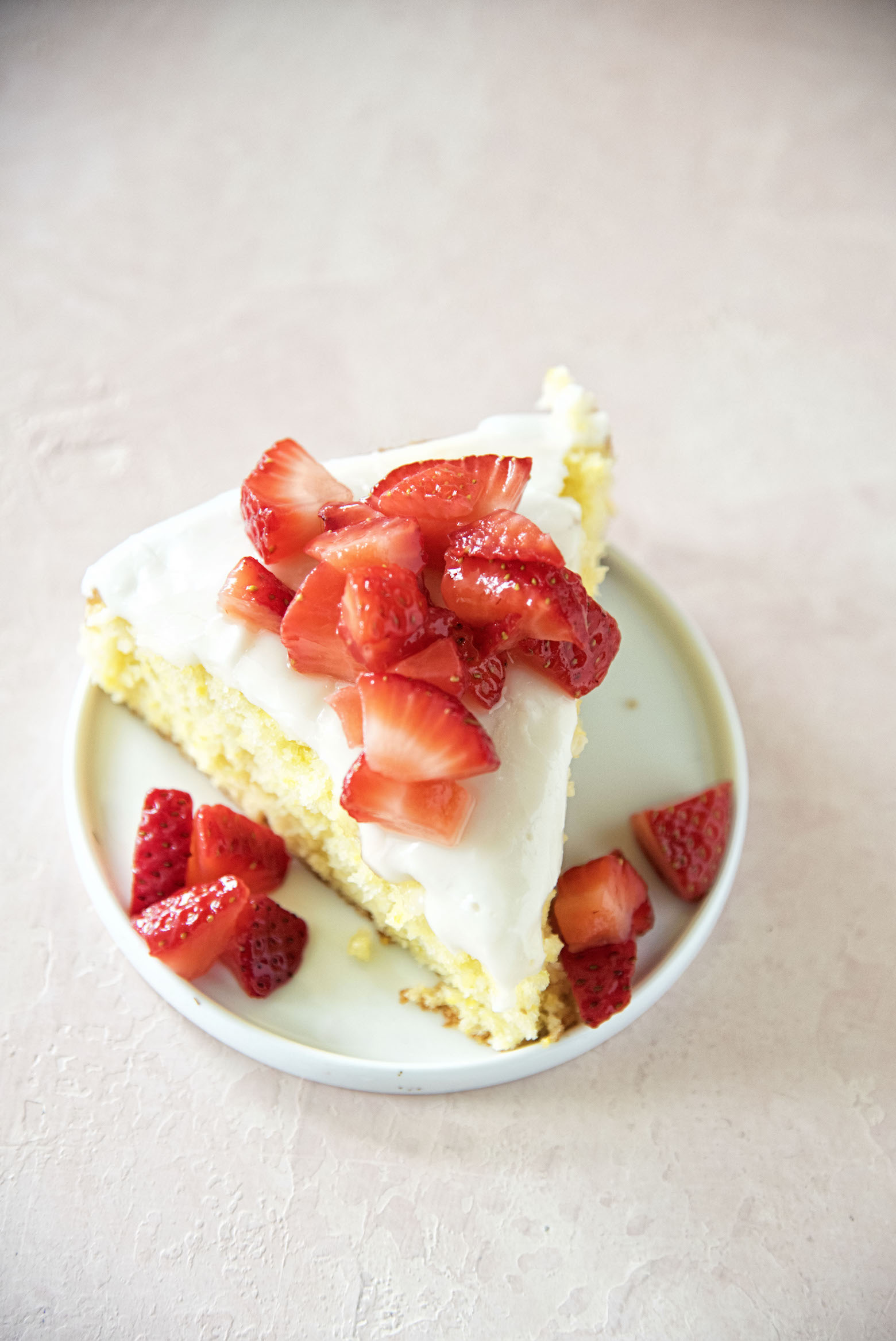 The same potluck I made the Chocolate Chunk Churro Cookie Bars for, I also made this Key Lime Cornmeal Cake with Strawberry Margarita Compote.
I fully intended to put this recipe up this last weekend or earlier this week. But that obviously didn't happen. 🙂
When trying to establish a new normal after a loss you try and change your routine.
Part of my old routine was being in my office a lot.
Crissy was always with me in my office.
So much so that I really wish I could have somehow convinced the IRS that she was an employee.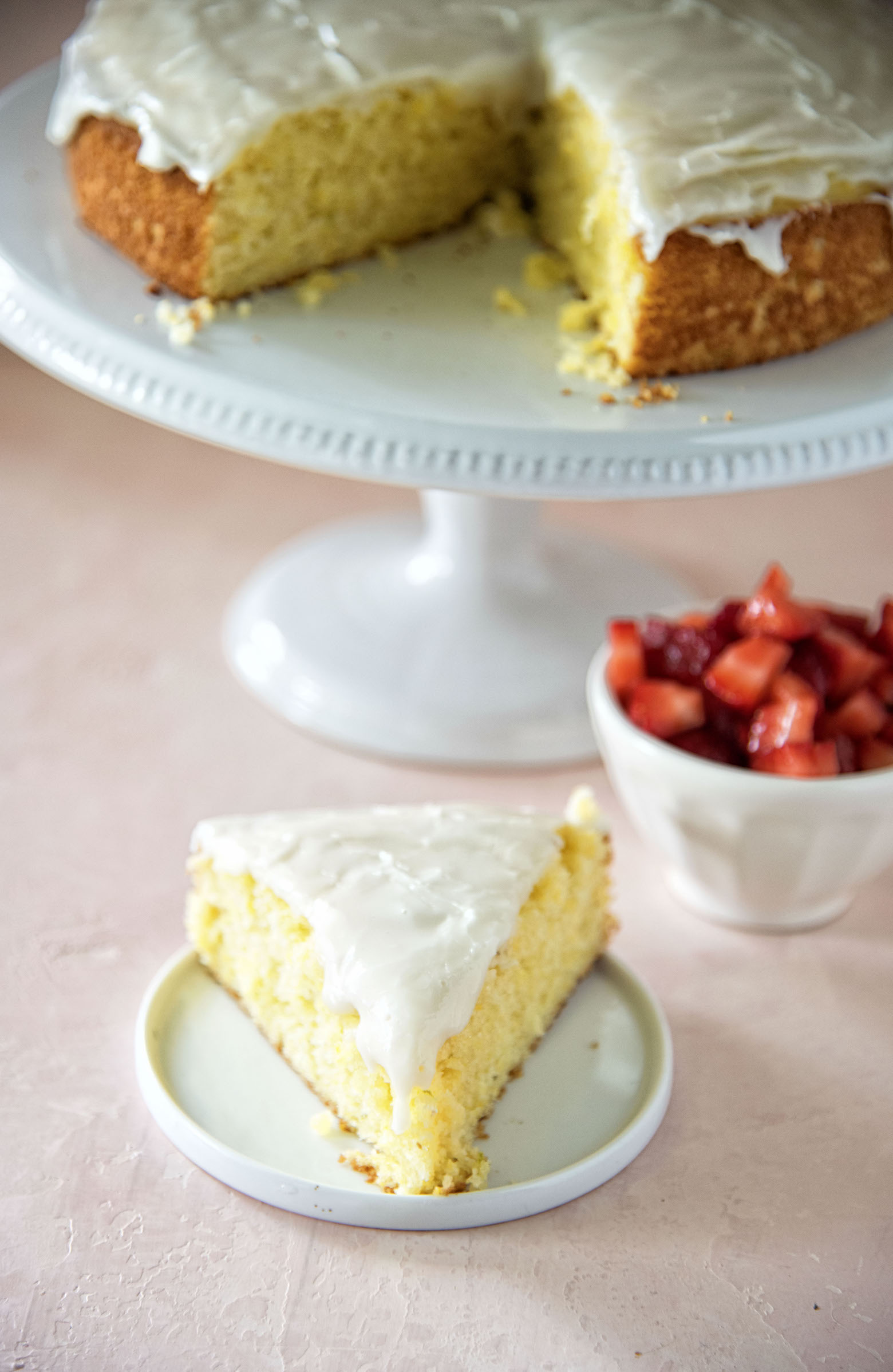 Because in reality my dogs are often taste testers.
Not on purpose…but stuff does fall to the floor. 😛
This Key Lime Cornmeal Cake was rather surprising to me. 
Cornmeal cakes usually are too dense for me but this one is light, I'm guessing because it only uses 1/3 of cup of cornmeal.
Because the potluck had a Mexican food theme I added the Strawberry Margarita Compote.
Honestly, the cake itself doesn't need it.
Many people ate the cake (it was gone) without it because the compote is VERY boozy. 🙂 
If you want to make the compote without the booze you certainly can.
But I'm a part time lush and so I felt it was necessary to add. 😀
Last but not least…it's a great time to -order my cookbook. 😀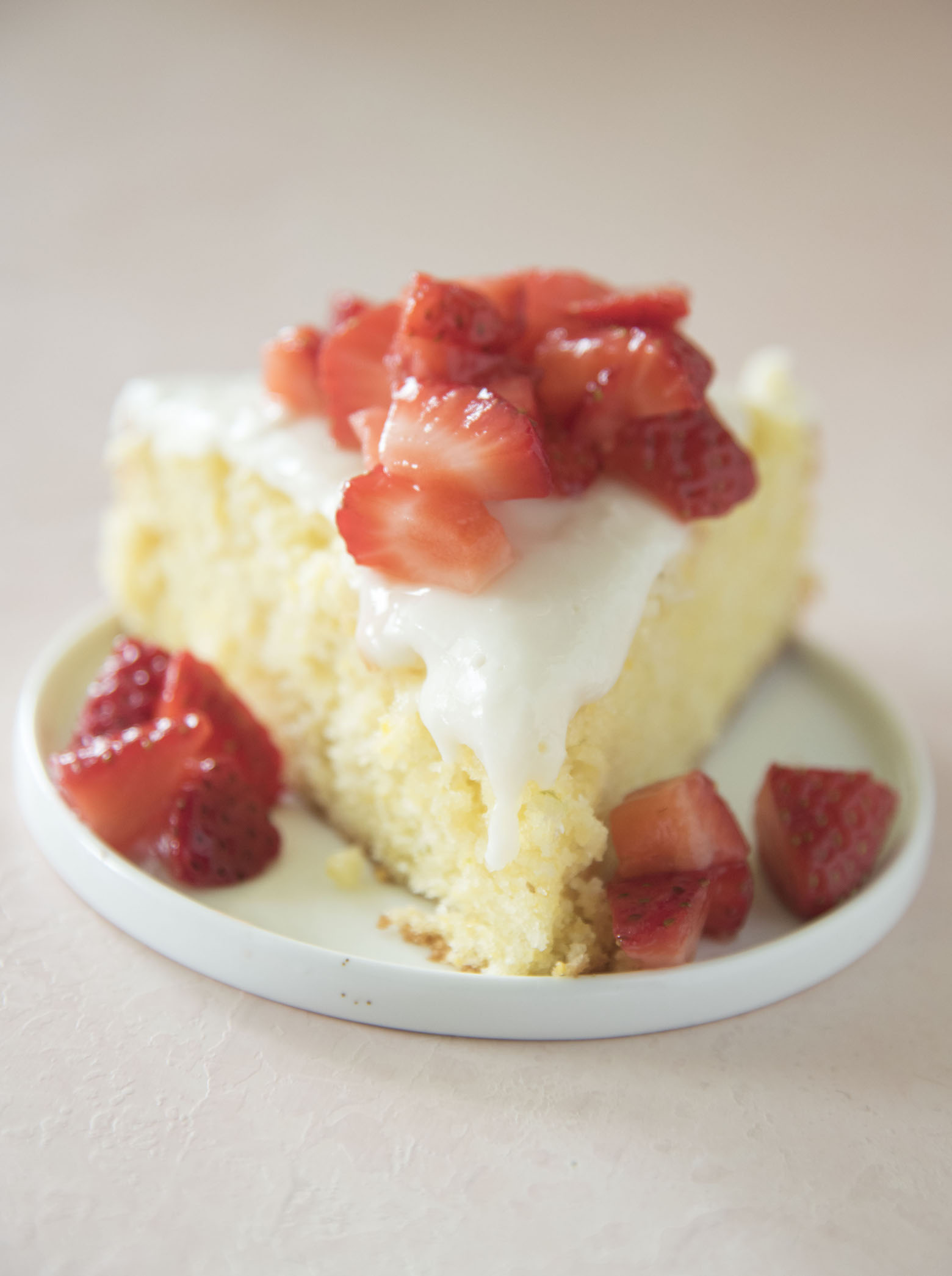 Want more recipes? Try these:
Mini Key Lime Ice Cream Pies with Raspberry Sorbet Middles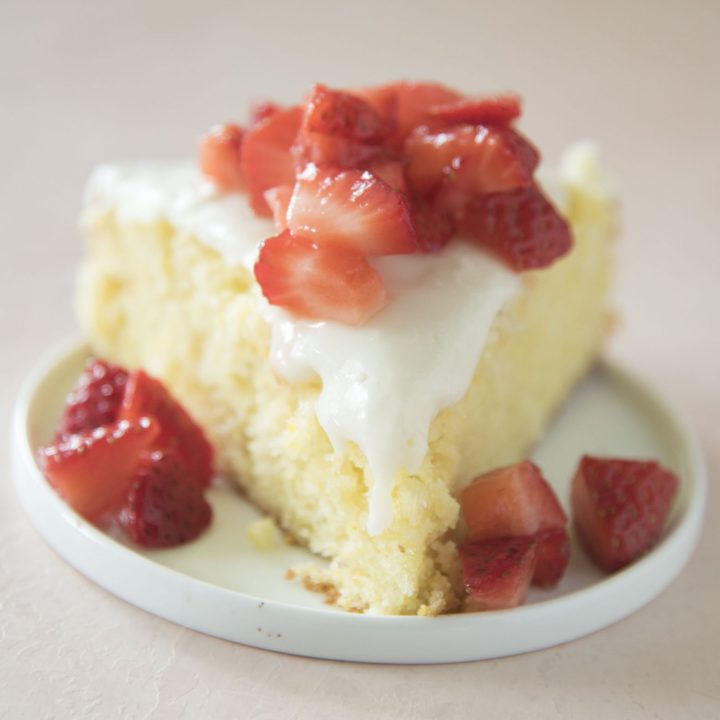 Key Lime Cornmeal Cake
Ingredients
For the Glaze:
1 1/2 cups powdered sugar, sifted
2 TBSP (or more if you want thinner) key lime juice
For the Cake:
1 1/2 cups all purpose flour
1/3 cup yellow cornmeal
3/4 cup granulated sugar
3 1/2 tsp.baking powder
1/2 tsp. salt
1 cup buttermilk
2 large eggs
1 tablespoon finely grated lime peel ( like to use a plain lime instead of key lime because the color is better)
3/4 tsp. vanilla extract
1/2 cup (1 stick) unsalted butter, melted, cooled
For the Compote:
6 TBSP Triple Sec
1/3 cup granulated sugar
1/3 cup key lime juice
3 1/2 TBSP tequila
5 cups fresh hulled strawberries, diced
Instructions
For the Glaze:
Combine powdered sugar and 2 tablespoons key juice in small bowl.
Stir with spoon until smooth and paste-like, adding more lemon juice by 1/2 teaspoonfuls if glaze is too thick to spread.Set aside.
For the Cake:
Preheat oven to 350°F.
Butter 9-inch-diameter cake pan with 2-inch-high sides; line bottom with parchment.Combine flour, cornmeal, sugar, baking powder, and salt in large bowl; whisk to blend.

Whisk buttermilk, eggs, lime zest, and vanilla in small bowl.
Pour buttermilk mixture and melted butter into flour mixture.
Using rubber spatula, gently fold liquids into flour mixture until just blended (do not stir).Scrape batter into pan; spread evenly.
Bake cake until tester inserted into center comes out clean and cake pulls away from sides of pan, about 30 minutes.
Immediately run knife around sides of cake.
Place rack atop cake in pan.
Using oven mitts, hold pan and rack firmly together and invert cake onto rack.
Remove pan from cake.
Place another rack on bottom of cake; invert 1 more time so that cake is top side up.Stir glaze until blended.
While cake is still very hot, drop glaze by tablespoonfuls onto cake; spread to within 1/2 inch of edge (some glaze may drip down sides of cake).
Cool completely.
For the Compote:
Whisk first 4 ingredients in medium bowl to blend.
Add strawberries; toss.
Let stand at room temperature 1 hour or chill up to 4 hours.