These Gingerbread Orange Brioche Buns are rolled out and filled with orange sugar, baked cinnamon roll style, all covered in orange glaze.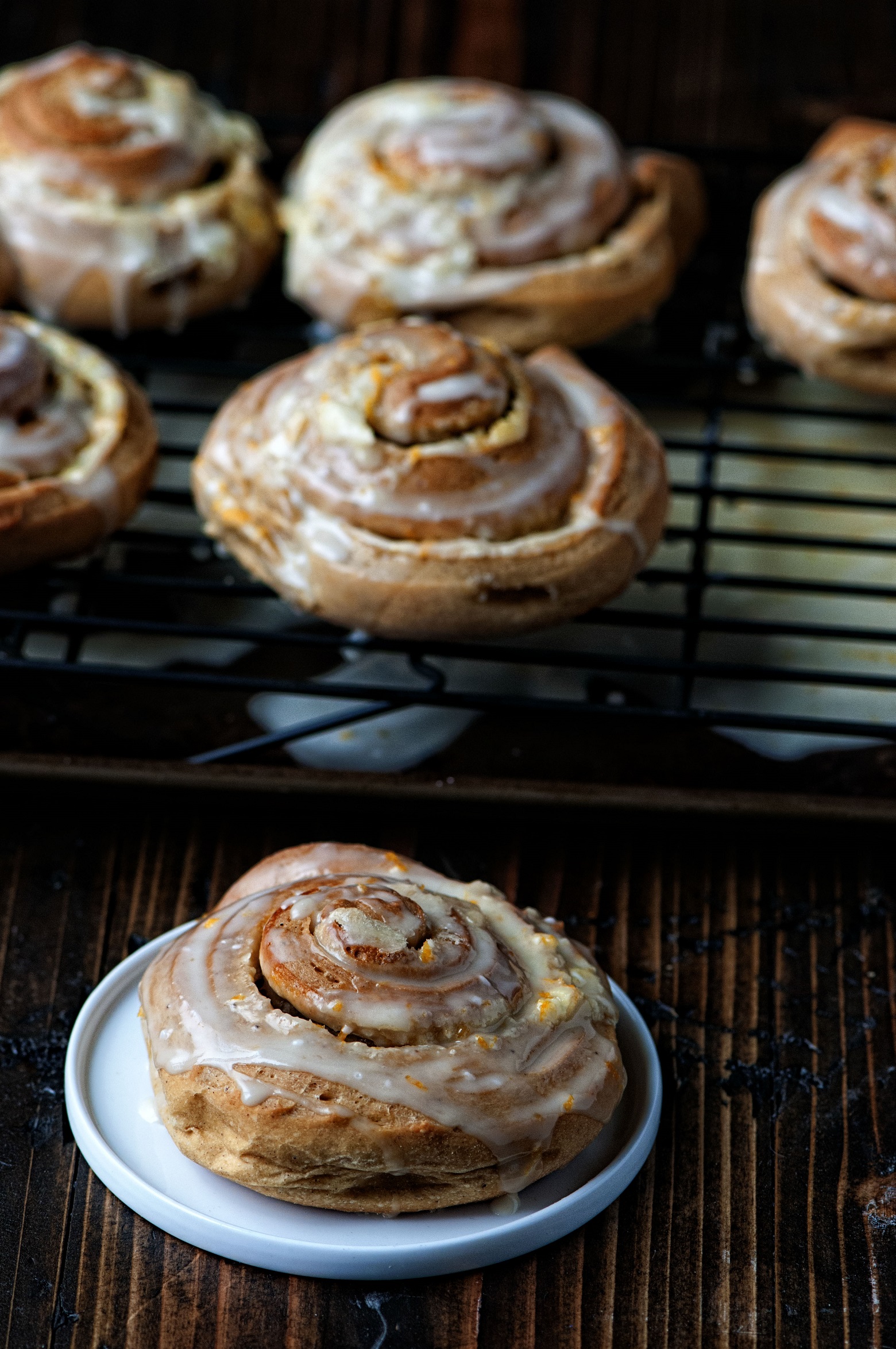 We had snow yesterday.
Not a lot but enough to make me happy.
We rarely get snow in these parts and I miss it so when it does happen it's a big deal.
We are even supposed to get it for several days in a row (with some rain mix) starting Thursday.
It could not have been better timing to round out my hubby and I's Red Star Yeast baking series "Honey Buns"…and yes, this is a sponsored post.
But as you all know I always use Red Star Yeast.
Every year growing up, on the day of the first snow, my mom would go into a baking frenzy.
I remember if I was at school I would just be counting down the seconds until I could get home because I knew there were baked goods galore just waiting to be devoured.
Of course, it was the best if it started to snow and we were at home.
Since that meant getting to go out to play in the snow and each time coming into a new baked good of some sort.
Every year my mother made orange rolls.
They were my favorite thing she made.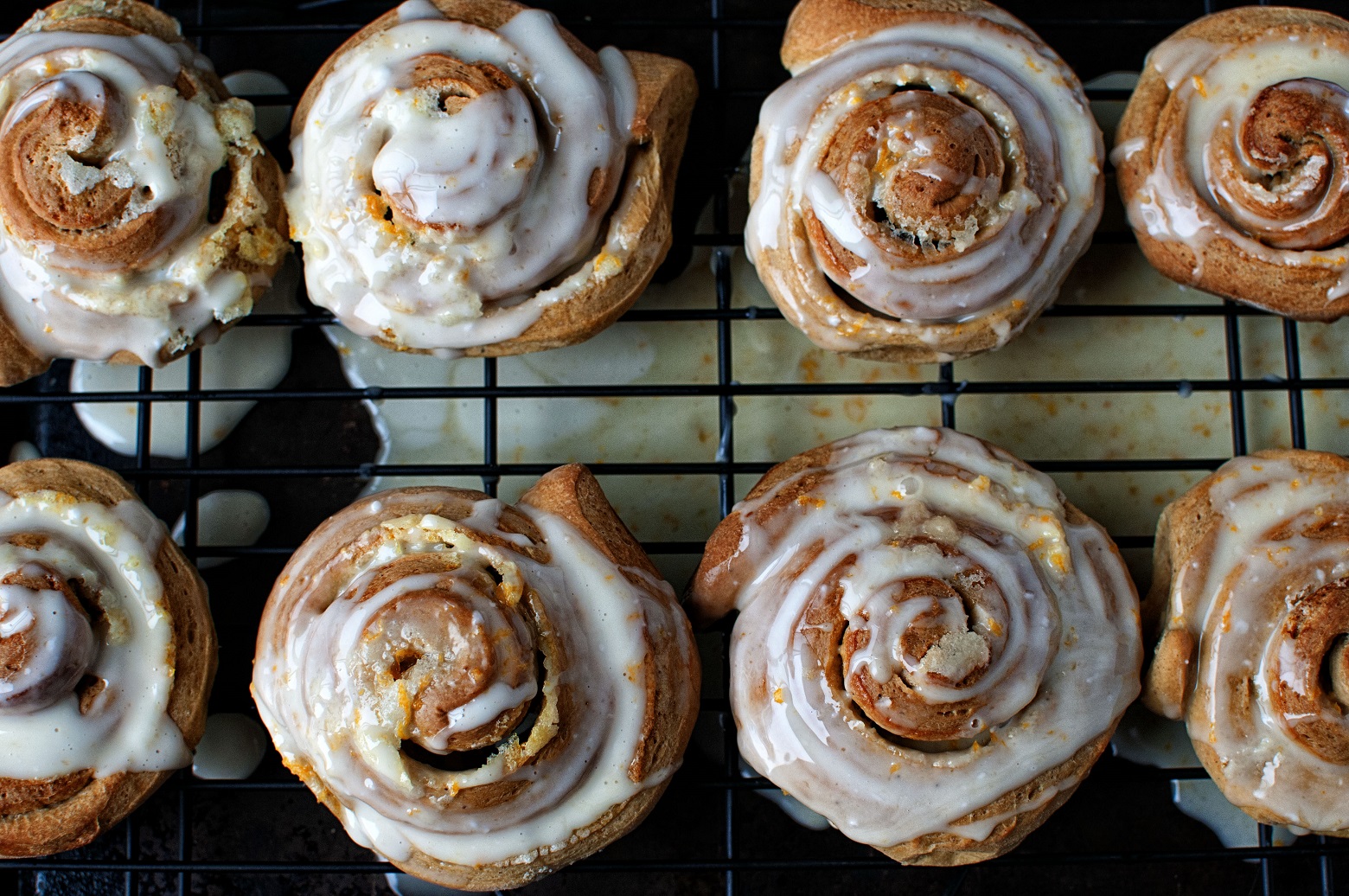 Not until I was a grown-up when I asked for the recipe did she have to break down and tell me she used canned rolls. 🙂
Childhood shattered…that's fine.
While I love the classic orange roll it is the holiday season and I wanted to get a little bit more festive.
I love the combo of gingerbread and orange together and decided to go that route instead of just a plain orange roll.
These rolls, of course, start with Red Star® Platinum Superior Baking Yeast®.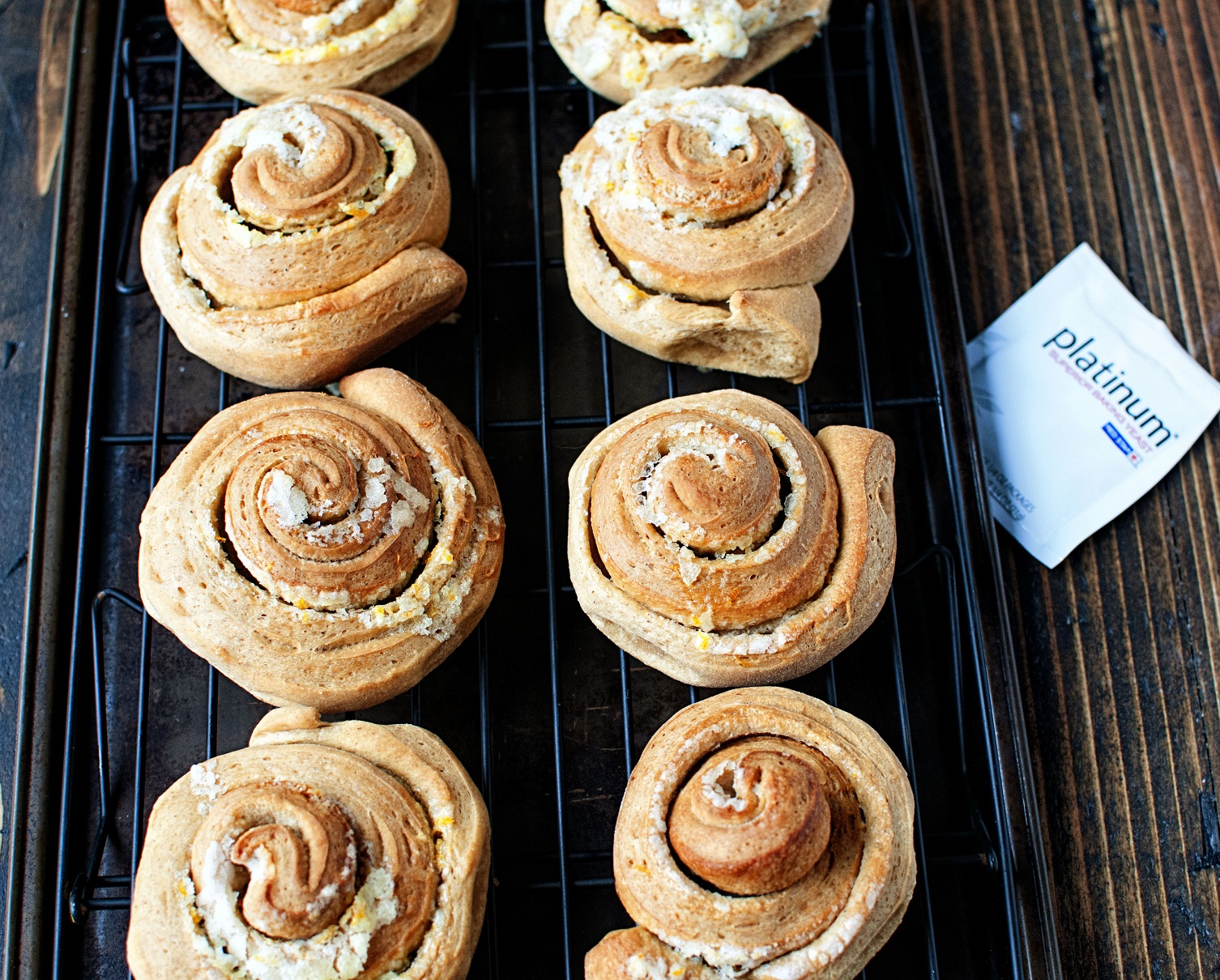 Ever since I discovered the Platinum I have been singing its praises….even telling people in the grocery store to buy it. 🙂
And I know many of you have commented that you have given it a try and love it just as much as I do.
If you haven't tried it yet…you really, really should!
Since these are brioche they are soft and rich and wonderful.
The molasses and gingerbread spices (you can buy online or I found gingerbread spice at my grocery store) are noticeable but not overwhelming and the orange sugar compliments the flavor profile.
All covered in an orange glaze.
The best part was getting to make them with my husband.
He has really embraced the baking with yeast and has decided he wants to get into some more involved and whole grain bread and what not in the New Year…he even mentioned learning to make his own starter.
And he has come a long way in the two years we have been working with Red Star Yeast!
These Gingerbread Orange Brioche Rolls would make a perfect edition to your holiday breakfast table!
P.S. It's a great day to buy my cookbook Holy Sweet!
*This is a post in partnership with Red Star Yeast.
I have been partners with them for years and absolutely love their products.
The post, opinions, bad grammar, and overuse of emoji's are all mine though.
Please consider supporting the companies that support me.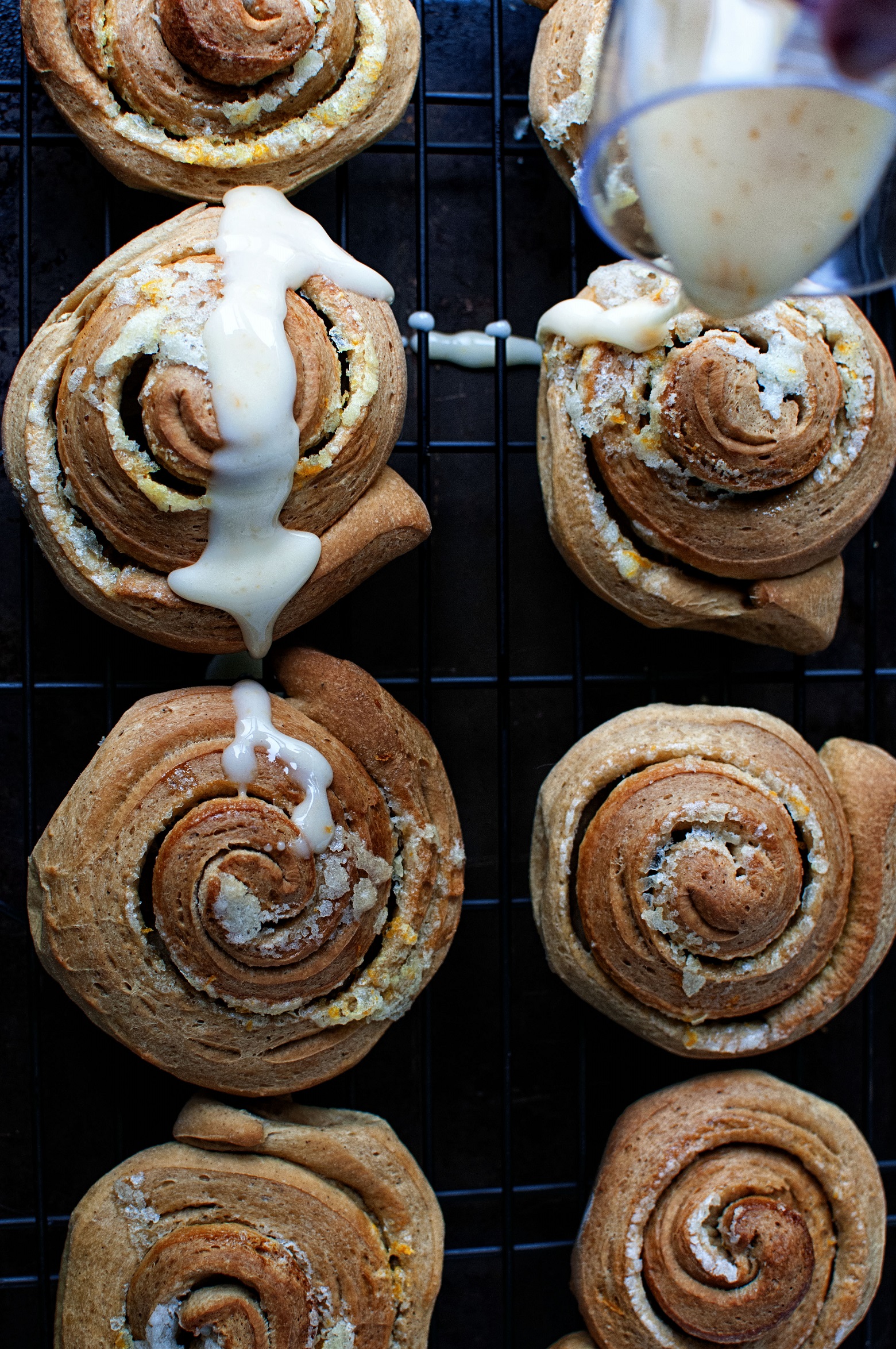 Want more Sweet Roll recipes?
Bourbon Butterscotch Sweet Rolls
Chocolate Clementine Sweet Rolls
Bourbon Brown Sugar Caramel Peach Sweet Rolls
Blackberry Laminated Brioche Brown Butter Crumb Rolls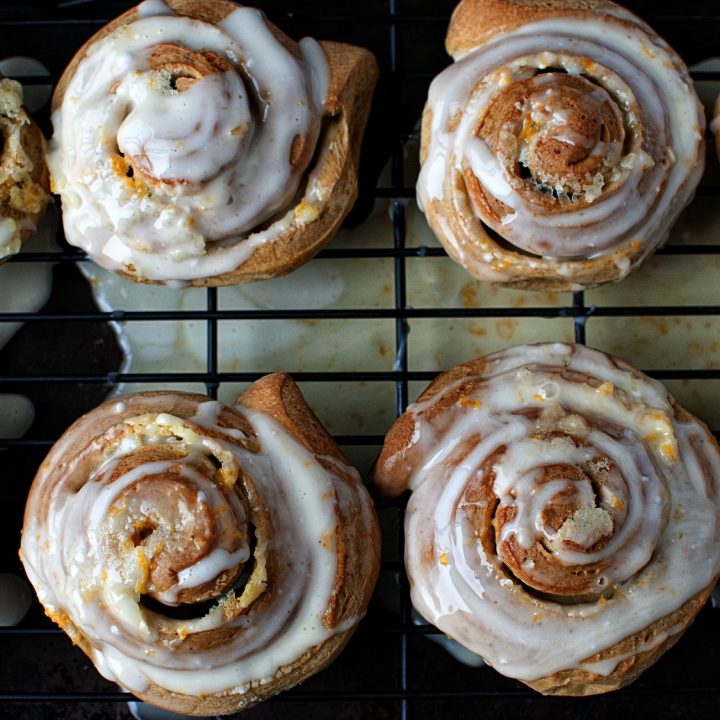 Gingerbread Orange Brioche Buns
Ingredients
Gingerbread Brioche
For the sponge:
½ cup whole milk, at room temperature
1 TBSP Red Star® Platinum Superior Baking Yeast®
2 TBSP granulated sugar
½ cup bread flour
For the dough:
1/3 cup unsulfured black-strap molasses
3 TBSP packed light brown sugar
2 ½ TBSP gingerbread spice
4 cups bread flour
2 tsp. salt
6 large eggs, slightly beaten
9 oz. unsalted butter, softened but still cool
For the Buns:
Filling:
3 TBSP unsalted butter, room temperature
1 cup of sugar rubbed with the zest of one large orange
Glaze:
2 cups powdered sugar
3 TBSP fresh orange juice
Zest of one orange
Instructions
For the sponge:
Combine milk and yeast in the mixing bowl of a standing mixer.
Whisk and let sit for 5 minutes.
Add flour and sugar, mix to form a thick batter.
Cover with plastic wrap and let rest at room temperature for 30-45 minutes, until bubbles form.
For the dough:
Add the molasses, brown sugar, spice, flour, and salt to the sponge.
Add the eggs.
Beat with the paddle attachment on low speed for 2 minutes, until the eggs are absorbed. Increase the speed to medium and knead the dough for 5 minutes.
Switch to the dough hook at this point.
The dough will be sticky. Hold the mixer when necessary if it starts to dance on you.
Turn the machine down to medium low speed and add the butter, 2 TBSP at a time.
Knead for another 5 minutes, until the dough is shiny.
Scrape out the dough and clean and lightly oil the bowl. Don't worry if the dough is difficult to work with (it will be).
Place the dough in the bowl then turn it over so that the top is oiled. Cover with plastic wrap and let rise at room temperature for 2 hours, until doubled.
When dough is has doubled in volume, punch it down by folding it two or three times. Cover and refrigerate for 4 hours or overnight.
After the second rise, the dough is ready to be shaped.
Turn the dough out onto a lightly floured surface.
Using a rolling pin, roll it into a rectangle approximately 12 by 16 inches.
Use a pastry brush(or your hands if you like to get messy) to spread 3 TBSP of butter around the rolled out dough, leaving an 1-inch margin at the top edge with no butter.
Sprinkle filling evenly over the surface, again leaving the 1-inch margin.
Starting from the long side closest to you, roll up the dough like a jellyroll.
Transfer the log to a baking sheet, cover with plastic wrap and freeze for 10 minutes.
This will make cutting the buns clean and even.
Remove from freezer, cut buns into 1 ½-inch pieces, you should get around 12.
Place them back onto a greased baking pan.
Spread out so they are not touching.
Wrap with plastic wrap and let rise at room temperature for 1 ½ to 2 hours.
Preheat the oven to 400F.
Bake buns for 10 minutes and reduce heat to 350F.
Bake for another 10-15 minutes depending on the size of your buns.
Allow to cool on a wire rack for 10 minutes.
Make Glaze:
Whisk sugar with orange zest and orange juice in a small bowl until smooth.
Pour glaze over buns.