Oatmeal Buttermilk Maple Sandwich Bread: My go to bread for sandwich bread. Oatmeal gives it heartiness. Buttermilk makes it soft. Maple gives it a hint of sweet. Makes for great pb and j's.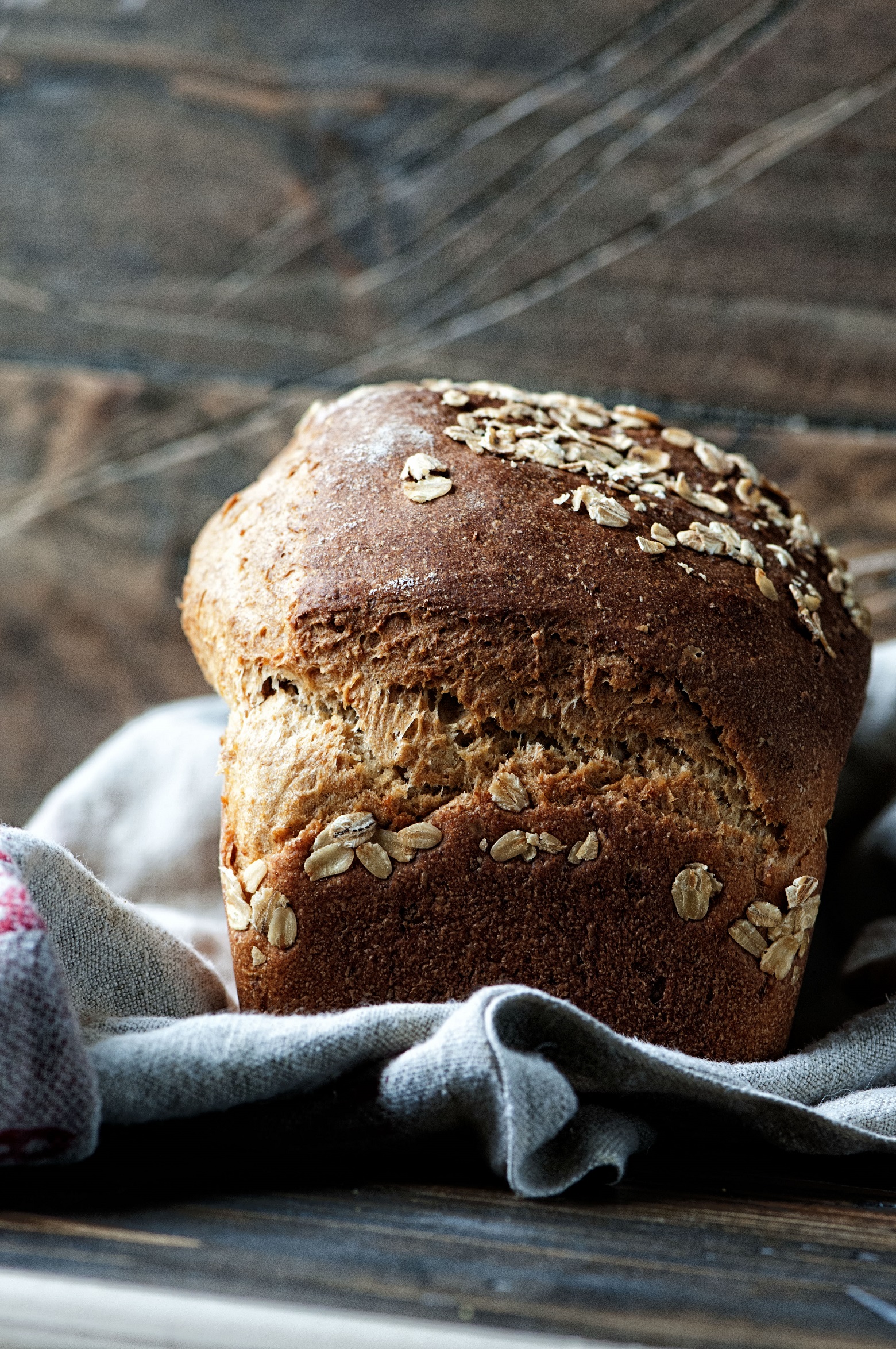 We will get to this Oatmeal Buttermilk Maple Sandwich Bread in a bit but first I want to talk about a documentary I saw.
On Monday I saw the documentary Embrace.
I've known about it for some time but I didn't actually want to promote it on here until I saw it.
We've all seen a movie trailer, then see the movie, and realize that the trailer was the best part.
This was so not the case with this movie.
I LOVED this movie.
I hope it gets released on DVD and I will buy a ton of copies and do giveaways on here.
It started as a Kickstarter campaign by the woman in Australia who did a rather unusual before and after photo.
Her before was her in a bikini in body building competition.
The second was of her naked at her size 12 body.
Loving her size 12 body.
I went into the movie thinking it's going to be focused only on those that were overweight, and I was delightfully surprised that was not the case.
All body sizes and issues that face our self-esteem (not just weight) with our bodies was covered.
I get emails every week asking me how it is that I can love my body and how can I help them get to that point?
Usually people only have revelations when something bad happens sadly.
For me my revelation came after being diagnosed with my first chronic illness (I have more than one).
It wasn't so much the illness but the meds used to treat it….steroids…and lots of them.
If you have ever been on Prednisone then you know that no matter what you do you are not losing weight, it also doesn't help that it makes you hungry all. the. time.
The reality of having to be on that medication helped me make the switch to loving my body.
That it wasn't something I could control and there was no point in hating my body.
It wasn't immediate.
I didn't love my body from that second on.
But each year it gets better and better.
My husband loves the fact that he doesn't have to constantly reassure me that I'm not fat, I'm pretty, I look nice, etc (not that he doesn't give compliments…I just don't fish for them constantly).
He has never heard me say the words I'm fat.
Or I'm ugly.
Because well, I am on the plumper side he knows that he proposed to me at my highest weight.
And I'm never ugly.
I may ugly cry but I'm never ugly.
You may be saying I will never get to that point.
I feel you can.
Ten years ago I still hated my stomach.
I can't even begin to think how much time I spent hating my stomach.
So. Much.
That's time I could have been doing something else.
You can get there eventually too.
Just when I think I've come pretty far in my body acceptance journey something comes along and pushes me one step further.
This movie did that.
Particularly one person in the movie, her name is Truia Pitt.
She was an ultramarathon competitor that got caught in a brushfire that ended up burning over 60% of her body and barely survived.
Truia no longer looked like she did before….and she was model gorgeous.
She's still beautiful to me.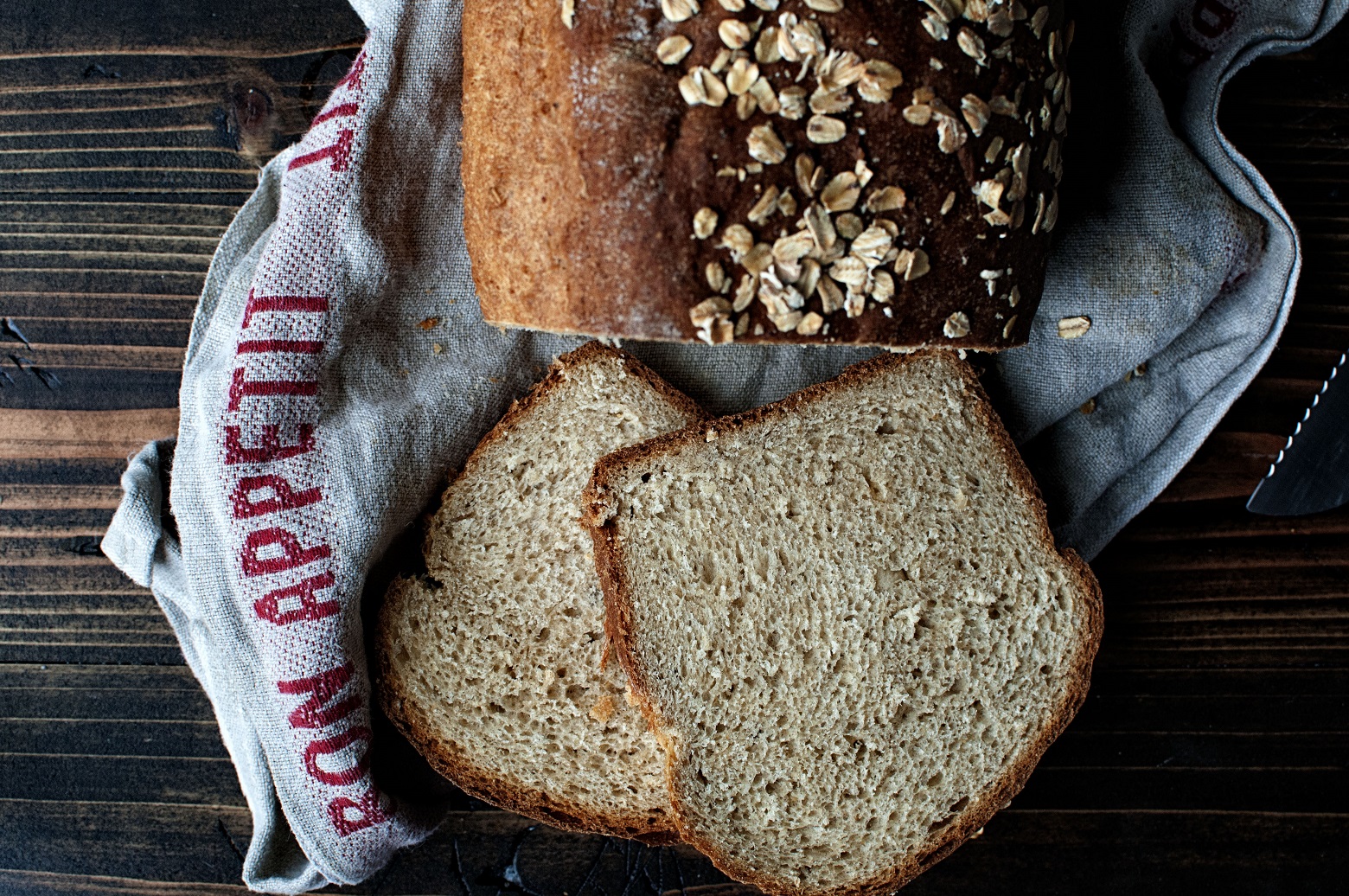 Both my husband and I were in awe of her.
She truly seemed happy and humble and she said that being burned was "the best thing to happen to her".
What?
Yes.
She feels it made her appreciate everything that much more.
Just take a look at her Instagram and you see a woman fully embracing life and all it has to offer.
Her optimism and vulnerability (she's not afraid to say she has bad days too) is contagious.
One thing my husband pointed out as that many of these woman had great support systems.
Truia has a fiancé (then boyfriend) who quit working to take care of her and stayed with her because of the person she is, not how she looked.
I bring this up because sometimes, especially when single, we try and fit into a box that we are not.
We try and get as skinny as we can and do things we wouldn't normally do because we think that will help us attract someone…and it might.
But at some point the real you shows up and that person might leave because they didn't meet the real you when you started dating.
I know a woman that after a break up called an ex-boyfriend to ask him if she should get a tummy tuck, would that make her more attractive to men?
The woman had several children as well as a life of yo-yo dieting and so her stomach reflected that.
The ex-boyfriend knowing that the woman had a tendency to gain and lose weight gave her great advice.  
He told her yes, if you got a tummy tuck you would attract more men…but followed up with but you don't want to attract that kind of guy.
You want to find the guy that falls for who you are and doesn't care about the state of your stomach.
Find the guy (or girl) that thinks sweatpants you is cute.
That loves your personality.
Who thinks it's okay that you bawl your eyes out over dog articles on FB.
And thinks you are funny.
Who thinks your cooking is the best (or who doesn't care that you can't cook to save your life).
A guy (or girl) who loves you for you.
Someone is out there who will like you for you
Someone is out there who will like you for you….but in order for that to happen, you have to like who you are first before someone else can like you too.
Now onto this Oatmeal Buttermilk Maple Sandwich Bread. 🙂
I didn't plan on putting this recipe up but A LOT of people asked for it when I put a picture up on social media.
It's one I make for sandwiches often.
And it's one that I offer up to people to try out when they haven't had too much success with bread before.
P.S. It's a great day to buy my cookbook Holy Sweet!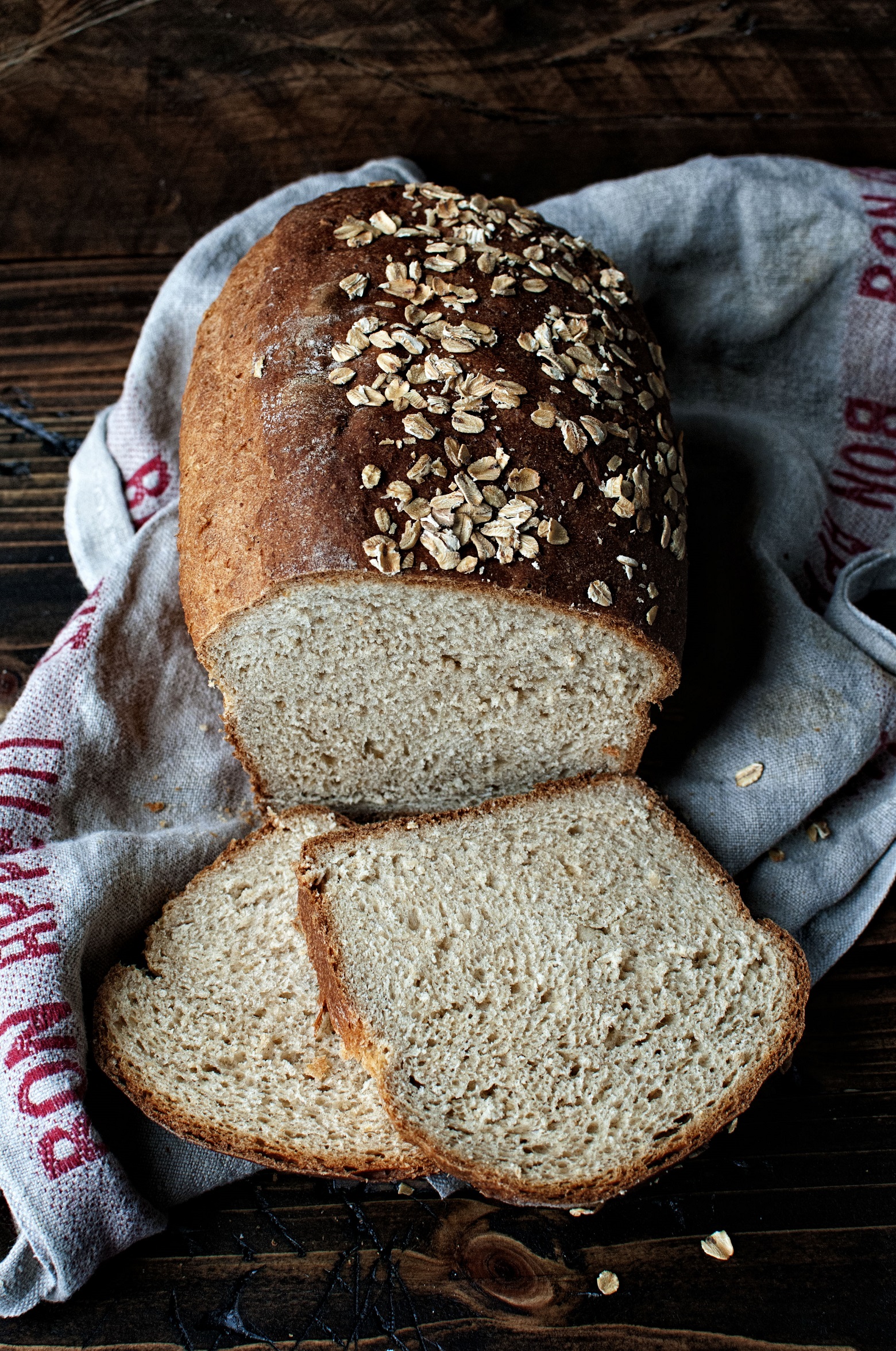 Want More Bread Recipes?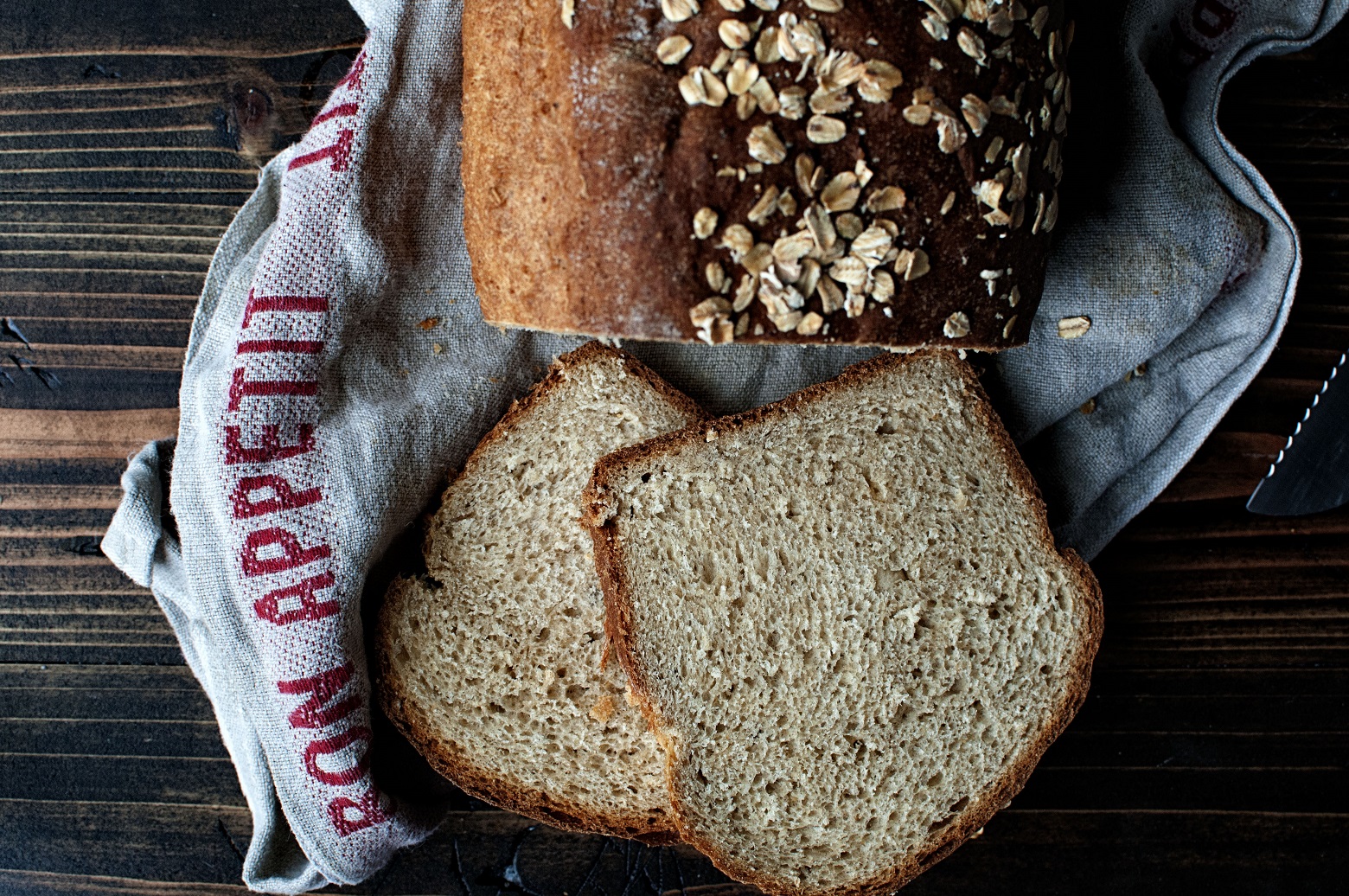 Oatmeal Buttermilk Maple Sandwich Bread
Ingredients
1 ½ cups rolled oats (I used Quaker)
1 cup boiling water
¼ cup water
2 ¼ tsp. dried yeast (I used Red Star Yeast Platinum)
1 ½ cups buttermilk (I used Darigold)
½ cup canola oil
½ cup maple syrup
1 cup whole wheat flour (I used King Arthur)
3 ½ cups all-purpose flour (I used King Arthur)
2 tsp. salt
Instructions
Set aside ¼ cup rolled oats.
Place the remaining oats into a medium bowl.
Cover with boiling water.
Mix with spoon to moisten all oats.
Let bowl sit, uncovered, for 10 minutes, stirring frequently.
Place ¼ cup of warm water in the bowl of your stand mixer and sprinkle yeast on top.
Mix with a whisk to dissolve yeast.
Let rest for 5 minutes.
Add soaked oats, buttermilk, canola oil, maple syrup, both flours, and salt.
Using the hook attachment, mix on low speed for 1 or 2 minutes to combine ingredients.
Increase speed to medium and mix for about 10 minutes.
Dough will be wet at first, but will eventually from a ball. Ball will have a satiny finish and will bounce back quickly when poked with finger.
Place dough in an oiled, medium bowl and cover with plastic wrap.
Proof in a warm room, 70-75F, for about an hour. If your room is colder it will just take longer to rise.
Dough will almost double in size.
Pull dough from bowl onto a floured surface and flatten it with your hands, releasing excess air bubbles.
Form dough into a 12 x 6-inch rectangle and position it so that a long side is facing you.
Fold the 2 short ends onto the top so they meet in the middle. Starting with the closest end, roll dough away from you into a log.
Let loaf rest on its seam for a few minutes.
Transfer dough to an oiled 9 x 5 x 4-inch loaf pan, seam side down.
Using your hands, push down on the dough to make sure it extends to all corners of the pan.
Cover with plastic wrap and let proof in a warm room for 35-45 minutes.
Loaf will rise to slightly above the top of the pan.
While loaf is proofing, preheat oven to 385F.
Remove plastic wrap and mist top of loaf with spray bottle of water (I just sprinkle with my hands).
Sprinkle with remaining oats.
Place pan on center rack of oven and bake for approximately 1 hour.
Top and sides of finished loaf will be deep golden brown.
Let cool in the pan on a wire rack for at least 30 minutes, then run a sharp knife around the sides of the loaf to release from the pan. Invert to remove loaf.