My spin on Dorie Greenspan's Pumpkin Whoopie Pies with Dulce de Leche. Soft pumpkin chocolate chip whoopie pies filled with butterscotch caramel filling.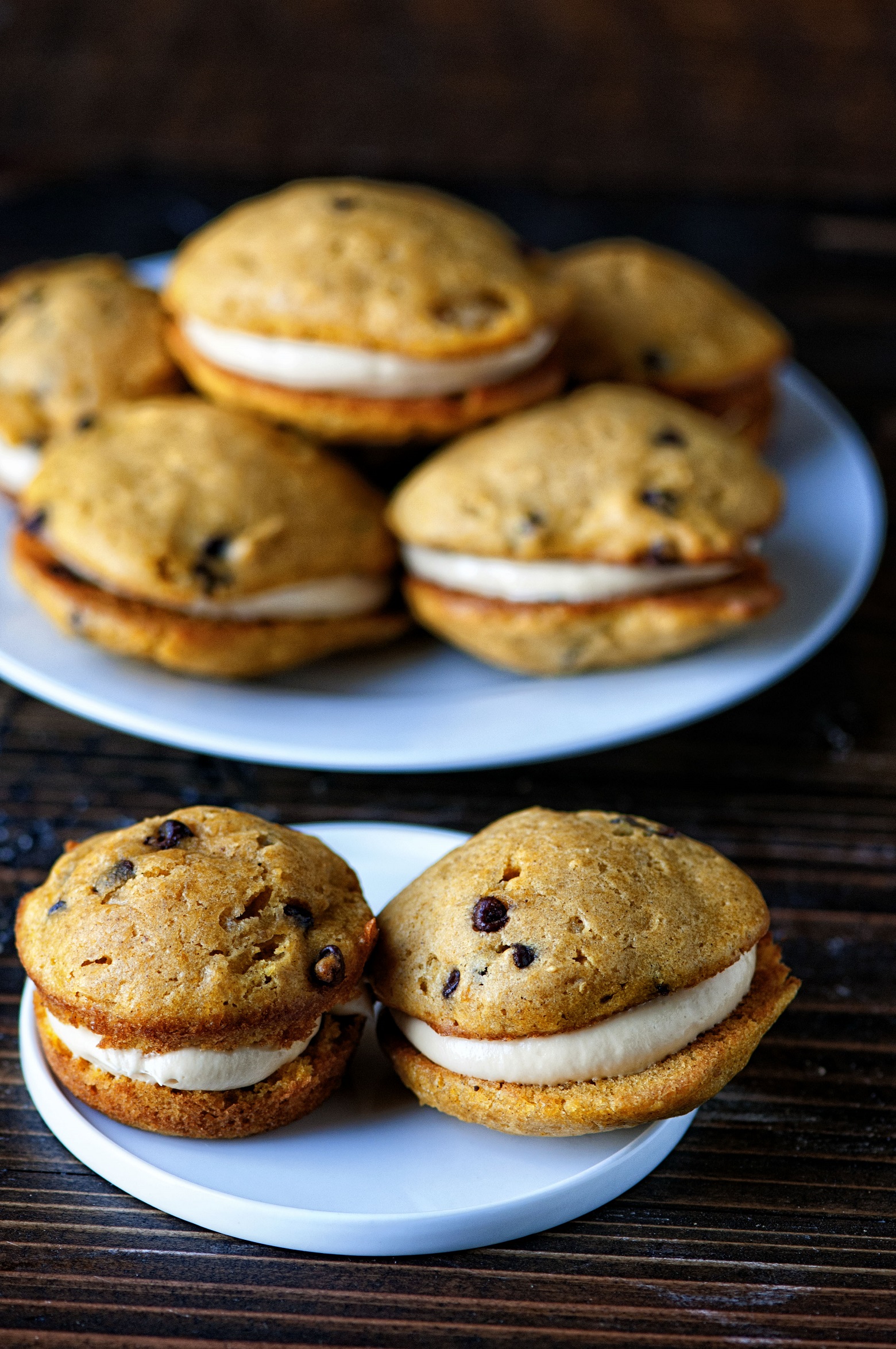 These whoopie pies come from Dorie Greenspan's new cookbook. I'm sure excited for it to come out since I love all things Dorie. So when OXO told me they were teaming up with Dorie and bloggers to give $100 per blog post to Cookies for Kid's Cancer I jumped on board.
This isn't a sponsored post but OXO did send me some fun goodies to play with to help make my whoopie pies.
Non-Stick Pro 12 Cup Muffin Pan: OXO says it's a ceramic-reinforced, two-layer, commercial-grade coating that provides ultimate non-stick release and is scratch-, stain-, corrosion- and abrasion-resistant. Unique micro-textured pattern ensures even baking. I must say that this is a kick butt pan. I have made muffins and cupcakes in it as well and they aren't kidding about even baking. LOVE it. I will be buying myself one.
Medium Cookie Scoop: OXO describes it as Designed for easy scooping and consistent shaping, the Medium Cookie Scoop's soft grip absorbs pressure while you squeeze to smoothly release your cookie dough. I would agree with that. I love me a cookie scoop so much more fun that just dropping them.
Medium Silicone Spatula: It's a spatula. Always good to have as many as possible. This one is very sturdy and has just a really good feel in your hand.
Illuminating Digital Hand Mixer: This one was fun. With a light to guide you, OXO On Illuminating Digital Hand Mixer includes intuitive digital controls to steadily increase or decrease speed.
When you're finished, the on-board beater clip, wrap-and-secure cord, and flat, stable base allow for compact, upright storage. I was really curious about this because I haven't used a hand mixer in, well, I really can't remember. The light is pretty cool and I could see me needing it when I accidently have to fish egg shells out of the batter.
I also get a copy when it's released of Dorie's new book Dorie's Cookies (which will be a signed copy….yay!).
Enough about what they sent and let's talk whoopie pies. I've made whoopie pies before…just never in a muffin tin. I made them both ways for this. They do spread and so I can totally see why she chose to make them in a muffin tin. But I am a purist and really do prefer the misshapen blobs that are whoopie pies to me. I ended up cutting in half the ones I made in the muffin tin as they just seemed too big.
I also omitted the cranberries and added chocolate chip instead. I also butterscotch caramel in the fridge and I used that in place of the dulce de leche. As always, Dorie's recipe worked great. That's what I love about her…she test and test and test so that her recipes come out!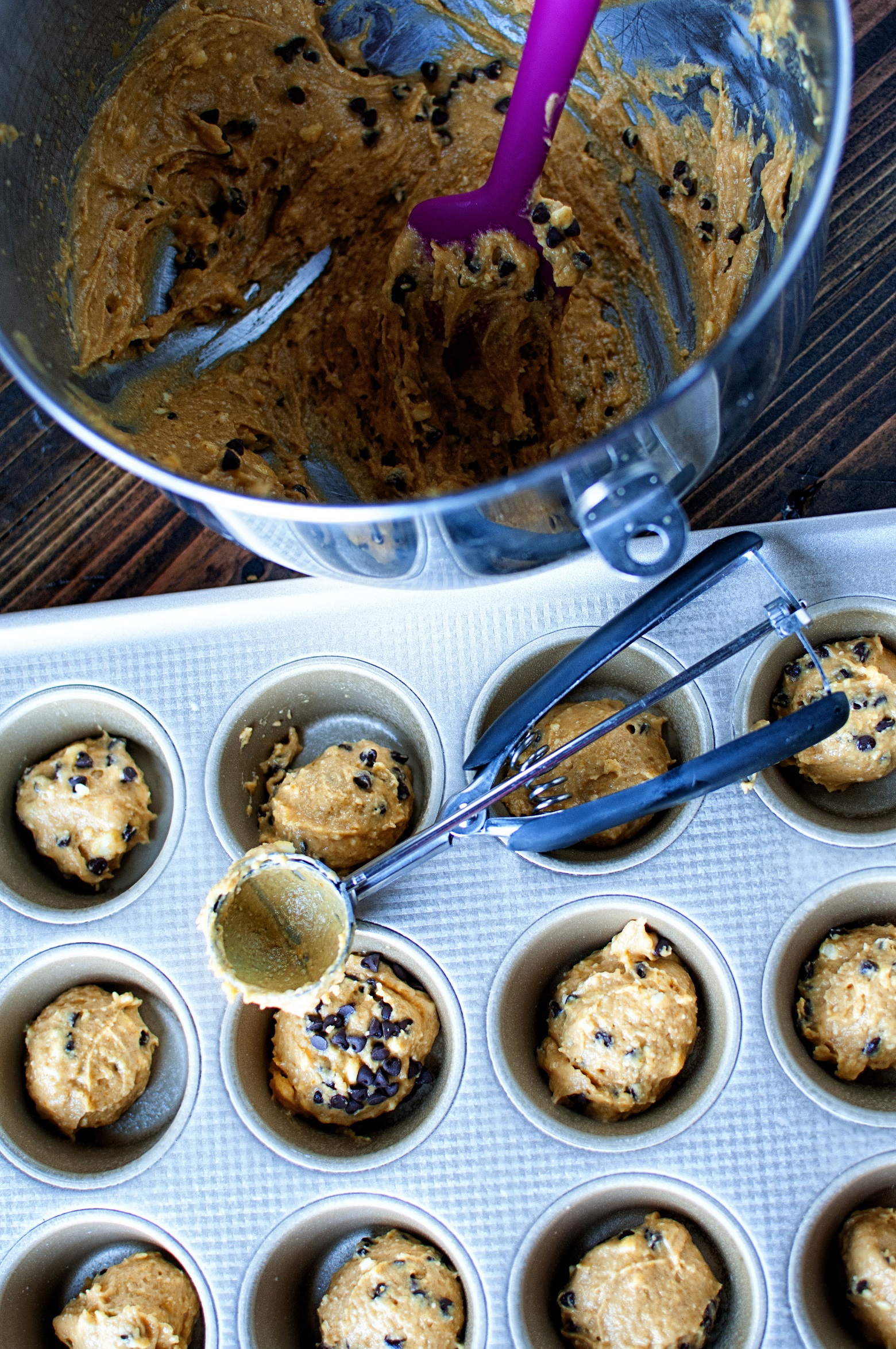 Pumpkin Whoopie Pies with Dulce De Leche Filling
Recipe Type
:
Dessert, Cookie
From Dorie: I liked these big pumpkin-spice cookies when I first made them and thought of them as cookies. But when I sandwiched them with a marshmallow crème and dulce de leche filling, officially turning them into whoopie pies, "like" became too mild a word for how I felt about them. They passed over into love 'em territory, and they've stayed there ever since. The cookies themselves have the soft, light texture and flavor of spice cake. In fact, they'd be exactly like spice cake if they didn't have the surprise of fresh cranberries, which, in addition to adding color and pop, have just the right the amount of pucker to make the sweet a grown-up dessert. As for the filling, sticky, sweet fluff is a must. It's just about part of the definition of whoopie pies. For these, it's paired with store-bought or homemade dulce de leche. It's the perfect combo, but when you're ready for a swap, sandwich the cookies with a spiced cream cheese filling. A word on size and pans: I'm Goldilocks when it comes to whoopie pies — I like them not too big and not too small. For me, baking them in muffin tins is just right. You can scoop the dough out onto lined baking sheets and bake the cookies free-form if you'd like — they'll be fine, though not perfectly round. If for you a whoopie pie isn't a whoopie pie unless it's the size of a Whopper, see Playing Around and go for it.
Ingredients
For the whoopie pies
13⁄4 cups (238 grams) all-purpose flour
3⁄4 teaspoon ground cinnamon
1⁄2 teaspoon ground cardamom
1⁄2 teaspoon baking powder
1⁄2 teaspoon baking soda
1 stick (8 tablespoons; 4 ounces; 113 grams) unsalted butter, cut into chunks, at room temperature
3⁄4 cup (150 grams) sugar
1⁄2 teaspoon fine sea salt
1 large egg, at room temperature
11⁄2 teaspoons pure vanilla extract
1⁄2 cup (113 grams) pumpkin puree (not pumpkin pie filling)
1⁄2 cup (120 ml) buttermilk, preferably at room temperature
3⁄4 cup (about 75 grams) fresh cranberries, coarsely chopped (if frozen, don't thaw) (I used 3/4 cup mini chocolate chips instead)
For the filling
1 stick (8 tablespoons; 4 ounces; 113 grams) unsalted butter, cut into chunks, at room temperature
1 cup (96 grams) marshmallow crème (or Marshmallow Fluff)
1⁄4 cup (30 grams) confectioners' sugar
Pinch of fine sea salt
1⁄4 cup (75 grams) dulce de leche, homemade or store-bought (I used butterscotch caramel)
Instructions
Position the racks to divide the oven into thirds and preheat it to 375 degrees F. Butter or spray two standard muffin tins (do this even if the tins are nonstick).
To make the cookies: Whisk the flour, cinnamon, cardamom, baking powder and baking soda together.
Working with a stand mixer fitted with the paddle attachment, or in a large bowl with a hand mixer, beat the butter, sugar and salt together on medium speed until smooth, about 2 minutes. Add the egg and beat for another 2 minutes or so, until creamy. Beat in the vanilla. Reduce the mixer speed to low, add the pumpkin puree and beat until it's fully incorporated; don't be discouraged when the mixture curdles — it will soon smooth out.
Turn off the mixer, scrape down the bowl and add half of the dry ingredients. Pulse to begin the mixing and then mix on low, scraping the bowl as needed, until the flour mixture is blended in. Beat in the buttermilk. Turn off the mixer, add the remaining dry ingredients, pulse and then mix on low until you have a lovely smooth batter. Switch to a flexible spatula and fold in the cranberries. Don't be too thorough — it's better to have an uneven mix than to break the berries and turn the batter red.
Using a medium cookie scoop, scoop out level portions of dough, or use a tablespoon to get rounded spoonfuls, and fill the muffin tins. The scoops of dough will sit upright in the center of the tins, but when baked they'll melt evenly into the cups.
Bake the whoopie pies for 11 to 12 minutes, rotating the pans top to bottom and front to back after 6 minutes, or until they are puffed, golden brown and springy to the touch.
Transfer the pan to a rack and let the cookies rest for 5 minutes, then turn them out on the racks and allow them to cool completely.
To make the filling: Working with a stand mixer fitted with the paddle attachment, or in a medium bowl with a hand mixer, beat the butter, marshmallow crème, sugar and salt together on medium-high speed, scraping the bowl and beater(s) as needed, for about 3 minutes, until very smooth. Lower the mixer speed, add the dulce de leche and beat until thoroughly blended.
Using a spoon or a small cookie scoop, place the filling on the flat sides of half of the cookies; sandwich with the other cookies, flat sides down. The cookies can be eaten now, but the filling benefits from a 30-minute stay in the refrigerator. Just don't eat them from the fridge — you'll deprive yourself of the cookies' wonderful texture.
Playing Around
Whopper-Size Whoopie Pies. If you use a large cookie scoop (one with a capacity of 3 tablespoons) to portion out the dough, you can make 6 really big pies (12 cookies; 6 pies). These bake best when you use an insulated baking sheet or stack two sheets one on top of the other. Line the (top) sheet with parchment paper or a silicone baking mat and bake the cookies for 15 to 17 minutes.
Storing
The unfilled cookies can be kept covered at room temperature for up to 1 day. Once filled, they can be kept covered in the refrigerator for a day or two, but they're really best the day they're made.