This Braided Italian Bread is made with a Biga starter. It's braided and has a sesame seed encrusted outside and soft inside.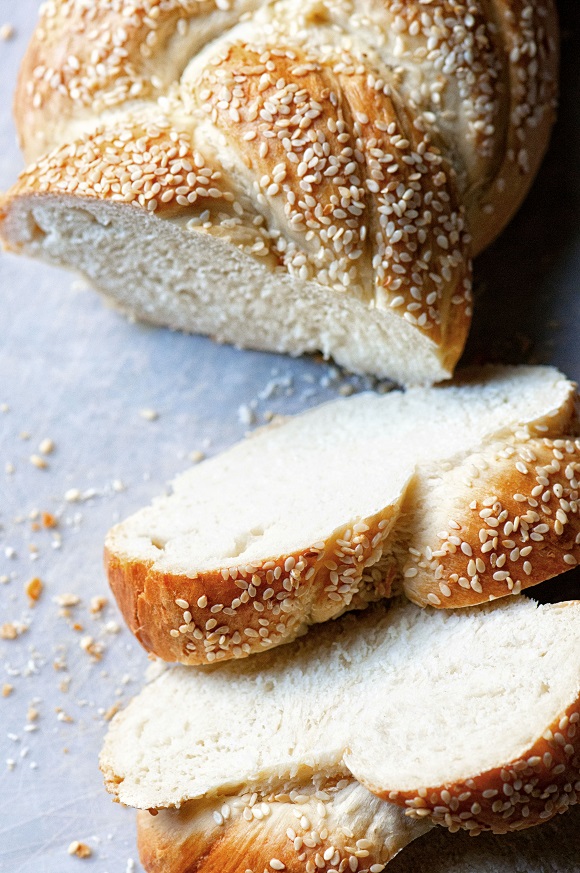 So this Braided Italian Bread is the last in my series this year of baking with yeast with my husband. It has been a blast and I just want to thank Red Star Yeast for sponsoring our project together…especially since we were using their yeast anyway. 🙂
I must say I love how serious my husband took all this. He wanted to learn to bake with yeast but became super nervous when I told him that I had brought Red Star Yeast on board because he knows that they use the recipe and picture on their site. What if it's ugly? I said well, then we throw a filter on it and take it at a good angle like a good selfie. 🙂 But really I knew he wasn't going to do ugly. If you go back through the posts or followed along on Instagram you could see on his face how serious he was when making all the recipes. It was so cute.
I chose this as his last project this year because it has two elements he had never done; a starter and a braided bread. He had to make the bread twice, well, he had to make the starter twice. He learned the hard way that if your water is too hot then you kill your yeast as we woke up to a yeast that had not risen. Especially since the starter only uses 1/4 tsp. of yeast. We used a recipe from my culinary school days and it just said lukewarm water and he just used hot tap water without checking the temperature. Since the starter has to sit overnight (or 8 hours) and we had stuff to do that day we knew we had to wait another day to give it a go. So he got up the next morning before work and made the starter again, this time checking the temperature and put the water in at 113F. I checked on it during the day and reported to him that it was indeed starting and so we could make bread when he got back from work.
The rest was easy as it was just dump the rest of the ingredients, knead, and let rise, punch down, and let rise again. Here he is punching it down.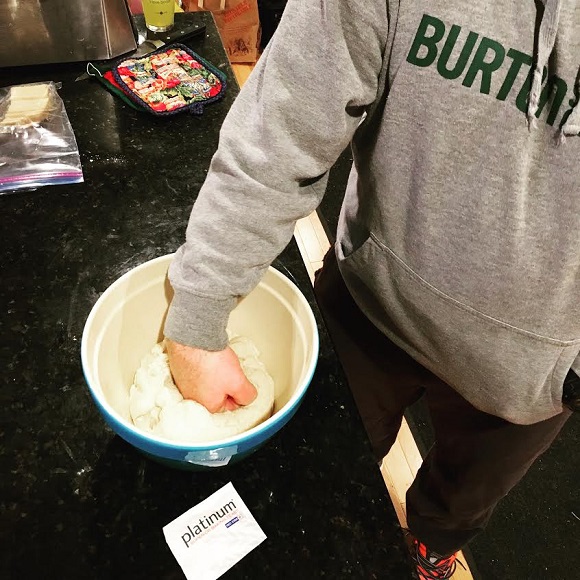 After the second rise, it gets broken into three equal parts, rolled into ropes and then made into a braid. I let him do this all solo with me eyeballing him. He did stop halfway through the braid and said "that's not right" (pictured below) and I agreed with him. But the second try with it, he was a pro…we made a little video over on IG if you want to see his skills.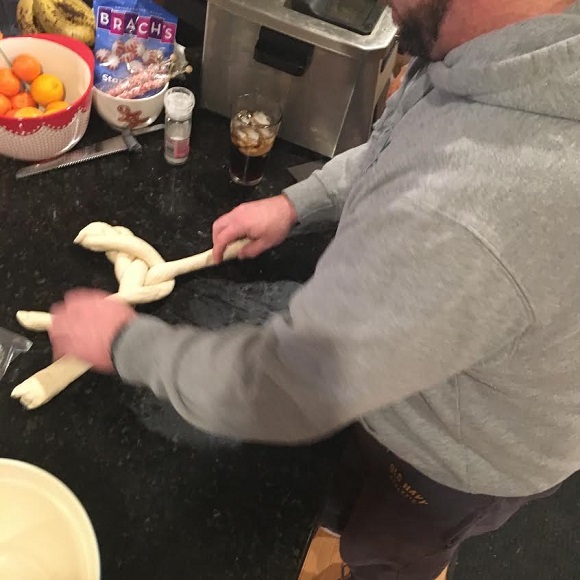 Then a little more rise time once braided. Then a little egg wash and a bunch of sesame seeds and into the oven it went. It came out beautiful. The hubs wasn't excited about posing for a picture, but I think you can more than see in his smile that he is pretty darn proud of that bread, as was I. He was nervous that it didn't look as good as others, but a nice quick Google image search showed him that his looked just as good, if not better, than most.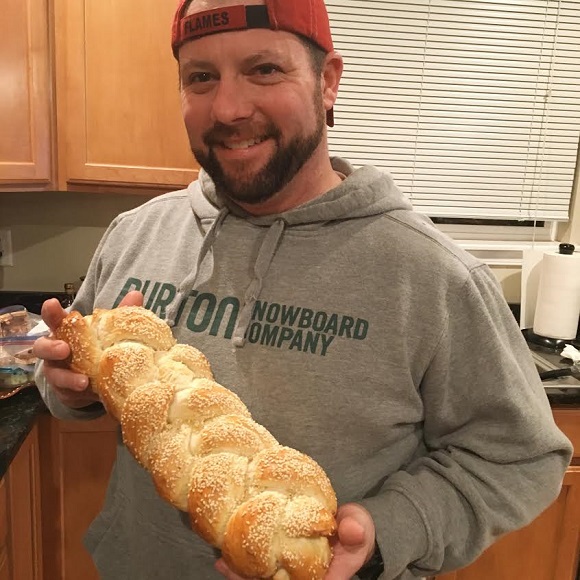 This post was sponsored by Red Star Yeast. Throughout the whole series, we used their Platinum Superior Baking Yeast. It is the best yeast I have ever used hands down and as you know I use it on sponsored (obviously) and non-sponsored posts because it works…and works well. I hope you have enjoyed watching my husband learn to get over his fear of baking with yeast and, more importantly, I hope we have taken some of the fear out of it for you!
Here are the other recipes he learned:
Malted Yeasted Waffle
Monkey Bread-Bread Pudding
Carrot Cake Cinnamon Rolls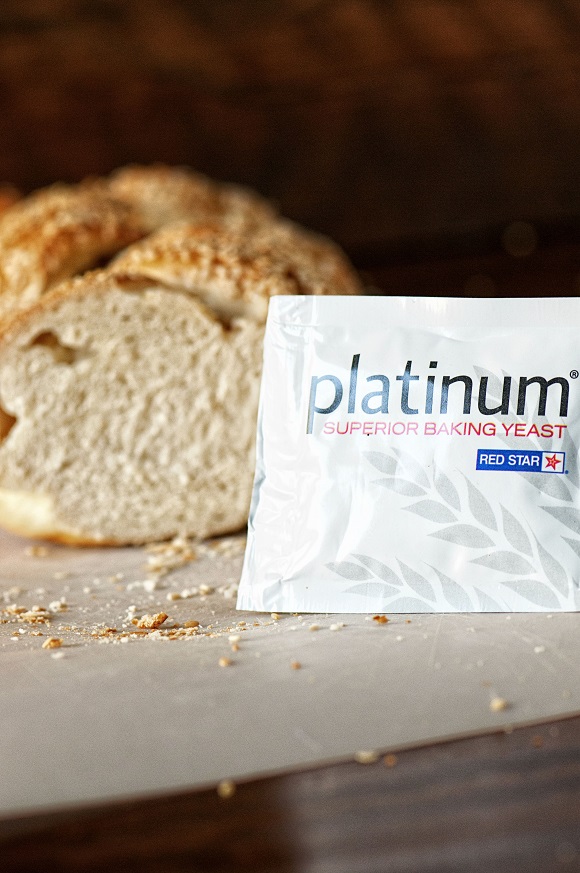 Braided Italian Bread
Biga starter:
¾ cup all-purpose flour
½ cup warm water (110-115F)
¼ tsp. Red Star Yeast Platinum Superior Baking Yeast
For the bread dough:
2 tsp. Red Star Yeast Platinum Superior Baking Yeast (the remainder of the packet)
2/3 cup warm water (110-115F)
2¾ cup all-purpose flour
1 tsp. salt
For the bread:
1 egg
1 TBSP water
¼-1/3 cup sesame seeds (you want to coat it good)
For the Biga:
Mix together the ingredients in a medium bowl.
Cover with plastic wrap and let it sit overnight. It's best to set it in the warmest area of your home.
It's not going to rise much but you should see bubbling and definitely smell the yeast.
For the dough:
Using a stand mixer with the dough hook attached, add starter and the remainder of the dough ingredients.
Knead the dough until a soft, smooth dough forms. All of this can be kneaded by hand if desired.
Transfer dough to a large, lightly greased bowl and cover with plastic wrap. Let rise for 45 minutes (may take longer if your kitchen is cold like mine was).
Remove the plastic wrap and punch down the dough. Place the plastic wrap back on and let rise for another 45-60 minutes.
Transfer dough to a lightly greased kitchen island or counter.
Divide the dough into three equal pieces.
Roll each piece of dough into a 16 inch rope.
Braid the ropes, tucking both ends under, and place on a greased baking sheet.
Cover with more plastic wrap or a kitchen towel and let rise for another 90 minutes.
For the bread:
Whisk the egg and water together and brush onto the braided dough.
Sprinkle with sesame seeds…go heavy handed on that, you want a lot of them on there.
Preheat oven to 425F.
Bake the bread for 25-35 minutes. If you want a softer outside go for the shorter time. If you want a more crunchy bread go for the longer. We went for the longer. The internal temperature should be 190F.
Remove the bread from the oven and let cool on a rack.
Serve with butter or whatever you would like.
Makes one loaf.