This Snickerdoodle Oatmeal Butterscotch Cake is nothing fancy, it's just a really good cake. Oatmeal cake base with butterscotch chips all encrusted in cinnamon sugar and topped with cinnamon sugar cream cheese frosting.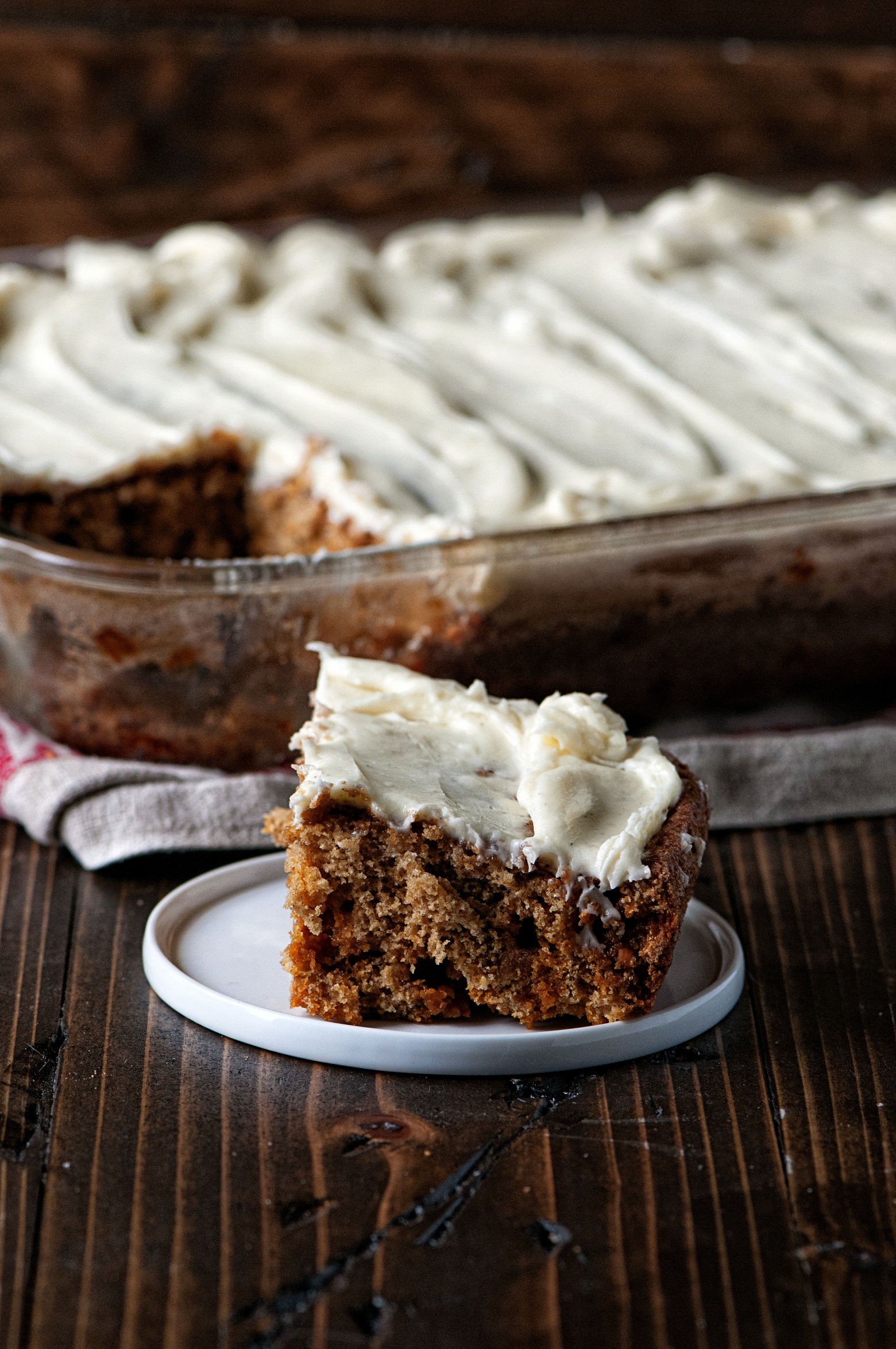 I'm going to go there because it's getting out of control.
And I'm sure I will get hate mail but it needs to be said.
My intent is not to upset you if you do this but you need to know your friends do not enjoy it.
They complain about it behind your back and in silence so I will break the silence for those people.
You need to stop putting your friends in Facebook groups for the stuff you sell.
We didn't ask to join…you just added us.
And when we un-add ourselves from the group you get upset.
On a personal note, no, I don't want to join your team.
I mean imagine if your friend owned a boutique.
You go to bed and wake up in their shop.
Ummm, not cool. 🙂
I am all for my friends selling whatever it is they want  and I want to support them but the problem is I know a lot of people and nowadays pretty much everyone has some side action. 😉
All of it cost money.
I bring this up because many of them will say "I support your blog".
How? By liking my fan page?
While I appreciate that…it cost you nothing.
And you get things like a free recipe for Snickerdoodle Oatmeal Butterscotch Cake.
Supporting my blog to me would be commenting on the recipe, sharing the recipe on social media, using my Amazon affiliate links FYI…which again, cost no money.
So not exactly the same thing.
I have 17 friends that sell LuLa Roe…17!!!
If you are saying what's that, ask any mom you know of a school aged child…they probably have it on.
They all want me to have a pop up.
I'm not a leggings gal, I'm one of those weird people who wears yoga pants to yoga…then comes home and takes them off.
Granted I usually put on sweats or pj bottoms but the yoga pants go bye-bye.
I'm not a patterns person either so that doesn't work out for me either with that company.
I have 12 friends that either sell Advocare, Isagnix, or Plexus.
I get it, you feel the best you ever had.
But your pills and drinks are pricey and I have three different autoimmune disorders your pink drink isn't going to fix that…I also don't need more pills to take.
Also when you show your before and after photo and someone says "how did you do that?"
Just tell them right there.
Don't say "I'll PM/DM you".
Just tell them…on XYZ product…that I sell.
There's nail wraps, what the hockey team guys call spider leg eyes (aka mascara), skin care, candles (I just buy mine on Amazon…I mean Smell My Nuts as a candle smell, you can't pass that up), Pampered Chef, and many, many more.
One of the reasons I love shopping at Nordstrom, especially for clothing, is because when you go in the salesperson normally asks "can I help you?"
If you say no they say okay, I'll be over here if you have any questions…then they leave you alone and never bug you again.
But if you do need help they happily help you.
If you have a product to sell, simply say hey…this is what I'm selling IF YOU ARE INTERESTED you can join my FB group where I sell the stuff.
It's that simple.
And remember…while you may only do 3 months in jail for it no means no…so if your friends politely say no…accept that answer and move on.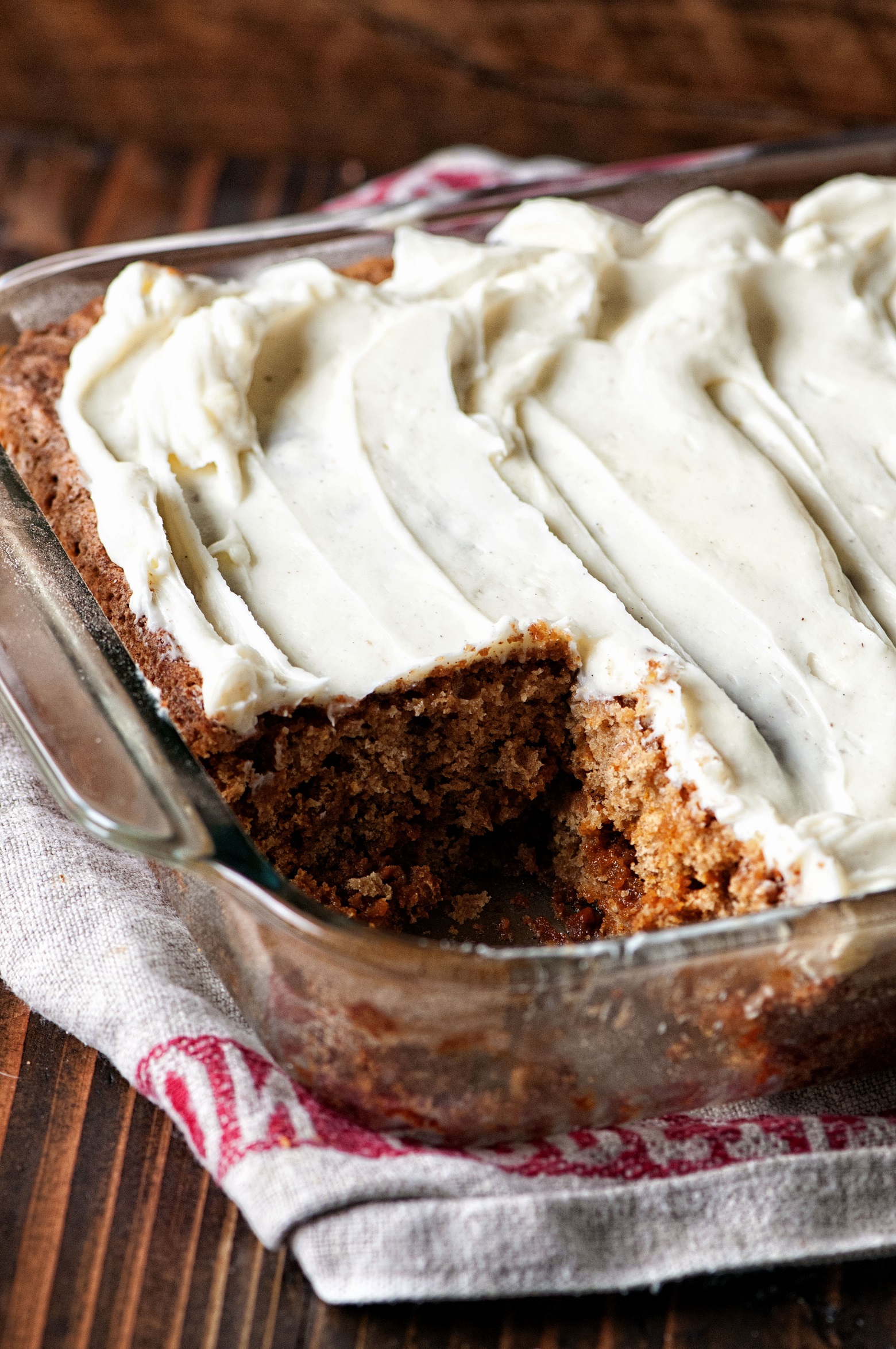 I get it.
For I can be annoying too.
While I rarely promote my blog on my personal FB page I do of course fundraise for my Old Dog Haven walk pretty hard since you are literally saving lives.
But I don't put you in a FB group and put photos up every hour so that you get a notification.
Rant over.
Again, not meaning to be ruffling feathers but more like a heads up from the one person who will speak her mind.
We aren't upset at all that you are selling something…it's just the adding without asking.
Even my blog has to "invite" you to like my blog page. 😀
Now, on to this Snickerdoodle Oatmeal Butterscotch Cake.
It's not a pretty cake that's for sure.
But it was gone in under 15 minutes when put on the table at my husband's work.
So yeah. I was going through my Baked cookbooks and ran across a recipe for Oatmeal Chocolate Chip Cake and immediately thought I would like to make that into something Snickerdoodly instead.
I went back and forth between cinnamon chips and butterscotch chips.
In reality, the cinnamon chips would make it more Snickerdoodle flavor but I just really like butterscotch chips with oatmeal.
Feel free to use whatever chip you want.
It's a great day to order my cookbook.
Want More Cake Recipes?
Chocolate Salted Caramel Popcorn Cake
Chocolate Peanut Butter Stout Layer Cake
Vanilla Cheesecake Funfetti Pink Ombre Layer Cake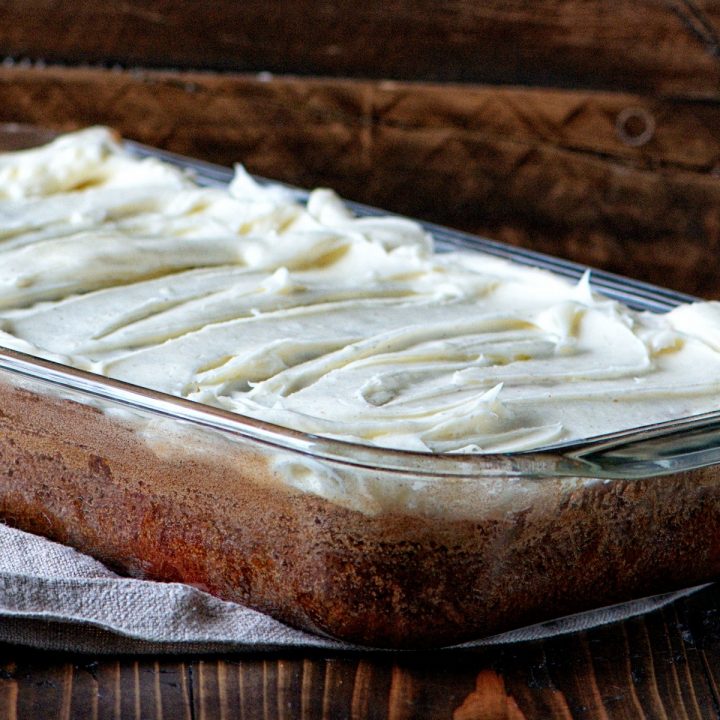 Snickerdoodle Oatmeal Butterscotch Cake
Ingredients
For the cake:
1 1/4 cups water
1 cup Butterscotch chips
1 1/2 cups plus 2 tablespoons all-purpose Gold Medal flour
1 cup rolled oats
1/2 cup unsalted butter, cut into small cubes, at room temperature
2 large eggs, slightly beaten
1 tsp. vanilla extract
3/4 cup granulated sugar
1 1/4 cups packed dark brown sugar
1/2 tsp. salt
1 tsp. baking soda
1 tsp. baking powder
1 tsp. cream of tartar
1 1/2 tsp. ground cinnamon
½ cup cinnamon sugar, divided
Butter to grease pan
For the cream cheese frosting:
5 TBSP unsalted butter, at room temperature
5 ounces cream cheese, softened
2 cups powdered, sifted
1 tsp. vanilla extract
3 TBSP cinnamon sugar
Instructions
Preheat the oven to 375 degrees F.
Grease a 9-by-13-inch glass or light-colored metal baking pan with butter and sprinkle about 1/3 of a cup of cinnamon sugar at the bottom.
Move the pan around so that cinnamon sugar sticks to where the butter was…which should be everywhere in the pan.
Discard any cinnamon sugar that did not stick to the butter.
Set aside.
Bring the water to a boil.
Place the butterscotch chips in a small bowl and toss them with the 2 TBSP of flour. This will keep them from settling at the bottom during baking. Set aside.
Place the oats and butter cubes in a large bowl.
Pour the boiling water over the oat mixture, wait 30 seconds, and stir to moisten all the oats and melt the butter.
Let the oat mixtures set for 25 to 30 minutes.
In a separate large bowl, whisk together the eggs, vanilla extract, both sugars, salt, baking soda, baking powder, cream of tartar, and cinnamon until combined.
Fold in the cooled oatmeal and stir until well combined.
Gently fold in the remaining flour and then the butterscotch chips.
Pour the batter into the prepared pan.
Sprinkle remaining cinnamon sugar on top of batter.
Bake the cake for 35-40 minutes, or until a toothpick inserted in the center comes out clean. Let the cake cool on a wire rack until completely cooled.
While the cake is cooling make the cream cheese frosting.
In the bowl of a standing mixer fitted with the paddle attachment, beat the butter until it is completely smooth.
Add the cream cheese and beat until combined.
Add the powdered sugar, cinnamon sugar, and vanilla and beat until smooth, about 1 minute.
Frost the cooled the cake with cream cheese frosting. Cut into pieces and serve.
Note-The frosted cake can be kept refrigerated and tightly covered, for up to 3 days.