These Small Batch Mini Oatmeal Chocolate Chip Cookies are a chewy, chocolatey, and with oats, we will say they are healthy too. 🙂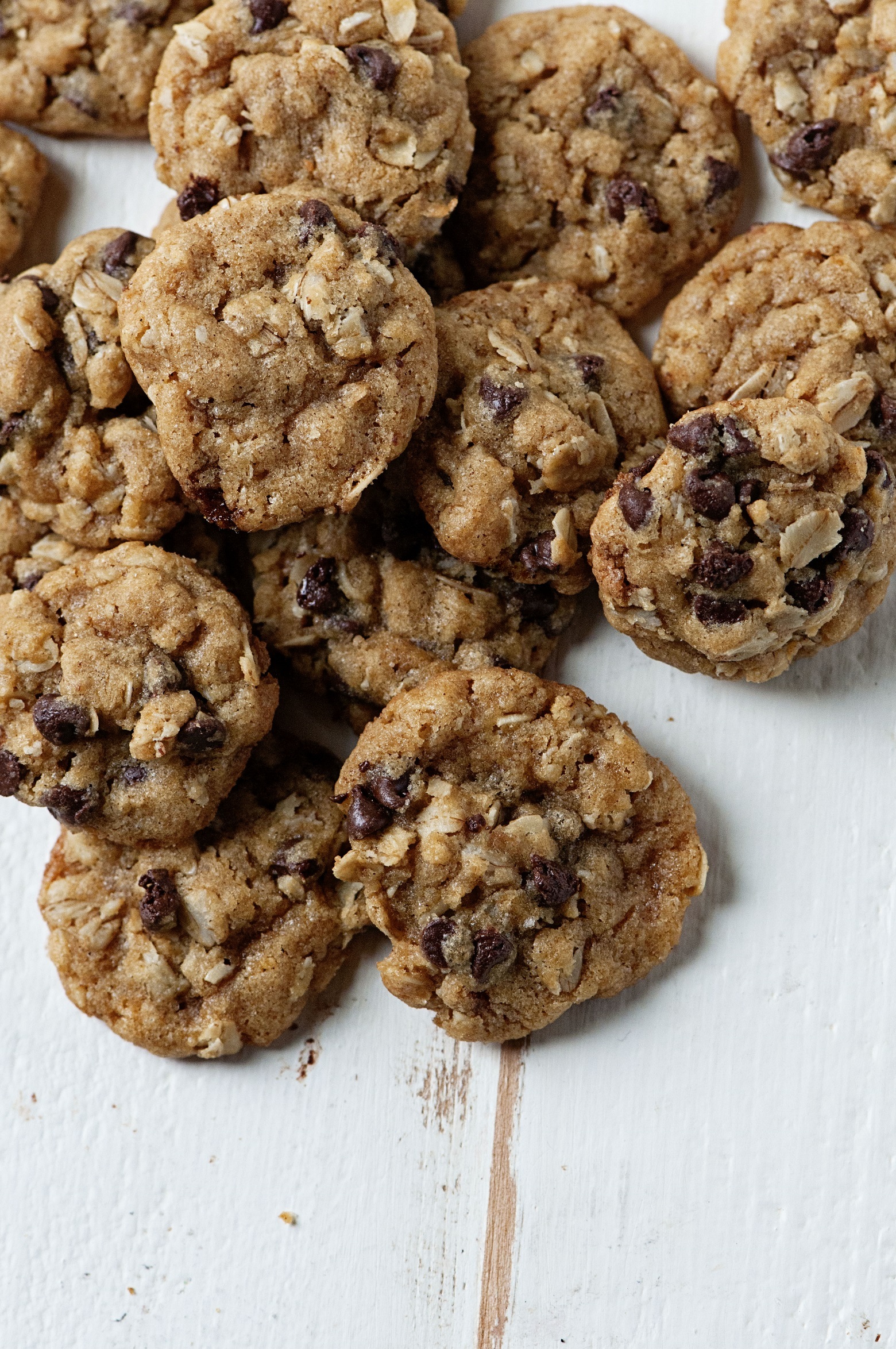 It's back to school time and one of my former students was going through his 8th-grade yearbook and put up a photo of our "math club".
I will explain why I used quotations.
At the time that I was teaching Arizona was 48th for pay in the US and I worked summer school and two other jobs…oh, and went to school full-time in a graduate program as well.
Our vice principal, who I was not a fan of, decided that even though every teacher was already required to be a sponsor of an after school club that we were all to take on an extra one.
For free.
Ummm. No.
While technically we were allowed to say no…in reality we were not.
Except I didn't have time.
Since I already taught an EXTRA class before school each day her suggestion when I asked when exactly I should hold these club meetings since I already had an after-school club…my lunch.
Great idea.
Well, actually she suggested that since I wasn't getting a Master's in education I should just quit the program (which FYI is against the law for her to tell me that) to free up my after-school time.
Luckily for me, one of the girls in my advanced math class was on the yearbook.
None of the kids liked the vice principal and so I simply said to my band of math-loving nerds that I was being forced to have an extra club and that was going to be math club…that they were to all join.
Since I explained we met at lunch none were too enthused about the idea.
However, when I explained to them that we weren't really a club, that we were simply going to gather one day, eat pizza, and then pose for photos for the yearbook they were on board.
So one day I ordered pizza and the kids ate.
One of the yearbook photographers came in and took our group photos…all with us holding calculators and protractors.
Then we took action shots of us doing things like measuring the desk…you know as a joke.
Except those made it into the yearbook.
We were the only club to get a full page layout in the yearbook. 😛
To which at the end of the year the vice principal congratulated me on having such an active math club.
Bahaha.
I'll save the story about Beaver Power and forming a Jug Band for that vice principal for another day. 😀
Now on to these Small Batch Mini Oatmeal Chocolate Chip Cookies.
While these look like a larger batch of cookies, I made them mini, so it seems like there are more than there really are.
I adapted my recipe from the small batch queen…Dessert for Two.
If you want to make the full size you will get about 10 cookies.
Mini will get you about 30.
Mini is more fun because even though about 2 ½ of them make up one real cookie…you feel like it's more like 10 minis make one cookie.
Just like the fun-sized Halloween candy.
These are quick to whip up and great to have for a back to school treat.
P.S. It's a great day to order my cookbook.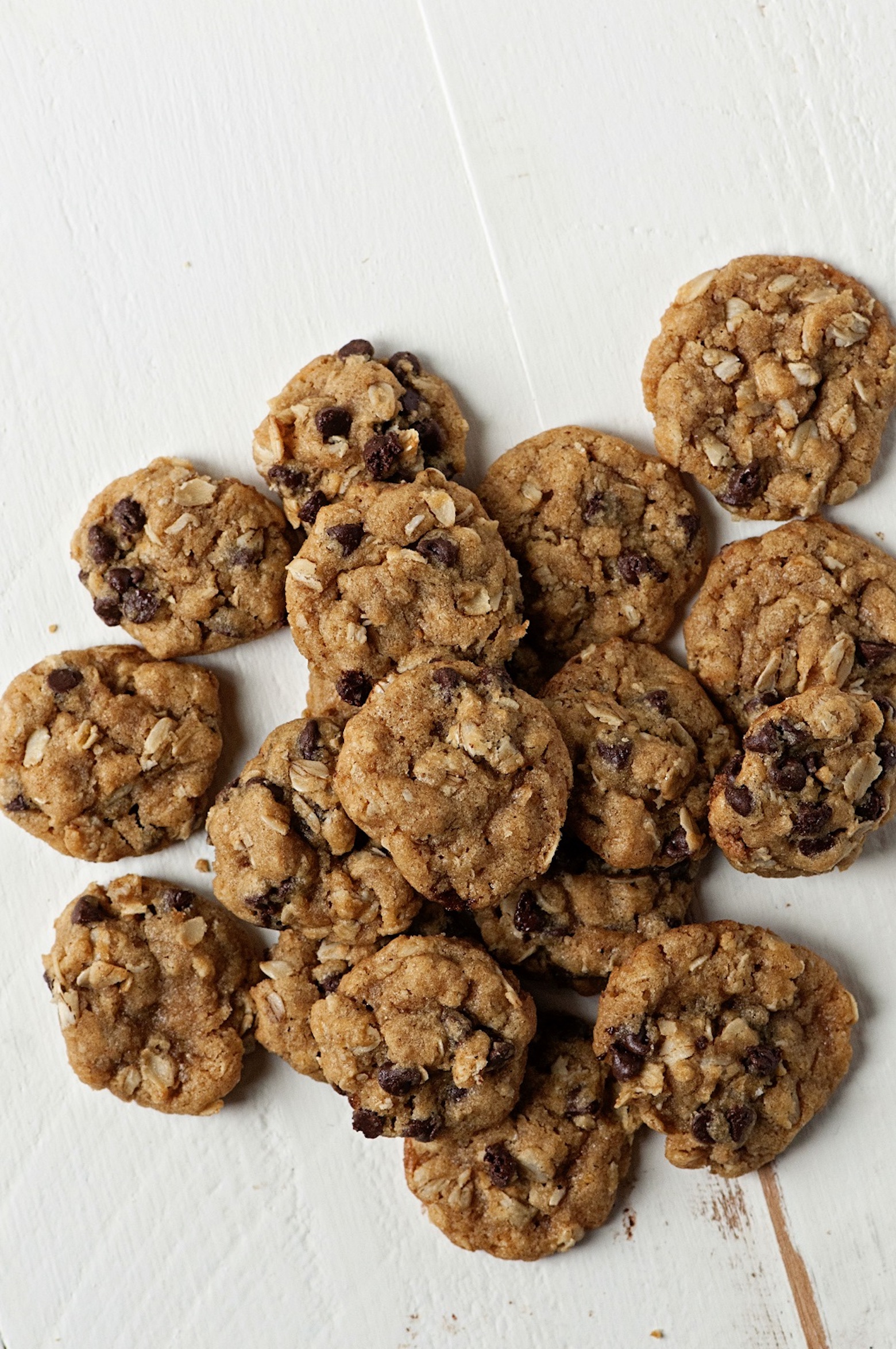 Want More Cookie Recipes?
White Chocolate Chip Creamsicle Cookies
Butterscotch Salted Cashew Cookies
Kettle Corn Chocolate Chip Cookies
Peanut, Pretzel, Chocolate Chip Cookies
Dark Chocolate Orange Toffee Cookies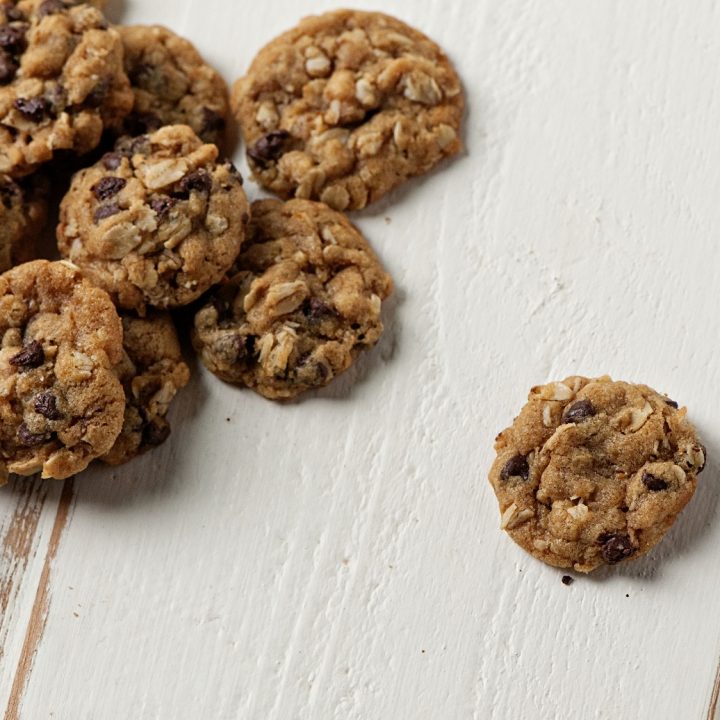 Small Batch Mini Oatmeal Chocolate Chip Cookies
Ingredients
5 TBSP unsalted butter, at room temperature
½ cup brown sugar, firmly packed
½ tsp. vanilla extract
1 egg yolk
½ cup rolled oats
¾ cup all-purpose flour
¾ tsp. cornstarch
½ tsp. baking powder
1/8 tsp. baking soda
1/8 tsp. salt
½ cup mini chocolate chips
Instructions
Preheat the oven to 350.
In a medium bowl, cream together the butter, brown sugar and vanilla for 1 minute.
Add the egg yolk, and mix until combined.
Combine the oats with the flour, corn starch, baking powder, baking soda, and salt.
Mix well.
Add the dry ingredients in two batches to the wet ingredients, and beat to combine.
Scoop marble sized dough balls (about a tsp. each cookie) out onto a cookie sheet.
You will get about 30 cookies.
Bake for 6-7 minutes, and don't be afraid for the cookies to get a little color on them.
Remove from oven and leave cookies on baking sheet for another minute. Then transfer to parchment paper or wire rack.